The Heart of Rock 'n' Roll
By Suva Ang-Mendoza
If there is one thing we know about rock and roll, it's that it never goes out of style. The genre's different musical styles and personalities make it relatable to many. From the legendary Jimi Hendrix and the incomparable Stevie Nicks to Mötley Crüe's Nikki Sixx and beyond, the immortal rock and roll has influenced many performers not just musically but sartorially as well. Who could forget Steven Tyler's iconic scarves, Debbie Harry's neon ensembles, and David Bowie's stellar makeup?
Some of the greatest rock and roll is born in Nashville, Tennessee—Music City—and designer Andrew Clancey is taking inspiration from it to create his fashion label and clothing boutique, Any Old Iron. Just ask performers like Beyoncé, Miranda Lambert, Cheap Trick, Maren Morris, Ke$ha, Courtney Paige Nelson, Casey James, and more who have commissioned Clancey to create glimmering sequined pieces for the stage. With talent in the design department and his natural ability to stylize separates that can be mixed and matched for many looks, it's no surprise that the stylist turned designer is a rising name in the fashion industry. Judging by his perfectly tailored clothes, you would think he had an extensive background in patternmaking; but, remarkably, his journey as a designer began just one and a half years ago. "It's all about the eye!" Clancey claims.
Embodying all the classic elements of rock and roll—passion, soul, spirit, culture, and edge— Clancey's line has the added flair of, well, there's no other way to describe it than "Andrew Clancey." The native Englishman's larger-than-life personality is just as unconventional as his style. A self-proclaimed "sixties child," Clancey's personal sense of style has transformed over the years from eccentric English gentleman to full-on rock star, and Nashville has certainly welcomed the razzle-dazzle that Any Old Iron brings to the neighborhood. "I look at rock and roll as a lifestyle," he says. "It's always one big, great party. I lived in Ibiza for a few years on and off, and that hedonism was certain."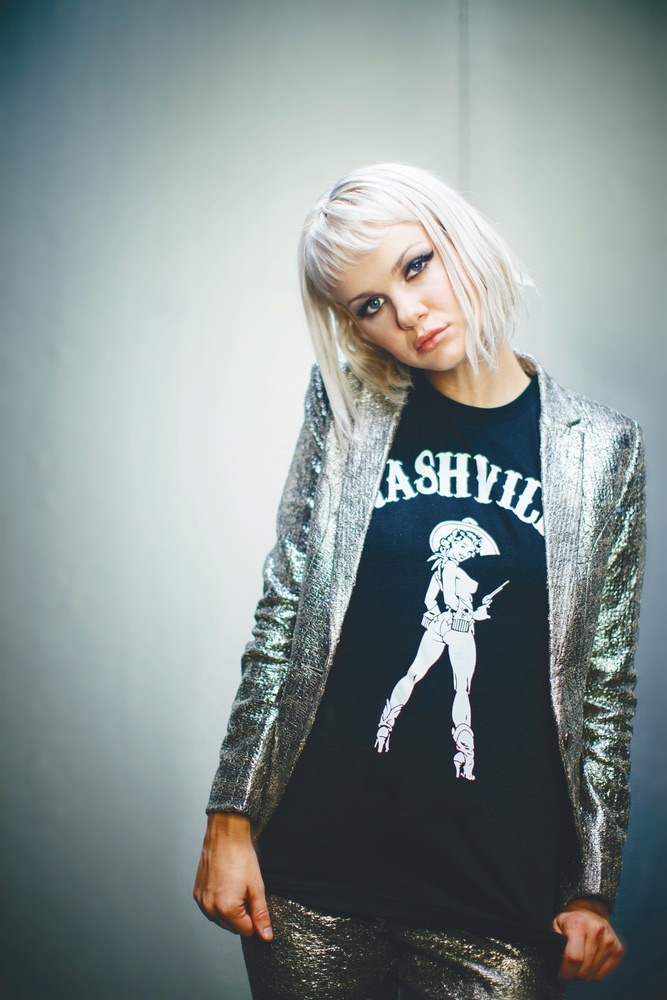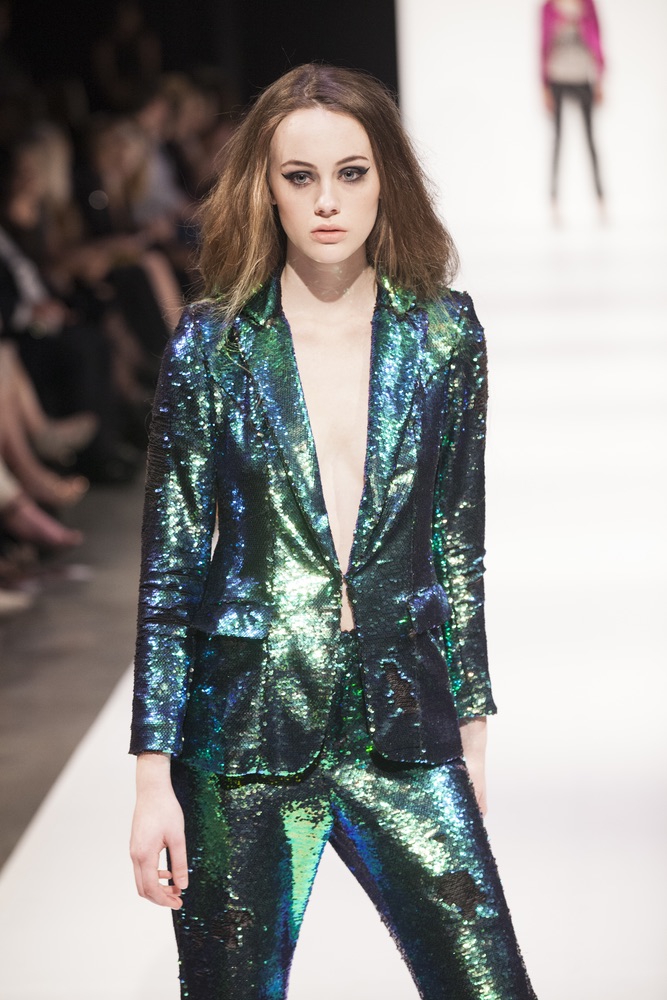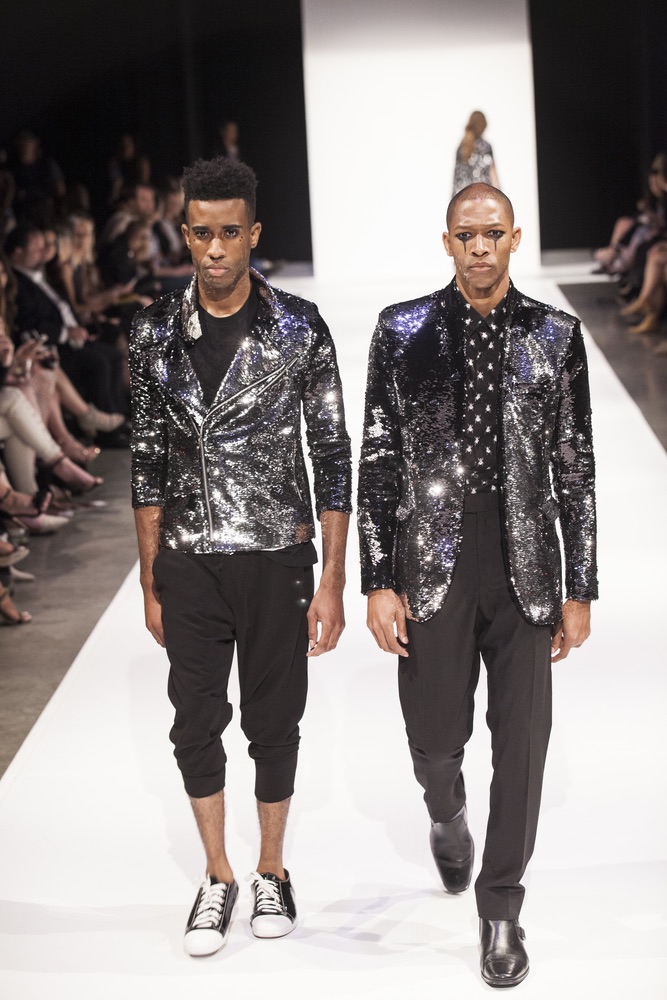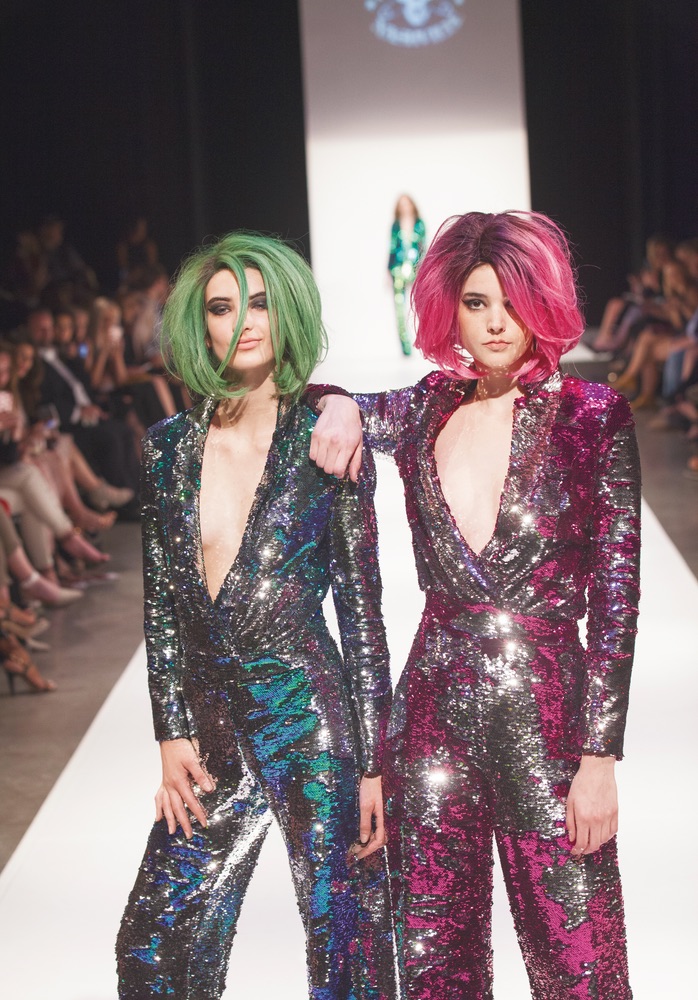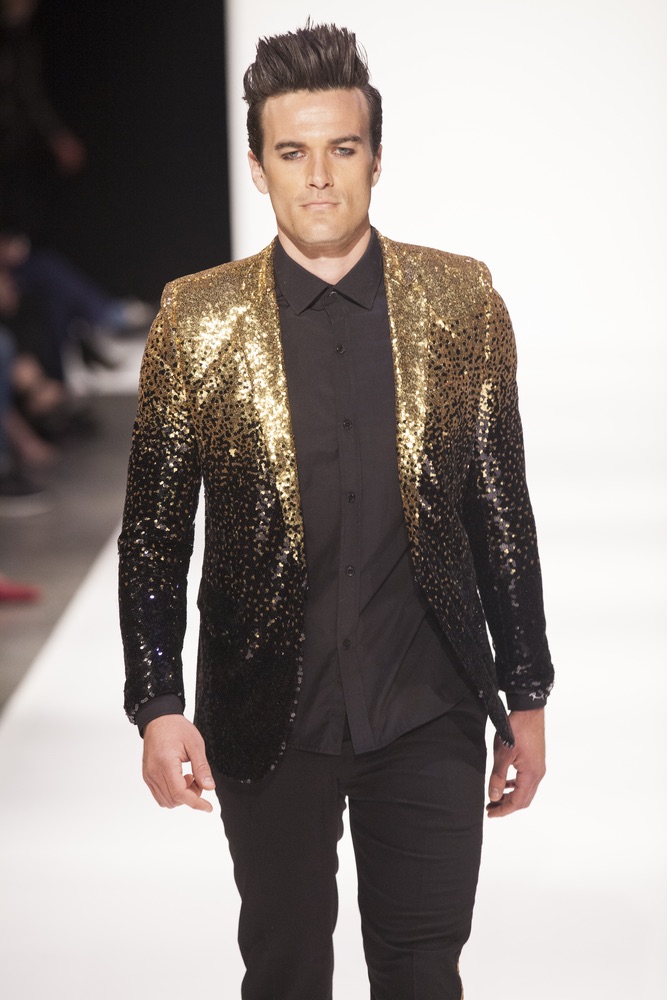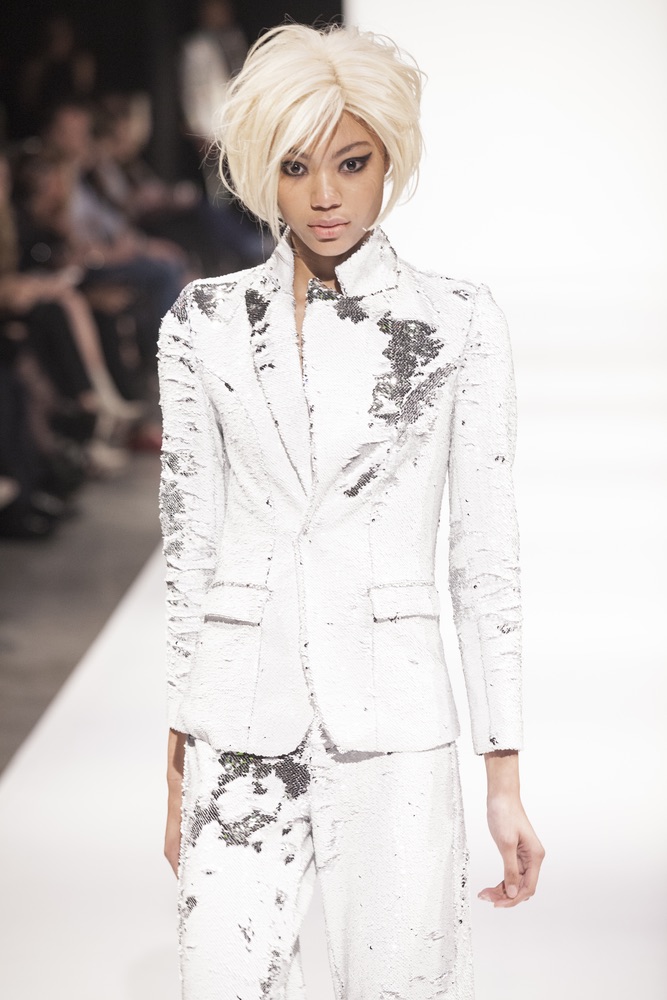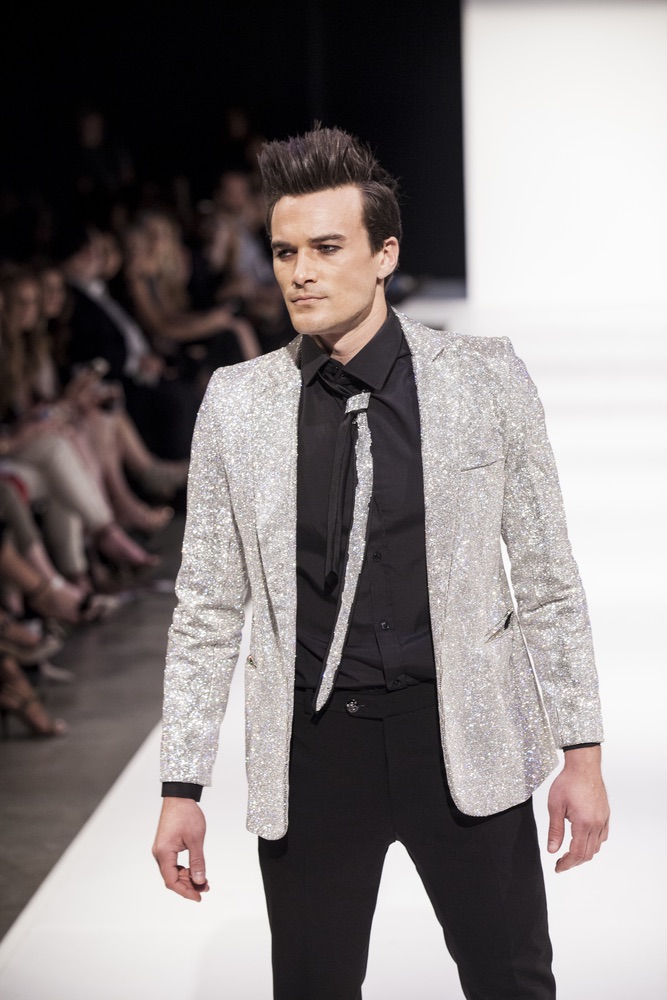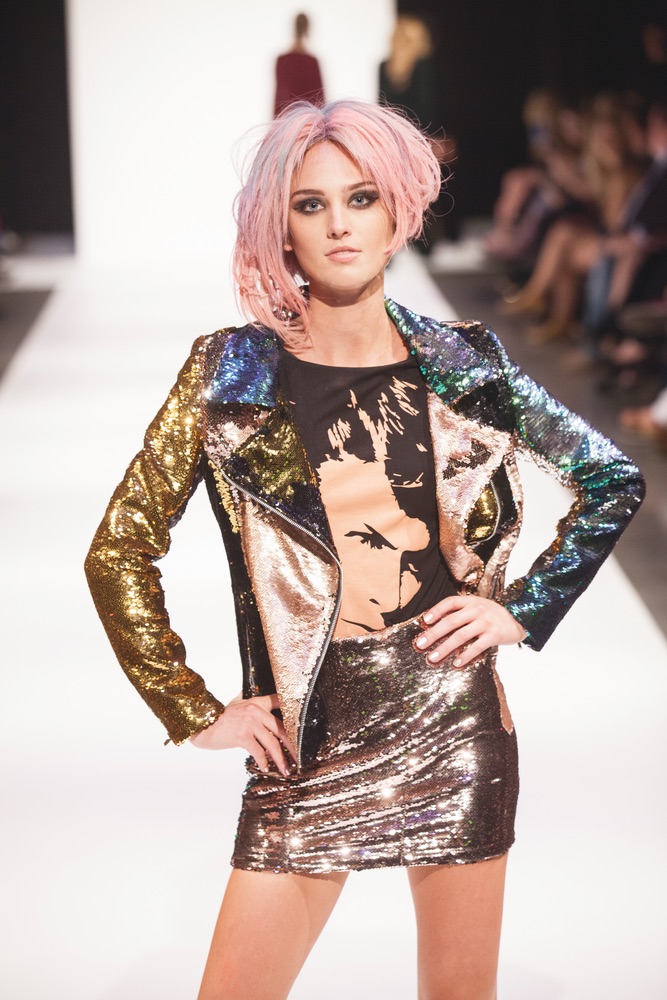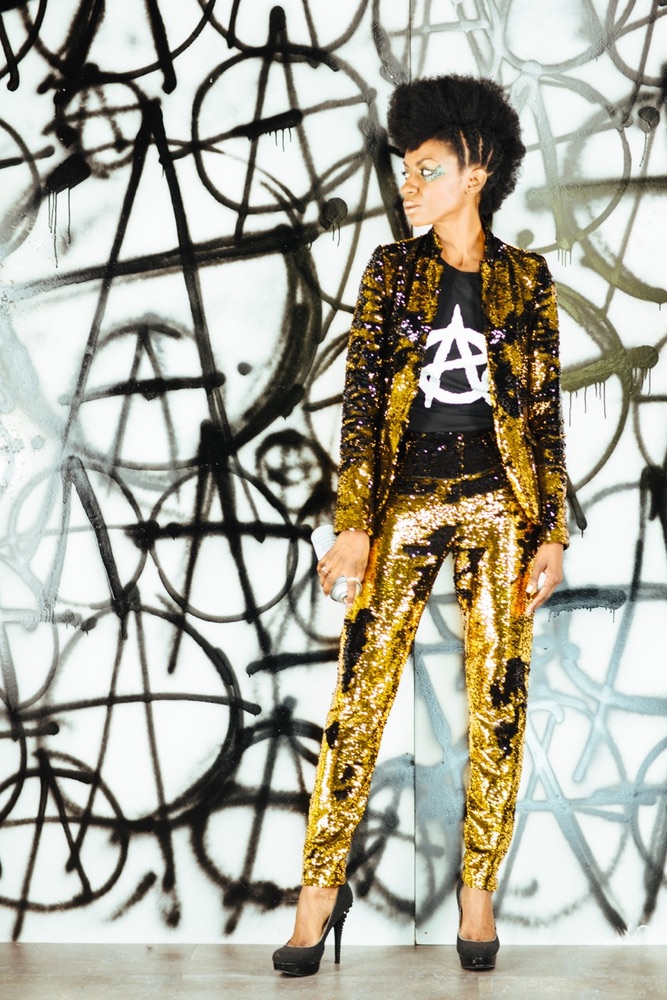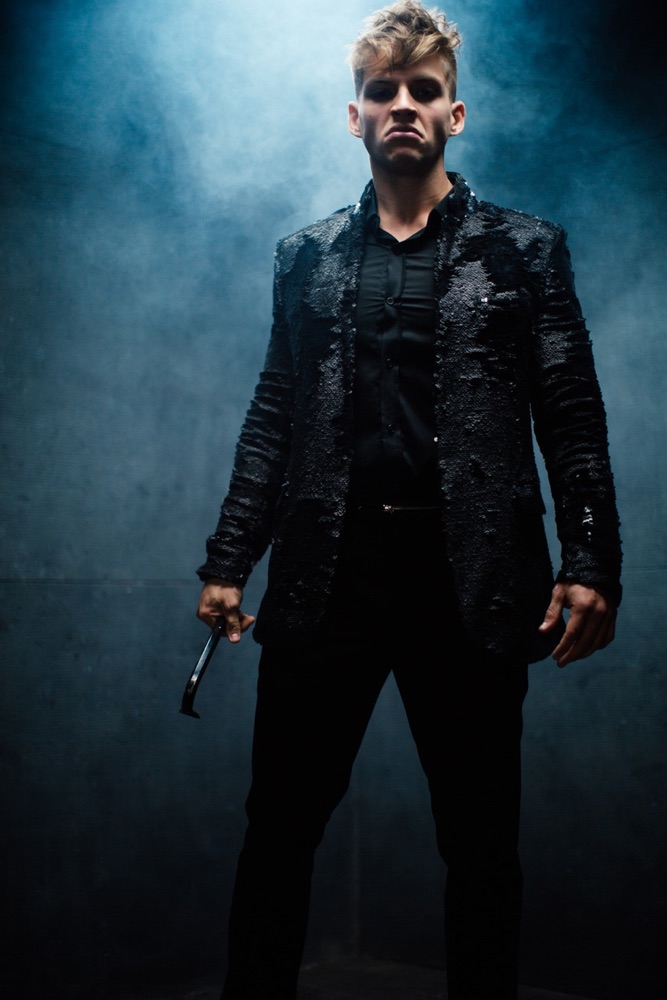 Clancey's styles have many Nashville performers—and shoppers of all sorts—ready to trade in their rhinestone boots for sequined blazers. "I like anything that when you walk into a room in it, the whole room turns round and looks at you," Clancey admits. "If it shines, it's mine!"
Any Old Iron's quick rise as a must-have fashion label may be due in part to Clancey's role as a prolific stylist in both the United Kingdom and the United States, where he gained perspective on how to tailor the culture of the music industry into clothing that fits many different personalities. He knows how to pair fabrics and patterns and understands how to emphasize a look—he's storytelling with fashion, turning the wearer into a work of art that will make others wonder who he or she is, and whose look he or she is wearing.
"I like anything that when you walk into a
room in it, the whole room turns round and
looks at you. If it shines, it's mine!"
In October of 2016, I had the pleasure of meeting and speaking with Clancey during South Walton Fashion Week in Northwest Florida. He was just like his collection: wonderful, exciting, passionate, full of personality and life, witty, and true to himself. "Famous advice is to be nice to people on the way up, and don't take yourself too seriously," he explains. Clancey seems to have an aura about him that is cool in the sincerest form, and it shows in his designs, from sequined suits and jumpsuits to a new kimono-inspired mini dress—designs so fabulous that you just can't help but want to try something on.
Clancey's road into the fashion industry wasn't the typical design school-then-internship path that so many others seem to take; it seems conventionality just isn't in his blood.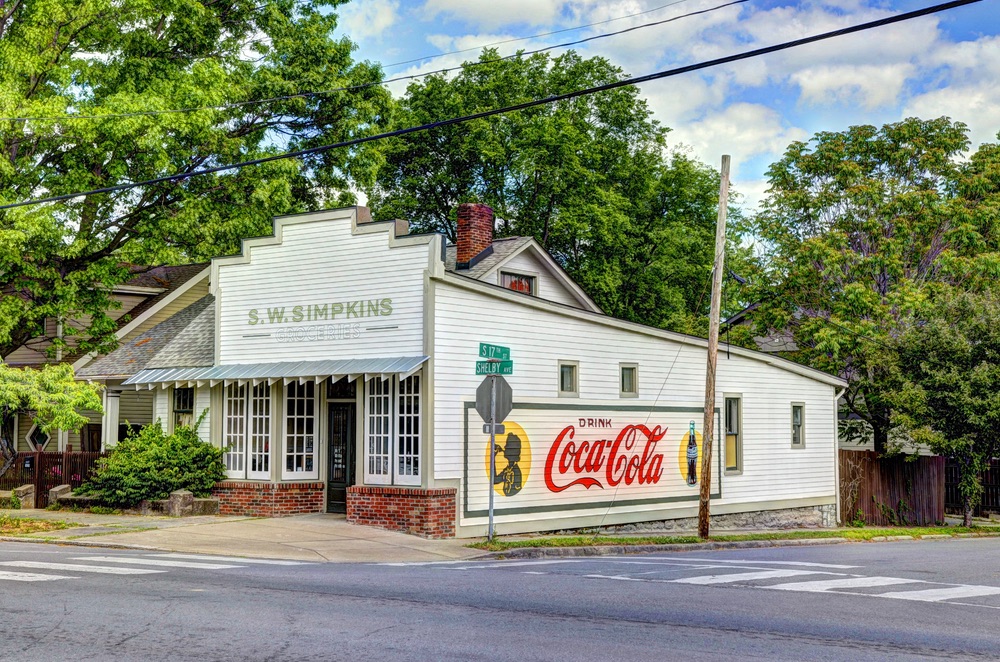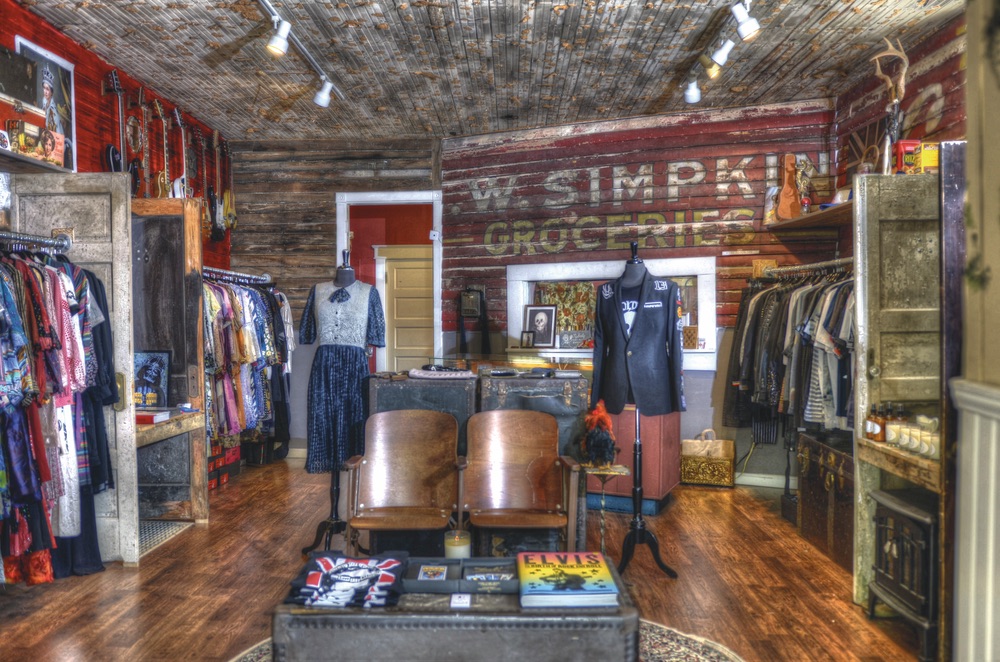 "I worked at my dad's scrapyard in the UK for ten years before I realized I needed something more creative," Clancey recalls. Not surprisingly, it was a love of music that brought him to the fashion industry. "In the UK, the music industry is intertwined with fashion, so I was always switching music genres and dressing to suit the trend that went alongside that. I started assisting my sister, who was a fashion stylist in London, which gave me the chance to work with lots of UK bands and explore designing, making a few pieces here and there—nothing like a full collection."
These small projects for musicians fueled Clancey's passion for design and birthed the rock-and-roll persona that Any Old Iron embodies. "Punk, mod, ska, disco, and new romantic all influenced my style and still do today," he says. "Eventually, I was ready to branch out on my own."
For most creatives, "branching out" might translate to just starting a business or maybe traveling to get more ideas from the experiences. Clancey, in his true fashion, was determined to go after his dream in a larger-than-life way. With a one-way ticket, he set flight from the United Kingdom to New York, the city of dreams and the fashion capital of the United States.
"In the UK, the music industry is intertwined with fashion, so I was always switching music genres and dressing to suit the trend that went alongside that."
"I moved with hopes of further advancing my styling career but ended up meeting a New York investor named Christopher Melton, and we hatched a plan to open the States' first-ever UK-only multibrand fashion store," Clancey explains. Any Old Iron was born.
Regarding the name, Clancey expounds, "'Any old iron!' is what they used to shout off the back of rag-and-bone men's carts in the UK when they wanted scrap metal, old clothing, or bone china. It's also a music hall song from the early 1900s about looking dapper—'old iron' referencing a watch chain, which some of my suits feature. The song, originally by Harry Champion, has been recorded by Peter Sellers and also the Muppets for the pure randomness of it."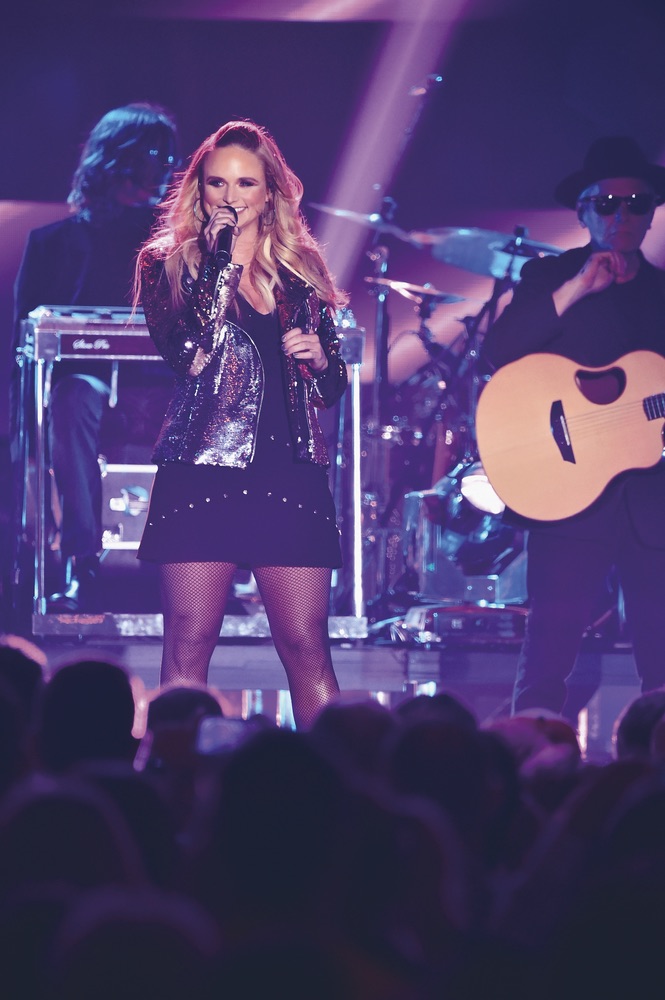 For Clancey, the significance of the title extends deeper than its musical roots. "It's come full circle, as it's also a nod to my family's business, founded on rabbit skins and recycling cloth. It's still going, since 1872—L. Clancey and Sons, started by my great-great-grandma, Lillian. Strong women have run the business, from her to my late grandma, Edith."
Four years after Any Old Iron was founded in New York, Clancey found himself packing and expanding his horizon once again. "We were open for four years before we decided to move our operation to Nashville, Tennessee, with the aim of dressing the city's musicians," he says. "It also gave me time to develop my first collection just a little over a year ago. I would have never found the time in New York." What better place for the rock and roll–inspired brand than Music City?
Clancey's future in the fashion industry is
shining bright—literally and figuratively.
Any Old Iron may have come full circle regarding its inception and branding, but this is just the beginning for the fashion label, now located in what used to be the S. W. Simpkins Groceries store in Nashville's East End. Clancey's future in the fashion industry is shining bright—literally and figuratively—leaving us to question, has his journey been as easygoing and free flowing as it sounds? As he recounts his past and looks to the future, he asserts that although it's tough to start something of your own in a new country, there was never any room for fear.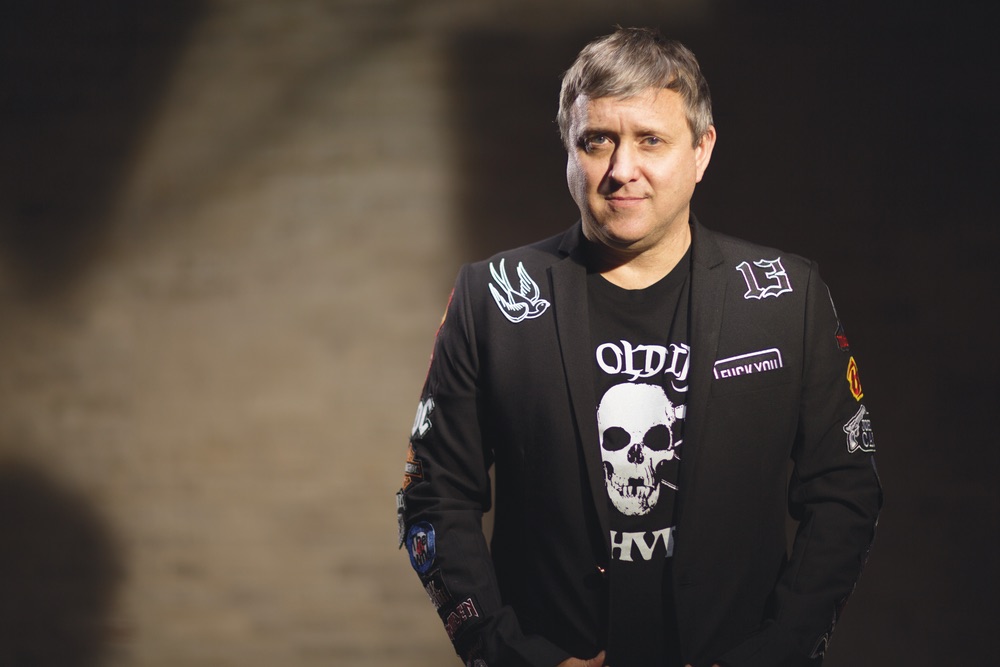 "It's just good fun, isn't it?" Clancey asks. "I try not to take it seriously, so my experience so far has been a proper laugh. I'm ticked off I didn't start designing full collections earlier, as now I think I have to design six collections a year. Made one sequined jacket, sold it, and with the proceeds made three more. Sold them, and now it's mushroomed! Half my store in Nashville is my brand; in a year it will solely be Any Old Iron. That is the aim."
With an attitude that continues to shine as brightly as his sequins, it's clear that Clancey and Any Old Iron have nowhere to go but up. His journey—from dressing celebrities to helping any shopper bring his or her rock-and-roll soul to the surface—will be extremely fun to watch.
— V —
---
Find Clancey on Instagram at @AnyOldIron and shop his looks online at ShopAOI.com.
ARTICLE CATEGORIES