Camping Gets a Makeover
By Lauren Shaw | Photography by Romona Robbins
Picture it: It's an Instagram-worthy evening at Grayton Beach State Park on Florida's Gulf Coast, and the stars are out on full display. A toasty fire is blazing, and the smell of roasting marshmallows fills the air. As the evening comes to an end, you head back to your air-conditioned tent, set your alarm clock on the bedside table, and snuggle up—not in a sleeping bag, but on a queen-size bed. What a perfect end to a day of camping in the woods. Well, if that doesn't sound like the camping trip you remember, then you don't know glamping!
Going on a camping trip doesn't have to entail "roughing" it in the woods anymore. The essence of glamorous camping—"glamping" for short—is a luxury outdoor getaway that is nothing short of magical. With comfort at your fingertips and all the amenities of home at the campsite, glamping is an undeniable craze that removes any negatives that coincide with being outside, especially in humid Florida weather. Current consumer behavior trends reveal that overall experience and emotions are key to luxury-seeking customers. And more and more consumers, it seems, want to find luxury and a sense of gratification in all facets of their travel.
Capitalizing on the glamping movement in Northwest Florida are Micah and Danielle Heller, who founded their own luxury-tent accommodation business, Fancy Camps. "Glamping, or 'fancy camping' as we like to call it, is when you replace the inconveniences of camping with comfort and enjoyment," Micah shares. "We had fantastic consulting from our kids, Sophie, Olivia, and Taylor, on the venture. They were particularly helpful with testing the tents and mattresses in the backyard."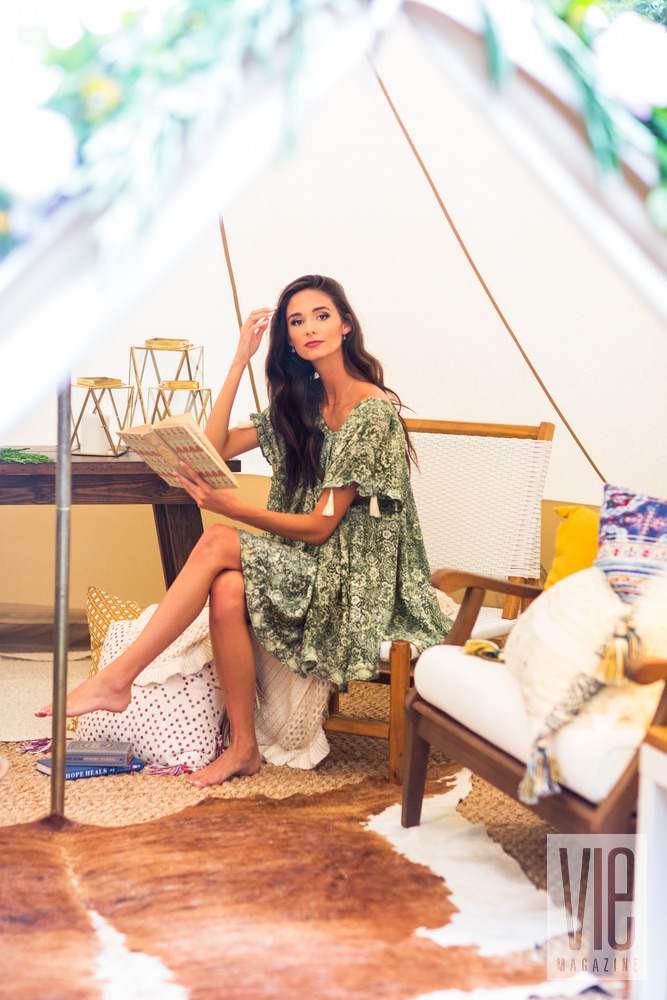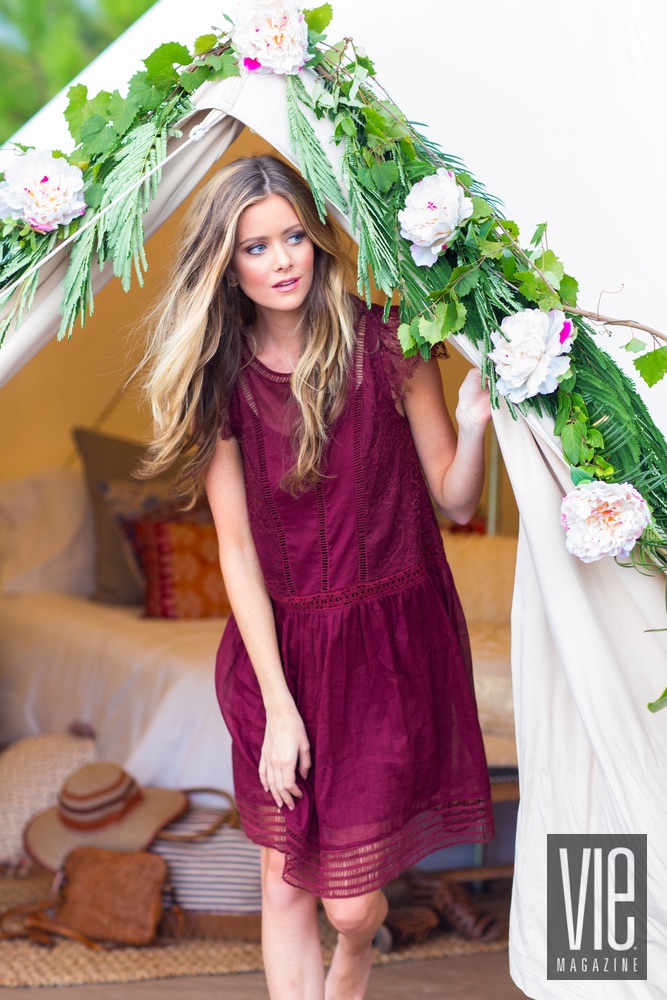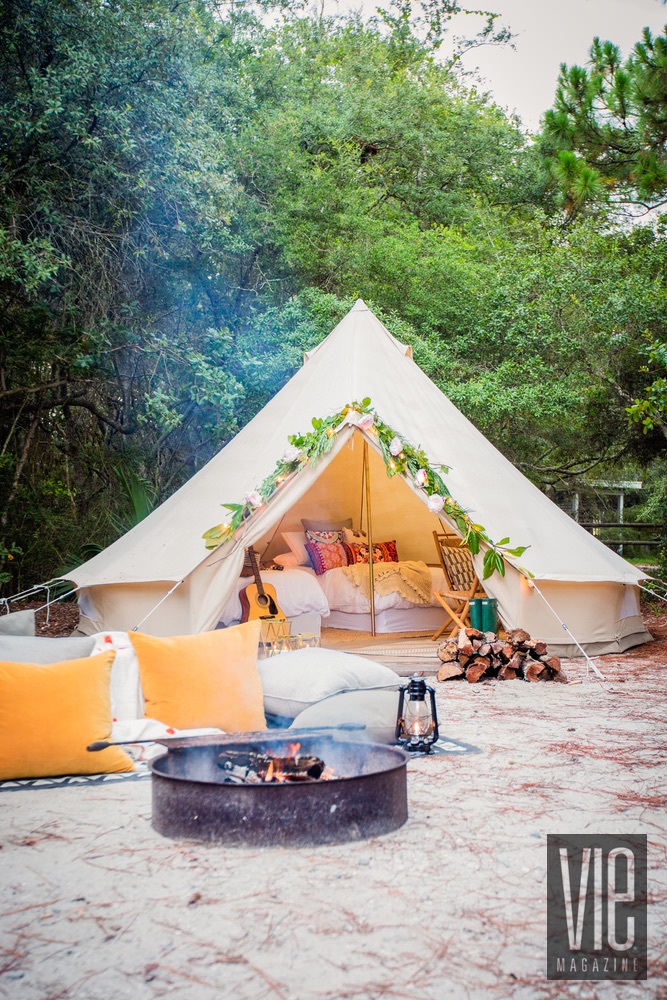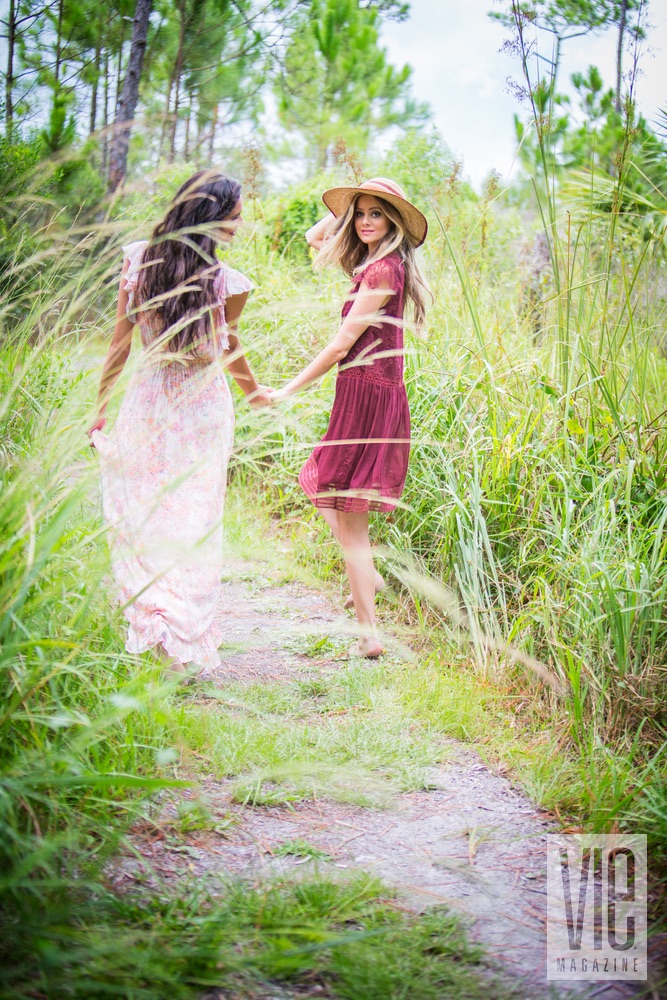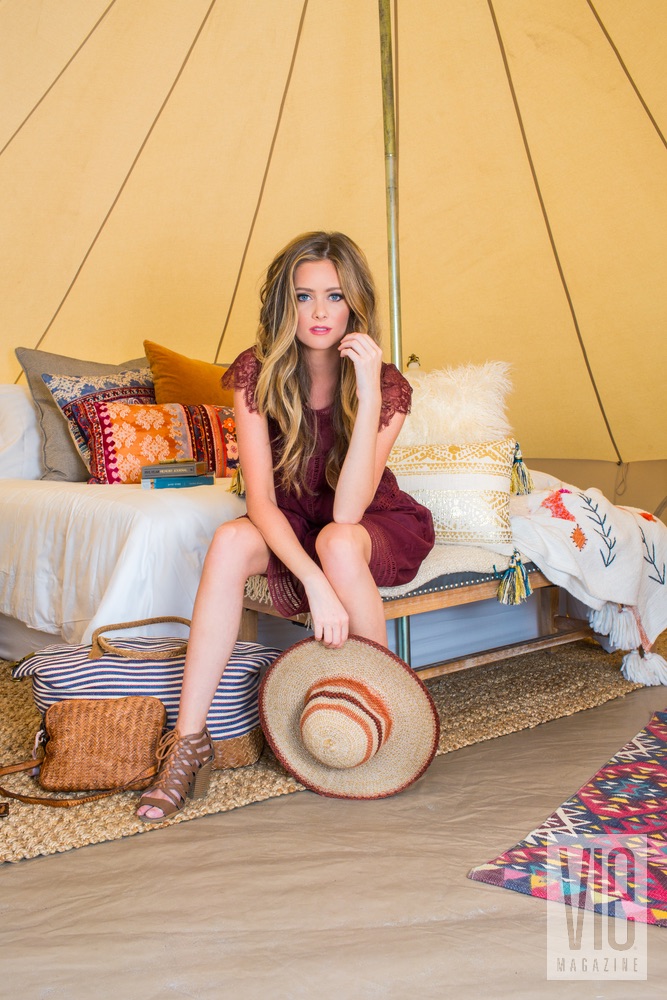 The inspiration for Fancy Camps came to the Hellers while watching the History Channel one night. "There was a show about the wealthy, from maybe fifty or more years ago, and how they would go on safari with all the luxury they were accustomed to," Danielle explains. "We thought we could use that concept to create a business and give campers a unique retreat they may not have experienced before. Everyone enjoys the time spent around a campfire and the smell of bacon cooking when you emerge from your tent in the morning, but most hate the effort it takes to create these memories. That is where Fancy Camps comes into play."
Remove the elements of an overly packed car, sleeping on the ground, and—the most burdensome task—pitching a tent. Take in the amazing natural views surrounding your campsite as you enjoy the feel of enchanting seclusion and relaxation. Fancy camping is designed to let campers get right to the good stuff—making memories.
"Glamping, or 'fancy camping' as we like to call it, is when you replace the inconveniences of camping with comfort and enjoyment."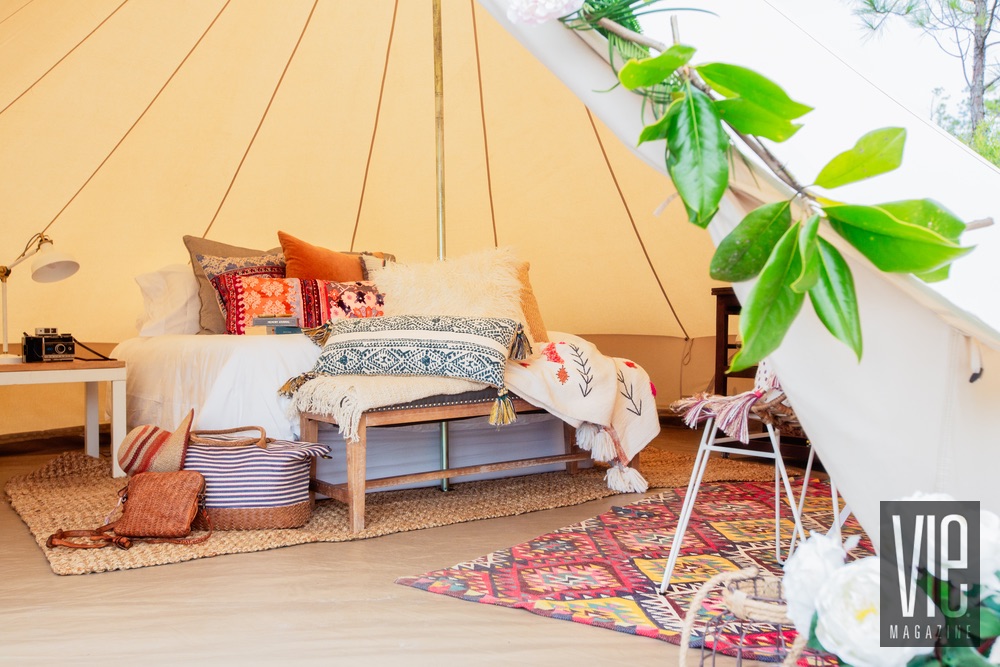 "We really want guests to have a great travel experience that is unique, unlike anything they have done before," Micah says. "Fancy camping has become so popular because it is such an easy and comfortable way to spend time with family and friends. When you fancy camp, you just show up, and all the rest is taken care of. For the die-hard campers who say that hard work is part of the experience, my wife and I will not charge any extra for those who want to show up early and stay late to help us with setup and teardown!"
Endless adventures, connecting with nature, and, of course, luxury are what make fancy camping such a desirable escape. "We see people from many walks of life enjoying our tents," Danielle says. "From college students to families with young kids to couples who are still in love after forty years of marriage—most just enjoy spending time in the great 'fancy' outdoors, making memories with those they care about."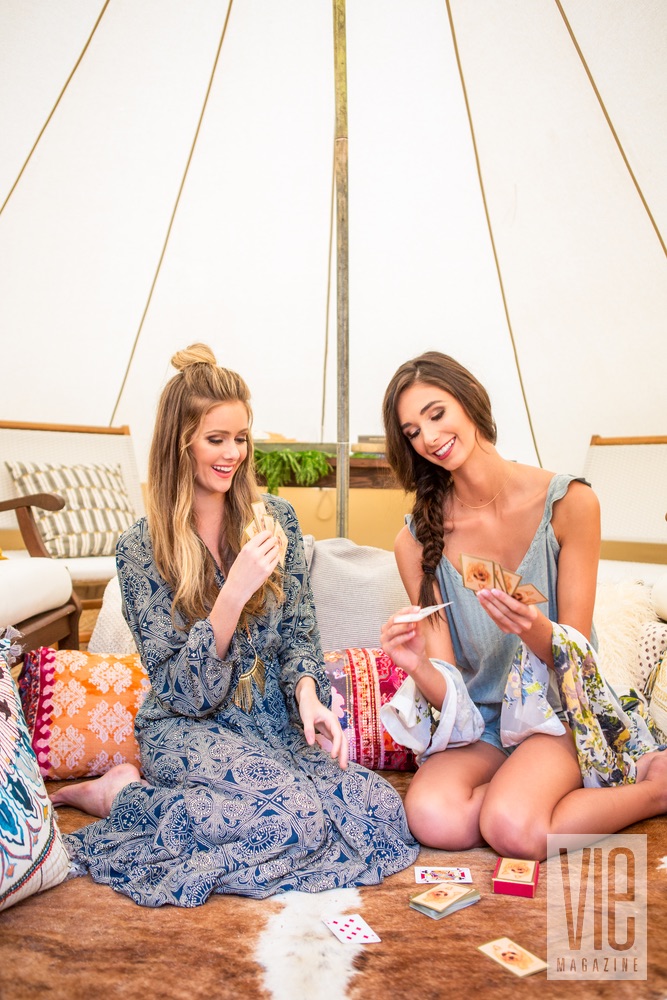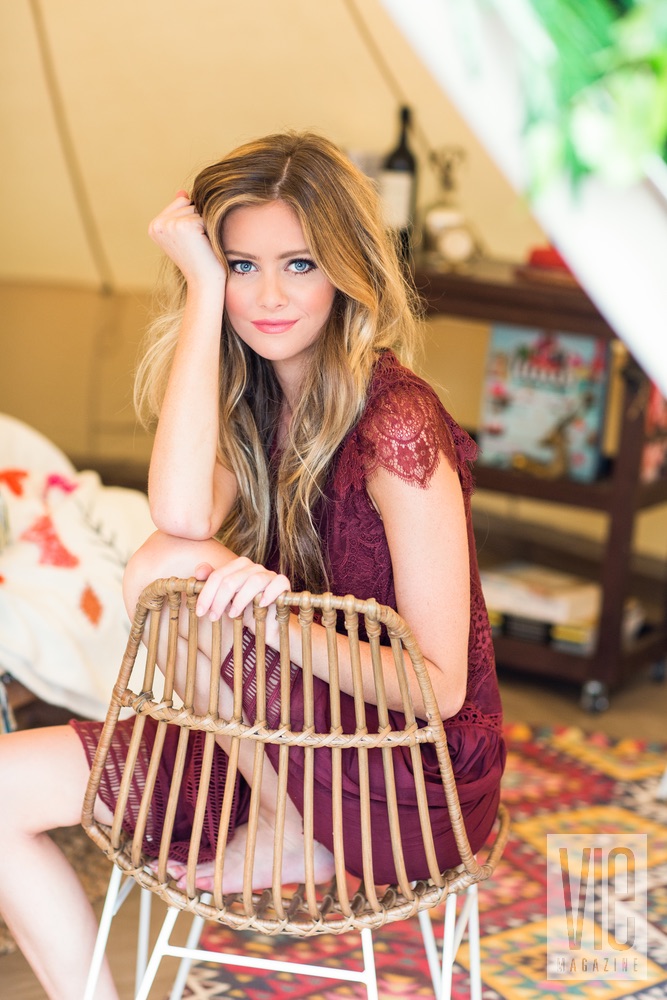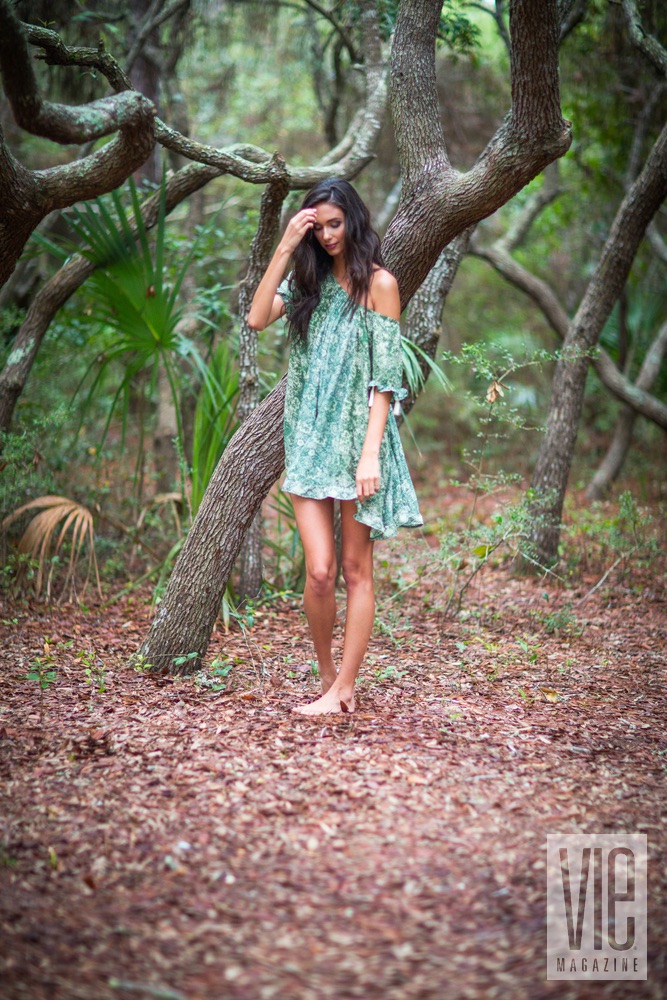 Fancy-campers are able to indulge in all the luxuries usually associated with staying at a fine hotel: spacious canvas tents are well-appointed with a bed, nightstands, area rugs, lamps, chairs, tables, and a cooling unit for ultimate relaxation. The campsite itself is even prearranged with string lights around the entrance of the whimsical tent, a fire pit stocked with a pile of firewood, and outdoor seating perfect for dining or stargazing. While most Fancy Camps sites are provided with the aforementioned amenities, they can be supplied with additional items or decor, if specifically requested. Whether it's an entrance lined with colorful wildflowers or a s'mores or wine package to avoid an extra trip to the store, Fancy Camps has made sure that no stone is left unturned when it comes to living lavishly in the woods. Even avid campers are taking kindly to more glamorous camping options, as there is truly no excuse not to be comfortable while doing what you love.
"People should fancy-camp if they want a truly unforgettable outdoor experience," Micah says. "Travelers are encouraged to tell us what special or unique thing would make their trip over-the-top. If it is possible, we will make it happen!"
Even avid campers are taking kindly to more glamorous camping options, as there is truly no excuse not to be comfortable while doing what you love.
Offering campsite services in Grayton Beach State Park and Topsail Hill Preserve State Park in Santa Rosa Beach and Saint Andrews State Park in Panama City Beach, Fancy Camps continues to expand and evolve as the demand for glamping increases. "Private locations in Bay and Walton Counties in Florida have requested tent accommodations," Micah says. "We've even initiated taking our show on the road for larger events like music festivals, outdoor weddings, or corporate events, and we are adding more locations as opportunities present themselves. Fancy Camps is currently working on a location in historic Saint Augustine, Florida."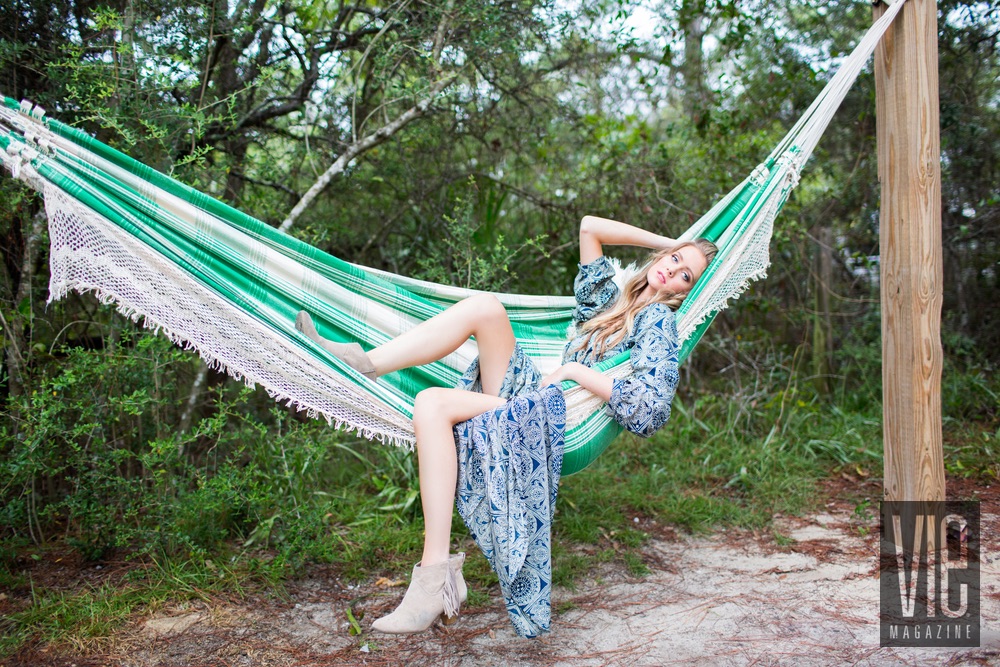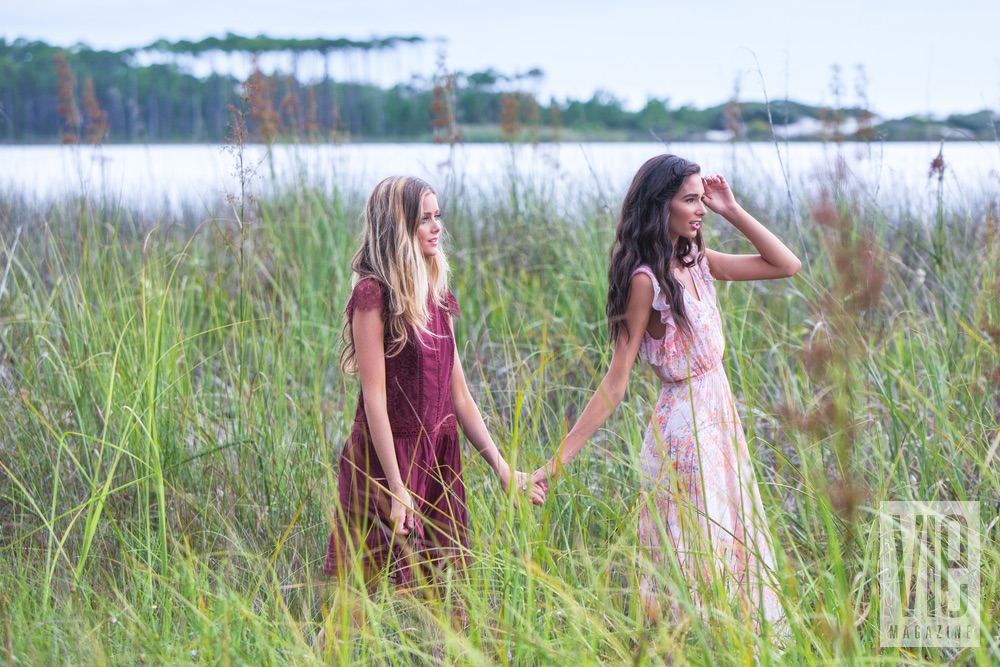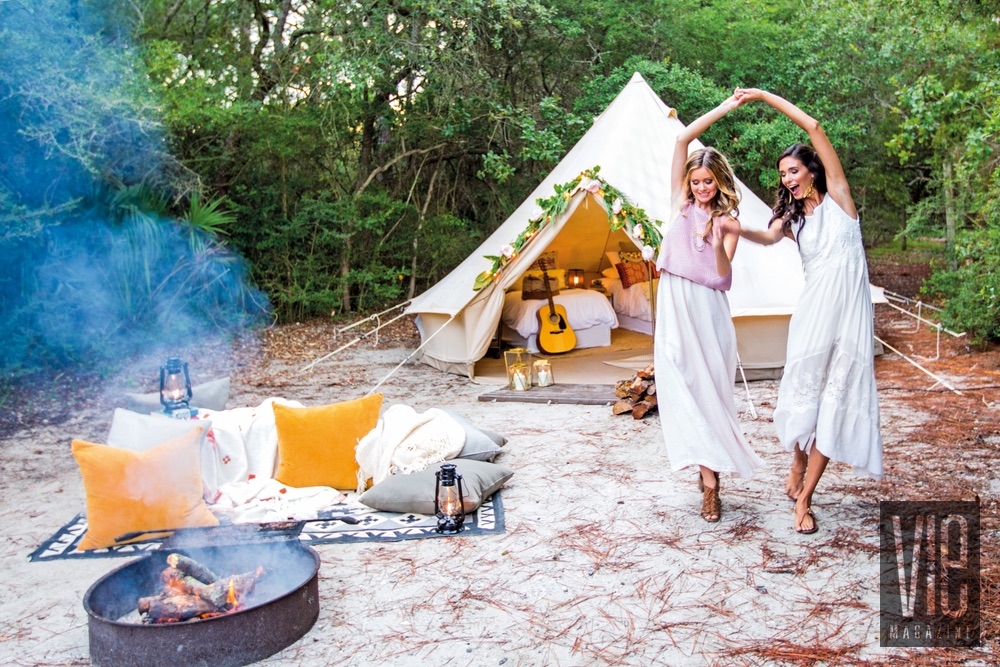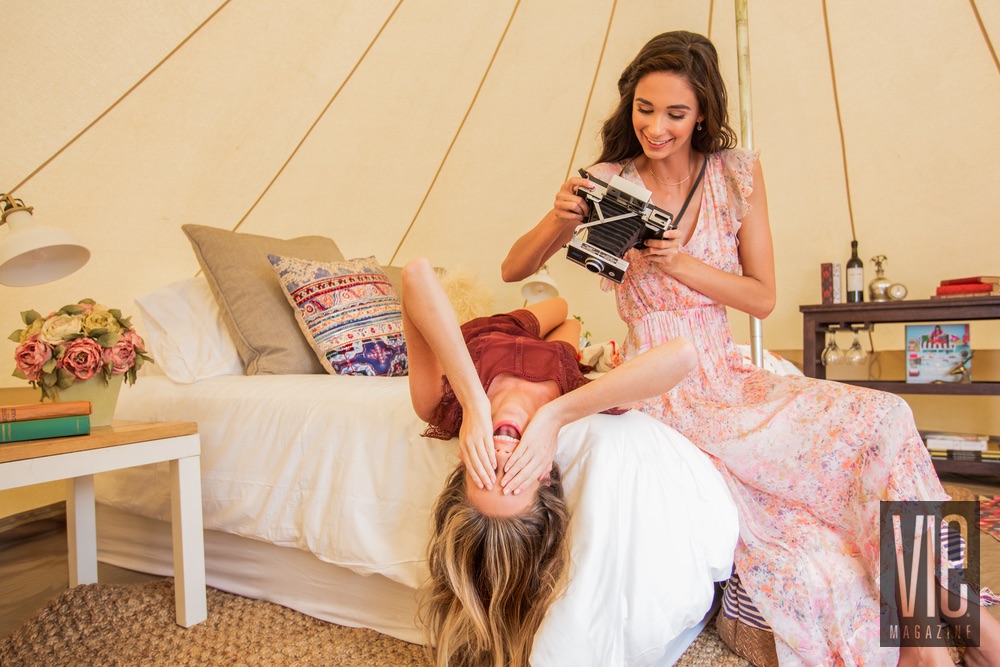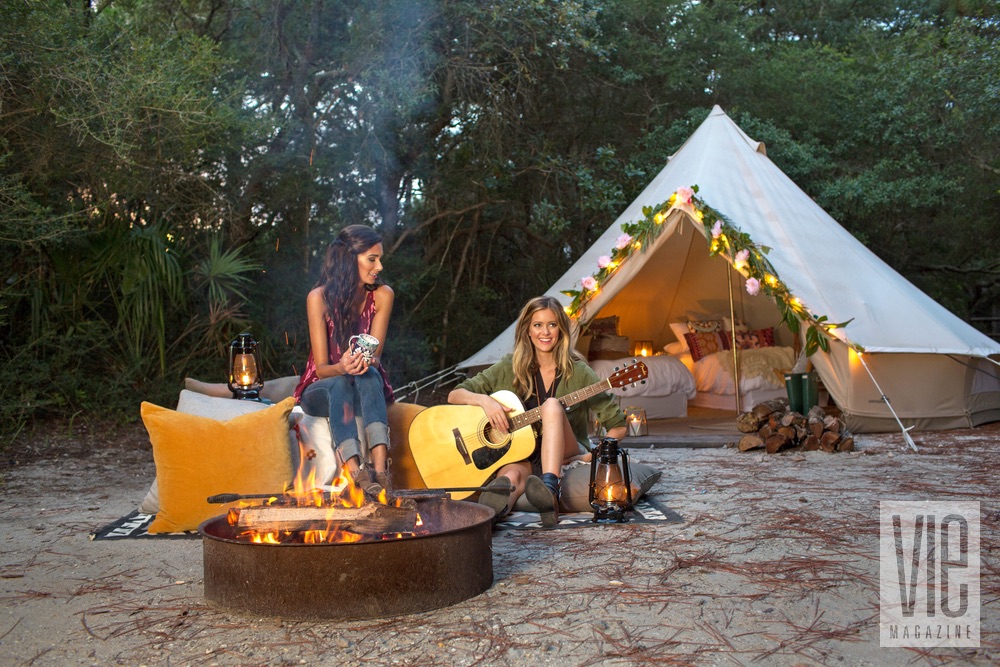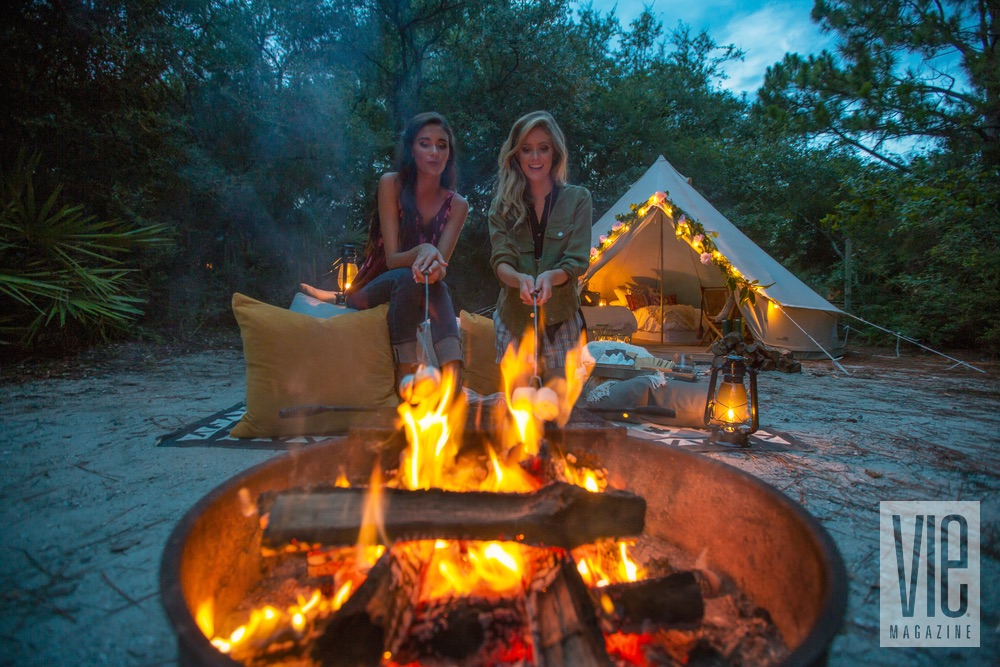 Though many consider fancy camping an ideal weekend retreat, there are plenty of other occasions perfect for this glamorous escape into the wild. Think about fancy camping for family reunions, corporate retreats, birthday parties, girls' weekends, hunting trips, and more.
While it continues to become more and more difficult to leave the hustle and bustle of work, home, or life in the city, finding joy in the beauty of nature—in an upscale and stylish way—might be just the push travelers need to get outdoors and get fancy camping.
—V—
---
To plan your own Florida glamping experience, contact Fancy Camps at (850) 628-9696 or visit their website at www.FancyCamps.com. Find them on Facebook, Instagram, and Pinterest at @FancyCamps.
Style and set direction by VIE
Tent decor from Fancy Camps, Anthropologie – Miramar Beach, and Robin's Nest Antiques & Uniques
Hair and makeup by Brenna Kneiss
Wardrobe from Anthropologie – Miramar Beach
ARTICLE CATEGORIES