By Karen Jazayeri | Photography by Jessie Shepard
Close your eyes, take a deep breath, and think back to the days of your childhood. Ladies, remember when you were a little girl, maybe ten years old, playing Barbie with your girlfriends or tackling that perfect climbing tree in the backyard. Gentlemen, think about your little girl or niece with the glowing face, playing dress up or kicking a soccer ball. Nothing can compare to a childhood where the exuberance of youth, the purity of existence, and unconditional love are experienced. Now imagine yourself walking through a pair of French doors. Open your eyes, and you are surrounded by a hundred little girls laughing, playing, learning—just being themselves. These are strong, smart, and bold girls. These are the girls of Girls Inc.
Girls Incorporated of Bay County (Girls Inc.) is a special place. This is where all girls are encouraged to follow their dreams and aim for the stars and where all girls, regardless of their backgrounds, are encouraged to pursue their passions through educational after-school and summer programs. Year-round, the Girls Inc. center is filled with hundreds of girls ages six to sixteen. Imagine yourself entering this world where girls participate in carefree activities, all the while building the foundations for their future successes.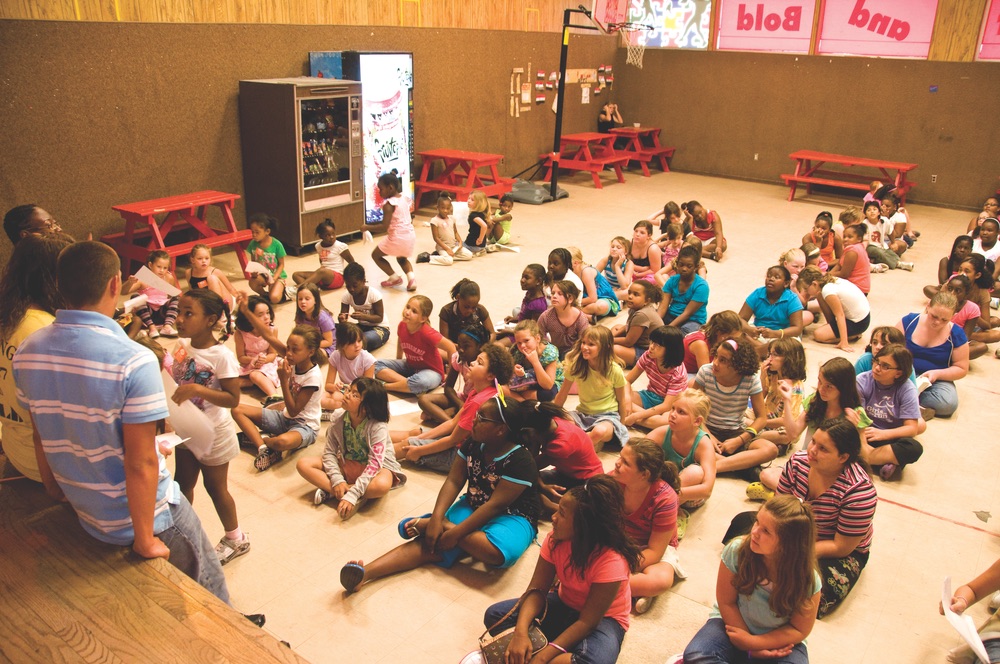 The Foundation for Success
Over thirty-five years ago, Girls Incorporated of Bay County, a registered 501(c)(3) nonprofit organization, opened its doors in central Panama City to provide a much-needed service in the region, becoming the sole provider of a program that focuses on the development of female leaders. Girls Inc. offers a specialized, supplemental educational curriculum that meets the current needs of young women within the local community.
From 2 to 6 p.m. during the school year and from 7:30 a.m. to 6 p.m. during the summer, spring break, and special school holidays, the Girls Inc. center is an exciting, ever-changing, dynamic site offering fun and learning.
Girls Incorporated of Bay County is the local affiliate of the national organization. There are over 1,000 Girls Inc. affiliates nationwide, all of whom strive to encourage girls to take risks and master physical, intellectual, and emotional challenges. Association with the national organization provides program resources that focus on addressing math and science education, pregnancy and drug abuse prevention, media and economic literacy, adolescent health, violence prevention and sports participation. However, all funding and application of these programs lie solely in the hands of the local Girls Inc. organizations.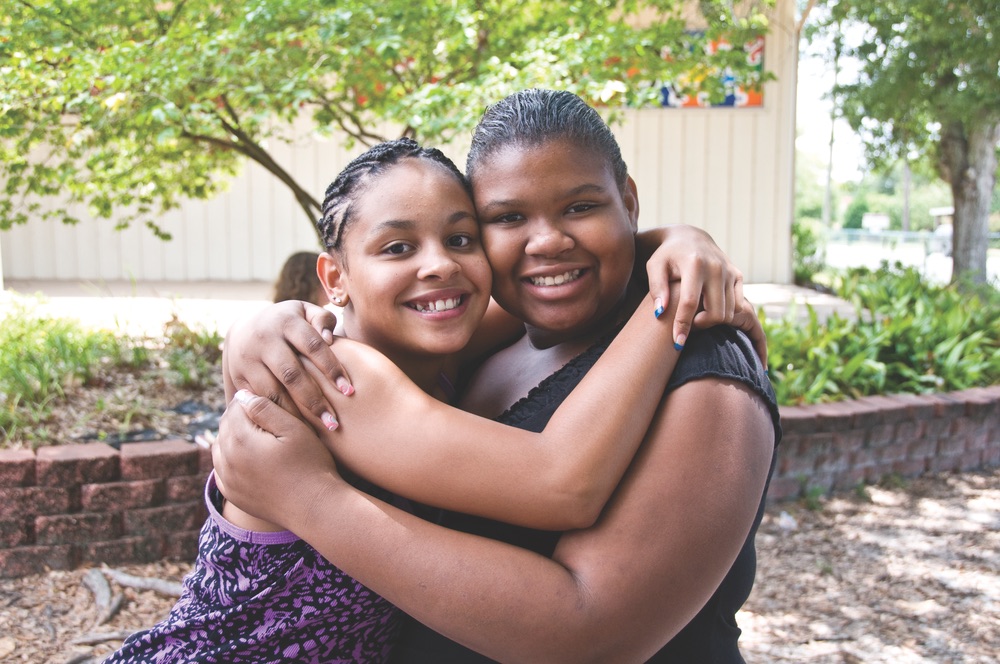 Girl of the Year
For twelve-year-old Taylor, Girls Inc. has been a mainstay in her life for the last six years, and she exudes characteristics that Girls Inc. attempts to instill in each of its attendees. Taylor's life story is similar to those of many readers of this story. She was born in Panama City—a regular girl, in a regular family. However, at twelve she is already setting herself up for a successful future. Taylor is a straight-A student at Jinks Middle School, a leader in her community, an active participant in volunteer and school organizations, and a role model for her peer group; most importantly, she believes in her abilities. Taylor was chosen as Girls Inc. 2009 Girl of the Year. Her mom, Jennifer, credits "much of what Taylor has become to her experiences at Girls Inc."
When asked what she has gleaned from Girls Inc., Taylor answered, "Whatever it is that I am learning—cultures and cuisines from around the world or how to build a robot—everything focuses on letting each person develop her skills in an unconditionally supportive, constructive environment. That is why I like it here. Every day I am learning how to become a stronger, smarter person. That will help me now and in the future." Taylor knows she is a shining star, but this knowledge doesn't go to her head. She knows she is a role model, especially to the younger girls. In fact, her foresight and goals are so well defined that she has already made plans for college. She will apply for the Girls Inc. college scholarships that will be available to her in about five years.
Taylor's story is just one of many similar accounts that you will hear at Girls Inc. But Taylor is one of the lucky ones. She has the family support that will help her along her road into the future. Unfortunately, many girls are not quite so lucky. Heartbreaking stories abound—stories that will turn a listener's stomach. Six-year-olds open up and relate traumatic experiences that no adult, much less a child, should ever face. However, that is one of the beautiful things about Girls Inc. For hours every day, these girls, regardless of their backgrounds, come together on an equal playing field. They are in a safe haven. They can forget about their problems and just be themselves.
United as One
Each day at the Girls Inc. center, the focus is on two primary goals. The first is to have fun, and the second is to learn. The fun part comes rather easily. The open-arms policy and repetitious teaching of acceptance means there are few cliques, minimal peer pressure, and hardly any behavioral problems. Since the center handles such a large demographic (girls six to sixteen years old), this is quite an accomplishment.
Recognizing that each girl has unique interests, Girls Inc. makes sure that girls are never bored. Free time is sandwiched between a scheduled homework period and a structured program hour. Special activities take place every Friday and various field trips—camping, marine camp, museums, outdoor centers, etc.—are available throughout the year.
Older girls can look forward to the unique opportunity of participating as members of a Step Staff. This is a special program for girls at the seventh-grade level and up to assist full-time staff in the day-to-day running of the center. These girls not only accept ownership in the organization, but they are also learning vital career skills. Each girl must apply for the position, interview, follow a schedule, clock in on time, and fulfill her work responsibilities, such as answering phones, helping younger girls, assisting program teachers, and helping with office chores. After working a minimum number of hours each term, the girls are rewarded with a special trip to a local water park.
Girls Inc. University 2009
Facing an increasing demand from the community, Girls Inc. raised the bar for the summer 2009 program by offering Girls Inc. University or GIU, which encompassed seven key program areas: Technology, Oceanography, Visual Arts, Health, Cultures and Cuisines from Around the World, Business, and Sports. Program participants were given T-shirts featuring the GIU emblem and colors (red and white), and a graduation celebration upon completion.
This summer, Girls Inc. and the Bay County Health Department partnered to offer a special program titled the "Artful Truth." The Bay County Health Department's Tobacco Prevention Program, with funding provided by the State of Florida, teaches youth the dangers of using tobacco, employing traditional art techniques as the medium for learning. Each day the girls were taught art by local phenomenon Dr. Michelle Creel and received tobacco prevention lessons from the Health Department team.
The climax of this program occurred the week of August 12–18 when all the artwork went on public display at the Visual Arts Center in downtown Panama City. The works ranged from an interactive "tobacco jungle" created by the first- and second-grade girls, to a 15- by 20-foot hand-sewn quilt by the seventh- and eighth-grade girls. Large-scale murals, inspired by the works of Keith Haring, sprang from the imaginations of the sixth-grade girls; and teenagers, inspired by Marc Chagall, created individual murals and mosaic works, which many viewers thought were part of the permanent exhibit at the Visual Arts Center.
Fortunately, the results of the girls' hard work did not end in August. The exhibit will tour various destinations in Florida, and particular pieces may be incorporated in the World Health Organization's Summit on Tobacco next year.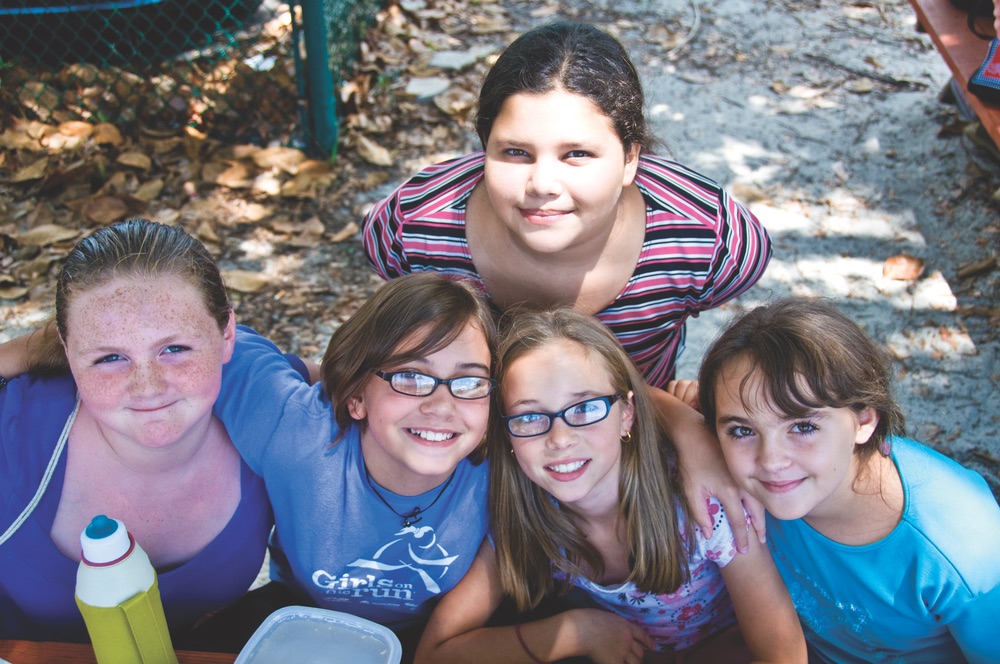 Clair's House
Vicky Harless, a house parent for Clair's House, sends her girls to participate in the Girls Inc. program every summer. Clair's House, part of the nonprofit Children's Home Society, provides long-term family-style housing for up to ten girls who have nowhere else to go. The young women who now call this place home have experienced trauma but are now excelling as they progress towards adulthood. There are only a few options for children in Bay County once they enter state custody: shelters, foster care, adoption, or Clair's House, which feels like a home. Life at Clair's House is like that experienced in any other traditional family, with after-school activities, rules, point systems, allowance, and unconditional love. Most, if not all, of these elements are brand new experiences for the girls.
Harless said, "Girl's Inc. is the only option in Bay County that adheres to the same standards that I do: structure, love, boundaries and responsibility." Camille (whose name was changed to protect her privacy) came to Clair's House and subsequently to the 2009 Girls Inc. summer program with a little bit of an "attitude." However, within weeks, everyone noticed a change. The Step Staff Program taught Camille accountability and an understanding that one cannot quit when something does not go her way. Camille's face showed her exhilaration when she received her letter of recommendation at the end of the program, according to Harless, who pointed out that this is one of the first times Camille has received positive affirmation outside of Clair's House.
Something else the Clair's House girls took away from the Girls Inc. summer session was an understanding of philanthropy. Early in the summer, the business program introduced the girls to residents at Lisenby Retirement Center. Not surprisingly, the center residents and the girls loved the reciprocal attention. This fall, without any prodding, the Clair's House girls continue to visit their new friends every Saturday. They play bingo, give manicures, organize parties, and get one-on-one attention from people who believe in them.
The Community Makes the Difference
In order to continue its good work, Girls Inc. looks for funding from a variety of sources: functioning as a United Way affiliate agency, partnering with other local organizations, applying for grants, holding fund-raisers, or accepting generous contributions from members of the community. The organization's operating goal is to keep the enrollment fees as low as possible so that all girls have an opportunity to attend.
Although Girls Inc. is open to every girl, a vast percentage of the girls' families are at or below the federal poverty line, and they simply cannot afford another bill. That is where Girls Inc. scholarships help these families. This year, with the nation's precarious economic position, scholarship requests skyrocketed; nevertheless, not one girl's request was declined. Parents do not blink twice when they hear the requirements—they know the value of what their daughter is receiving.
Girls Inc. has also felt pressure due to a nationwide decline in donations to nonprofit organizations, but by streamlining overhead costs and thinking outside the box, it continues to provide top-notch services to the over 450 girls who walked through its doors this year. The agency's success could not have been achieved without the tremendous support it receives from the community.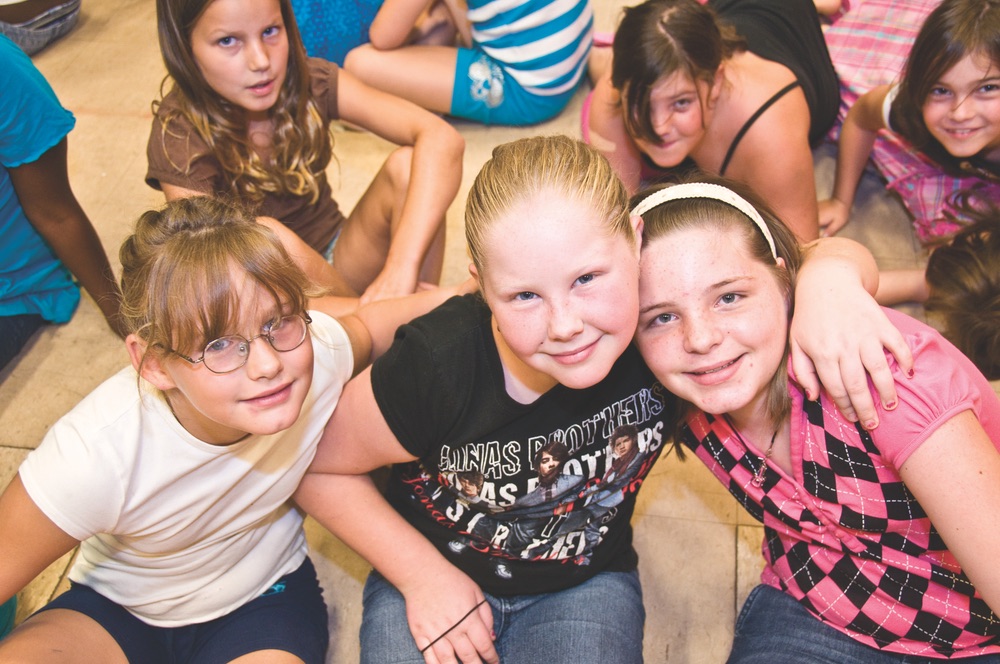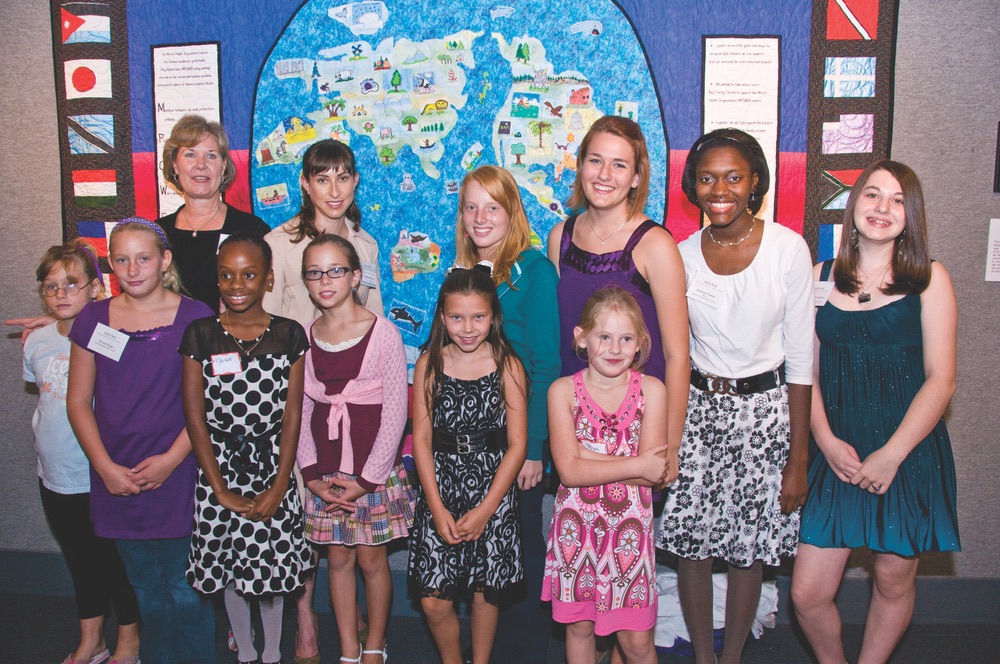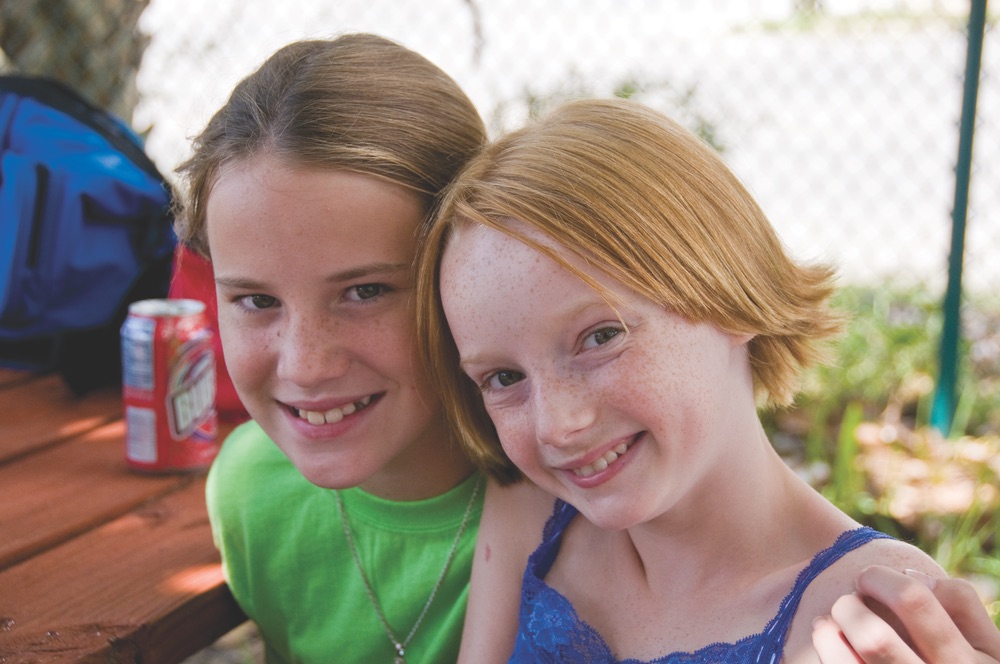 Through Her Eyes
Growing up isn't easy. Seeing the world crumble due to violence isn't easy. Being judged for being a girl, as if I had any control over that, isn't easy. Having everything you've ever wanted and then waking up to having nothing isn't easy. Knowing that you want the troubles to end and realizing that you're just a girl in a world of violence isn't easy. Looking into the future and seeing what you can become but hearing others put you down isn't easy. Knowing you have all the love and support of people at Girls Incorporated makes a girl's life easier.
With thanks and love, D., age 14
— V —
---
To contact Girls Incorporated of Bay County Girls Incorporated of Bay County 1100 Fountain Ave. Panama City, FL 32401 www.girlsincofbaycounty.org 850-769-6703 or fax 850-747-0801 Karen Jazayeri, Executive Director kjazayeri@girlsincofbaycounty.org
To contact Clair's House, a division of Children's Home Society Vicky Harless Emerald Coast Division 914 Harrison Ave. Panama City, FL 32401 850-215-8194 maria.harless@chsfl.org
Karen Jazayeri is the executive director for Girls Inc. of Bay County. She is a passionate lifelong Floridian dedicated to ensuring a solid foundation for the future development of the state. Her professional background includes a master's degree in international politics and development with subsequent professional experience through a prior career in Tallahassee working in regional public affairs and public relations. Her personal hobbies include international travel and sports.
ARTICLE CATEGORIES