AN EVENING OF EMPOWERMENT THROUGH THE ARTS
BY ANNE HUNTER |
PHOTOGRAPHY BY ARANKA ISRANI
When I asked Trump top model Hartje Andresen what inspired her most about this year's Mercedes-Benz Fashion Week New York, her answer surprised me. "My friend Erica Garber, she is teaching a fashion class to girls in Brooklyn." Hartje was wearing a svelte cream-colored romper and weaving her way through a fashion crowd of New York City's finest at a private event. I followed closely behind her, the reverb from the music beating around us. As we wove in and out of the crowd, Hartje managed an explanation in my ear through her distinct German accent. "Erica is creating a unique fashion week for students in Brooklyn that you should know about." It was as if someone had run a needle across a vinyl record. Coming from a woman who has walked the runway for the world's top designers, Hartje's comment put my first fashion week foray into perspective.
Hartje Andresen was one of four members of the fashion week team enlisted by VIE to cover the Fall/Winter 2015 shows at Lincoln Center. Her photos have graced the covers of the world's most prominent magazines, and her career began as one of the original models at Bruce Weber's famous photo shoot for Abercrombie and Fitch. For Hartje, I would soon discover, it was not her status as a top model at Trump Model Management that defined her character—but rather, her role as a role model.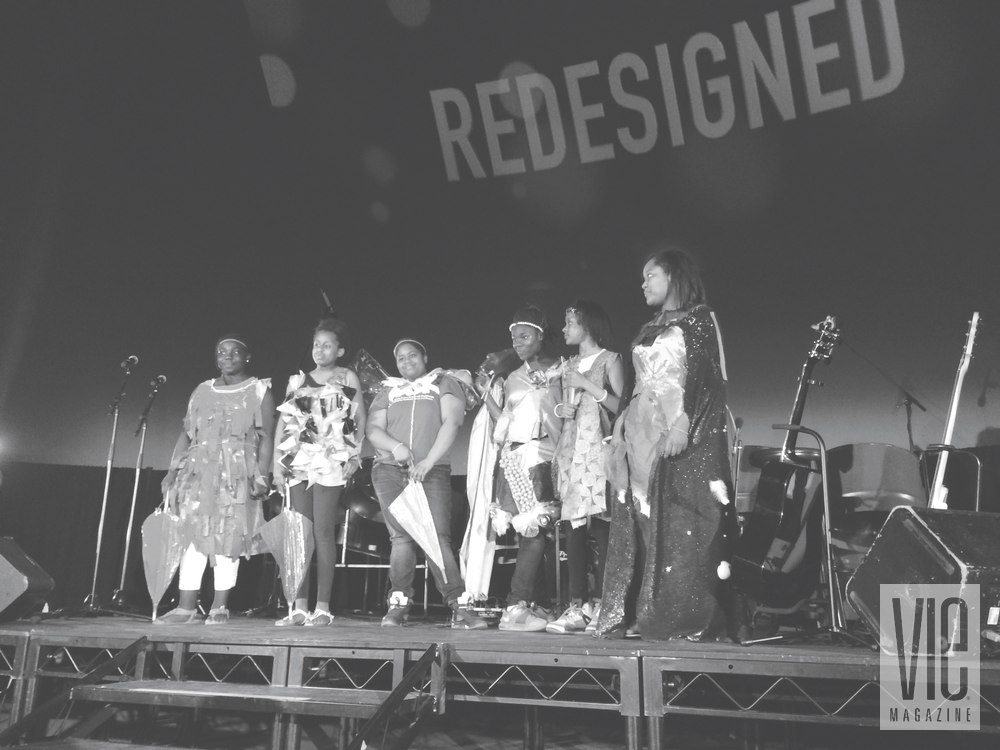 Along with photographer Aranka Israni, I followed Hartje's inspiration to find Erica Ann Garber, the coordinator of program development in the visual arts for the Sports and Arts in Schools Foundation (SASF), at Brooklyn's Middle School 61K. She was surrounded by a classroom of young students who were sewing garments using needle and thread. They were exuberant, filled with pride for their one-of-a-kind creations that would soon be walking the runway for a program called Girl Redesigned. Created to build self-confidence and empowerment, Girl Redesigned is an educational course for middle school girls offered through a series of after-school workshops in fashion design, music and vocals, and filmmaking. Erica explains, "Through Girl Redesigned, students discover that art has the power to transform perceptions of identity and reality."
Through Girl Redesigned, students discover that art has the power to transform perceptions of identity and reality.
Erica is no stranger to the arts and education. She graduated summa cum laude from Columbia University with a Master of Arts in Art and Art Education and summa cum laude with a Bachelor of Science degree from the Fashion Institute of Technology. Erica is back in the classroom, but rather than earning a degree this time, she is using her education to empower girls to become strong women.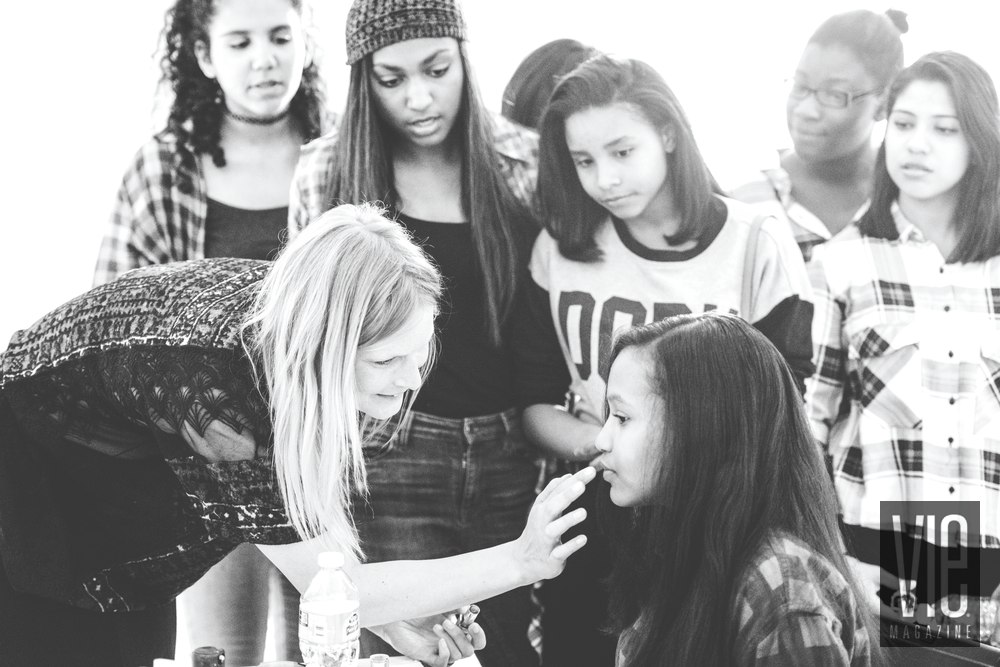 The inspiration for Girl Redesigned began with a curriculum Erica developed with the help of Jacqueline Brown, the visual arts coordinator for SASF. They called the lesson plan Gratitude, Grit, and Growth: Making Art, Defining Character. "Middle school girls in Western society today grow up with increasing pressure to meet narrowly defined social ideals," Jacqueline says. "For girls ages ten to fourteen, puberty is all too often the spark for negative feelings and an unhealthy body image; however, there is great evidence to support intervention at this critical life moment."
Erica's personal teaching philosophy is rooted in the idea that providing a safe environment allows for artistic exploration. "Once young people feel safe to explore, they will feel free to express authentic ideas, and that is where transformation and idea formation can take place," she explains. "My goal is to provide them with the tools to express their ideas through a visual language." Gratitude, Grit, and Growth—and later Girl Redesigned—germinated from this idea. "I strongly believe that when you provide students with the skills and tools to express confidently with visual language, we are given the opportunity to hear the students' authentic voices."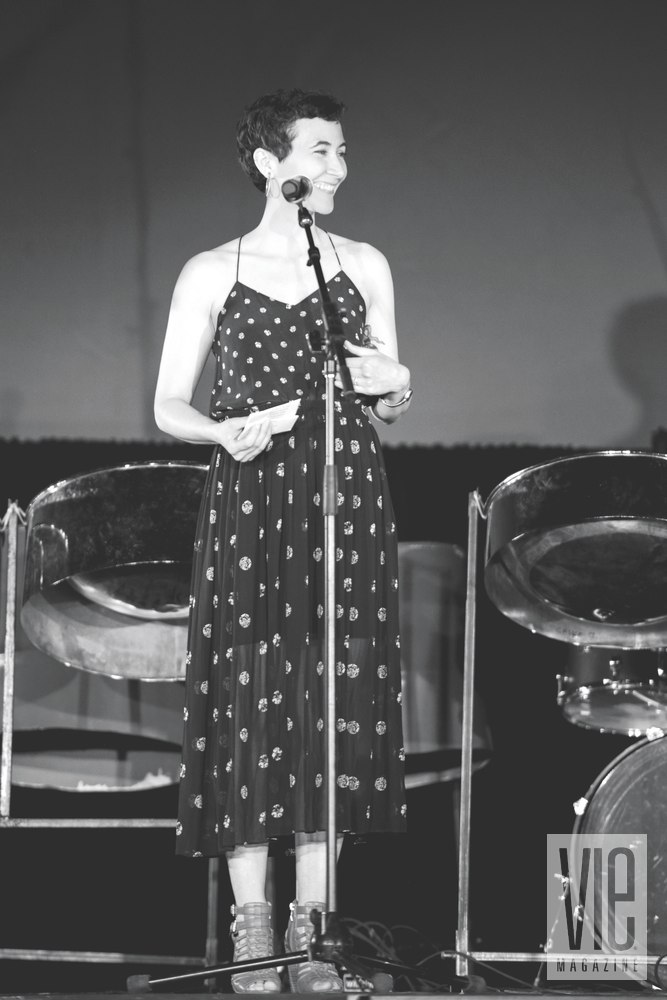 Girl Redesigned challenges students to identify with one exemplary quality they possess and therein bolster the character trait that they aspire to strengthen—represented through music, art, and design. The program culminated at the Museum of Modern Art PS1 Performance Dome on May 8, where the lineup included performances by an all-girl rock band, a spoken word troupe, and a steel-pan ensemble alongside a runway fashion show featuring original pieces from the fashion design students. Projected throughout the show was video footage captured by young filmmakers. Hartje was joined by fashion stylist Allyson Longshore and Fekkai hairstylist Savannarith Chy, who, alongside the SASF team, prepared the girls for their runway debuts.
I strongly believe that when you provide students with the skills and tools to express confidently with visual language, we are given the opportunity to hear the students' authentic voices.
"At this age, action-oriented programs build confidence and inspire girls to feel better about themselves," Erica continues. "This was the first year for Girl Redesigned, and we plan to make it an annual program. We hope to expand the fashion design classes for next year and also offer the opportunity to more girls for the second annual fashion show." For the future, Erica also plans to continue pushing forward the idea of exploring character development using artistic mediums. "We want to explore tough issues and inspire the confidence to express and share deeply personal feelings."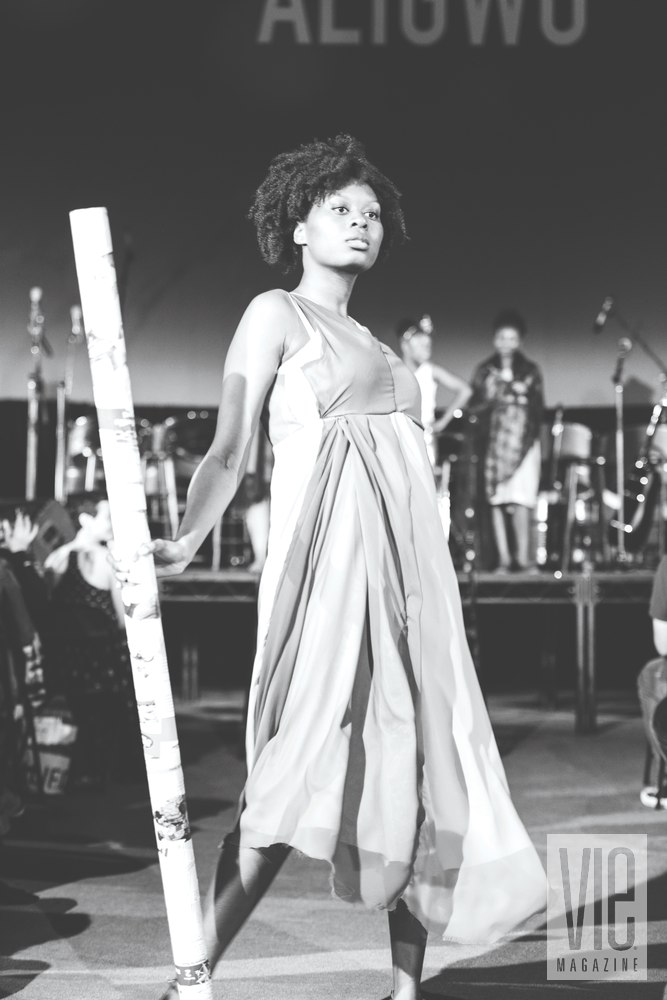 At this sensitive age, asking girls to explore insecurities and also form new confidence is no easy task. This was part of the reason for choosing to make this an all-girl program and event. "We felt it offered the security they needed to support one another without fear of feeling misunderstood or judged," Erica says. The mostly female SASF staff was also there to act as mentors for the girls and foster the safe space to ask challenging questions. "This was the core of the program from the start, and I think the show's success at MoMA PS1 was a direct result of this element. Every young woman that participated was offered the opportunity to present her transformation with newly found confidence."
In addition to Girl Redesigned, SASF offers various art and sports programs to more than twenty thousand students in about 120 New York City schools every year. While talent is distributed equally among New York City children, access to opportunity is not. The SASF works to close this "opportunity gap" with high-quality extended-day programming that helps public school students from NYC's diverse neighborhoods develop the resilience, aspirations, and skills needed to graduate from high school and to succeed in college and their careers. Since its inception in 1992, SASF has been improving the lives of youth through a wide variety of before- and after-school programs and Saturday, holiday, and summer enrichment activities—including academic support, organized sports and fitness, visual and performing arts, character development, community service, and college prep programs—that counteract the three greatest threats to New York City youth: low high-school completion rates, high obesity rates, and the rising frequency of teen-on-teen violence.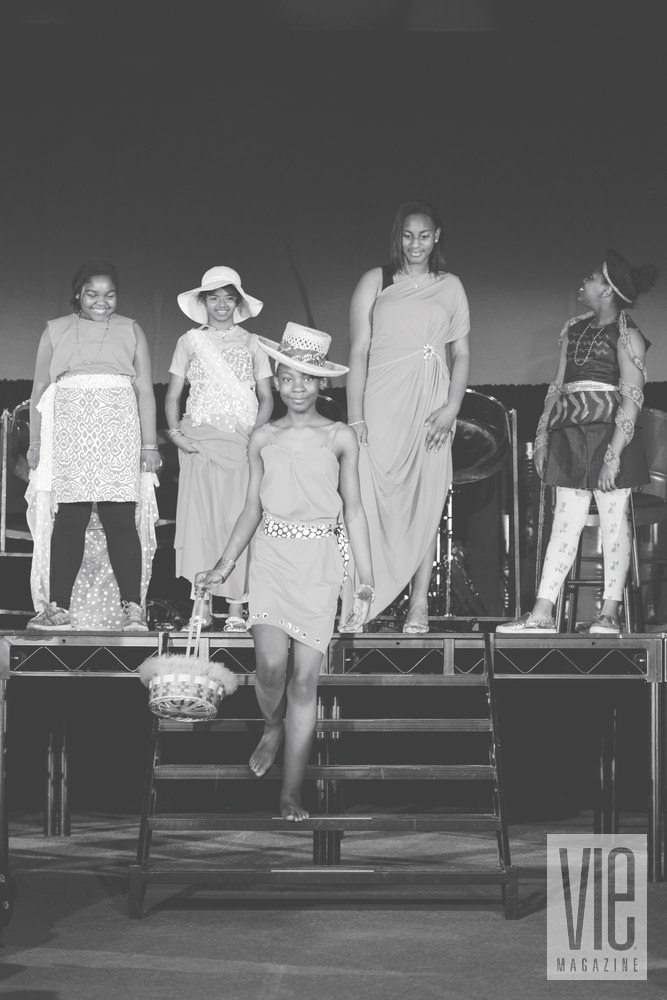 "Our overarching goal at SASF is to connect students to their education in ways that they might not find in the normal school day," says Erica. "Fashion is a huge component of that; not just because of the skills it imparts, which all tie back to larger trends in education—applied math, project management, etc.—but that's sometimes a tough sell."
Girl Redesigned came with its fair share of challenges. "One of the greatest challenges was the mission itself," Erica explains. "At this life moment, many girls are experiencing negative body image and lack of confidence in their work and their ideas, not to mention fear of the stage and the audience. We worked diligently with the students to overcome these obstacles, but by the end, they did overcome the obstacles and were able to walk with power and grace, and speak so eloquently. Each one of them has touched my heart and has empowered me through her journey. I am so inspired to do this again and so much more. I couldn't have done this without the hard work of visual arts coordinator Jackie Brown, music coordinator Krystyl Maksom, and assistant performing arts coordinator Amara Davila. I am grateful for every day I get to work with such a talented team of inspiring and motivated women."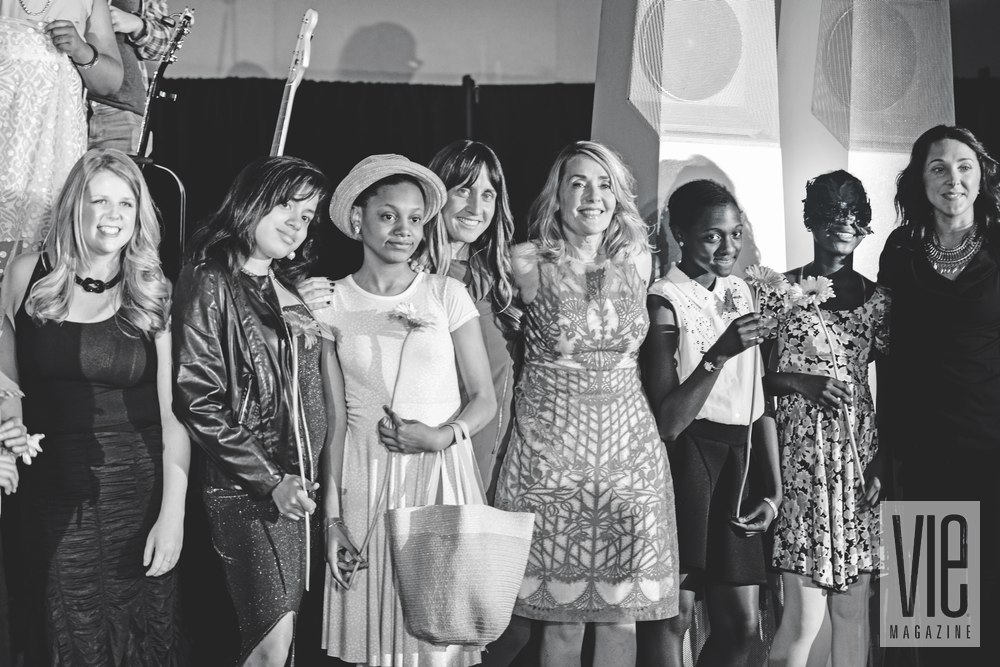 The greatest reward for the Girl Redesigned team was listening to the girls talk about what the process meant to them. "They hold themselves and speak now with more confidence and grace, more kindness, and more grit. They really did accept my challenge, and they met it," Erica says. "They allowed us to help them grow in beautiful ways. It is my sincere hope that not only did they have one short opportunity to reflect on their character and grow, but now they also know how to do it on their own." If she could ask for one thing, it would be that each of these girls carries that lesson with them and continues to reflect and better themselves throughout their lives with the understanding that they have the power to shape their future. "Their only challenge now is to decide on a path and take it."
The Girl Redesigned fashion show also included guest speakers Genevieve Ascencio, senior director at Factory PR in New York, and VIE publisher Lisa Burwell, who spoke to the group about achieving their dreams and celebrated their tremendous accomplishments that night. "We've attended fashion weeks in London, in New York, and in Berlin," Burwell says. "Sitting front row at those shows is incredible, but none of them holds a candle to this one."
VIE would like to thank everyone, especially the students and teachers of SASF, for letting us be part of your big night at MoMA PS1! Schools involved include 522K Mott Hall Eagle IV, PS 308K Clara Cardwell, PS 42Q R. Vernam, MS 61K Dr. Gladstone H. Atwell, JHS 151X Lou Gehrig, IS 116Q William C. Hughley, PS 134 George F. Bristow, MS 354K School of Integrated Learning, and IS 318K Eugenio Maria de Hostos.
— V —
---
After attending the Girl Redesigned program at MoMA PS 1 VIE's publisher, Lisa Burwell, learned that one of the students from Intermediate School 318, a member of the all-girl rock band Beautiful Imperfections named Gen Rosario, had her own blog. Gen started her blog, Being Gen, as a response to being bullied at her school. Through Girl Redesigned, she has found new confidence and new friends. VIE is honored to have Gen share her story here.
ARTICLE CATEGORIES