A Guide to the Best Bed-And-Breakfast Retreats from COLA 2 COLA®
Introduction by Jordan Staggs
Thanksgiving family dinners and 4:00 a.m. wake-up calls on Black Friday, Christmas gifts piling up under the tree, and New Year's Eve parties are all reminders that the holidays are certainly among the busiest times of the year for most people. But it doesn't have to be stressful or difficult. Sometimes it's easy to forget that a "holiday" means a break from normal everyday responsibilities. In fact, it's the perfect time to get away from it all—literally. That's why VIE has scoured Northwest Florida for the very best in bed-and-breakfast getaways.
Since medieval times, roadside inns and taverns have offered hospitality to weary travelers with a comfortable bed and a solid meal. But you don't have to travel back in time to enjoy this luxury. Bed-and-breakfast establishments can be found in almost every town—even in tourist destinations that are known for more large-scale accommodations. When it comes to cozy holiday retreats, bed-and-breakfasts are perfect for those who are looking for charm and a homey atmosphere.
Florida's Gulf Coast is known for its luxurious white-sand beaches and emerald waters, and for being the hottest spot for summer tourists. To some, the fall and winter seasons are even more beautiful in this little piece of paradise and the perfect time to enjoy everything the beach has to offer—minus the traffic. Holiday shopping is a pleasure at the many outdoor shopping centers, gift shops, and boutiques the area has to offer. The wait times are shorter at attractions and restaurants, and the beach is just as enticing. The cooler fall breezes make getting sun even more enjoyable as visitors revel in a good book in the garden, take a ride down Scenic Highway 30-A's eighteen-mile bike path, or stroll leisurely along the water's edge.
After a long day of fun and relaxation, go back to any of these bed-and-breakfasts and take a load off! The owners of these retreats take pride in their properties as they would their own homes and strive to make their guests comfortable—as if they were part of the family. From the internationally inspired decor at La Maison de Lucy to the nostalgic Old Florida charm of Hibiscus Coffee and Guesthouse, this B and B guide has something for everyone. So, put your feet up, grab a mug of coffee or a glass of wine, and imagine living a simpler life as you peruse this list of fantastic homes away from home.
---
Coombs House Inn
BY Audrey johnson | PHOTOGRAPHY COURTESY OF coombs house inn
Apalachicola is one of those special corners of the earth where local businesses rule and friendly faces are everywhere you turn. The Apalachicola River meets the Gulf of Mexico in harmony, and you realize that there's something much bigger going on than the petty thoughts and problems of the day. Life is simpler there and the people are kinder.
And so it was no surprise that the Forgotten Coast was chosen as the perfect backdrop for the Sports Illustrated swimsuit photo shoot last fall. The world-renowned supermodels, photographers, and crew took over Coombs House Inn bed-and-breakfast and set the Gulf Coast abuzz with excitement. But Sports Illustrated wasn't the only world-renowned outfit in town. Lady Lynn Wilson, owner of the Coombs House Inn, is an internationally known interior designer with a stellar résumé. She has designed interior spaces for palaces and hotels all over the world; her client list includes such notables as Queen Elizabeth II and Donald Trump.
On Friday nights at the inn, the staff offers guests red and white wines and assorted cheeses while Lynn gives a brief history of the Coombs House and how she came to acquire it. Lynn and her husband, Sir William Spohrer, bought and restored the Victorian mansion, paying close attention to historical detail. Proud of the tremendous remodeling project, she shows a photo album with before and after pictures documenting the amazing transformation.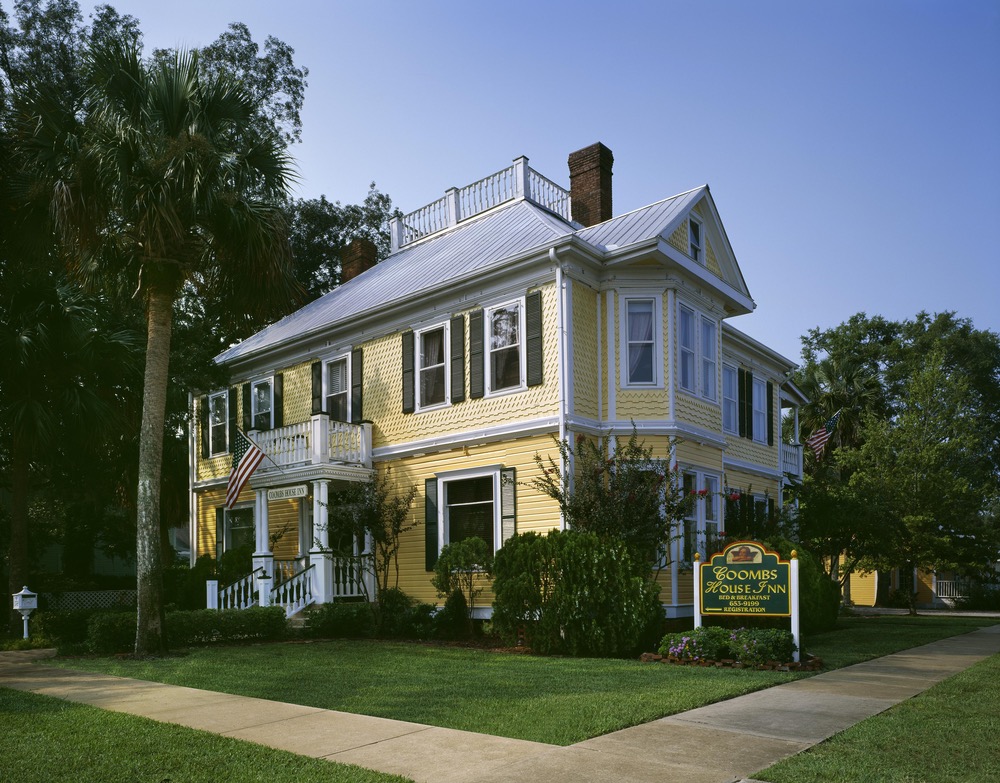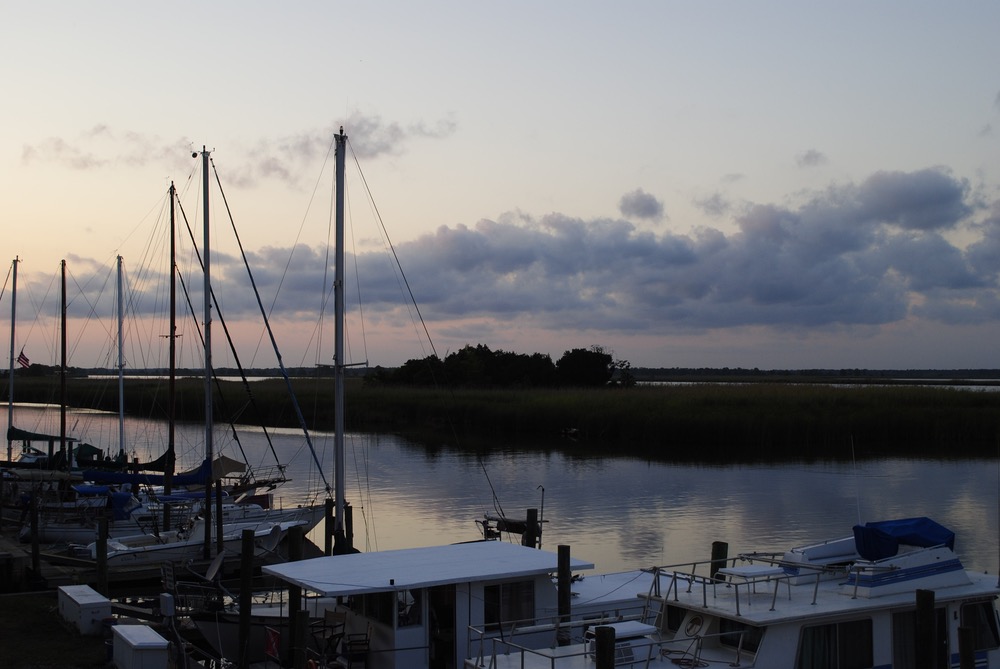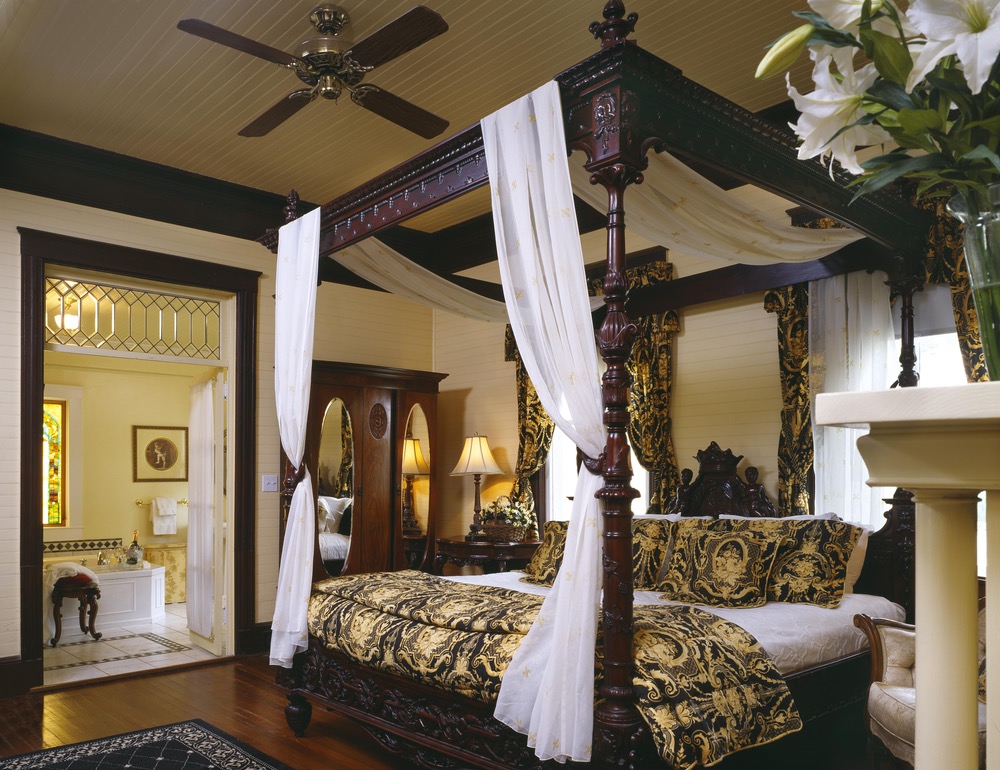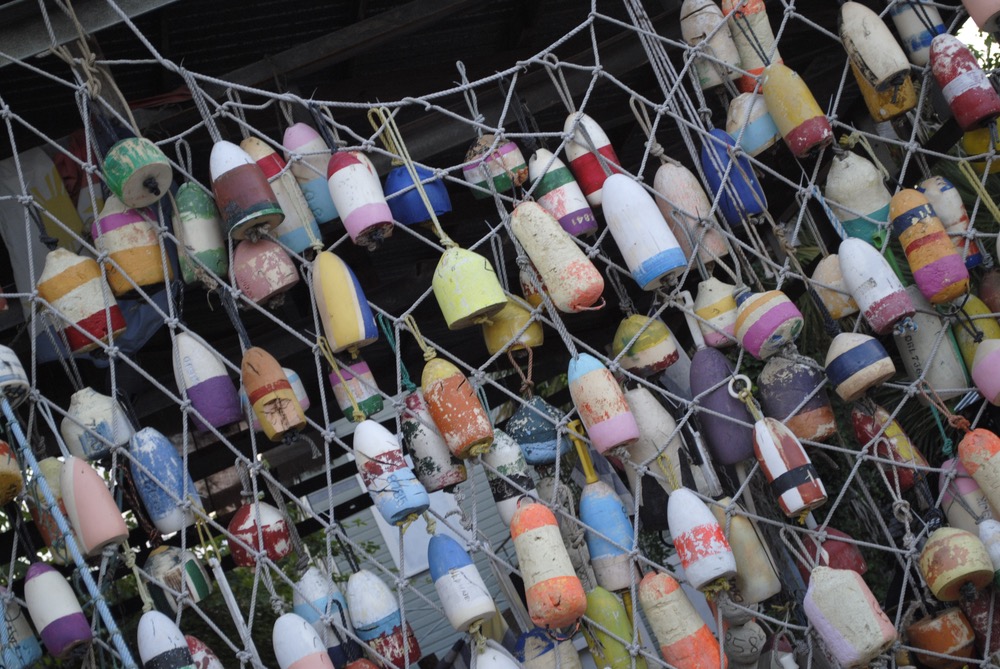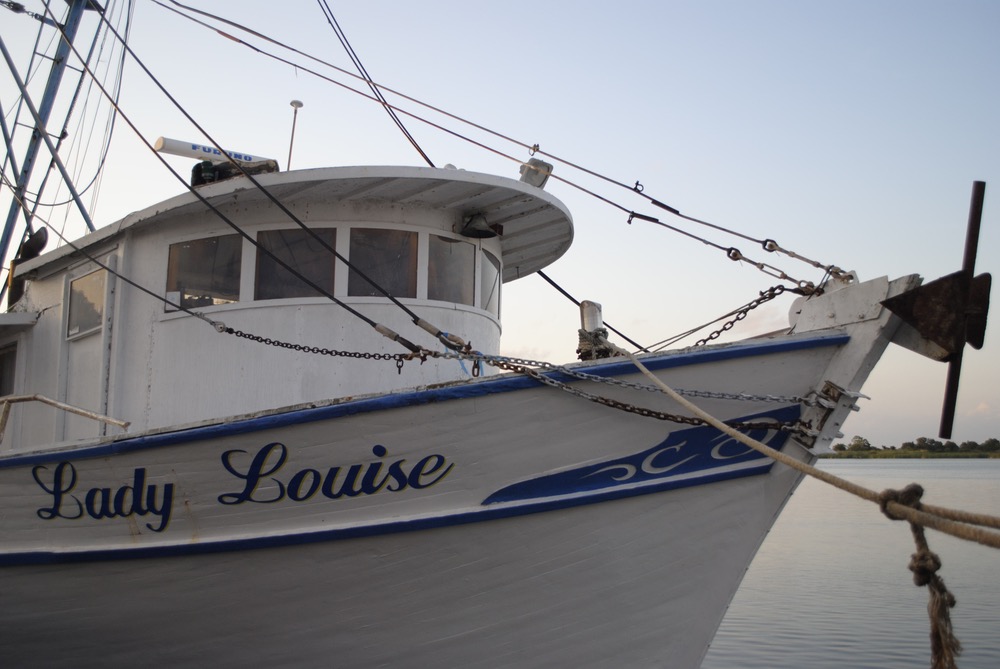 The interior of the house is decorated with antique furniture and intriguing artwork reminiscent of life at the turn of the twentieth century. Ancient shade trees keep the verandas cool while cozy chairs and porch swings encourage lazy days. Saturday morning breakfast, with delicious treats like frittatas, fresh fruit salad, blueberry muffins, and Starbucks coffee on the menu, is not to be missed.
Lynn could live anywhere in the world, so I had to ask, "Why Apalachicola?" She simply said, "One person can make a difference." Lynn saw a chance to lead the restoration of a once booming town to its former beauty. In the process, she achieved personal fulfillment. As it turns out, Lynn was looking for the same thing that Sports Illustrated was searching for—that little slice of Americana. Florida as it used to be. Raw, natural, and untouched.
Coombs House Inn 80 Sixth Street Apalachicola, Florida 32320 Phone: (850) 653-9199 / Toll-free: (888) 244-8320 E-mail: info@coombshouseinn.com www.coombshouseinn.com
---
Henderson Park Inn: Back and Better Than Ever!
BY kim duke-layden | PHOTOGRAPHY COURTESY OF henderson park inn
The stately Henderson Park Inn sits at the western end of Scenic Highway 98 on a secluded, pristine stretch of beachfront bordering idyllic Henderson Beach State Park. Its New England–style architecture and weathered, cedar-shingle siding, are more reminiscent of coastal Maine than Destin. Within the inn's three-storied main house and three-storied annex next door are thirty-six sublime suites with balconies overlooking the emerald-green waters of the Gulf of Mexico.
Upon check in, guests are greeted in their rooms by chocolate truffles on pillows and a welcome tray with a bottle of wine, fresh grapes, and roses—compliments of the innkeeper, Ryan Olin. All suites are comfortably appointed with European-style furnishings—the larger suites with mini-kitchenettes and small seating areas. Most have private, oceanfront balconies, the perfect spot to enjoy sea breezes, sunset toasts and, after that perfect night's sleep, the day's first cup of fresh-brewed coffee.
Henderson Park Inn's natural surroundings present an abundance of options for outdoor activities. The close proximity of the pristine Henderson Beach State Park beckons for intimate morning strolls along one of Destin's most impressive beaches. The complimentary bikes and kayaks might tempt the athletic adventurer; or simply soak up fresh air and sunshine from complimentary beach chairs and umbrellas.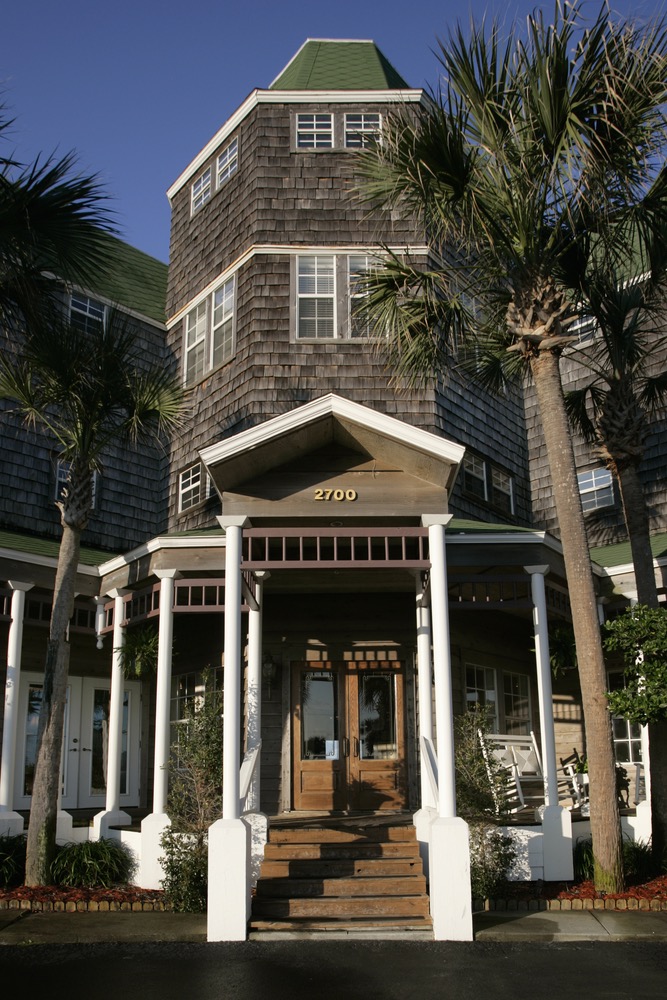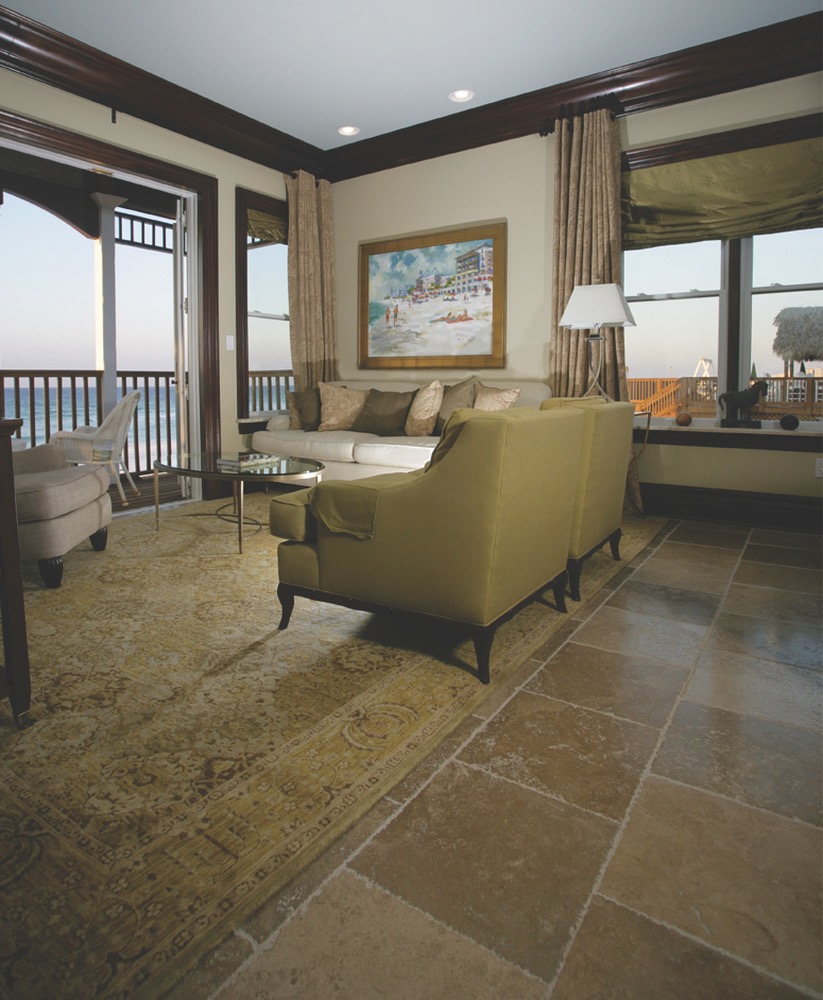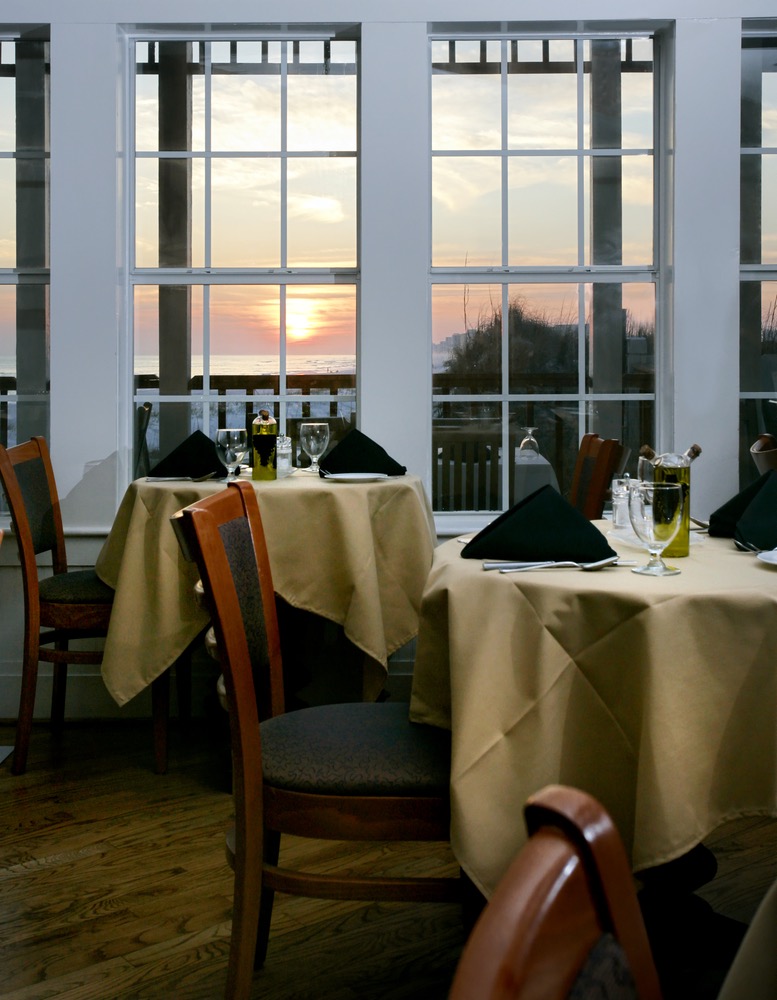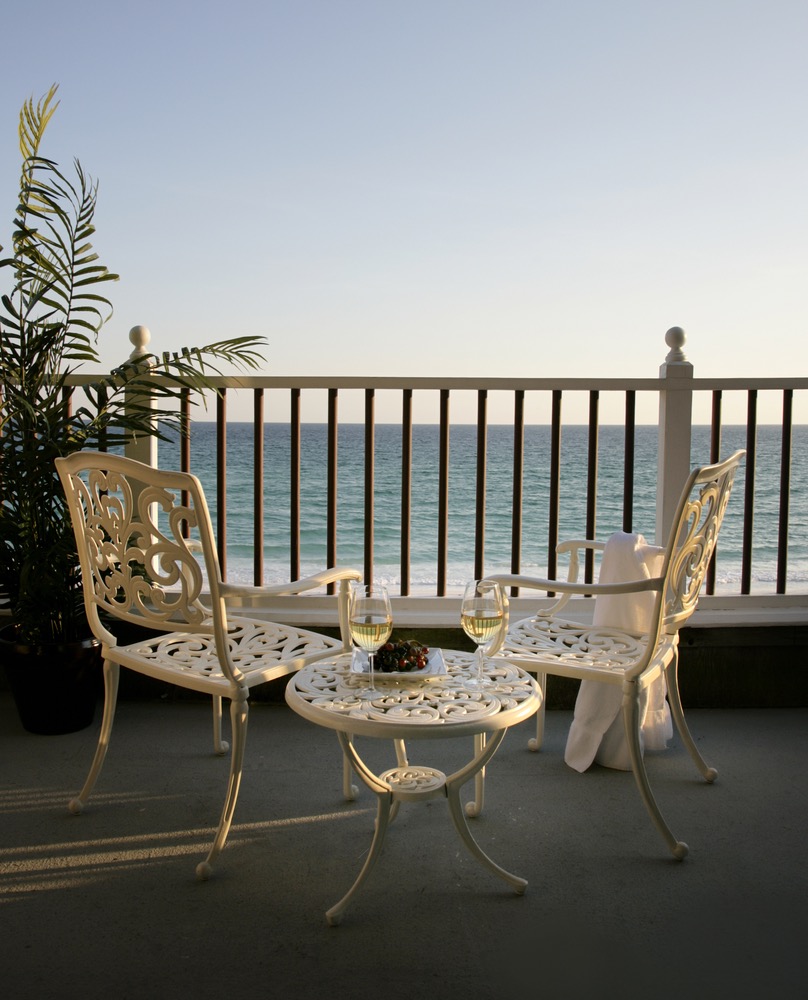 In the morning, head to the inn's Beach Walk (www.beachwalkcafe.com) for the all-inclusive gourmet breakfast buffet where the wraparound windows afford spectacular views of the beach and Gulf. Omelets are made-to-order, the grits are some of the best you'll ever taste, and the homemade biscuits and fresh fruit are delicious. At midday, relax in bathing suits on the restaurant's breezy veranda and enjoy a complimentary picnic-boxed lunch.
Every evening, the inn presents a complimentary sunset happy hour. The stunning seaside setting and friendly guests make for a delightful experience. Ask the inn about upcoming dates for future wine tastings that may coincide with your stay—they are also included.
Candles flicker in Beach Walk's cozy dining room as diners splurge on superb cuisine. The melt-in-your-mouth venison is pan-sautéed in a rich Shiraz sauce; the oven-roasted grouper tops a crispy mashed potato cake with a honey Worcestershire sauce; but the hot crème brûlée will challenge anyone not to scrape his or her plate.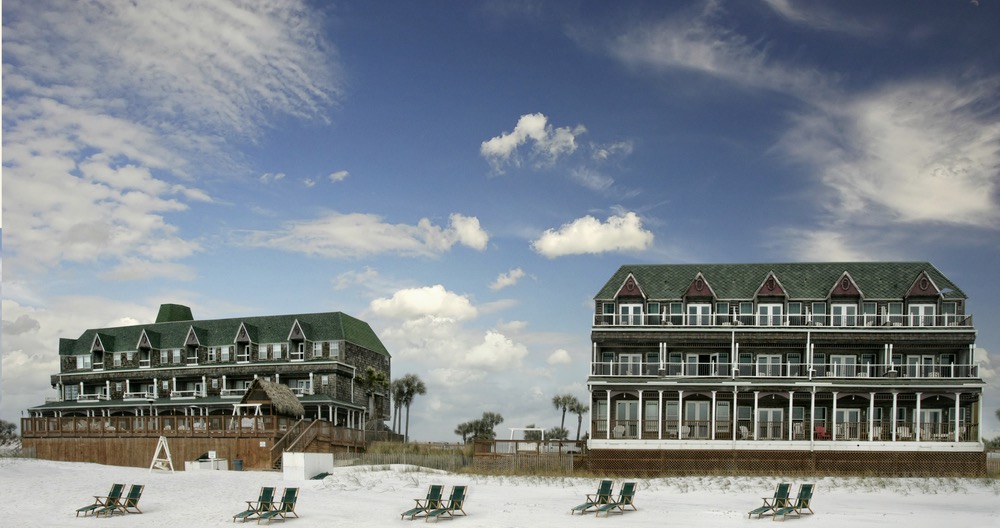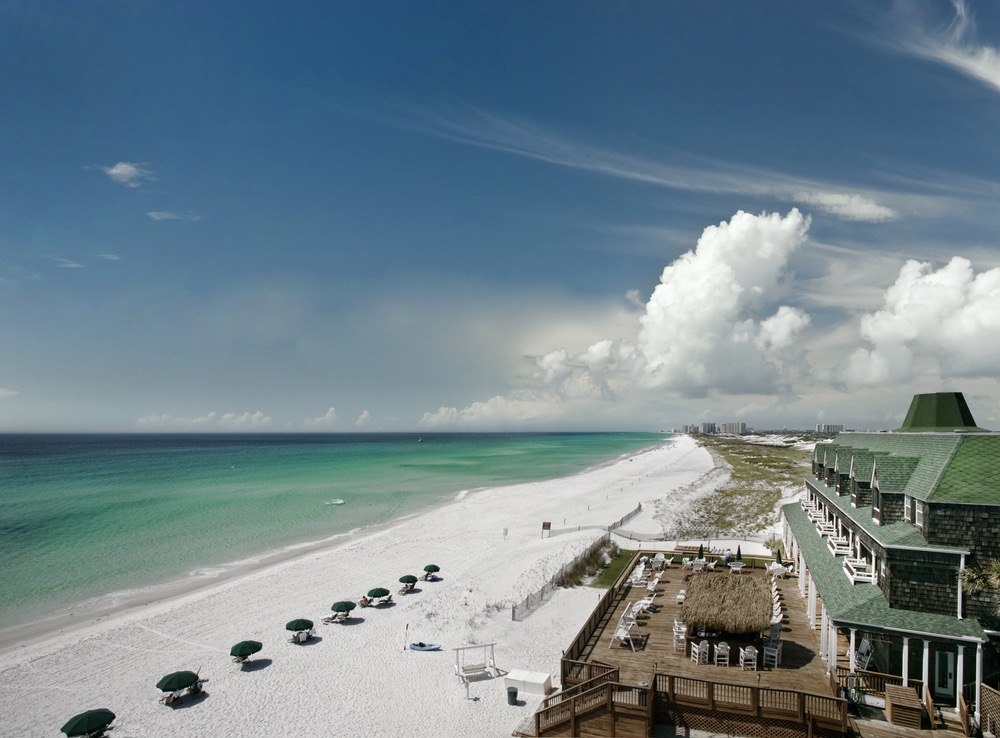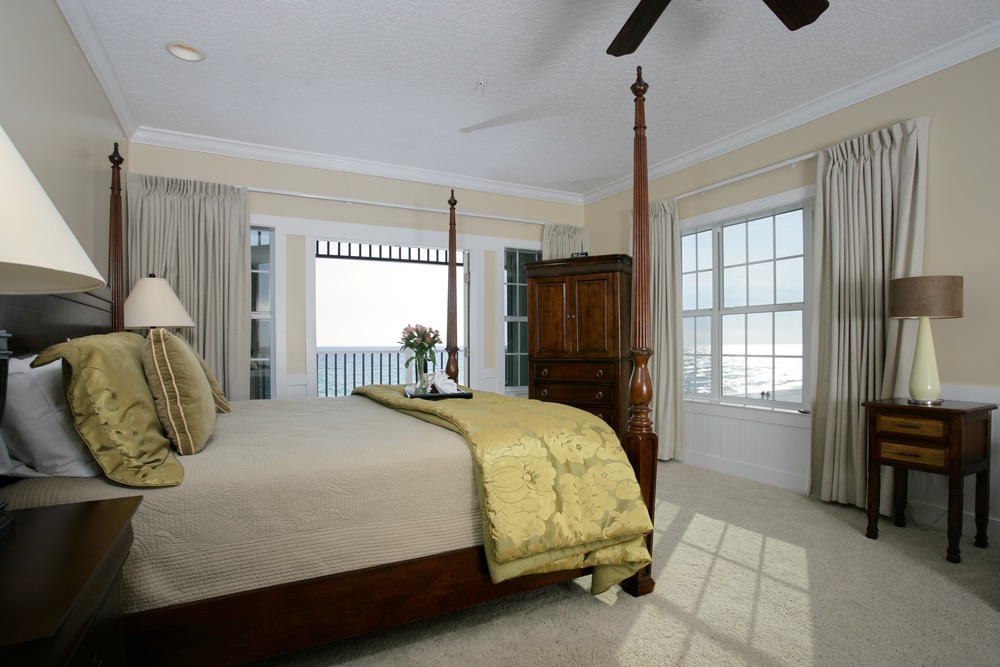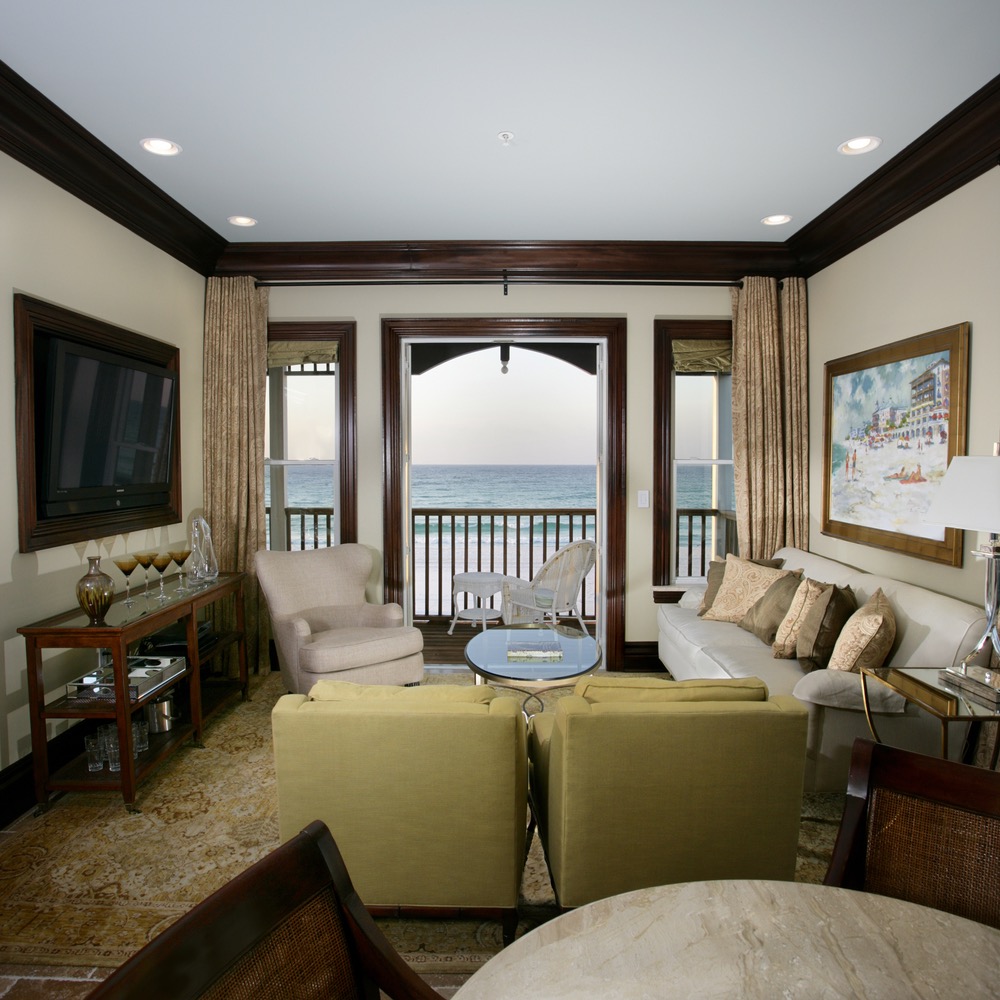 Henderson Park Inn offers a wonderful weekend escape to recharge your batteries. Fall and winter rates make a special occasion or weekend splurge more affordable. For a complete listing of room rates and availability, call (866) 398-4432. For more information about this local treasure, visit www.hendersonparkinn.com.
Henderson Park Inn 2700 Scenic Highway 98 Destin, Florida 32541 Phone: Reservations and General Info (866) 398-4432 or Weddings and Events Planning (850) 424-7648 www.hendersonparkinn.com
---
Hibiscus Coffee and Guesthouse
BY jordan staggs | PHOTOGRAPHY romona robbins
Souvenirs come in all shapes and sizes, but some of the most unexpected souvenirs are the places themselves—places so special they seem to transport the visitor back in time. To experience a slice of Old Florida, Hibiscus Coffee and Guesthouse is the place to go. This laid-back inn sits nestled beneath the Spanish moss in Grayton Beach along Scenic Highway 30-A.
Hibiscus started as a fun project for Kurt and Barbara Tape, Louisiana natives who always loved Grayton. They opened the bed-and-breakfast in 1994 as a café and single guest room, until undergoing the transformation into a twelve-room inn with coffee, breakfast, and an outdoor music venue that are open to guests and the public. Within walking distance to the beach, Hibiscus is also near several shops and restaurants, and it's the perfect spot to grab a bike (free for hotel guests) and take a lazy cruise down 30-A to popular activity spots in nearby Seaside, WaterColor, or Blue Mountain Beach.
Each room is decorated differently and has its own unique theme and name, such as the New Orleans-inspired "Big Easy," or the "Funky Bird," featuring flamingoes, cranes, and other fowl in everything from the paintings to the bathroom mirror. They all share that retro Old Florida style, and are as cozy as your favorite room at grandma's. Besides the guest rooms are the flats: one-bedroom apartments which are more modern than the other rooms, but are not lacking in the quirky décor and homey feeling that is embodied in the whole establishment.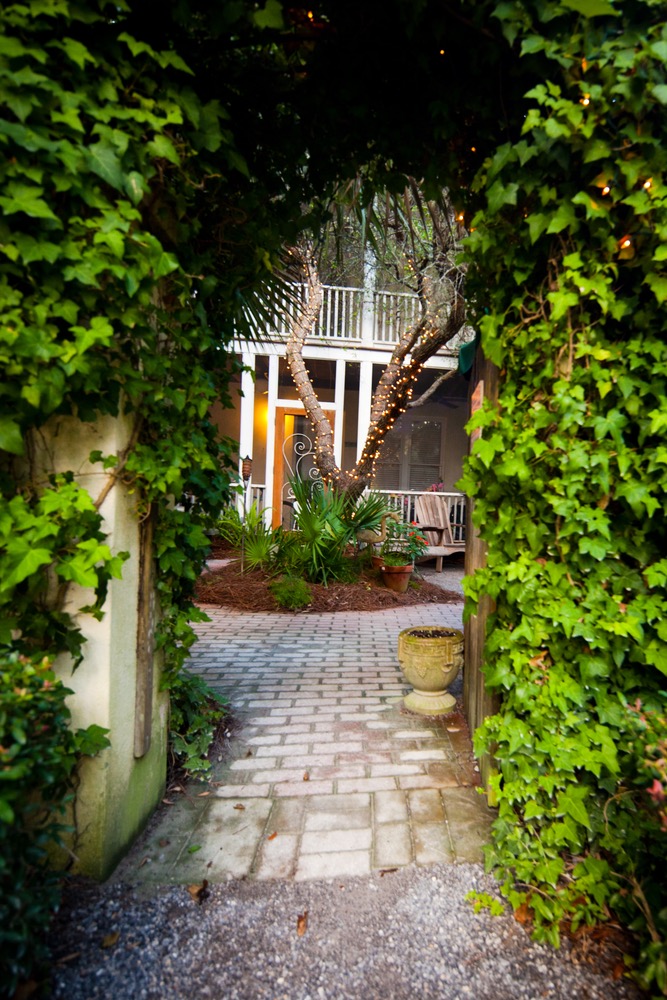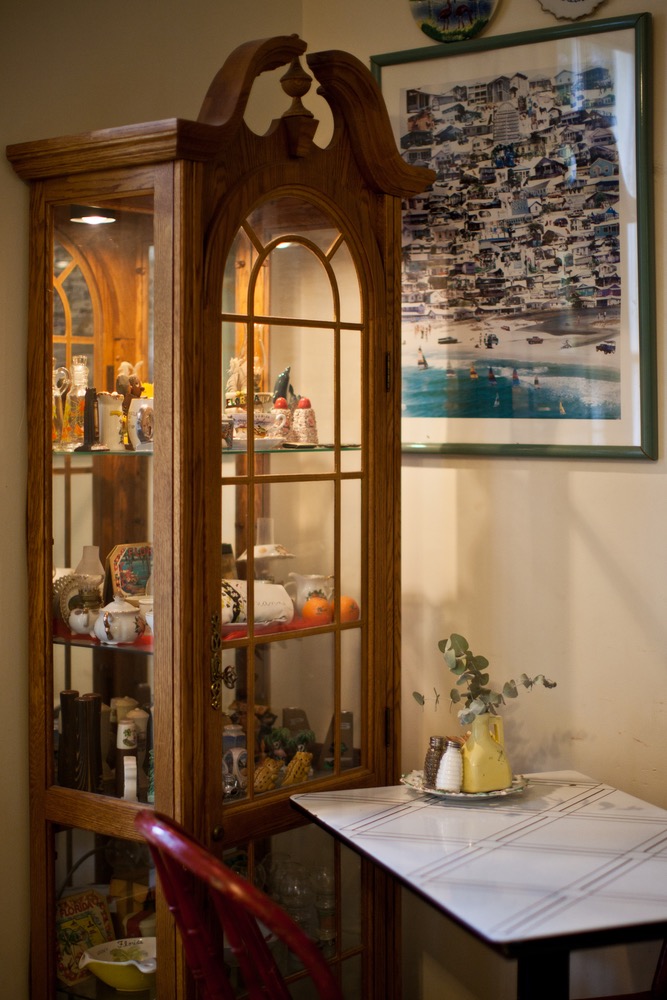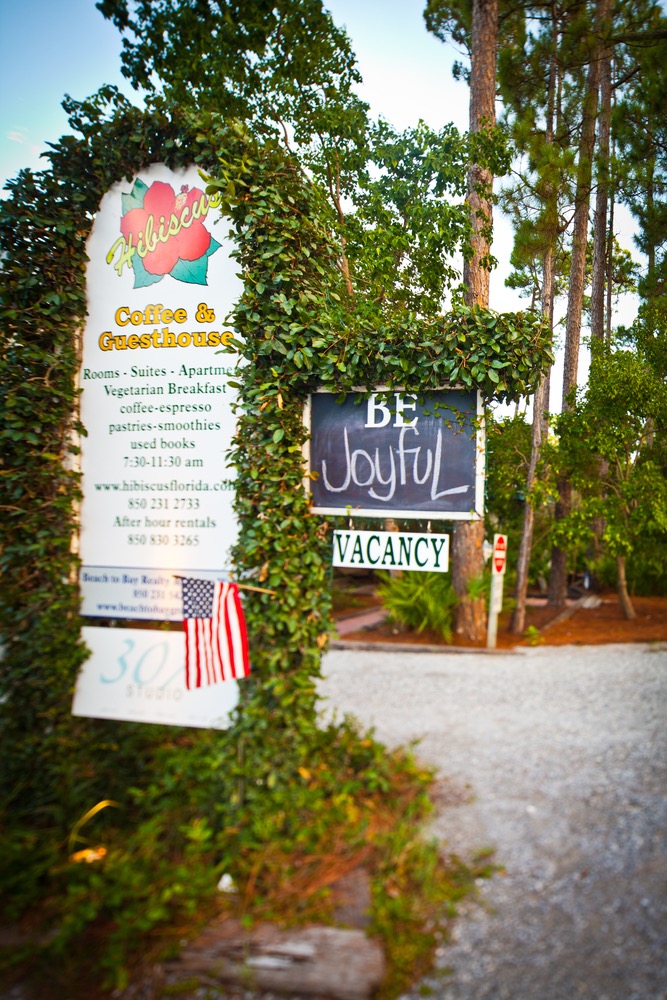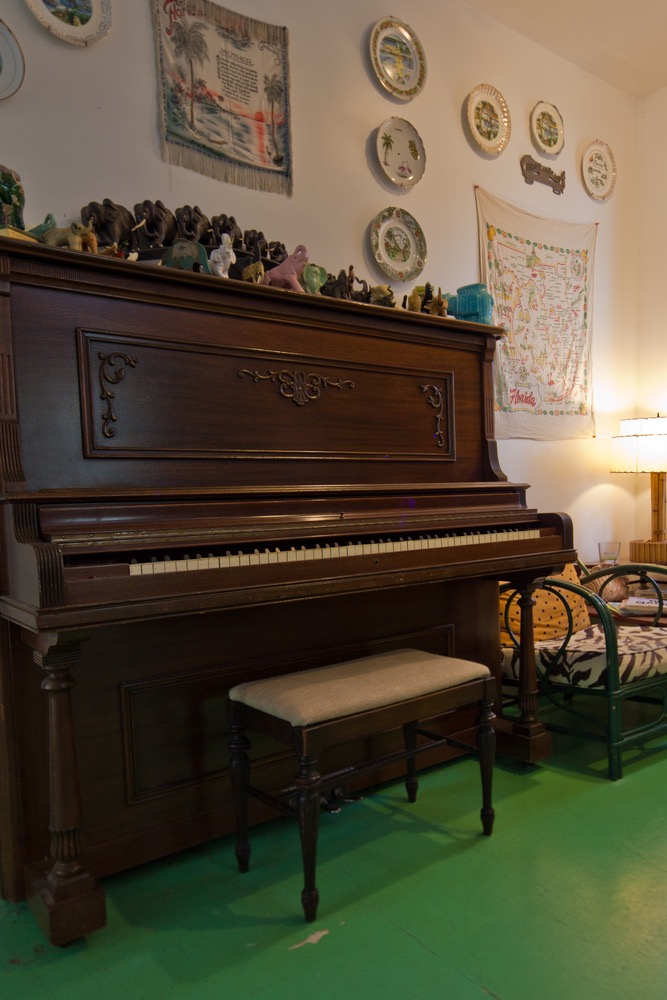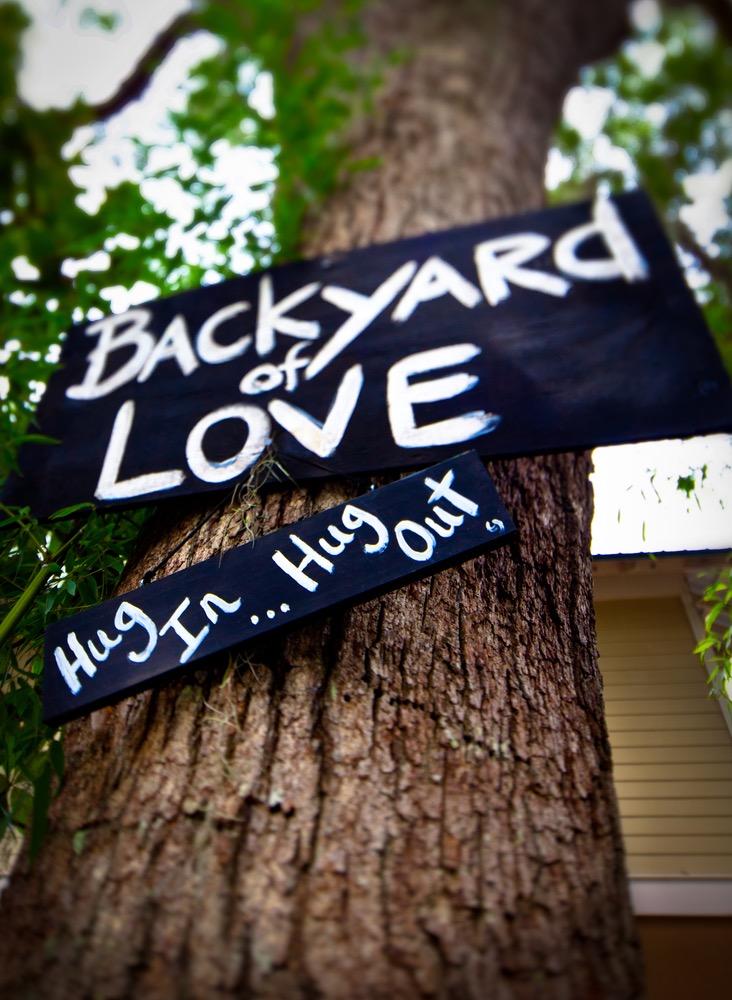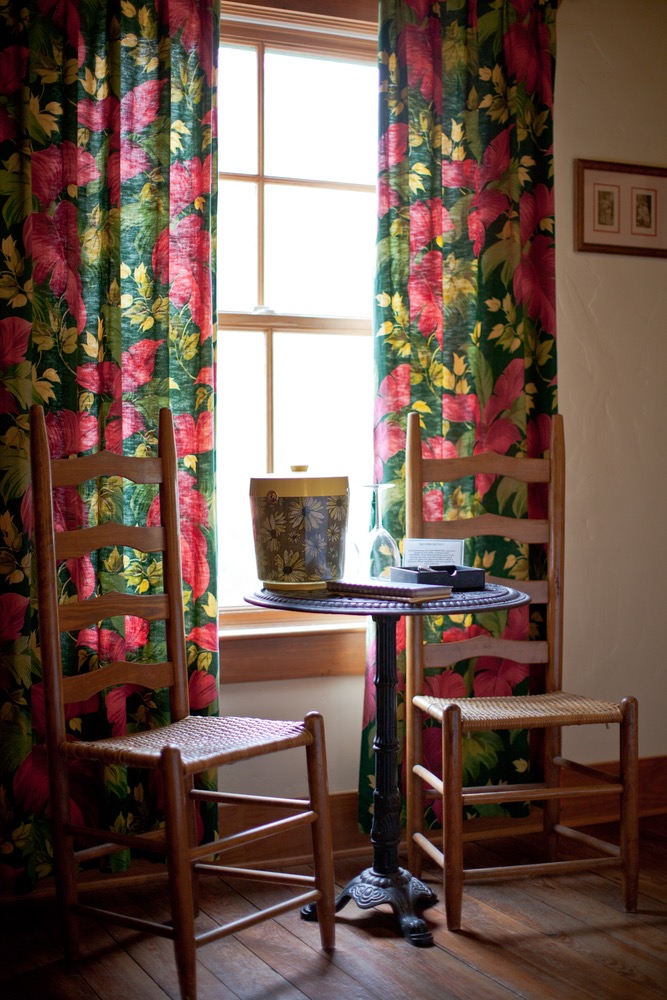 The Backyard, which Hibiscus boasts as the "most unique listening experience on 30-A," has a story all its own. It's all about the music, and everyone can just relax with good food and good company in a beautiful setting. Lights are strung above several picnic tables and chairs in front of the small stage when local and visiting artists share their sounds. Country singer Greg Barnhill replaced a word in his blockbuster song "House of Love" while performing there, making it "Backyard of Love." The name stuck, and it has become Hibiscus's pride and glory.
Another staple of Hibiscus is the "Be" board hanging at the front of the property. Every day the sign sports a new word, urging readers to be strong, be wise, be grateful, etc. "The 'Be' board became kind of synonymous with the fruits of the spirit here," owner Kurt Tape said.
And while we're talking about fruits of the spirit—the café, open daily for breakfast and lunch, is like grandma's kitchen meets your favorite neighborhood diner. Every meal is made with love (it says so right on the menu!), with vegan options available. Be sure to try the Waffle Wonderful; it really lives up to its name!
Bryan Kennedy, a singer-songwriter from Nashville who relocated to 30-A, has performed in the Backyard of Love many times and stayed in almost every guest room at the inn. He said there is something magical about Hibiscus. It is a true souvenir of a simpler, happier time; everyone is family, and the term "laid back" isn't quite strong enough to describe it.
"It's a pretty slow pace down here on 30-A, but when you come to Hibiscus, it gets just a little bit slower," Kennedy said.
Hibiscus Coffee and Guesthouse 85 Defuniak Street Grayton Beach, Florida 32459 Phone: (850) 231-2733 www.hibiscusflorida.com
---
La Maison de Lucy
BY Sallie W. Boyles | PHOTOGRAPHY By Brandan Babineaux
Many fantasize about living in Paris. Michael Setboun, who grew up in the romanticized "City of Light," dreamed of living in the U.S. He lived for breaks between semesters in college, when he traveled to different cities across America and fell in love with it. When later presented with a transfer to Miami for a pharmaceutical position, he seized the opportunity, and persuaded his parents to buy an apartment there as well. To Setboun's misfortune, or so he thought, his employer later sold the company and he was back in France. "After six months and one winter, I decided I couldn't take it," he says. He was determined to move back.
Without a specific business plan, he had placed a bid a year earlier on an old schoolhouse building in Alford, Florida, a small town near Marianna in Jackson County. He held no real hope that his offer would be accepted, but to his surprise, once back in Paris, he received a call. If Setboun still wanted to buy the property, it was his.
By that time, he had a vision. His excursions through the small towns of Northwest Florida had revealed a niche in the hospitality market. "There were plenty of microhotels, but nothing upscale," he says. The plan for a high-end, distinctly different inn was born.
When it came to establishing a theme for the bed-and-breakfast, Setboun's father had the idea to design each of the twelve suites in the style of a different country—China, France, Greece, India, Ireland, Italy, Jamaica, Kenya, Mexico Morocco, and the U.S.A.—namely, Hollywood and New York. All suites display authentic furnishings and decorative art, as well as cultural music and DVDs from each particular location. "The unique atmosphere of each gives guests a sense that they have traveled somewhere far away," he says. As a tribute to his mother, Setboun named the inn La Maison de Lucy.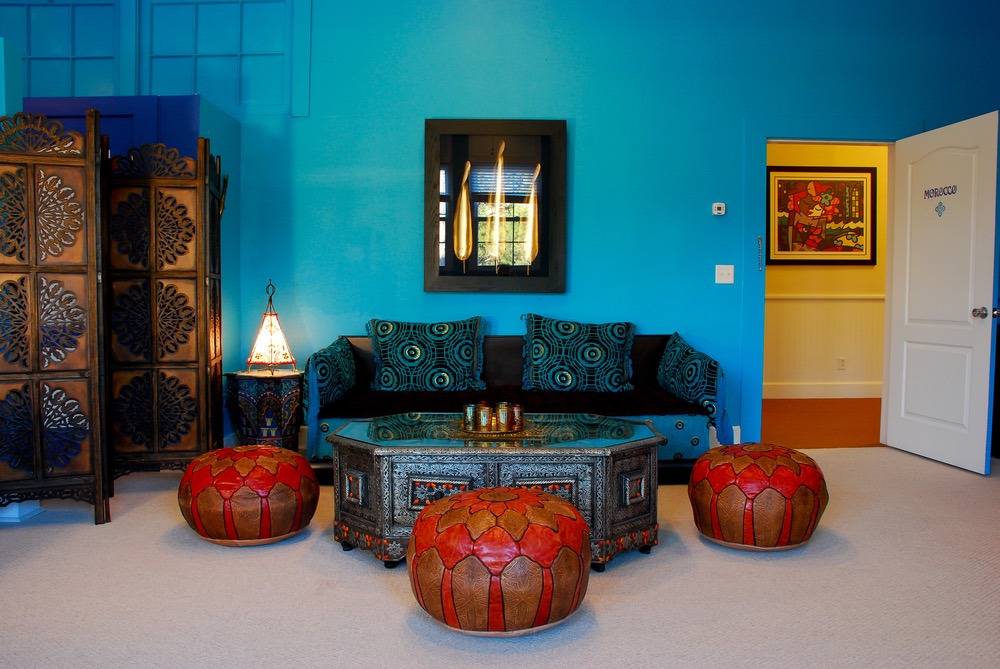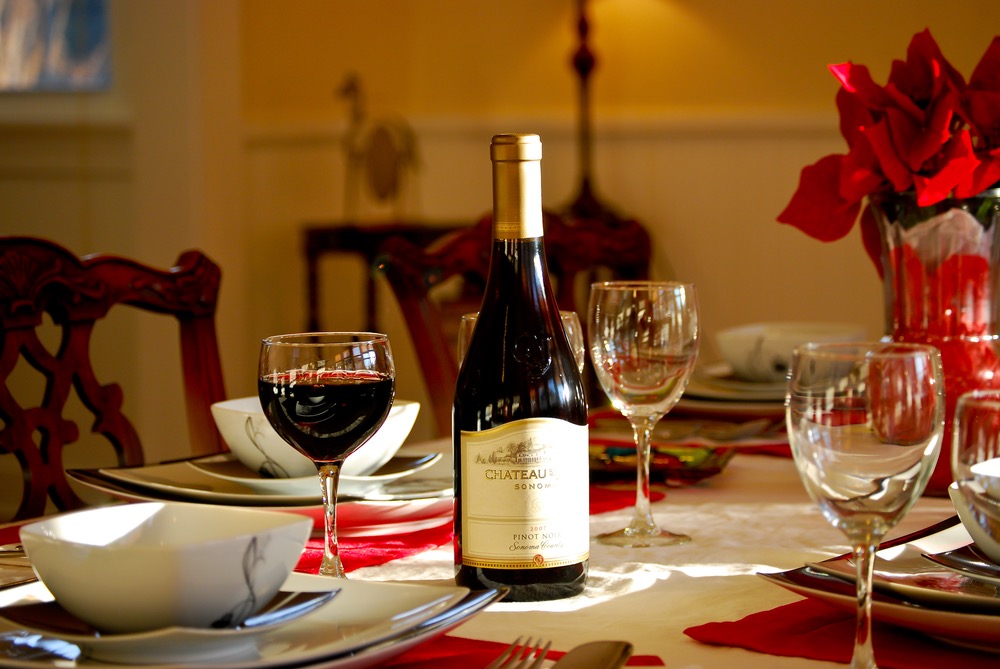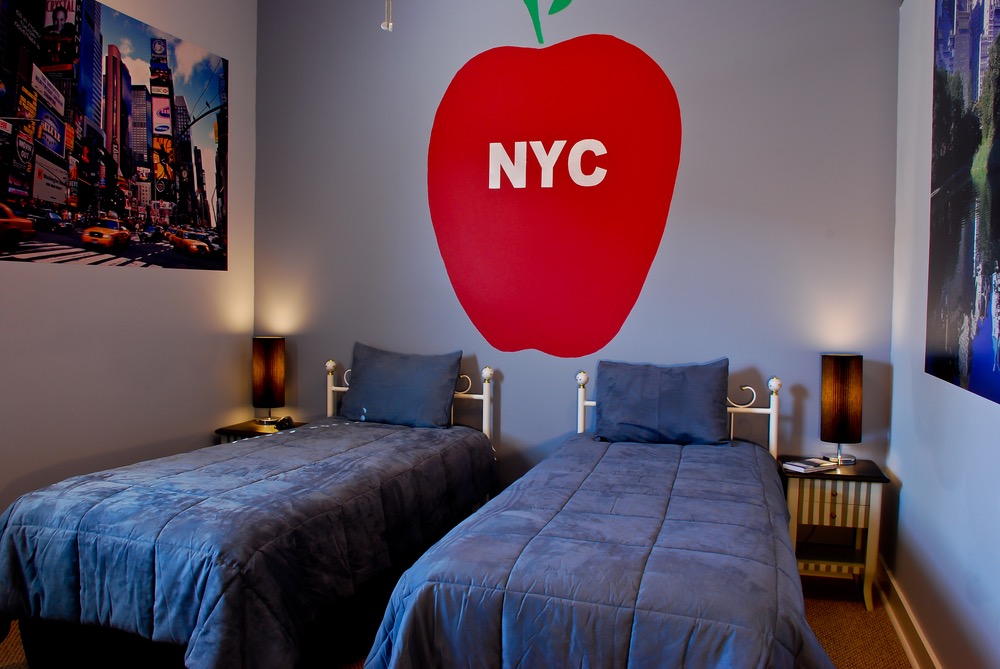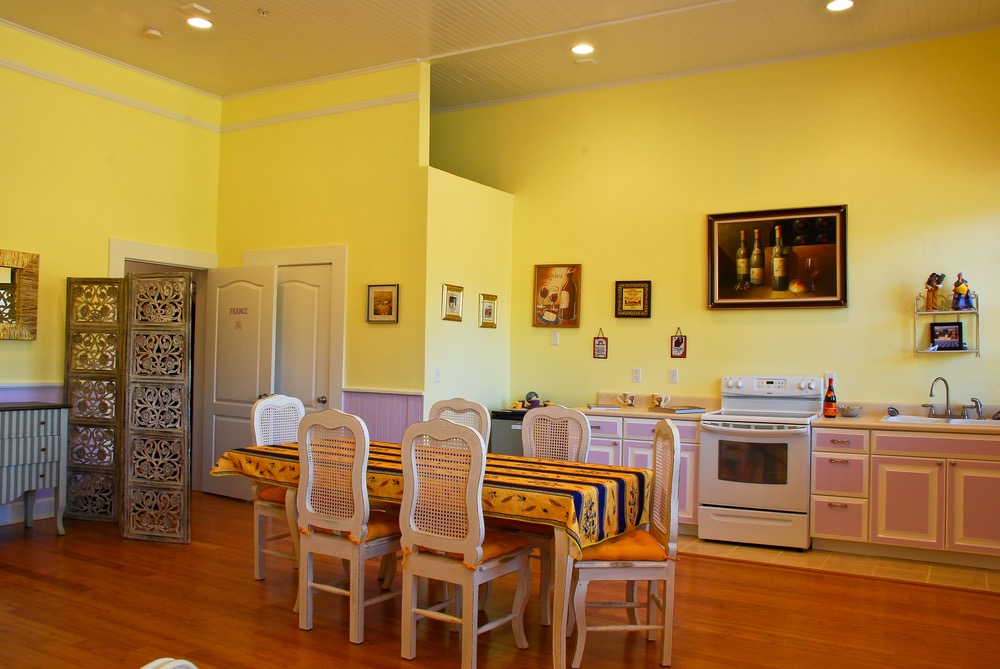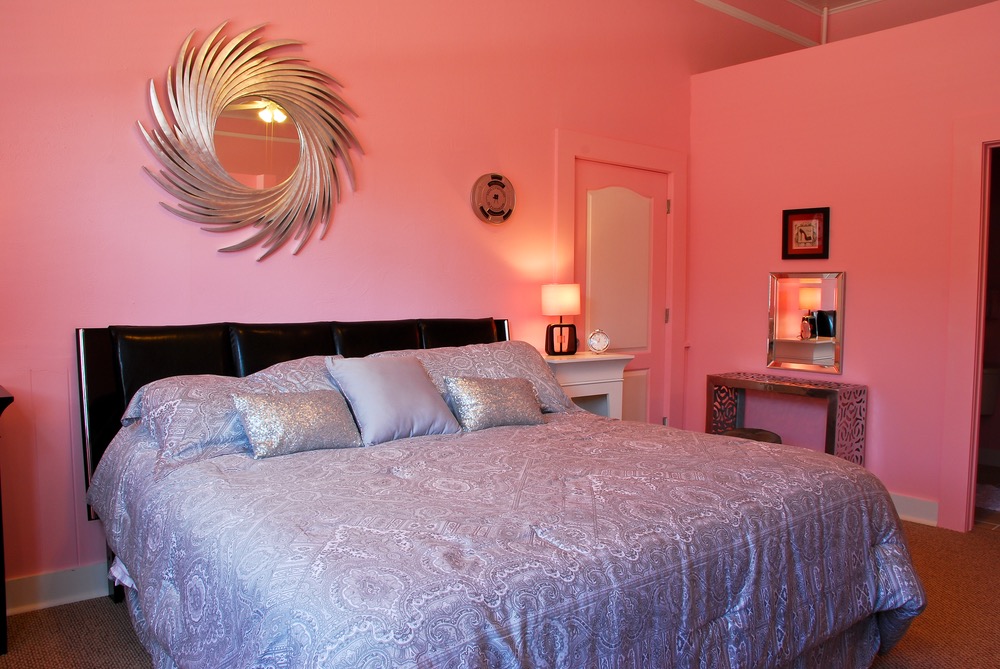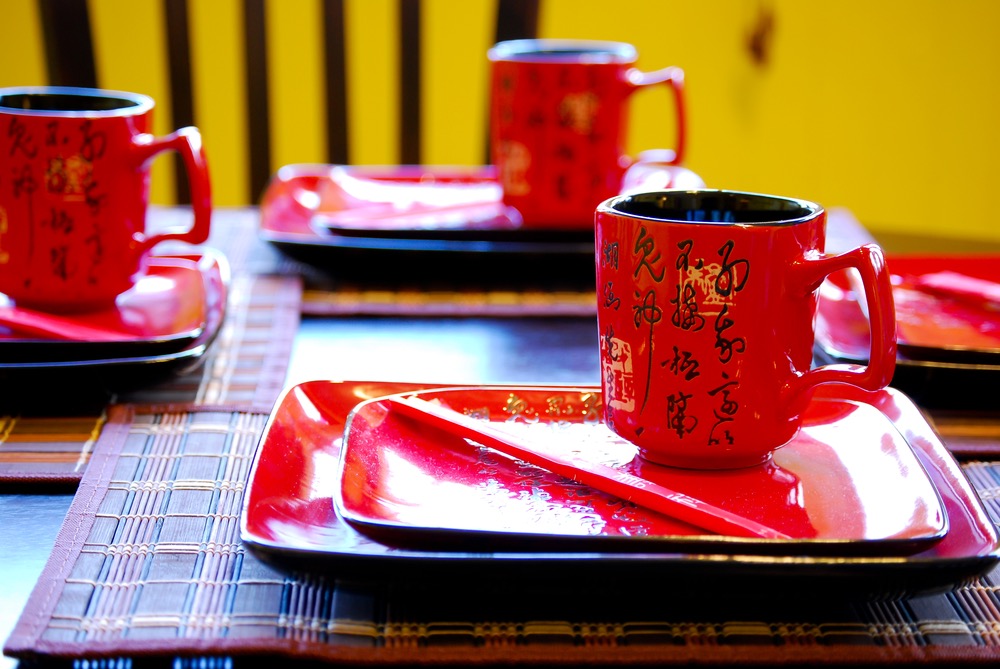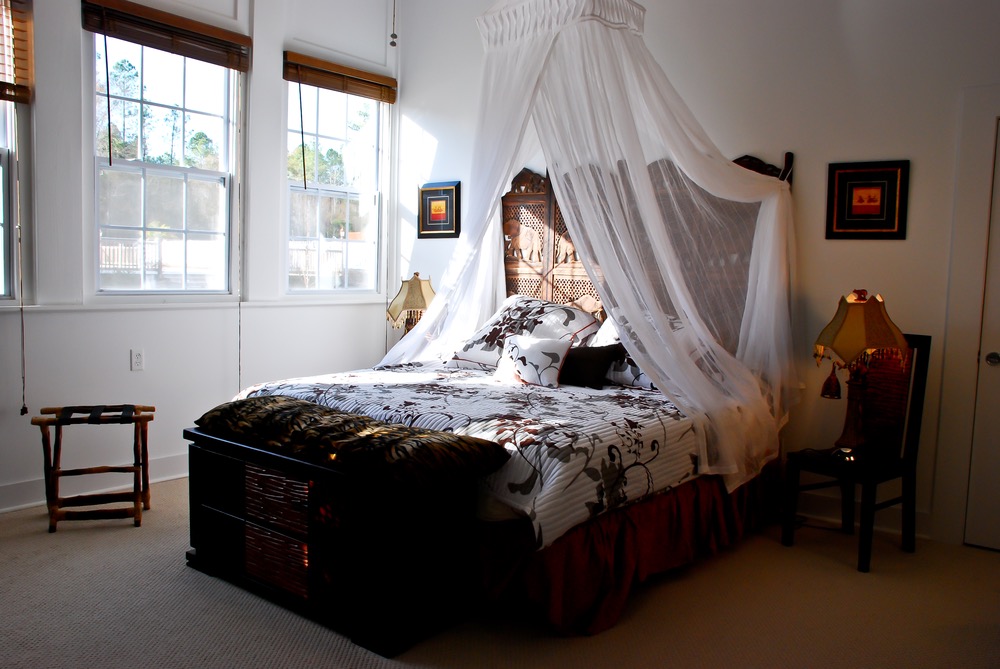 All in all, Setboun wants his guests to unwind and feel pampered. Each morning, he uses fresh ingredients for preparing eggs, crepes, and homemade bread with organic preserves. He also treats guests to afternoon wine and cheese, or tea with pastries, and accommodates meals for private functions in the inn's event center. Lucy has gained a reputation for being one of the best bed-and-breakfasts in the country, and has earned such prestigious titles as Pamela Lanier's Bed & Breakfast Inns 2012 "Best Theme" of all North America and TripAdvisor's "Certificate of Excellence."
Beyond the restful suites and elegant common rooms, La Maison de Lucy's guests can relax with a massage or sauna, work out, take a dip in the pool, or walk the grounds. "Whether you're here for pleasure or work, the point is to do as you like and to go at your own pace," says Setboun, who welcomes interaction with his guests. He finds that many choose the inn for romantic getaways and honeymoons, but others simply desire its peace and comfort. "Meeting people of many different backgrounds and sharing our experiences is the most interesting and pleasurable aspect of this business." He has thought about opening other locations in the future, but for now La Maison de Lucy is a 24/7 effort. Setboun said he cannot imagine a better job or a more ideal place to live. "We know when life starts, but not when it ends, so we might as well pursue what we love," he says.
La Maison de Lucy 2388 Park Avenue Alford, Florida 32420 Phone: (850) 579-0138 E-mail: info@lamaisondelucy.com www.lamaisondelucy.com
---
Pensacola Victorian Bed and Breakfast
BY Audrey Johnson | PHOTOGRAPHY COURTESY OF pensacola Victorian
The house that now operates as Pensacola Victorian Bed and Breakfast was originally built for ship captain, businessman, and politician William Hazard Northup. Upon Northup's death, the Victorian home remained in the family, with his son Edwin residing. Avid music lovers, Edwin and his wife, Louise, hosted gatherings of musicians in the home, which eventually led to the founding of the Pensacola Philharmonic Orchestra.
Pensacola Victorian is decorated with an eclectic mix of antique furnishings. Each piece seems to have a story, and the quirky decor has a character all its own. Stained glass windows shed colorful light into the house and antique chandeliers draw the eye upward. Uniquely decorated bedrooms allow for a flood of natural light and make you feel as though you've stepped into a different era. Intricate woodwork is featured throughout the house from the stairwell to the downstairs fireplace. Colorful rocking chairs adorn the front porch and invite you to relax a while. Historic Downtown Pensacola's shops and restaurants are conveniently located just a few blocks from the bed and breakfast.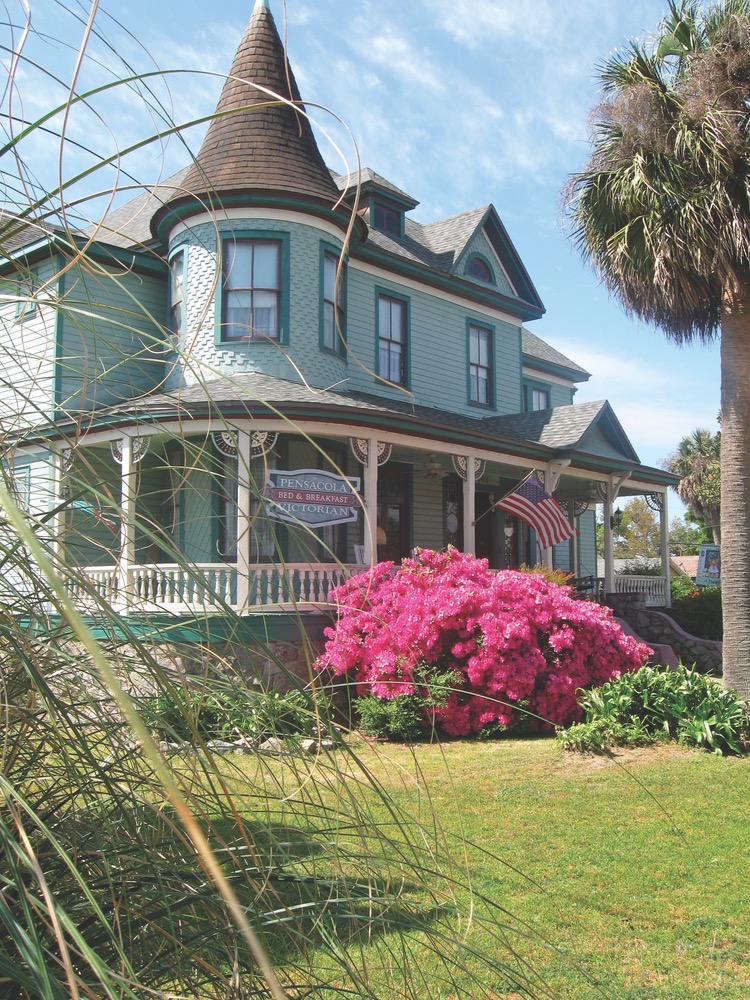 Chuck and Barbee Major have been innkeepers at Pensacola Victorian for fifteen years. Barbee sets an easy-going atmosphere, and her easygoing nature makes guests feel right at home. The jazzy music that she plays in the living room helps to set the mood and gives the house old-world charm. As well as having a gift for being gracious and accommodating, Barbee has a story for every photo, trinket, and teapot, and she's well versed in the expansive history of the house. After a chat with Barbee, you'll leave feeling like an old friend.
Breakfast at Pensacola Victorian is a real treat. Barbee offers coffee, tea, juice, fresh fruit, omelets, and her delicious vanilla gooey butter cake. She also runs Cottage Cafe, a local lunch spot next to Pensacola Victorian. The café serves salads, sandwiches, and Barbee's renowned homemade baked goods. A visit to Pensacola Victorian is refreshingly real. Barbee doesn't meet a stranger and has a wonderfully positive outlook on life.  Best of all, Barbee gives good-bye hugs and an invitation to come back soon.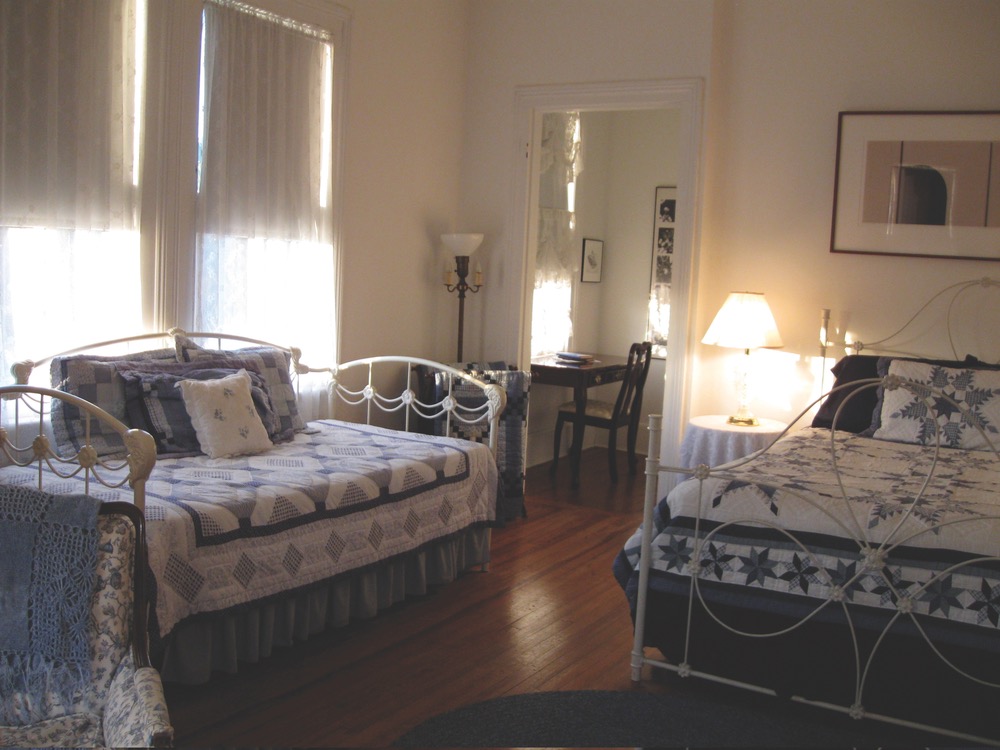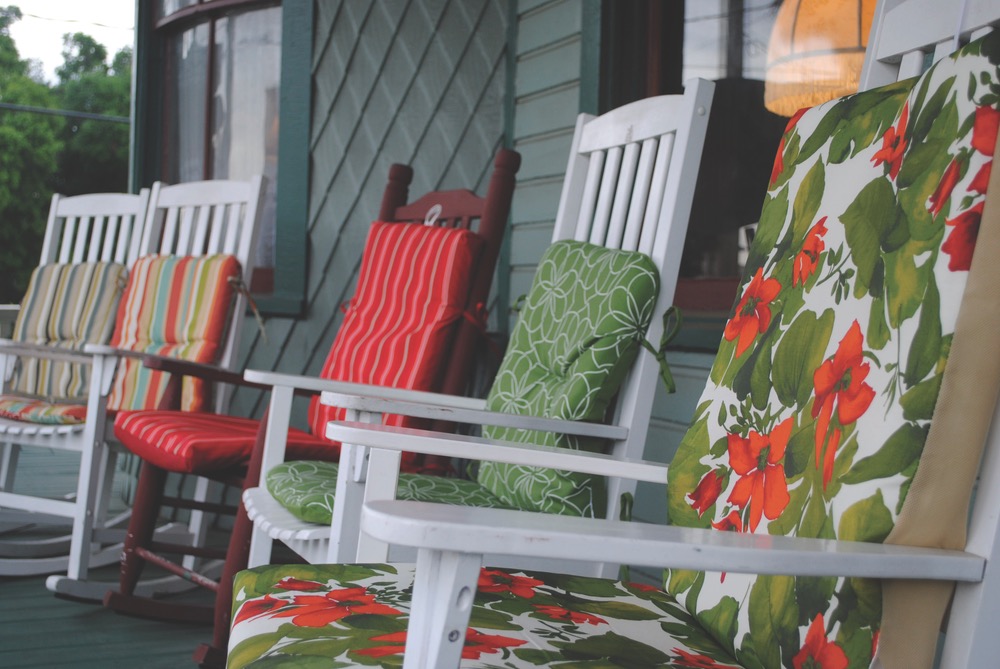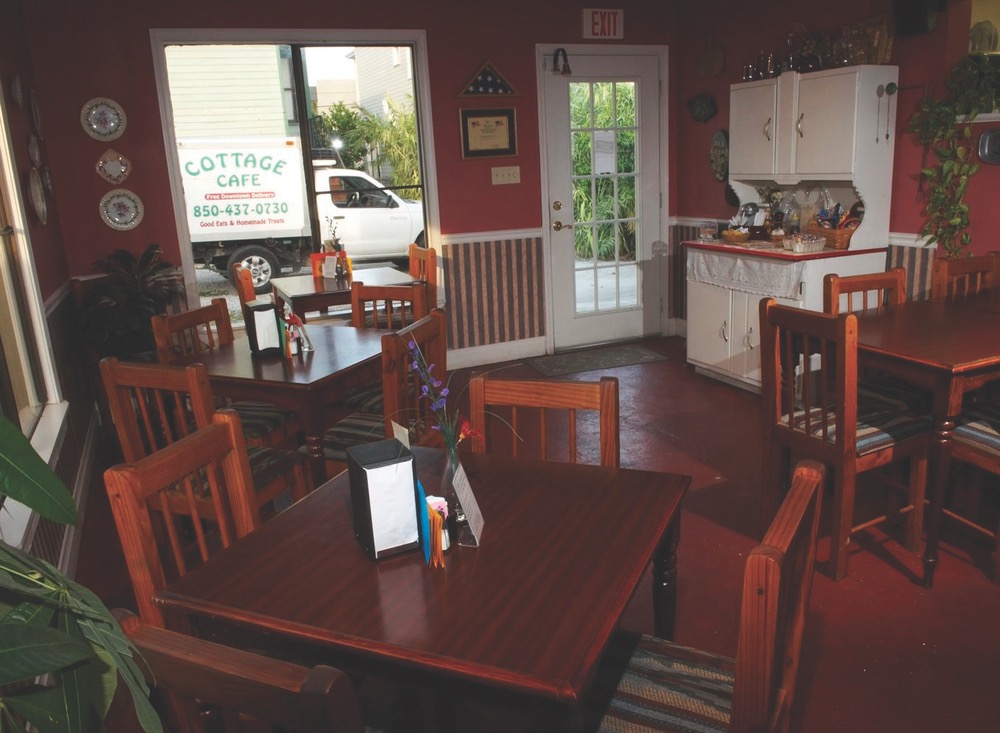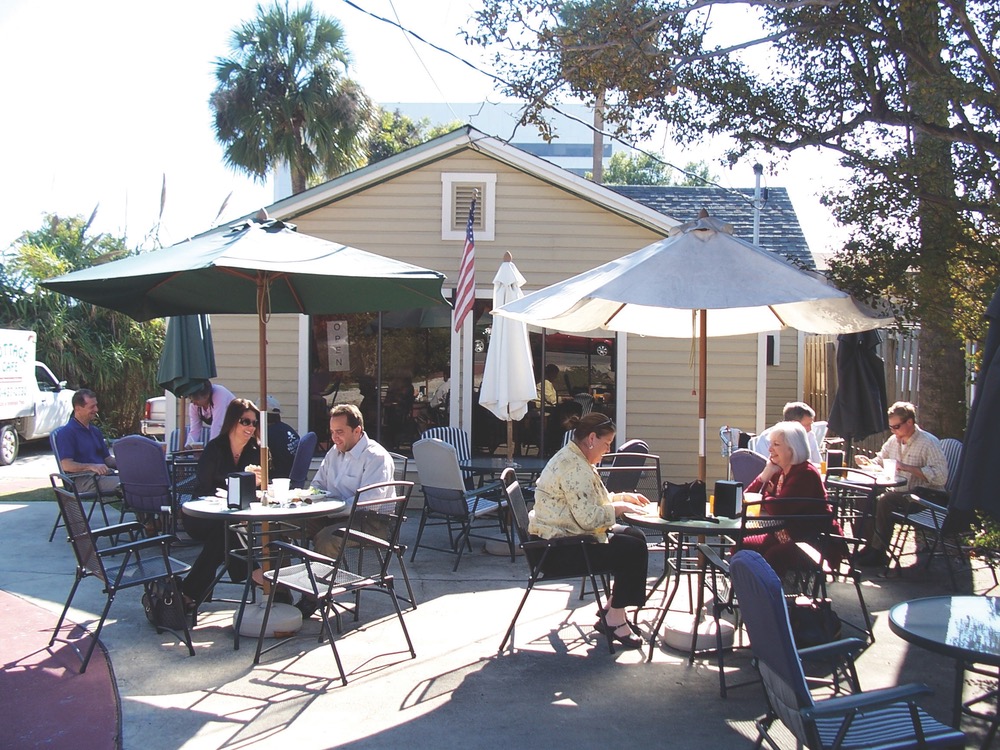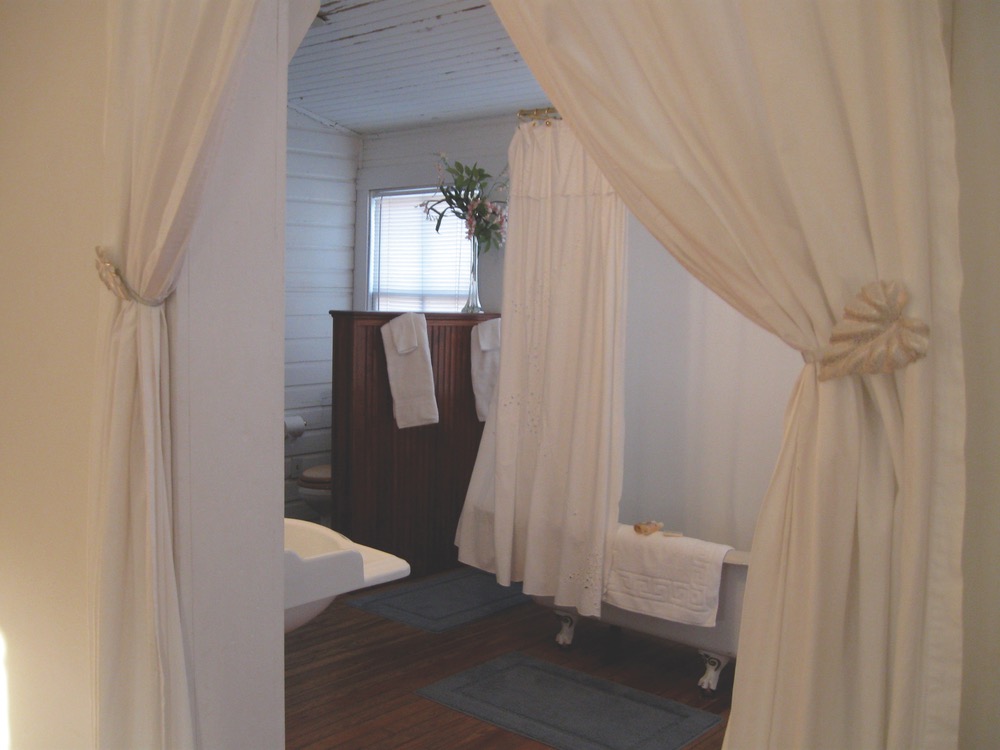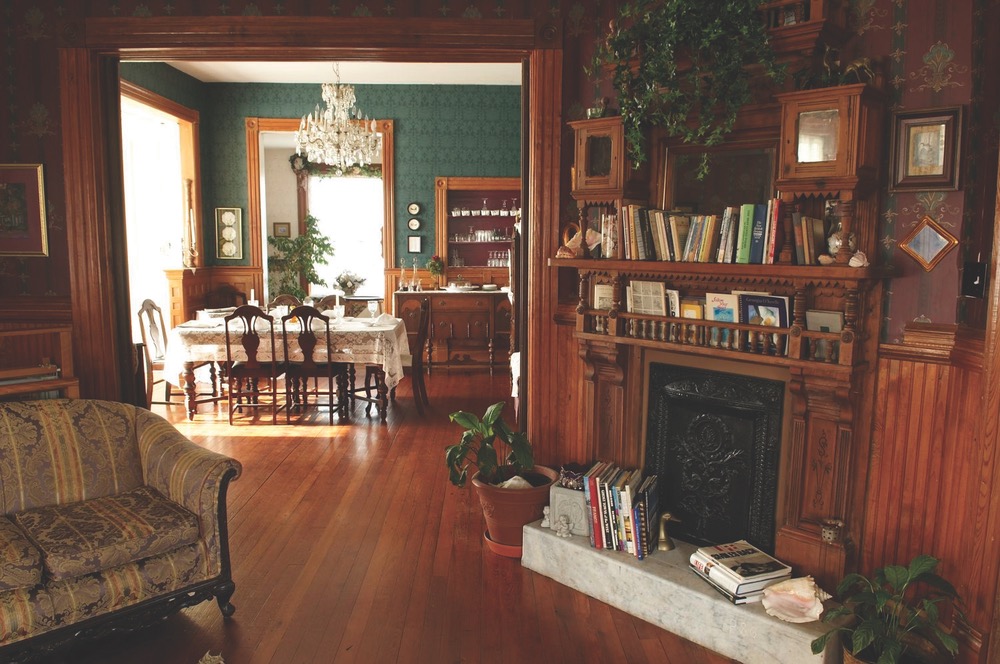 Pensacola Victorian Bed and Breakfast 203 W. Gregory Street Pensacola, Florida 32501 Phone: 850-434-2818 E mail: pcolabedbrk@pensacolavictorian.com www.pensacolavictorian.com
---
Seaside Avenue Bed and Breakfast, Seaside, Florida
BY jordan staggs | PHOTOGRAPHY COURTESY OF cottage rental agency
For anyone looking to discover a bit of that Old Florida charm, a trip down the Gulf Coast's Scenic Highway 30A is just the ticket. A stay in the tiny beach town of Seaside, Florida, with its pastel beachside homes and "Small Town, USA" feel, might even make you feel like you've stepped back in time. Just a block from the bicycle-strewn Central Square lies Seaside Avenue Bed and Breakfast, a nine-room inn boasting all the charm and American dreaminess of the town itself.
The cozy and relaxed bed-and-breakfast has been providing a perfect home away from home to Seaside visitors for years. It was first christened Josephine's French Country Inn; later, Inn by the Sea by Vera Bradley. In fact, all the rooms were designed by Barbara Bradley Baekgaard, cofounder of Vera Bradley Designs Inc., and her creative team, who brought a unique, charming, and elegant feel to each one. The individualized guest rooms are decorated with colorful prints and patterns that invite guests to move right in and relax as if they were staying at an old friend's house. The common room features rich colors and comfy sofas for guests to sink into and enjoy a cup of coffee, a glass of wine, a casual conversation, or a good book.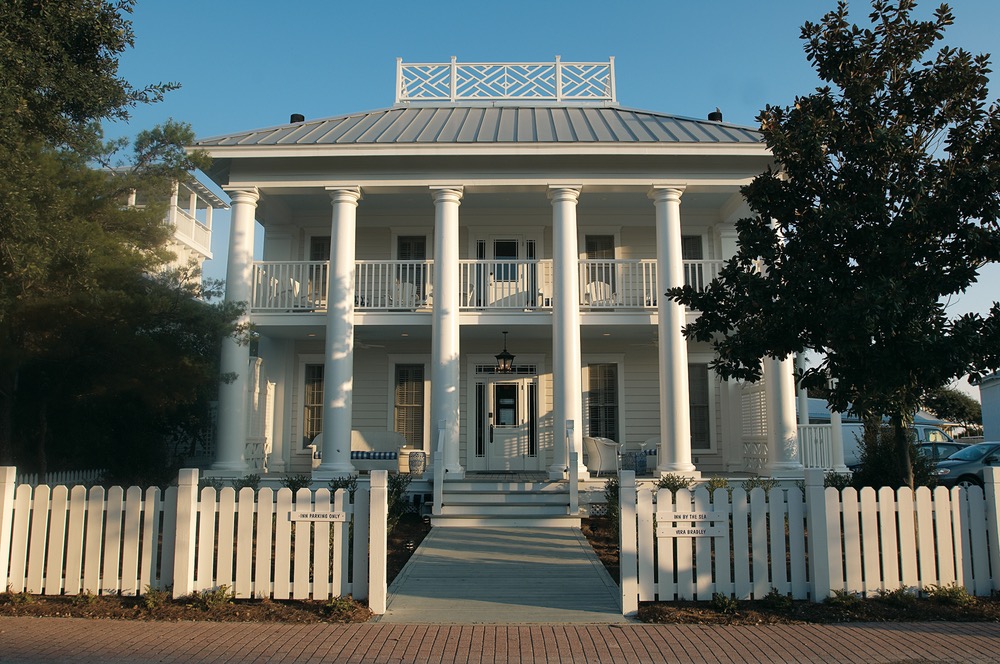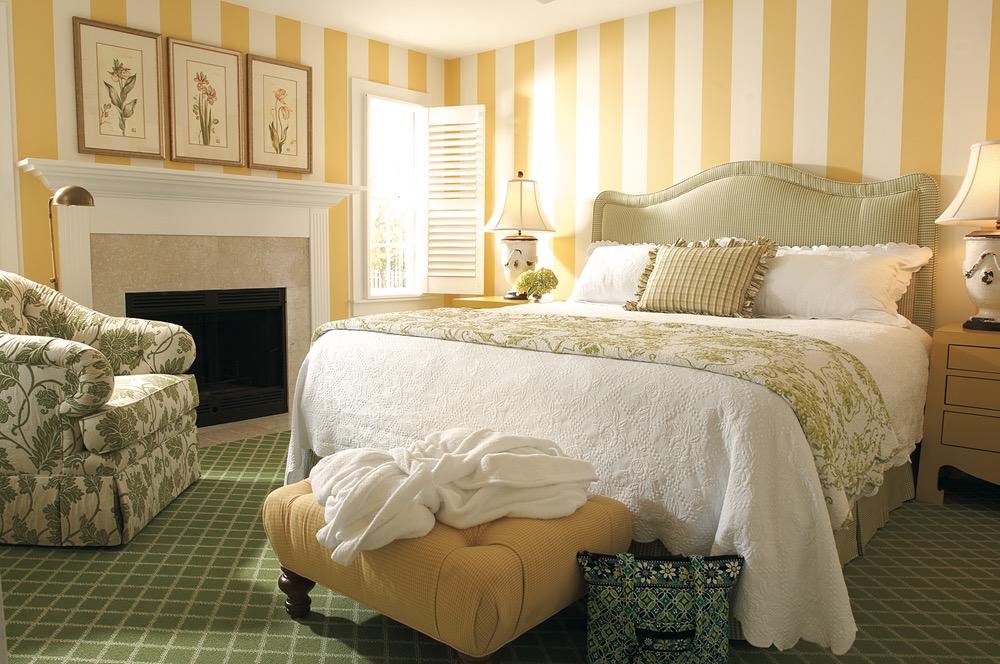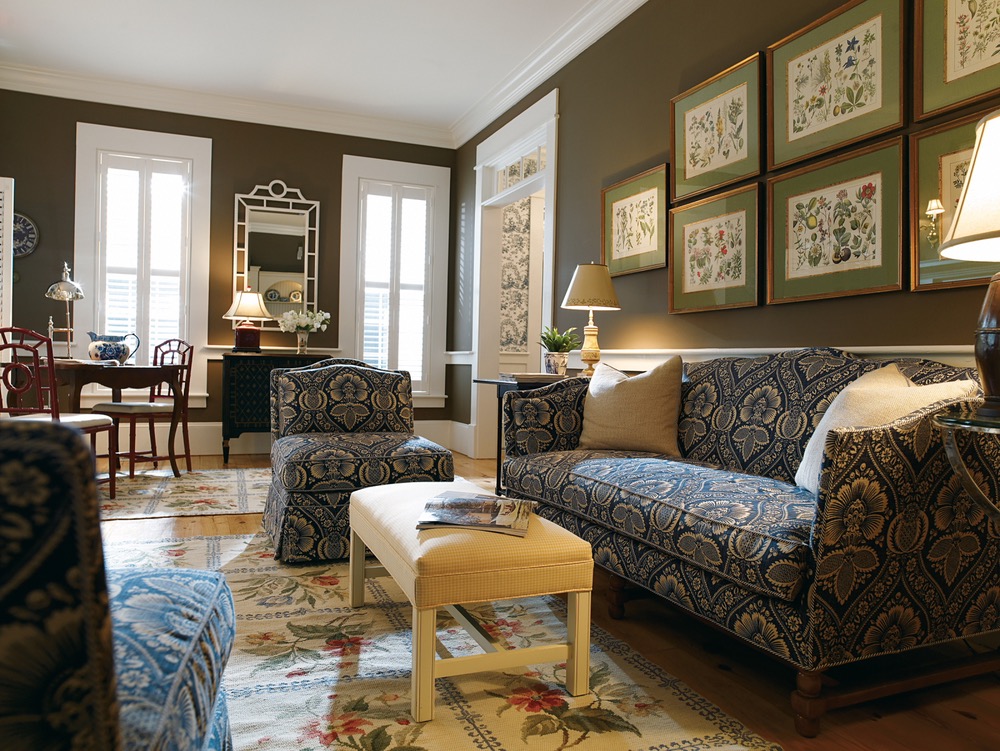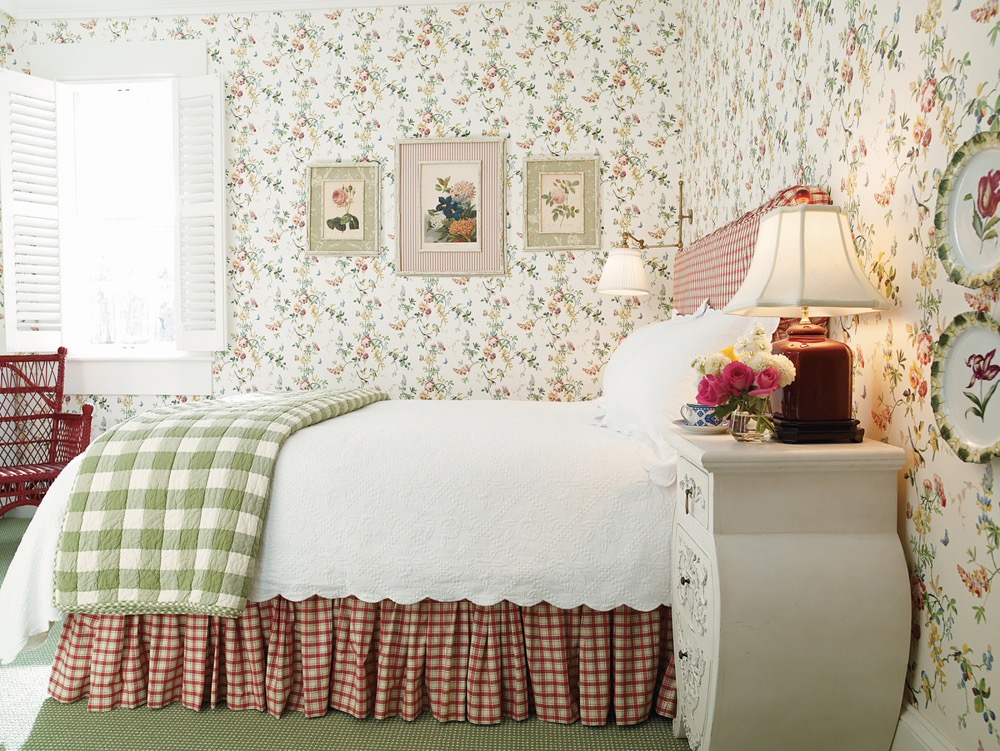 Guests are just a short walk or bike ride away from all the excitement of Central Square and, of course, the Gulf of Mexico's pristine white-sand beaches and turquoise waves. The inn's perks also include access to Seaside's private swim, tennis, and fitness club, daily housekeeping service, welcome gifts, and continental breakfast to start the day off right.
Be sure to make the most of your trip back in time. Stroll along the town's tree-lined pathways past white picket fences, have a picnic on the great lawn by the Seaside Amphitheater, and explore the shops and restaurants of Central Square. And don't forget to catch the sunset on the beach! No matter what you do while in this idyllic little world, Seaside Avenue Bed and Breakfast is there to make sure guests relax and enjoy their stay.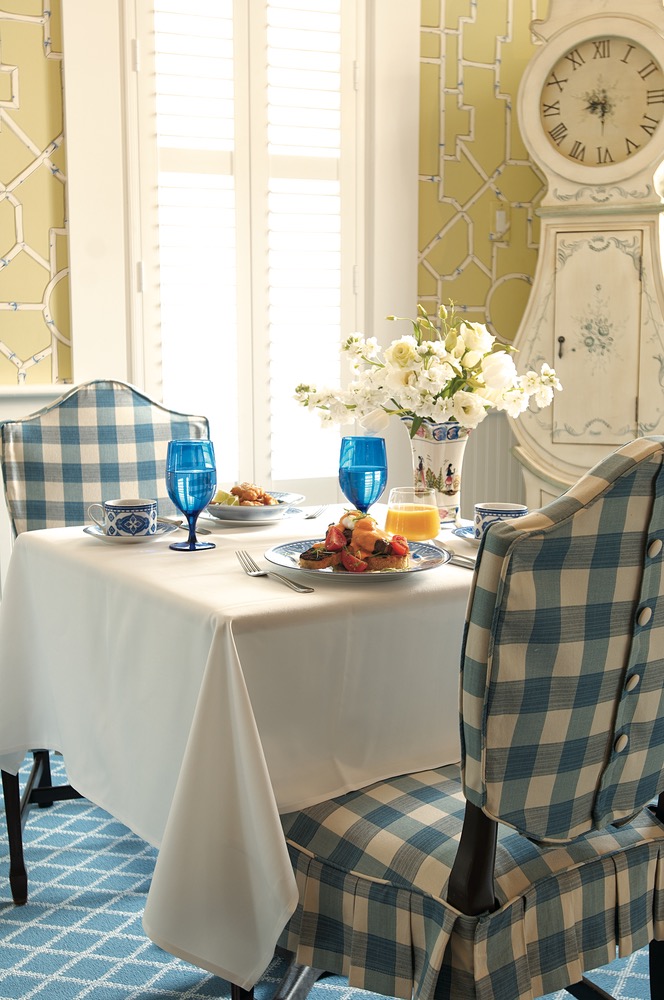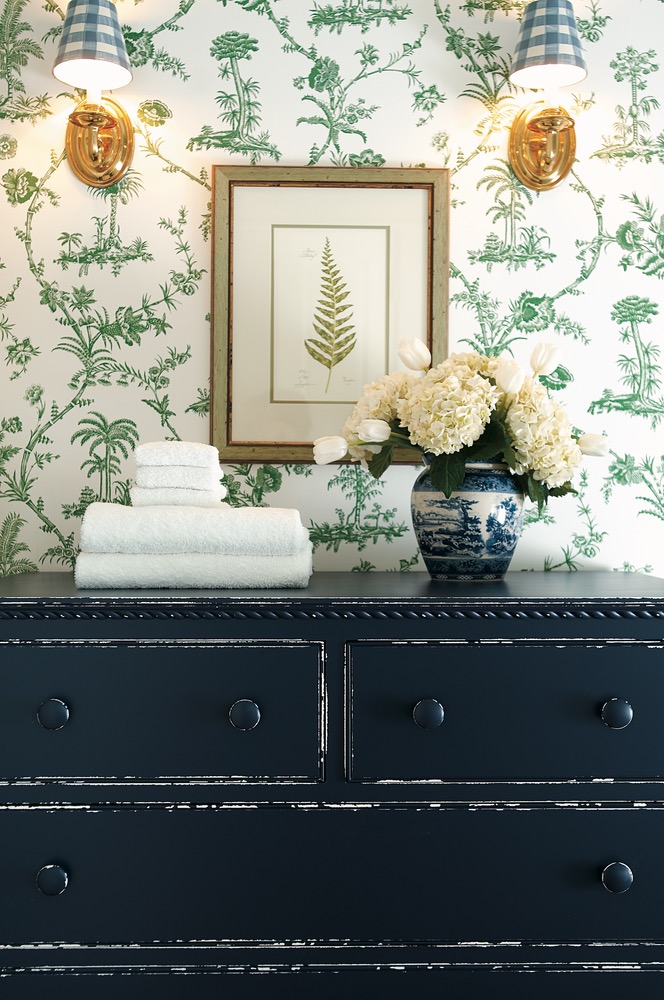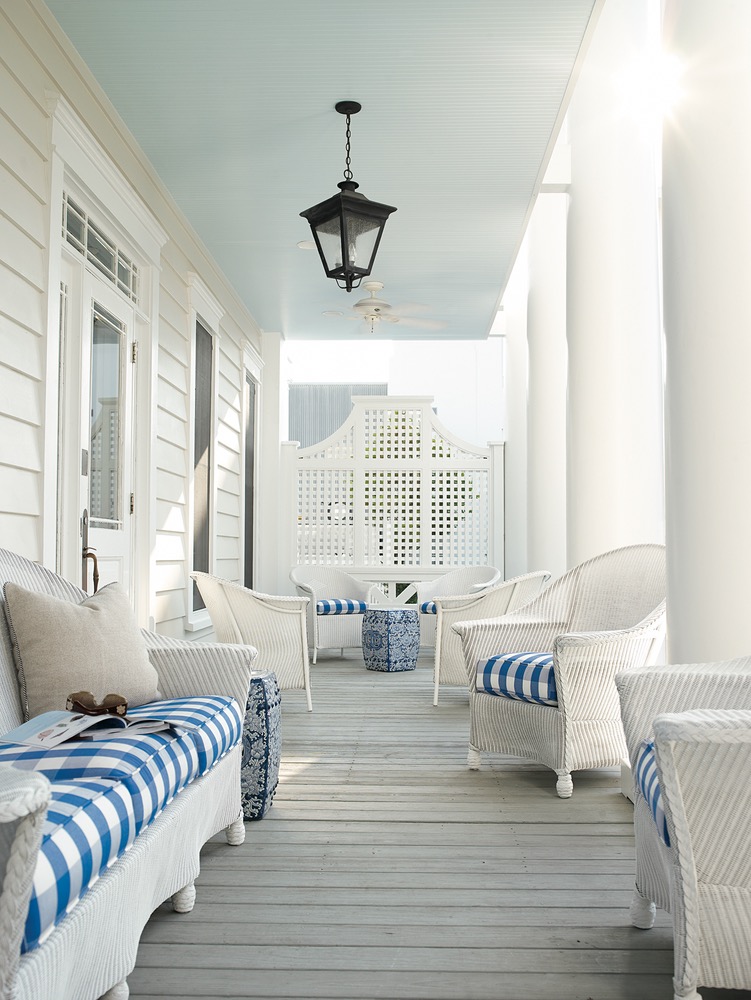 Seaside Avenue Bed and Breakfast 38 Seaside Avenue Seaside, Florida 32459 Phone: Toll-free (866) 966-2565 E-mail: info@cottagerentalagency.com http://www.cottagerentalagency.com/
— V —
ARTICLE CATEGORIES