By Sandra Woodward | Photography by Jessie Shepard
Its theme is pure whimsy, but this 30A favorite is serious about food.
There is no escaping the frog theme at George's in Alys Beach – and who would want to? The rakish little amphibian is a perfect symbol of the restaurant's unique personality and that of its gregarious and genuine owners. Literally from the moment your foot hits the steps of this 30A-side casual dining establishment, owners George and Ann Hartley entice you to lighten up, kick back and dig into a meal of delectable flavors and generous portions served in an atmosphere of sophisticated hospitality and down-home charm. At George's, you're not just welcomed. You're embraced.
At George's, you can be sure you'll be the center of attention. From the egalitarian no-reservations policy of first-come, first-served to the light, airy décor and the smiling faces of every staff member you encounter, the atmosphere of George's is focused on the customer. Right here, right now, you're going to be well fed.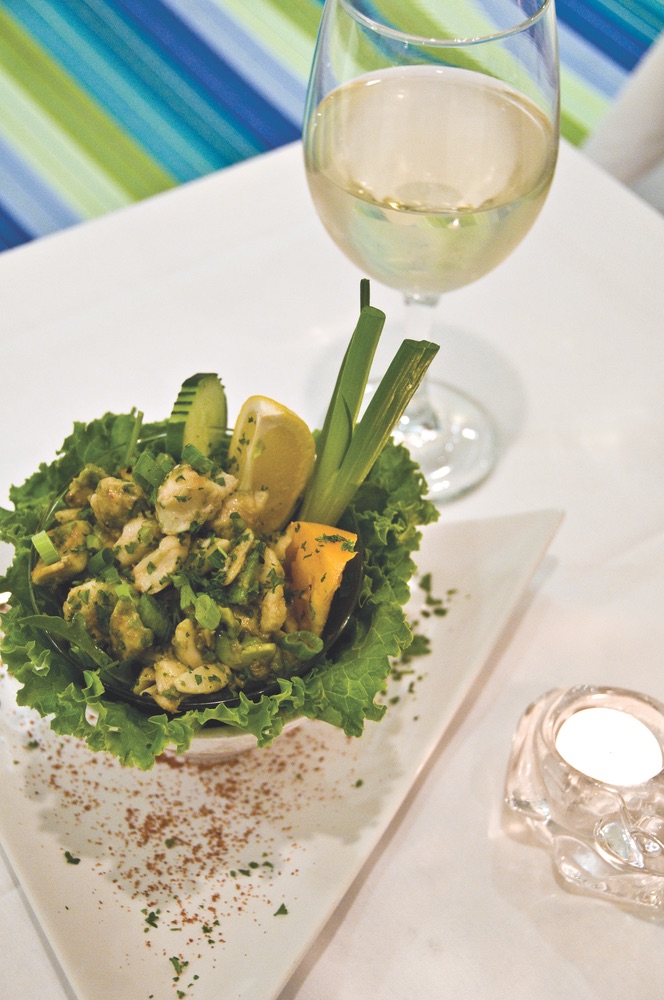 On an October Wednesday when first-time visitors were advised it was a "slow" evening, the place was hopping. (Warning: any perceived frog references from this point forward are not the responsibility of the writer.) George's is not a huge venue (locals will remember it as the former Sandor's building in Seagrove Beach that was moved to its new location in 2007), but any of the three seating options is quite comfortable. Our dinner foursome occupied a breezy corner on the very pleasant screened porch. When we returned for lunch, wanting to try the famous fish tacos we just didn't have room for during our first visit, we opted for air conditioning, choosing the intimate indoor dining area. We found it to be energizing and fun, but you may wish to choose the porch or deck if quiet conversation is your goal.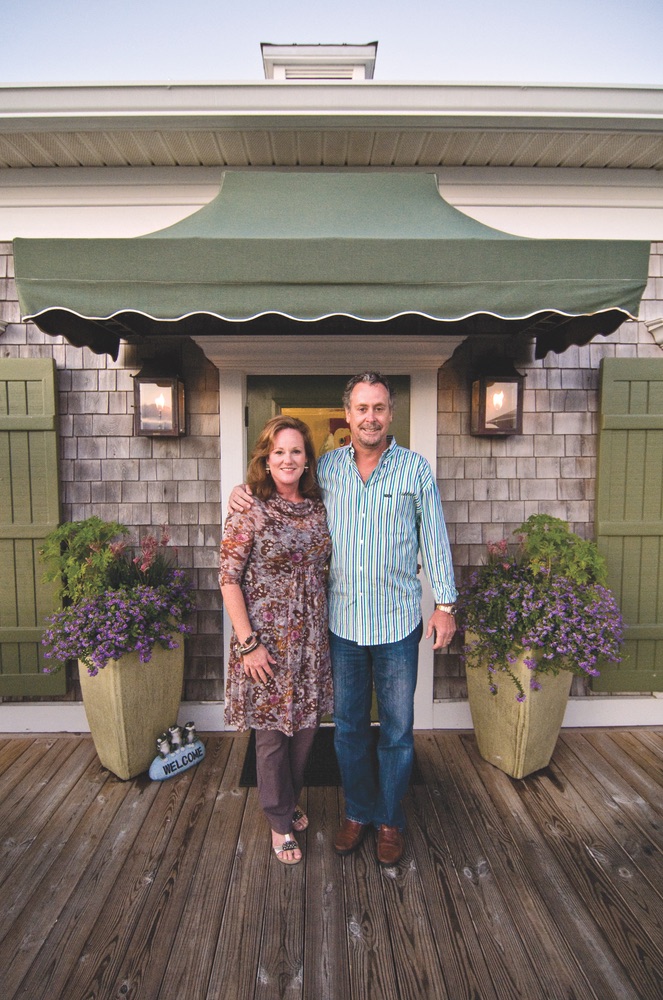 You may not have time to talk much, however. You'll be too busy relishing an eclectic menu that offers selections to appeal to every whim. The starter menu, for example, offers a wide variety, from a tasty warm Dungeness Crab-Parmesan Artichoke Dip to the Asian-influenced Jumbo Lump Crabmeat Avocado Cocktail with its fabulously flavored sesame dressing. The lobster quesadillas offer a decadent nod to the usually more mundane Mexican dish, and the Trio of Silk Road Caravan Dips will appeal to those with a hunger for Mediterranean cuisine.
As one might expect, the menu leans toward seafood. But Chef Steve Carpenter's inventiveness offers enough variety in ingredients and execution that even regulars will not be bored. Three of the four people in our dinner group chose seafood with three completely different interpretations. A deceptively simple-sounding offering of grilled fish featured perfectly prepared grouper served over a crisp and tangy Asian slaw. The avowed scallop lover in our group enthusiastically endorsed the Caribbean-influenced seared ocean scallops over tuxedo ginger orzo with a tropical fruit salad. The Spicy Lemongrass Curry Shrimp, also available with chicken, hit just the right balance of flavors and spiciness.
But even as we savored the superb seafood offerings, a taste of the Charred Garlic Dijon Beef, meltingly tender kabobs served over a bed of greens, made us all wish, just for a moment, that we'd made that selection.
For those seeking less than a full dinner, there are plenty of lighter offerings: salads, sandwiches and wraps. The fish tacos are indeed superb, with a piquant lime-poblano tartar sauce.
Portions in all menu categories at George's are beyond generous, so we offer an early warning to pace yourself if dessert is your passion. The renowned but surprisingly named Chocolate Goo lived up to its show-stopping reputation as did other favorites, such as carrot cake and George's unique take on the ice cream sandwich, which consists of vanilla ice cream between two slices of the restaurant's own banana bread topped with dollops of chocolate and vanilla mousse. A sweetly tart cherry-pineapple crisp rounded out our dessert selections, capping off a satisfyingly sumptuous meal.
George's wine list, while not extensive, offers variety, quality and creativity, with an interesting range of whites to complement the seafood offerings and an adequate list of very respectable reds to please any palate.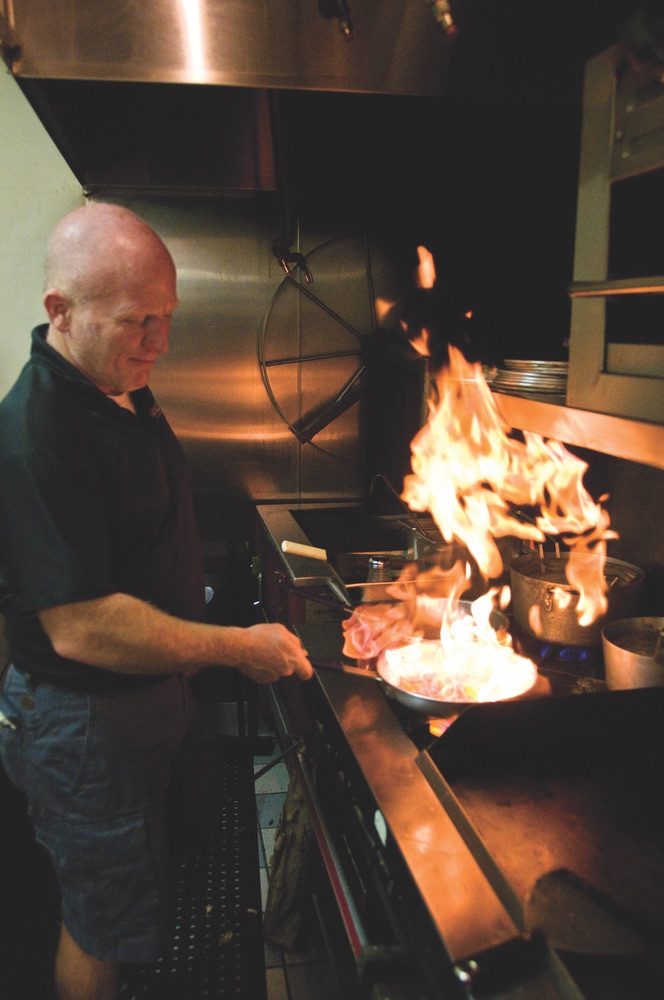 George's is open Tuesday through Saturday for lunch from 11 a.m. until 3 p.m. and for dinner from 5 until 9 p.m. For more information, call (850) 641-0017 or hop on over to the restaurant's Web site, www.georgesatalysbeach.com.
The Hartleys offer equally superb dining experiences at two other 30A establishments, the Seagrove Village Market Café in Seagrove Beach and La Cocina Mexican Grill and Bar in Seacrest.
— V —
ARTICLE CATEGORIES