To the Class of 2020
By Genesis Rosario
It's a goal many of us have had since primary school: walking proudly across the stage, knowing you accomplished not only four years of high school but also twelve years of public education, and simply hearing the sound of your name while accepting your diploma. You dream of getting ready for senior pictures, prom, and graduation, seeing the smile on your mother's face as you walk across the stage in a cap and gown, feeling the rush of emotions while changing the tassel from the right to the left.
Senior year is already a time filled with ups and downs. In the first semester, we are preparing our college applications—probably the most stressful time of our lives. And now, due to these challenging times, the Class of 2020 around the world is dealing not only with the loss of their senior year but also with the losses, stress, and anxiety brought about by the COVID-19 pandemic.
On Pause
I am a senior at a public school in Manhattan, New York City, the city that "never sleeps," but a city that's currently sleeping. Brooklyn, where I live, is a ghost town. The bodegas, the Salvadoran and Dominican restaurants, and all the other places I love are closed. I'm not seeing my mom, who is an essential worker and sent me to quarantine at my grandma's so as not to put me in harm's way. Not seeing my entire family has become normal. I understand the loss many seniors around the globe are feeling as we think, How did this happen?
Quarantine started around mid-March. My friends and I had anticipated it would only last a week or two but little did we know about the pandemic ahead of us. The word pandemic now weighs heavily whenever I say it. We couldn't imagine the chaos we would see: the president and the governor talking about it every day, our future in their hands as they dictated, "Stay home," "School is closed," or "Essential workers, go work."
The last day of school for me was like any other day at school: I saw my friends, had class, and went home expecting to repeat everything the next day. By this time in March, I had applied to colleges and was just waiting on their decisions. I was starting to feel stress-free and looked forward to enjoying the rest of my senior year. Suddenly, all the talk at school turned into "stay home, be safe, wear a mask, wash your hands, essential workers, toilet paper, Lysol, hand sanitizer!" Meanwhile, we seniors were busy with, "What if I don't get into the college?" "I got in!" "I got a scholarship!" "I didn't get in . . ." We didn't have the luxury of supporting each other. Where congratulations were once given with a hug or a teacher's look of pride, we got virtual congratulations via text, email, or video call. All the major events that had been planned—senior trip, prom, and graduation—evaporated.  Also lost were all the little moments, like College Decision Day, that were just as special—moments that many of us seniors looked forward to sharing with our classmates and teachers at school. Yearbook signing would have represented how much you'll be missed beyond what any social media post can say.
These are just a few of the things that we aren't able to experience. We will easily go down in history as the Class of COVID-19 2020, a class that was put on pause. But while the stress this caused in our heads may be huge and heavy, one thing I know: life goes on!
It helps a lot to remember that I'm blessed, that my family is safe and healthy. It helps to celebrate the smallest of things each day.
Online
When the quarantine was announced, everything was moved online. All the events and celebrations and even classes were held virtually. My first experience with this new online "pandemic" life was when I joined my first ever "Zoom party." It was for the members of Polluters Out, a youth-led coalition that I'm a part of. Students from around the world got together on the video-calling site to socialize and get a taste of our new lifestyle, what some call "the new norm." More than seventy participants joined the call, and while it was a little chaotic, it was a fun way to practice social distancing while still having fun with friends. Most of my life now takes place online—way more than before. My teachers assign work and expect it to be completed and turned in online. I talk to my friends online. I talk to my family through Zoom or FaceTime.
I had a "Quarantine 18" birthday party, which meant sending out a virtual invitation to family and friends to join me while I cut my birthday cake (which someone had to break quarantine to get). Everyone sang "Happy Birthday" and wished me a feliz cumpleaños. It was an emotional day not only because eighteen is a milestone birthday, but also because I was sad, unable to spend it with everyone I love, to simply feel their hugs, to have everyone taste Mom's or Grandma's cooking with the bachata and merengue playing in the background, and to hear the shouts of "Make a wish!" while cutting the cake. I missed all of that. Nonetheless, I felt blessed to have everyone I know safe and healthy, which was the best birthday gift I could have asked for.
There are also gains from all of this. As a climate activist, I am learning about new ways of protesting online. I am seeing older family members adjusting to the norm, like my maternal grandma finally learning to use her FaceTime or my paternal grandma learning how to organize virtual parties on Facebook.
On My Way
Yet another senior pressure was having to decide where I would go to college. April was supposed to be the month when I would visit all the schools that had accepted me. Now colleges were pressing. They went out of their way to assure students that virtual tours would offer us a similar college-visit experience. We have the best campus ever! It felt like being on an online dating app, but for colleges. I got virtual tour after virtual tour and heard from graduates and current students about their experiences.
Finally, I chose bachelor number one and made my decision to go to Hobart and William Smith Colleges (on a full ride!) as a mathematics major.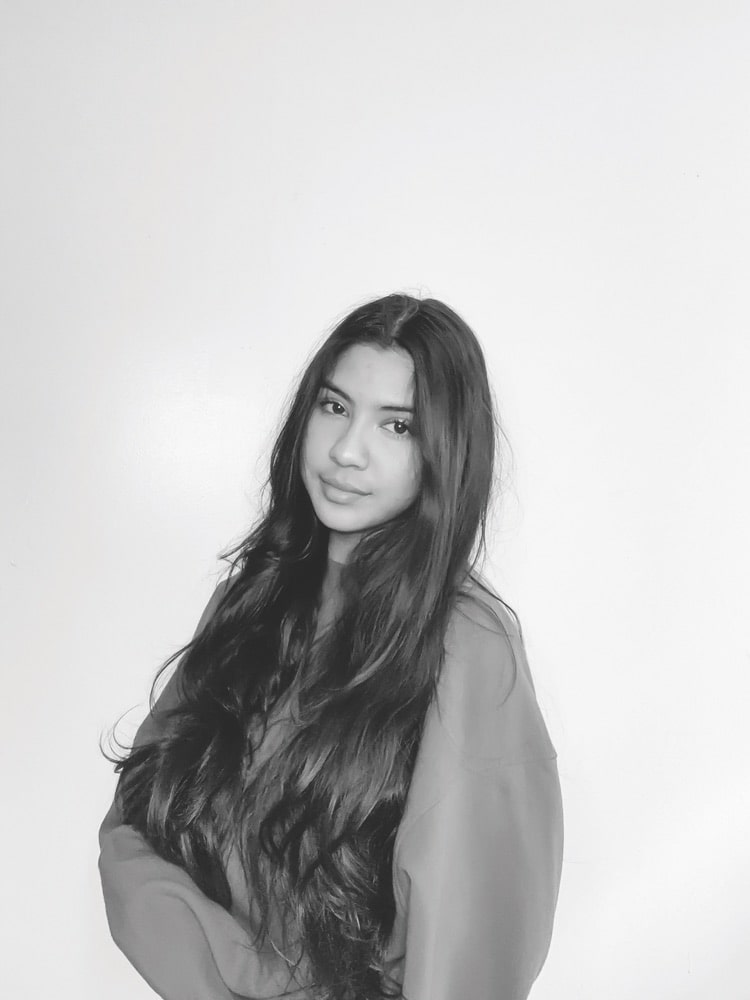 The stress of college decisions, of COVID-19, of not seeing my friends, of not having graduation, of not having a prom, of not being able to say good-bye to my teachers and friends, of not signing yearbooks—all of this has taken a toll on me emotionally. Life has changed overall and gone completely digital, from protests and birthday parties to maybe even a virtual prom and graduation, although I may not be able to wear my prom dress or hear my name on the microphone while accepting my diploma. Thankfully, I reached out to my guidance counselor, who discussed with me ways to cope with all the stress and anxiety.
It helps a lot to remember that I'm blessed, that my family is safe and healthy. It helps to celebrate the smallest of things each day. I make sure to show my appreciation to the health-care and essential workers daily. Every evening at seven sharp, since the start of quarantine, my family and I take a pause. We stop eating dinner, grab spoons and pots, and go out to the balcony, where we bang and clap and shout and make as much noise as possible to show our appreciation for all that essential workers have done and are doing throughout this pandemic.
So, to the Class of 2020 everywhere, accept acceptance. Accept the fact that our living rooms have become our classrooms. Accept that we made it and that we will make it. And we should make sure to congratulate ourselves for all of our hard work these past four years. If 2020 is the year that COVID-19 stole from us, then we are the class that will one day win it back.
— V —
ARTICLE CATEGORIES