A New NYC Penthouse with Art in Mind
Story courtesy of Gansevoort Hotel Group | Photography by David Mitchell
Following an extensive renovation, the chic Gansevoort Meatpacking NYC hotel announced it would reopen in the midst of tumultuous world circumstances, particularly in the travel industry. In October, Sneak peeks showed a rejuvenated look and feel with ultramodern amenities, including contactless check-in, Google Assistant and Google Nest Hub in guest rooms, and in-room gym available via the Mirror virtual workout system. As it completes the new guest rooms and art-centric lobby, the sleek boutique hotel is also preparing to open its newly updated penthouse suite, which feels like an NYC luxury apartment and art gallery combined.
To furnish this chic downtown space, Gansevoort Hotel co-owner and president Michael Achenbaum and his team turned to Italian luxury furniture brand Poliform and a select group of artists to create a memorable experience for any guest. "The penthouse at Gansevoort Hotel has long been one of the most desirable suites in Manhattan," he says. "Poliform was the ideal partner for the space due to my personal admiration for the brand and vision for the next evolution of the hotel. The fully renovated Poliform suite marries a luxury lifestyle brand with works of art from some of the most renowned artists in the world, such as Frank Stella, Daniel Mazzone, Mick Rock, and Fabio Mesa."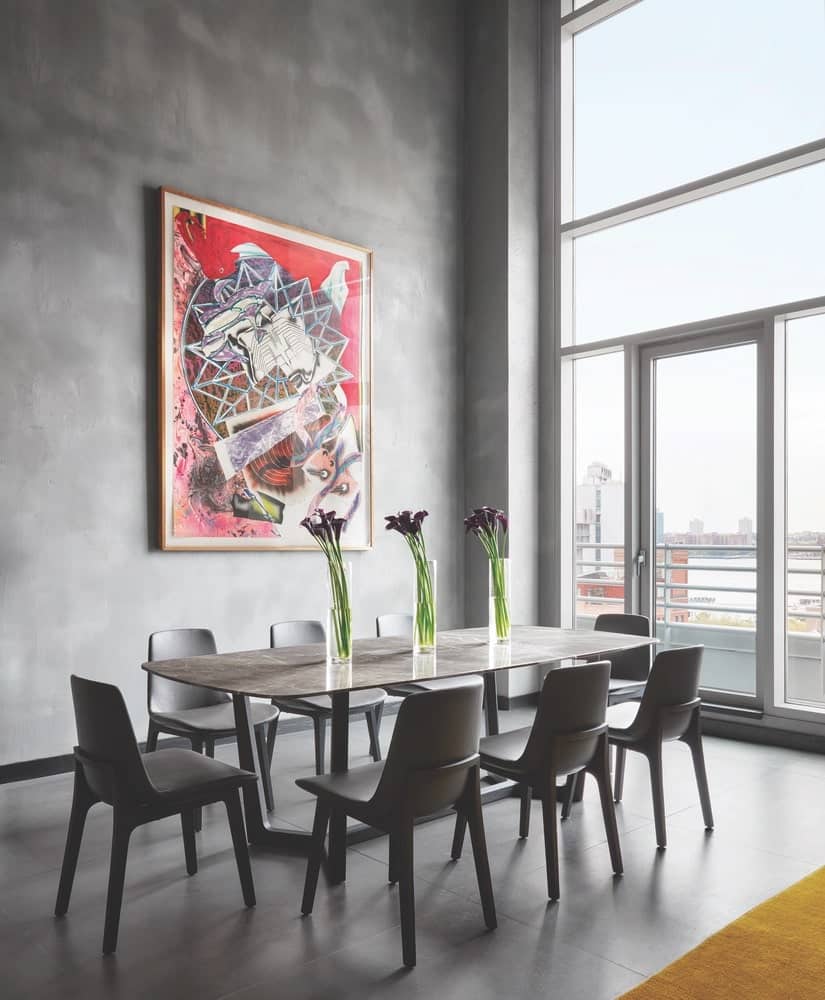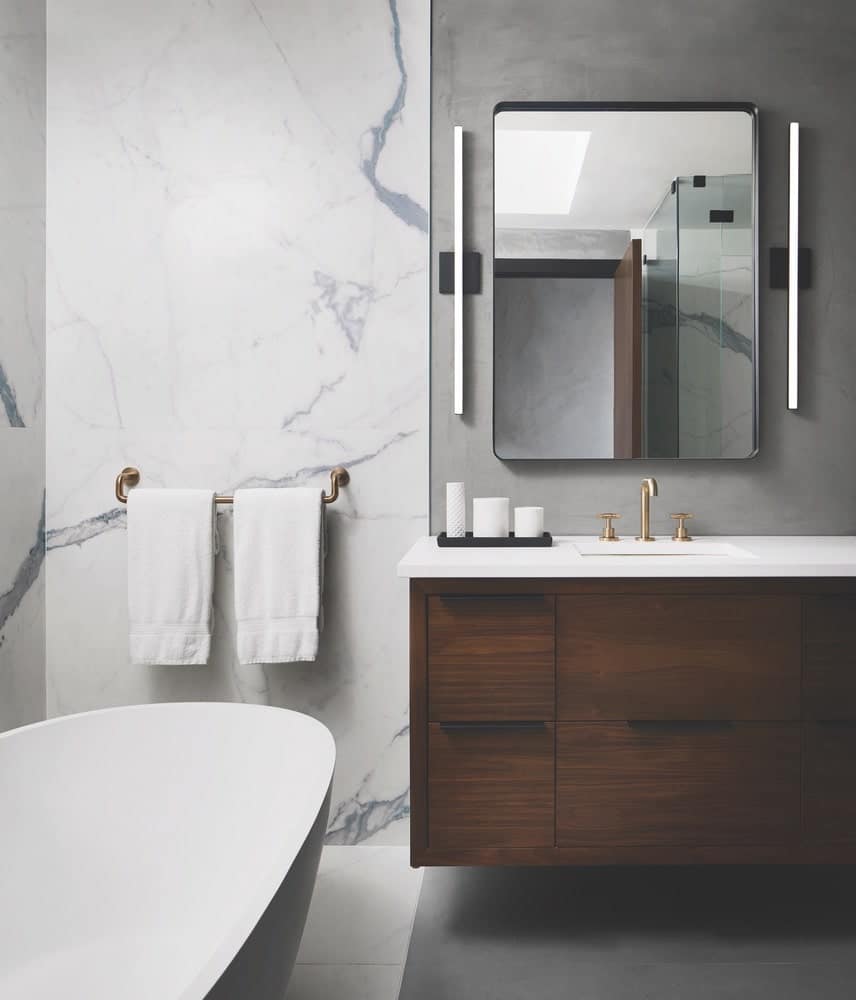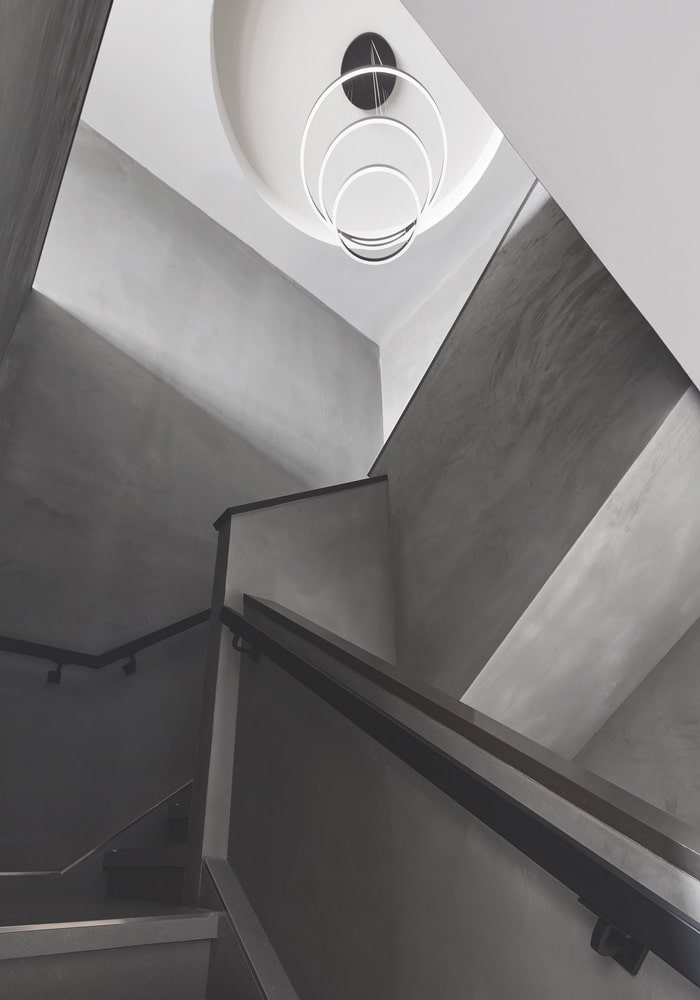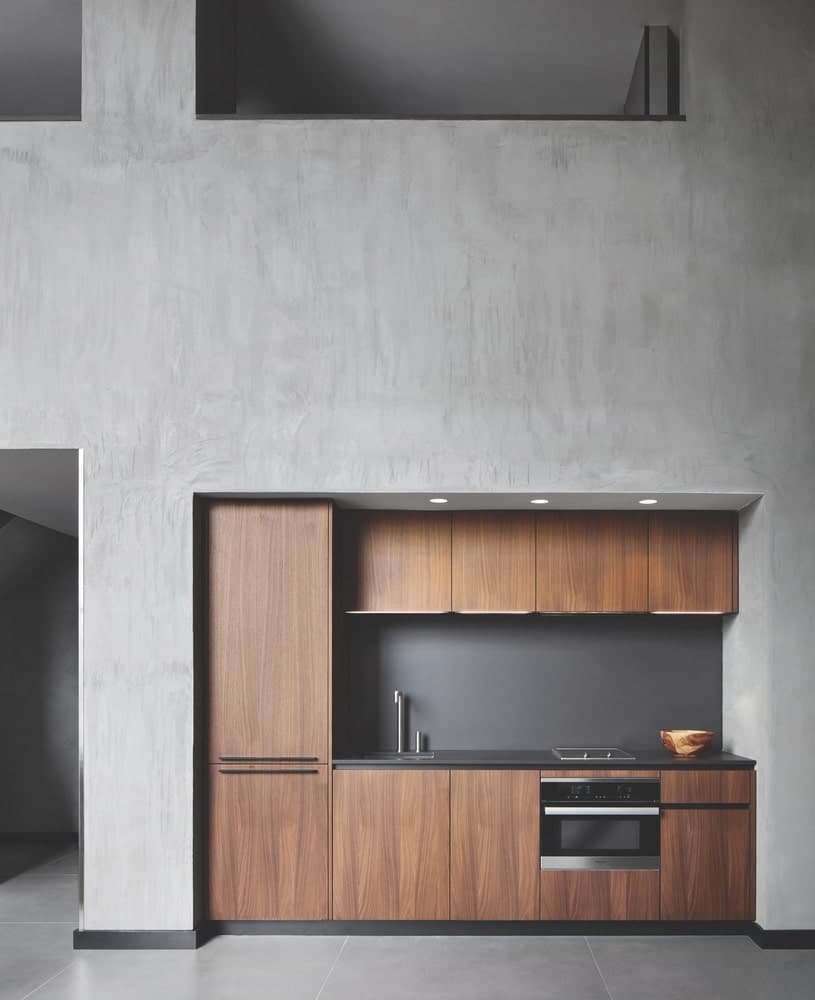 As one of the brand's most prestigious projects stateside, the Poliform Penthouse was carefully curated by Kevin Woodard, general manager of the New York market for Poliform. Over the years, Woodard has worked closely with Achenbaum, who has long been a personal fan of the brand. When searching for a design team to breathe new life into the penthouse, Poliform was a perfect fit—lifestyle brand meets lifestyle hotel.
The space itself is a 1,700-square-foot duplex designed and built both for a comfortable stay (whether short or long term) and to entertain. Poliform tapped into its network of international designers to collaborate on the products, and each element is shoppable, should a guest decide they can't live without one of the pieces.
Guests are greeted by striking thirty-foot floor-to-ceiling windows and unbeatable views of the Hudson River.
Upon entering the downstairs of the Poliform Penthouse, guests are greeted by striking thirty-foot floor-to-ceiling windows and unbeatable views of the Hudson River. The first floor serves as a communal space, anchored by a Mondrian sofa and a remarkable coffee table made of rare Saharan black marble shot through with veins of orange. A floor-to-ceiling marble fireplace, flanked by dramatic bookcases, balances the room. Dark wood finishes, black marble, and jewel-toned carpets add to the overall luxurious aesthetic throughout the space.
Built to entertain, guests can host intimate dinners in the spacious dining area. The living room is perfect for cocktail events—from small to larger gatherings—or for press interviews. The concert-clarity Sonance surround sound system, three full bathrooms, the wet bar, and the fully stocked, efficient, and elegant kitchen—complete with refrigerator, stove, dishwasher, and microwave—help cater to any occasion. Walnut cabinetry and black Italian quartz counters and backsplash maintain the suite's richness.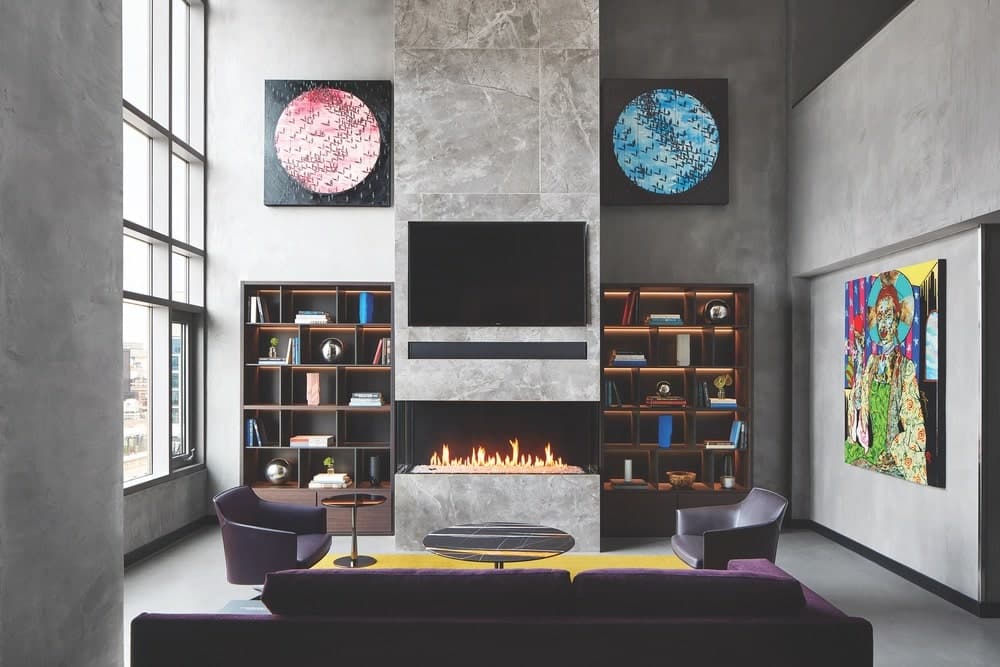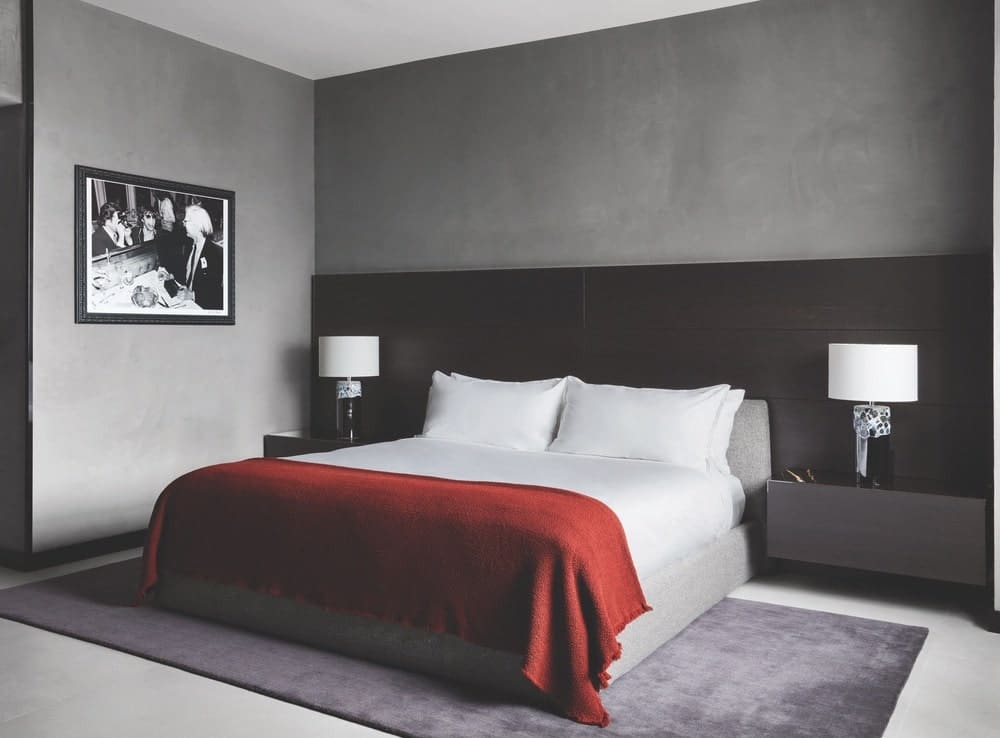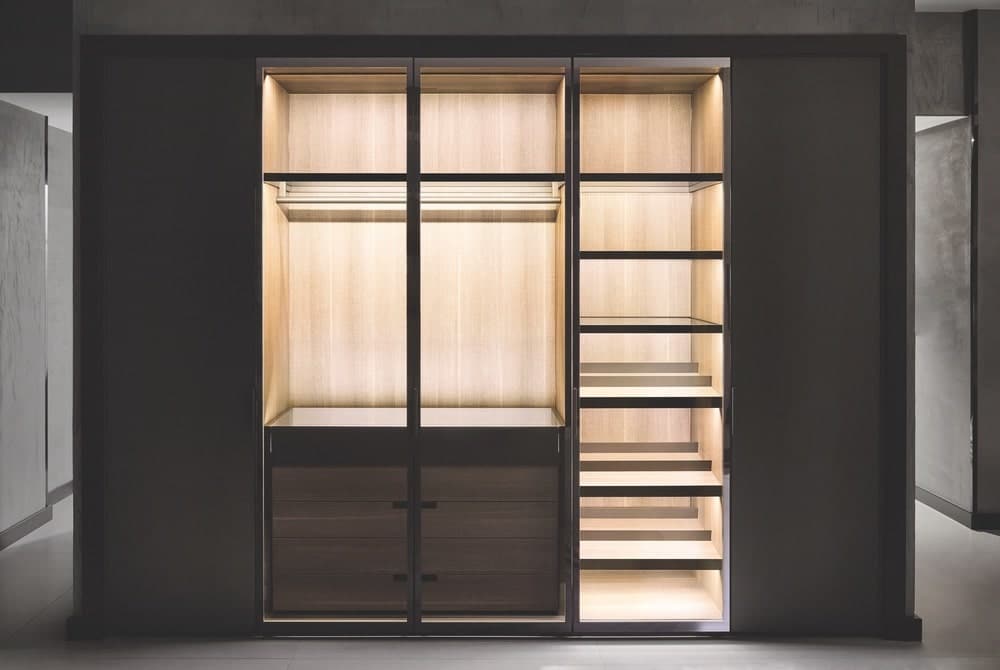 Upstairs, the highly designed private sleeping area offers guests a cocoon-like comfort. The free-standing upholstered bed is positioned against black elm wood-paneled walls, with floating marble-topped nightside tables on either side. The result is a design that feels comforting, sumptuous, and a bit indulgent.
The Poliform brand began as one that excels in cabinetry, so of course, the closet had to be truly impressive. Gowns and coats fit seamlessly into the full-height wardrobe, and two angled shoe shelves help guests truly unpack and settle in. Doors are mirrored glass, easily transforming into full-height mirrors, and black and neutral tones help balance the space. This closet is nothing short of couture.
Stay tuned for the full reopening announcement from Gansevoort Hotel Group.
— V —
---
Visit GansevoortHotelGroup.com/gansevoort-meatpacking-nyc to learn more or book your stay. Learn more about Poliform at Poliform.it.
ARTICLE CATEGORIES