By Tori Phelps  |  
Photography courtesy of Christopher Guy
If La-Z-Boy is your favorite furniture designer, stop reading right now. You're not ready for Christopher Guy. The rest of you may want to settle in with a beverage because it's impossible to simply glance at these spectacular pieces; it requires a bit of time to fully appreciate their sensuous lines and timeless beauty. But if you've got the time, he's got the designs.
At the age of sixteen, we relocated to the South of France, where we worked on my first project: building our home over a period of eighteen months. This ignited the sparks of passion for design, with my stepfather as a key source of inspiration.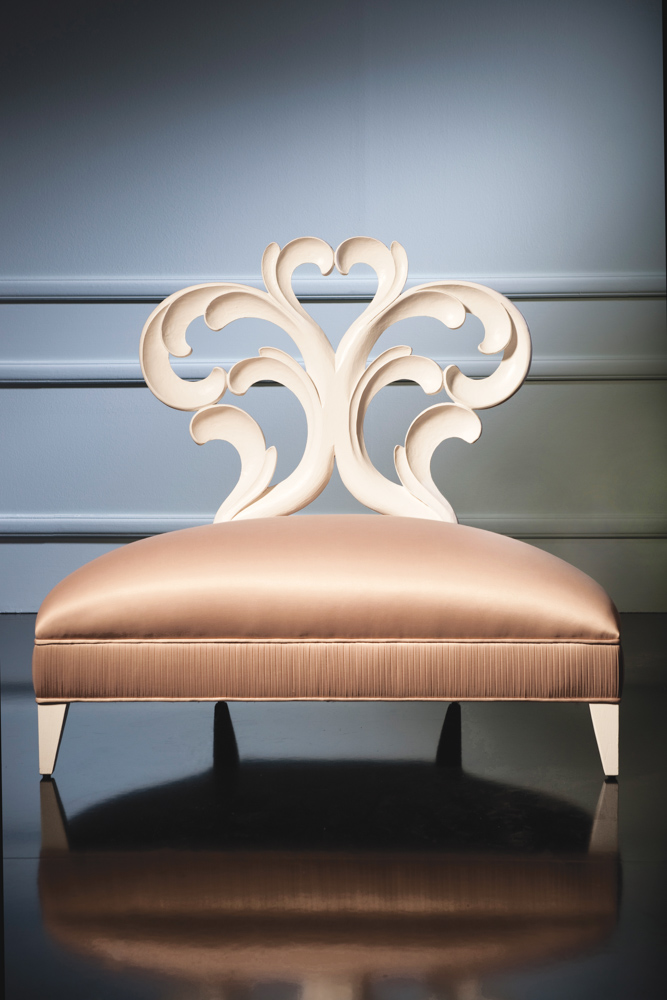 A World(ly) View
They grace the most exclusive hotels in the world and have shown up in movies such as Casino Royale and The Devil Wears Prada. Perhaps not surprisingly, the man behind these furnishings has a backstory as interesting as any of the films in which his pieces have appeared.
Christopher Guy Harrison was born in Britain, raised on the Continent and currently calls Singapore home. He credits his mom and stepdad with not only exposing him to multiple cultures as a kid, but also inspiring the craft that would eventually earn him international acclaim. "At the age of sixteen, we relocated to the South of France, where we worked on my first project: building our home over a period of eighteen months," he recalls. "This ignited the sparks of passion for design, with my stepfather as a key source of inspiration."
The hands-on construction process may have been the spark, but it was his new surroundings—and the exposure to diverse cultures in France and Spain—that set his creativity on fire. The people and places in the South of France particularly influenced Harrison's design ideals, cementing his love for all things glamorous, with old Hollywood glamour an enduring favorite.
In the mid-90s, Harrison was ready to make his artistic mark, and he settled on mirrors as the vehicle. Why mirrors? "When I started in the industry, there were no contemporary, high-end mirror companies, as it was such a specialized category of product," he explains. "There were only classic designs available, mostly of the Chippendale and Louis XIV style, and even then it was only a handful of mirror companies mostly copying each other."
He quickly changed that. Under the name Harrison and Gil, he set out to create the biggest, most fabulous mirror frame collection in the world. Harrison's astounding success (his first sale was to Harrods) meant he needed to find a place to produce all of these beautiful pieces. That place turned out to be Indonesia's Central Java, which not only had the hardwood he needed, but the master craftsmen who continue to help his visions become gorgeous, hand-carved reality.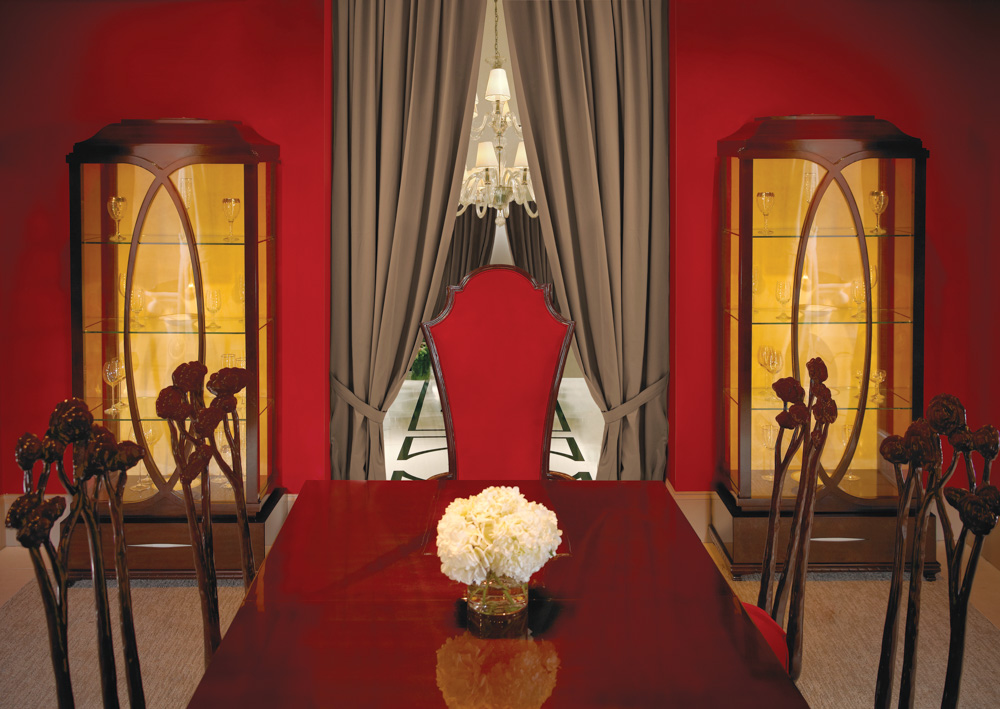 In a world of cheap, slapped-together fake wood and plastic parts, Harrison maintains a dogged commitment to old-world quality. He has to, since the rest of the world seems to have given up on the idea. Harrison, who renamed his company Christopher Guy in 2006 to reflect its comprehensive line of luxury furnishings and accessories, picks up where other traditions have left off. He explains that the world's finest furnishings and fittings once came from Europe; today, the marketing of European brands is still strong, but the actual pieces don't hold up to the hype. "What you see in European furnishings is now created by machines. It's becoming more expensive to create fine furnishings in Europe, and they barely exist."
Enter Christopher Guy. Not only is Harrison's production technique unusual, but his designs have made a splash because they, too, offer something unexpected but utterly welcome: pieces that fill the gap between classic and contemporary, with an international look that transcends borders. The carvings and timeless elegance of the designs are a nod to classic style, while the ever-present design twists and elimination of ornate elements add a contemporary flavor.
One of the most famous Christopher Guy classic-contemporary features is his signature Chris-X (pronounced "crisscross") chair legs. Like many of his designs, it was inspired by the feminine form—in this case, the corseted waist of Scarlett O'Hara in Gone with the Wind. The idea, he says, was to create a chair that was simple, sophisticated, and flexible enough to work with a variety of style categories. The only way to incorporate all of those principles while honoring his inspiration was to reconfigure the legs.
And so the Chris-X chair was born.
Handcrafted from a single piece of wood, the Chris-X design refines the posterior of a chair by tapering the form without compromising comfort, structural strength, or stability. Harrison's innovation has been extended to a full range of Christopher Guy pieces, giving chair backs a sculpted look and showing off the curved lines of larger upholstered pieces.
As a designer, the infrastructure to support your design is paramount. Bringing that design to fruition includes managing the entire system, including the craftsmen and the company.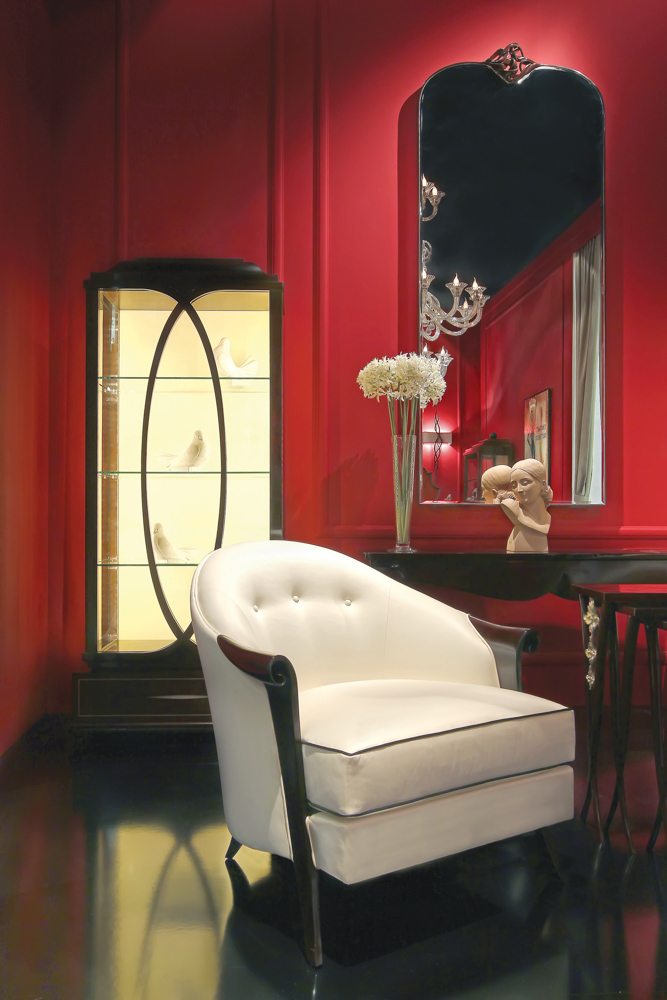 Coming to America
For the first time in his two-decade, explosively successful career, Harrison is debuting a line with a defining theme. The inspiration behind the poetic "Mademoiselle" collection, he explains, is a grand Parisian apartment and the elegant 1920s-era woman who lived there. "It exudes the femininity and sophistication of that old-world glamour," he adds.
The collection also introduces the new Christopher Guy "Coco" wood finish—rich, dark brown hues—which can be seen on most of the cabinets, chairs, and tables in the Mademoiselle collection.
The fair Mademoiselle must now share Harrison's attention with an entire country, however. Christopher Guy pieces are already in countless homes and high-end hotels in the U.S., not to mention a mainstay in Hollywood productions, so it made sense to go big in the States. As of May, the Christopher Guy West Hollywood Showroom joined global headquarters in Singapore and offices in Dubai and London.
Make no mistake; the company's U.S. flagship isn't your average furniture store. The 10,000-square-foot building, located in an area Harrison calls "the epicenter of the design and furnishing industry in California," introduces the Design Lab. What it allows designers to do—apply fabric and finishes to their pieces—is easy enough to grasp. How it's done—with advanced software and touch-screen displays—is something you have to see to believe. The result is a single working environment that can be used to create entire projects, even scaling rooms to meet clients' needs.
The opening of the new showroom coincided with BritWeek, an annual celebration of creativity and innovation between Britain and California, as well as the presentation of the Second Annual Christopher Guy BritWeek Design Award. The award is presented to a California design school student who submits a furnishing or decorative accent piece according to a theme—this year, based on the creations of famed haute couture hat designer Philip Treacy. The winner and two runners-up, as judged by an all-star panel, earn the chance to intern at the Christopher Guy Singapore design office, as well as visit Maison and Objet, the international home design exhibition in Paris.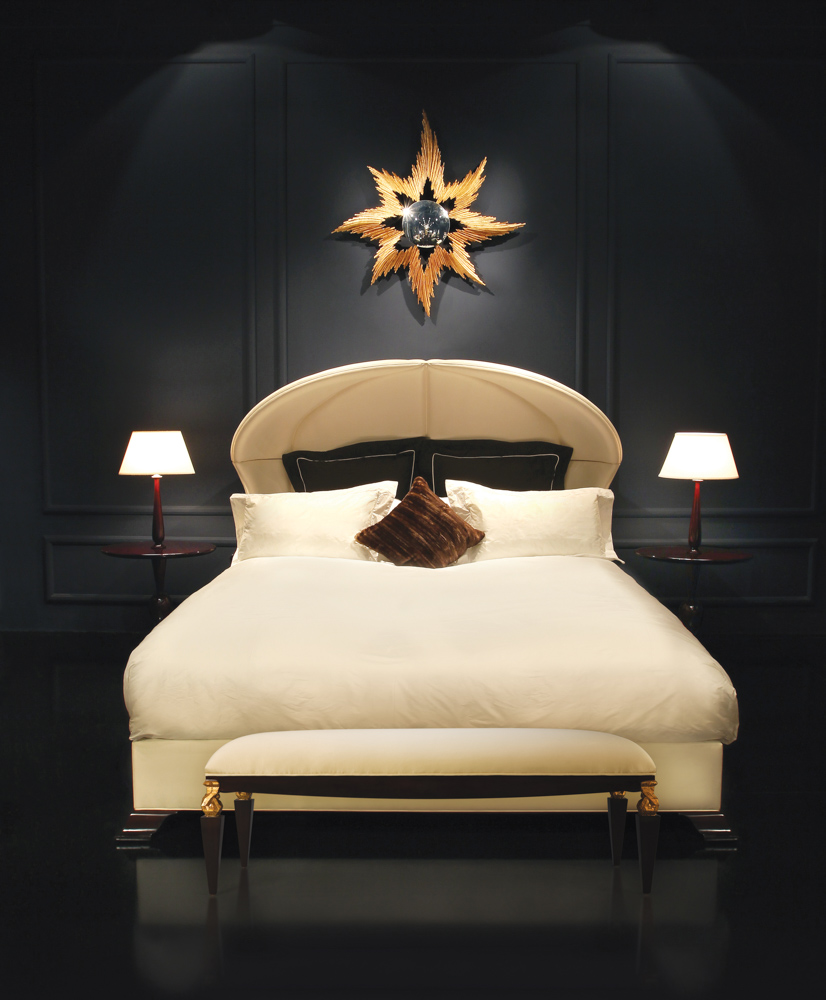 More than just another bullet point on a résumé, the award's biggest boon is the opportunity to travel—something Harrison knows from personal experience can be a difference maker. "I believe that through traveling, young designers will be exposed to different cultures and elements," he says. "This is important in order for them to create and broaden their portfolios. It will make a good designer better."
It may also help them discover that design is a relatively small part of the job, perhaps as small as 5 percent, according to Harrison. "As a designer, the infrastructure to support your design is paramount. Bringing that design to fruition includes managing the entire system, including the craftsmen and the company."
The 2011 Design Icon Award winner has proven to be more than up for the job, illustrating yet again what sets him apart from the pack. "I've had to be a businessman, a marketer, and a designer with a global view and presence," he says. "It has required a new approach to design and marketing, one that continues to evolve to match the dream I had all those years ago."
Whether it's designing a piece of furniture or creating a global empire, Harrison has discovered that most things in life require a delicate balance. Start with ensuring that all of the components complement each other and then throw in attention to form and structure. He concludes, "It is the harmonious combination of all these elements that determines success."
— V —
ARTICLE CATEGORIES