Designing with Christian Louboutin
By Suva Ang-Mendoza  | Photography courtesy of Christian Louboutin
A legend in the world of high fashion and even higher heels, French designer Christian Louboutin has single-handedly—or perhaps more appropriately, "solely"—upgraded shoe closets around the world with his iconic "red bottoms." This time, the global luxury fashion empire is updating women's dressing tables with something just as stunningly beautiful and artistic.
While his shoes can "transform your body language and attitude" and "lift you up physically and emotionally," as Louboutin famously explained, he says his fragrances give women "the means to express themselves and delight in their femininity." Truer words were never spoken.
I was around the age of six or seven when my mother introduced me to perfume. She used to tell me there are three basic things a woman should do to prepare for the world: keep the accessories classy, remember that makeup is the best cover-up for any doubts, and lastly, use perfume to radiate power. (I didn't know what that meant at the time; I thought maybe her meaning was just getting lost in translation from Mandarin to English.)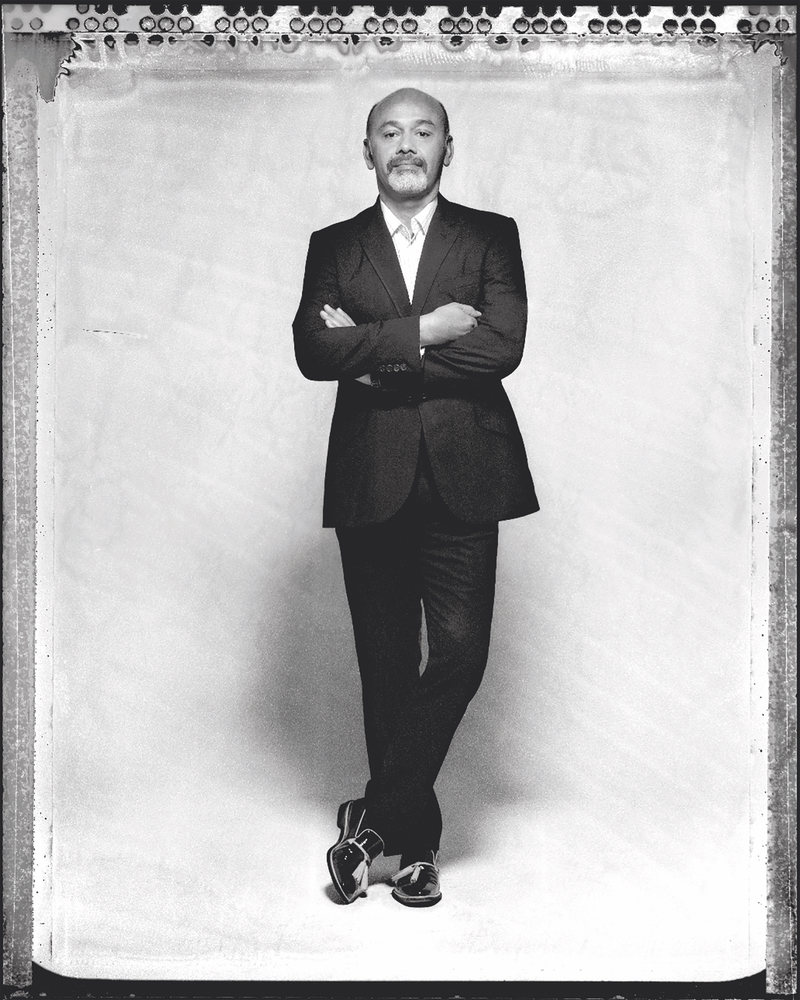 Long before I knew anything about Christian Louboutin, I used to watch admiringly as my mother sprayed Elizabeth Taylor's White Diamonds on each side of her neck. She insisted that one is never fully dressed without perfume, like an ice cream sundae needs a cherry on top or a fairy should have wings. Most women's morning routines go something like this: Get dressed, apply makeup, and spray on a mist of a favorite fragrance that unleashes an identity—a hidden alter ego. Perfume has the power to morph you into whomever you want to be. It can radiate power. I never knew what that meant—until I bought my first bottle of it.
I don't know how to describe it, but there's something about that spray that intoxicates your mind and gives you a boost of confidence and an edge to start your day. Somehow, this invisible beauty product can make a visible difference in the way you look, feel, and move. It's magic.
Having successfully entered the color cosmetics business, Christian Louboutin is now completing the growth from sole to scent, bringing pure delight with the complex layers of three newly launched fragrances: Bikini Questa Sera, Tornade Blonde, and Trouble in Heaven. In true Louboutin fashion, no detail was spared in their creation. "I wanted to celebrate woman and her desires," Louboutin says of the collection. "I wanted these fragrances to enhance an aspect of her personality, or perhaps reveal something about her that no one knew before, maybe not even her, tell a secret, a story."
Each fragrance was designed with a fantasy-like, dreamy story to be told:
Bikini Questa Sera
"Bikini Questa Sera takes the heat into the night. The heat of the day, sun hot on skin, the voluptuousness of the beach that she doesn't want to let go. Hold onto the intensity, feel the heat and the happiness, there is the scent of the sun which becomes the scent of the woman as day turns into night. In the cool of the night air, the headiness of the parfum shimmers still in the moonlight, jasmine and tuberose, opalescent against the skin. Intimate, hot, and compelling, she is wearing only her Bikini Questa Sera."
Tornade Blonde
"She went by so fast; she turned me upside down. I didn't see who she was, but she left all this golden light and luminosity. Was she dancing? I can't get her out of my head. Tornade Blonde, not a color, but a parfum and a state of mind. The scent of love and adventure, a gorgeous red rose lies deep in a bed of sweet violet and cassis. Feminine and potent, animalistic yet floral, Tornade Blonde leaves a trail of golden light like a comet in the night. It is a burst of potent sensuality, an invitation to follow. Tornade Blonde is the scent of desire."
Trouble in Heaven
"Trouble in Heaven is a parfum that lights the fire. Mysterious and sexy, for the woman who wants to provoke and is at ease with her provocation. Turn heads, raise the heartbeat, be noticed, make dangerous liaisons. It is both intimate and overt, an intoxicating fragrance to wear close to you, to be loved by others. A second skin of perfect iris, patchouli, and tonka absolut resonates with the dry heat of oriental amber and makes Trouble in Heaven."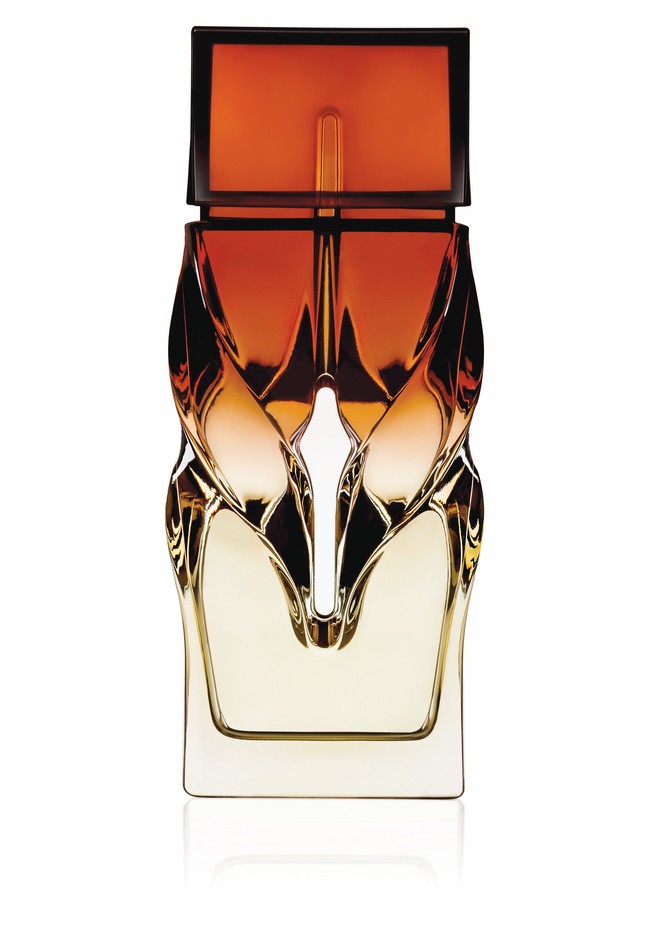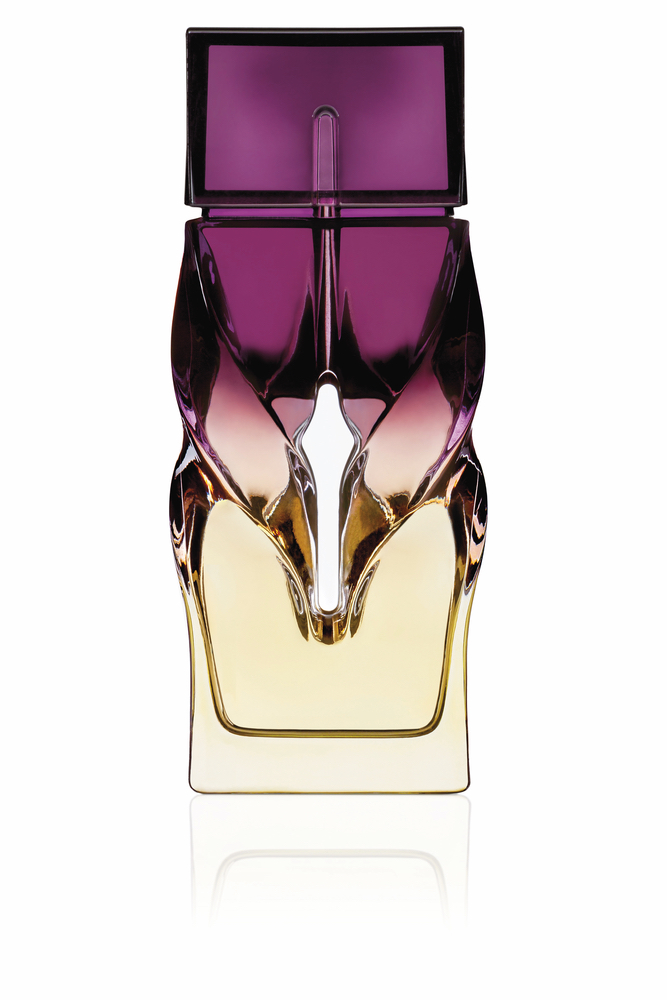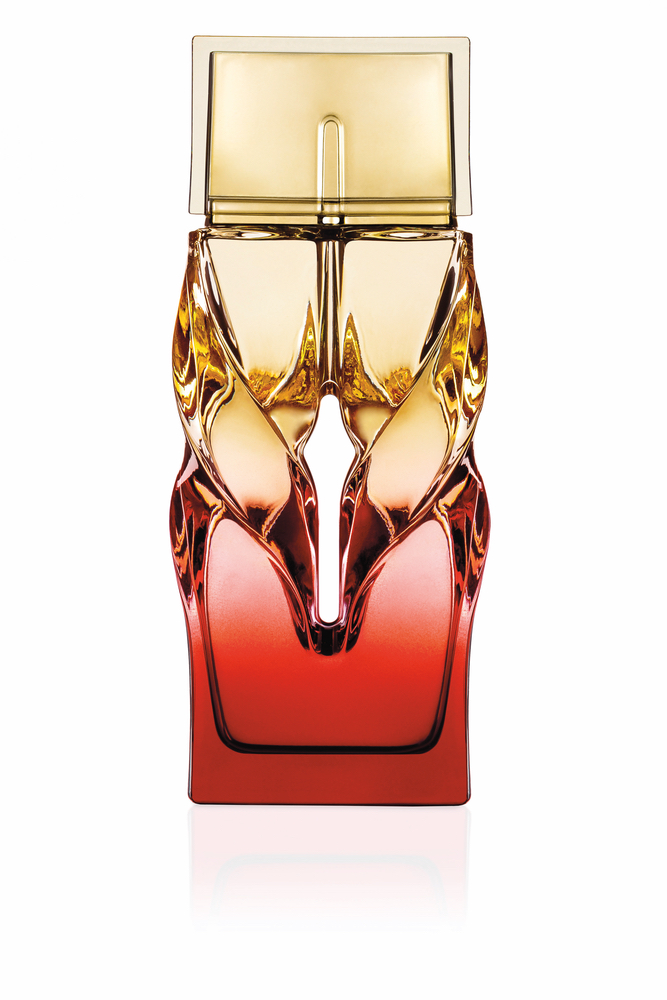 From the stories to the bottles and the scents that fill them, the fragrances are as strikingly beautiful to the eye as they are to the nose. With three different scents to cater to every woman, these perfumes are about to be staples on vanity tables worldwide. The designer with the most coveted shoes has become the man with the most coveted fragrances.
Although Louboutin has already made his mark in the fashion and beauty industries, the fragrance collection completes his brand. However, the process to successfully integrate his luxurious brand with his complex ideas proved to be laborious. Launching a product in a whole new category involves intricate steps and careful planning.
What goes into the branding of Louboutin's sophisticated products, especially these fragrances? Part of me visualized something magical like Santa Claus and his secret helpers, except maybe Louboutin's "elves" were working away in a chic white-walled design studio with red carpet and gold embellishments. As powerful and magical as the scents are, the design process for creating a fragrance is far from what I imagined.
As with the development of a shoe design, the first step for Louboutin was to draw inspiration. His goddaughter, Elisa Sednaoui, who is a model, actress, film director, mother, and founder of the Elisa Sednaoui Foundation, became his muse.
"For me, Elisa is one woman who is many women," Louboutin explains. "I can't tell you if she's blonde or brunette. I can't describe her physically. But I can describe the melody of her voice, the vitality of her gestures. She has always fascinated me, not just because of her beauty, but her whole way of being."
For Louboutin's fragrances to have such a personal inspiration may seem convoluted; in fact, he had to ensure that his fragrance wasn't just one-sided based on his personal feelings. He had to take those affections and ideas and manufacture them to please women around the world. As his creative mind would have it, Louboutin was quite aware of the fragrances he wanted to design, and his muse embodied the entity of each of his concepts. It was evident that his close relationship with Sednaoui was key to the design process. "It was rather like making a film, and I was the director and Elisa interpreted the role," he explains. "It was beautiful synergy."
"It was rather like making a film, and I was the
director and Elisa interpreted the role," he explains.
"It was beautiful synergy."
Although most fragrances launch one at a time, Louboutin insisted one is simply not enough, which was a major factor in choosing Sednaoui as the face of the collection. To him, she represented the many nuances of all three fragrances. "She is the personification of the fragrances, which are intended to express women's many changing facets. A woman can have so many different lives and feelings and desires; she can be one thing and the opposite, depending on the climate, the time of day, her mood, her company… I couldn't limit women to one fragrance. For me, Elisa really is the reality of this idea."
With this sense of direction, three unique scents were born, and they needed to be contained in something visually hypnotic and as powerful as their personalities. The fragrance bottles were to have a strong sense of identity, and Louboutin handpicked Thomas Heatherwick of Heatherwick Studio to take on the project of creating the perfect containers. "Thomas is a fantastic designer," Louboutin says. "He has a wide-eyed energy that I love which he puts into all his work. His design process is the same whether he is working on a building or a bottle."
That energy can be seen in any one of the iconic global projects Heatherwick Studio has designed, including the Olympic cauldron for the London 2012 Olympics, the Learning Hub, a cornerless university building in Singapore, and the impressive Zeitz Museum of Contemporary Art Africa in Cape Town.
"It was a really natural process of collaboration," Heatherwick says of working ambitiously with Louboutin to create a series of bottles to contain and represent his fragrances. "We began by asking questions about Christian's dreams and expectations to get the essence of what he was searching for."
Questions turned to discussions. Discussions turned to sketches, which eventually became a glass menagerie of prototypes. "We started with the top and the base and a very simple rectangular form," says Heatherwick. "From there, the idea is that the glass goes on a journey in between. It is almost as if the bottle turns itself inside out." According to Heatherwick, it was hard to control and manipulate the glass due to the central aperture, making Louboutin's idea of creating a "liquid is alive" bottle with the illusion of movement almost unattainable. Eventually, they found a way to twist the glass bottle for that flowing look.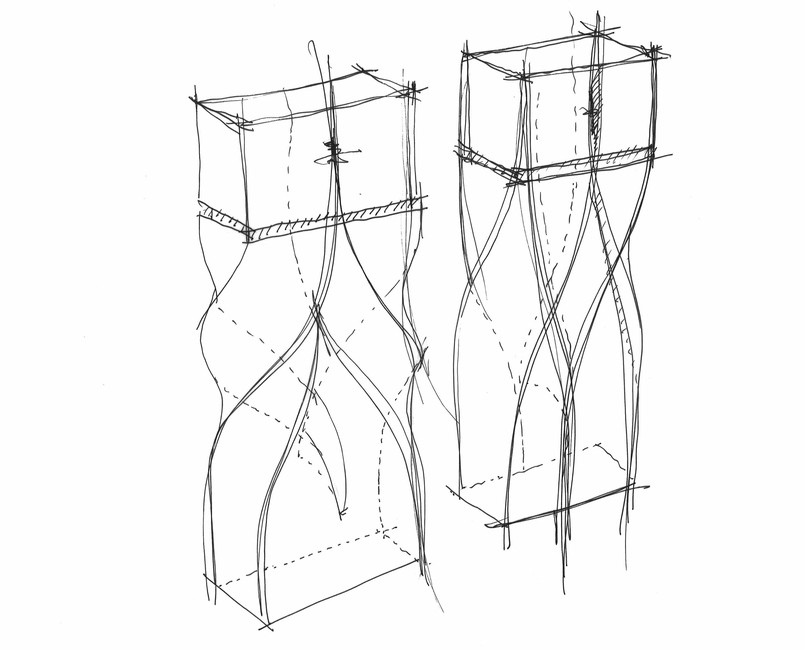 Three different color palettes were also needed to distinguish and personalize the three scents and their bottles. In Bikini Questa Sera, the deep amber and warm golden tones inspired by the colors of an Egyptian sunset were meant to evoke heat and sensuality. Tornade Blonde strategically mixes a bold, warm garnet color and gradually lightens to a glowing light gold for a daring yet dreamy look. Fit for a queen, Trouble in Heaven displays a royal purple shade dissolving to a glistening gold reminiscent of the perfect iris, a flower that is at the heart of the fragrance.
The result is stunning. With a dynamic and harmonious flow, the fragrances and bottles together become works of art. The stem of each bottle undulates and wraps the body of it, giving the illusion of movement and allowing light to glisten through, enhancing and intensifying the colors of the fragrances. After all the countless experiments and prototypes, Louboutin and Heatherwick's dedication paid off. "I love the beauty and simplicity of the bottles," says Louboutin. "They have the look of a totem or trophy, like a César or an Oscar. They have a purity of design which appears so simple, and yet I would say this simplicity is an indication of the rigor and reflection dedicated to the design."
What could be more perfect than starting the day in Louboutin—from your soles to your scent? Release your alter ego and radiate the power within when you discover all three luxurious fragrances, now available to purchase at ChristianLouboutin.com.
—V—
ARTICLE CATEGORIES