Do It All in Historic Pensacola
By Emme Martin
Known for its rich cultural history and proud military heritage, Pensacola, Florida, has a story to tell. Since being established in 1559, the city has changed ownership five times, inspiring its nickname, the City of Five Flags. The Spanish, French, British, Confederate, and American flags have all flown over the lovely city. Over the centuries, the city has emerged as a cultural hot spot featuring a bustling metropolitan downtown area and a more laid-back beachside community. Pensacola has it all, from endless preserved nature trails waiting to be explored by day to fabulous fine dining to enjoy by night. It is the perfect place for a weekend getaway or Gulf Coast staycation for those times when you want to reduce screen time and spend quality moments with loved ones.
If you're looking for a fun night out in Pensacola, locals will probably direct you to the lively downtown area. Downtown Pensacola is as charming as it gets. Nineteenth-century buildings line the streets, and the 1920s Saenger Theatre hosts Broadway musicals for visitors and residents alike to enjoy. Festivals and more abound throughout the year. With so much action happening downtown, sometimes Pensacola Beach can get overlooked due to its more laid-back atmosphere, and up-and-coming areas such as Perdido Key are some of the best-kept local secrets. Be sure to take a look at the fun activities and delicious eats from all over the area in this 2021 travel guide!
On the Beach Side
Sunset Grille
Waterfront Sunset Grille in Perdido Key has got you covered on all things seafood and fried favorites. It is the quintessential beach restaurant, outfitted with boat parking, family-friendly menus, and hospitable service. Hushpuppies and a view—it just doesn't get much better! MyHolidayHarbor.com/sunset-grille.php
Red Fish Blue Fish & Water Pig BBQ
Red Fish Blue Fish gives an authentic experience, from simply delicious food to the reclaimed wooden planks in the entryway and sustainable design elements. Their seafood is never frozen, so you can expect fresh flavors and, of course, genuine Southern hospitality. Next door is Water Pig BBQ, which was recently mentioned in USA Today's list of best new restaurants in the nation and has been ranked as the best family-friendly and pet-friendly restaurant on the beach. You can't go wrong with these two! RedFishBlueFishPensacolaBeach.com; WaterPigBBQ.com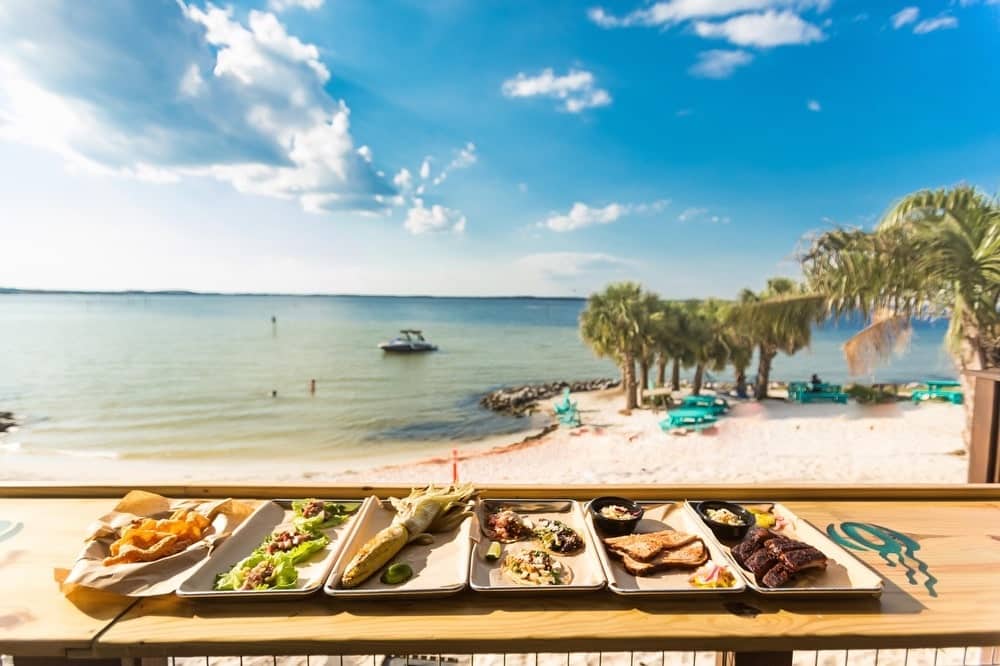 Flounder's Chowder House
Live entertainment, anyone? Flounder's is hard to miss, with the M/V Flounder shrimp boat gracing the entrance. It doesn't get much more Floridian than this restaurant filled with exciting antiques, objets d'art, and model ships. While admiring the unique atmosphere and live entertainment, you can enjoy delicious seafood, burgers, tacos, and boat drinks. FloundersChowderHouse.com
The Grand Marlin
Built on a philosophy of a stress-free Caribbean lifestyle, good food and drinks, and a love of fishing, the Grand Marlin in Pensacola Beach is a tasty catch. Award-winning chefs Gregg McCarthy and his partner Bryan Housley have curated a delicious menu filled with the finest seafood and signature cocktails. The Grand Marlin offers an elevated dining experience mixed with the simplicity of life at the beach. TheGrandMarlin.com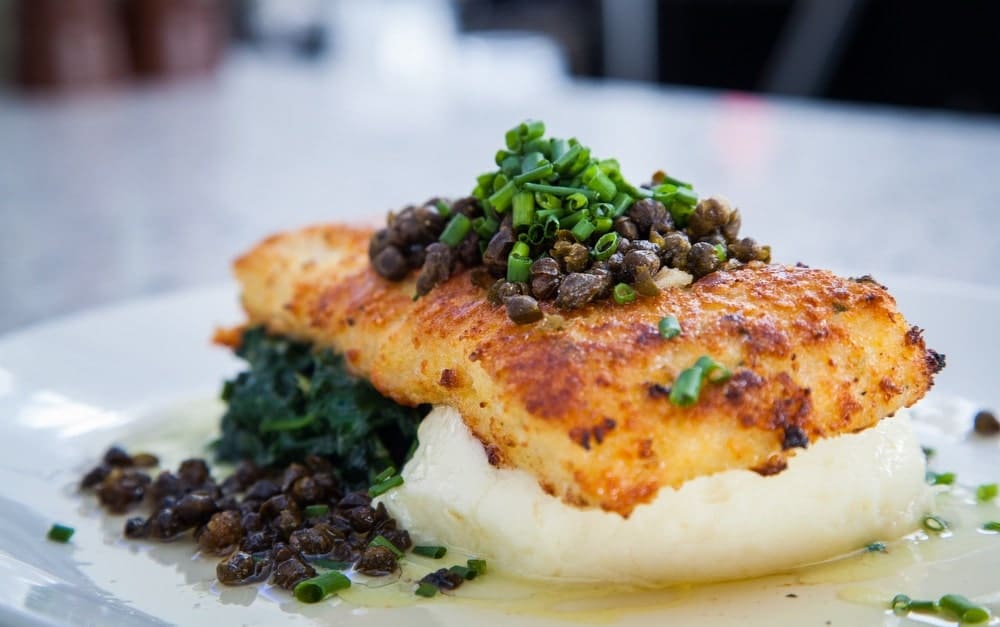 Bonsai
Our list would not be complete without a top-notch sushi restaurant. Award-winning executive chef Omar Torres brings guests a unique and contemporary dining experience that combines top-shelf ingredients from renowned farms around the country with the freshest seafood. Bonsai fuses Japanese cuisine with innovative modern American cooking techniques. The restaurant is located on the second floor of the Hilton Hotel and overlooks the Gulf of Mexico, giving guests a fully immersive experience they will never forget. BonsaiPensacolaBeach.com
Let's Take It Downtown
Restaurant Iron
Are you looking for a fine-dining experience in the heart of downtown? Look no further than Restaurant Iron, an elegant Southern kitchen led by executive chef Alex McPhail. The kitchen aims to bring together fresh local and regional specialties with the most nuanced flavors and ingredients from across the nation. The understated yet modern interior is the perfect setting for a romantic date night or a celebratory dinner. You'll thank us later! RestaurantIron.com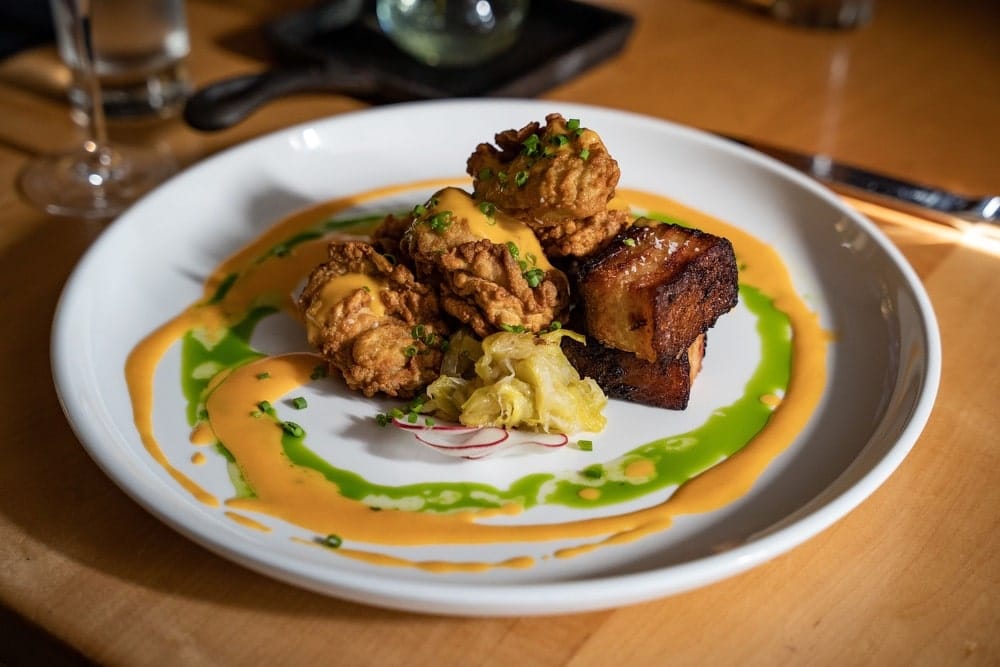 Angelena's Ristorante Italiano
Angelena's is a must-go modern Italian restaurant in the historic downtown district.
Led by Food Network personality and nationally renowned chef James Briscione, the restaurant combines rustic yet elegant plates with an Italian coastal vibe.
The dishes are just as delicious as they are visually stunning. The in-house wine director, Brooke Parkhurst, will also help you with all of your pairing preferences so that you can achieve the whole authentic Italian experience right in downtown Pensacola. AngelenasPensacola.com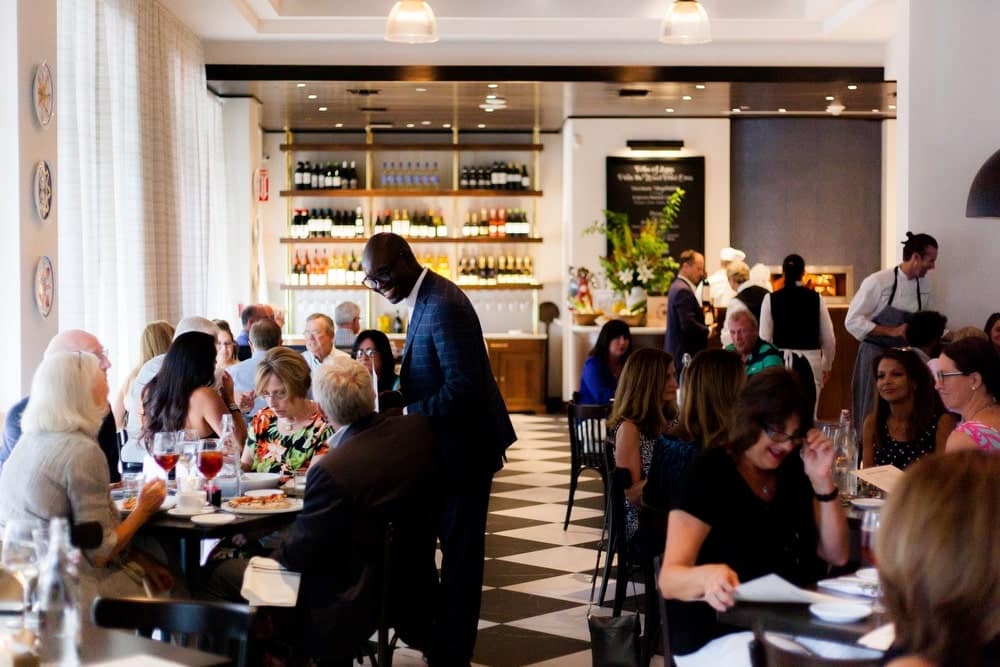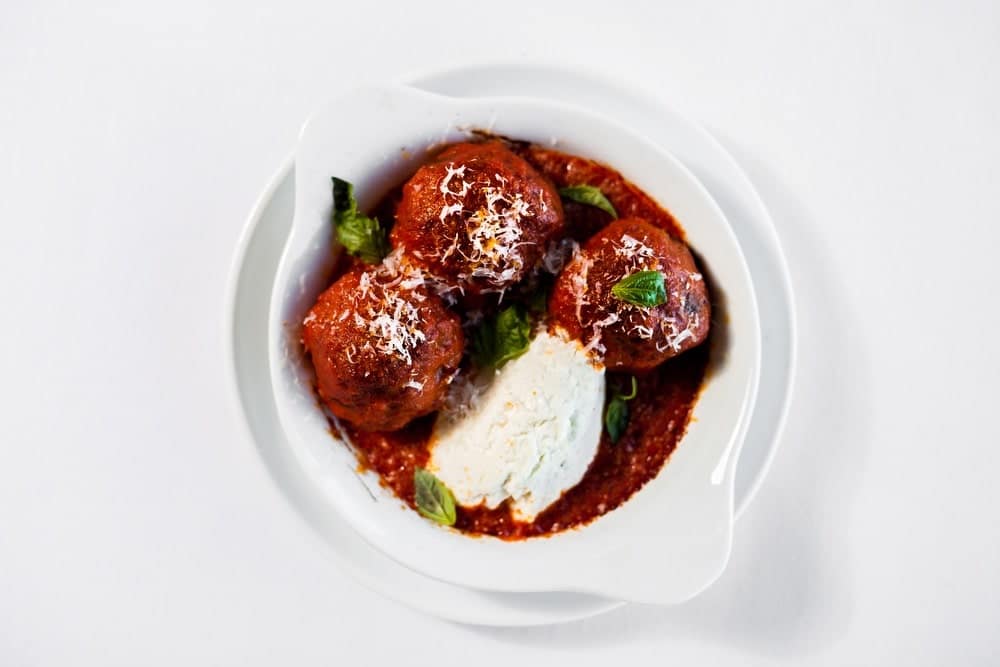 The District: Seville Steak and Seafood
Located in a two-story building built on top of the Spanish Presidio and British Fort Pensacola over 130 years ago, the atmosphere here exudes history. Apart from the significance of the structure, the food is second to none. The District is known for serving only the highest-grade steak, dry aged to perfection. Executive chef Josh Warner and pastry chef Eden Galloway treat guests to an elevated dining experience that keeps guests eager to return. DistrictSteaks.com
Heading East
George Bistro + Bar
Located in northeast Pensacola, George Bistro + Bar is all about fresh and unique Southern food. The space is charming yet modern, and the warm service delights patrons while they enjoy a light lunch or a romantic candlelit dinner. The dinner menu boasts delicious entrées, including Alfredo pappardelle and miso-marinated halibut. George Bistro + Bar is simply a delight! GeorgeBistroandBar.com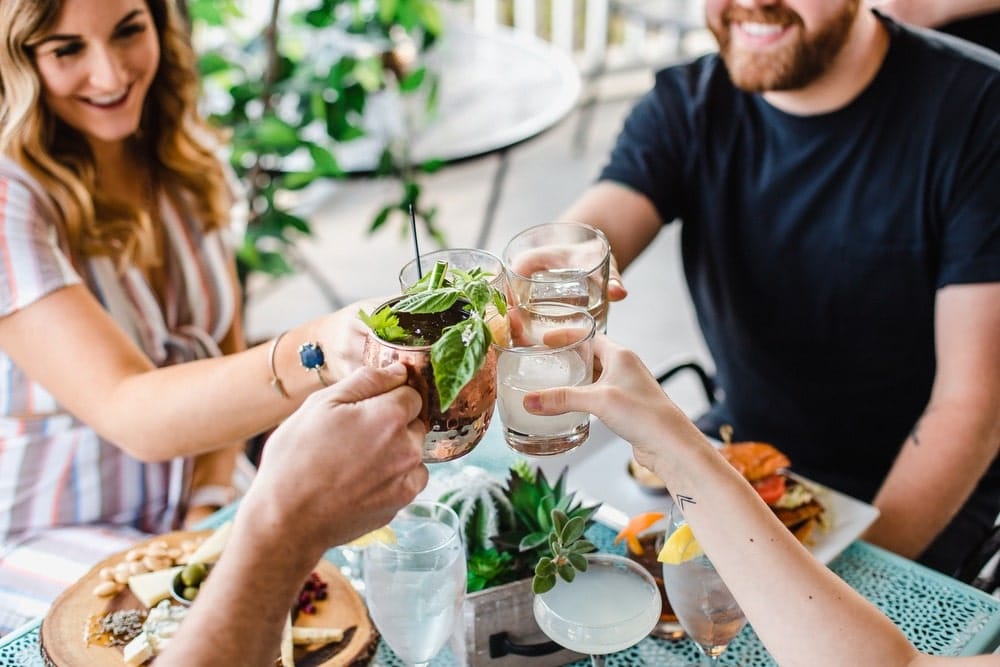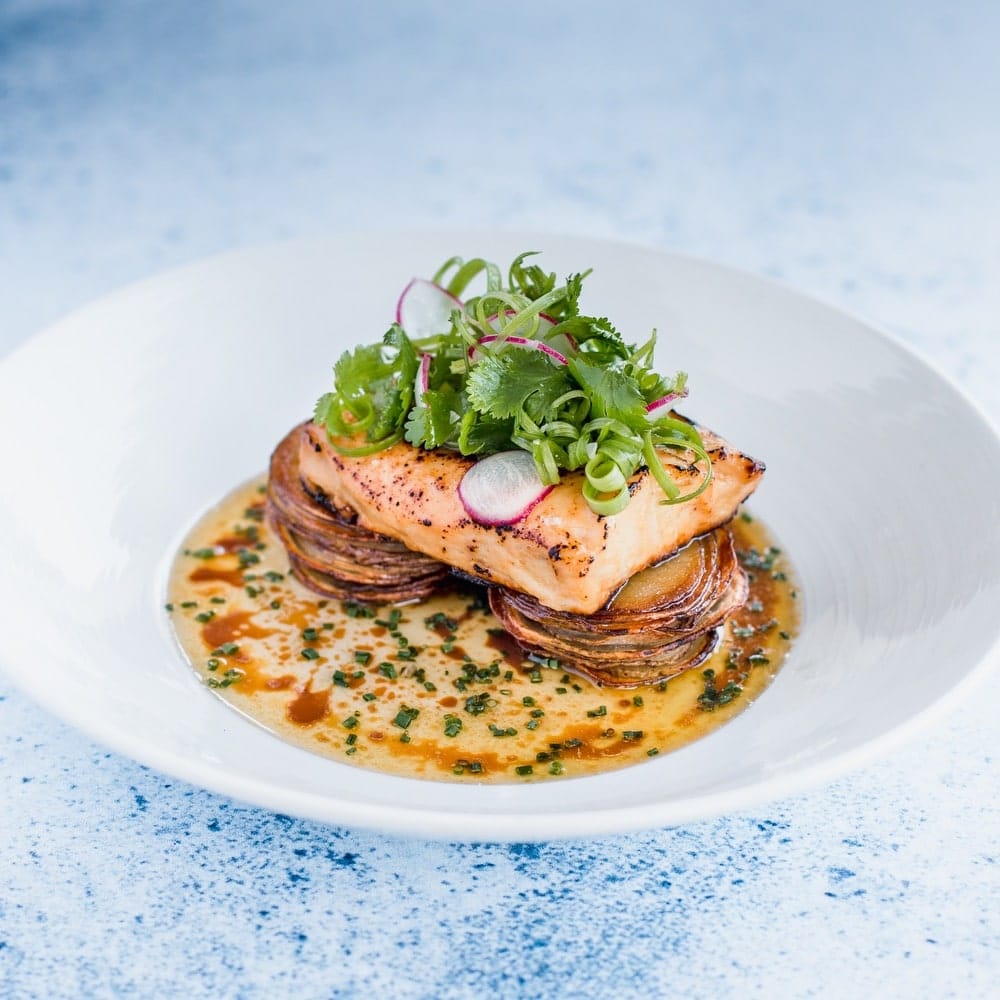 Tacos Mexicanos East Hill
Who doesn't love an authentic taco paired with delicious queso dip? Let me know when you find someone. Tacos Mexicanos is the perfect afternoon lunch spot. Guests can order from the food truck and enjoy outdoor seating while they snack on delicious chips and salsa, street-style tacos, burritos, and more. The flavors are phenomenal—not to mention wallet-friendly. TacosMexican.com
Things to See
National Naval Aviation Museum
You don't have to be an aviator to appreciate this museum. Located at Naval Air Station Pensacola, the National Naval Aviation Museum is the world's largest museum of its kind. It holds over 150 beautifully restored aircraft representing Navy, Marine Corps, and Coast Guard aviation. Guests can also experience flight simulators and virtual flight decks to get the whole experience. The museum also offers play areas for the little ones. The Department of the Navy currently requires a valid Department of Defense (DoD) ID card for any visitors to access NAS Pensacola, and ID cardholders are allowed to escort up to fifteen guests to the museum. NavalAviationMuseum.org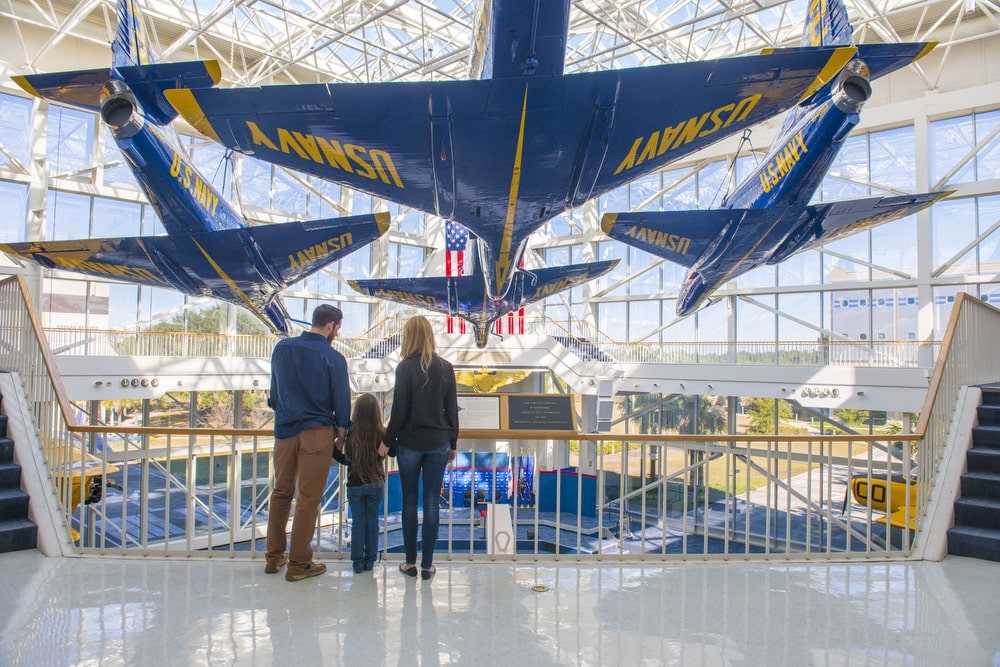 Pensacola Museum of Art
Located in a reclaimed building that was once the first permanent jail in the community, the Pensacola Museum of Art is an art-loving history buff's dream. It now houses exciting exhibitions rather than inmates, and the museum is the perfect destination for a unique and inspiring afternoon activity with the whole family. PensacolaMuseum.org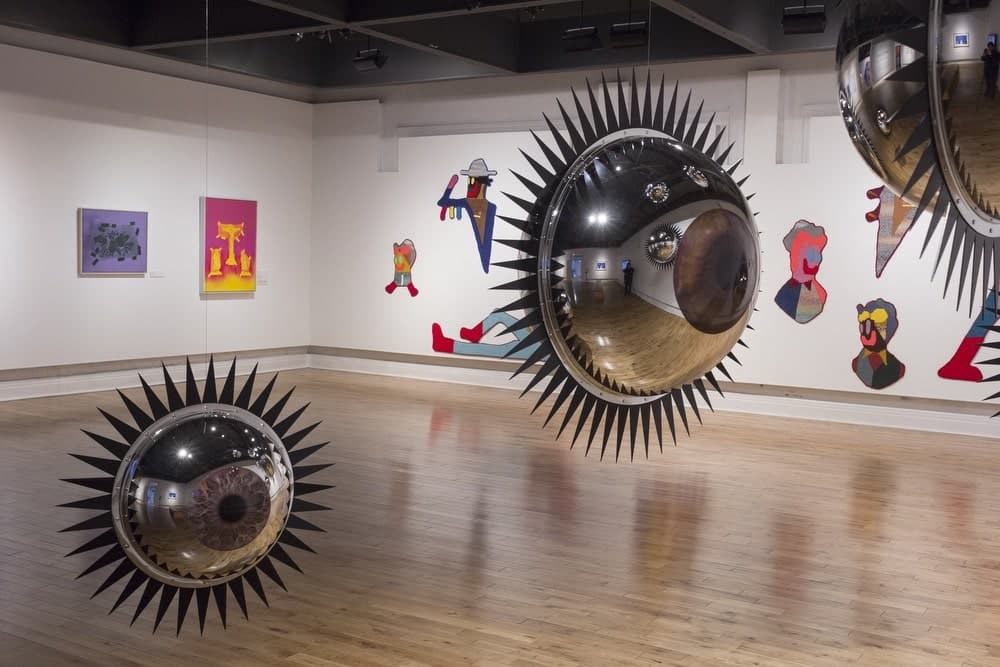 Pensacola Beach Gulf Pier
You haven't had the entire beach experience until you've visited a magnificent pier jutting into the shimmering Gulf of Mexico. The Pensacola Beach Gulf Pier is a wonder to behold, with an impressive length of 1,471 feet. Visitors are welcome to try their hands at fishing or just enjoy the view and a stroll! FishPensacolaBeachPier.com
Fort Pickens
Completed in 1834 and named after Revolutionary War hero Andrew Pickens, Fort Pickens is a pentagonal historic United States military fort on Santa Rosa Island, part of the Gulf Islands National Seashore. Visitors can enjoy guided tours, camping, and more while they soak up the history and beautiful scenery. It is a great place to appreciate nature while also learning about Florida and American history. NPS.gov/guis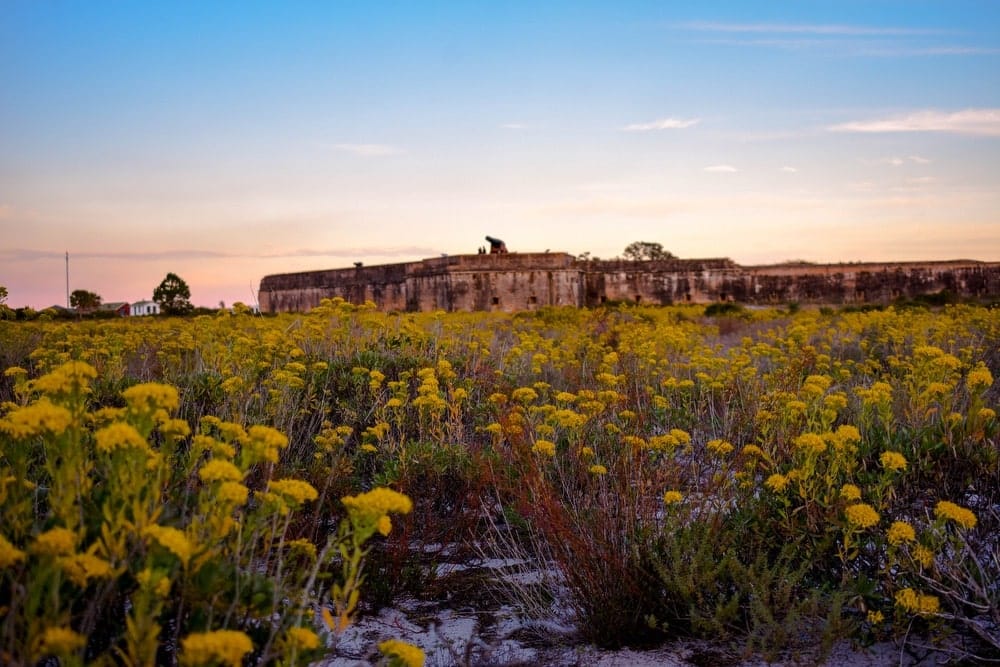 Big Lagoon State Park
Wetlands are fascinating and valuable geographical settings that provide many benefits for our environment. Visitors can get up close and experience the natural beauty and wildlife of wetlands in Big Lagoon State Park, located in Perdido Key. The park offers hiking, biking, kayaking, snorkeling, and camping. It is the perfect place for an active day with your loved ones. FloridaStateParks.org/parks-and-trails/big-lagoon-state-park
Things to Do
Footprints in the Sand Eco Trail
Pensacola is home to a fragile and diverse ecosystem. The Footprints in the Sand Eco Trail allows visitors to witness this through an eight-and-a-half-mile trail whether they are walking, biking, running, or even swimming. The course boasts twenty-nine stops scattered across Pensacola Beach. VisitPensacolaBeach.com/wp_2017/ecotrail
Each stop tells a different story about the specific region and will guide guests to the next. The trail is the perfect outdoor activity for those who love nature and exploring the world around them.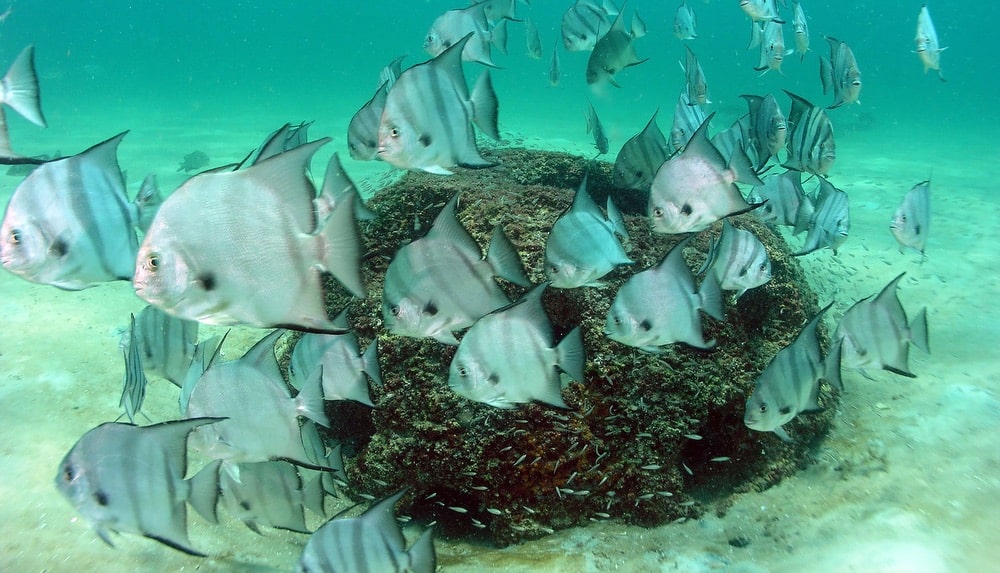 Premier Dolphin Cruise
Look no further than Premier Dolphin Cruise in Pensacola Beach for the best cruising experience on the Gulf Coast. The cruise takes place on a spacious, sixty-three-foot, open-air, covered catamaran. The catamaran includes restrooms, music, a bar, food, and souvenirs so guests can sit back, relax, and enjoy the view out on the Gulf so blue. Hopefully, you'll spot some friendly dolphins and other wildlife along the way! PensacolaDolphinCruise.com
Glow Paddle
Enjoy a majestic nighttime kayaking trip with Glow Paddle in Pensacola Beach. Visitors can glide over the Pensacola waters in crystal clear LED-lighted kayaks. Bookings start at 7:00 p.m. and are forty-five minutes long. Daytime bookings for the clear kayaks are also available. Glow Paddle is the perfect experience for the whole family or a group of friends looking to do something new and fun. GlowPaddle.com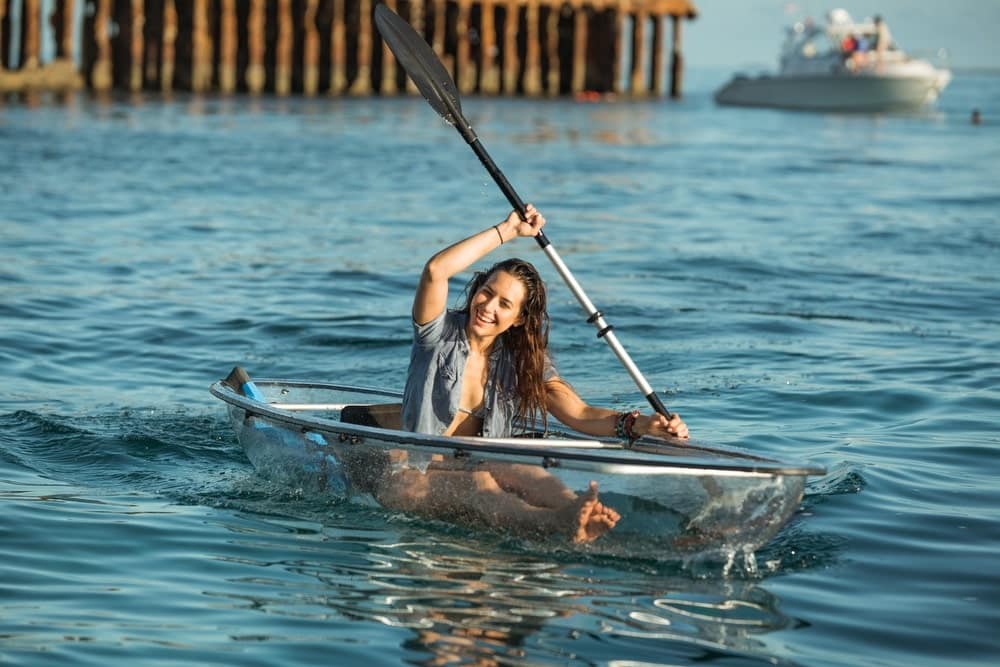 Innerlight Surf Camp and Lessons
It's never too late to live out your dream of learning to surf like a pro! Innerlight Surf Camp and Lessons offers surfing lessons to all ages, led by experienced instructors. Private and group lessons are available for at least one hour with complimentary board use. Summer surf camps are also open, offering top-notch instruction with the integration of ocean science! InnerlightSurf.com
Laguna's Beach Bar + Grill and Adventure Park
Are you looking for a family-friendly, fun-filled adventure? Laguna's has you covered, offering activities like go-karts, a three-story SkyRail ropes course, a splash pad, a thirty-foot-tall clip-and-climb course, a zip line, parasailing, jet ski rentals, and more. All of this is along six hundred feet of pristine beachfront. You'll never get bored here, whether you are hitting the ropes course or enjoying a drink and delicious lunch or snacks at the Beach Bar + Grill. LagunasPensacolaBeach.com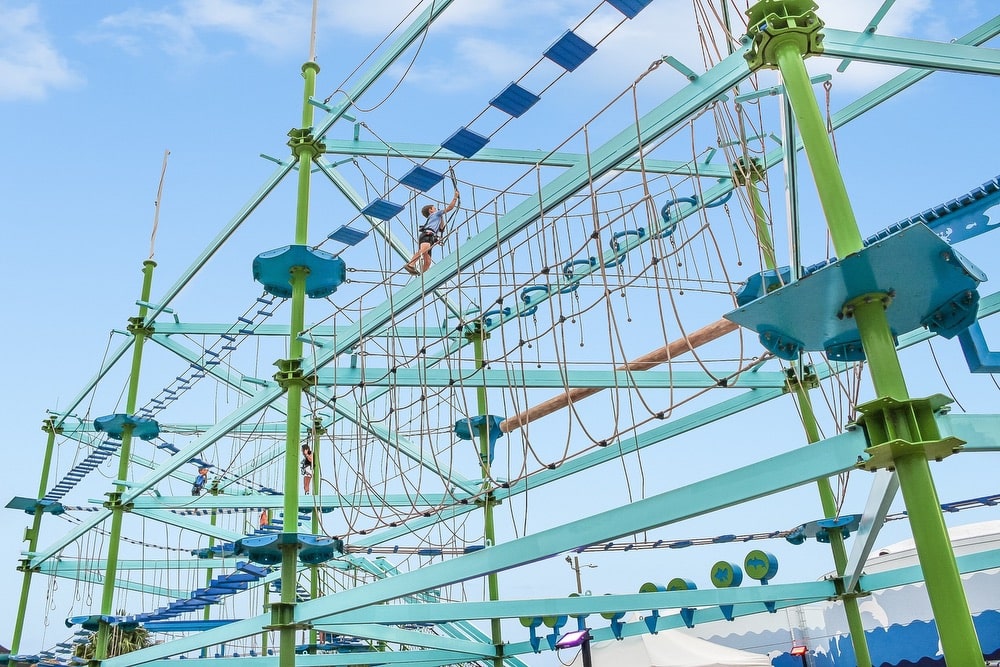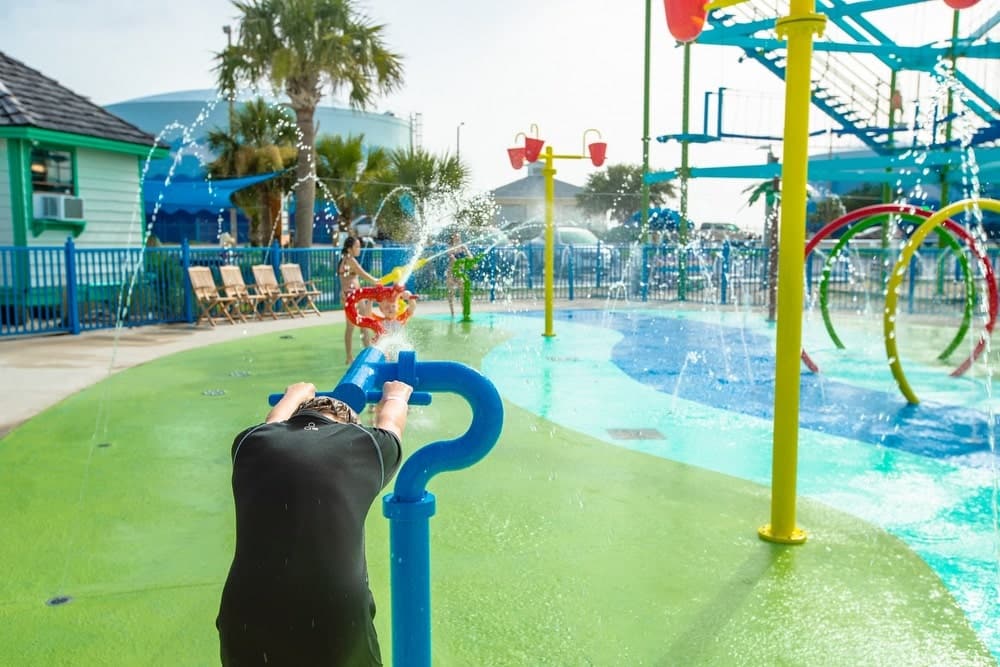 Places to Stay
Oyster Bay Boutique Hotel
Go back in time when you book a room in this quaint boutique hotel. It is located in an 1860s-style estate with wraparound porches and views of Pensacola Bay, all within walking distance of downtown's shops, restaurants, entertainment, and waterfront. In the center of the Historic Pensacola Village, Oyster Bay (formerly Lee House) provides a delightful experience like no other. StayOysterBay.com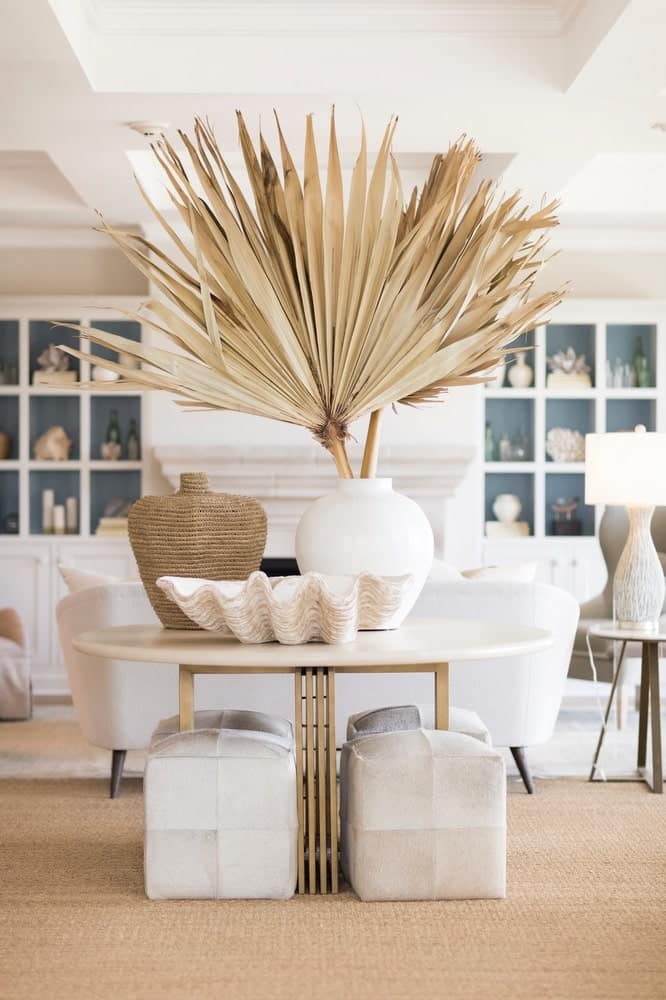 Pensacola Victorian Bed & Breakfast
Make yourself at home in this refined B and B in a restored Queen Anne Victorian home. The rooms are filled with antique furniture and charming touches. Visitors will feel as though they have gone back in time as they enjoy the simple pleasures, friendly service, and comfortable atmosphere. PensacolaVictorian.com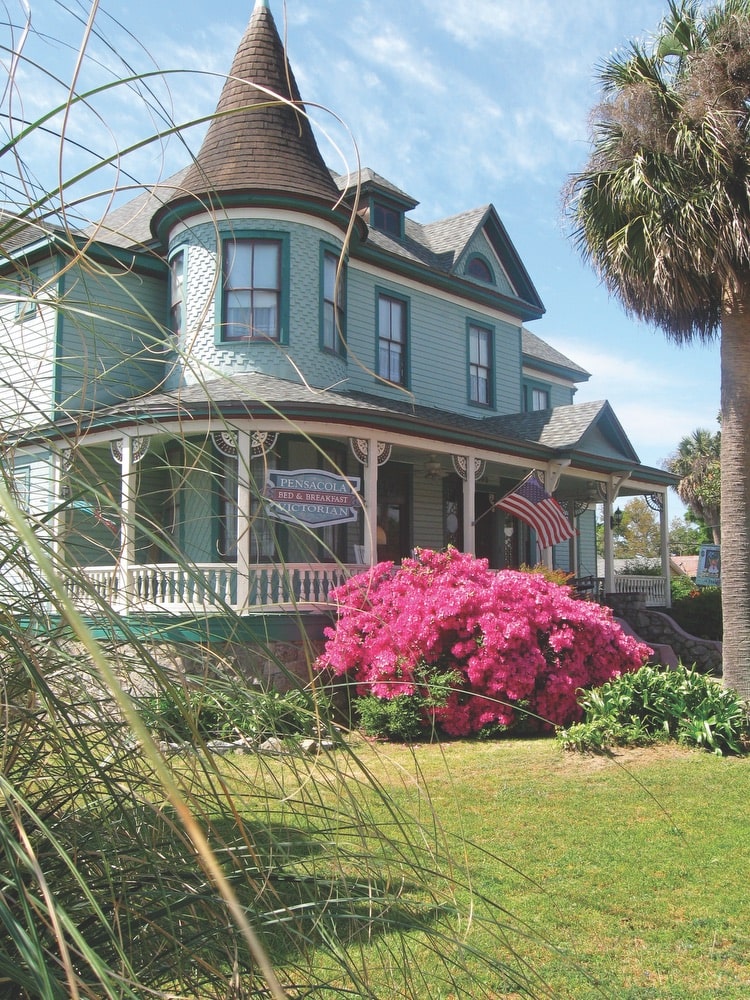 Portofino Island Resort
The Portofino Island Resort is the perfect place for those who don't even want to leave the resort during their vacation. This expansive property has it all, including seven outdoor pools, five tennis courts, three restaurants, a full-service spa, meeting rooms, family activities, and, of course, beautiful beaches. Accommodations are spacious and airy, complete with Gulf views and full kitchens. This place defines a luxurious getaway on Pensacola Beach! PortofinoIsland.com
Margaritaville Beach Hotel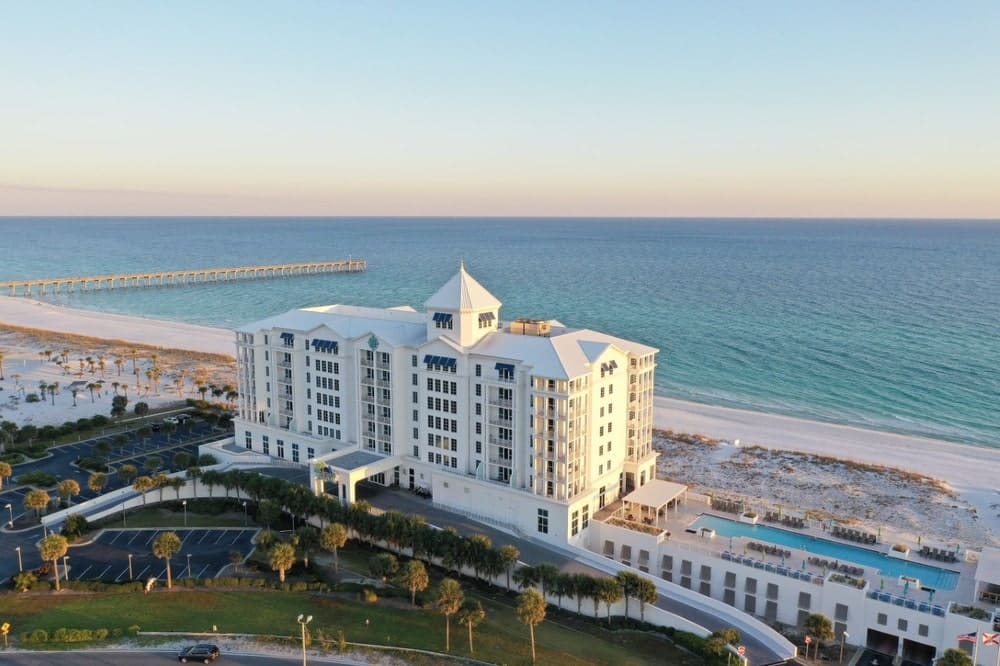 Looking for a good time on the beach? Look no further than the Margaritaville Beach Hotel. Named after the famous Jimmy Buffett song and his ultimate island lifestyle, this place does justice to both. This beachfront establishment features airy rooms with Gulf views and offers activities for the whole family. Completing a long list of amenities are a full-service beachside tiki bar and restaurant, so you never have to go without those frozen concoctions and fresh seafood. MargaritavilleHotel.com
— V —
---
To learn even more about what to do, see, and eat in beautiful Pensacola, Florida, head to VisitPensacola.com.
ARTICLE CATEGORIES