Music and Wine Continue to Shape Communities
By Demetrius Fuller
This story is a follow-up to the article of the same name in
VIE
's January/February 2014 issue.
Wine and music have been a harmonious pairing for centuries. When wine, sometimes called the nectar of the gods, is served with music—the universal language—it makes for a heady combination that often yields incredibly fruitful results.
Enter stage left: philanthropy. The word alone is daunting yet soft, formal yet sentimental. Combine philanthropy with wine and music and you have a cross-cultural trifecta that can successfully orchestrate events across the country. What is born in California wine country transcends far past the peaks and valleys to make impactful differences for charitable causes across the country. While a plethora of existing events continue to thrive year after year, newcomers are utilizing this concept to make a difference in their own communities. Three such entities are the Staglin Family Vineyard's Music Festival for Brain Health in September, the Napa Valley Festival del Sole in July, and Sinfonia Gulf Coast's version of Napa-based Wine Women and Shoes in February, which will benefit the organization's music education initiatives.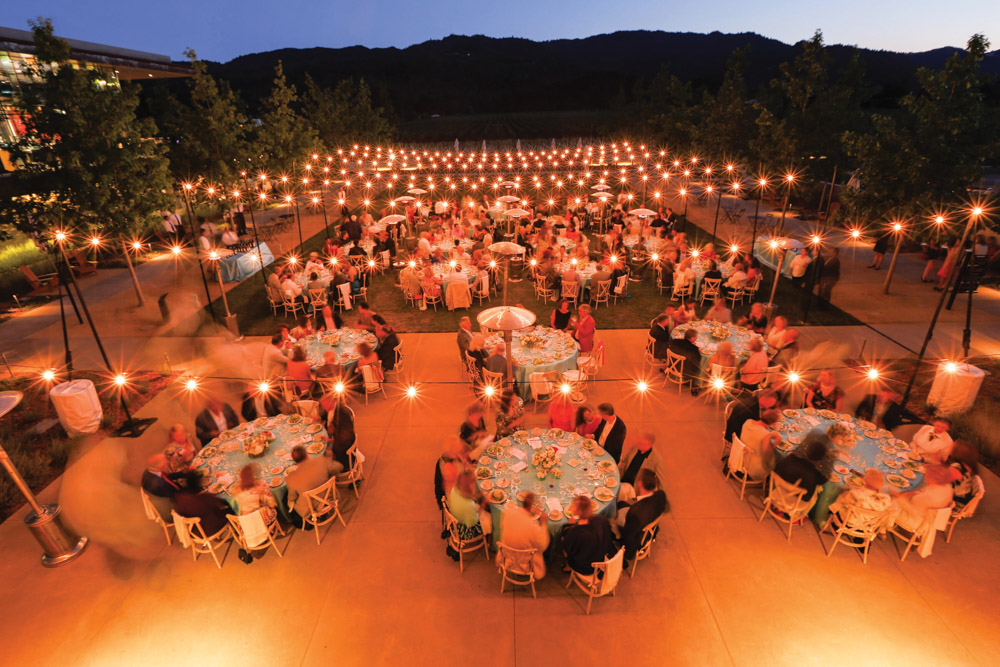 This past September, Grammy-nominated Jewel and hard-hitting blues rock recording stars Vintage Trouble joined a star-studded cast of culinary luminaries, plus over seventy-five wineries, to wow attendees at the Twentieth Annual Music Festival for Brain Health. Cohosts Shari and Garen Staglin, along with their children, Shannon and Brandon, welcomed approximately fifteen hundred supporters, scientists, and friends over the two-day festival to celebrate life and raise awareness of the causes and cures for physiological brain disorders. While this year's event raised more than $2 million, the overall impact of the Staglin Family's charitable endeavors is staggering. "'Great wines for great causes' has been an important motto of our business and personal lives," stated Shari and Garen Staglin. "Since we began farming our vineyard in 1985, we have donated and raised more than $800 million to support charities, including our main cause, the Music Festival for Brain Health, which has surpassed the $200 million mark."
The festival, whose proceeds benefit the IMHRO/One Mind Institute, the One Mind nonprofit organization, and the Tug McGraw Foundation, began with a scientific symposium followed by a tasting of some of the world's best wines in the Staglin Family Vineyard winery caves. And by acclaimed, I mean cult treasures of Screaming Eagle and Scarecrow lore, as well as Tusk, Continuum, and Fleury wines, plus soon-to-be gems like Adamvs Cabernet (yes, with a "v"), a stunning debut by world-renowned winemaker Philippe Melka and proprietors Denise and Stephen Adams.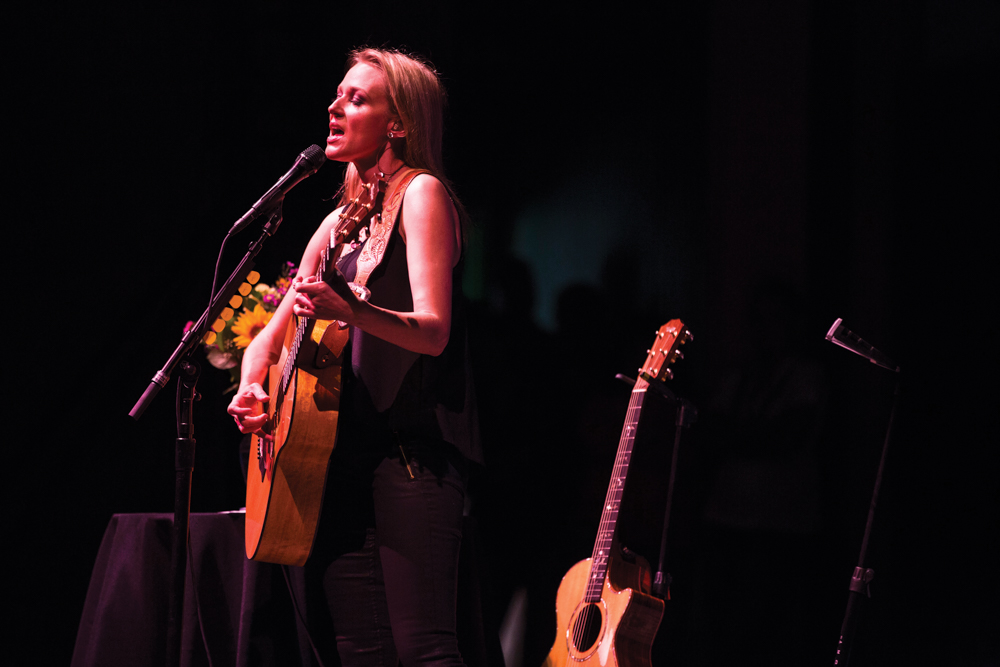 Grammy-nominated Jewel and hard-hitting blues rock recording stars Vintage Trouble joined a star-studded cast of culinary luminaries, plus over seventy-five wineries, to wow attendees at the Twentieth Annual Music Festival for Brain Health.
Next, Vintage Trouble took the stage for a lively concert, which was followed by a four-course dinner prepared by Chef Jan Birnbaum and an all-star team of chefs, all of whom were alumni of previous festivals. Sunday's festivities began with the popular Food Truck Fest and culminated with an acoustic set by Grammy-nominated singer Jewel at the historic Lincoln Theater in Yountville, Napa Valley. Jewel's performance was stunning! Her versatility as a musician and songwriter shone brightly throughout her performance as she weaved personal stories related to the weekend's cause in with many of the songs that have made her famous. Her vocal range and technique are extraordinary; from the breathy lower textures to the crystalline highs and pureness of sound, she had the entire audience captivated. And her encore—yodeling—wow! (Do yourself a favor and find a recording or video of this!)
Perhaps the most notable example of Napa's music, wine, and philanthropy is the Napa Valley Festival del Sole, which blends world-class music, theatre, and dance with the region's fine wines and cuisine in a celebration of the art of life. The festival features performances by renowned artists and emerging talent, gala events at stunning venues, free community concerts, and a wellness series promoting healthy living. Proceeds from the festival help to support year-round arts education initiatives. Since 2006, Festival del Sole has presented more than three hundred artists and ensembles in venues throughout Napa Valley and has partnered with more than two hundred wineries, hotels, and local businesses. The festival, a nonprofit public benefit organization operated by Napa Valley Festival Association, attracts over ten thousand audience members and visitors each season. Its founding wineries include Bouchaine Vineyards, Blackbird Vineyards, Darioush, Far Niente, PlumpJack, and Robert Mondavi Winery.
To indicate that I was thrilled to be invited to participate in the 2014 festival is an understatement. Aside from covering the numerous wine and music activities, I was especially honored to assist Jamie Bernstein in the festival's production of her father's eclectic operetta Trouble in Tahiti. The performance featured the Sphinx Orchestra and an all-star cast of vocalists, and the outdoor amphitheater of Castello di Amorosa served as the unconventional but stunning setting. As an added lagniappe, rising star soprano Julia Bullock debuted on the festival stage in the iconic surroundings of Opus One's vineyards. The wine train was tooting out of tune in the distance, but the performance was pitch-perfect.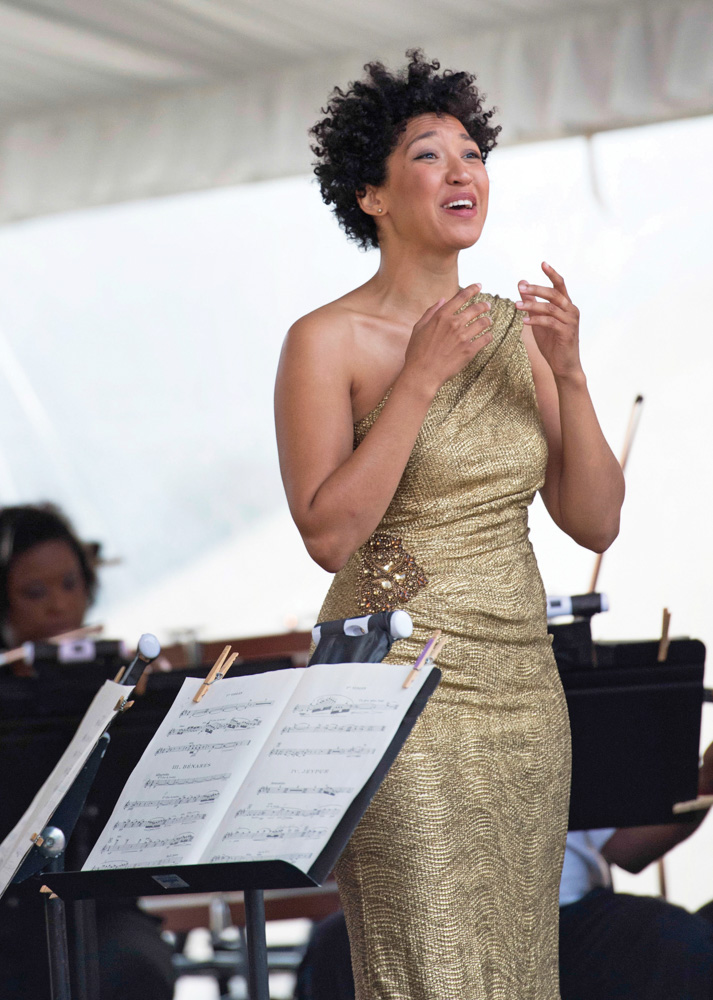 Tidbit: Julia Bullock, winner of the 2012 Young Artists competition, was awarded the inaugural Sinfonia Gulf Coast prize that same year; she will grace the Sinfonia stage during the 2015–2016 season.
---
Other highlights from Festival del Sole 2014: vocal performances by Matthew Polenzani, James Valenti, and Nadine Sierra; violinist Joshua Bell's performance of Vivaldi's The Four Seasons; three performances by renowned violinist Pinchas Zukerman; and the Dance Gala: Polina Semionova and Friends.
As one might imagine, the performances, when paired with the most coveted labels and wineries throughout the Napa Valley, were astounding. Festival del Sole takes it to the next stanza, incorporating brilliant music and musicians in nontraditional, stunning settings at each of the partner wineries: singer Monica Mancini under the draping trees at Gargiulo Vineyards, limitless vines in the distance; young artists' debuts in the private galleries at the Hess Collection; and a perfectly centered stage within the interior courtyard of iconic Opus One, where the upstairs rotunda provides a 360-degree view of Napa Valley.
Each venue is special in its own right; however, two evenings stood out as truly magical, once-in-a-lifetime experiences. The annual festival gala, this year at the fabled Meadowood Napa Valley, raised $1.45 million to support arts education and the festival's innovative programming. The Concord Jazz All Stars, headlined by Cuban jazz legend and ten-time Grammy Award winner Arturo Sandoval, treated the 330 guests to a private performance. Meadowood's events team offered a superb dinner and fine wines from Boisset Family Estates and Gallo Signature Series. Beneficiaries of the proceeds include the Napa Valley Youth Symphony, the arts and music departments of Napa County schools, and other arts education and community programs. In fact, the festival was able to fulfill all donation requests from the Napa County schools.
If the gala wasn't impressive enough, the stars (literally) most assuredly aligned for Bella Italia! A Tribute to Sophia Loren. Far Niente Winery provided the backdrop to this early birthday party for Ms. Loren, whose eightieth birthday was actually in September. As celebrity chef Michael Chiarello was fastidiously preparing the evening's multicourse meal, the LA Virtuosi, conducted by Sophia's son Carlo Ponti, serenaded the audience in the world premiere of Sinfonietta per Sofia by American composer Daniel Brewbaker. Following the concert, guests transitioned to what has to be the most luxurious tent, replete with elegant linens, carpet, and Swarovski crystal chandeliers.
Whoopi Goldberg, the emcee for the evening, introduced a video tribute to Ms. Loren that included taped salutations from Robert De Niro and President Bill Clinton. Margrit Mondavi and Francis Ford Coppola each spoke before Napa resident and festival supporter Robert Redford introduced the movie icon. When Ms. Loren took the stage, she excitedly spoke in Italian for what everyone thought was a touching introduction, but she kept going. Her son Carlo had to interrupt her and ask her to speak in English. Laughter erupted—she clearly didn't realize she had been speaking Italian. Ms. Loren described the evening as "one of the most beautiful nights" of her life. For the rest of us, it was a chance of a lifetime—full of great wine, friends, and celebrities.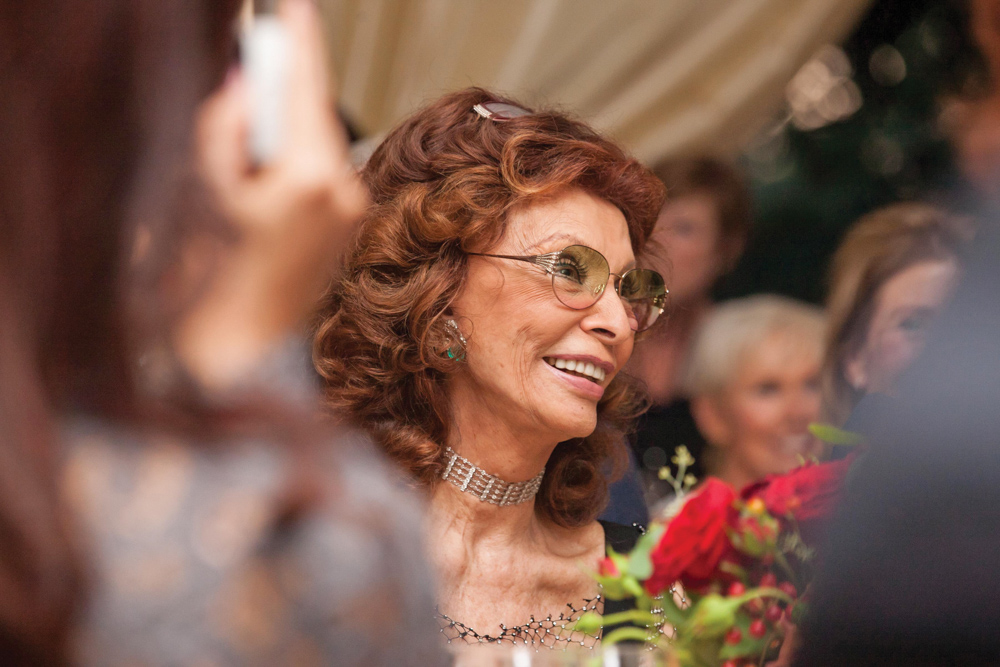 If the gala wasn't impressive enough, the stars (literally) most assuredly aligned for Bella Italia! A Tribute to Sophia Loren. Far Niente Winery provided the backdrop to this early birthday party for Ms. Loren, whose eightieth birthday was actually in September.
Inspired by the classic country ballad "Wine, Women and Song," Napa-based Wine Women and Shoes (WWS) is a unique concept that offers charity clients the opportunity to leverage a successful fund-raising platform. Now in its tenth year, the WWS team has produced over 175 events, helping net an astounding $20 million for charities across the United States. Sinfonia Gulf Coast will present its third annual WWS event February 13–15, 2015.
Sinfonia's second annual WWS was a sipsational success with eight chef partners, twenty-four retail partners, and fourteen wineries coming together for an amazing weekend of vintner dinners in private homes and restaurants, trade tastings, and the signature event for nearly five hundred well-heeled women in Northwest Florida. Proceeds from the annual event benefit Sinfonia Gulf Coast and Sinfonia's music education initiatives throughout Northwest Florida.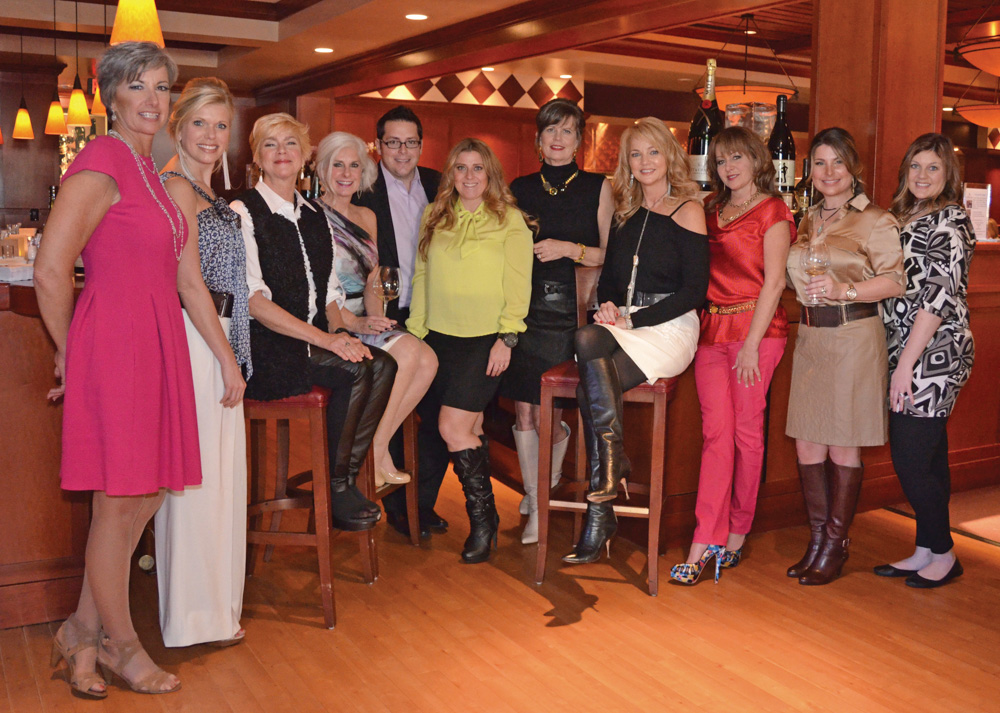 Sinfonia Gulf Coast was founded in 2005 with the mission of redefining the symphony experience. Notable guest artists have included Broadway legends Bernadette Peters and Patti LuPone; R&B icon Roberta Flack; Mary Wilson of the Supremes; Chris Brubeck; classical-crossover sensation Time for Three; Epic recording artist Morgan James; Tony Award–winning vocalists Gary Mauer and Debbie Gravitte; Grammy-nominated violinist Caroline Goulding; Grammy Award winners John Pizzarelli, Howard Levy, the Parker Quartet, and New York Voices; and iconic big band Pink Martini.
Since its founding, Sinfonia Gulf Coast has presented more than four hundred concerts and events, and has reached more than forty-seven thousand children through its Sinfonia Guest Artists in the Schools program and music education outreach initiatives. Proceeds from Wine Women and Shoes events have raised more than $350,000 and have enabled Sinfonia to significantly increase its educational impact and awareness to many deserving students in a region that the Florida Division of Cultural Affairs has designated as underserved in arts and culture.
More than eight hundred families have benefited from Sinfonia's Students4FREE program, which provides complimentary tickets to live orchestral performances and musical events. Sinfonia also supports a sixty-member youth orchestra program, led by music director Liz Aylor, and maintains a partnership with Carnegie Hall's Weill Music Institute, enabling third through fifth graders to participate in the Link Up program. Sinfonia Gulf Coast is also a proud collaborator throughout the Northwest Florida community and continues its partnership with Sacred Heart Hospital along the Emerald Coast in their Arts in Medicine program. Without the funds raised by Sinfonia's Wine Women and Shoes event, these programs would be limited in scope—or possibly nonexistent.
Regardless of scope and size, these events are made possible by the generosity of a host of people in the wine industry who come together for the greater good. Once again, we lovingly lift a glass and toast "Sip, sip, hooray" to everyone in the wine industry and in communities throughout the country who work tirelessly and give generously of their time, talents, and resources in order to make a difference.
— V —
---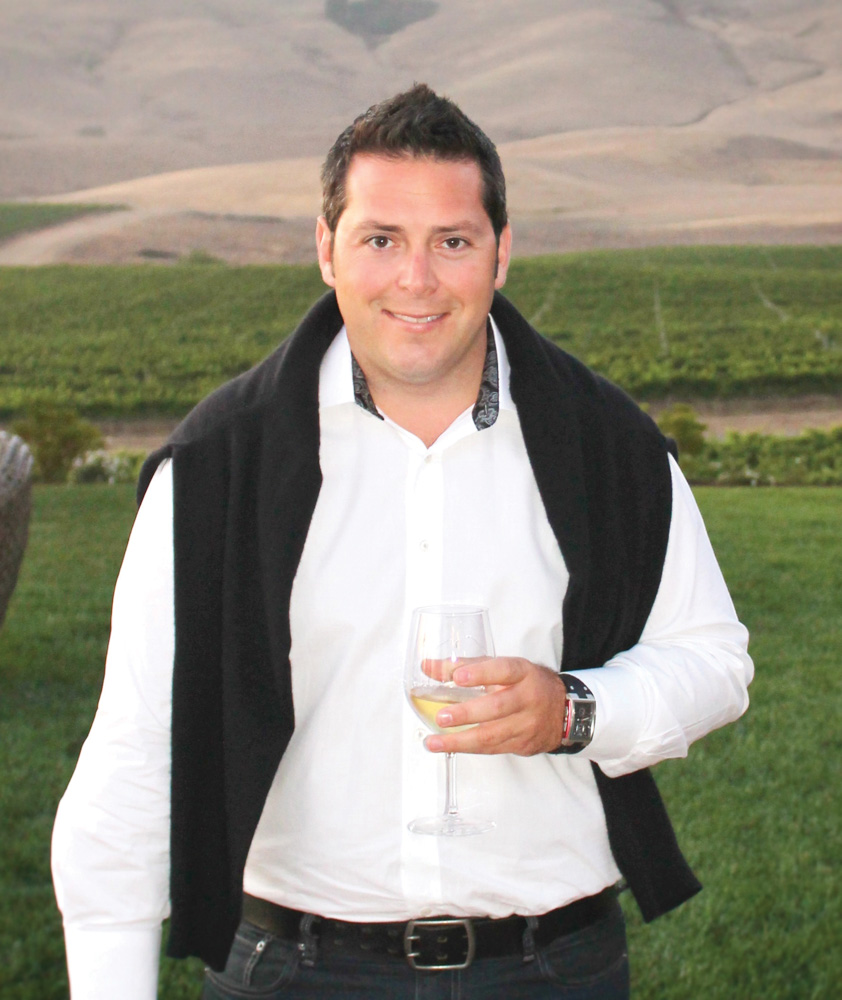 Demetrius Fuller is the music and artistic director of Sinfonia Gulf Coast and also serves on the board of directors of the Destin Charity Wine Auction Foundation.
ARTICLE CATEGORIES