By Anthea Gerrie | 
Photography courtesy of Domaine de Cromey
They fell in love with food, each other, and France—in roughly that order—and now Dennis Sherman and Ellie Garvin are the king and queen of Burgundy. At least they are to the Americans they entertain at their château, Domaine de Cromey, as they take visitors on an insider's tour through some of the most prized and exquisite vineyards in France.
To understand what this means, you have to experience the thrill of slipping past the crowds worshipping at the entrance of Le Montrachet, possibly France's most photographed vineyard, into the hallowed vines which lie beyond the golden gate. While tourists take in the famous stone arch, Dennis goes one step farther; he hops over the wall and sets a selection of bottles with "Montrachet" on their labels on a wall among the vines where others fear to tread.
Crystal flutes come out, and guests sip the divine, buttery Chardonnay while learning what separates the village wine grown at the base of the hill from the premiers crus farther up the slope and the holy grail—the grand cru at the top, known simply as Montrachet. They learn about sales tactics harnessed by places like Puligny, who thought cheaper wine would sell better if they added the word Montrachet to the name of their village—a sneaky trick that is also behind how the charming hamlets of Vosne-Romanée, Gevrey-Chambertin, and Aloxe-Corton got their now equally famous names.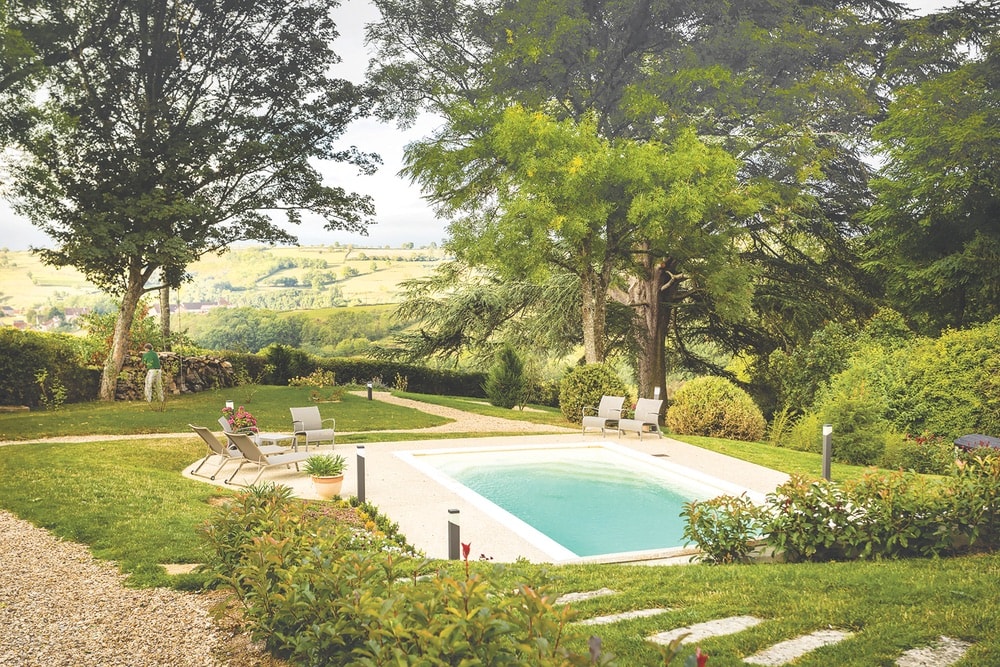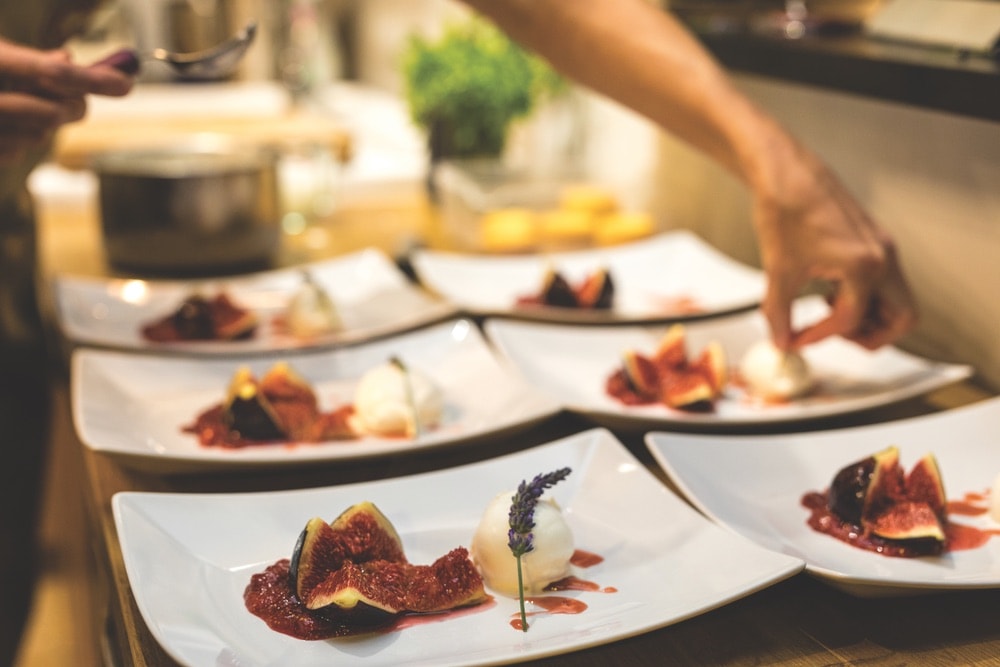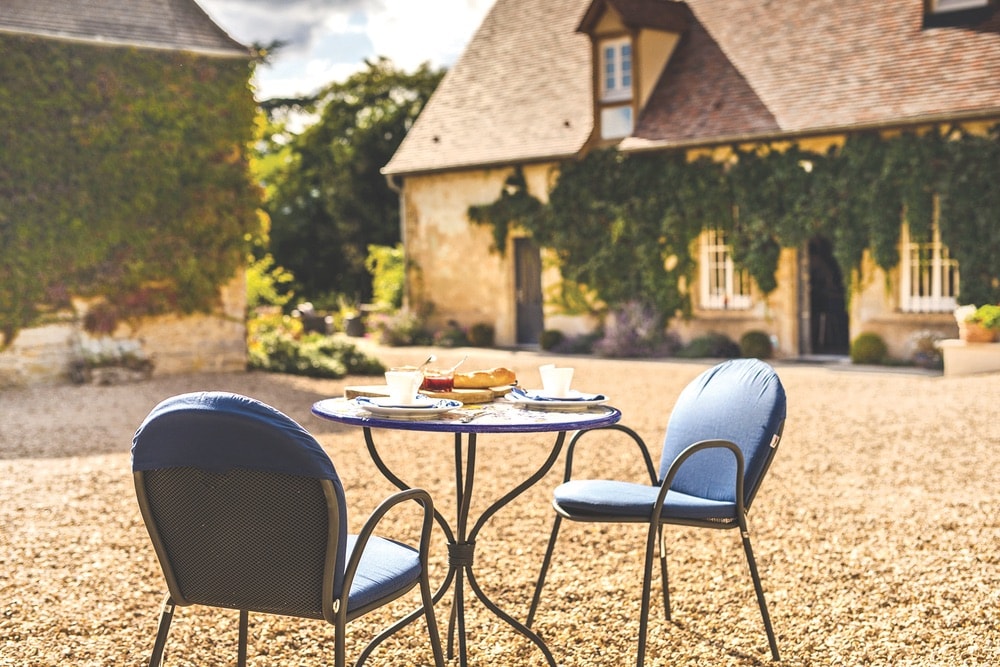 Demystifying the wines of Burgundy and introducing aficionados to the cellars where they can be tasted is the essence of the outings Dennis organizes from Domaine de Cromey. This small château is practically perfect, offering six spacious suites, a fabulous French provincial dining room dominated by an old wine press, a chill lounge equipped with comfy sofas where after-dinner digestifs and chocolates are served, and an outdoor pool and terrace set in a beautiful park.
Ellie and Dennis are now honorary Burgundians, but they first met when they were in their twenties and both working at Les Survivants, a French restaurant in Annapolis, Maryland. "Ellie saw I was clearly out of my depth trying to make a hollandaise sauce!" laughs Dennis, who became his supervisor's husband and commis chef in the years that followed.
In 1983, the pair headed for France with the idea of apprenticing under great chefs but instead found themselves picking grapes and cooking crepes to survive.
They discovered their forte cooking picnic lunches for hot-air ballooners and catering for barge travelers before they went to Burgundy for the first time in 1986. The couple knew they had found their spiritual home. There would, however, be decades of traveling and catering barge trips through France before they and their Florida-based partners, David and Brenda Miley, decided to buy a château from which they could run land-based adventures alongside their wine-importing business.
Ellie's cuisine, which has strong Mediterranean notes, is the perfect antidote to the usual rich cuisine of the region. You can't go to Burgundy and not at least taste escargots, boeuf bourguignon, oeufs en meurette (eggs coddled in red wine), and the aperitif cheese puffs known as gougères, all best sampled in the rustic local village restaurants.
Best of all, given the ease of reaching Burgundy by high-speed rail from Paris and London, Ellie and Dennis can provide vehicles and an English-speaking driver-guide to show off the best of the sights, with Dennis offering introductions to vignerons who don't usually open their cellar doors to visitors. As a wine dealer, he serves fine Burgundies from lesser-known appellations offering exceptional value—Montagny, Rully, Pernand-Vergelesses, and others—with every château meal, so a visit is educational as well as enjoyable.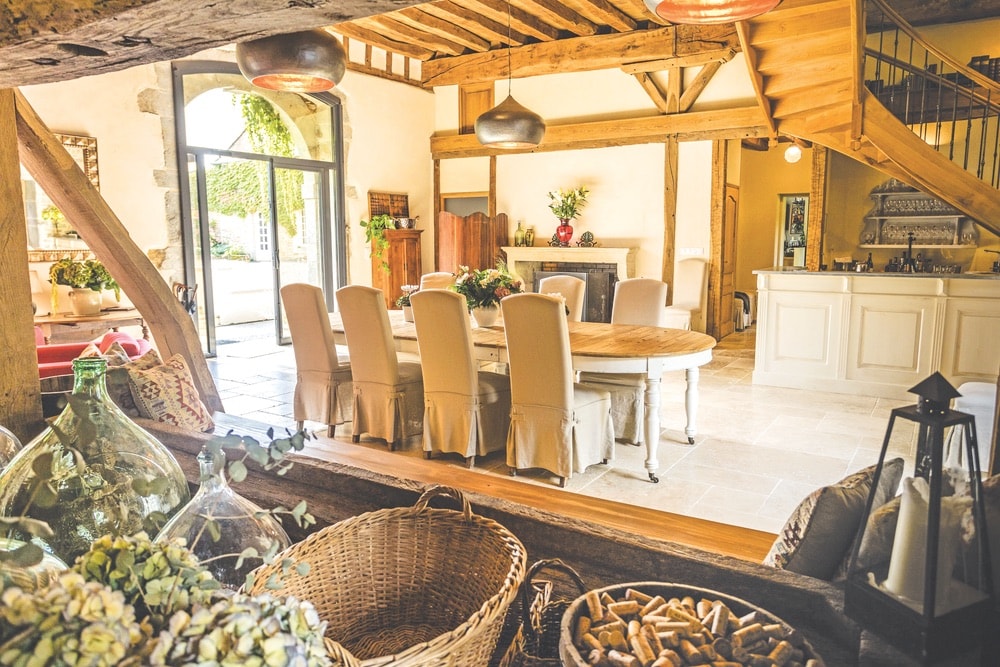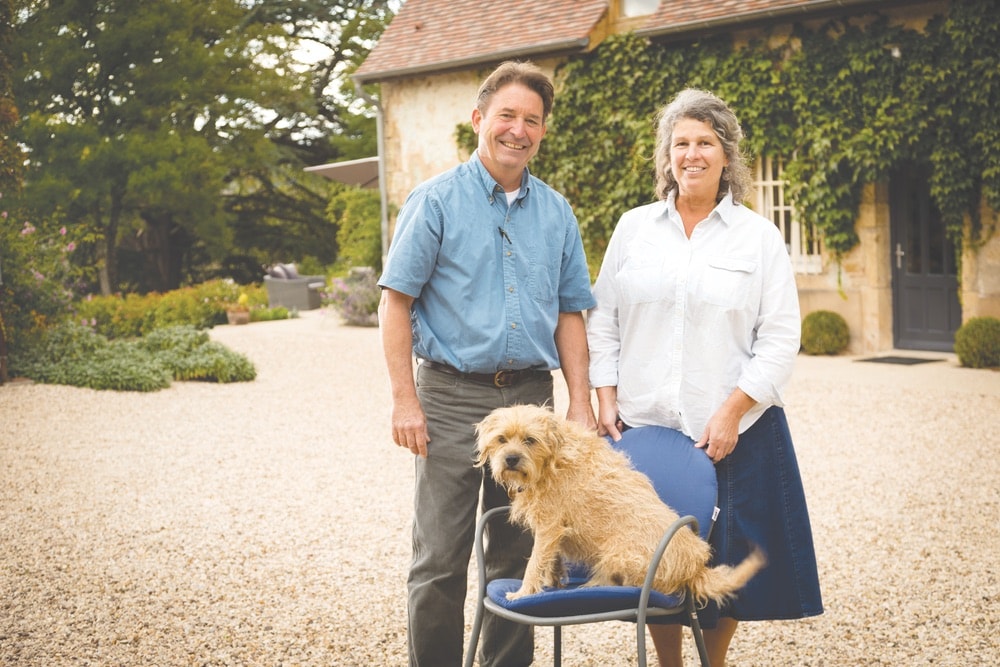 Any visit to Domaine de Cromey will include at least one full day touring the villages of the Côte d'Or and its ancient capital, Beaune. While the Saturday food market is always a big attraction in this buzzy little town, its great glory is the ancient hospice with its mosaic roof. Now a home for senior citizens, it served as a hospital for centuries, and the red-curtained beds arranged around the walls are still preserved. The building transforms into a banquet hall once a year when wines from its own production, as well as elsewhere in Burgundy, are auctioned by the barrel for charity; a ticket to the VIP lunch is not to be missed if you can bag one through Dennis and Ellie.
A trip along the equally important wine route of the Côte de Nuits is most efficiently combined with an exploration of beautiful Dijon, the largest town in Burgundy, which demands most of a day. It offers stunning architecture in the Palace of the Dukes of Burgundy (whose Musée des Beaux-Arts houses a fabulous art collection), the Hôtel de Vogüé, and La Maison des Cariatides, where it's possible to dine in visual splendor. But many visitors never get beyond the charming old streets and wonderful covered market of Les Halles, where they inevitably shop for picturesque jars of the local mustard, the city's most famous product (there's a Maille factory boutique fielding exotic flavors).
Much lesser known is Autun, a historic town with some magnificent Roman ruins and strong links with the French Resistance. Over one of many glasses of Burgundy at the château, a friend of Dennis's specializing in Resistance lore told us of the valiant efforts to free France that went on in the wild hills of the Morvan, which we had spotted as we approached Autun. The region's rather far-flung Resistance Museum at Saint-Brisson is undoubtedly worth visiting if time permits. But leaving the comforts of the château to do more than visit Burgundy's ancient towns and vendors of the fine wine that brought you there in the first place is a bit of an effort. The temptation is to stay home, perhaps learn a dish or two from Ellie over a cooking demonstration in her wonderful kitchen, and just enjoy.
While it's sad to leave, there's some comfort to be taken in the fact that at least one American couple is living the dream.
"We came to France with nothing and made our lives here, always on the quest for food and wine, but without selling our souls to a restaurant," says Dennis.
"Learning the subtleties of Burgundy and sharing its wines and culture with our friends from the USA at Domaine de Cromey is the culmination of that dream we dared to dream more than thirty years ago."
— V —
---
Burgundy Touring Tips
While Domaine de Cromey offers a bespoke experience priced according to needs, expect to spend around $1,500 per person for three nights at the château with half board (stay includes breakfast and one other meal daily), transfers from Le Creusot, and excursions—less if touring on a self-drive basis and not requiring a guide. Travel to Burgundy from London or Paris via rail to Le Creusot; fares and train schedules can be found at Voyages-SNCF.com. More information about house party dates can be found at DomainedeCromey.com.
Anthea Gerrie is based in the UK but travels the world in search of stories. Her special interests are architecture and design, culture, food, and drink, as well as the best places to visit in the world's great playgrounds. She is a regular contributor to the Daily Mail, the Independent, and Blueprint.
ARTICLE CATEGORIES