A New Cookbook Debuts by Jesse Tyler Ferguson and Julie Tanous
Photography by Eva Kolenko
Let's be honest: good food without someone to enjoy it with is just not as good. Cooking for one can be a drag, so why not make food that's meant to be shared with others? Best friends Jesse Tyler Ferguson and Julie Tanous—who just happen to be a Hollywood star and a culinary dynamo, respectively—have come to the rescue with their brand-new tome, Food Between Friends: A Cookbook, which released in March.
Although they probably know Ferguson as a star of the long-running sitcom Modern Family, fans might not realize he has a flair for the culinary arts as well. "If you follow me on Instagram, then you know I have a passion for cooking and entertaining," he says on the blog he and Tanous started, which shares its name with their cookbook. "In fact, if I wasn't an actor, I think I would have found my way into culinary school!"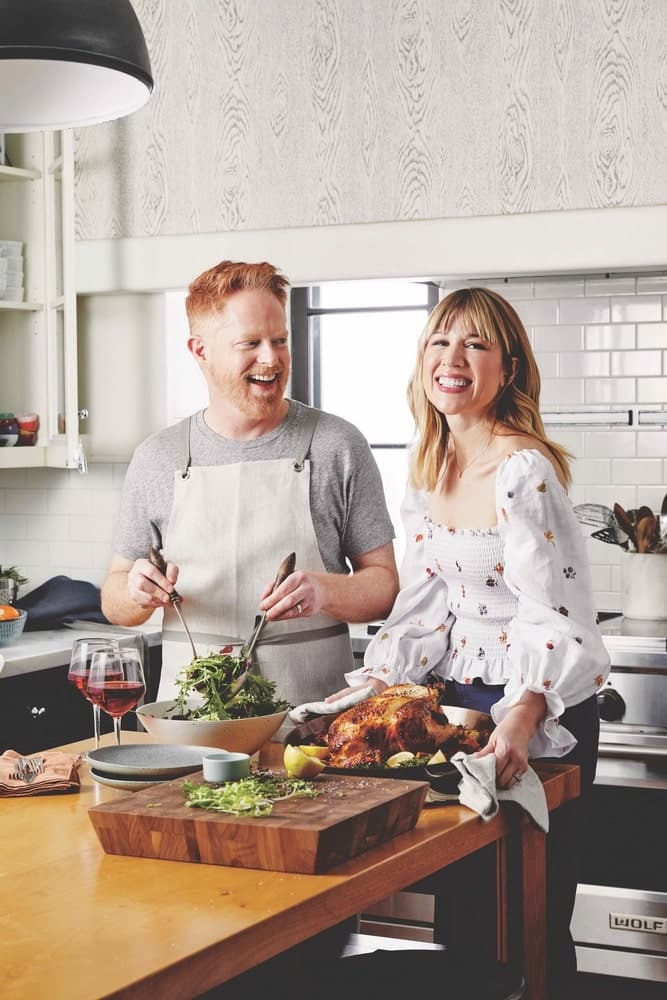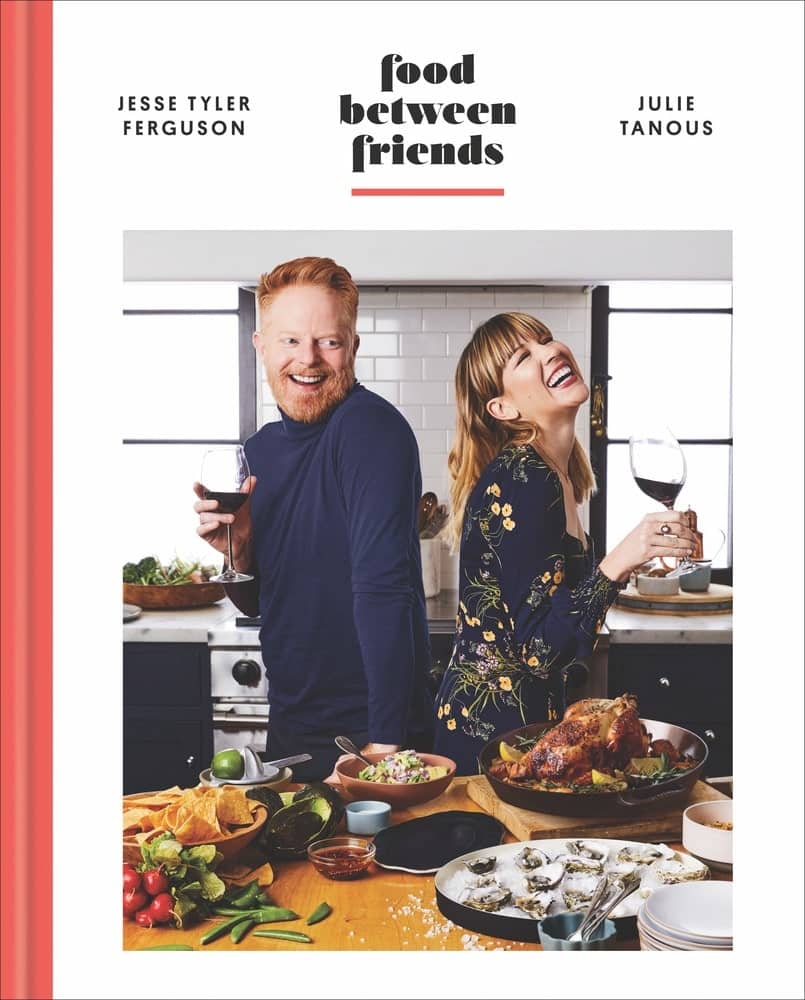 Alabama-born Tanous started her career in the music industry before she knew she'd rather be wearing an apron and experimenting in the kitchen. She graduated from the Institute of Culinary Education in New York City, and her recipes have appeared in Saveur, Food and Wine, LA Weekly, InStyle, and Bake from Scratch, among other publications. She also developed recipes for several other cookbooks before she and Ferguson set off to create their own. Both Los Angeles dwellers, Ferguson admits they have a penchant for healthy eating—but that doesn't mean their favorite desserts and other treats won't make an appearance in the book!
We are excited to share this recipe from Food Between Friends with some words from Julie Tanous: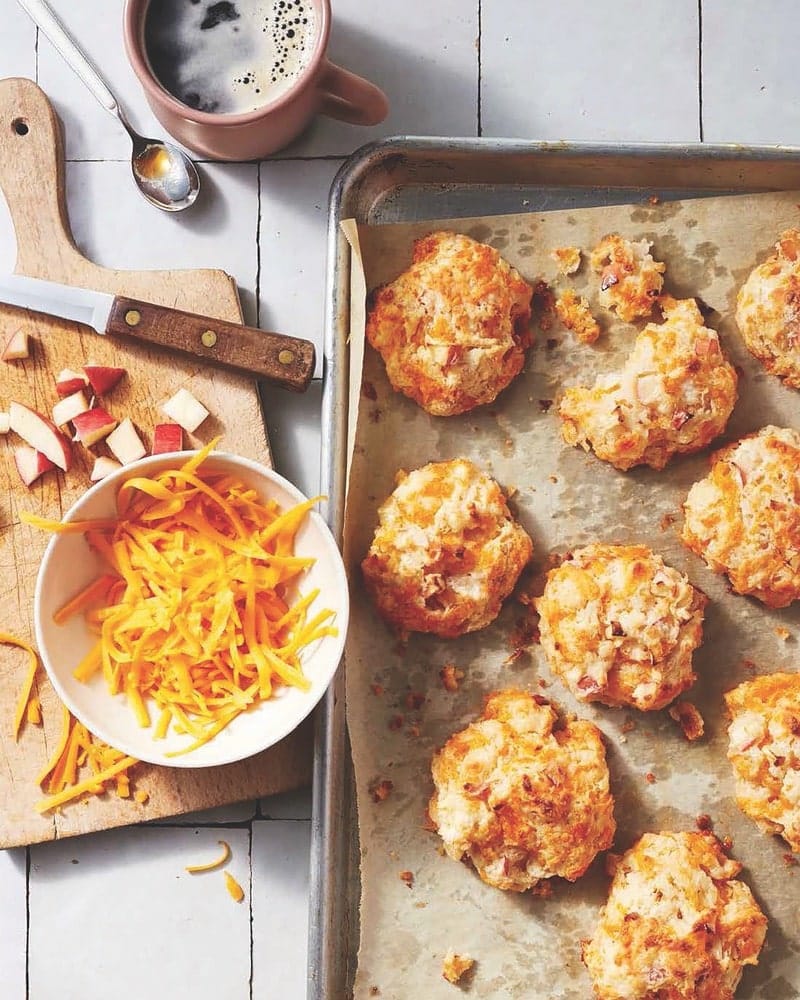 Apple-Cheddar Drop Biscuits
Makes 15 to 18 biscuits
A wise person once said, "An apple pie without cheese is like a kiss without the squeeze." Yes, we know this isn't a pie recipe, but we think that rule still applies. It's totally understandable why people put slices of cheese on their apple pie: sweet, savory, salty, tart, buttery. This biscuit hits all the same spots, and it's the perfect "starter biscuit" for baking beginners, like Jesse was. No kneading! No rolling! Just spooning and dropping! They are almost impossible to mess up. We say "almost" because we don't want a lawsuit if you do actually mess them up.—Julie
Ingredients
2 1/4 cups all-purpose flour, plus more for dusting
2 1/2 teaspoons baking powder
1 tablespoon sugar
1 teaspoon kosher salt
10 tablespoons (1 1/4 sticks) unsalted butter, cut into 1/4-inch dice and chilled in the freezer for at least 20 minutes
6 ounces sharp cheddar cheese, grated on the large holes of a box grater (about 1 1/2 cups), chilled
1 Granny Smith or Honeycrisp apple, peeled, cored, and cut into 1/4-inch dice
1 cup cold buttermilk
Directions
1. Preheat the oven to 400°F. Line two baking sheets with parchment paper.
2. In a large bowl, whisk together the flour, baking powder, sugar, and salt. Add the butter and use your fingers or a pastry cutter to pinch, rub, and incorporate the butter into the dry ingredients until the mixture resembles coarse crumbs, working quickly so the butter remains cold. Fold in the grated cheese and diced apple. Drizzle in the buttermilk and fold with a rubber spatula until just combined and most of the dry, floury bits are incorporated, but do not overmix. The dough will be shaggy and sort of sticky.
3. Scoop out 1/4 cup of the biscuit dough and gently shape it into a loose mound. If the dough feels too sticky, lightly dust your hands with flour. Place it on the prepared baking sheet, then shape and place the remaining dough mounds on the sheets, spacing about 1 inch apart. Bake the biscuits, rotating the sheets halfway through, until the tops are golden brown in spots and the biscuits feel somewhat firm to the touch, 15 to 18 minutes. Transfer to a wire rack and allow the biscuits to cool for about 5 minutes before serving.
— V —
---
Food Between Friends is now available on Amazon and from other major booksellers. Learn more and find more recipes at JulieandJesseCook.com.
Recipe reprinted from Food Between Friends by Jesse Tyler Ferguson and Julie Tanous. Copyright © 2021 by Julie & Jesse Cook, LLC. Published by Clarkson Potter, an imprint of Random House, a division of Penguin Random House LLC. Photographs copyright © 2021 by Eva Kolenko.
ARTICLE CATEGORIES