Story and photography by Melanie A. Cissone
Looking at, appreciating, and acquiring art constitute a personal journey. So, for an art aficionado like me, attending Art Basel Miami Beach and the concurrent satellite fairs (practically the Olympics of art) for the first time was as exciting as going to Disney World is for a kid. It was as much a thrill to see important works, private collections, and collectors or museum curators transacting purchases as it was to see smaller non-New York, non-Los Angeles regional galleries representing emerging artists for more affordable prices at the parallel fairs. Here are some thoughts and tips on attending Art Basel and the surrounding fairs:
1. Wear casual clothes and comfortable shoes.
Think fashionable, though, as Miami Beach and Miami are chic and happenin' and you're likely to feel out of place in flip-flops and cutoff shorts. Just remember that you will be on your feet looking at art and getting around town from fair to fair for hours on end.
2. Focus, baby! Focus!
When my two sons played Little League baseball on Manhattan's Lower East Side, we could hear the parents rooting for their kids one field over. There was a mom whose daughter played softball on the next field and she would shout to her daughter, at the top of her lungs in a thick Brooklyn accent, "Focus, baby! Focus!" Take this exhortation to heart when attending Art Basel and other fairs. It is easy to get lost in the art, the scene, the buying and the selling, and the overheard conversations. Figure out what strikes a chord or what draws you in and go find it: do you like color, abstraction, realism, portraiture, landscapes, nudes, prints, photography, a particular subject matter, etc.? There is so much ground to cover that narrowing your attention to your specific interests will serve you well.
3. Research and plan.
By doing homework based on an area of focus, it's easier to plan a day of art gazing without losing your mind or becoming overwhelmed. Talk to gallery owners, artist friends, or anyone who has attended Art Basel, and get their advice on what to see and do while there. Perhaps the best compilation of all the fairs and other activities for the week—including descriptions, locations, and hours of each, as well as event listings and other useful information such as where and how to see private collections—is written and published online by Dan Fear of Art-Collecting.com. Fear refers to Art Basel Miami Beach week as "the biggest contemporary art event in the world." Fear, a resident of Tacoma, Washington, loves to go to Miami in December and says, "It is difficult to navigate this exciting and extraordinary event in Miami, so I write my fair guide so that visitors get the most out of the week."
4. Arrive early.
The crowds are staggering. Over the course of the four days that Art Basel ran last year at the convention center, the fair saw some seventy thousand people walk through its doors. Arriving early at the fairs is the key to covering territory. Don't despair if you find it overwhelming; most fairs have a refreshment area with drinks (soft and hard), coffee, and food to buy.
5. Make reservations.
Do you think you can jet off spontaneously to Miami during Art Basel week? Guess again. Hotel occupancy that week is greater than 85 percent. And, unless you prefer to eat dinner at 10:00 p.m., it is equally challenging to get a seat in a restaurant without a reservation. If you have a change of plans, most hotels and restaurants charge nothing to cancel a reservation—as long as you give adequate notice. Better to reserve in advance and cancel a reservation than to go to bed hungry.
Including the Art Basel fair itself at the convention center in Miami Beach, there are approximately twenty-three other "parallel" art fairs, numerous public art installations, private collections often shown by the collectors themselves that are open to the public, special exhibits at Miami museums, and other events such as panel talks, films, and parties in and around Miami and Miami Beach for the duration of the week. The upcoming 2013 edition of Art Basel Miami Beach runs December 5–8, but there are several events in the days leading up to the actual fair dates, so it's worth considering arriving a day or two early to attend.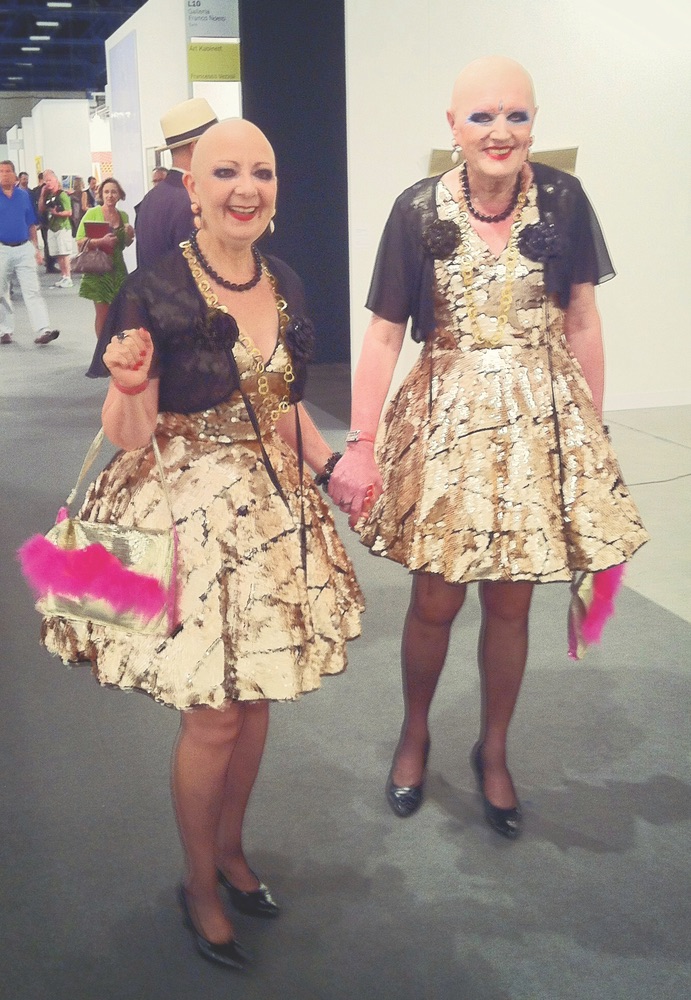 Perhaps one of the most astonishing things to have witnessed in Miami last year, only six weeks removed from Hurricane Sandy, which hit and caused major damage in New York City and its Chelsea gallery district, was the attendance of a large percentage of those seriously affected galleries. Here are some personal highlights and interesting finds from the twelfth edition of Art Basel Miami Beach and the satellite fairs:
Art Basel Miami Beach
There are different sectors within Art Basel, each with its own emphasis and grouping of galleries. To help find your way, download the free Art Basel app for iPhones; it enables users to locate specific galleries and sections, view a gallery location on a map, and file favorites you've seen or hope to see while there.
Finding galleries from the South—my initial focus—at Art Basel was a challenge.  Instead, I switched my focus to my visceral reaction to works of art at this fair. A New York gallery, Mary-Anne Martin Fine Art, which is "dedicated to the promotion of Mexican and Latin American art," brought several drawings by Frida Kahlo, among other pieces. Autobiographical in representation, one drawing that struck a chord with me was titled The Sun Peeks through the Window. It is a pencil drawing with color notations—as if it were a study for a painting—of tall Detroit buildings from the perspective of looking out a window. Centered on the drawing is a red sun "peeking" through the distant building's window. At the time she completed the drawing, Kahlo was in Detroit with her husband, painter and muralist Diego Rivera, who was commissioned to create the Detroit Industry murals at the Detroit Institute of Arts. Kahlo's drawing was done after a miscarriage and the realization that she would not be able to have children as a result of a debilitating accident when she was young.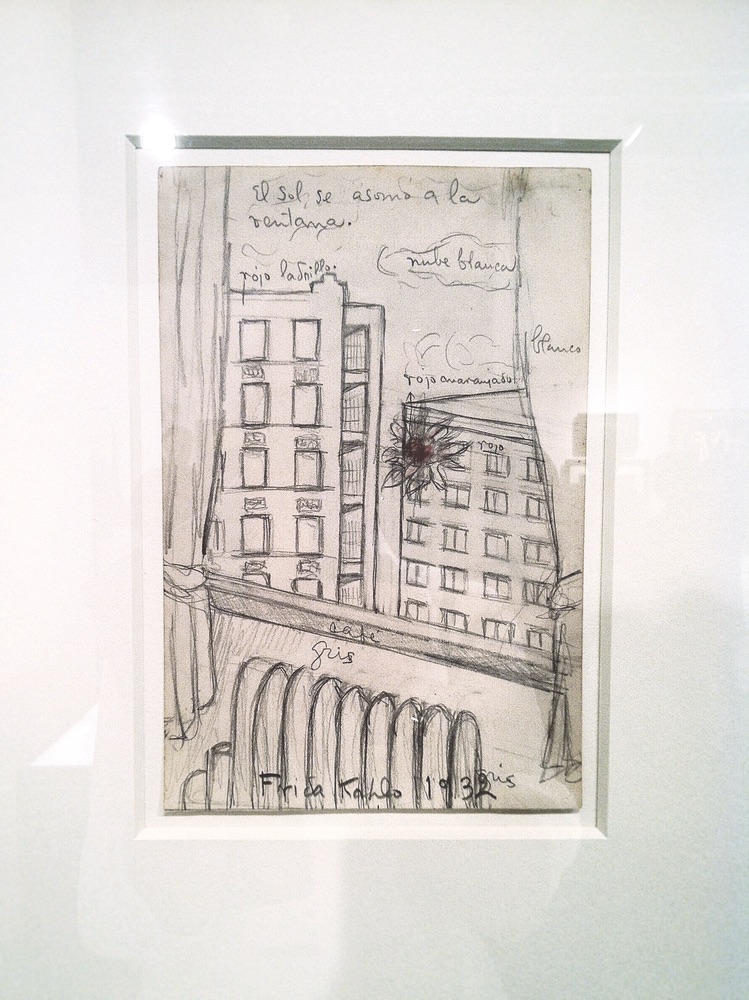 Other standouts at Art Basel included a sculptural piece made of marquee letters by contemporary photographer and collage artist Jack Pierson called The World is Yours; Nikolas Gambaroff's strong multimedia pop-meets-graphic-arts pieces, represented by Los Angeles gallery Overduin and Kite; Philip Taaffe's works, shown by New York powerhouse Gagosian Gallery; and three-dimensional, colorful—and also graphic—works by Elliott Hundley, hanging at Regen Projects of Los Angeles.
Performance artists—or, as they refer to themselves, biographic sculptors—Eva and Adele were walking around and turning heads, as only these two German women could, given their unusual (and identical) attire. The only star sighting by this writer at Art Basel was actor Owen Wilson, who appeared to be more interested in the art and less involved in the scene.
In the first few hours of the press event, which were followed by VIP early-viewing hours, museum directors, curators, private collectors, art aficionados, and artists milled about the enormous footprint of Art Basel, and big bucks changed hands. The wealth—much of it coming from Latin American countries—that strolls the aisles of Art Basel is palpable. It can be discerned by the handbags the women carry, the outfits and shoes they wear, the whispers of "What is your best price?" and the occasional glimpse of an American Express "Black Card" being pulled from a pocket, wallet, or purse.
Design Miami
Design Miami, across the street from Art Basel Miami Beach, is where the lines blur between fine art and the skill of excellent design. Nonetheless, there were some technology-driven pieces there that really dazzled. Carpenters Workshop Gallery, with locations in Mayfair and Chelsea in London and in the Marais in Paris, featured one of the distinctive light sculptures from the Fragile Future series by Lonneke Gordijn and Ralph Nauta. Real dandelion heads are arranged within a phosphorescent bronze structure closely resembling a circuit board and float delicately in a mesmerizing and twinkly state.  Another piece at the same gallery was rAndom International's Temporary Printing Machine, which is a dynamic motion-sensitive camera and printer in one that takes an image of whatever is walking in front of it and then displays the image on the screen in front of passersby. The camera has no memory, so the image fades away within minutes or until the next person or object moves in its path to produce a new image.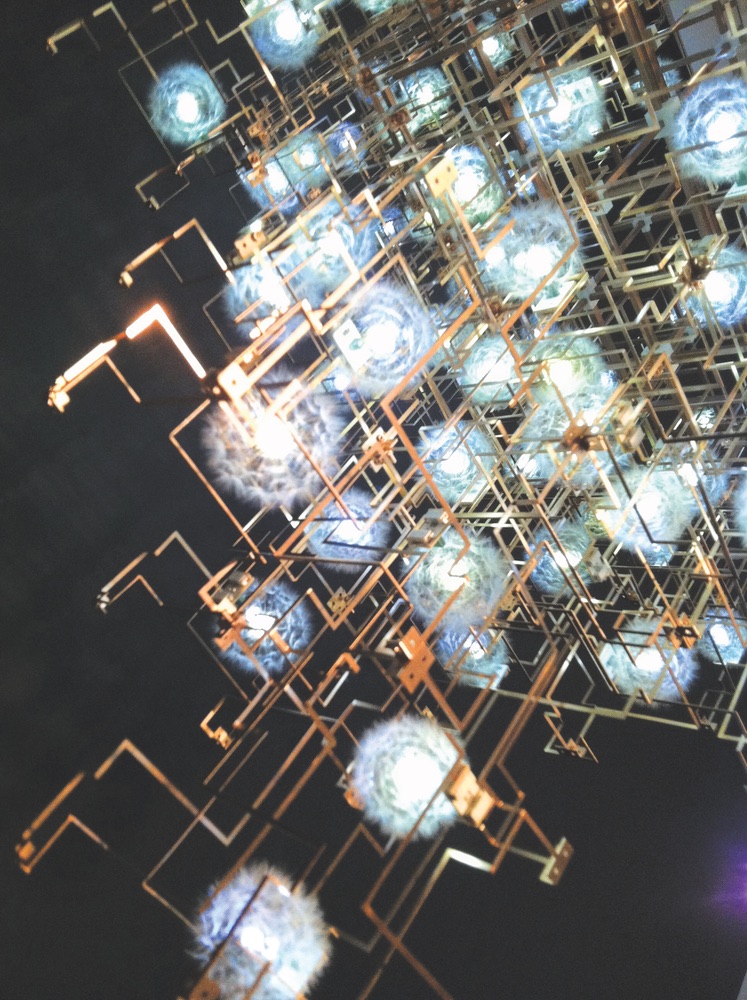 Aqua Art Fair at the Aqua Hotel
The Aqua Art Fair, housed in a South Beach hotel on Collins Avenue, started out as an experimental project but has turned into one of the most popular Miami Beach fair stops of all during Art Basel week. Last year, performance artist Lauri Stallings of the performance art troupe Glo could be seen striking dance-style poses while slithering among visitors who move from hotel room to hotel room to see art from the mostly new or emerging galleries occupying each one. Southern galleries at Aqua included Get This! Gallery and the Ernest G. Welch School of Art and Design, both from Atlanta, and, sharing a room, Ghostprint Gallery of Richmond and the j fergeson gallery of Farmville, Virginia.
INK Miami Art Fair
At the Suites of Dorchester, another South Beach hotel, INK Miami Art Fair is devoted to contemporary works on paper, as the name suggests, and is sponsored by the International Fine Print Dealers Association. Patrick Albano of Aaron Galleries in the Chicago area displayed bins filled with prints and original works; he knew a lot about the works the gallery sells and the artists who have Southern connections.
Wynwood Art District Fairs
A few of my favorite fairs could be found off the beach in Miami's Wynwood Art District, just south of the Design District. At Art Miami were the Arthur Roger Gallery and Jackson Fine Art, hailing from New Orleans and Atlanta, respectively. Arthur Roger, who has been at the forefront of contemporary art in New Orleans for decades, is a fount of information about many artists. He is particularly knowledgeable about Louisiana and other Southern artists, including photographers George Dureau and Deborah Luster, as well as painter and sculptor Ida Kohlmeyer. The Arthur Roger Gallery played host to a special event at historic Villa Vecchia. Invited guests arrived by complimentary yacht and viewed a live pour by artist Holton Rower, whose hypnotic and psychedelic works are created by pouring layer after layer of color, almost like spin art, onto enormous pieces of plywood.
Jackson Fine Art, which specializes in contemporary, twentieth-century, and vintage photographic works, names among its Southern-born or Southern-based (subject matter included) photographers Angela West, Mark Steinmetz, Jack Spencer, Jody Fausett, and Birney Imes.
My husband was on the search for a large-scale art photo by renowned photographer Matthew Pillsbury, and we found just what we were looking for at Jackson Fine Art. As we are transplants to Northwest Florida from New York City, the Pillsbury image was reminiscent of our insider's life there and how we would go at midnight on the eve of Thanksgiving to Central Park West to watch the Macy's Thanksgiving Day Parade balloons being inflated.
Across the street from Art Miami was Red Dot Art Fair, where Highway 30-A photographer and owner of Studio b. Colleen Duffley exhibited the personally curated photographic installation called Light Impressions. It was a collection of the work of forty iPhoneographers who used only a camera phone and its apps to shoot and edit photos that Duffley displayed, thirteen images each in rotation, on forty iPads mounted to a tin roof torn off during Hurricane Opal.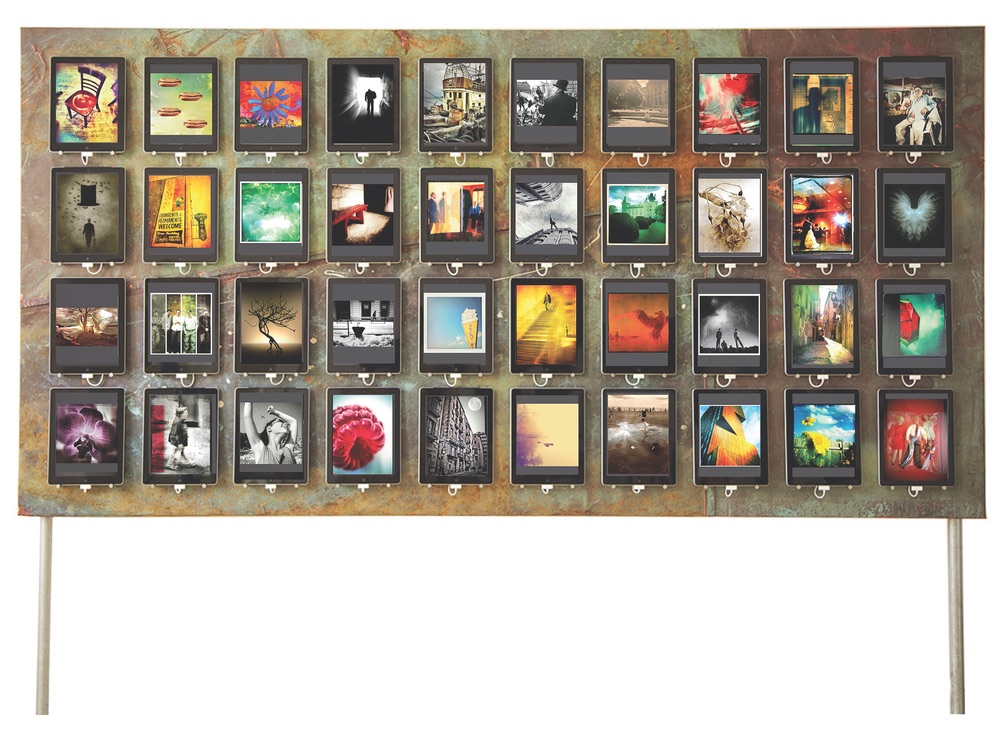 Also in the Wynwood Art District was an exciting relative newcomer to the Art Basel satellite fair circuit, Miami Project, which had under its bright tent ceiling and walls, among hundreds of others, Texas galleries David Shelton Gallery and Inman Gallery, both from Houston, and William Campbell Contemporary Art of Fort Worth.
The days at Art Basel week are long, but the journey is worth it if you love looking at art and appreciate the creative mind. The allure of Miami and environs can be loads of fun, and being there to view the Art Basel events and art from around the world is exhilarating. Since art can be an appreciable asset and the goal of being in Miami for Art Basel is to enjoy the week and possibly find something special to buy, remember to spend time looking at works that you like. Try to foster relationships with galleries you trust to guide your focus, especially if you hope to develop a more substantial collection over time. Above all else, though, enjoy the show.
— V —
ARTICLE CATEGORIES