The Golden Age of Travel Is Back
By Lisa Marie and Gerald Burwell | Photography courtesy of Discover The Palm Beaches
There is an age-old saying about how first impressions can last a lifetime, and taking a drive along stunning South Ocean Boulevard overlooking the Atlantic Ocean has the makings for just such an experience. The scenic highway is part of State Road A1A—possibly the most well-known of Florida's state roads. The byway stretches the entire length of the state's eastern seaboard from Amelia Island, just north of Jacksonville and not far from the Georgia border, south to Key West, connecting coastal barrier islands like a strand of pearls. Nestled at the north end of the lushest of Florida's barrier islands, one will find a sophisticated resort town that is steeped in history and bears an air of unhurried elegance—Palm Beach.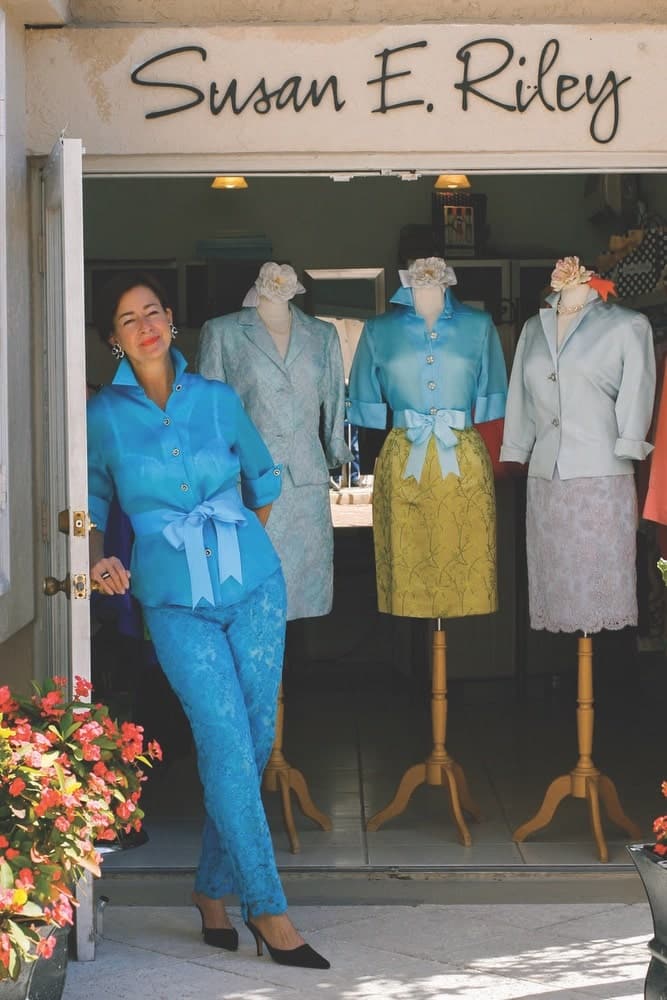 Lined with a succession of gorgeous multimillion-dollar estates and abuzz with a continuous procession of uber-luxury supercars, South Ocean Boulevard is appropriately known as "Billionaires Row." And, speaking of excess, one quickly notices that there is no shortage of tropical vegetation. This is attributed not to human ingenuity but the simple fact that Palm Beach marks the easternmost edge of Florida's peninsula and therefore is located furthest into the Atlantic's warm Gulf Stream. Whether a property of modest ambitions or, well, Trump's Mar-a-Lago, perfectly manicured landscapes here are impressive works of art in their own right.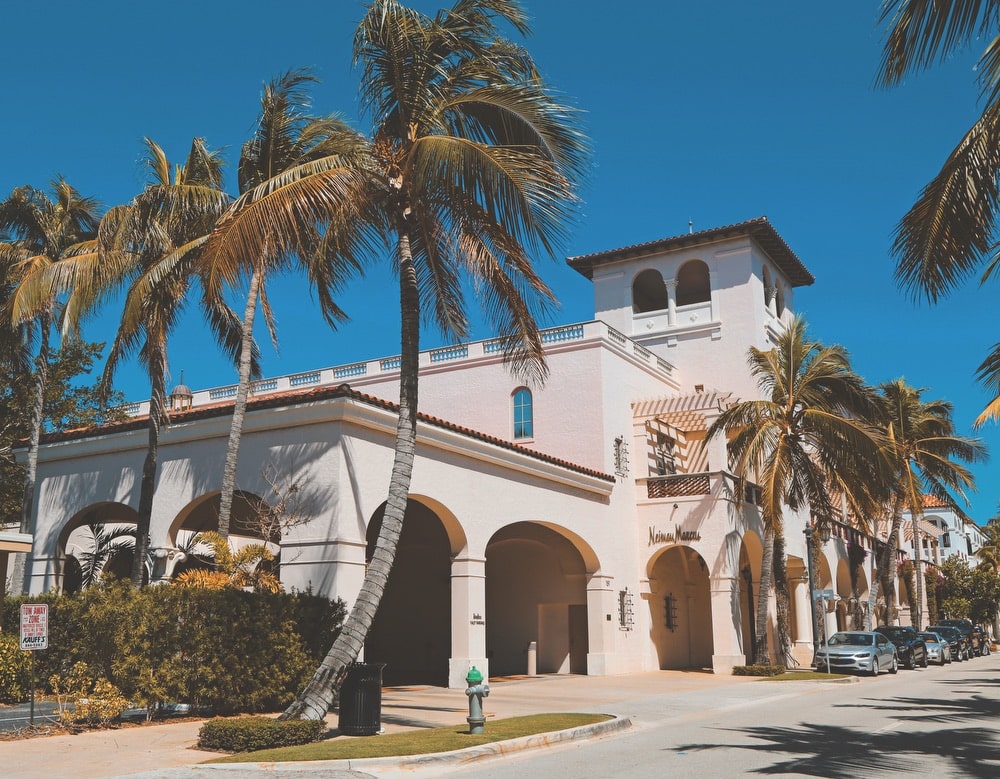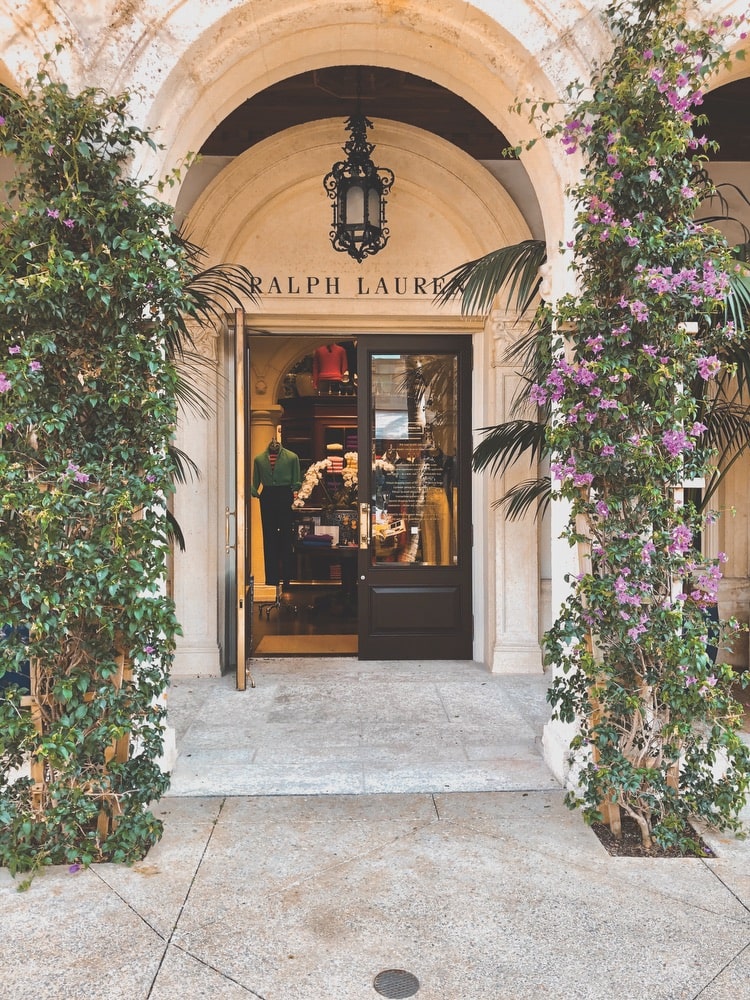 The Birth of the Florida Beach Resort
Florida is known the world over as a winter tourist vacation destination, resulting in considerable prosperity and growth for more than a few cities throughout the state over the years. Still, it is not commonly known that Palm Beach is considered the first true Florida beach resort town, coming to life at the turn of the twentieth century. Although Palm Beach is credited as the brainchild of New York–native oil baron Henry Flagler, others have been credited for doing their share toward making the town successful. Architect Addison Mizner, who visited Palm Beach in the 1920s, ultimately played a key role. His iconic Spanish Colonial architectural style became wildly popular with the affluent socialites and continues to be a strong influence in South Florida today.
The Center of Attention
There is so much to say about the beauty and style of Palm Beach, but a logical starting point would be the extraordinary shopping and dining—experiences that are not likely to leave you wanting. Welcome to the chic and sophisticated world of Palm Beach's Worth Avenue.
Standing proudly at twenty-five feet tall, with a clockface on each of its four sides, the coquina stucco Palm Beach Clock Tower, designed by Mark Marsh, has become an iconic landmark on Worth since it arrived in 2010.
Prominently positioned at the avenue's beach entrance, it is a prelude to the A-list designer boutiques such as Chanel, Tiffany & Co, Gucci, Ralph Lauren, Hermes, Valentino, Louis Vuitton, Lily Pulitzer, and more lining the boulevard and the accompanying eateries that make for a delightful outing.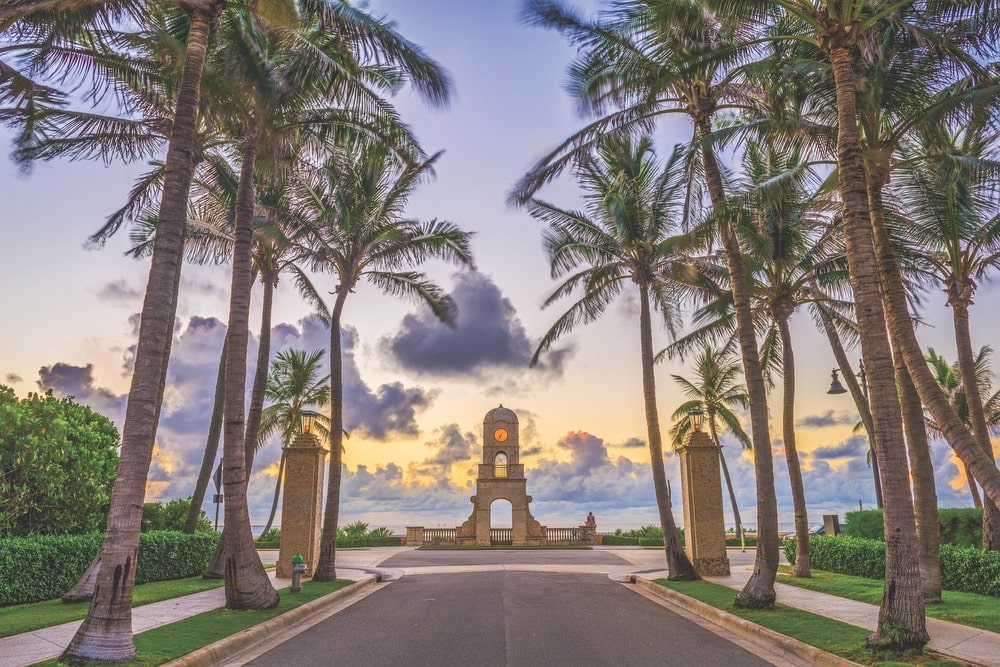 For those who may be looking for more, there is another dimension to Worth Avenue beyond beautiful storefronts of luxury goods and charming restaurants featuring world-class cuisine. To dig deeper, look no further than an intriguing walking tour with Worth Avenue Association historian Rick Rose. As the author of Palm Beach: The Essential Guide to America's Legacy Resort Town, Rose possesses a remarkable knowledge of Palm Beach's rich and colorful past. We met up with the effervescent former international hotelier, who was sporting quintessential Palm Beach–chic attire of a plaid linen jacket, velvet loafers, and a hat, amid the charming fountained courtyard of Via Amore tucked just off the heart of Worth Avenue. "This quaint courtyard was formerly known as Via Gucci," says Rose. Pointing to a set of second-floor windows overlooking the courtyard, he adds, "That is where Gucci operated a design studio in the early '60s." Rose shared that Gucci chose Palm Beach for its first US store located outside of New York City. And, immediately beneath the former studio is the first boutique storefront that launched the famed Daniella Ortiz luxury handbag brand. The seventy-five-minute Worth Avenue Walking Tour navigates along the avenue and through the meandering side courtyards, all the while Rose unveils Palm Beach's storied past. He is adept at capturing imaginations through a historical cocktail of anecdotal facts mixed with a twist of gossip, all as if they had happened yesterday.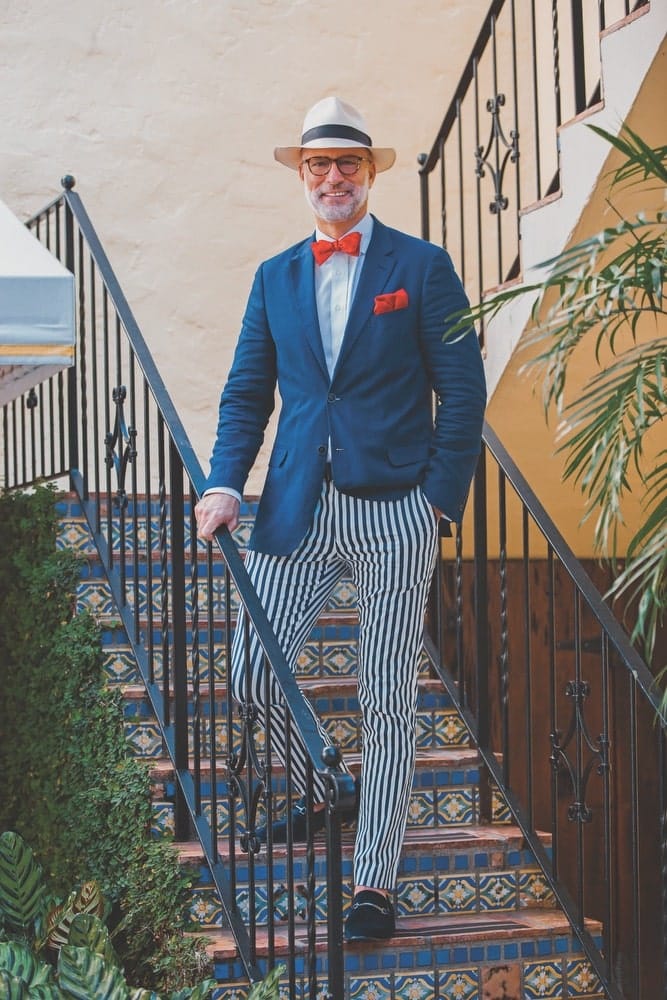 The tour route makes its way past the quietly well-known Everglades Club. Designed by Addison Mizner, it was originally commissioned and built in 1918 by Paris Singer, heir to the sewing machine family, as a convalescent hospital for wounded soldiers returning from the Great War. But with the war having ended within a few months of its completion, it was repurposed into the members-only private club that it is today. The Everglades Club is widely considered to be the biggest success of Mizner's career.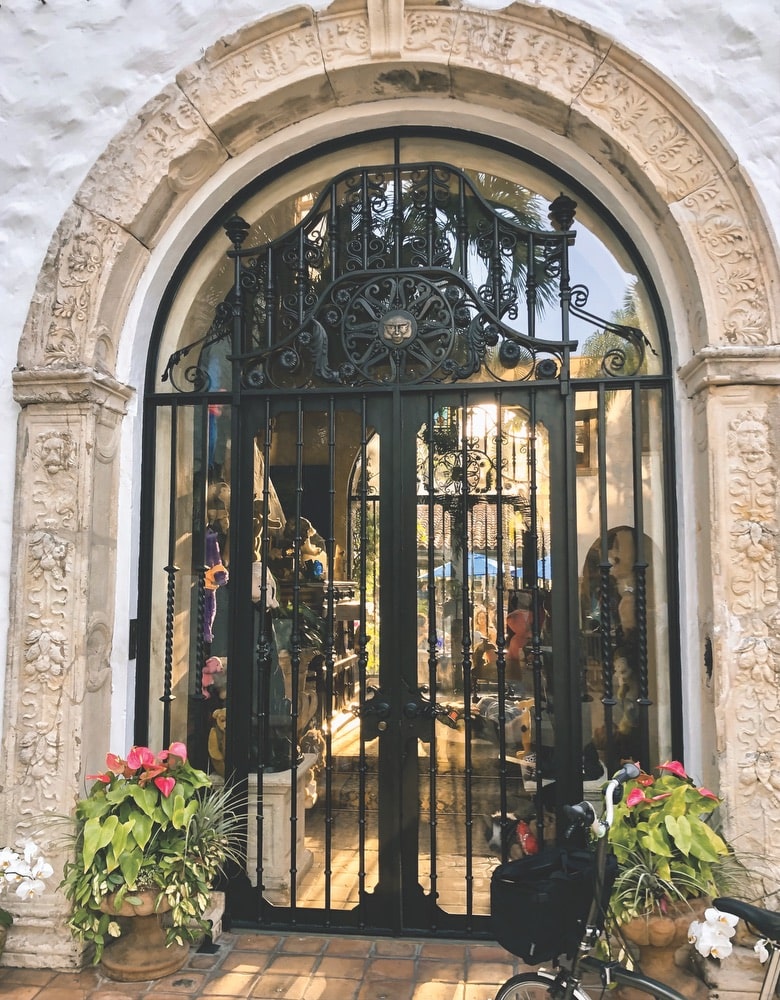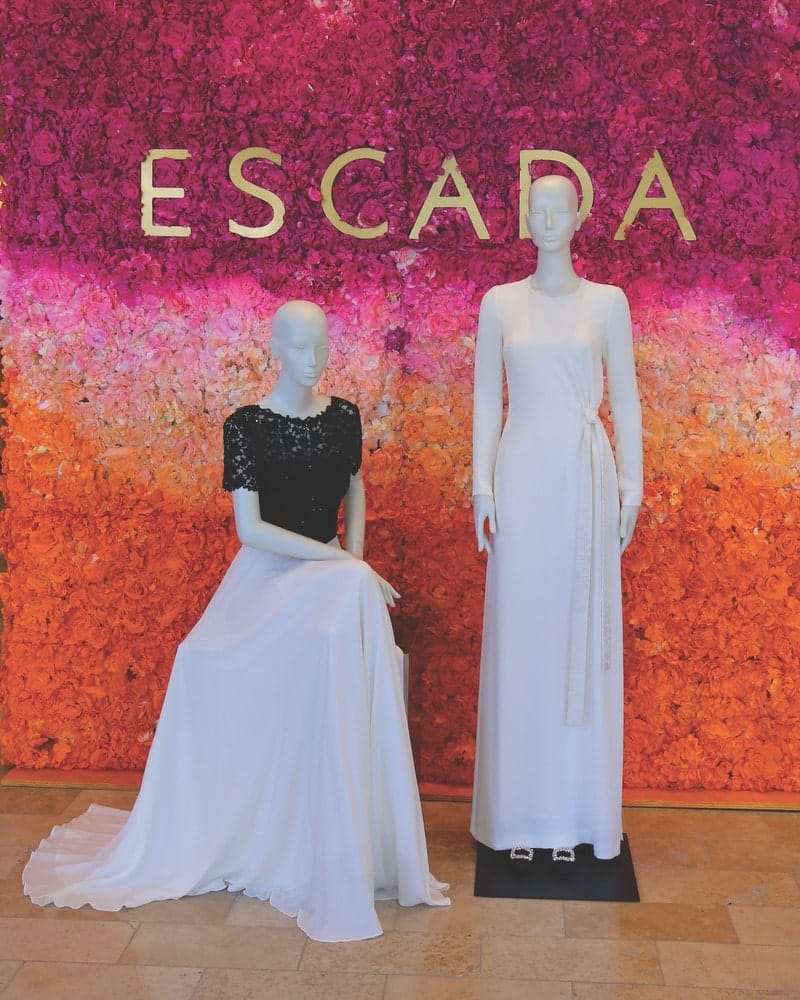 Catty-corner across the street is Mizner's former residence and offices. As it turns out, Mizner was not only an influencer of architecture but also one of fashion and culture—and in a rather significant way. His home is legendary in Palm Beach as the stage for many afternoon cocktail parties where the heads of French and Italian fashion houses would present never-seen-before styles from Europe to celebrities and other members of high society. Entertainment was commonly provided by luminaries such as Irving Berlin and George Gershwin. While on our walk, we were fortunate enough to get a glance at Mona Lisa—the resident pet pig and service animal of the current homeowner—peacefully slumbering on her bed in the foyer. If you happen to take this tour, please keep in mind that though the walkways and avenues are publicly accessible, it is important to respect the homeowners' privacy.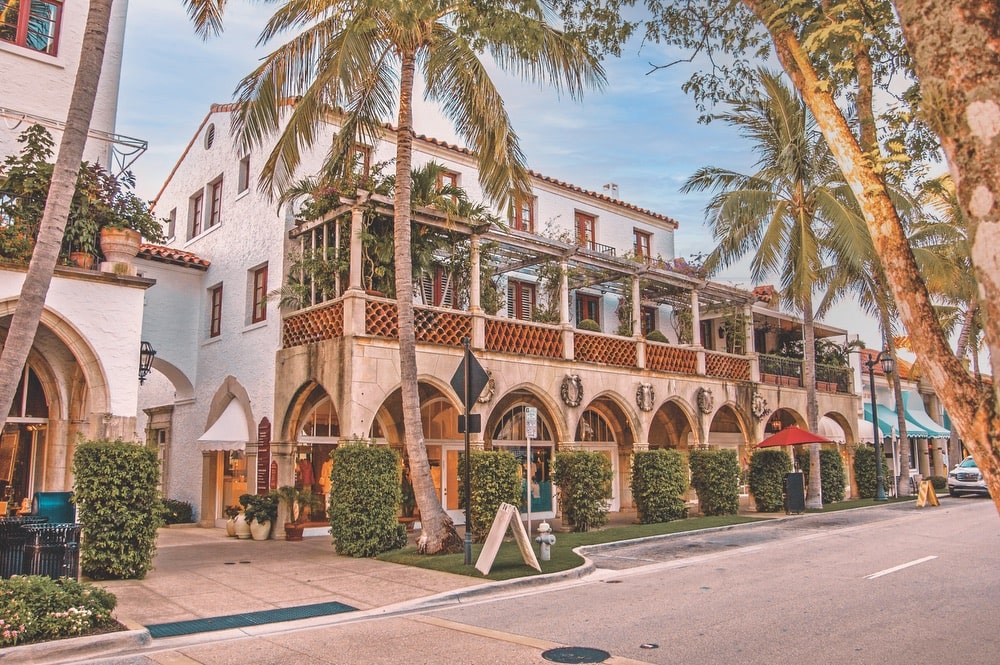 Under a bougainvillea-covered archway off Via Mizner is the former location of an orange juice shop, which ultimately became the genesis of the eponymous Lilly Pulitzer clothing brand. Lillian McKim, an heir of Standard Oil and a Palm Beach native, was married to publishing heir Herbert "Peter" Pulitzer, who also happened to own citrus groves. Continuing in the footsteps of her entrepreneurial legacy, McKim founded Lilly Pulitzer. Interestingly enough, the fashion label was not her intended purpose; it came about by happenstance through her ingenuity to design pleasing patterns that would effectively conceal the inevitable staining of juice shop staff uniforms. The designs were so well done that women patrons took note and urged McKim to produce a clothing line for the everywoman. As they say, the rest is history. Palm Beach remains home to Lilly Pulitzer's flagship store.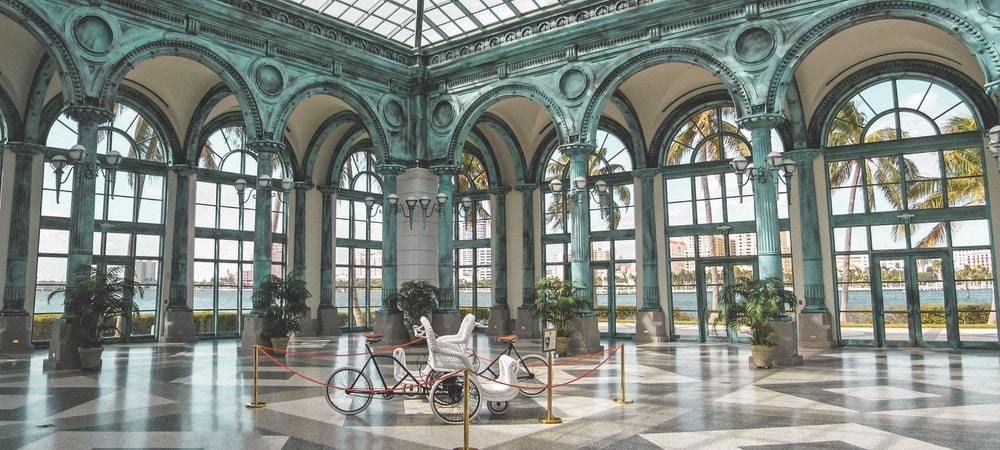 If You Build It, They Will Come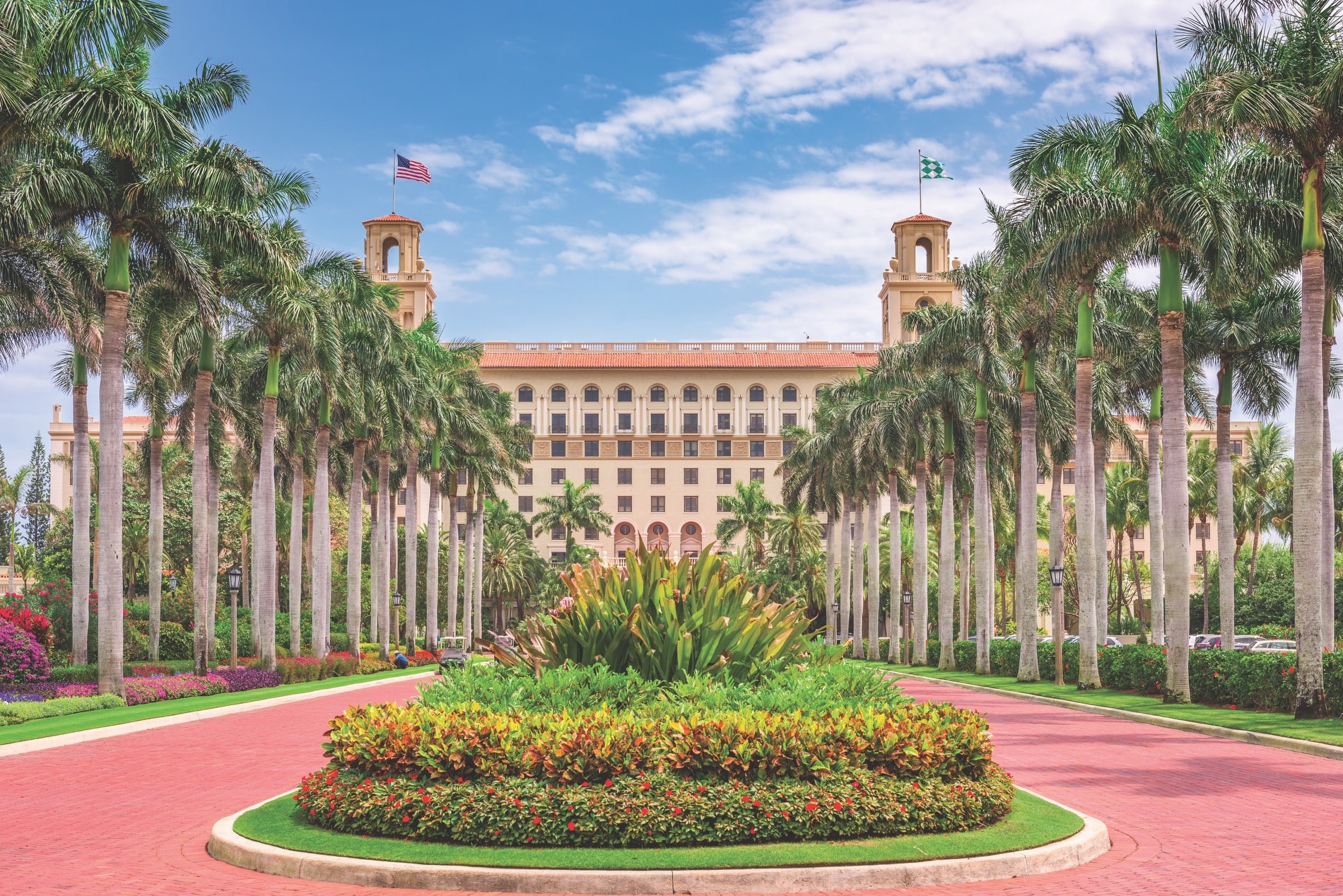 Following the Civil War, Henry Flagler cofounded the Standard Oil Company in Ohio with John D. Rockefeller, the richest man in America at the time. Flagler traveled to Florida at the advice of his doctor and is credited with conceiving the vision and master plan of Palm Beach and, ultimately, Miami Beach. To attract Northern tourists, he then built luxury European-style hotels, including The Breakers, which retains its legendary status today as the unrivaled oceanfront resort of Palm Beach. Because there was no existing mode of transportation to bring the throngs of tourists to his resorts, Flagler built a railroad that continued south all the way to Key West.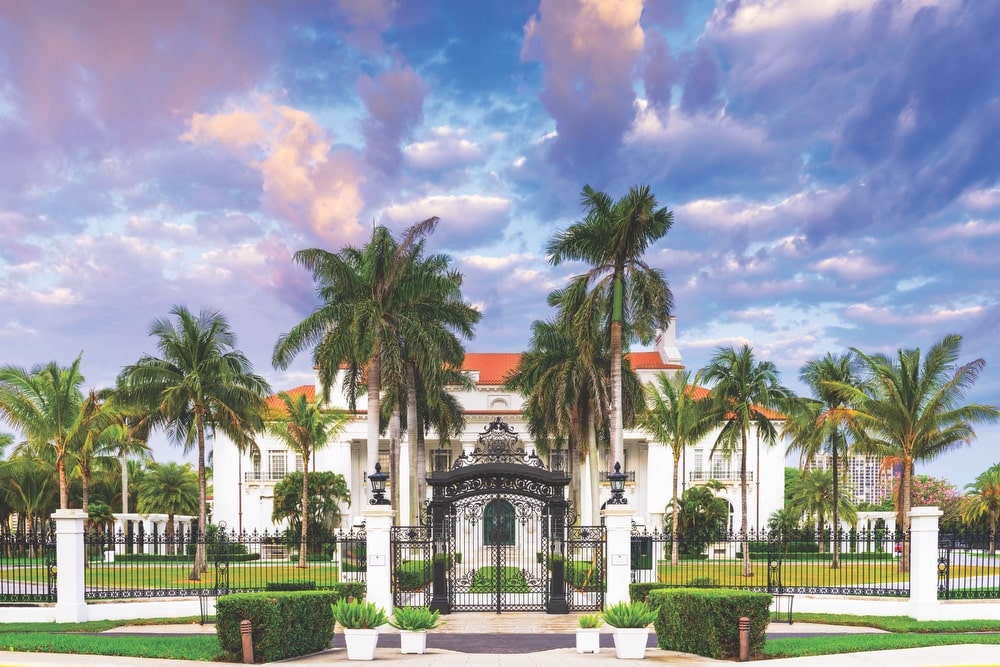 When completed in 1902, Flagler's Palm Beach home known as Whitehall was proclaimed by the New York Herald as "more wonderful than any palace in Europe, grander and more magnificent than any other private dwelling in the world." Once called the "Taj Mahal of North America," today this eighteen-bedroom architectural gem is a National Historic Landmark and is open to the public as the Flagler Museum. If you've ever wondered how the rich and famous lived, you should visit Florida homes like these that are now open to the public.
A Colonial Revival That Will Revive You
Since acquiring the property five years ago, Sarah and Andrew Wetenhall have reimagined the experience at The Colony, creating something truly magical. With its signature pink exterior, the fanciful English Colonial Caribbean hotel stands out and lives up to its iconic and historic reputation in Palm Beach.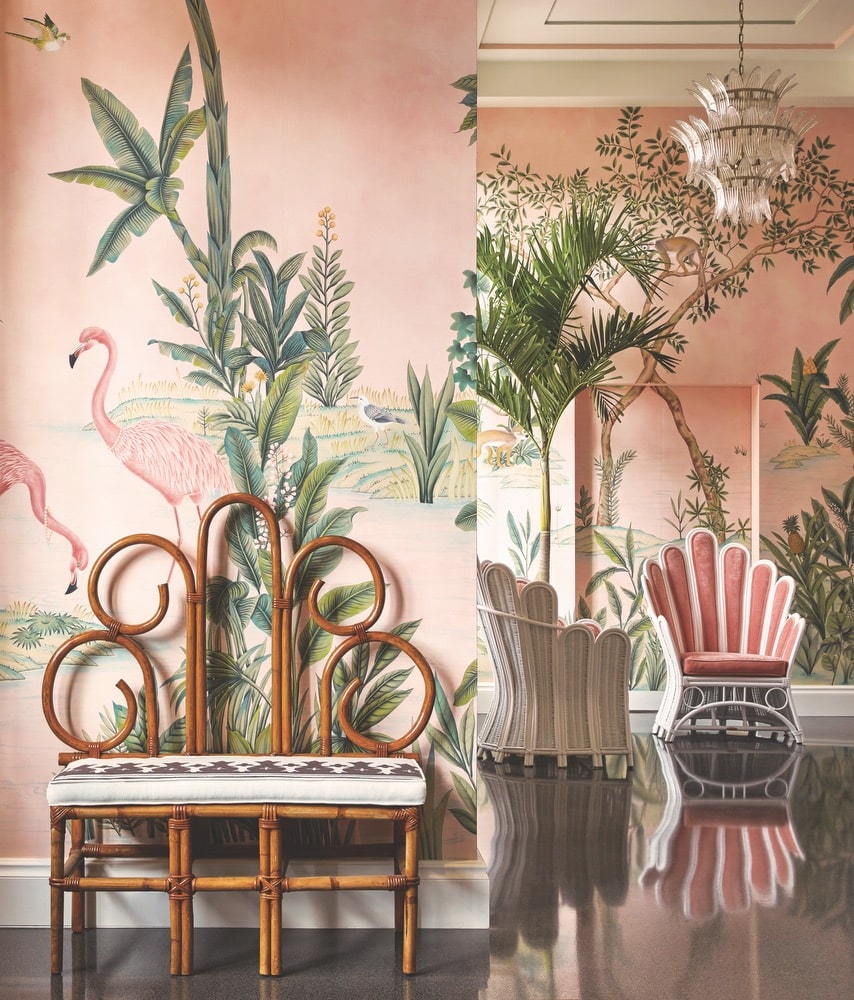 Within the entry doors of the porte-cochere is a room of impeccable design and style that immediately captures the eye of the beholder. The lobby, affectionately referred to as "the living room," is lined with custom wallpaper that is exclusive to the Colony Hotel and features indigenous Florida flora and fauna. Owner Sarah Wetenhall explains the inspiration behind the design as one from a mid-century postcard featuring The Colony's original lobby which was painted with a mural titled The Early Days in Palm Beach. She worked hand in hand with de Gournay to create this unique love letter to The Colony and Palm Beach. "It was our mission to embody the whimsy and humor of our beloved hotel, brought to life through the meticulous artistry of de Gournay," Wetenhall says. The pattern is a departure from past de Gournay projects in that it reflects whimsy and humor, elements essential to The Colony.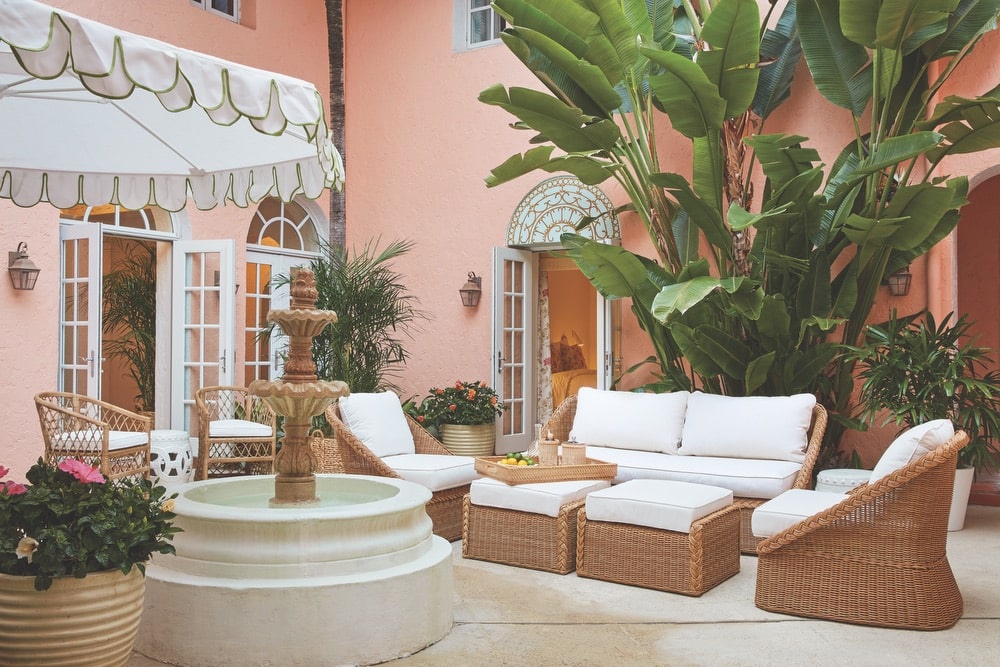 In addition to the newly decorated Living Room, The Colony also partnered with Aerin Lauder to design and curate the AERIN Villa Jasmine, a 2,100-square-foot Palm Beach villa originally built in 1929. AERIN and The Colony collaborated on the extensive renovation and redesign using Lauder's home collections and pieces she personally selected. "The Colony hotel is an iconic destination that allows you to experience the magic of Palm Beach, and we hope that the AERIN Villa Jasmine becomes the perfect escape, especially during the unique times that we are living today," says Lauder. The villa offers a direct private entrance, two generous master bedrooms, two full-size bathrooms, a kitchen, and living and dining areas opening to the fountained villa courtyard. Original historical details include old-growth pecky cypress doors and a cast stone fireplace. The interior speaks to the natural beauty of Palm Beach embellished with a touch of romance.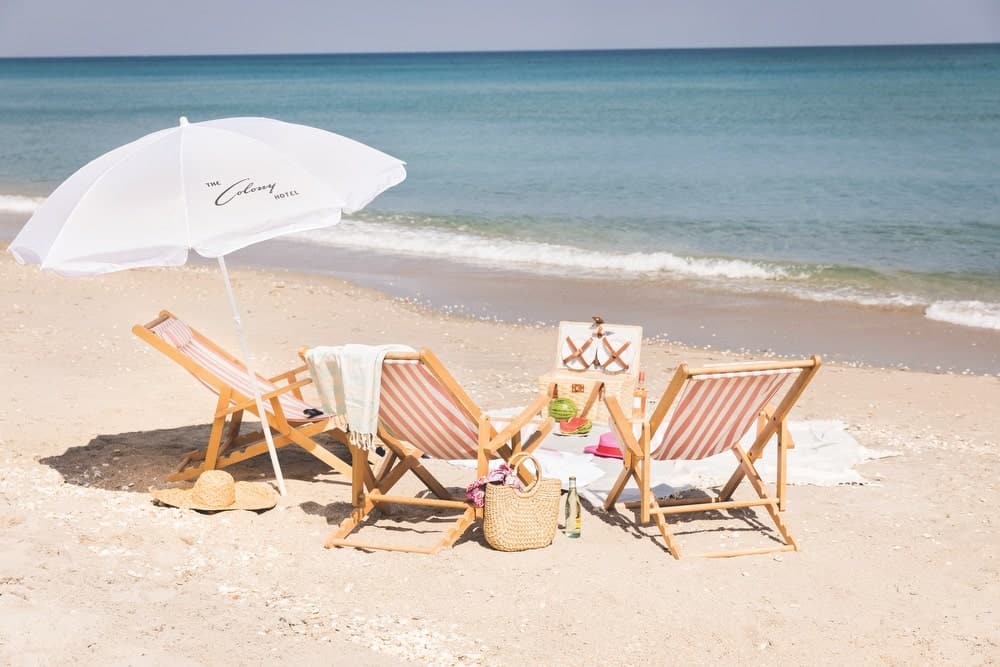 Another key amenity of the hotel is Swifty's Restaurant and Pub. In addition to its traditional dining room, the newly renovated restaurant has expanded poolside dining with lunch and dinner service. The cuisine is some of the finest but the atmosphere is a relaxed resort chic.
"Bilbo"
Le Bilboquet's long-awaited opening on Worth Avenue brought an exceptional addition to the iconic Palm Beach scene that is already synonymous with old-world glamour and new-world sophistication.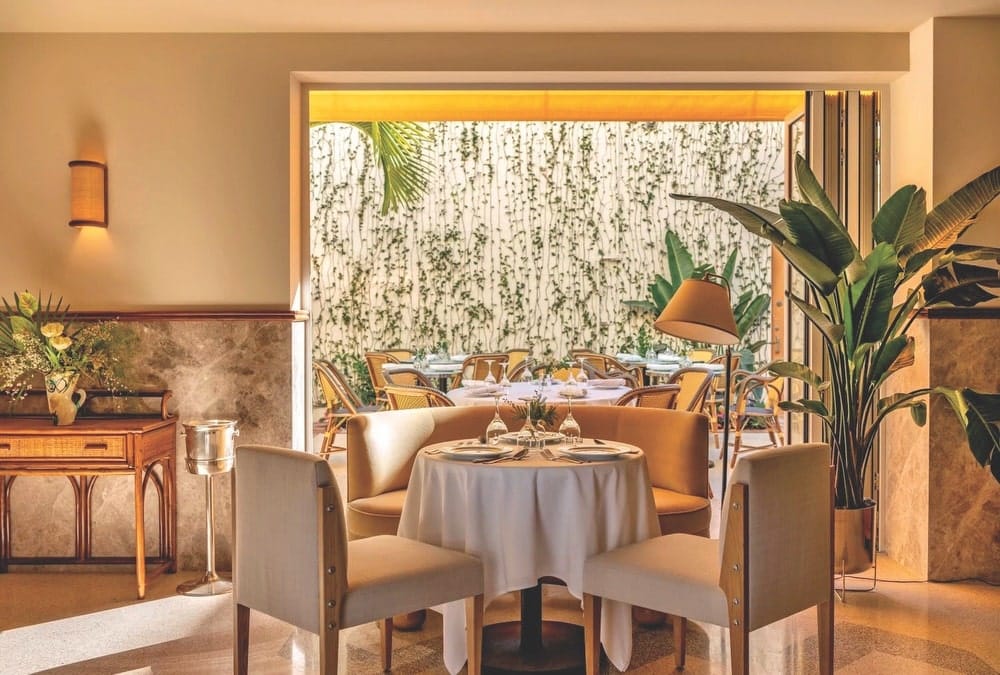 Designer David Lucido leaned on the Art Deco aesthetic that runs through the city and remixed them with French designs, including the quintessential bistro chairs by Maison Gatti and a nickel-topped bar imported from Paris. The restaurant's layout has sinuous curves that hug the tables together and accordion-style doors that open all the way up to create a seamless indoor-outdoor flow. The courtyard is filled with lush plants and tucked-away grottos for intimate conversations. By noon, the courtyard is full, and the sound of corks popping fills the air. Enjoying dinner there was a treat for the senses, and it's the place to be seen. An infectious gaiety was in the air and the cuisine was divine. Le Bilboquet is a five-star dining experience that will not soon be forgotten.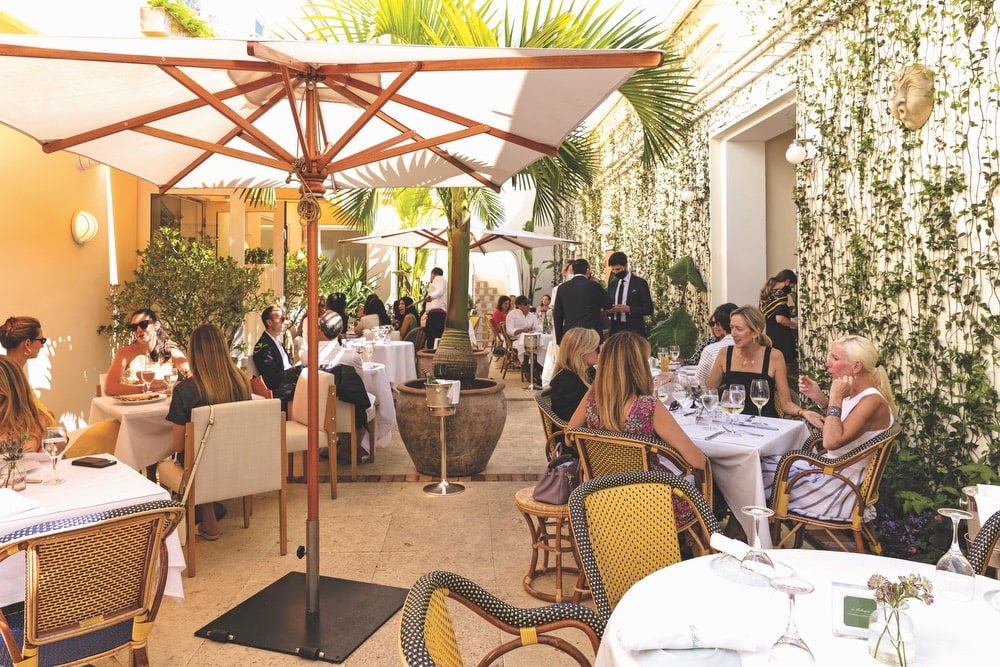 Over the past several years, many people have mentioned to me that travel isn't what it used to be. When I think of the moniker "the Golden Age of Travel" and what that means today, especially after being shuttered in our homes last year, one word comes to mind, and that is appreciation. There is a newness in the air, a desire not only to travel but to totally immerse oneself in your surroundings and destination and truly get away from it all.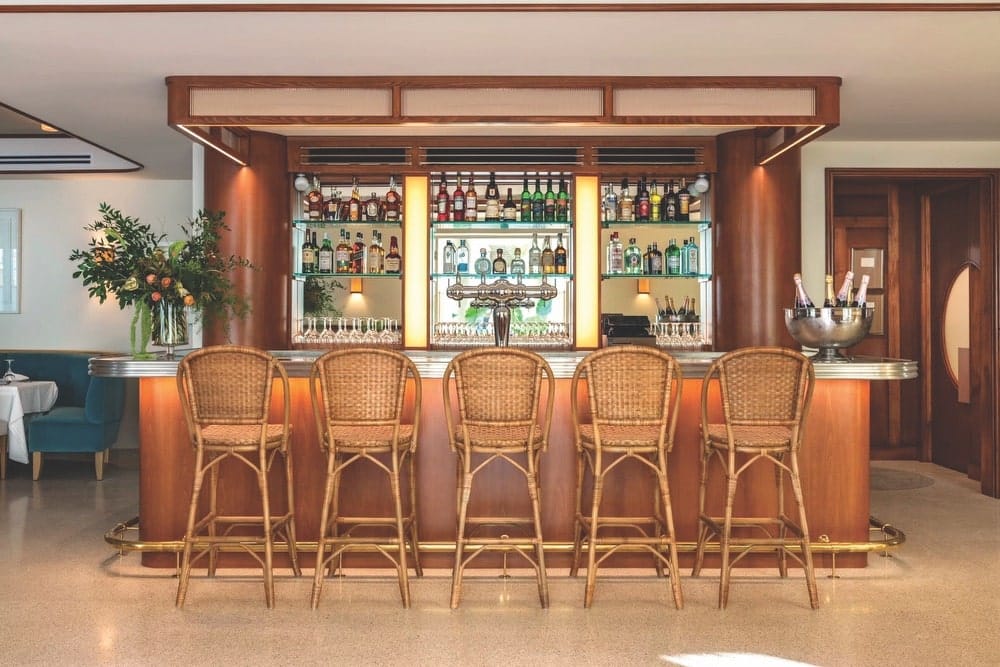 It's hard not to name-drop in Palm Beach, as there are so many celebrities, business tycoons, heirs and heiresses, and both old and new money. But one thing is certain in an atmosphere of wealth and influence by the beach—a game of backgammon or chess on a balmy tropical afternoon can be exactly what is needed in a world looking to decompress and reset. Bye for now, Palm Beach.
— V —
---
This article is Part One of a two-part exploration of the Palm Beaches of Florida. Stay tuned for a feature on Delray Beach coming in a future issue of VIE! Visit ThePalmBeaches.com to learn more and start planning your stay. 
ARTICLE CATEGORIES