By Susan Vallée  |  
Photography by Troy Ruprecht
I never thought I would enjoy going to a gym. Or find a group of people who were navigating the tricky world of eating gluten- and dairy-free food. And then I found 30A CrossFit in Seacrest Beach. Owners Tony Young and Karen Katzenbach might just be the nicest (but toughest) gym coaches you'll ever meet.
Classes are small and feel more like a private training session than a workout session at the gym. The philosophy behind CrossFit is to make you strong enough to do the things you need to do daily—without getting hurt. Tony likes to use the example of retrieving a Frisbee from a rooftop, while I prefer the more realistic (in my case) example of lifting and cradling a sleeping child. Or some groceries and a purse. Or a sleeping child, some groceries, and a purse. But hey, maybe you like to play Frisbee. Whatever the scenario, CrossFit will help you become stronger and more capable to do it, and less likely to throw out your back in the process.
The gym also encourages a grain-free, dairy-free way of life, but they aren't pushy or fanatical about it. In fact, it was through food that I learned of the CrossFit world. 30A CrossFit hosts a semimonthly potluck of savory meats and dishes prepared with love by other gym members. It's a bit like an old-fashioned social, as the sparse gym is transformed with tables, sofas and comfortable chairs. There is no sales pitch or gym brochure that gets passed out—just a time for people who are concerned about food (Ed Berry, owner of For The Health of It, is a member and instructor) to get together, stuff their faces, and leave with the knowledge that a healthy way of eating is not impossible or unsatisfying.
"We like to do things with members outside of the gym dynamics, too. We really want it to be like a tribe," Karen said. "We are a gym that talks about nutrition. We want people to see that this is delicious and there are lots of options."
"Or, as I like to say," Tony interjected. "You can actually live without breakfast cereal and pasta. It is possible."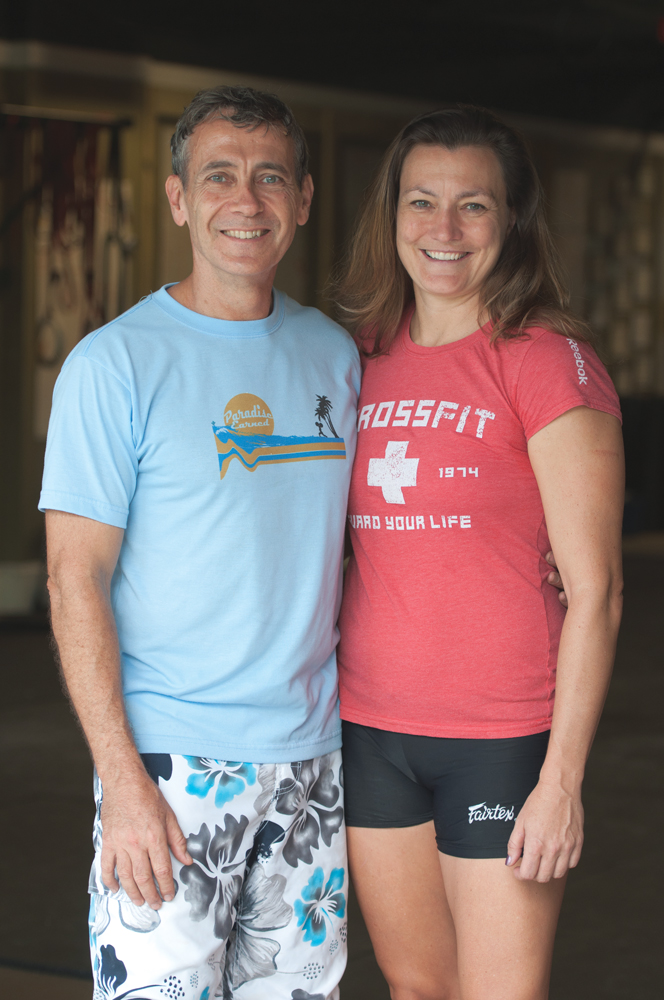 The thought process behind the grain-free and dairy-free diet is that our ancient ancestors did not cultivate wheat or milk cows. They lived off of meat, vegetables, nuts and fruit that they could forage. Creators of this so-called "Paleo Diet" believe the human body evolved over thousands of years to process nutrients from whole foods and lean meats—not Captain Crunch or sandwich bread that will keep for two months.
But for many at the gym, it is not the food that brought them in—it's the results. Realtor Bobby Johnson, an avid surfer, found the peace that he finds in surf within the timed workouts of the gym.
"You'll have seven minutes to do as many burpees as you can," he said. "Time slows. I promise you that is the slowest seven minutes you'll ever have. And I like that. I don't have my phone, I don't have time to think about anything or worry about anybody. It's just me and my seven minutes."
CrossFit exercisers work toward achieving results that give them powerful muscles that are not necessarily large, macho-man muscles. It's not about looking buff, it's about training across multiple disciplines to develop various skill sets like strength, agility, speed and endurance, which is probably why some people choose CrossFit over other workout regimens.
It's not about looking buff, it's about training across multiple disciplines to develop various skill sets like strength, agility, speed and endurance.
"I think the CrossFit lifestyle is for anybody, but not everybody," Tony said. "You have to find your inner superhero. Your inner bad ass. Everyone can do this, and I think they should, but not everyone will."
With fifteen different CrossFit locations from COLA 2 COLA, there are many other exercise enthusiasts who are proud to be a part of the CrossFit family. Damon Rudish, a member of CrossFit Fort Walton Beach and a member of the United States Air Force Reserves stationed at Duke Field, describes the CrossFit craze as, "a lifestyle of being healthy and getting me mentally tough for anything I encounter throughout my day. It makes me feel as if I can make it through anything."
He said that what gets people hooked on CrossFit is the environment at the gym, and knowing that a tough, but worthwhile workout is ahead when they walk through the door.
"At a CrossFit gym, you won't find the traditional treadmills and pec deck/butterfly machines," Rudish said. "When you walk into a CrossFit gym, you walk into loud music blaring, people climbing ropes, the sound of weights hitting the ground from Olympic weightlifting, people cheering/motivating/pushing each other to get through workouts. Or you might see people doing these crazy things called a muscle up or handstand push-ups."
Rudish sculpted the CrossFit gym scene further, describing it as a solid mix of Olympic weightlifting, gymnastic/plyometric movements, and running or cardio of some sort like jumping rope, doing burpees, or rowing. This combination of movements is done at a fast pace for high intensity to accomplish more-than satisfactory results, which is what these hardcore exercisers enjoy battling for as a team.
What's a grand addition to going to the gym and leaving with a butt-kicking workout behind you? Building friendships in the process.
"Everybody helps each other," Rudish said. "Plus, there are trained coaches that make sure you know what you're doing, so you don't hurt yourself or hurt anybody else."
CrossFit was a fitness find like no other. It has the ability to alter anyone's personal definition of what a workout is, whether the person is drawn to it through food or through results. Going to the local "Average Joe" gym to stand around waiting for a machine to open up or attend a group fitness class that only exercises a few of muscle groups is not going to provide someone with the results they can attain through CrossFit.
For more information on 30A CrossFit, visit 30ACrossFit.com, and to learn more about CrossFit Fort Walton Beach, go to crossfitfwb.com.
— V —
---
CrossFits COLA 2 COLA
CrossFit 5 Flags
4115 Warehouse Lane
Pensacola, FL
850-572-6879
CrossFit 8-Fifty
2447 Executive Plaza Dr., Suite 6
Pensacola, FL
850-501-3706
Razor's Edge Fitness-CrossFit Pensacola
42 E. Garden St.
Pensacola, FL
850-433-RAZR (7297)
Alpha Omega Sports Performance CrossFit
490 E. Heinberg St.
Pensacola, FL
850-377-1862
CrossFit Gulf Breeze
3106 Gulf Breeze Pkwy.
Gulf Breeze, FL
850-934-1260
CrossFit Navarre
1927 Ortega St.
Navarre, FL
850-373-2416
CrossFit Fort Walton Beach
29 Jet Dr.
Fort Walton Beach, FL
850-499-4654
CrossFit Miles Militis
100 North Lloyd St.
Crestview, FL
850-499-4654
CrossFit Crestview
5315 Shoffner Blvd.
Crestview, FL
850-826-4230
CrossFit Niceville
216 Kelly Rd.
Niceville, FL
850-376-2362
T3 CrossFit
1494 Hickory St., #9
Niceville, FL
850-333-4634
CrossFit Destin
36054 Emerald Coast Pkwy., #100
Destin, FL
850-650-XFIT (9348)
30A CrossFit
9961 East Highway 30A, #6
Seacrest Beach, FL
850-366-3226
Battleship CrossFit
7521 Holley Circle
Panama City Beach, FL
850-896-7739
Panhandle CrossFit
1331 Luverne Ave.
Panama City, FL
850-691-5150
ARTICLE CATEGORIES