Ideas for the Holiday Season
---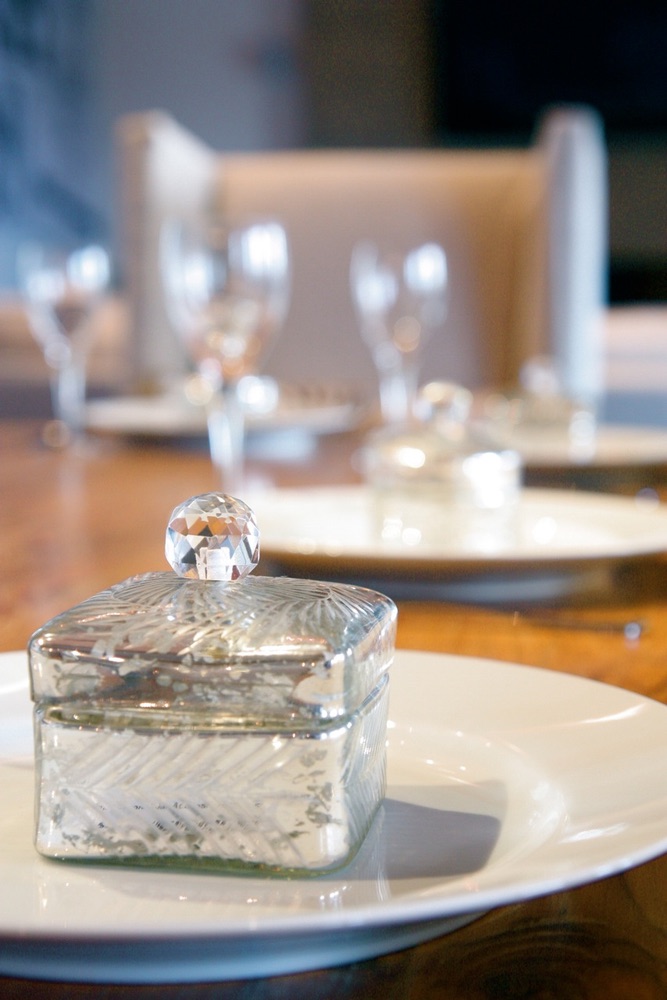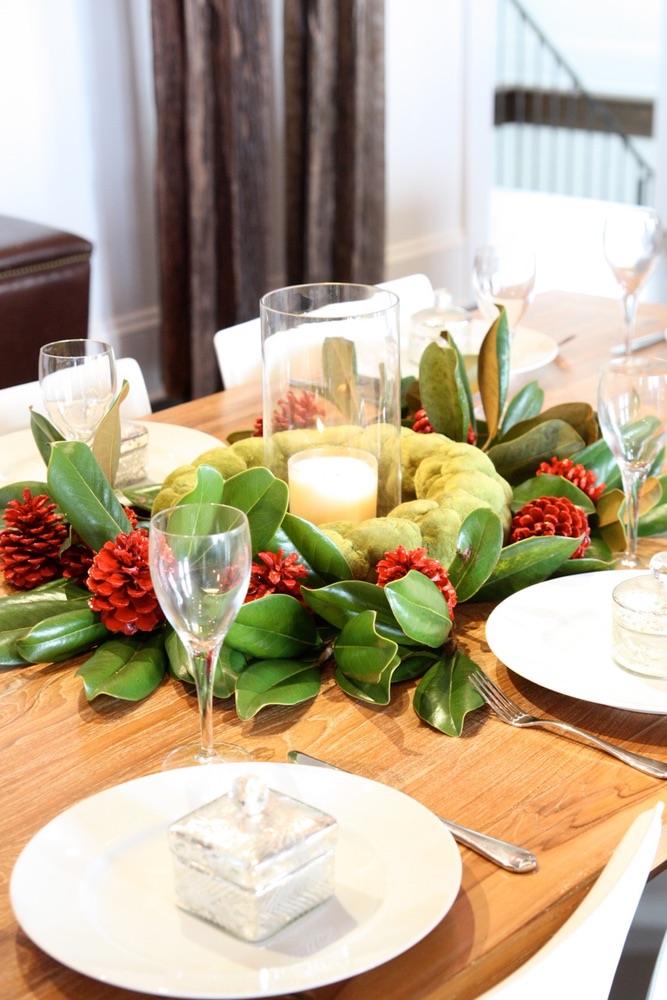 A Winter Wonder Tablescape
"Nature is always my source of inspiration for designing anything in the home. I love the variety of powerful colors and dramatic shapes found in the simplest of things, such as magnolia leaves. These luscious dark green leaves are the perfect complement to a creamy winter wonder tablescape. Being a Mississippi girl, I always favor magnolias. They make a dramatic statement and add an element of classic charm to any table setting. Paige (of Tracery Interiors) and I snipped indigenous wild magnolia stems and placed them in the center of the table, as if making a runner. For a punch of color, we spray painted pinecones from the woods in a festive Chinese red, and then dotted them in the sea of green. The simple yet sparkly party favor atop the plate shows beautifully against the pale palette. To add dazzle for a soiree, we weaved sparkly mercury glass votives within the grouping. Once you light the candles and pop open the wine, you have the perfect makings for a cozy winter dinner party."
—Seleta Hayes Howard
A TV personality turned designer, Seleta Hayes Howard left Atlanta for beachside living in Santa Rosa Beach. While she navigates the role of wife and juggles four children, Seleta manages to sprinkle life with "pearls and a splash of panache" via her blog, Simply Seleta, where she showcases daily inspirations for adding a fresh flair to creating a stylish home with a welcoming attitude.
---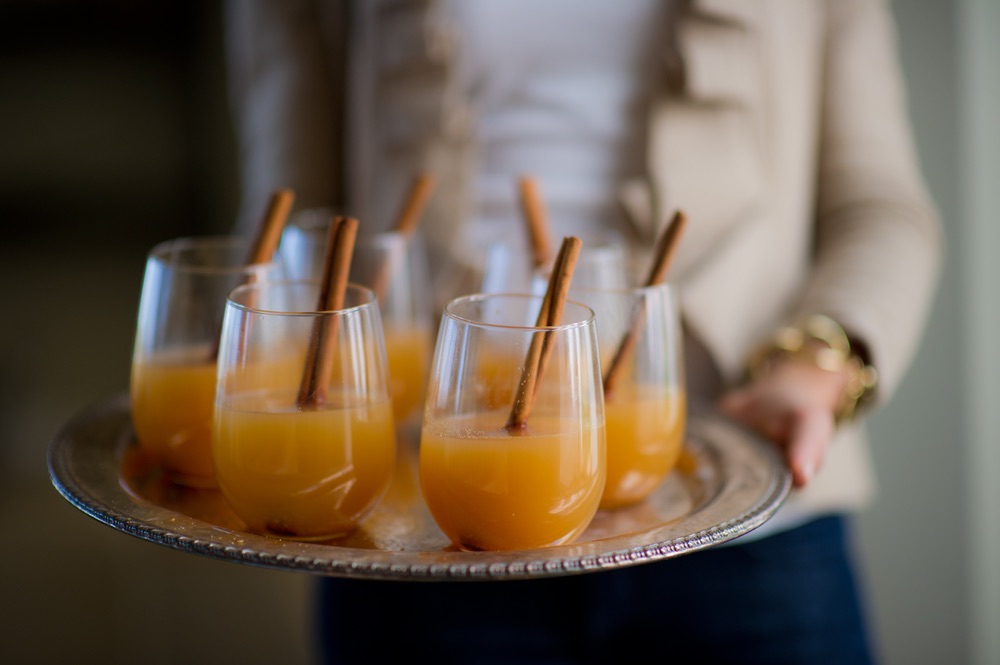 Cider + Cinnamon
"I love greeting holiday guests at the door with a tray of piping hot cider garnished with cinnamon stir sticks. It kicks things off on a festive note, and the warm, spicy scent wafting through the air provides a major dose of holiday cheer."
—Camille Styles
Camille Styles is the owner and creative director of CamilleStyles.com, a site with a mission to provide stress-free style and creative entertaining to its readers. She is also the event designer for Camille Styles Events of Austin, Texas. Image credits: Mike Bullock
---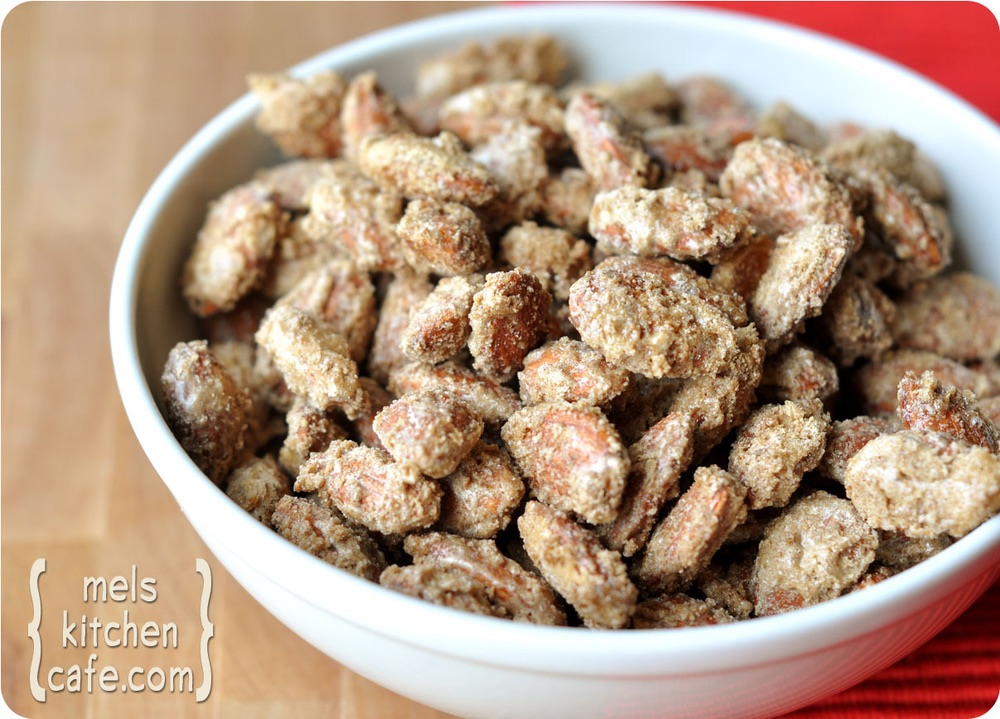 Candied Cinnamon and Sugar Almonds
"These absolutely terrific and easy cinnamon-sugared almonds are a staple around our house during the holiday season. I keep them in a cute glass jar for easy snacking and a perfect treat for when expected and unexpected company pops in. The almonds are coated in a silky cinnamon and sugar coating that turns crunchy and candy-like in the oven, making them positively addicting. Packaged in a cute tin or box and wrapped in a ribbon, they make a delightful, edible holiday gift."
—Mel Gunnell
Mel started her food blog simply as a way to categorize and keep her personal favorite recipes in one easily accessible place and to encourage her hobby of cooking and baking. Now, several years later, her blog still houses her favorite tried-and-true recipes as well as the new dishes and desserts she has made and loved. Mel's Kitchen Cafe features healthy recipes cooked from scratch with fresh ingredients.
Ingredients:
1 egg white 1 teaspoon cold water 1/2 teaspoon pure vanilla extract 2 cups unsalted almonds 1/2 cup packed light brown sugar 1/4 teaspoon salt 1/2 teaspoon cinnamon
Directions:
Preheat oven to 250ºF. Line a large (11- by 17-inch) rimmed baking sheet with foil and lightly spray with cooking spray.
1. In a large bowl, beat the egg white until stiff peaks form. Add the water and vanilla and beat again until stiff. Add the almonds to the mixture and stir gently to coat.
2. In a small bowl, mix the brown sugar, salt and cinnamon. Add this mixture to the almonds and stir gently to mix well.
3. Pour the almonds out onto the prepared baking sheet and carefully spread them out into a somewhat even layer. Place the baking sheet in the oven and bake for about an hour, stirring/flipping every 15 minutes, until the almonds look and feel dry. To check to see if the almonds are done, pick up an almond and make sure no wet sugar comes off. The coating on the almond should be hard and crunchy. Cool completely before serving or packaging.
*Makes about 2 cups of candied almonds
---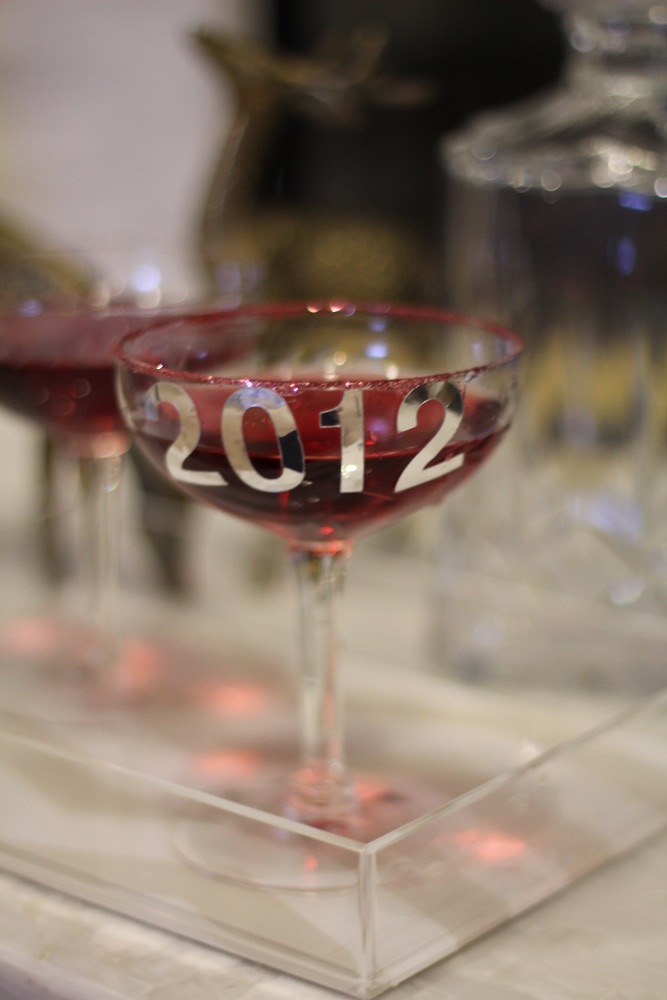 Glittery Champagne
"I adore experimenting with new recipes, whether for food or for drink, and have recently stumbled into my new favorite—pomegranate champagne. To make this, pour together 1/2 cup of pomegranate juice, 1 cup pear nectar, 1/4 cup Grand Marnier, and 1 bottle of champagne.  Delicious! I like to line the glasses with edible glitter for a touch of glamour during the holiday season. This also works as the perfect New Year's Eve cocktail—just purchase silver or gold adhesive numbers at your local craft store to decorate with 2012!"
—Sarah Tucker
Sarah Tucker is the author of the blog Fairy Tales are True, where she writes about everything from fashion and entertaining to her world travels with her husband. She is a native of Florida's Gulf Coast.
---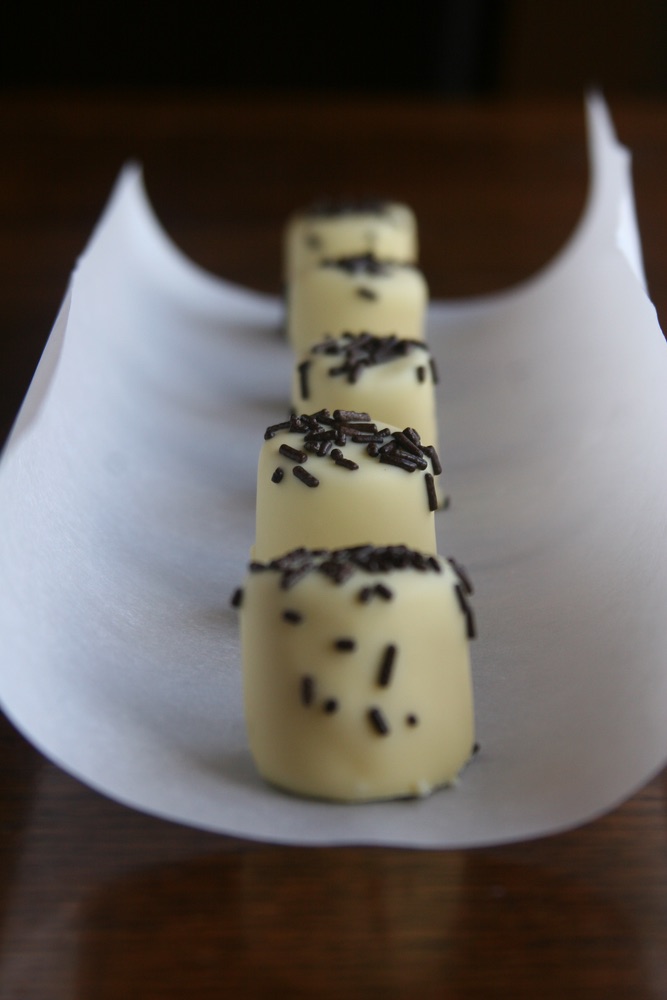 Chocolate-Covered Marshmallows 
"This recipe is one of my favorites to make during the holidays because it is incredibly easy but delivers impressive results. I like to wrap up a dozen of these beauties in a clear plastic gift bag to give to friends and family during the holidays."
—Madison Mayberry
Madison Mayberry is a 24-year-old Midwesterner and the voice behind Espresso and Cream, a website featuring recipes that reflect how she likes to eat: simple food made with quality ingredients and a whole lot of yum. Mayberry is a food editor at a large publishing company and can usually be found in her kitchen at night.
Ingredients:
24–30 large marshmallows 8 oz. white chocolate, chopped 2 tsp. vegetable or canola oil Chocolate sprinkles
Instructions:
1. Place chopped chocolate in a microwave-safe bowl. Microwave on high in 20-second intervals until chocolate is melted. Stir in the oil until well combined.
2. Drop marshmallows, one at a time, into the melted chocolate, using a spoon or a fork to be sure marshmallows are completely covered on all sides. Lift the chocolate-covered marshmallow with a fork and place on waxed paper or parchment paper. Top with chocolate sprinkles while chocolate is still soft.
3. Allow chocolate to harden, at least 2–3 hours. To speed up process, place in the fridge to harden. Store in the fridge until ready to eat.
---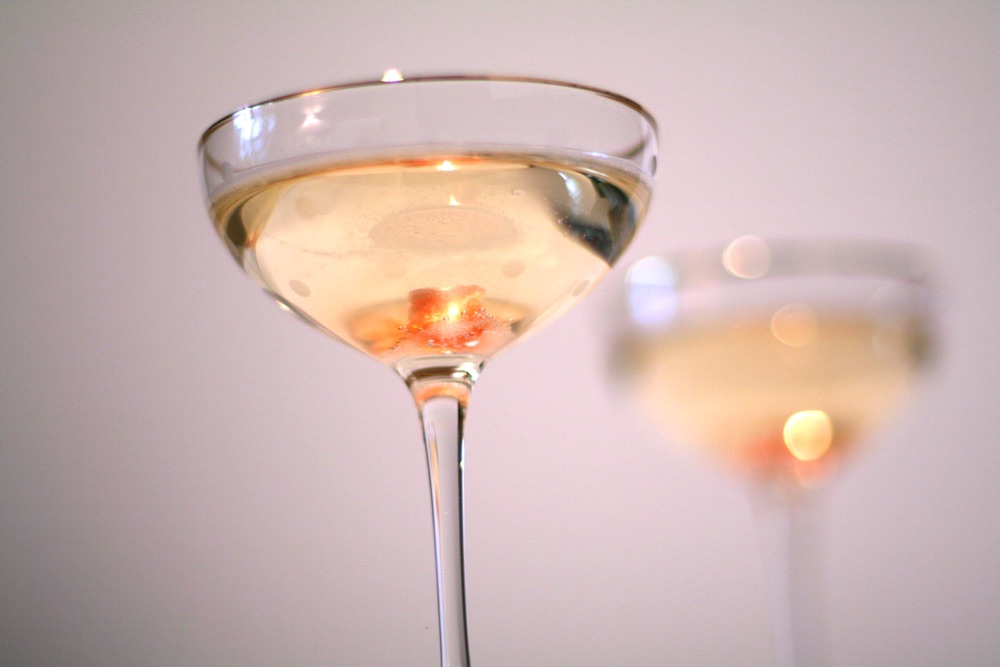 Keeping It Bubbly
"Create a signature cocktail for your parties and get-togethers. Since champagne cocktails are arguably the easiest and most glamorous option, they tend to be a hit at large get-togethers. If you have champagne that has gone a bit flat, a sugar cube (soaked in Angostura bitters for an extra twist) will actually help to reawaken the bubbles in a champagne flute and make it fizz once again. And since you can never fit a champagne cork back into an unfinished bottle once it is popped, you can keep it bubbly by placing a spoon handle down into the neck of the bottle and then placing in the refrigerator. My mom taught me this trick when I was very young after our New Year's Eve parties. I've now even bought a really pretty silver spoon just for this purpose."
—Em Weed
Em Weed is the author of the lifestyle blog, Hip Hip Gin Gin. Born in the Mediterranean and raised in the Midwest, she now resides alongside the New England coast. Image Credits: Em Weed
ARTICLE CATEGORIES