A Ripe Bouquet for Destin Charity Wine Auction Foundation
By Crystal Hamon
---
"A brand for a company is like a reputation for a person. You earn reputation by trying to do hard things well."
—Jeffrey Bezos, Founder, President and Chief Executive of Amazon.com
---
In June of 2009, the Destin Charity Wine Auction Foundation (DCWAF) decided to heed the old adage "Image is everything" and spruce up their brand. Cornerstone Marketing & Advertising, Inc. (CMA), which bills itself as The Idea Boutique®, was hired to create an image that would match the exponential success the charity has enjoyed since its establishment in 2005. As part of the Foundation's rebranding and strategic business plan, CMA unveiled a newly designed DCWAF website on December 18, 2009, that incorporates the charity's new logo and branding.
"Updating a brand is always challenging, but Cornerstone has made it a seamless experience for us," said Todd Vucovich, executive director of DCWAF. "They have taken our brand to the next level. On behalf of the needy children we help, we would like to thank them for their tireless support!"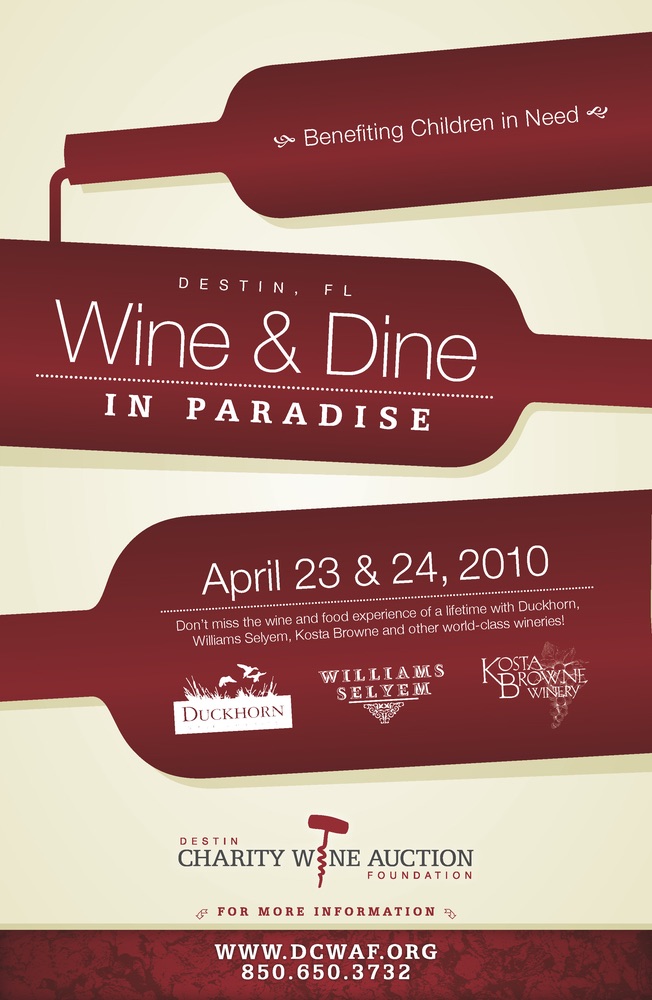 CMA happily serves a number of local nonprofit organizations and has continued to invest their services into worthy causes even through challenging economic times. "It is our great pleasure to work with DCWAF, as we know the good work that this charity produces for our community," said Lisa Burwell, president and founder of CMA. "I have been amazed at how this organization continues to raise funds despite the weakened economy. This phenomenon is a testament to their dedication and success."
The Idea Boutique's creative team, including the vice president of creative services, Bob Brown, and art director Eric Shepard, created the branding that has been implemented in DCWAF's latest annual report, collateral materials, and the newly designed website at www.DCWAF.org. The new look was crafted in order to achieve a level of sophistication and prestige that reflects the success and ability of this organization.
"To cultivate a unique and refined image for DCWAF, we purposed to avoid common elements typically used in branding wine events," said Shepard. "We gravitated toward the corkscrew—a tool with a singular purpose—as an iconic symbol to represent the charity's focused vision."
In just four years, what began as a good idea has grown into one of the most successful charitable organizations on the Emerald Coast, raising more than $3 million for local children in need. DCWAF's success is especially noteworthy given the national economic slump and the fact that wine auction revenues across the country have dropped significantly in the last year. Defying the odds, DCWAF raised $100,000 more in 2009 than in 2008. "The rebranding is intended to assist this organization in garnering grant monies and to make inroads with chefs and vintners worldwide," added Burwell.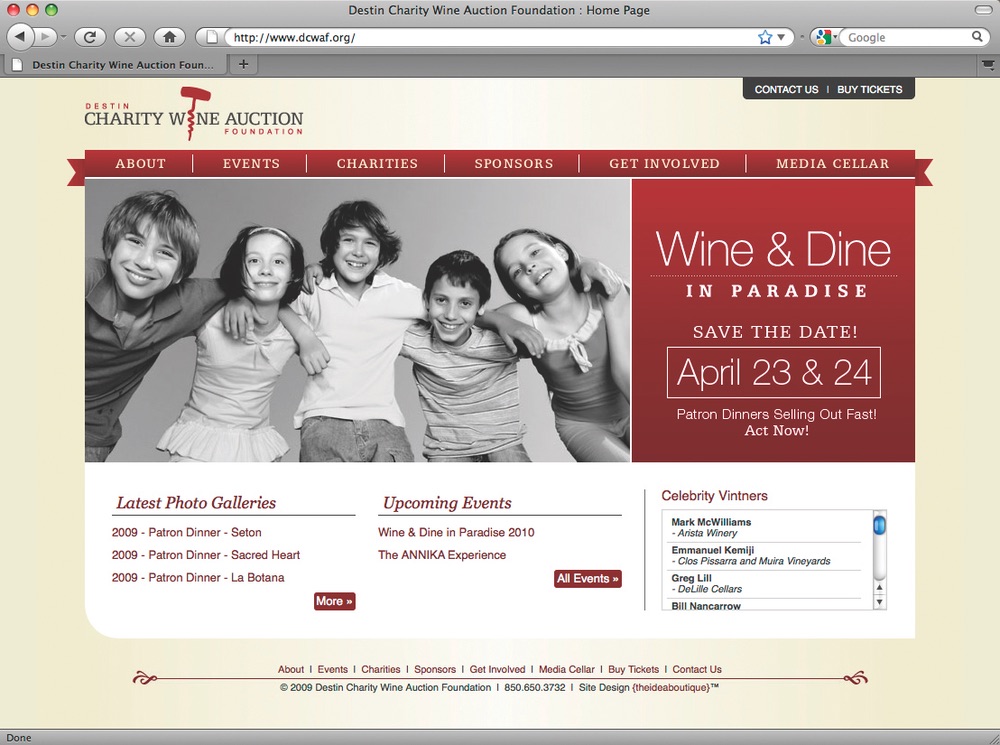 DCWAF has hosted some of the region's most prestigious culinary events in one of the world's most beautiful locations, all while helping children in the local community. The rebranding and new website will serve as useful tools to aid in the philanthropic goals of DCWAF. "We are excited that the new brand will enable us to seek funds from new revenue streams, allowing us to build on the good work we have started," said Chan Cox, visionary and founder of DCWAF.
DCWAF's Wine & Dine in Paradise weekend, the region's premier event for wine enthusiasts and philanthropists alike, is coming up April 23–24, 2010. Some of the Emerald Coast's most exquisite homes will set the stage for patron dinners on April 23, each of which will feature a nationally recognized chef paired with a world-class celebrity vintner. The following day, DCWAF's famed Walkabout and Auction will be held at the beautiful Sandestin Golf and Beach Resort. Featuring distinctive wines, fine cuisine, and live music, guests will enjoy a silent auction as they dine, culminating in the exciting live auction, where guests will bid on rare wines, specially designed getaways, and other unique items.
"We are way ahead of the game this year with patron reservations for our annual Wine and Dine in Paradise event, no doubt in part to our new beautifully designed marketing materials!" said Lauren Magli, events coordinator for DCWAF. "I want to extend a big 'thank you' to the entire Cornerstone team for all of their hard work. We really appreciate the amazing job that they have done for us!"
— V —
---
For more information about the Destin Charity Wine Auction Foundation, please visit www.DCWAF.org.
DCWAF's beneficiary charities for 2010 include: Children in Crisis, Inc. Sacred Heart Hospital on the Emerald Coast The Mattie Kelly Arts Foundation Ronald McDonald House Charities of Northwest Florida, Inc. Youth Village Children's Volunteer Health Network, Inc. Shelter House, Inc. Junior League of the Emerald Coast's Child Clothing Project Pathways for Change
ARTICLE CATEGORIES