New York Mercedes-Benz Fashion Week Fall 2014
By Annie Foley | Photos courtesy of Mercedes-Benz Fashion
A trip to New York City alone will get this girl going, but to be able to attend Fashion Week was the icing on my career in fashion! So, no polar vortex, no record-breaking snow, and no crippling ice storms were going to keep us away. (Yes, I knew exactly what to pack: my vintage Philip Treacy leopard print hat and the coats by Lainey Keogh and Strenesse—I must have had a premonition of attending Fashion Week decades ago when I bought these!) In the end, the fashion gods overruled all others and we arrived safely and without delays.
Nowhere else does time vanish as quickly as it does in New York City. The moment we arrived at John F. Kennedy International Airport we were whisked off as if by a jet stream! I was joined by vivacious Fashion Week veteran Jordan Staggs of VIE and fashion designer Nicole Rockhill of the Nicole Paloma label and boutique. Charged up on the electricity that is NYC, we powered along. If the streets are arteries, then the heart of the city is Lincoln Center, where all traffic circulates during Fashion Week. Camera shutters swished, swirled open, and closed as their handlers mobbed fashion show attendees showing off their finest. Trends were documented and broadcast straight from Lincoln Center and the streets outside it. Nothing is ever over the top and everything is celebrated for the fabulousness that it is—originality is just the coolest in my book!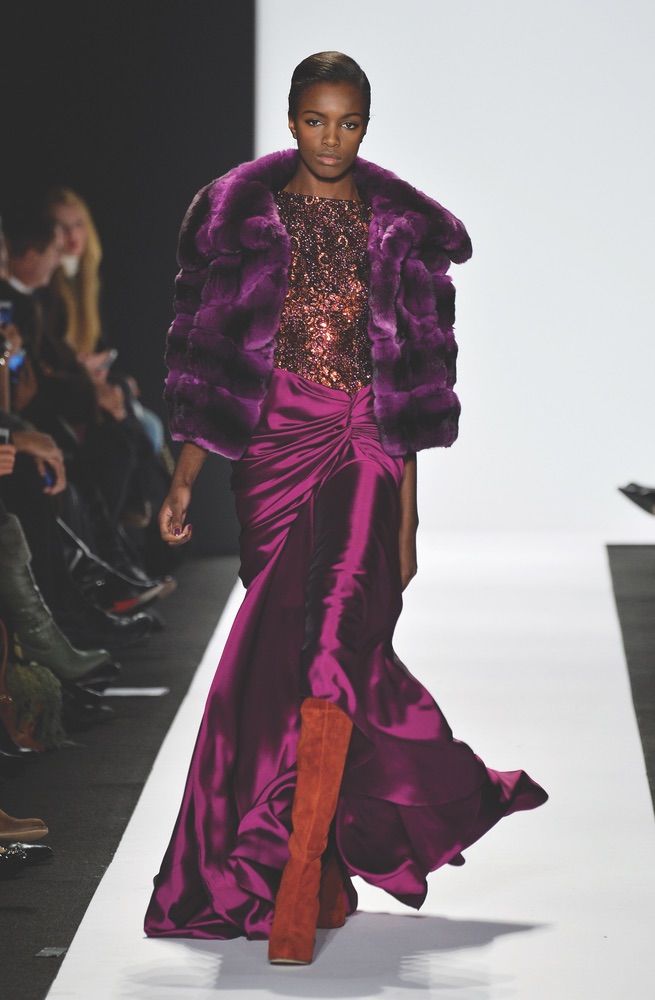 Fashion Overload? Yes, Please!
The menu for day one offered delectable delights of the zero-calorie kind, and who were we to resist any of it? We nibbled a bit and became ravenous for more. Are we doomed to a life well beyond our means? Perhaps. "It's better to live beyond your means than beneath your standards," according to the ever-fashionable Miss Piggy. We are officially fashion junkies.
We staged our days according to the shows and, between the three of us, attended a total of twenty in three days, sharing the venue with such attendees as Anna Wintour, Glenda Bailey, Joe Zee, Grace Coddington, Suzy Menkes, Lynn Yaeger, Hal Rubenstein, Linda Fargo, Emmy Rossum, Sofia Coppola, and Dita Von Teese. Then there were the models—Coco Rocha and Karlie Kloss—and the 2013 pageant beauties Erin Brady, Gabriela Isler, and Cassidy Wolf.
The shows we viewed were Carolina Herrera, Dennis Basso, Badgley Mischka, Anna Sui, Betsey Johnson, Milly, Kaufmanfranco, Naeem Khan, CZAR by Cesar Galindo, Mathieu Mirano, Noon by Noor, Angel Sanchez, Nanette Lepore, Ricardo Seco (men's), Libertine, Bibhu Mohapatra, Skingraft, Lie Sang Bong, and—the finale to our memorable trip—Zang Toi.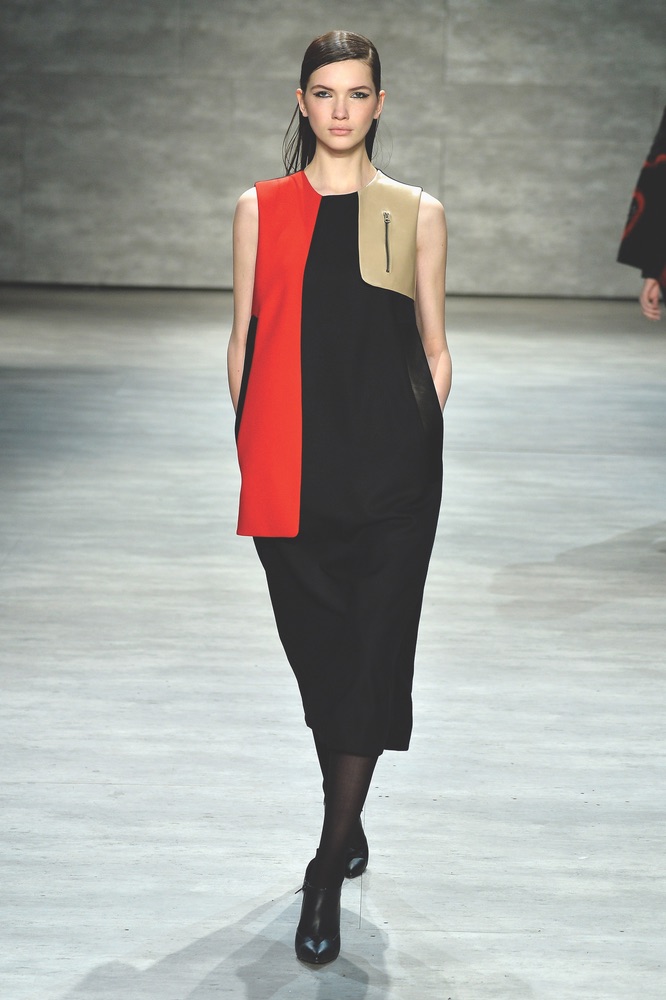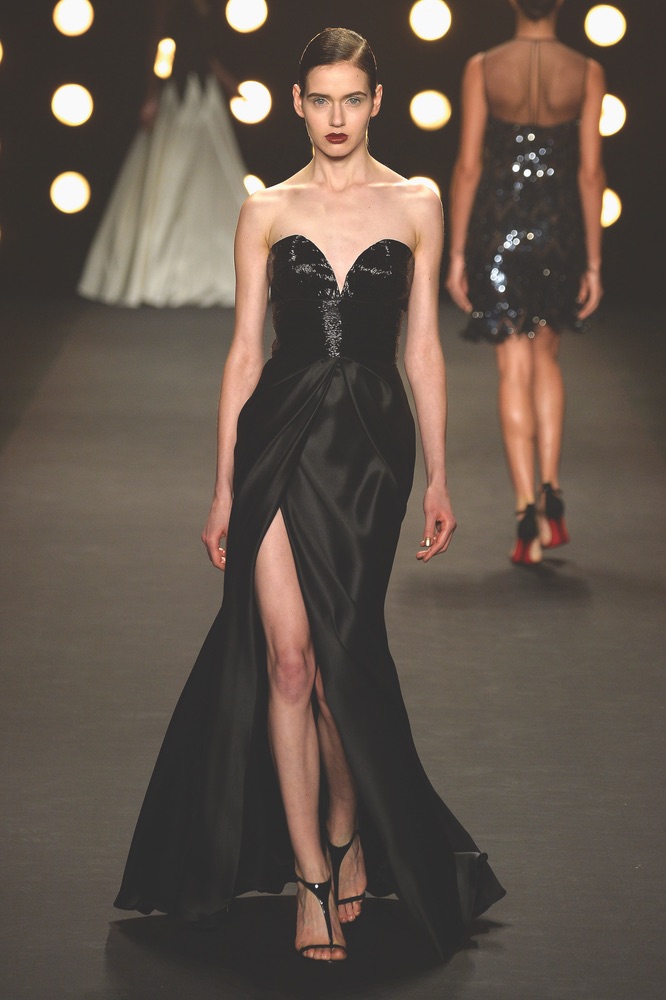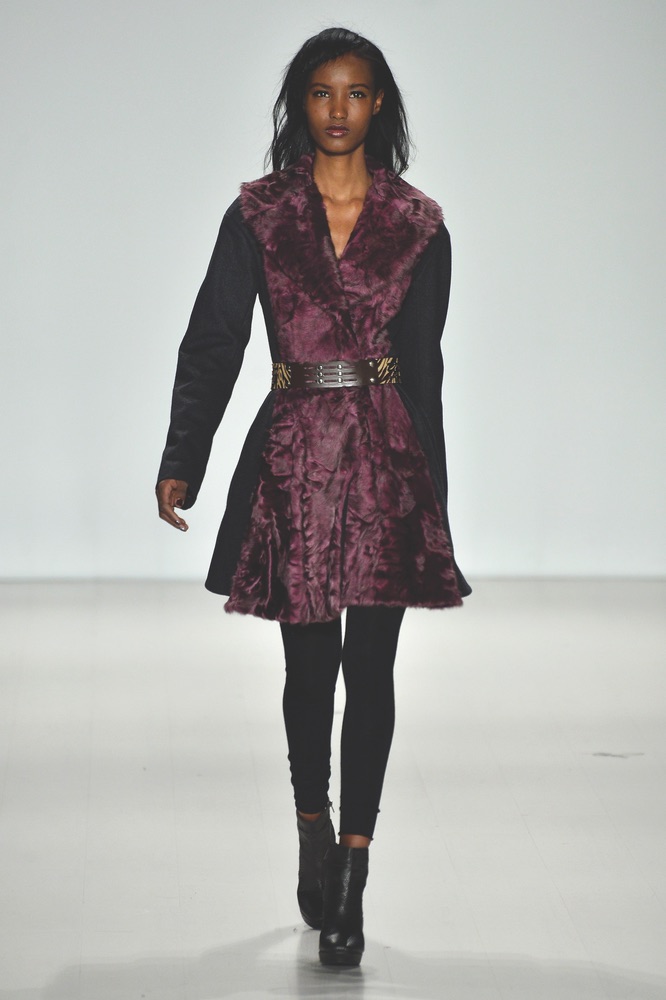 Designers such as Donna Karan, Calvin Klein, Alexander Wang, Ralph Lauren, and Michael Kors chose independent venues elsewhere in the city, keeping Fashion Week an exclusive industry party; only invitees had the privilege of viewing the collections of dreamy clothes over which these designers and their teams had labored for months. We sat front row on the catwalk a few times (there are three different venues at Lincoln Center) and were on our best behavior. Bravo to the gorgeous models, both the neophytes and the perennials! They presented the brands beautifully: gracefully balanced on four- and five-inch heels, surrounded by music, lights, cameras, and a zillion pairs of eyes—and all while keeping it fun and fabulous. I watched in wonderment and disbelief (Pinch me—am I really here?).
The hair and makeup teams did a sublime job backstage, as did the stylists and the dressers. What a tremendous group effort! The preparation and coordination of every show went beyond efficiency. Fashion Week seems as well organized as any live theater show on Broadway. The brilliant work by the photographers and videographers was available instantaneously as shows went live for the online masses worldwide. The massive Instagram board in the waiting area for the venues entertained us by broadcasting continuous snaps and videos from attendees as we waited in between shows.
As New Yorkers fought subfreezing temperatures on the sidewalk runways of Manhattan, we were inside viewing fantastic fall fashions and secretly wishing we had packed furs. Indeed, designers had answered the call for fur with every conceivable silhouette, color, and texture. Whether the look is ladylike or saucy, rock 'n' roll glam or boho luxe—or out-and-out lavish—fur these days is much more than just granny chic. Furs and pelts such as mink, Mongolian lamb, lynx, and sable are soaring to great heights of popularity along with laser-cut, perforated, and quilted leathers, and designers are creating modern yet feminine silhouettes to feed the frantic appetites of their customers.
Masters of Style
Some of the more memorable highlights for me were a form-fitting, laser-cut leather dress from CZAR by Cesar Galindo; the furs and the "brushstroke" dresses from Dennis Basso; and at Bibhu Mohapatra, the black matelassé tuxedo dress shown with a reversible coat of lichen-green suede and long hair mink, the frost swakara coat over an icy satin strapless gown with wool lace detail, and a strapless ball gown done in a print evocative of a landscape at dusk.
Carolina Herrera stunners included a short jacket with fur cuffs and hem, a fur top with a full-length silk skirt, and the final look, presented by Karlie Kloss—a red gown embroidered with geometric embellishments.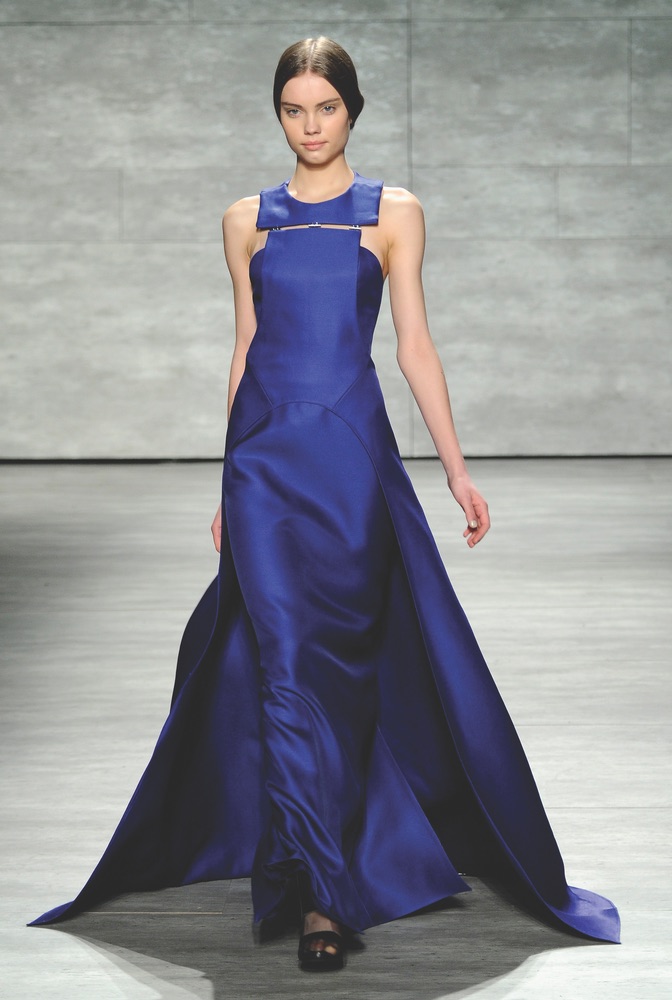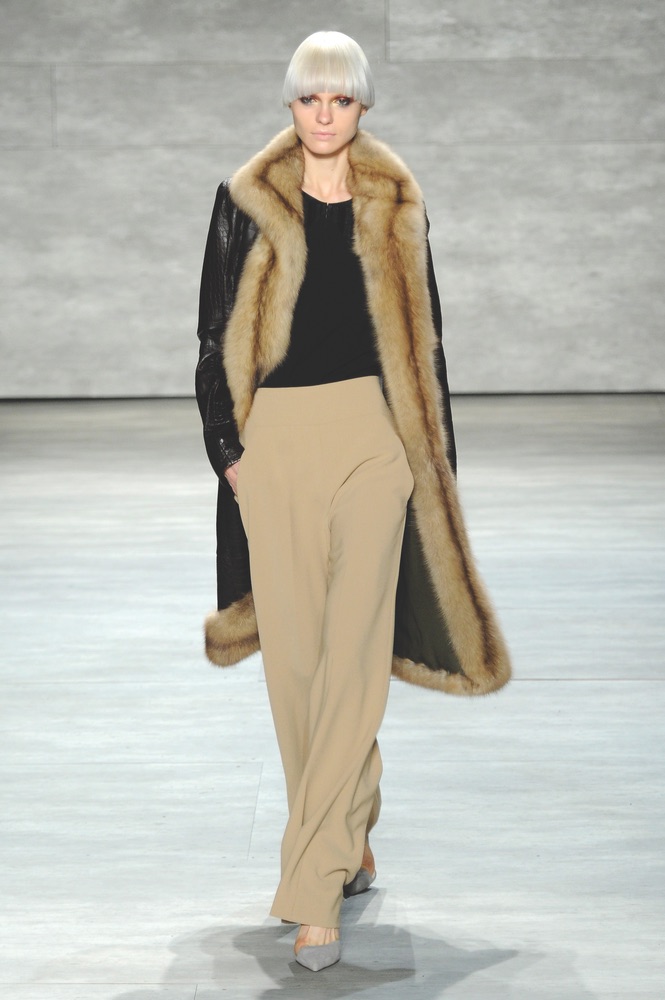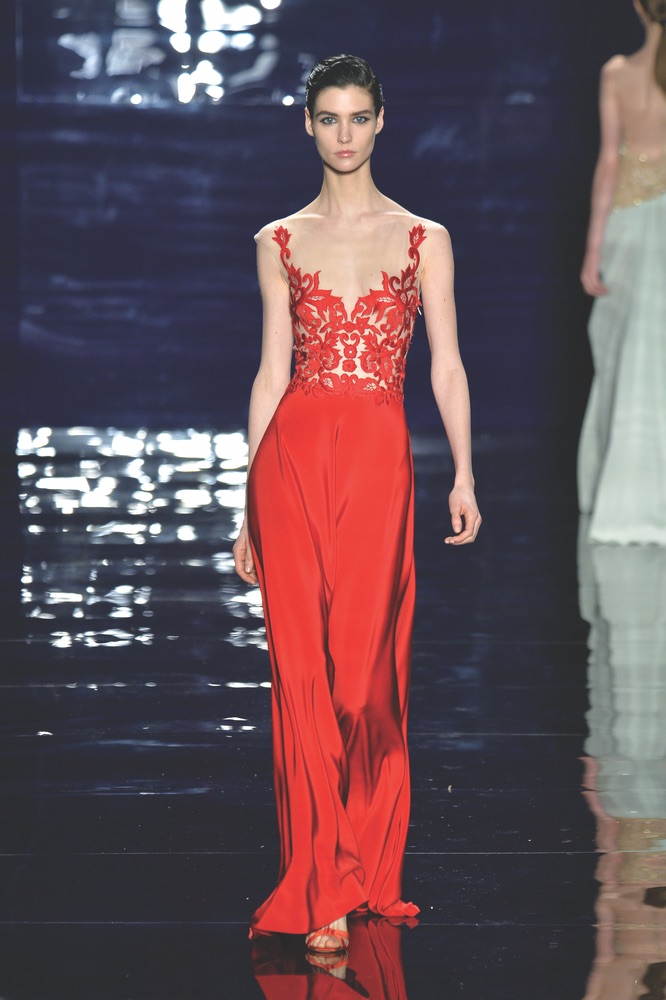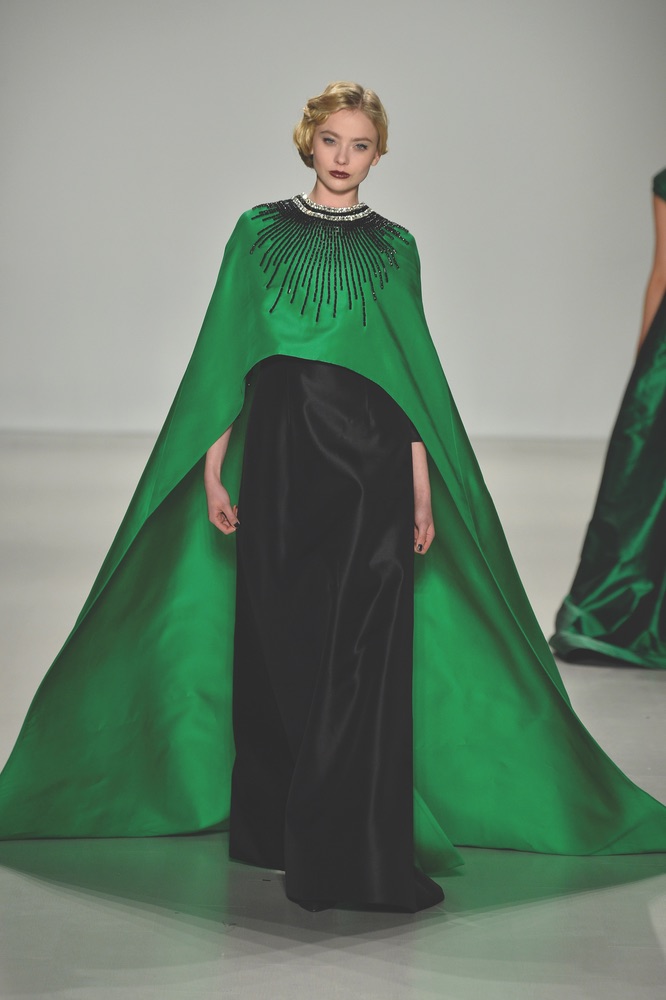 Badgley Mischka summed it all up with their gowns, some of which were inspired by Austrian artist Gustav Klimt, while the opulence and drama at Zang Toi included to-die-for fox stoles to dress society gals of all ages. From the gorgeous garments to the dramatic presentation, the show was splendidly beautiful. Bravo to the master showman, Zang Toi!
The show that blew me away, however, with impeccably cut clothing, perfectly presented, choreographed, and styled with hair and makeup—in short, the whole package—would have to be Kaufmanfranco. They had me from the first look, a minimalistic white wrap dress. I loved all of their offerings: the black, the white, the large herringbone patterns, the glacial blue leather, and the gowns in liquid silver and in black.
On-Trend
The color red took center stage at many presentations, as did grays, jewel tones, and the usual black. Metallics, such as gold and silver, made a few appearances, and so did bright white, mustard yellow, lilac, jade green (a longtime favorite at Zang Toi), and modern digital prints that could brighten any gloomy winter day.
Neoprene was shown at Lie Sang Bong and Noon by Noor in very sporty pieces including sweatshirts, tops, and coats with puffed-out sleeves—ultramodern and youthful! Other frequent looks were capes, culottes, pants—full, skinny, cigarettes, and leggings—parkas and jackets of all lengths, oversized cardigans, little black dresses, gowns, and faux and genuine fur coats.
Why would anyone battle the brutal New York winter to view shows that probably last about fifteen minutes each? Because people will support who and what they love. It is a chance to come together and celebrate our common passion and livelihood—fashion. So cheers! Time is fleeting, and these moments will forever be highlights of my career.
Fashion thrives when you, the consumer, are excited and inspired to make that oh-so-important purchase. Designers are vying for the number-one spot in your hearts and closets, after all. Fashion supporters should remain united.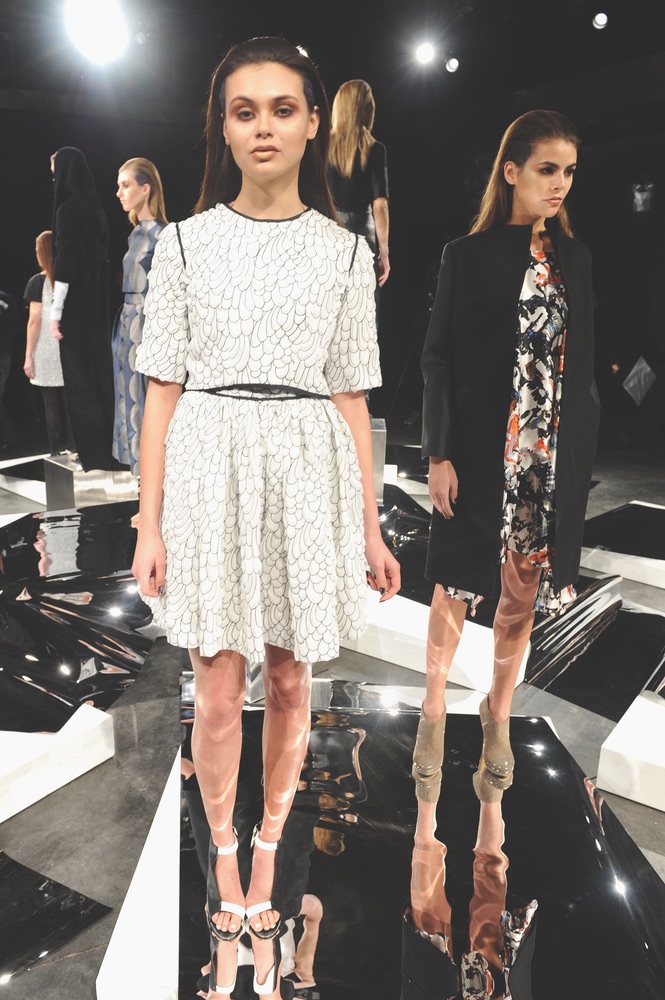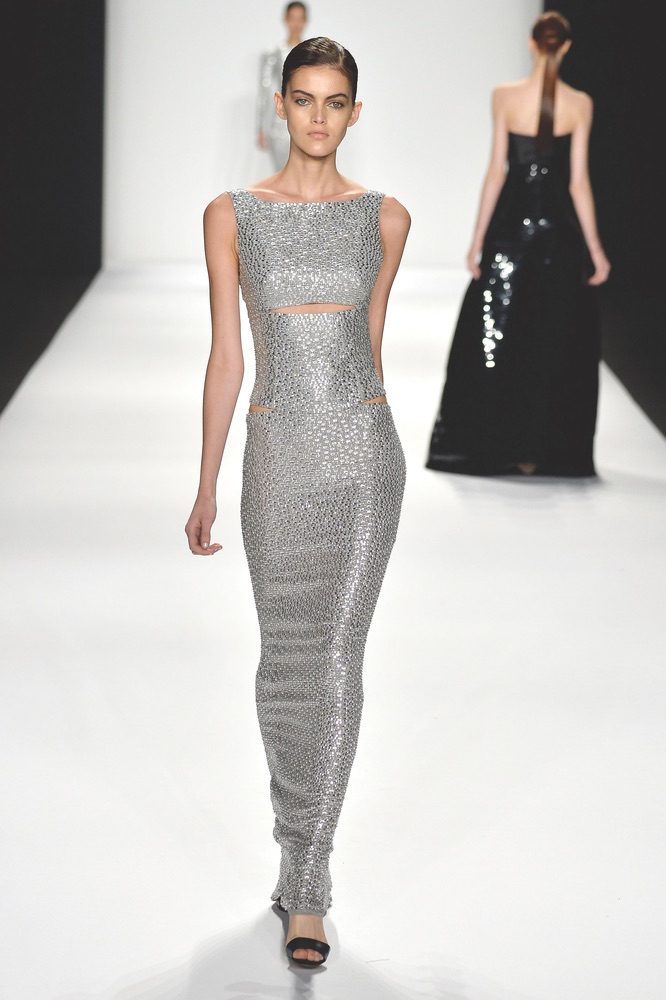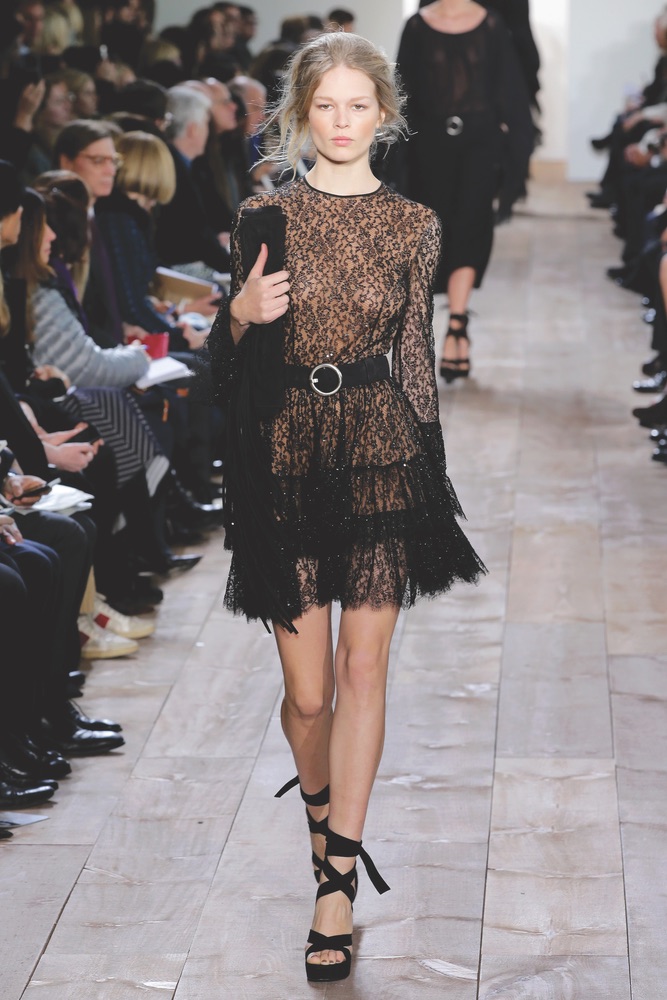 I cannot imagine my life without fashion: it is all-inspiring and so necessary for my soul. There are countless times when it has come through for me. It has helped me secure a career, a husband, lots of friends, and—most important—my joie de vivre. Images of the four days spent together with Jordan and Nicole at Fashion Week will forever replay in my mind and instantly put a smile on my face: trekking in subzero temperatures in that brutal, lashing wind from our apartment to Lincoln Center, all the while chitchatting and laughing (mostly at ourselves); swapping wardrobes (Thanks, Nicole, for the borrowed 411 fireman's badge necklace from Adorn by Samouce!); practicing our poses for impromptu photo ops; more laughing at and about ourselves; taking excursions to Bergdorf Goodman, to the East Village to attend a men's show by Ricardo Seco in a historical church with strikingly colorful stained-glass windows, and almost to SoHo as we were beaten by the weather and wind chill and had to retreat to the famous Katz's Deli.
I almost made it to the Guggenheim and MoMA, but thanks to the crippling weather, I had to escape the city a day early. I'll take a rain check.
Long live American ready-to-wear!
Peace, Love, and Fashion,
—Annie
— V —
ARTICLE CATEGORIES