Destinations to Fall For
This year, the pandemic has upended travel plans for many of us, but as the United States adjusts its regulations and people prepare to discover new places, it seems drivable destinations are preferred. The chill of autumn means celebrating sweater weather, picking apples, and admiring the red, orange, and yellow hues that take over the trees this time of year. As you think about a weekend getaway or an unconventional family holiday trip, we hope you'll find some inspiration from this list of fall road trip ideas, including where to stay, eat, and play!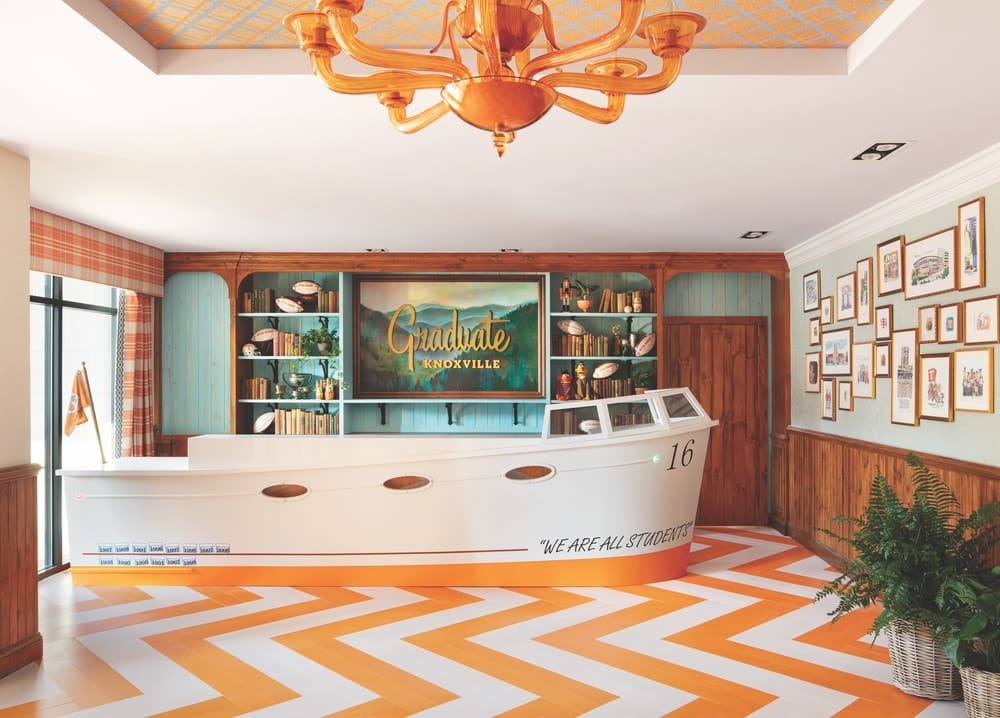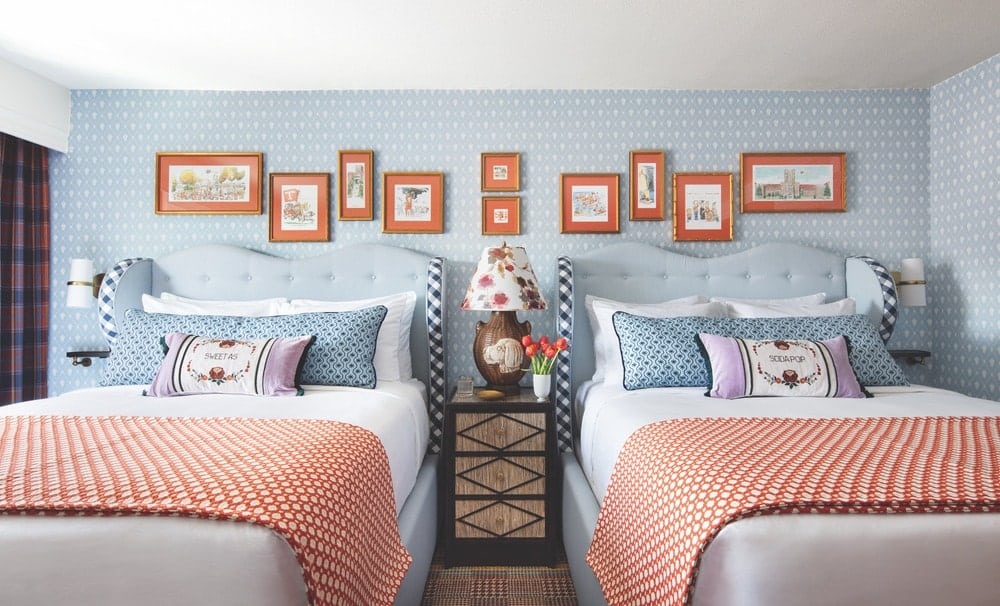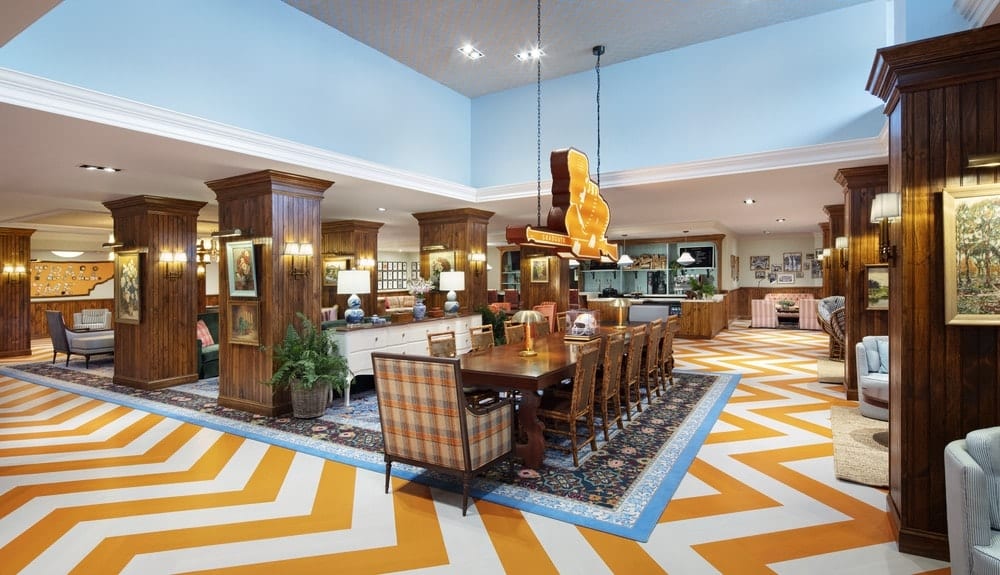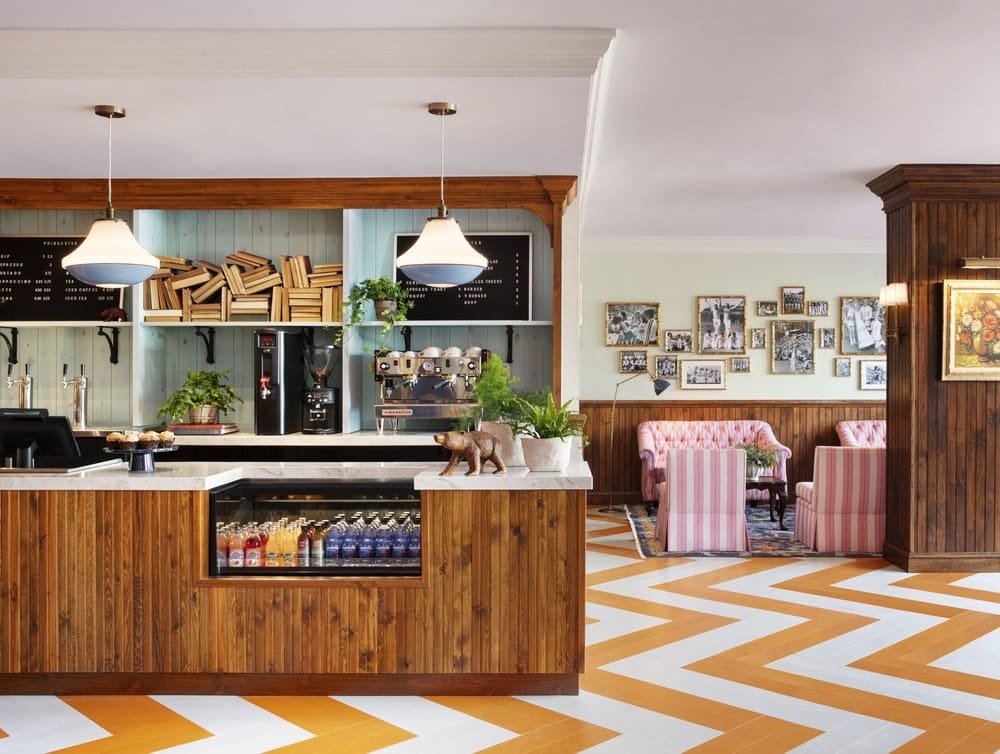 Knoxville, Tennessee
Where to stay: Graduate Knoxville
1706 Cumberland Avenue
GraduateHotels.com/knoxville
A college town nestled in the Smoky Mountains of East Tennessee, vibrant Knoxville is the perfect place for a Southern getaway in the fall. The mountain landscape provides a backdrop of fall foliage and the opportunity for outdoor activities. At the same time, downtown's historic buildings house great restaurants, art galleries, and shops, all of which can be enjoyed in a socially distant manner. Nature lovers, don't skip the nearby Big South Fork National River and Recreation Area, where you'll find hiking trails, camping, stables, and plenty of recreational outfitters to customize your adventure on the Cumberland Plateau. Head to VisitKnoxville.com to learn more and start planning your trip.
Visitors can embrace the University of Tennessee spirit by staying at the recently opened Graduate Knoxville, which serves as a love letter to the school's tradition and legacy. Located right on the Strip (the city's most lively spot), Graduate Knoxville is just steps from the university and Neyland Stadium. The hotel is inspired by Rocky Top lore and bursting with Big Orange pride. It is also home to Saloon 16, a high-end watering hole opened in partnership with Peyton Manning.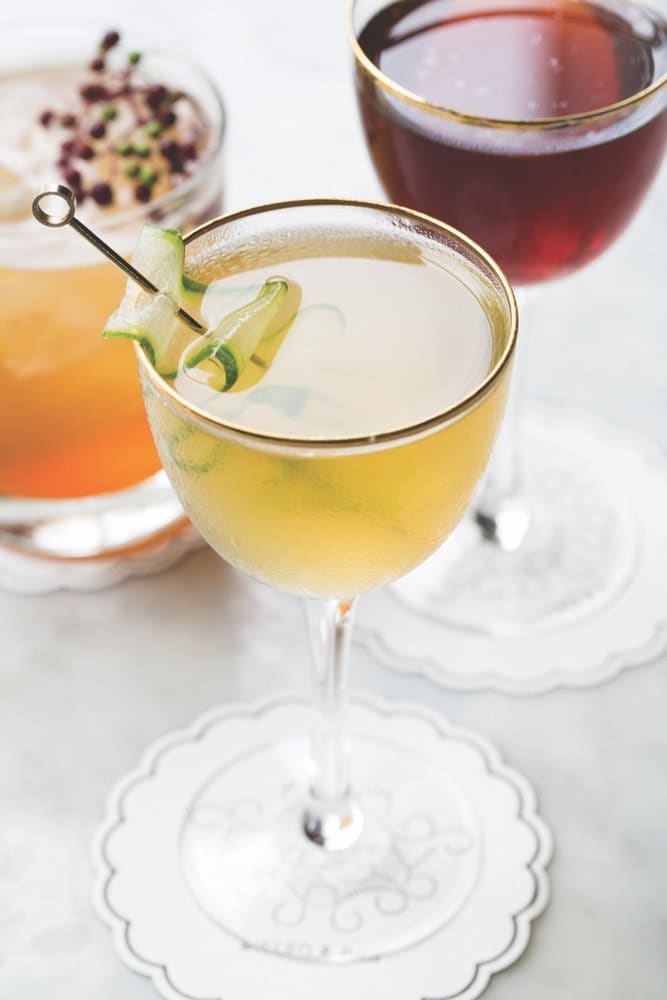 Chattanooga, Tennessee
Where to Dine: Main Street Meats
217 East Main Street
MainStreetMeatsChatt.com
Highlights in scenic Chattanooga include endless parks and hiking trails for enjoying the fall weather and foliage, a vibrant downtown full of shops and entertainment, and the Tennessee Aquarium, which is home to over ten thousand marine animals and includes an IMAX theater. The Hunter Museum of American Art, built on a ninety-foot limestone bluff overlooking the Tennessee River, comprises a 1905 classical revival mansion, a low-slung 1970s building, and a 2005 contemporary structure. Inside, visitors can enjoy one of the country's finest collections of American art, dating from the colonial period to the present day and covering a wide variety of media, including painting, sculpture, contemporary studio glass, and crafts. Explore more at VisitChattanooga.com.
After a day of exploring, you will be hungry. Both a butcher shop and a restaurant, Main Street Meats in Chattanooga's Southside neighborhood is the way to go. The area is alive with thriving retail and residential developments rooted in the foothills of the Appalachians. Visitors can enjoy lunch or dinner, with favorites such as the Butcher's Selection of cheeses and meats, local beef burger, MSM pastrami Reuben, half chicken and mac 'n' cheese, and seared Pickett's trout fillet. Additionally, a rotating list of craft beers, wines, and cocktails are offered, along with a curated retail selection of meats, cheeses, and artisanal products, all based on the season.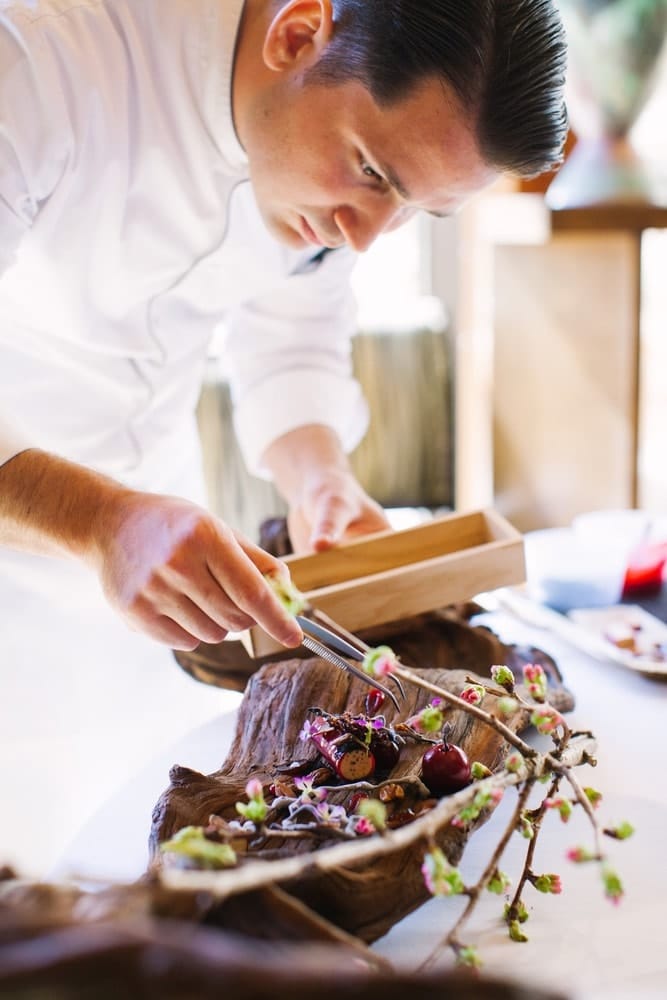 Cary, North Carolina 
Where to Stay: The Umstead
100 Woodland Pond Drive
TheUmstead.com
With over thirty parks and natural areas, as well as a greenway system over eighty miles long, Cary is an outdoor lover's dream and the perfect home base for experiencing some of North Carolina's most beautiful fall scenery. During your explorations, keep an eye out for plenty of public art, including nearly fifty cited installations of sculpture, murals, gardens, and more. Map them all and discover much more when you visit TownofCary.org.
As the leaves start falling, The Umstead, North Carolina's highest-rated hotel, offers a fall getaway experience like no other.
Tucked into twelve acres of woodlands overlooking a private lake, The Umstead lies near the protected forest setting of the William B. Umstead State Park. As the leaves start falling, The Umstead, North Carolina's highest-rated hotel, offers a fall getaway experience like no other. It boasts stunning interiors accentuated with a privately curated fine art collection, 150 guest rooms and suites with gorgeous nature views, an eco-friendly spa, a dog park, and a gift shop filled with unique local finds. A Dale Chihuly sculpture greets guests as they enter the lobby, and artistic, fresh flower arrangements provide pops of color throughout the space. Don't miss world-class cuisine by Chef Steven Greene at Herons, where he incorporates home-cultivated and handpicked produce into each day's menu.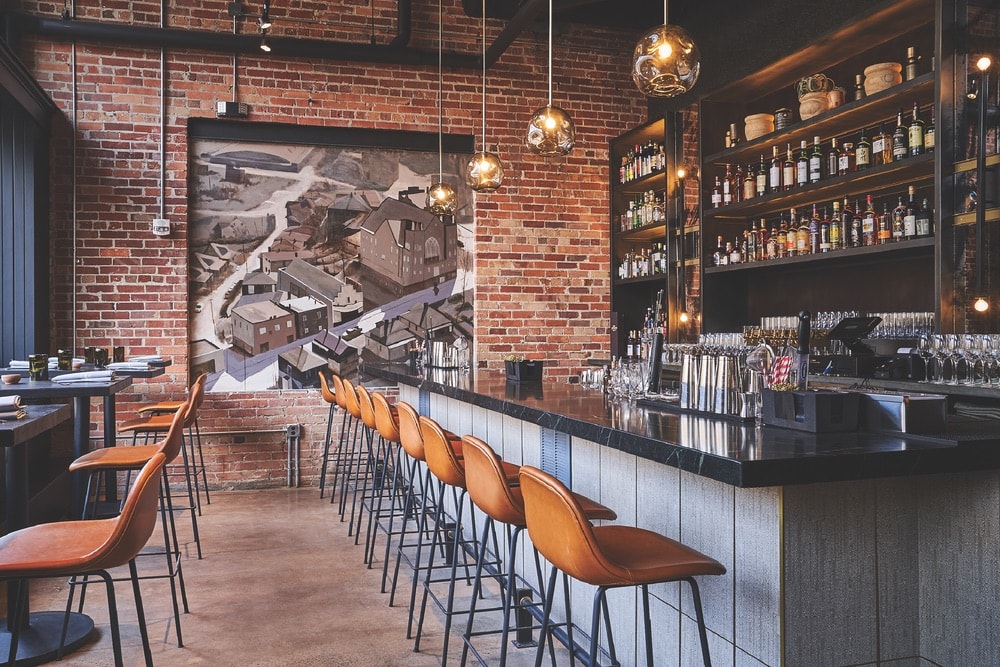 Asheville, North Carolina
Where to Dine: Benne on Eagle
35 Eagle Street
BenneonEagle.com
Asheville's potential knows no bounds when it comes to attractions, from the famous Biltmore Estate and North Carolina Arboretum to the Pisgah National Forest and everything in between. If you visit closer to Christmas, be sure to take a walk through the charming shops and cottage-style architecture of the historic Biltmore Village. Munch on delicious bites and coffee or hot cocoa from Well-Bred Bakery while you discover art galleries and locally owned boutiques. Don't forget to head for the Olde World Christmas Shoppe to start your holidays right! Visit ExploreAsheville.com to learn more.
For visitors looking for a one-of-a-kind dining experience during their road trip retreat, Benne on Eagle, the premier dining establishment at The Foundry Hotel, is the perfect place to stop. The restaurant comes from a five-time James Beard Award–nominated chef, John Fleer, and his rising-star chef de cuisine, Ashleigh Shanti. With dishes like potlikker-braised chicken wings with chow-chow, crispy quail with hot water cornbread, sauce beautiful, and crowder pea salad, and forever-roasted pork and benne seed biscuits, the cuisine pays tribute to the impact of African American cooks on Appalachian food throughout the centuries. Fleer and Shanti use seasonally available bounty and ingredients reminiscent of the past to wow guests time and again.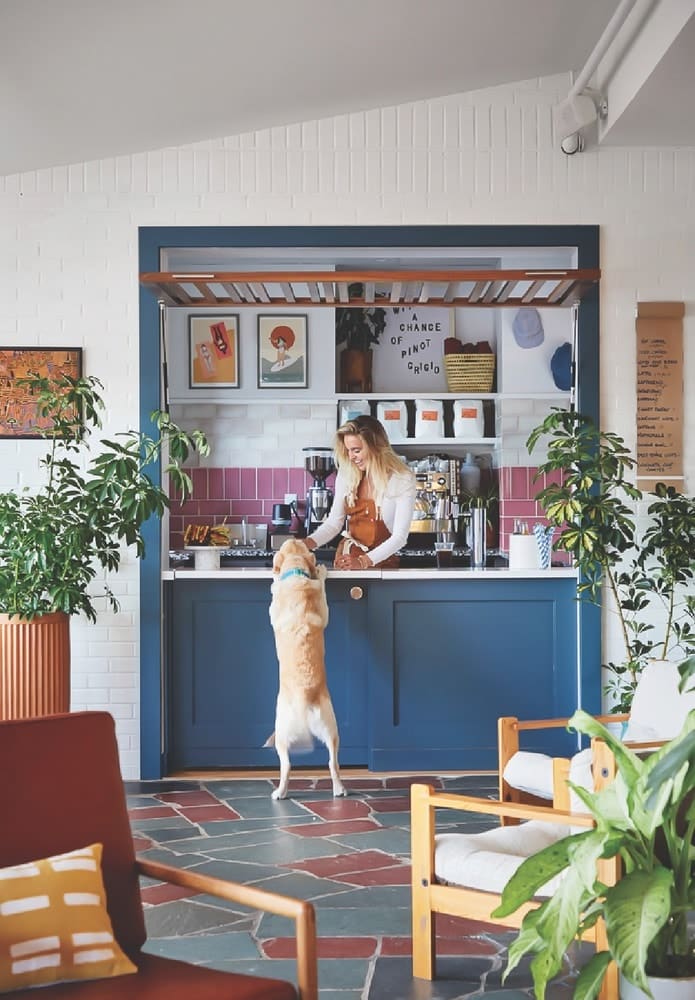 Newport, Rhode Island
Where to Stay: The Wayfinder Hotel
151 Admiral Kalbfus Road
TheWayfinderHotel.com
Fall on the Classic Coast might look a little different this year, but it's abundantly the same in some ways. Nights are cozy, the autumn days are crisp, and the foliage colors are vibrant along the area's cobblestone paths and tree-lined streets. With social distancing in mind, visitors can still enjoy classic fall activities like corn mazes, apple picking at pick-your-own orchards, craft vino and beer at local vineyards and breweries, and live music throughout Newport's historic wharf district. Visit DiscoverNewport.org to learn more.
Set in Newport's North End, The Wayfinder Hotel is just minutes away from some of the top Newport activities and attractions, from Gilded Age mansions to sandy beaches.
Described as "a fresh take on a Newport hotel," The Wayfinder is your ultimate stylish HQ while visiting the town. It pairs coastal design with local talent to create a mindful, relaxed hotel experience that highlights Rhode Island's free-spirited energy. With large rooms, abundant amenities, and a genuinely hospitable team, you'll feel at home here any time of year. Set in Newport's North End, The Wayfinder Hotel is just minutes away from some of the top Newport activities and attractions, from Gilded Age mansions to sandy beaches. Enjoy a hot cider and deliciously fresh cider donuts from Hard-Pressed Cider Company at Windmist Farm in nearby Jamestown. They're open on weekends from 10:00 a.m. to 4:00 p.m. through November 22.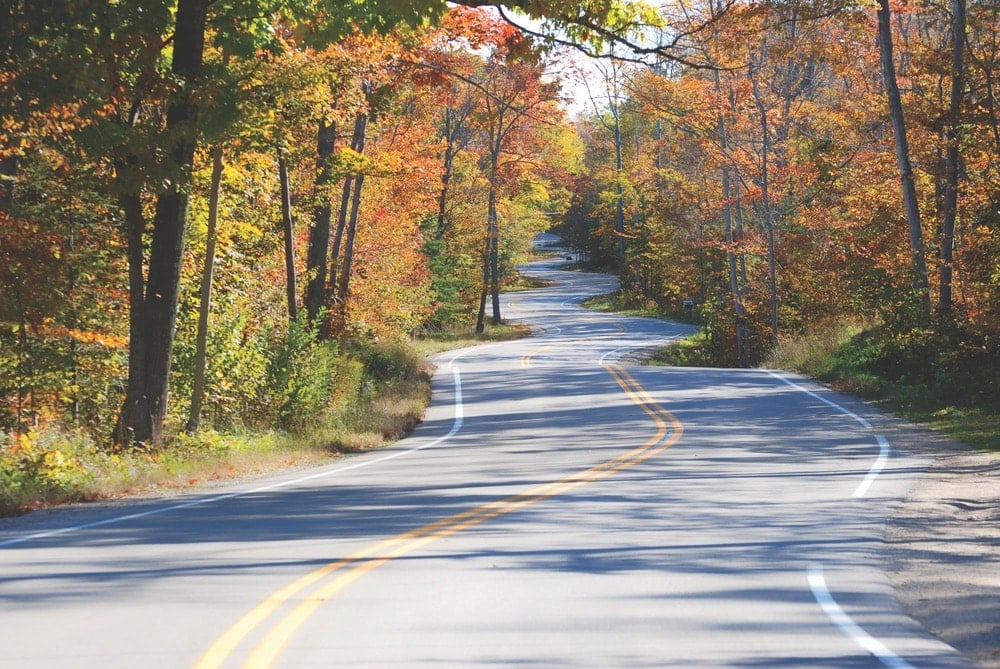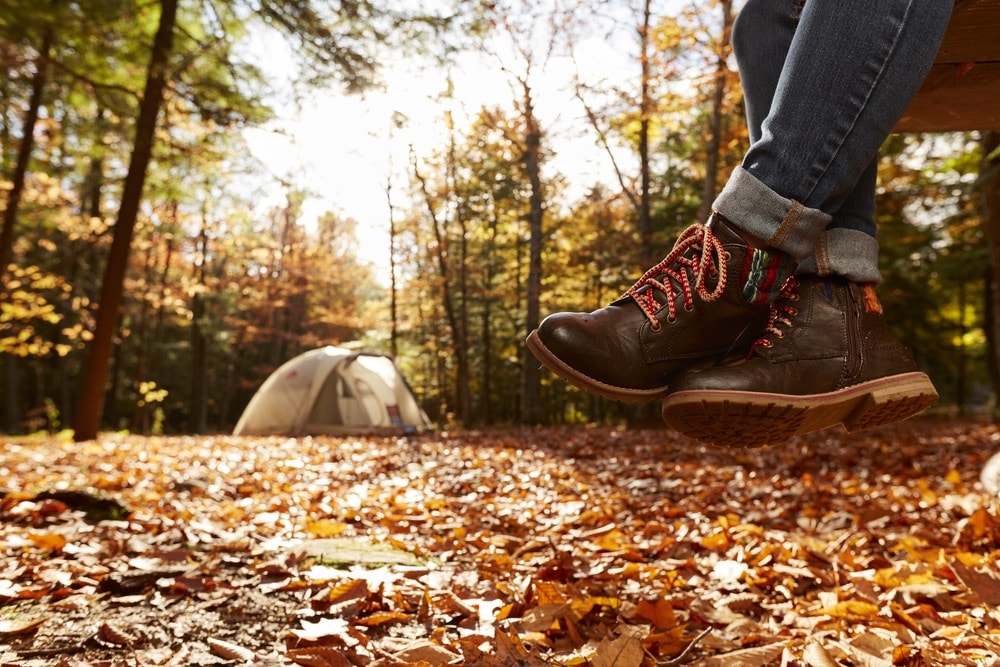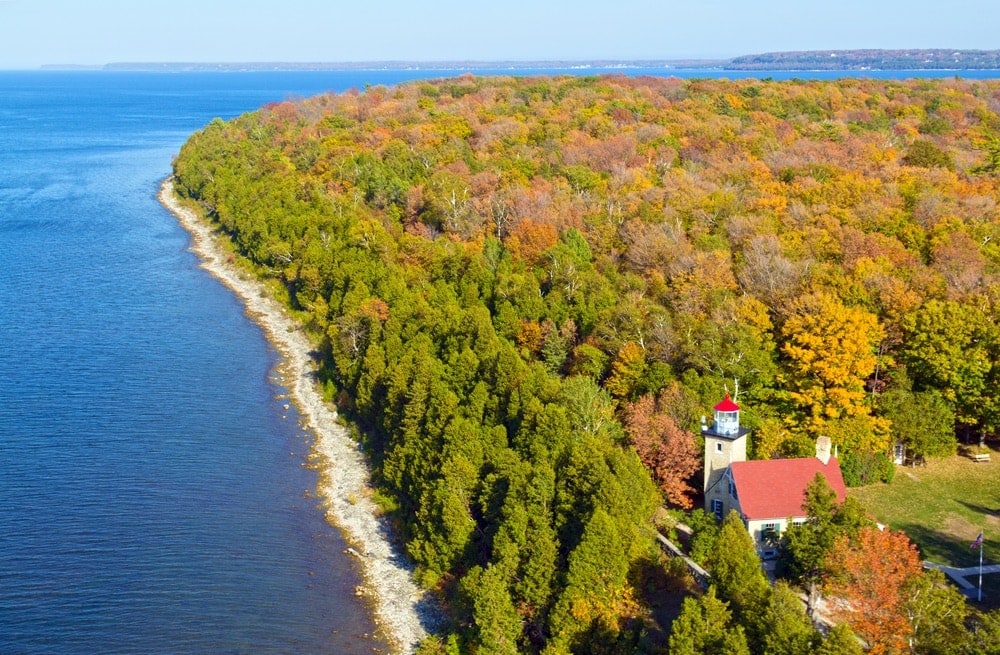 Door County, Wisconsin
Where to Dine: Glacier Ledge
8103 Highway 42 North, Egg Harbor
DoorArtisanCheese.com
See the splendors of the season throughout the seventy-mile-long peninsula separating Lake Michigan and Green Bay. Spectacular fall color abounds along its scenic highways and charming villages. Hike through the sugar maple– and white birch–lined trails of Peninsula State Park or bike along the Niagara Escarpment to see Green Bay's rollicking waves. Learn about the area's maritime heritage at Eagle Bluff Lighthouse, perched on a limestone cliff. Waterfront villages dot the peninsula and are home to local makers and artisans. Head to DoorCounty.com to start planning your visit.
Cheese making is a famous Wisconsin craft, and Mike Brennenstuhl had the vision to create a special place that celebrates that tradition. He recently opened Glacier Ledge, taking the dining experience to a new level. Guests have a chance to see cheese making in action, from the milk vat to the table. They can stop by to enjoy specialty cheeses, regional and international wines, and fine dining. The restaurant's small plates menu features dishes like roasted cauliflower florets, arancini, and lamb kafta skewers.
Cherries may reign in Wisconsin during the summer, but fall is all about apples. Don't miss a trip out to Lautenbach's Orchard Country. Growing, harvesting, and producing award-winning fruit products since 1955, Lautenbach's has a hundred acres of blossoming orchards and lush vineyards owned and operated by Bob Lautenbach and his three children. Fall brings the apple harvest and the chance to sample hard cider, freshly picked apples, and various types of apple butter, sauces, and of course, pies.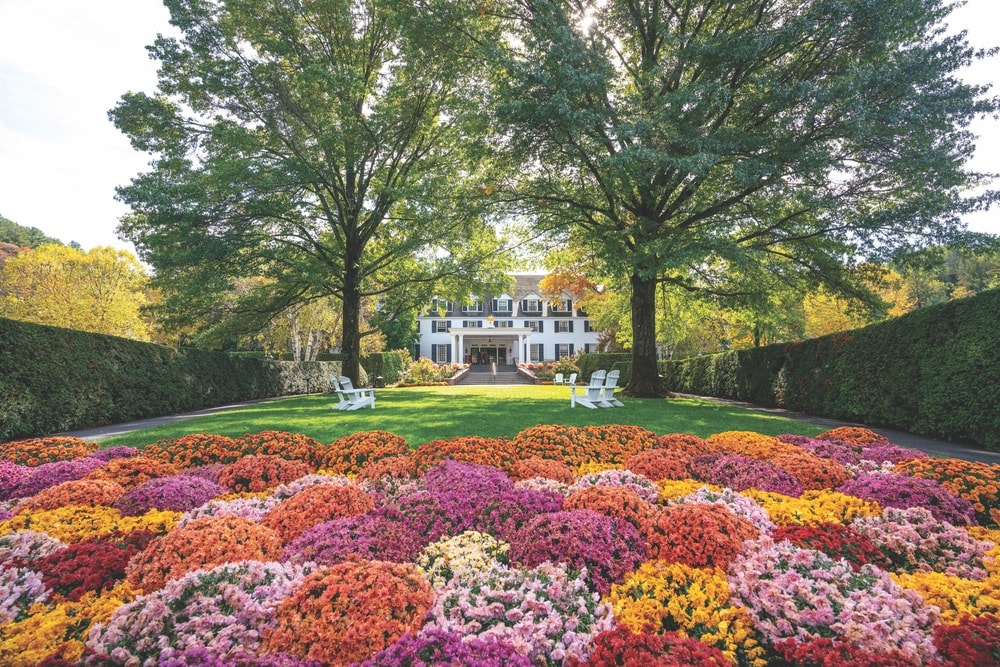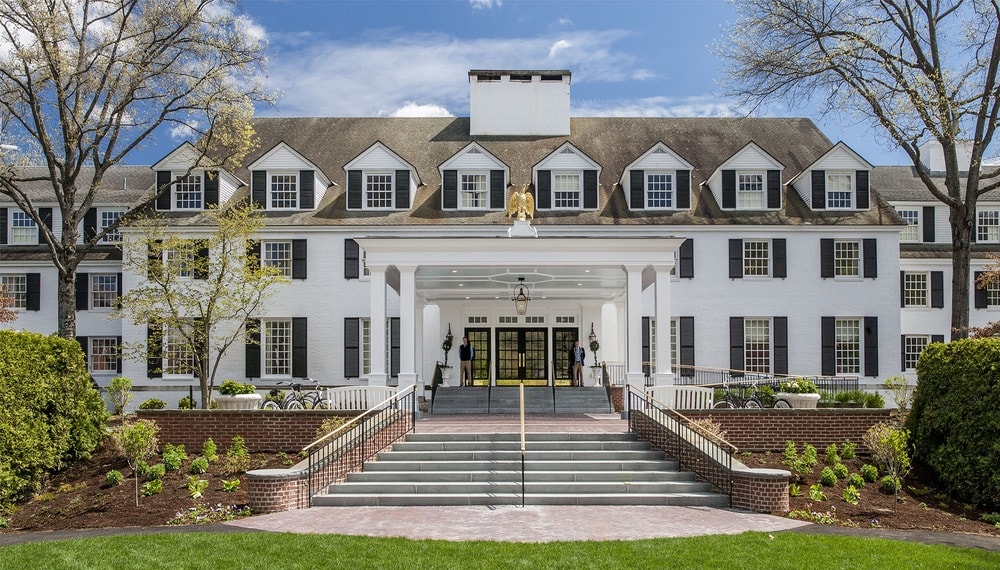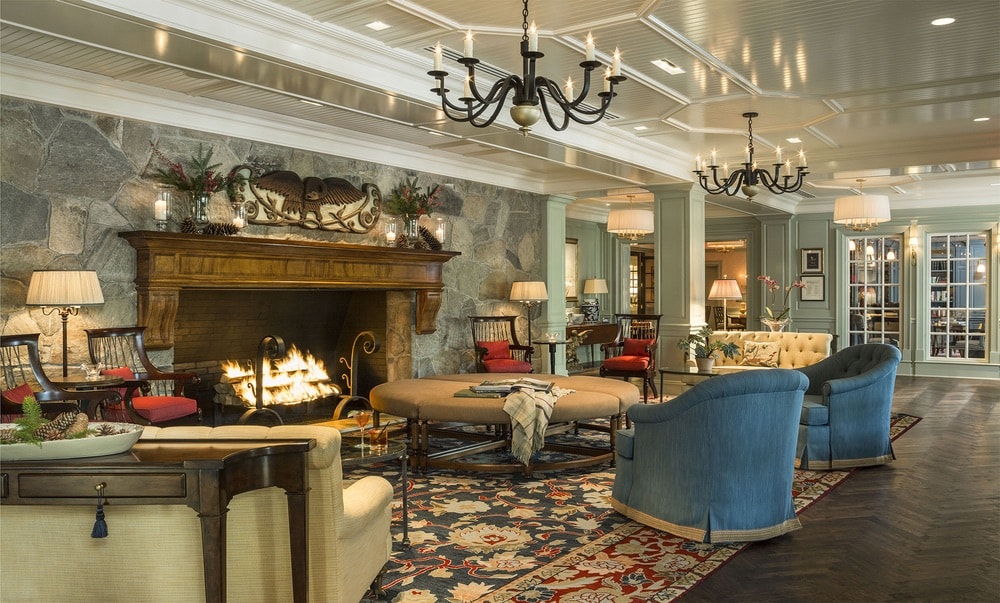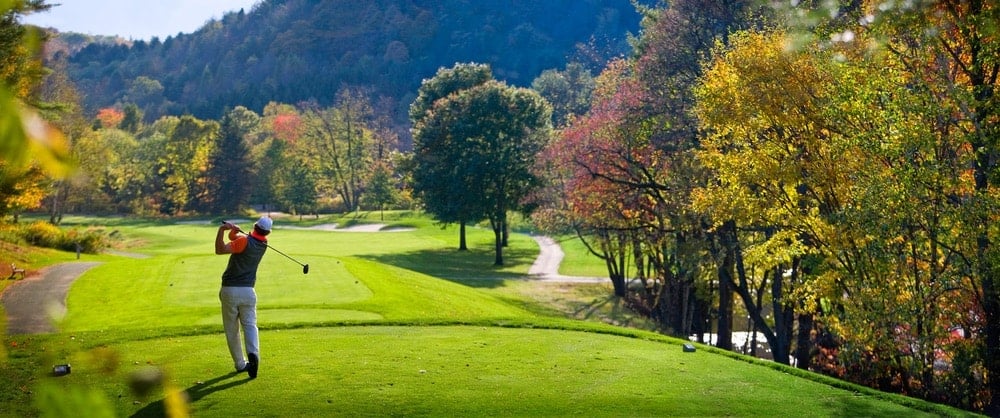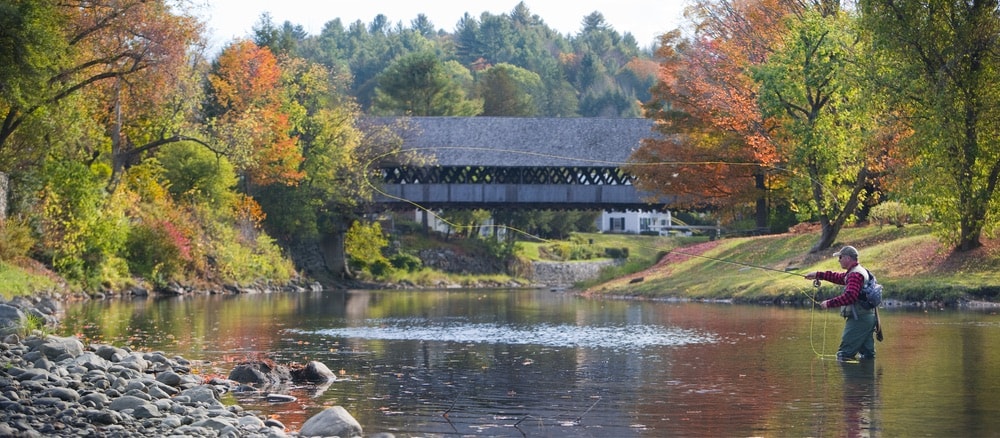 Woodstock, Vermont
Where to Stay: Woodstock Inn & Resort
14 The Green
WoodstockInn.com
The quintessential New England town of Woodstock is still celebrating the autumn season in full swing. However, safety and social distancing measures are in place, as they are for most of the country, so before your trip, be sure to visit WoodstockVT.com to read up on local requirements and fun things to do. Farm-themed activities and tours of the animals and daily operations at Billings Farm & Museum occur each Friday and Saturday through most of November. On December weekends, guests can enjoy Christmas at the Farm, featuring authentic 1800s holiday decor, horse-drawn wagon or sleigh rides, crafts, themed treats, and hot cider.
The Woodstock Inn & Resort places travelers in a prime location to explore hundreds of acres of nearby walking trails, including the Marsh-Billings-Rockefeller National Historical Park just down the road and hiking or biking in the nearby Green Mountains. The resort also offers an athletic club with classes and plenty of outdoor activities, including a falconry experience that grants guests front-row access to falcons, owls, and hawks and lessons from their caretakers. The Orvis-endorsed fly-fishing school teaches the art of fly-fishing in Vermont's picturesque streams and lakes. Whether winding down after exploring Woodstock or settling in for a day of leisure, guests can warm up in front of the inn's iconic lobby fireplace with a newspaper or spend the day in the library with a great book. And there's no need to travel far for meals—the inn's two restaurants, the Red Rooster and Richardson's Tavern, feature delicious locally sourced menus.
Whether you're looking for a place to get away from it all and explore Mother Nature this fall or an autumn retreat to historic and beautiful towns brimming with seasonal activities, we hope you find your perfect fall road trip escape.
— V —
ARTICLE CATEGORIES