An Off-the-Grid Adventure from Its Altiplano Highlands to Its Amazon Lowlands
Story and Photography by Kim Duke-Layden
Topping the list of Peru's must-see destinations are its captivating capital, Lima, mesmerizing Machu Picchu, and Cusco, the Imperial City of the Incas. While these places justly deserve their accolades, to gain a better insight into the real Peru, veer off the beaten path and away from the throngs of tourists. Join me and my traveling companions, newlyweds Jane and Dave from Toronto, and Maruja, our tour leader from Gap Adventures (www.gapadventures.com), as we take the roads less traveled and explore Peru's remote corners from Lake Titicaca to the Amazon.
Peru is a diverse melting pot whose descendants are a hearty gumbo of indigenous Quechua intermixed for centuries with Spanish, Chinese, German, and African immigrants. Like its people, traditional Peruvian cuisine, comida criolla, reflects its varied ethnic roots. One of Peru's most popular dishes combines Chinese influences (chifa) to create lomo saltado: stir-fried tomatoes, potatoes, onions, and strips of beef or alpaca. Peru's national cocktail (which Chile claims as well) is a tangy pisco sour made with pisco (Peruvian white brandy), sweetened lemon juice, egg whites, and bitters. Less sophisticated, but centuries older, is the tasty chicha morada, a drink made from home-brewed sweet purple corn.
Peru's climate and topography run the gamut from one region to another. Lima clings above central Peru's Pacific coast, enjoying dry, springlike temperatures year-round. Near Cusco in the Andes, Machu Picchu plays hide-and-seek in a cloud forest surrounded by jagged, melting glaciers. In the southeast, where Peru's tip tickles Bolivia, stands the arid, barren altiplano, or high plain, home to Lake Titicaca, the world's highest navigable lake. Just northeast of the altiplano, but seemingly worlds away, is wildly exotic Tambopata National Reserve, nestled within Peru's dense Amazon rainforest.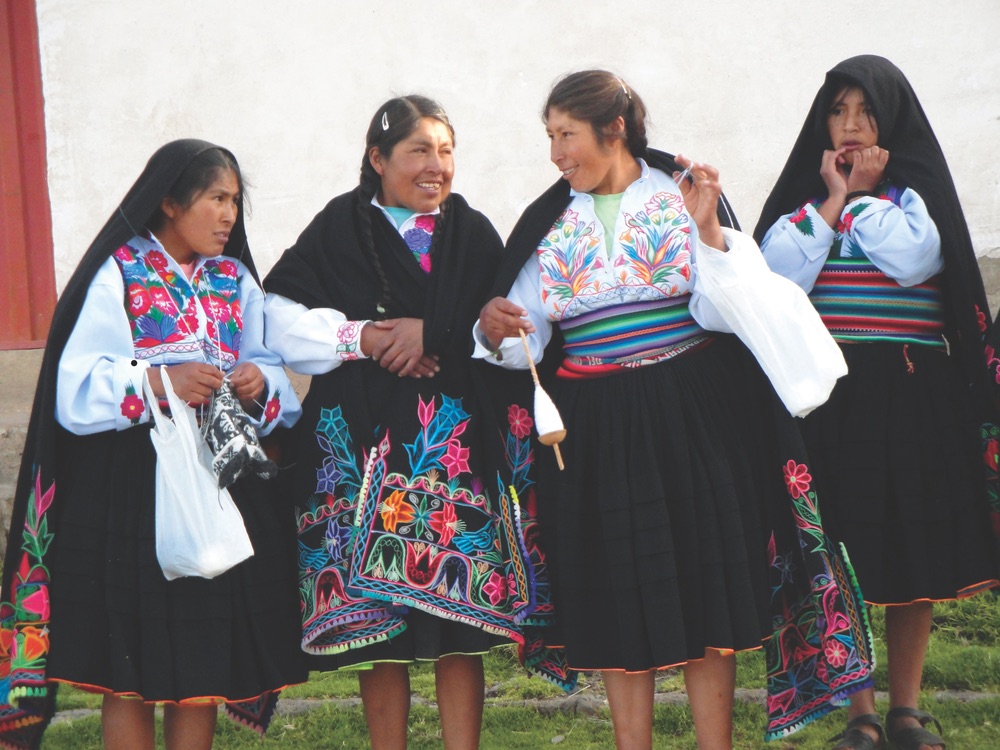 During the slow sojourn over winding, pothole-riddled highways from Cusco to the altiplano, the ever-changing scenery transitioned from rolling, verdant vistas to harsh, dusty flatlands. We made a pit stop on top of the world at La Raya, the trip's highest pass, where jaw-dropping peaks created a surreal setting for merchant tables overflowing with soft, fluffy alpaca and llama fur hats, slippers, and carpets. Our five-hour trip ended in Puno, Peru's lakeside hub for exploring Lake Titicaca.
At charming Hotel Italia (www.hotelitaliaperu.com), we drank hot coca tea for altitude acclimation before setting out on foot to explore Puno's chaotic cobblestone streets. After dinner, we happened upon a religious celebration, where revelers danced, sang, and lit bombas (firecrackers) around a Catholic saint's shrine.
On the chilly, dark sidewalk outside Hotel Italia, a plump Quechua woman named Guana chewed coca leaves and knitted amid piles of alpaca wool sweaters, hats, and gloves. Guana's black hat and matching braids framed her leathery, harvest moon face. I found her prices and precocious personality irresistible, so I bought a three-piece set—a $15 bargain!
After breakfast we hopped colorful bicycle taxis to Puno's tiny port overlooking Lake Titicaca and boarded an excursion boat bound for the islands of Taquile, Amantaní, and the Uros floating islands. Fellow passengers included Lucha, our local guide and historian, and a dozen high school students and chaperones from Quebec, Canada.
Lake Titicaca is situated 12,500 feet above sea level, spans 3,200 square miles and plunges 1,000 feet deep. As South America's largest lake, it is also considered the Inca's sacred birthplace. According to legend, the first Incas ascended from the depths of Titicaca's sparkling waters and journeyed to Cusco, where they founded the Inca Empire. Lucha said that the lake was once inhabited by giant frogs and monster-sized catfish. These days, tasty rainbow trout swim Titicaca's cobalt-colored waters, thanks to Canadian scientists who introduced them in Peru years ago.
Up on the top deck, I joined several passengers for some fresh air and sunshine. The teens were of Inuit and Cree descent and lived in Kuujjuarapik, a remote community of northwest Quebec. They talked about hunting seal and caribou and how they preferred eating the meats raw rather than cooked. Although the students appeared westernized, their fascinating stories revealed strong ties to ancestral traditions—similar to the inhabitants on the islands we were about to visit.
By lunchtime, we arrived at Taquile, which had steep switchbacks and stunning scenery. Hilly, green vistas filled with flowers and cornfields melted into the spanning, Aegean-like backdrop. Countless steps later, we reached the clay-colored village square, anchored on one side by Taquile's textile cooperative. Across the vast stone courtyard, iglesia (church) bells chimed, reminding me it was Sunday. Señors, resembling bullfighters in cropped jackets and cummerbunds, milled about. Their hat colors denoted their marital status: red signified single, black meant married.
We ate creamy quinoa soup and freshly grilled trout on the terrace of a rustic restaurant with breathtaking views. Lucha showed samples of Taquile's high-quality textiles, which are among Peru's finest. He explained several of the island's unique customs, such as it is Taquile's men, rather than the women, who are the expert weavers. In fact, a bachelor's eligibility is ranked according to his weaving skills. And, surprisingly, Taquile's Catholic community encourages its unmarried couples to live together before marriage to better determine their long-term compatibility.
The air grew chilly as our boat sloshed through choppy waves on our trip's next leg toward Isla Amantaní, where we stayed overnight with a local family. Lucha distributed flyers with common phrases translated in English, Spanish, and Quechua, the island's most commonly spoken language. Reviewing my "cheat sheet," I discovered Quechua was nothing like Spanish. How would I ever remember how to say "Yuspagarasunki" (Thank you, very much) or "Maypitaj Hispana Wasi?" (Where is the bathroom?)
On shore, a group of Amantaní's home-stay hostesses, or "mamas," greeted us by shaking our hands and saying, "Allillanchu" (Hello). Maruja introduced us to Mari, our petite, twenty-six-year-old mama who spoke Spanish and gave us a welcoming smile. As is customary, we brought her a few "luxury gifts": sugar, dried beans, cooking oil, and toothpaste.
Mari skittered up the hilly path as Jane, Dave, and I trailed breathlessly behind. After twenty sweaty minutes, we made a right at the braying donkey and followed the overgrown path to the back of Mari's house. The baño lacked modern plumbing, but our comfy rooms had electricity.
The kitchen had a smoky, earthy smell and was barely lit by a single candle and smoldering embers in the fireplace. Mari knelt upon the hearth tending to a cuy (guinea pig), a Peruvian specialty. The dirt floor felt soft under my fidgety feet as we politely smiled and nodded at Mari's parents, Lucia and Marcelo, who spoke only Quechua.
I couldn't see what Mari served me until my camera's flash illuminated my dinner plate—the  roasted hindquarter of cuy, which looked and tasted like Cornish hen. The perfectly seasoned skin was rubbery and inedible, but it made a flavorful rub for the bland potatoes and oku, a pinkish, stubby root vegetable.
After Mari outfitted her new guests from head to toe in multiple layers of embroidered wool clothing, we dashed off to the town hall dance. The rustic building seemed to burst with infectious laughter and swirling colors. A traditional Andean band played while everyone danced the night away. Several dances had steps similar to the conga and the pretzel, but my favorite was a muy rapido Soul Train line, in reverse. It was the most fun I had had dancing since my wedding reception ten years ago!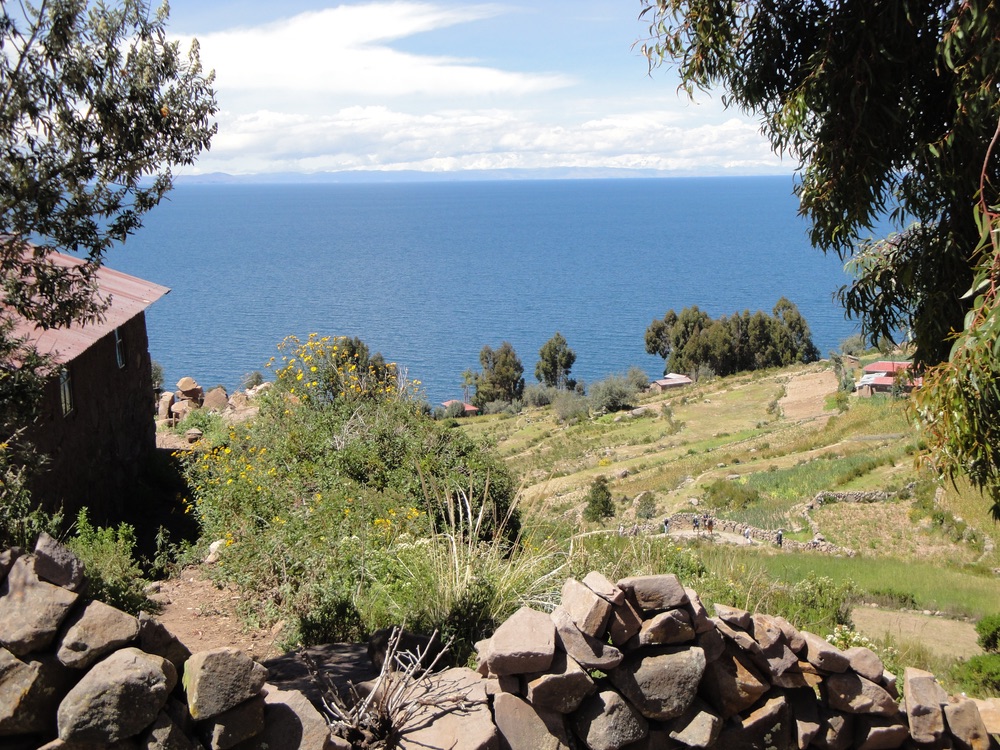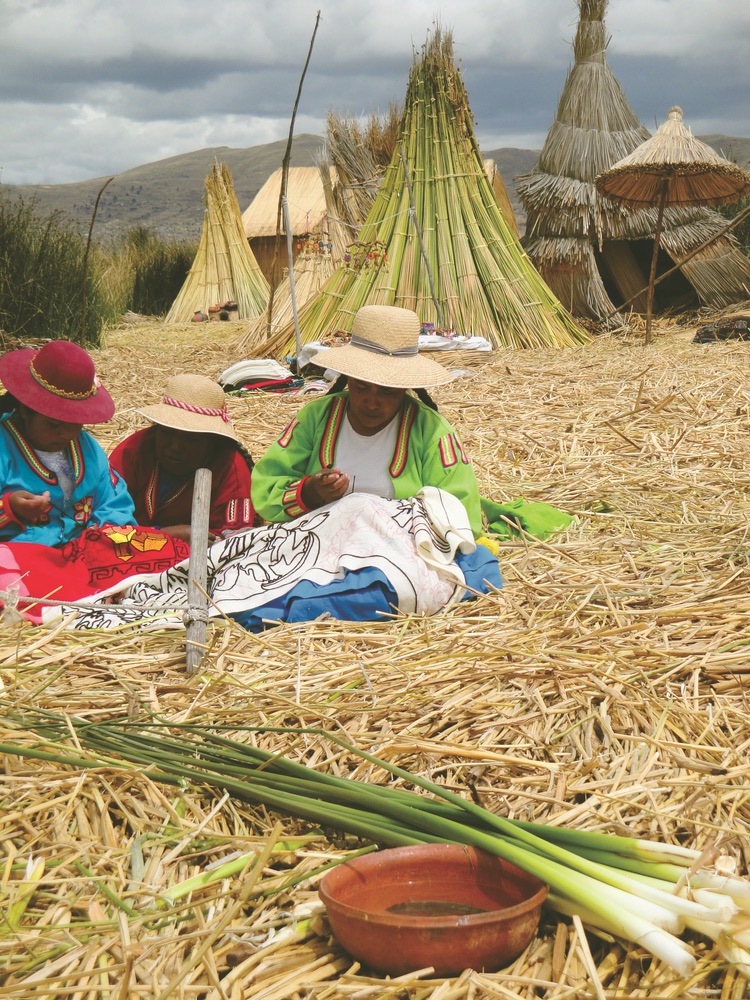 After an early breakfast and grand farewell from the mamas, our boat veered away from nearby Bolivia's snowcapped peaks and glided across Titicaca's glassy waters toward the Islas Los Uros, Peru's famed floating islands of reeds.
I anxiously watched as our boat snaked along the shallow, watery trail flanked by a proliferation of totora reeds, which resemble saw grass. Across the crescent-shaped lagoon, I caught my first glimpse of the Uros and its dozens of identical-looking reed settlements that skirt the island's edges. We moored where several Aymara senoras wearing colorful skirts and jackets gathered to serenade us. Cautiously, I stepped down on the springy surface that resembled strewn hay.
Lucha demonstrated how the Uros' man-made island was constructed by forming bales of decomposed reeds with mud, then tying them together like a patchwork quilt. He said the floating bundles were staked from twelve different points into the shallows of the lake and secured. As the bottom reeds rot, the top layer is continually replenished, so that an island typically lasts from ten to twenty years. It is believed this island-building tradition predates the fifteenth century.
Several Aymara families lived within the community we visited. Victor gave me a tour through his compound, which consisted of several thatched huts for sleeping and entertaining, a water tower, gardens, and an outdoor kitchen. Almost everything was ingeniously constructed from dried totora reeds, except a port-o-let and water cooler, which he recently added for home-stay guests. Equally astounding, Victor's bedroom had electricity and satellite television, compliments of one of Peru's past presidentes.
Jane and I skipped souvenir shopping and opted for a ride on their uniquely designed pontoon boat featuring a pagoda and two puma-head-shaped bows. Except for the wood flooring, the hand-rowed vessel was woven entirely of reeds. Upon our departure for nearby Puno, the senoras returned for a surprising send-off. They sang, in English, "My Bonny Lies over the Ocean," and then shouted, "Hasta la vista, baby!"
A stone's throw northeast of Puno is Peru's mammoth Amazon Basin. Located at the confluence of the Madre de Dios and Tambopata Rivers, Puerto Maldonado is the jumping-off point for exploring Tambopata National Reserve. After landing in Puerto Maldonado's tiny airport, we joined local guides from Rainforest Expeditions (www.RainforestExpeditions.com) with a dozen fellow adventurers and set out for a two-night jungle stay.
The trip to our eco-lodge became an Indiana Jones adventure in itself: a washed out bridge left us temporarily stranded in the jungle until our motorized canoe could reach us farther down river; an hour later we boarded the long, rickety boat and teetered our way up the rushing, muddy-colored Rio Tambopata, which teemed with ominous caimans (cousins of the alligator); all this was followed by a twenty-minute hike through the sweltering, mosquito-infested rainforest.
Ahead in the clearing, we arrived at Posada Amazonas (www.perunature.com), where we were cheerfully greeted with chilled facecloths and lemonade. Rustic luxury would best describe this sprawling, four-star eco-lodge. While it is without electricity or hot water, the lodge has top-notch hospitality, guides, and cuisine. Unique guest rooms feature in-room hammocks, and instead of walls, there are railings, which overlook the jungle just inches away. Mosquito-net-covered beds keep bugs and bats at bay, while nature lulls you softly to sleep.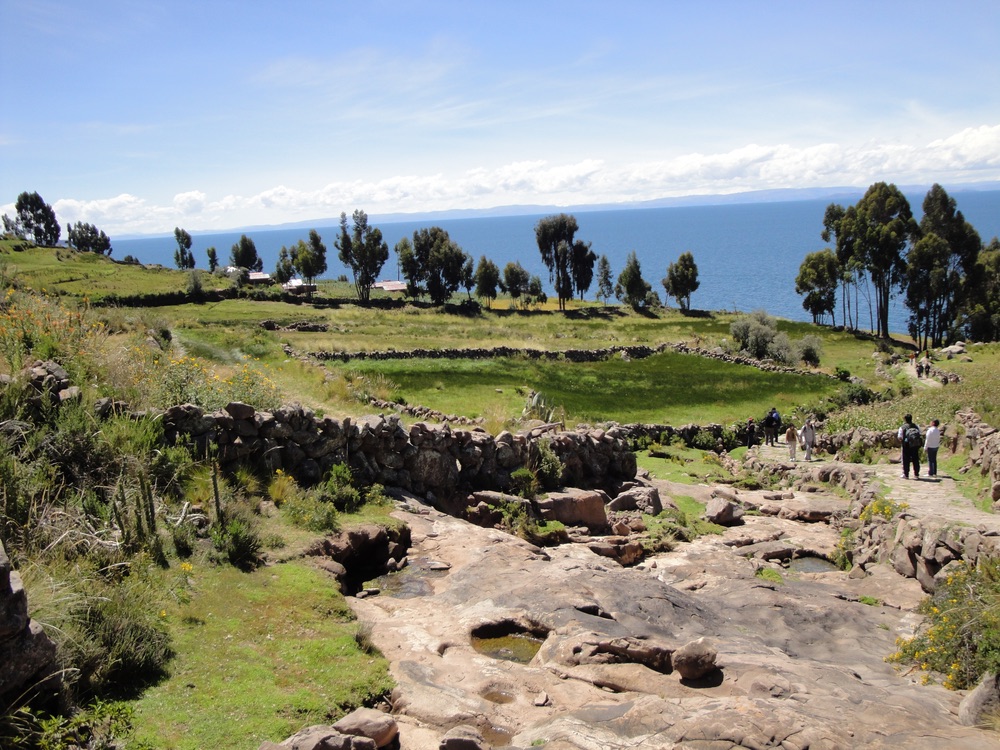 Tambopata is renowned for its abundant animal and plant life and includes over 1,300 bird species, two hundred types of mammals, 1,200 kinds of butterflies, and ten thousand higher plant species. During one rainforest foray, we spotted macaws, toucans, kingfishers, and hoatzins, which resemble brown turkeys and are thought to be descendants of dinosaurs. Hoatzins are nicknamed "stinkbirds" because they have an extra stomach to store decomposing leaves and when threatened, they belch a foul odor (pun intended) on their enemies. Some in our group, using cane poles and raw meat, caught razor-sharp-toothed piranhas, which the locals fry and eat whole—bones and all.
My favorite Amazon excursion was to Nape, where sage shaman Oronato gave us a tour through his living pharmacy. He serves as physical and spiritual healer to the region's indigenous people who can't afford or gain fast access to hospitals. Our guides interpreted as Oronato showed us medicinal plants and herbs used for treating ailments ranging from arthritis and kidney infections to stomach problems and broken hearts. "Para Para" ("Get up, get up") is the Amazon's version of Viagra. I was most impressed by oje, a "master plant" that some scientists believe may someday soon cure Parkinson's disease.
Oronato concluded our tour by offering samples of his homemade "cures," which tasted more like liquors than medicine due to their high alcohol and sugar content. I drank a shot of chuchuhuasi, which tasted like spiced hard cider and is used for treating many ailments including arthritis. As it turns out, chuchuhuasi is also excellent for treating carpal tunnel syndrome. After two days of relentless throbbing in my hand and arm, I awoke the following morning pain free!
Peru exceeded all my expectations—stunning sights and scenery, and astounding experiences punctuated with infinite "firsts." However, it is the hospitable and charismatic people that I met at every turn in Peru who will keep my memories alive and keep me yearning to return to the incredible Land of the Incas.
— V —
---
Kim Duke-Layden lives at Sandestin with her husband, John, and owns KDL Marketing, a commercial real estate leasing and consulting company, kimdukelayden@yahoo.com.
ARTICLE CATEGORIES