By Anthea Gerrie | Photography by Sara Essex Bradley
It might not sound that promising as a prospective home, but Emily Young fell in love with a former ink factory in downtown Indianapolis before she even realized it was a residence. "The architect who converted it had done renovations to make the space livable, but it needed work to make it my own," she says.
Now, thanks to a bold and talented decorator, this distinctly industrial building that could still be mistaken for a bunker conceals an unexpectedly glamorous three-bedroom home. It is lavished with luxe materials that soften and dress up the old factory without attempting to obliterate its industrial heritage.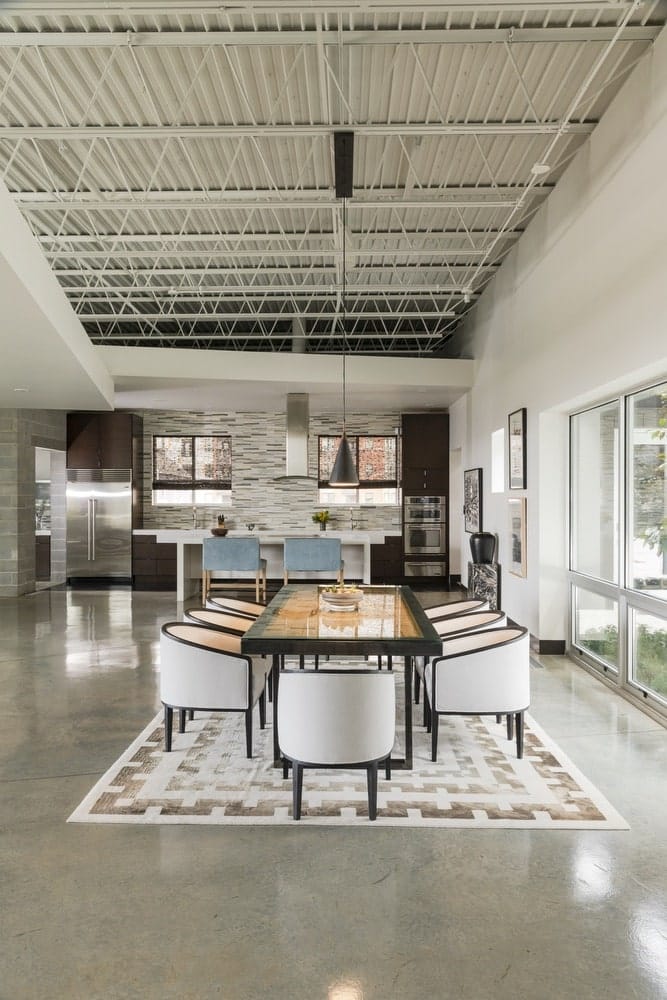 Young and her husband, Jim, hired New Orleans decorator Chad Graci to work his magic on the distinctly non-homey house they had fallen in love with for its bones, its light, and, most of all, its extra wall space for their art collection. "They have a condo in New Orleans that I had decorated," explains Graci, who describes the look of the house he was handed as a blank canvas. The problem with what in many ways was a promising space was that its previous owners had not done it justice, he says, noting it was "hard and cold, with a lot of the clichés you find in industrial redos—it just didn't work."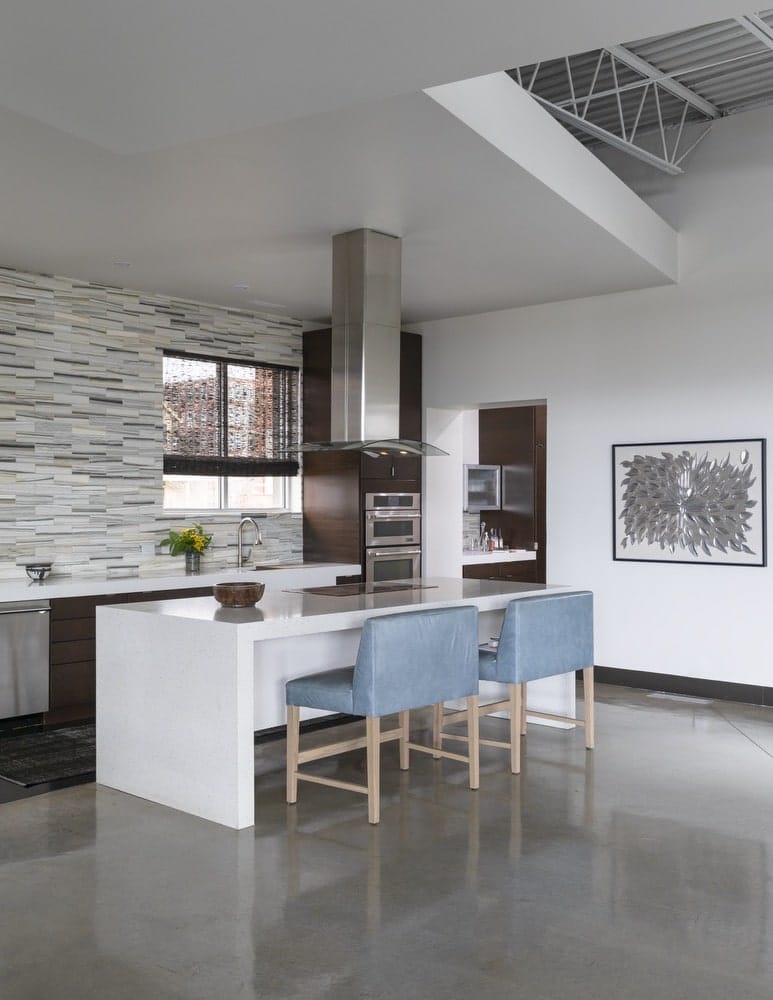 The first thing to address, he felt, was the fabric of the interior. It was a glorious challenge for Graci, known for his transformational use of luxurious materials and decorative techniques. Sheetrock walls were softened with Venetian plastering, paint was enriched with lacquer finishes, and countertops, floors, and backsplashes were treated to a complete face-lift with Calacatta marble. Existing cinder block walls were left exposed in homage to the home's industrial origins. The polished concrete floor, which was installed when the conversion to a residence was made a decade ago, was cleaned up rather than replaced. One thing that was replaced, however, was a hideously basic bathroom that Graci recalls "resembled an army barracks; we put in a new gold marble floor and shower."
Silver makes its appearance in this house alongside gold, most notably in the silver-leaf coating for a pair of art deco–style ribbed cabinets flanking the front door. Graci describes this design decision for the foyer as "unexpectedly glamorous materials to encounter when stepping into a concrete box."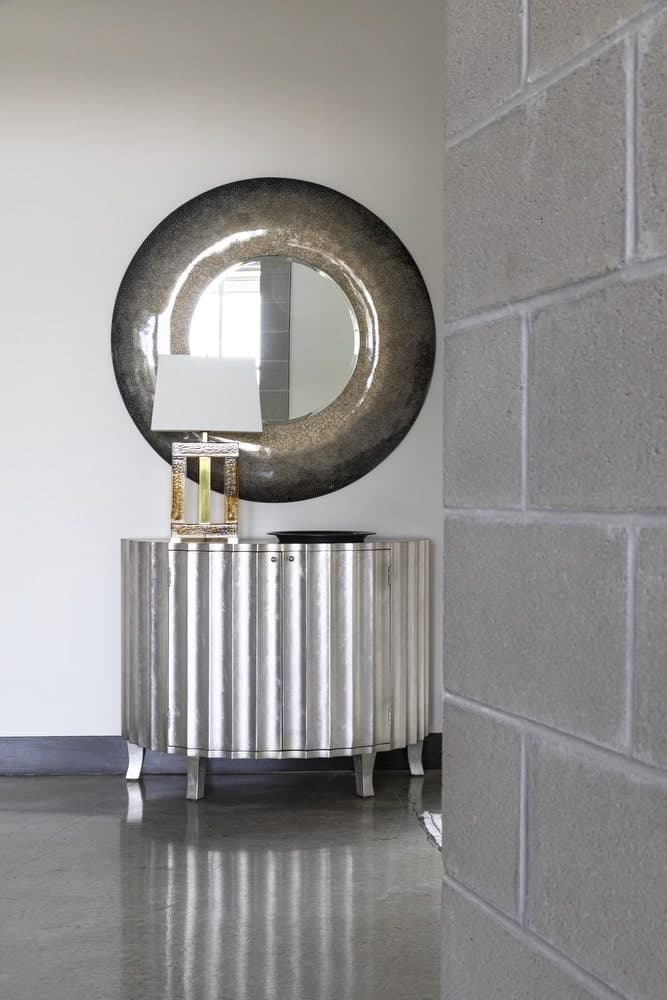 When it came to planning the vast living space at the heart of the house, Graci opted to repaint white Sheetrock walls a softer shade of off-white while leaving the cinder block gray and refinishing the baseboards in espresso lacquer. A sunken area around an existing fireplace that the owners loved forms a conversation pit, while above, the living space opens to a formal dining area. Beyond sits an open kitchen treated with a spectacular marble tile backsplash and countertop matching the white marble on the island.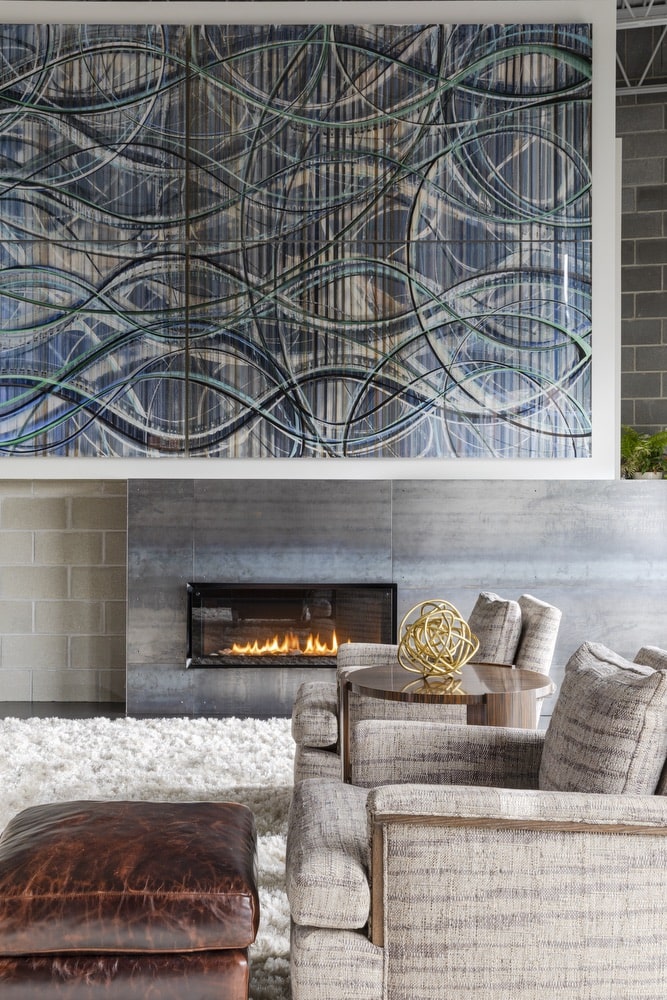 Not all the furniture is brand-new; a pair of elegant pale blue leather chairs from the couple's previous Indianapolis pull up to the island. "A pop of color was really needed," says Graci, who also made a bold decision to lay a wool vintage rug between the sink and the island. "I am so tired of kitchens that feel stark and cold, and this is not a couple who cooks every night," he explains. Indeed, the Youngs travel frequently, often in connection with their racehorses. A study closed off from the main living space is where they display their equestrian trophies. There is also a bar with room for a prized tequila collection and a large wine refrigerator in the kitchen pantry.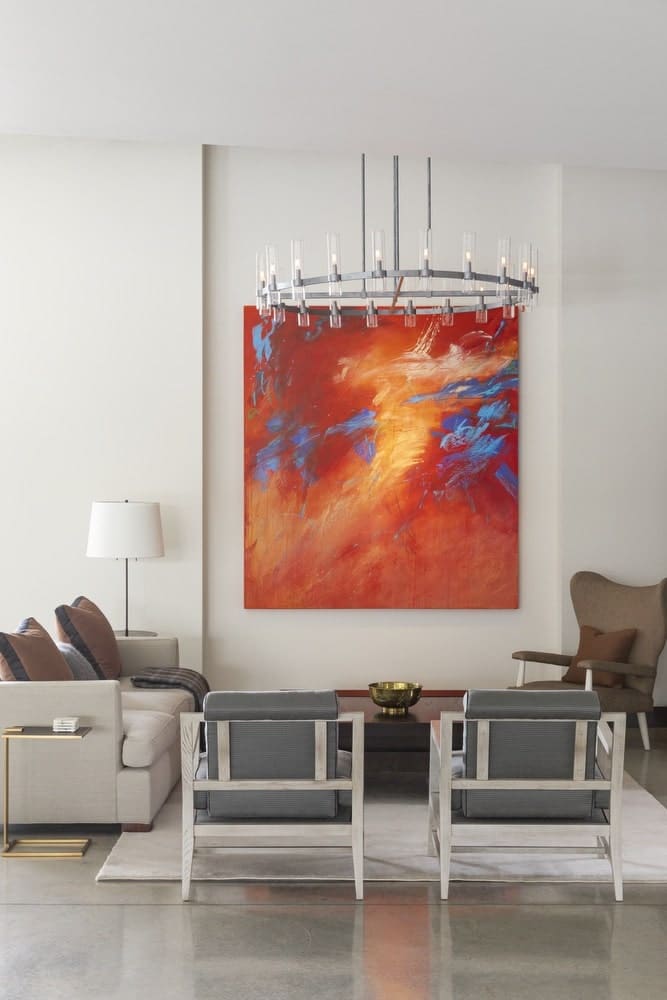 The choice of purple velvet to upholster the master bed, which Graci designed for the couple, poses the question of whether, given the gold marble bathroom, a Mardi Gras theme may have been intended. "No, but I do find myself drawn to the use of gold, purple, and green!" he confesses.
There is also gold in the iridescent glass bedside lamps, but the star feature of the room is the dozens of handmade ceramic flowers by New Orleans artist Bradley Sabin, who installed them on the wall above the bed, giving the impression of birds in flight.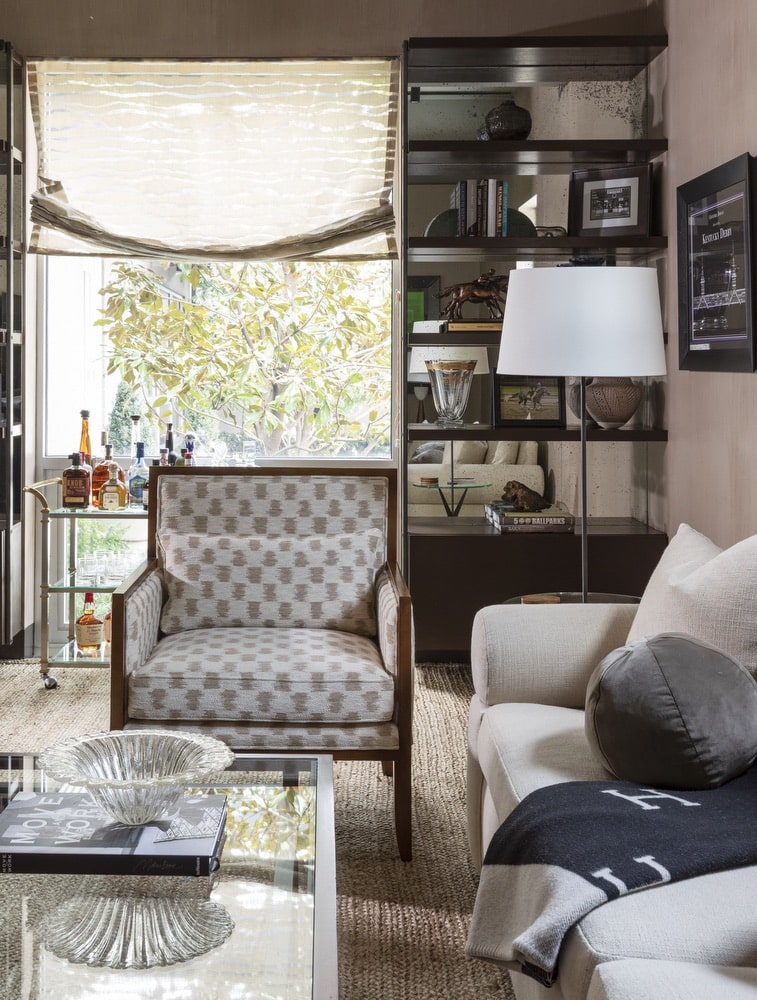 A teenage daughter's bedroom is fittingly pretty in pink, with floor-to-ceiling rose-colored taffeta drapes and pink reprised in both a cushion and a picture above the bed. Metallic gold appears again in a glass bubble lamp on the dresser and gold leaf lining the plaster cups of a pendant hung from the ceiling to reflect soft light.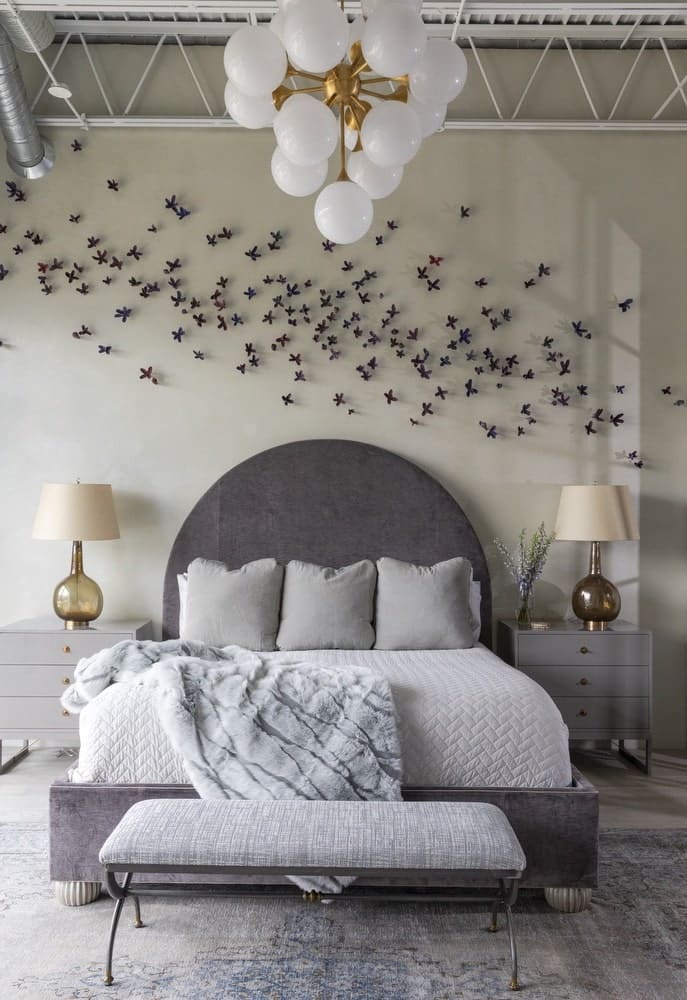 There is even a touch of gold in the paved courtyard that divides the house from an annex containing a garage, a home gym, and guest's quarters. It covers a drain embossed with a fleur-de-lis, an official symbol of Louisiana and the Big Easy and a statement in itself—of homage, perhaps, or simply homesickness. The Indianapolis ink factory may be the couple's principal address, but New Orleans has also claimed a piece of their hearts. It shows in the choice of a decorator known for his flamboyance inspired by that Southern party town the Youngs have also come to consider home.
— V —
---
See more of Chad Graci's projects at GraciInteriors.com.
Anthea Gerrie is based in the UK but travels the world in search of stories. Her special interests are architecture and design, culture, food, and drink, as well as the best places to visit in the world's great playgrounds. She is a regular contributor to the Daily Mail, the Independent, and Blueprint.
ARTICLE CATEGORIES