Recipes to Spice Up Any Meal
Some of the best parts of living along Florida's Gulf Coast are the beautiful scenery, the laid-back lifestyle, and, of course, the food! In light of Chef Emeril Lagasse's latest Cooking Channel endeavor, Emeril's Florida, we've scouted some of the restaurants from the show—and a few other local favorites—and asked them to share some of their special recipes with our readers. Bon appétit!
Sesame-Crusted Rare Tuna
By Café Thirty-A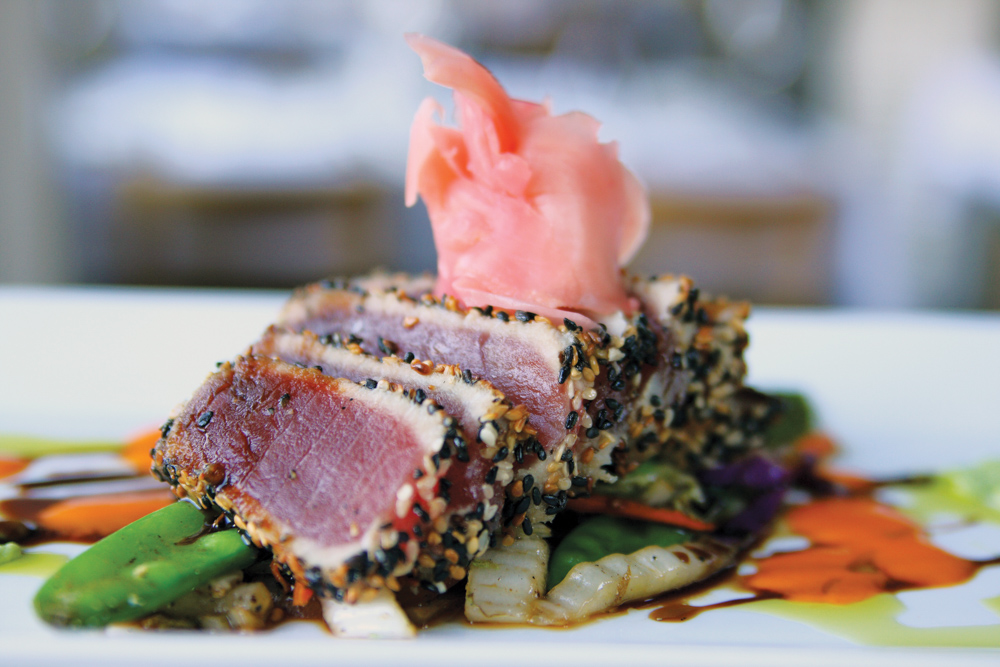 (Serves 2) Ingredients: 12 ounces fresh #1 grade yellowfin (or bluefin) tuna loin 1/2 cup napa cabbage, large chop 1/2 cup red bell pepper, julienne 1/2 cup red onion, julienne 1/2 cup red cabbage, julienne 1/4 cup carrots, julienne 1 teaspoon fresh ginger root, grated 1 teaspoon garlic, chopped 1 tablespoon green onions, chopped Sesame oil for sautéing 1/2 cup sesame oil/soy sauce blend 20/80 1/2 cup black sesame seeds 1/2 cup white sesame seeds, toasted Salt and pepper to taste Pickled ginger and wasabi paste for garnish (may be found at local grocer or Asian specialty market)
Preparation: In a small bowl, toss black and white sesame seeds together with 2 tablespoons of the sesame/soy blend. Set aside.
Cut tuna into two even 6-ounce portions. Season with salt and pepper. Evenly coat tuna loins with the sesame seeds. In a medium-sized wok or sauté pan, heat a small amount of sesame oil until pan is smoking. Add ginger root, garlic, and green onions. Sauté very quickly for about 10 seconds and then add the remaining vegetables. Only cook for about 2 minutes until the vegetables are cooked but still crisp. Season with salt and pepper and a splash of the sesame/soy blend. Remove from heat and set aside.
In another sauté pan, heat a few tablespoons of sesame oil to a very high temperature. When the pan begins to smoke, place tuna in pan in a direction away from yourself to avoid oil splashing. Sear tuna on each side for approximately 30 seconds to achieve a nice color on the outside and a rare center. (If a higher internal temperature is desired, after searing simply place the tuna into a 350 degree oven until desired temperature is achieved.) Remove tuna from pan and slice into thin pieces. Lay across sautéed vegetables and garnish with pickled ginger and wasabi paste.
---
Seaside Shrimp
By Bud & Alley's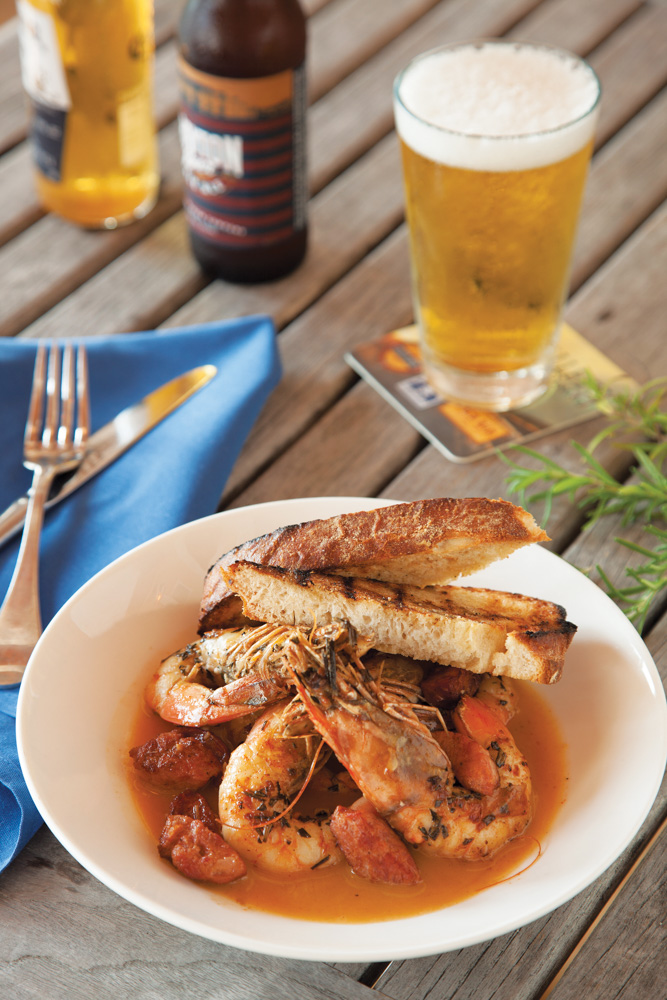 (Serves 1–2) Ingredients: 8 U-12 head-on shrimp (bodies peeled, head and tail intact) 2 teaspoons fresh rosemary, chopped 1 teaspoon fresh thyme 1/2 teaspoon coarse ground black pepper 1 tablespoon chopped garlic 1 tablespoon chopped shallots 2 roasted tomatoes, crushed 1 tablespoon fresh lemon juice 2 ounces white wine 2 ounces blended cooking oil 4 ounces shrimp stock 2 ounces cold butter
Preparation: Combine rosemary, thyme, garlic, shallots, and shrimp with 2 ounces blended oil. Let marinate for two hours. Heat a medium skillet to medium-high heat. Sauté shrimp until they start to turn color. Deglaze pan with white wine, add lemon juice, tomatoes, and shrimp stock. Reduce by about half, then add butter and swirl pan until butter is incorporated and saucy. Check seasoning and serve in a large bowl with a slice of grilled Tuscan bread.
---
Duo of Tartares with Avocado
By Seagar's Prime Steaks and Seafood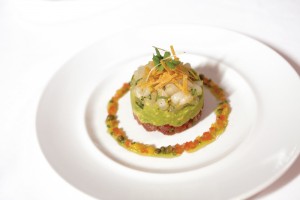 (Appetizer serves 2–4) Ingredients: 2 1/2 ounces tuna, small diced 2 1/2 ounces snapper, small diced 1 teaspoon orange zest 1 1/2 teaspoons orange juice 1 teaspoon lemon zest 1 1/2 teaspoons lemon juice 1 tablespoon shaved chives, divided 1/2 tablespoon minced basil 3/4 teaspoon salt 1/4 teaspoon black pepper 3 tablespoons extra-virgin olive oil, divided 1/2 avocado, peeled 1 teaspoon lime zest 1 1/2 teaspoons lime juice 2 1/2 tablespoons minced shallots, divided 2 tablespoons tomato, seeded and small diced 1 teaspoon serrano peppers, seeded and brunoise 1 ounce cilantro, minced 2 ounces herb oil 2 ounces corn tortilla, cut and fried to crisp
Preparation: Combine the tuna, the lemon zest and juice, 1/2 tablespoon shallots, 1 tablespoon olive oil, and 1/2 tablespoon chives; season to taste. In a separate bowl, combine the snapper, the orange zest and juice, the basil, 1 tablespoon olive oil, and 1/2 tablespoon shallots; season to taste. In a separate bowl, combine the tomato and serrano peppers with the remaining shallots, chives, and olive oil; season to taste. In a separate bowl, combine the avocado, the lime zest and juice, the cilantro, salt, and pepper; crush with a fork and mix. Arrange the tartares on the plate with the avocado mixture and garnish with the herb oil and corn chips.
---
Crispy Whole Gulf Fish with Barbecued Onions, Crab-Boiled Red Bliss Potatoes, Wilted Greens, and Guava Cayenne Ketchup
By V Seagrove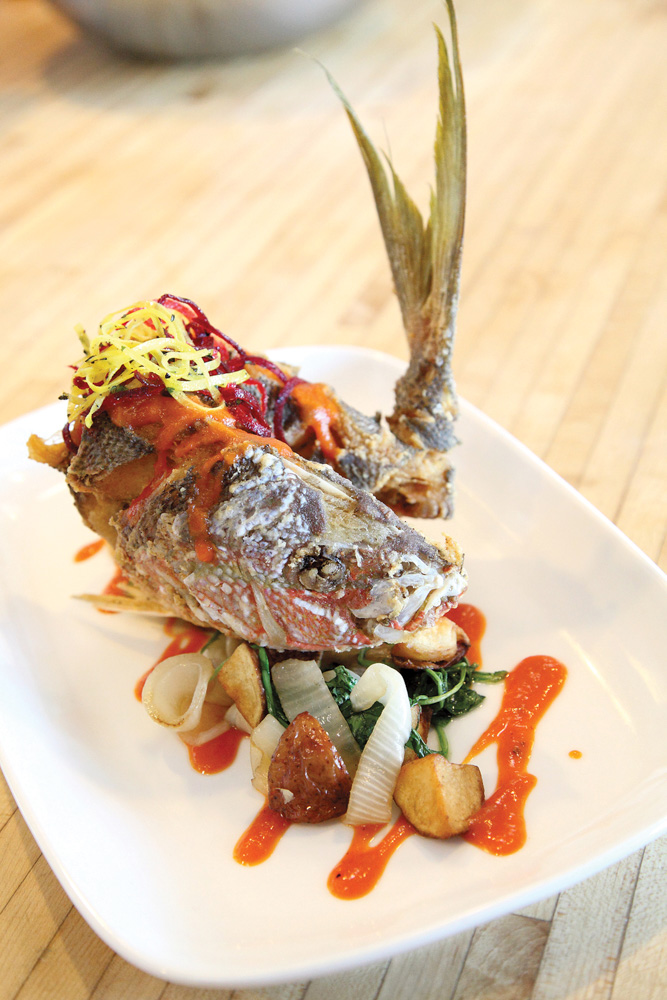 (Serves 4–6) Guava cayenne ketchup ingredients: 1 garlic bulb, roasted 3 roasted red bell peppers, peeled and seeded 2 pounds roasted Roma tomatoes, skinned and seeded 1/2 white onion, chopped 1 jar guava paste 2 cups white vinegar 2 cups granulated sugar 1/2 tablespoon crushed red pepper 1/2 teaspoon kosher salt
Preparation: In a small saucepan, combine the peppers, onions, tomatoes, garlic, guava paste, vinegar, sugar, crushed red pepper, and salt. Simmer until the liquid begins to thicken to a hot syrup consistency. Add to a countertop blender or use an immersion blender and puree.
Barbecued sweet onions ingredients: 2 teaspoons cane vinegar, or a mild sweet type of vinegar of your choice 2 tablespoons olive oil 1 cup sweet red or Vidalia onions, thinly sliced 2 tablespoons brown sugar, light or dark Salt and pepper to taste
Preparation (on a grill over open flame with a perforated pan or in a sauté pan on the stove): To make over a grill, toss the sliced onions in a bowl with oil, vinegar, brown sugar, and salt and pepper. Allow to marinate for about 20 minutes. Pour into a perforated pan and place directly on the grill over the flame. Stir constantly until all the onions are cooked and golden brown.
To make in a pan, add the oil to a hot sauté pan and then add the onion. Stir occasionally to allow the onions to caramelize, then deglaze with cane vinegar. Remove from heat and finish with brown sugar and salt and pepper. Let cool.
Crab-boiled red potatoes ingredients: 1 1/2 pounds baby red potatoes 1/2 cup seafood boil seasoning 2 quarts water
Preparation: Rinse and quarter the red potatoes. Season about 2 quarts of water with the seafood boil seasoning and bring to rapid boil. Add quartered potatoes and let simmer for about 10 minutes. Remove from water and let cool.
Crispy whole Gulf fish ingredients: 4 1.25- to 1.5-pound whole flounders or snappers 8 cups seasoned seafood breading 2 quarts canola or fryer oil Creole seasoning Salt and pepper to taste
Preparation: To clean the flounder or snapper, depending on which fish you choose, scale and gut all the fish.  Then use a pair of scissors to remove the gills and all the fins from the outside of the fish. For the flounder, you will fillet the bottom side of the fish, leaving the fillet attached at the tail end, and split the bottom fillet down the middle. On the top side of the fish, you will put a crisscross "X" cut the length of the fish. For snapper, start the same, but put the "X" cut on both sides of the fish.
Place 2 quarts vegetable oil in a shallow frying pan and place on medium heat. Oil should reach about 350 degrees. While the oil is heating, season both sides of the fillets, then dredge in the seafood breading, being careful not to bread too heavily. For flounder, shape the breaded fish into a circle—the crisscross side should be on the inside—and place the fillets inside the circle. (When it comes out of the oil, you will be able to place the greens, barbecued onions and crab-boiled potatoes inside.) If using snapper, bend the fish so it will look like it is swimming when it comes out of the fryer. Place fish in the hot oil and cook until browned evenly on all sides. Cook the crab-boiled potatoes in the oil with the fish until crisp and golden brown.
Garlic wilted greens ingredients: 1/2 pound mild baby braising greens or leaf spinach 1 tablespoon unsalted butter (or use olive oil) 1 teaspoon cane vinegar 2 teaspoons minced garlic
Preparation: In another shallow sauté pan, add butter and place over medium-high heat. When butter is melted and sizzling, add the minced garlic. Let the garlic toast to a light golden brown and add the greens. Stir to coat the greens with garlic. Add cane vinegar and season with salt and black pepper. Toss just to wilt the greens, then remove from heat.
To serve, place the fish in the center of the plate. Quickly heat the barbecued onions in the pan. Toss with the garlic wilted greens and crab-boiled potatoes. Stuff into the center of the fried flounder or on top of the fried snapper and drizzle with guava cayenne ketchup. Garnish with fresh herbs.
vseagrove.net
---
Dawn's Lamb Stew
By Chan's Wine World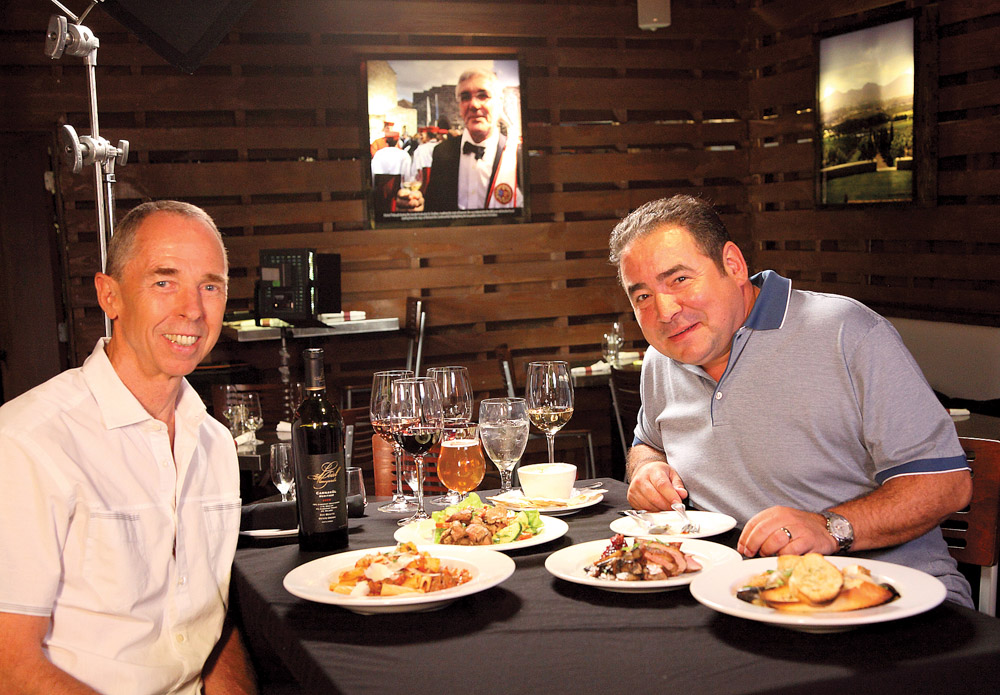 (Serves 6) Ingredients: 2-pound deboned lamb leg (cut into medium chunks) 1 pound ground lamb 7 cups marinara sauce (homemade or store bought) 3 tablespoons olive oil 1/4 cup chopped shallots or yellow onion 1/4 cup minced garlic 1/2 tablespoon ground black pepper 1 tablespoon salt 1/2 cup rough chopped fresh basil 1 1/2 cups red wine 1 tablespoon dried oregano 1 1/2 pounds rigatoni pasta Fresh grated Parmesan cheese for garnish
Preparation: Bring a large pot of salted water to boil. Add pasta and cook until tender, about 8 to 10 minutes.  Drain. In a large pot, warm olive oil. Add shallots and garlic and cook until tender, about 3 to 5 minutes. Add lamb leg chunks first. Season with salt and pepper and brown for about 5 to 7 minutes. Add in ground lamb, season with salt and pepper, and cook another 5 minutes. Add the red wine. Let simmer for 5 to 7 minutes on medium heat. Add the marinara sauce, basil, and oregano, and let simmer on low heat for 30 minutes or until lamb is tender and all flavors are blended. Salt and pepper to taste. Add to pasta and stir until pasta is well coated with sauce. Serve with fresh grated Parmesan.
---
Grouper Elizabeth with Beurre Blanc Cream Sauce
By Elephant Walk at Sandestin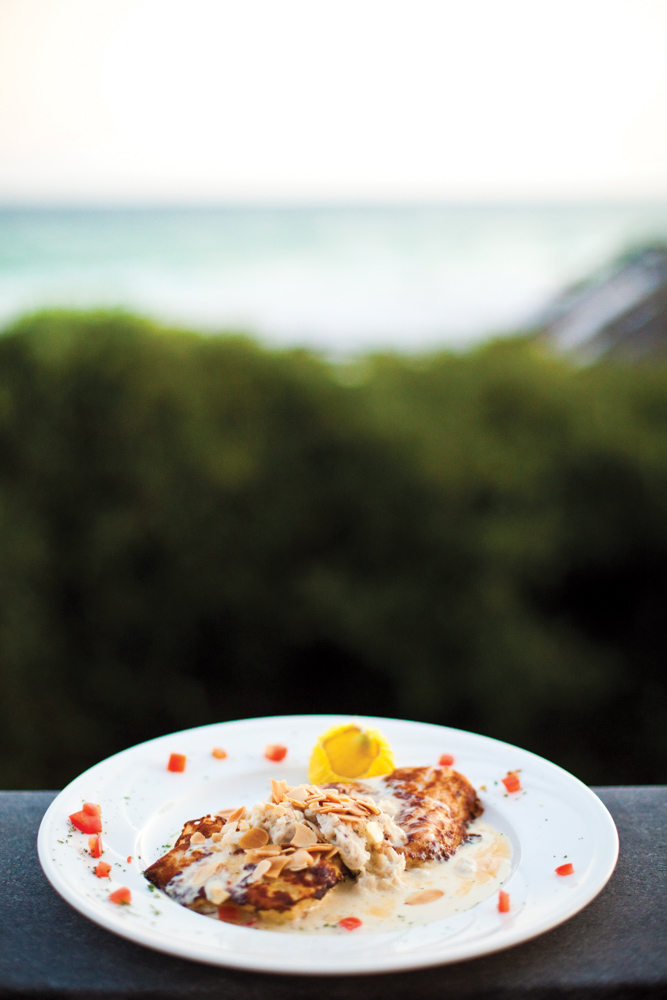 (Serves 4) Ingredients:
Grouper: 2 pounds grouper fillets 1 ounce sliced almonds, roasted 1 ounce jumbo lump crab meat
Seasoned flour: 1 cup all-purpose flour 1 teaspoon ranch dressing (dry seasoning mix) 1 teaspoon white pepper 1 teaspoon fresh ground black pepper
Batter: 3 eggs, beaten 1 cup heavy whipping cream
Beurre blanc: 1 tablespoon chopped shallots 1 tablespoon chopped garlic 1/2 cup dry white wine 1/2 cup lemon juice 1/2 cup heavy whipping cream 2 sticks of cold butter 1 teaspoon white pepper 1 teaspoon kosher salt
Preparation:
Grouper: Begin by cutting the grouper fillets into four equal portions. Combine seasoned flour ingredients and put on a plate. Whisk together beaten eggs and heavy cream in a shallow bowl. Place the fillets into the seasoned flour mixture, being sure to coat the fish generously on all sides. Shake excess flour away and place fish into the egg batter, coating thoroughly. In a hot frying pan, sauté fillets on both sides until golden brown.
Beurre blanc: In a small pan, add shallots, garlic, lemon juice, and white wine. Place on medium to high heat and reduce by half. Add heavy cream and continue to reduce by half. Turn stove down to medium heat and slowly whisk in butter until emulsified. Add salt and pepper to taste.
To complete, divide beurre blanc evenly among grouper fillets, heat the jumbo lump crab meat thoroughly and use to top the grouper. Garnish with roasted almonds and enjoy!
elephantwalkatsandestin.com
---
Stewed White Beans with Arugula and Tomatoes
By 723 Whiskey Bravo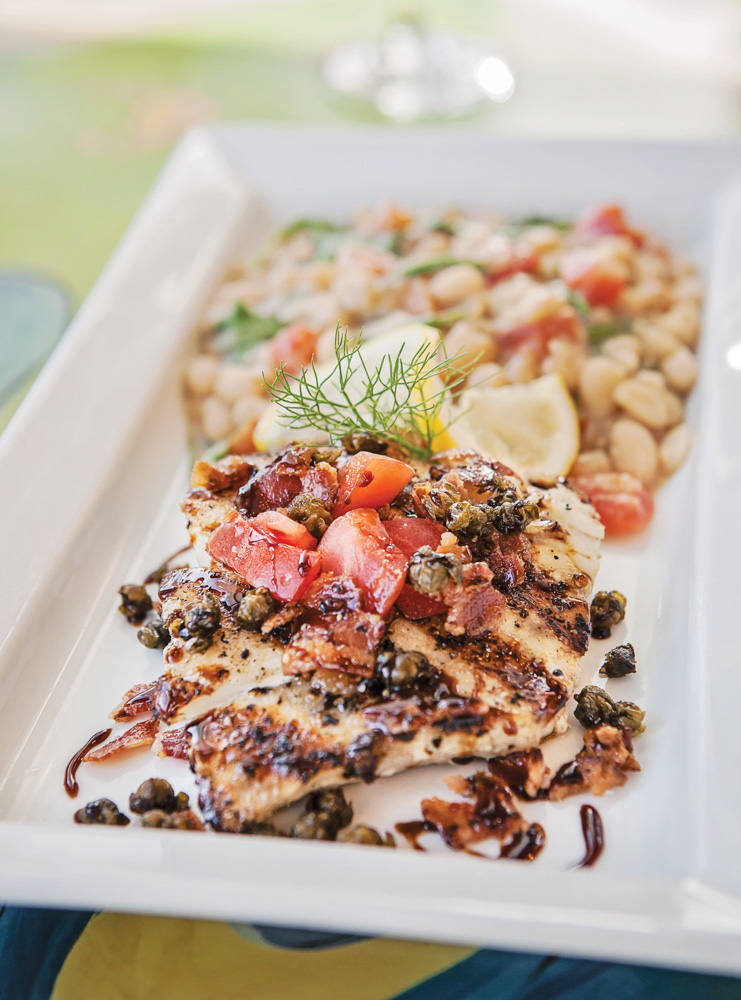 (Yields 10–12 servings) Ingredients: 3 pounds dried white beans 1/2 pound applewood-smoked bacon 1 small yellow onion, diced 1/4 cup high-quality chicken base 8 cups water 1 tablespoon salt 2 tablespoons black pepper 1 cup diced tomato 2 cups fresh arugula
Preparation: Take bacon and slice into 1/4-inch strips. Add bacon to a large stockpot and cook until it is brown and starting to get crispy. Add the onion and stir, making sure to scrape the brown bits from the bottom of the pot. Cook onions with bacon for 5 minutes or until onions are soft. Add beans, chicken base, water, and seasonings. Bring to a boil, then lower heat to medium low and simmer. Stir frequently and check for water; if the beans start looking dry, add a little more water. When beans no longer float (after about an hour), keep a watchful eye on them for another 25–30 minutes. At this time, check beans to see if they are soft. When beans are done and you're ready to serve, stir in tomatoes and arugula. Continue cooking for just a few minutes longer until arugula is wilted and tomatoes are heated through. Serve with your favorite piece of fresh grilled fish.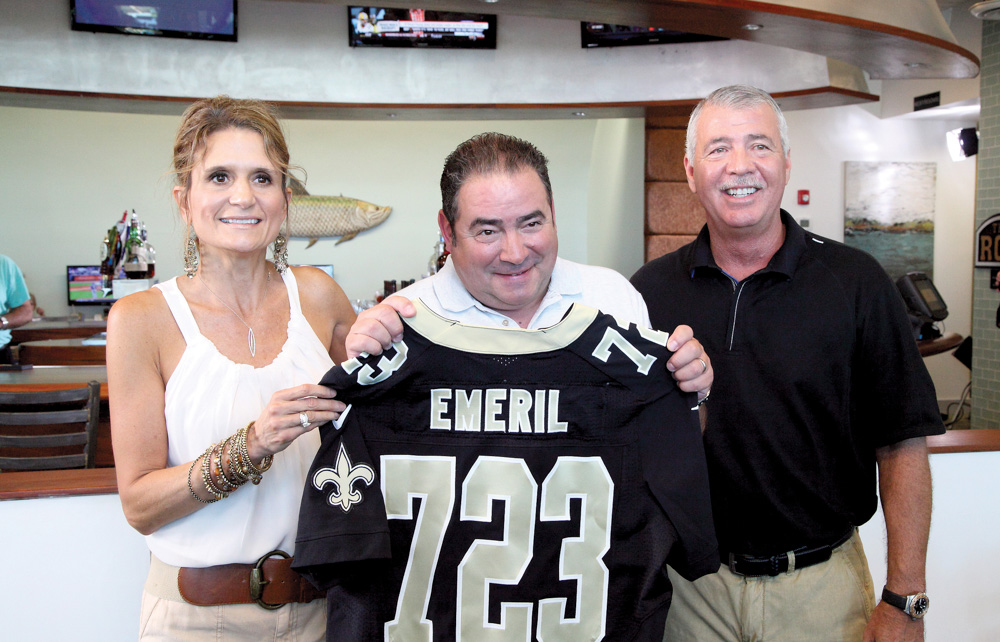 — V —
ARTICLE CATEGORIES