Crafting Excellence since 1976
By Jordan Staggs | 
Photography by Jack Gardner
At first glance, a beautiful structure strikes you with its pleasing proportions and layout. As you look more closely, you begin to appreciate the smaller details that make the structure truly unique and remarkable. Custom wood details are the specialty of the San Juan family in Youngstown, Florida; they have been creating wood building products for architects and homeowners since 1976 at their eponymous firm, E. F. San Juan, Inc. Truthfully, the family business began before that, when Eddie San Juan, a cigar maker turned carpenter, opened a small cabinetry business in Miami in the mid-1900s. Eddie's son, Edward F. San Juan (Ed), joined that business and built it into a furniture manufacturing operation before founding E. F. San Juan, Inc. in 1976. Today, Ed's son, Edward, serves as the company's president and leads a team that is focused on expanding the company's reach and growing its custom cabinetry division after thirteen months of rebuilding in the wake of 2018's Hurricane Michael.
"My father and grandfather started our family's woodworking tradition in Miami, manufacturing cabinetry and furniture for custom homes, department stores, and banks, so you could say that we were a cabinetry company before anything else," says Edward A. San Juan. "In fact, for years, people who met my dad or me for the first time would say 'You make cabinets, right?' So, it seemed natural that one day an expansion into cabinetry would be logical for us. It just took time and the right set of circumstances for this opportunity to be realized. Now that we are into our second year in this division of our business, we see tremendous demand for locally manufactured custom cabinetry. Our cabinetry team shines regarding design, product quality, fit, and finish. All our finishes are waterborne, and all our product is free of formaldehyde with all sheet goods domestically sourced. We are so confident in the quality of the product we produce that we offer it with a lifetime warranty, and this means a lot to the clients we serve."
The growth of the company's custom cabinetry division was not without its hiccups—the largest one being Hurricane Michael. But today, E. F. San Juan's newest division has twelve employees, including Edward's daughter, Lydia, focused on the cabinetry side of the company's business.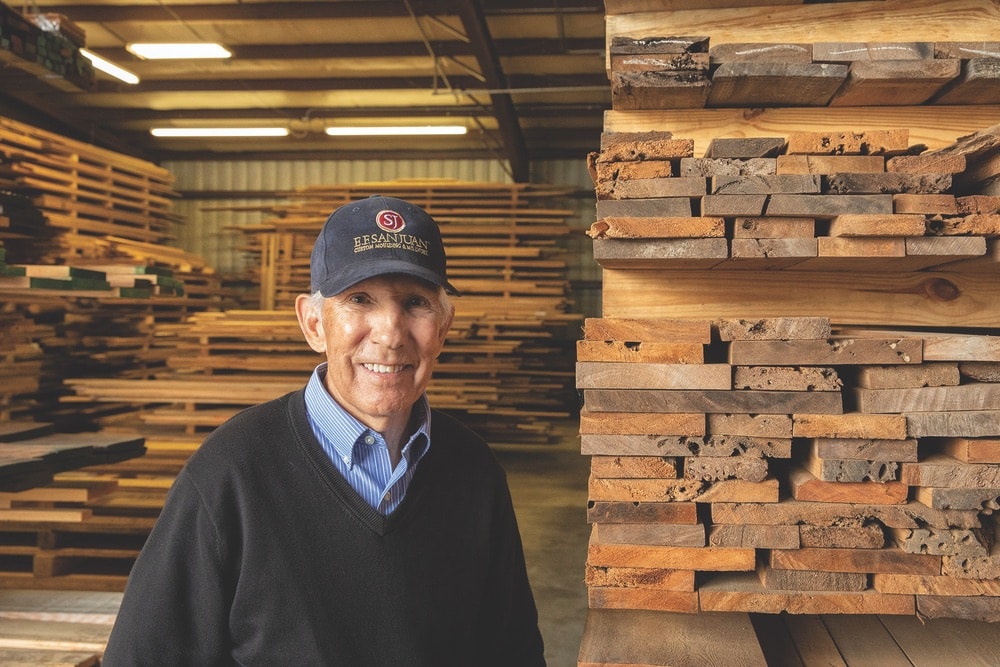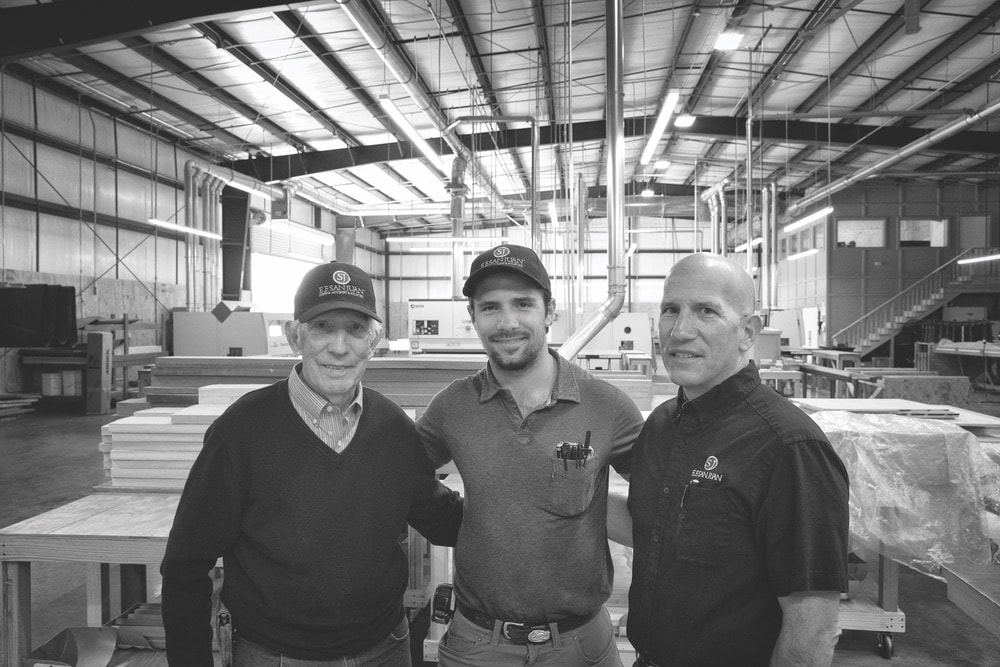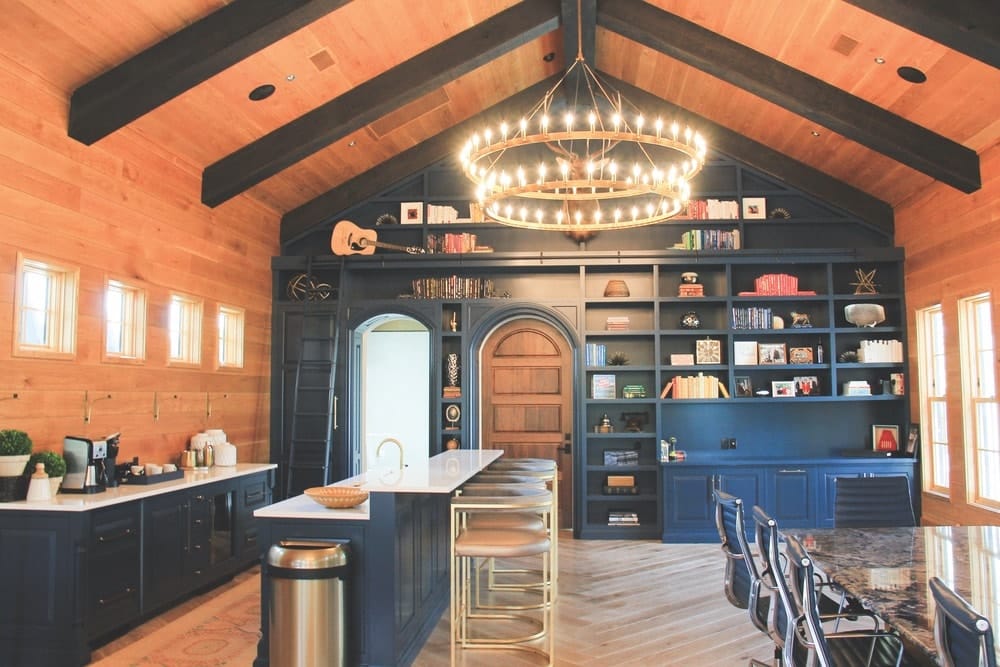 Although he was always interested in living up to the legacy of his grandfather's cabinetry business, Edward says that it was important to wait for the right time to expand into that new division at E. F. San Juan. "If we had done it too soon, it had the potential to be a distraction to our core business," he explains. "For this reason, we waited for the right opportunity and were fortunate enough to find it in 2017, when a husband-and-wife team agreed to sell their successful start-up cabinetry business to us. Through this acquisition, we were able to bring on a talented group of artisans along with an established clientele from which to grow this division. In June of 2018, we moved the team from the facility they leased nearby to a new, purpose-built manufacturing facility on our campus. We have invested heavily in this division of our business and see tremendous opportunity not only as it relates to custom cabinetry, but also in the way of prefinished mouldings and interior and exterior doors. We recently shipped a prefinished entry door system to an estate on Long Island, and this sale was made possible by our ability to provide the door prefinished and ready for installation."
E. F. San Juan's first cabinetry projects were relatively simple as they took the time to get more comfortable and hone expertise in the division—a wise approach from the experienced leadership team that has grown the business for over forty years. "At this point, we have an extremely talented cabinetry designer and design team whose imaginations we have been able to realize through the capabilities of our production and installation crew," says Edward. "One recent project featured a complicated floor-to-ceiling wall full of geometrically challenging cabinetry finished in Van Deusen blue which, once installed, was simply stunning. Another project was built of soft maple that was uniquely characterized with wormholes and stains courtesy of the ambrosia beetle. Instead of building traditional cabinet doors with wood panels for the cabinetry in this country cabin, we built the panels from the bark of the poplar tree, and the result was truly unique and befitting of the locale. In all our woodworking endeavors, the real joy comes from the design challenge and the realization of the client's, architect's, and designer's vision. Designing and manufacturing custom cabinetry gives us one more outlet to fulfill this ambition."
"My father, the founder of our company, has taught us well and continues to show us the resolve it takes to persevere."
Although the majority of its business comes from the affluent neighborhoods along Scenic Highway 30-A in Northwest Florida, such as Alys Beach, E. F. San Juan's reach goes far beyond the Gulf Coast and continues to expand. Some of its more common markets stretch down the state of Florida from Pensacola through Tallahassee, Tampa, Orlando, and Naples. Mobile and Birmingham, Alabama, have been rewarding as well, as have the eastern shore of Mobile Bay and the Mississippi Gulf Coast.
"The Emerald Coast and the 30-A area are a strong market for us given the proximity to our production facilities and the volume of architecturally inspired projects there," Edward explains. "Fortunately for us, the architects and interior designers with whom we have collaborated for many years have gained significant reputations outside of this area and, as a result, we have provided product up the Atlantic coast to projects in Virginia, New York, and Maine, as well as into the Caribbean. We have participated in projects as far west as Arizona (we had to make sure the lumber used in this project was very dry), as well as Texas, Louisiana, Arkansas, and Montana." Cities along the Florida coast and more are on the radar, as E. F. San Juan's team continues to build relationships throughout the state. "With our trucks making regular trips to South Florida, the Atlantic coast from Vero Beach to Miami and up the Gulf Coast from Naples to Tampa are markets where we see a great need for our level of quality and service."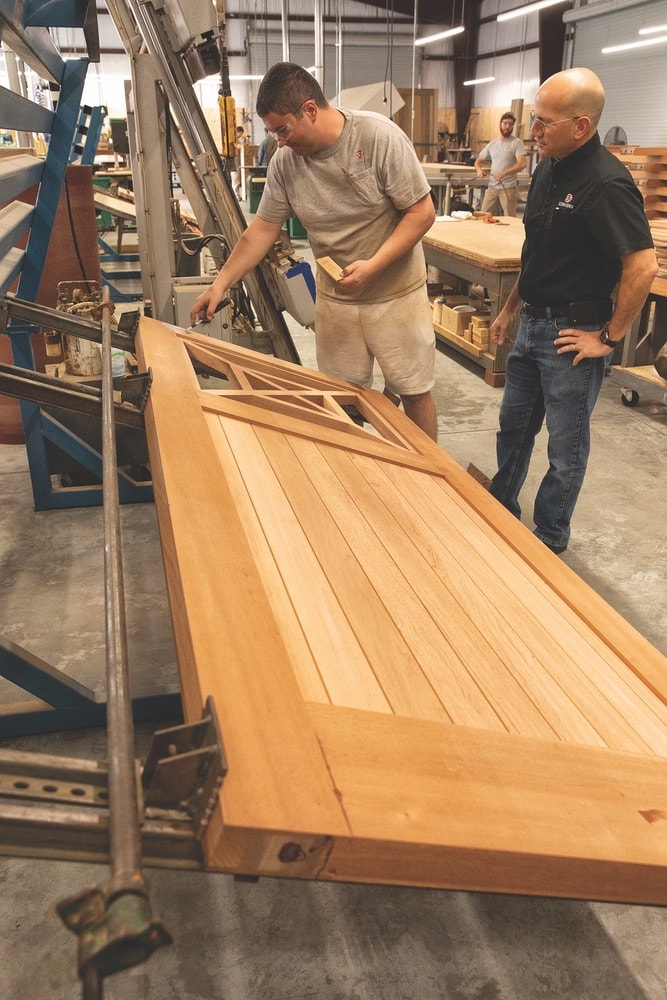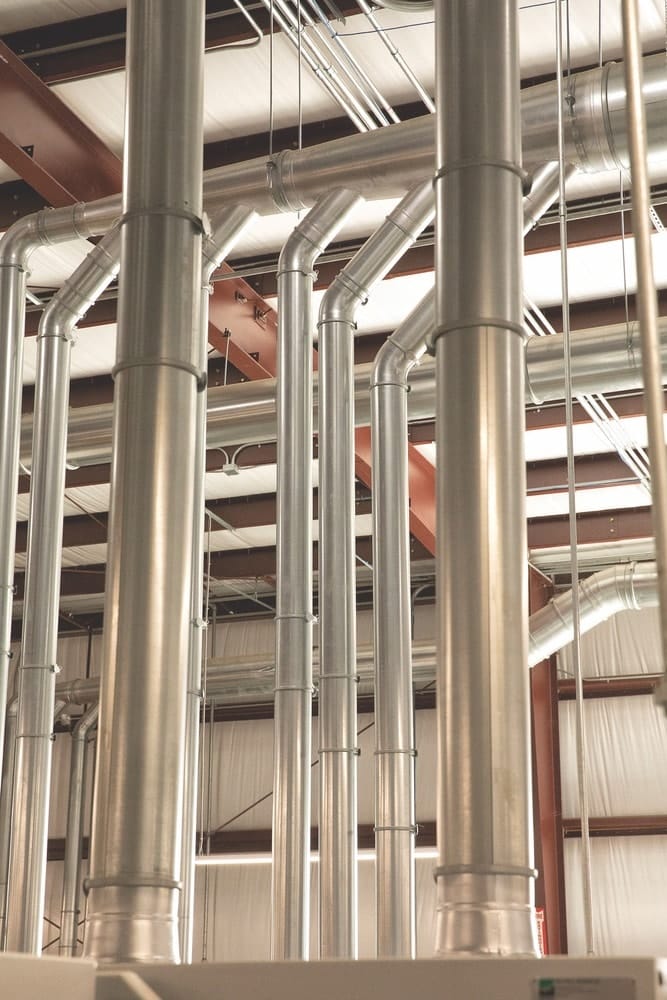 In addition to custom cabinetry, Edward says he and his team have found that homeowners are passionate about custom entry doors, another E. F. San Juan specialty. "We like to think they are passionate about all the products we manufacture, but these two categories generally are the most important millwork items in the eyes of the homeowner," he says. "As a result, the builders, architects, and designers with whom we have worked to date sincerely value the fact that we can work directly with the homeowner to create the cabinetry they desire. The reaction of the client after a day of cabinetry installation is typically quite rewarding. Seeing an empty room of walls transform into a dream kitchen, bathroom, or closet will always bring a smile to the client's face."
"I believe that leaders have a responsibility to be a source of energy and positivity to those around them."
For a business that was nearly wiped out by a natural disaster less than two years ago, it's inspiring to see how E. F. San Juan has risen from the tough times and even used them as an opportunity for growth and improvement. Much of this is thanks to Edward's positive, nurturing attitude as the company's president. "Years ago, I learned an expression from a client turned friend, and I have carried it with me ever since," he shares. "He would always end a note or conversation with the phrase 'Make it a great day.' This phrase made me contemplate and realize that it really is within our individual power to make every day a great day, and that is the attitude I bring to every new day. I believe that leaders have a responsibility to be a source of energy and positivity to those around them. As a leader, you may not have signed up for that role, but people are looking to you for guidance and inspiration."
Always looking for (and usually finding) a silver lining in any negative situation, Edward and his team have also seen opportunity rise from the recent coronavirus pandemic. "I think that COVID-19 has made many people realize that they can work from home," he says. "I also think that it has made many people realize that they need to make some changes to their homes to make them more livable. Once the economy is back on track, I fully expect to see a number of inquiries for outdoor kitchens and new interior cabinetry to update existing homes. With our design ability, we can help a client transform an existing space into a much more livable and enjoyable entertainment area."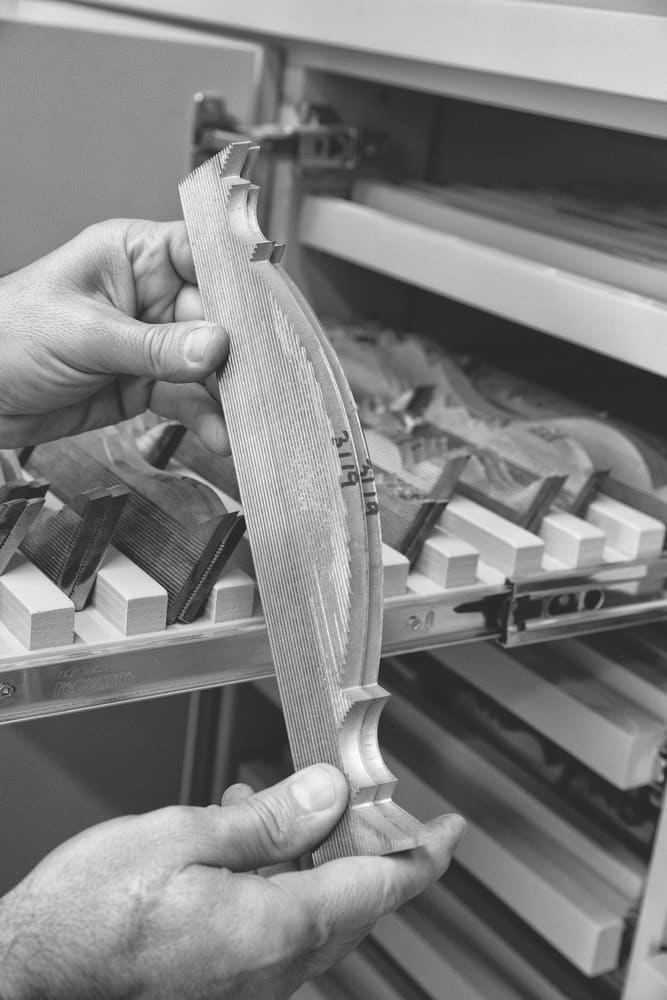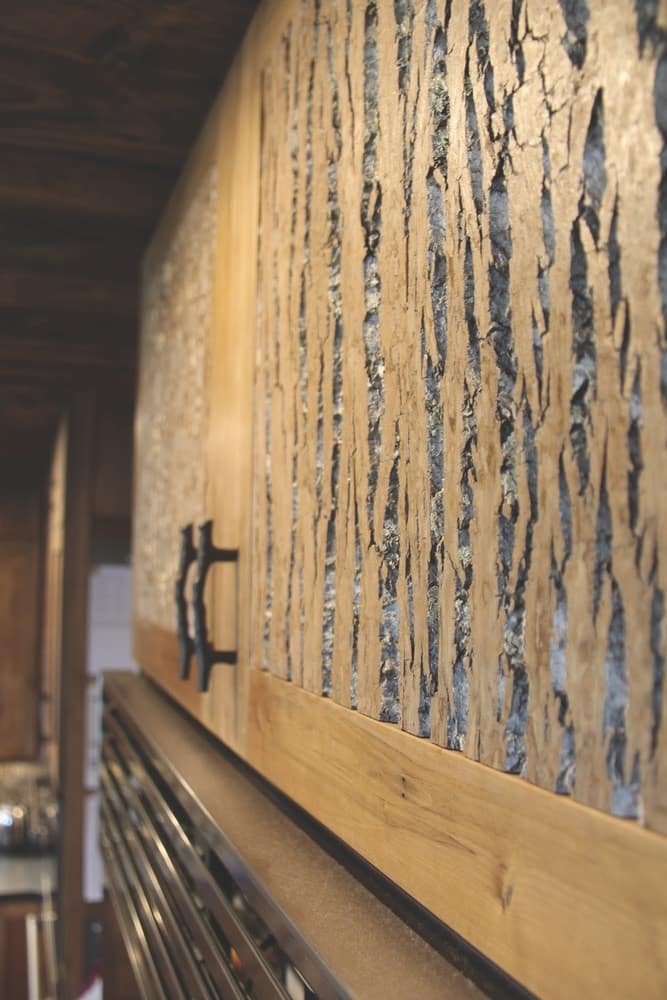 He continues, "I have a loving family and a great team around me. My father, the founder of our company, has taught us well and continues to show us the resolve it takes to persevere. We have worked hard to build a company that creates lasting beauty for our clients and rewarding careers for our team members. We love what we do and we recognize that time brings change and challenges in life and business. We cannot rest; we must constantly anticipate and evolve if we wish to remain relevant. At E. F. San Juan, we not only wish to be relevant, but we desire to be world class, and that challenge means continuous improvement must be a ritualized way of life. We live for the challenge!"
— V —
---
Visit EFSanJuan.com to learn more and see more of their work.
ARTICLE CATEGORIES