By Bob Brown | Photography by Romona Robbins
We had anticipated taking this kayak trip on the Econfina Creek Canoe Trail for quite a while, but with Hurricane Gustav bearing down on us, we were not sure it would be possible after all. After frequently reviewing the weather radar, with high hopes and a little faith, my friends and I decided to give it a go.
I have the good fortune of being the stepson of Marlice Brown, the proprietor of The Kayak Experience, located in Destin, Florida. She loaned our group four Eddyline sit-in kayaks, which we transported by trailer to the Econfina Creek Canoe Livery, located just off Highway 20 near Youngstown, Florida. If we had not brought our own, rental kayaks or canoes were available from the Econfina Creek Canoe Livery, owned and operated by Debbie Gay and her daughter. Their shop can be found right at the point where we began our kayaking adventure.
The Econfina Creek Paddling Trail is an exquisite eight-mile stretch of natural habitat dotted with natural springs and river shanties. Experiencing this marvelous waterway was invigorating for our souls and renewed a sense that our lives are small in comparison to nature's beauty and wonder.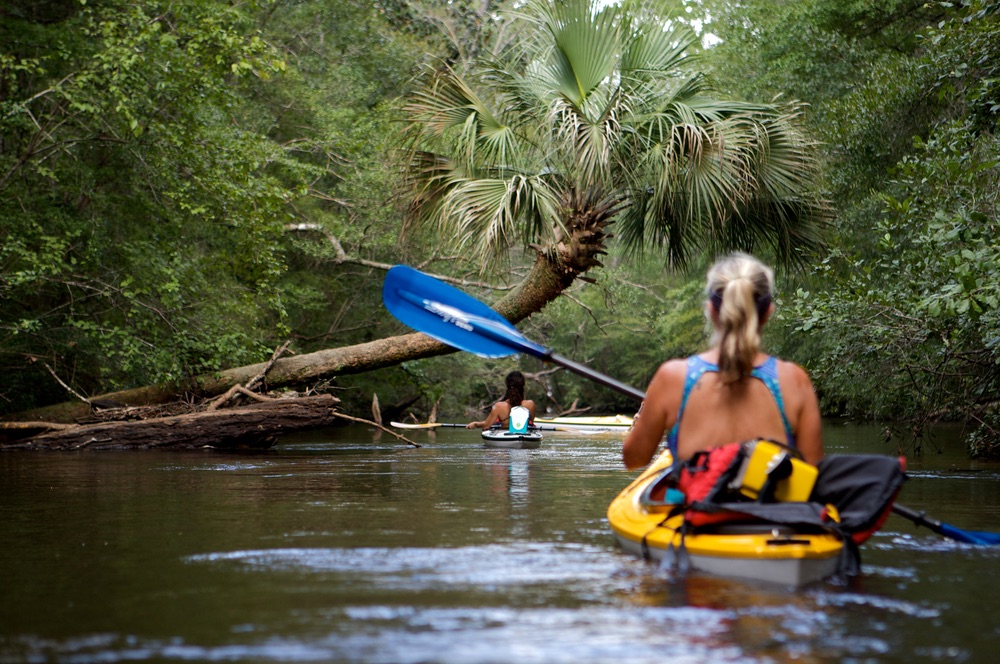 The springs that we encountered on this paddle—six springs in all—are rare sights indeed. Several of the springs' locations required us to paddle a short distance into narrow and winding offshoots that meander off the creek's main flow. These offshoots (or runs) are easy to spot, as the creek, brown with tannins, blends with the clear, cool waters that bubble up from underwater aquifers and intermingle at distinct junctions. This convergence is a telltale sign that a spring is nearby. As we paddled towards the springs, magnificent little self-contained worlds unfolded before us. Just when we thought that the creek's natural beauty could not possibly get better, it did.
As we paddled down the creek, our bodies began to build up some heat. By the time we made it to the first spring, we were ready to jump out of our canoes straight into the clear, cool water. The water is cold enough to require a bit of nerve to get into, but I prefer to get it over with as quickly as possible; I dove right in. Once in the spring's incredibly clear water, I was golden.
One of the first springs we encountered on our journey was Williford Spring. It is a large, deep spring with plenty of room to swim and a small sandy bank handy for parking the kayaks. A limestone ledge runs along one side of the spring which we were able to use as a small platform for diving into the clear blue water that gushes from the vent at the bottom of the spring.
Visitors to Econfina Creek should bring a diving mask in order to clearly view the underwater beauty. Swimming against a rushing current of spring water pouring out of a hole at the bottom and peering inside the aquifer is a mind-boggling experience. I was amazed to think that this water had probably traveled underground for hundreds of miles to form this perfect little swimming pool just for us.
Several of the springs form their own little microcosms in the surrounding foliage and land formations. Upon arrival, I felt as if something very important had been interrupted and that it could not resume until we were gone. However, by remaining quiet, swimming slowly and soaking it all in, I began eventually to feel as though I was blending in and becoming a part of this magical place. Slowly and subtly, I noticed the effect of this feeling. I was gaining a new perspective, able to see my surroundings as they are and as they have been for thousands of years.
Not all of the springs we encountered on this paddle had the same effect on us. The ease of access and the man-made accommodations surrounding Pitts Spring have made it a local hangout on the weekends. While there are some "colorful" personalities to encounter, everyone we met was friendly and seemed to be there to have a good time. Walkways, benches and even a staircase all lead down into the spring. I prefer the more secluded settings that some of the other springs offer, but a good time can still be had here.
My favorite spring, Gainer Spring #3, actually has three vents within 50 feet of one another which feed water to the surface. We traveled a short distance through a winding run to reach the vents where they form a large swimming area of perfectly clear water. At this spot, the spring was filled with hundreds of brim and bass that were eager to see what we were having for lunch. It would have been easy to spend hours here observing the surrounding scenery while lazily swimming the coves, each with its own unique identity.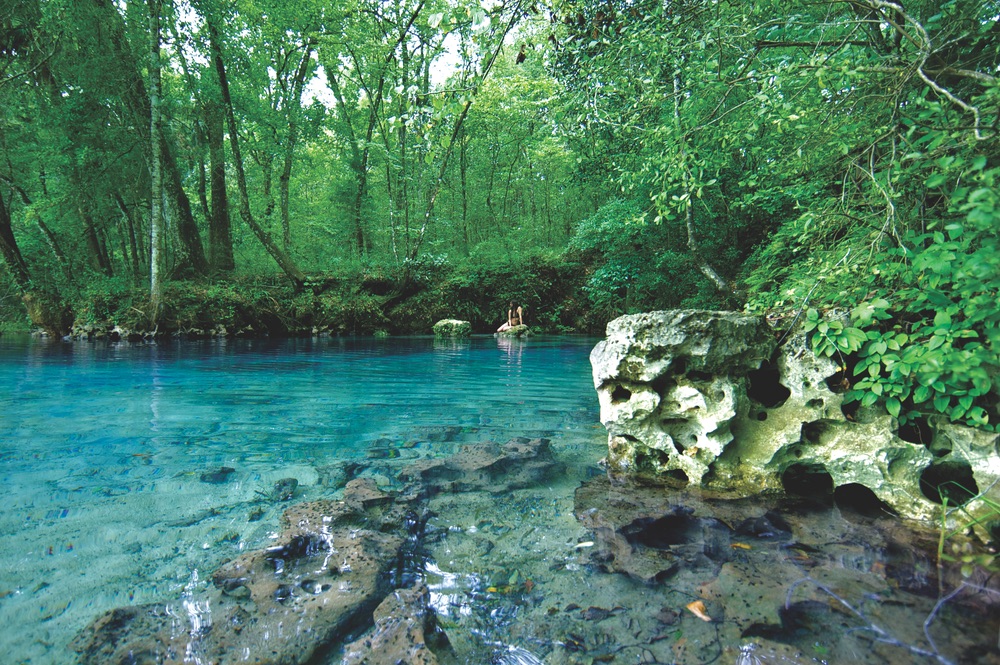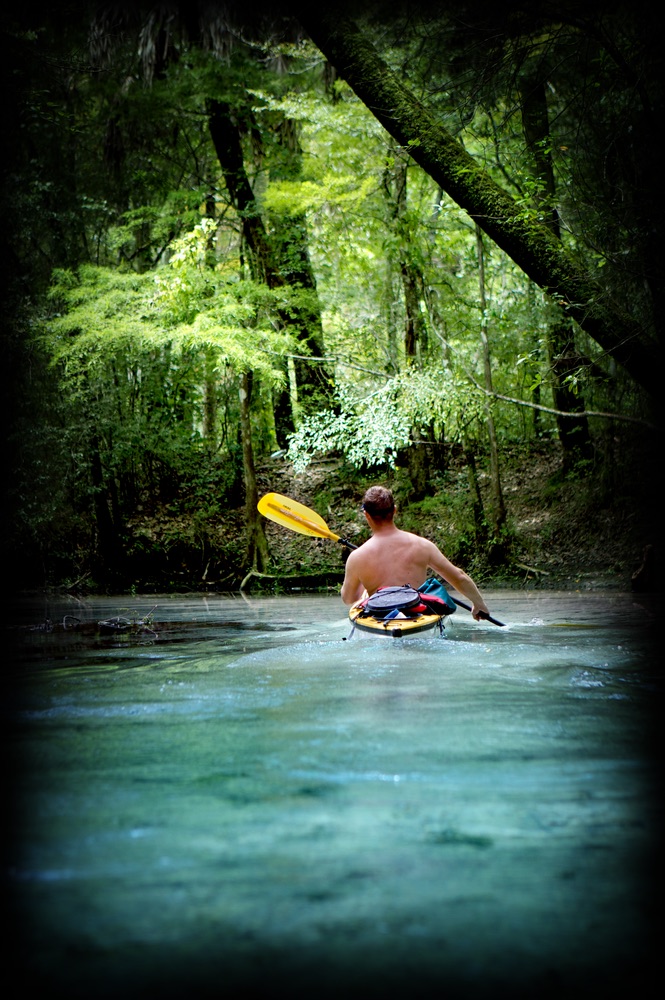 The last spring on our journey, Gainer Spring #2, is in fact the spring from which the Econfina Springs drinking water originates. It is encircled by steep limestone formations overgrown with green ferns that provide a peaceful vantage point from which to take in the views. Here, we discovered another limestone formation that was great for diving and frolicking in the water.
During the remaining portion of the expedition, approximately four miles, we did not encounter any more springs, but we enjoyed a great paddle nonetheless. The flora and fauna, including age-old cypress trees and amazingly varied species of birds and turtles, provided a spectacular setting while we slowly drifted downstream. This part of the trip seemed long for those in our group with short attention spans or too little sleep the night before, but for someone who prefers a lazier float, this portion of the creek may be his or her favorite.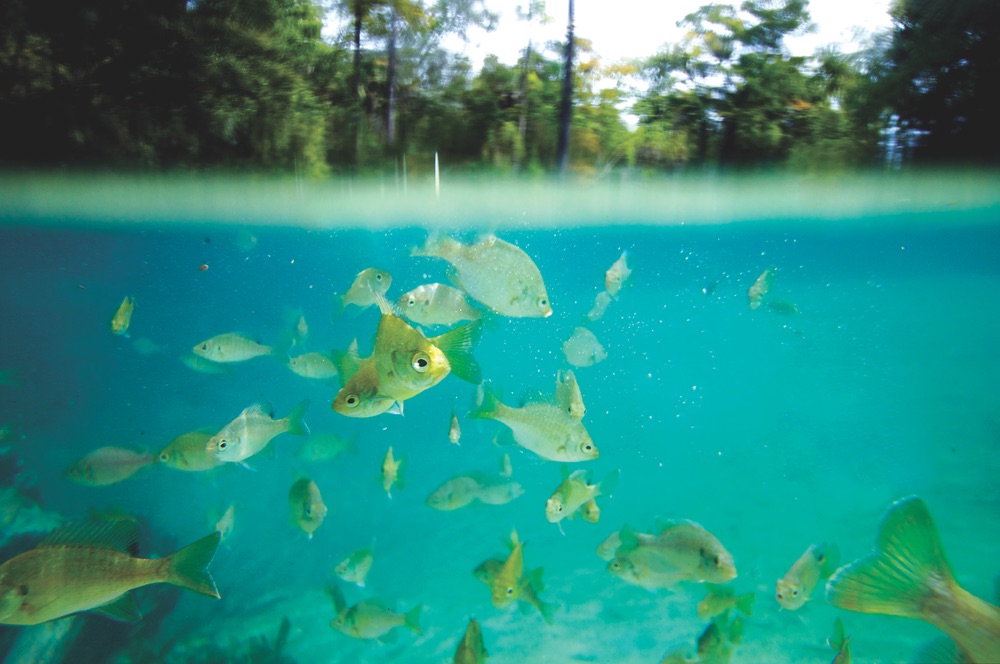 For those who bring their own kayaks, like we did, the Econfina Creek Canoe Livery will (for a small fee) provide transportation from the "take out" spot back to the start. This was a convenient and welcome service after a long day of paddling.
In the end, we were happy that we made the decision to brave the weather because what we experienced was truly amazing—nature at its finest! The entire paddle took us approximately three to four hours to complete, but the natural beauty and splendor that we encountered will stay with us for a lifetime. Econfina Creek is truly a jewel of Northwest Florida that many are not aware of. Anyone who enjoys the outdoors should experience this creek.
A Photographer's Perspective
As a photographer, I aspire to capture the natural world around me through my camera's "eye." My greatest joy is my ability to share experiences with others. Photography is a universal language that uses visual means to deliver all-encompassing emotional and intellectual portraits. My images reveal their own stories to viewers without the use of words.
Photography is a blend of both science and art. Like painters, photographers must take into consideration the subject, balance, color, lighting, line, shape and texture, as well as the story being told, to create a stunning composition that is visually stimulating and emotionally moving. For the technical side of this assignment, I used my trusty old Canon EOS 40D digital camera, a Canon 10-22mm ultra-wide-angle zoom lens, an EWA underwater bag and available light. I experimented with shooting these images half in and half out of the water.
I have had the good fortune to shoot in five continents and nineteen countries, and it is easy for me to forget how beautiful our home is when I frequent exotic places. Econfina Creek took my breath away; its clear, fresh water decorated with deep-rooted cypress trees and meandering banks provided countless photographic opportunities. I hope that others enjoy these images and perhaps feel inspired to plan a trip to this part of Northwest Florida in the near future.
— V —
ARTICLE CATEGORIES