Recipes by Simon Sullivan and Paul Henslin | 
Photography by Marla Carter
In the affluent communities along Scenic Highway 30-A in Northwest Florida, as in many places around the globe currently, the demand for high-quality private chefs and catering services has skyrocketed as more people are not only moving to the area but also opting to dine at home. Whether planning meals for the week or entertaining friends and family for an intimate special occasion, more people are turning to expert chefs to take care of their at-home dining needs. This is the specialty of Éclat 30a, a private chef and catering company based in Santa Rosa Beach, Florida. It was founded by Chef Simon Sullivan, a native of England who grew up along the coast of Louisiana and developed a strong affinity for Cajun flavors and fresh Gulf seafood.
Inspired by his late father, who sparked Sullivan's love for cooking at an early age, the chef later made the hobby his profession as he started working at V Seagrove along 30-A. His dream of becoming a chef was realized just down the road in the beautiful New Urbanism community of Rosemary Beach, where Sullivan served as sous chef at Restaurant Paradis for four years before beginning his solo journey. Now, as the executive chef of Éclat 30a, Sullivan expresses the passion instilled in him by his father by feeding others well. From full-service, multicourse private dinners to brunches, seafood boils, event catering, and meal prep, Éclat 30a helps hosts create unforgettable dining experiences that will foster great conversation and camaraderie while their world-renowned chefs take care of the cooking.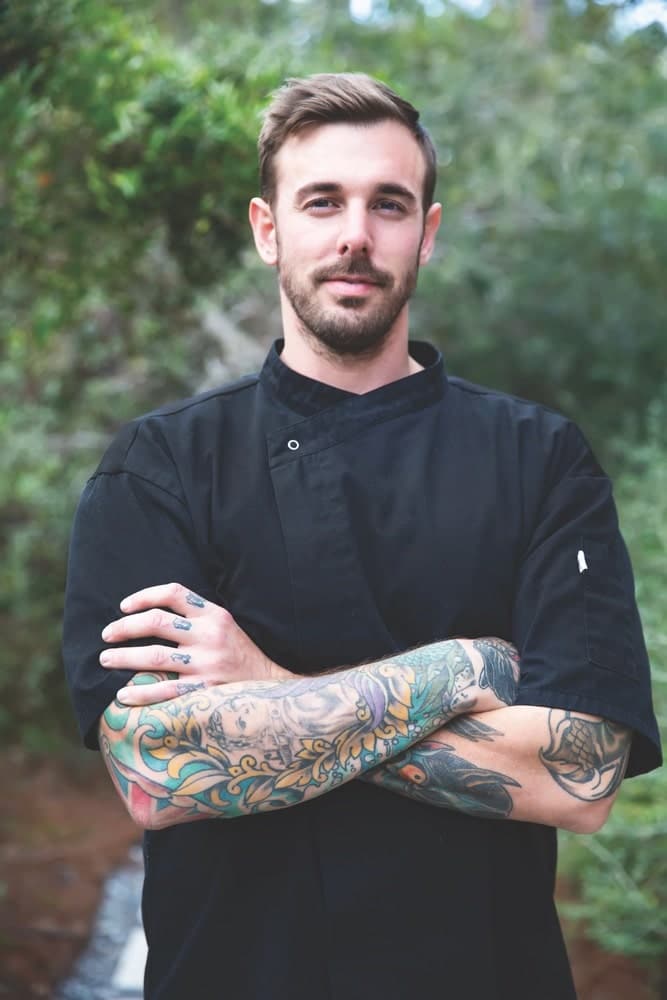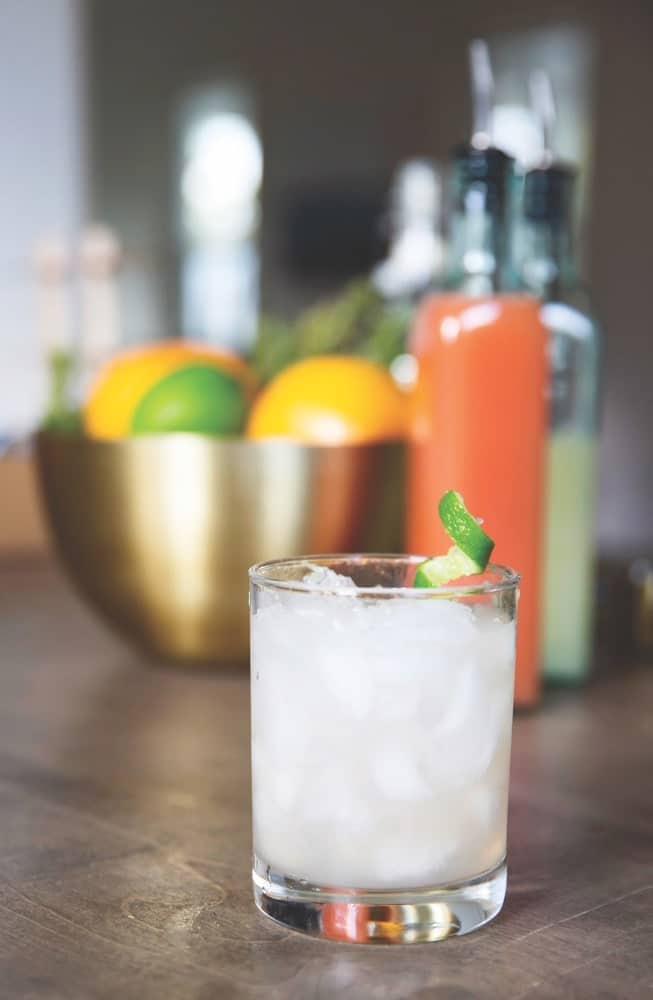 VIE was thrilled to catch up with Chef Sullivan and Éclat 30a's go-to mixologist, Paul Henslin, to bring a taste of the Gulf of Mexico to this special VIE Beach House – A Show Home Issue. They graciously shared some of their favorite coastal-inspired recipes with us so our readers can whip up a taste of the beach at home!
---
Visit Eclat30a.com or follow Chef Sullivan on Instagram @eclat30a for more information on how to book your private event or meal service. Check out cocktails by Paul Henslin on Instagram @saintpablo30a (coming soon!).
---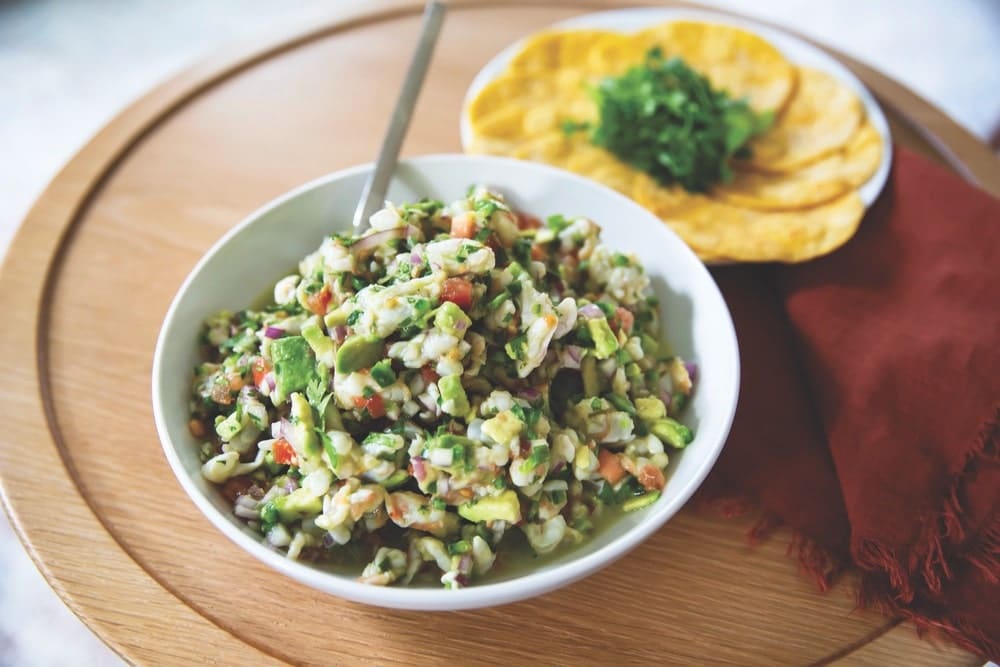 Gulf Shrimp Ceviche Tacos
Feeds 6
Total time: 1 hour
Ingredients
1 1/4 pounds Gulf shrimp, peeled and deveined
3 lemons, juiced and seeds removed
3 limes, juiced
1 grapefruit, juiced and seeds removed
2 avocados, chopped
1/2 red onion, finely diced
2 jalapeños, seeded and finely diced
2 Roma (plum) tomatoes, seeded and diced
1/4 cup roughly chopped cilantro
Salt
Corn tortillas
Directions
Roughly chop the raw shrimp into bite-size pieces. In a large bowl, combine chopped shrimp and juices from the lemons, limes, and grapefruit. Let mixture rest for 30–60 minutes. As it rests, the citrus juices will "cook" the shrimp.
Meanwhile, in a medium bowl, combine the diced red onion, jalapeños, tomatoes, and cilantro.
Once the citrus has "cooked" the shrimp, drain excess liquid and fold in the vegetable mixture. Add salt to taste.
Serve on warm corn tortillas, and enjoy!
---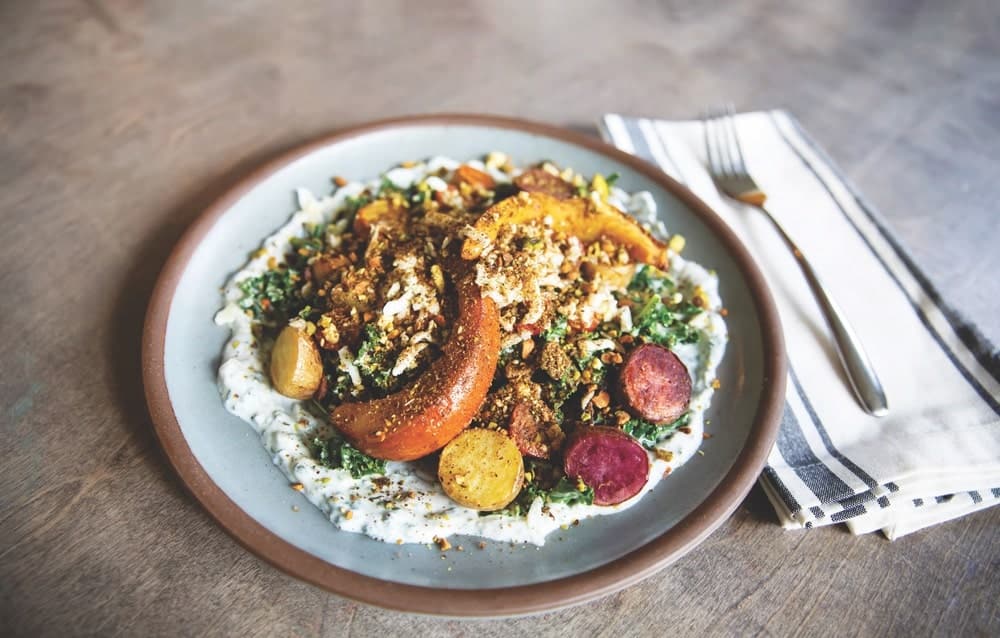 Israeli Kale Niçoise
Feeds 4
Total time: 1 hour
Ingredients
For the tahini dressing:
5 large garlic cloves
1/2 cup tahini
3 lemons, juiced and seeds removed
1/2 cup water
Salt
For the pistachio za'atar dukkah:
1/2 cup chopped pistachios
Za'atar spice blend (found locally at Whole Foods, World Market, or Fresh Market)
For the herbed Greek yogurt:
1 cup plain Greek yogurt
1 tablespoon of each: fresh parsley, mint, and thyme, finely chopped, to taste
1 small garlic clove, finely minced
Salt to taste
For the salad:
1 acorn squash
4 fingerling potatoes
2 tablespoons olive oil
1 bunch of kale, rinsed and picked over, cut into bite-size pieces
1/4 cup halved cherry tomatoes
1/8 cup split kalamata olives
1 egg, hard boiled and finely chopped or roughly grated into crumbles
Salt
Directions
Preheat oven to 400 degrees.
For the tahini dressing:
Peel garlic cloves, finely mince, and place in a medium bowl, reserving a small amount for another use. Add the tahini and lemon juice to the garlic and gradually incorporate the water into the tahini mixture, stirring constantly. Add salt to taste and set aside.
For the pistachio za'atar dukkah:
In a small bowl, combine the chopped pistachios and za'atar spice blend to taste. (I prefer it heavily seasoned.) Set mixture aside.
For the herbed Greek yogurt:
In a medium bowl, combine the yogurt with the herbs, to taste. Add the reserved minced garlic from the tahini dressing and mix to thoroughly combine. Add salt to taste and set aside.
With a sharp knife, cut the acorn squash in half lengthwise. Scoop out the seeds with a spoon and discard. Continue to halve acorn squash pieces until they resemble crescent moons, about 1/2-inch thick. Transfer squash to a rimmed baking sheet.
Slice the fingerling potatoes crosswise, so they resemble coins, about 1/8-inch thick. Transfer to the baking sheet with the squash. Drizzle potato coins and squash crescents with olive oil and season with salt. Roast at 400 degrees for approximately 30 minutes or until tender, remove from oven, and set aside.
Let's build the salad! While the squash and potatoes cook, spoon the herbed yogurt onto a large serving platter. Spread the yogurt across the bottom of the serving platter so that it covers the platter to about 1 inch away from the rim.
Combine the chopped kale with enough tahini dressing to lightly coat each piece, massaging the dressing into the kale by hand. (Massaging in the dressing breaks down the coarser fibers of the kale and tenderizes it.) Scatter the kale on top of the Greek yogurt. Sprinkle the salad with the kalamata olives and cherry tomatoes. Arrange the roasted squash and potatoes across the kale (I like to use 3 squash segments). Place about a quarter of the grated egg in the center of the salad and finish with a generous sprinkle of the pistachio dukkah. Enjoy!
---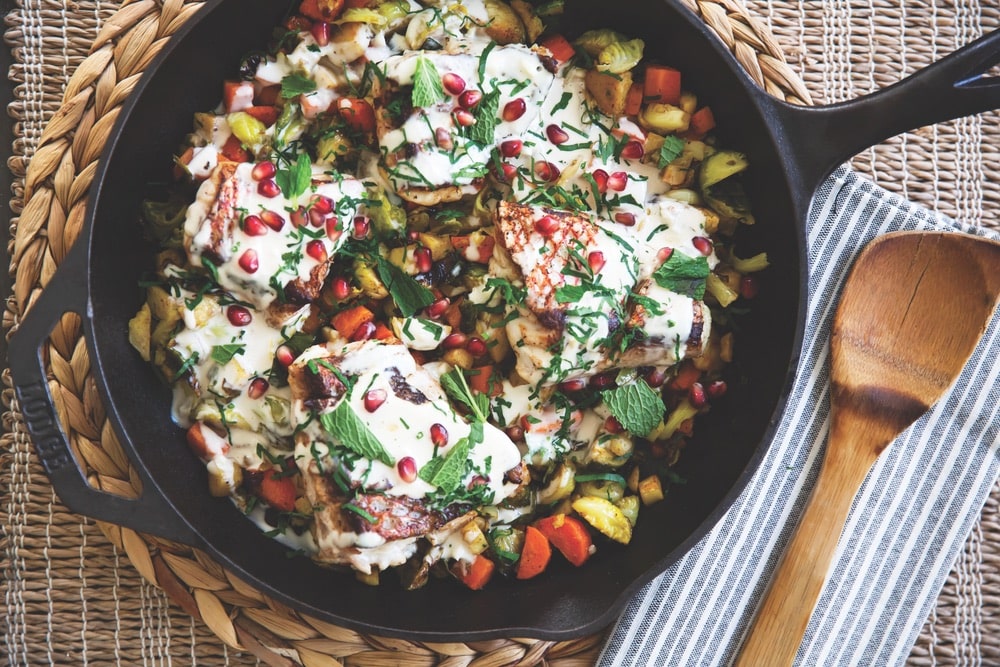 Pan-Seared Snapper with Root-Vegetable Hash and Tahini Sauce
Feeds 4
Total time: 1 hour
Ingredients
1/2 cup tahini
1/2 cup water
5 large garlic cloves
3 lemons, juiced and seeds removed
12-ounce bag of brussels sprouts
3 carrots, peeled
3 parsnips, peeled
1 stick unsalted butter
1 teaspoon coriander
1 teaspoon cumin
1 teaspoon yellow curry
1 bunch flat-leaf Italian parsley
5 mint leaves, torn
1 pomegranate
4 3-ounce fillets of red snapper (approximately 2 pounds total)
4–6 tablespoons olive oil, enough to cover bottom of pan
Salt and pepper
Directions
Preheat oven to 400 degrees.
Make the tahini sauce: Peel the garlic cloves, finely mince, and place in a medium bowl, reserving a small amount for another use. Add the tahini and lemon juice to the garlic and gradually incorporate the water into the tahini mixture, stirring constantly. Add salt to taste and set aside.
Pare stem ends from brussels sprouts, cut each in half, and place on a rimmed baking sheet. Slice peeled carrots and parsnips lengthwise into quarters and add to the baking sheet with brussels sprouts; set aside.
In a small sauté pan, melt the stick of butter over medium heat until it begins to turn golden brown. Stir in coriander, cumin, and curry, along with the small amount of garlic reserved from the tahini sauce, until well blended. Pour butter and aromatics mixture over the brussels sprouts, carrots, and parsnips, and gently mix by hand until fully coated, adding salt to taste. Roast at 400 degrees until root vegetables are tender, approximately 30 minutes. After roasting, leave the oven at 400 degrees and set vegetables aside.
While the root vegetables roast, chiffonade parsley and tear mint (mint will bruise if chopped with a knife). Put herbs in a small bowl and set aside. Break open pomegranate, remove seeds to a small bowl, and set aside.
Season snapper fillets with salt and pepper. Score the skin side in a diagonal crosshatch pattern to prevent the skin from curling when seared.
Heat a large sauté pan over high heat. Add oil to the hot pan and wait until it starts to smoke ever so slightly, then add the fish fillets skin-side down. Cook until skin is crispy and golden brown, approximately 3–5 minutes, reducing heat if skin begins to get too brown. Flip each fillet with a thin metal spatula and put the skillet in the hot oven to finish cooking, approximately 5 minutes. Carefully remove skillet from oven with hot pads and set aside on a heat-proof surface.
Place the root vegetables in a single layer on a serving platter (I like serving this dish family-style). Top the vegetables with the fish fillets and drizzle the tahini sauce over the fish, allowing some to drizzle onto the vegetables below. Sprinkle the dish with the parsley, mint, and pomegranate seeds for a touch of acid, and serve immediately. Bon appétit!
---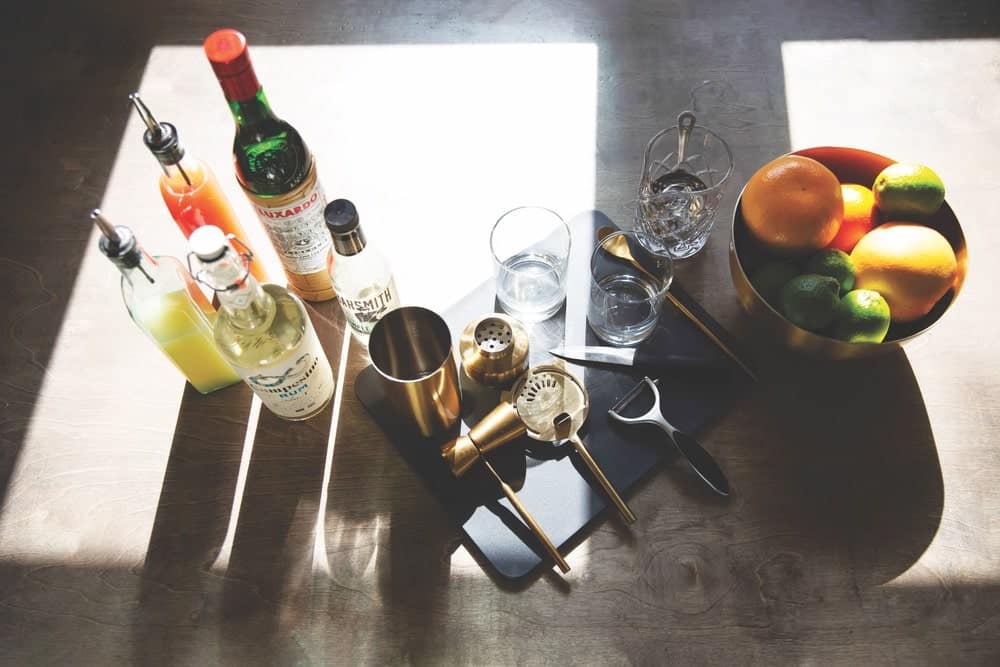 Daiquiri No. 3
By Paul Henslin
When VIE magazine asked me to feature a summer cocktail, I couldn't wait to share the Daiquiri No. 3 with you. It's been a recent favorite of mine because of its history and my recaptured love of rum.
Rumor has it, a bartender named Constantino Ribalaigua Vert created the Daiquiri No.3. at El Floridita bar in Havana, Cuba, in the 1930s. Its nickname is none other than the Hemingway daiquiri, as it was a favorite of the famous author who liked it "without sugar and double the rum." The drink is also sometimes known as the Papa Doble daiquiri.
This version accentuates the best qualities in each ingredient and pairs perfectly with maraschino liqueur.
Ingredients
2 ounces Campesino Silver X Rum
1/2 ounce simple syrup
1/2 ounce fresh lime juice
1/4 ounce grapefruit juice
1 teaspoon maraschino liqueur, preferably Luxardo
Ice cubes for shaking
Crushed ice for serving
1 lime wedge for garnish
Old-fashioned glass
Directions
Combine the rum, simple syrup, lime juice, grapefruit juice, and maraschino liqueur in a cocktail shaker or mixing glass. Shake with ice cubes and strain over the old-fashioned glass filled with crushed ice. Garnish with the lime wedge. ¡Salud!
— V —
ARTICLE CATEGORIES