Justin Gaffrey Brings 30-A to Life
By Jordan Staggs
It starts with a blank canvas. That moment—just before the brush hits the stark white surface—holds in it all the tension and wonder creativity produces. What will Justin paint today?
As the sounds of the Steve Miller Band pump through his home studio/gallery in Blue Mountain Beach, Florida, artist Justin Gaffrey begins working on his first painting of the day, brushing a grey-brown background over the canvas that his assistant, Brian Wood, had built and stretched just this morning. All around the gallery, three-dimensional renditions of landscapes, flowers, birds' nests, and fauna are exhibited, prompting visitors to gaze around, choosing and rechoosing favorites as they discover a new painting around every corner.
Prior to 2001, Justin never even dreamed he would create over five hundred paintings a year. He was a chef and restaurant owner before he realized that cooking the same menu night and day was no longer appealing. "I sold my restaurant and started building furniture," Justin says through the window of the wall separating his studio space from the gallery. "But I have a short attention span, and I got bored with furniture, too."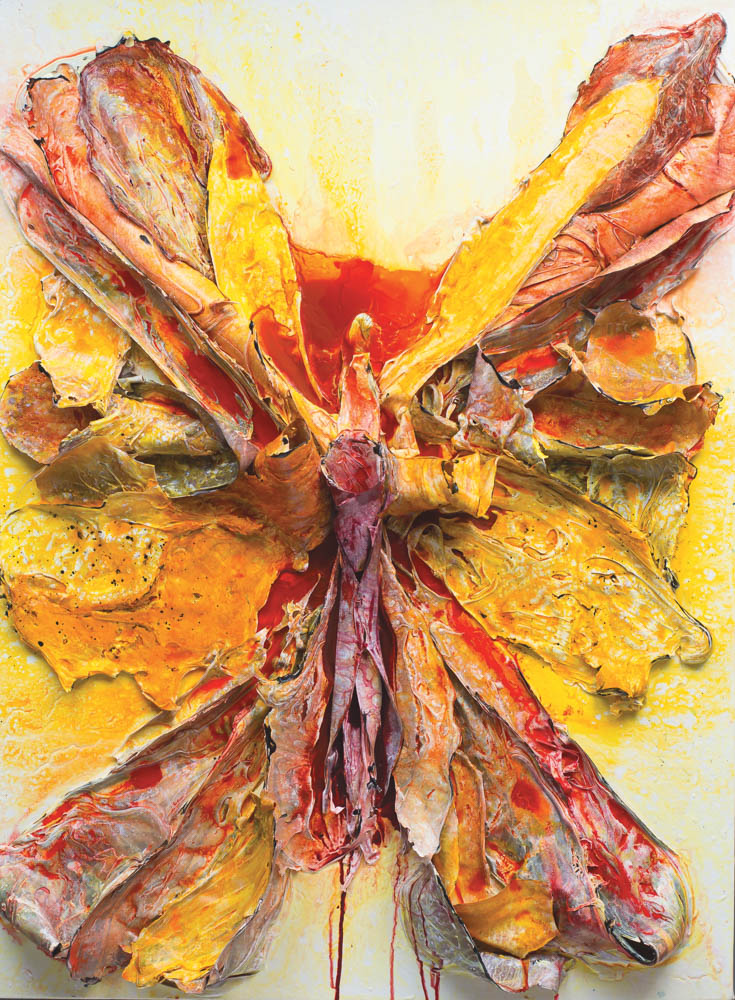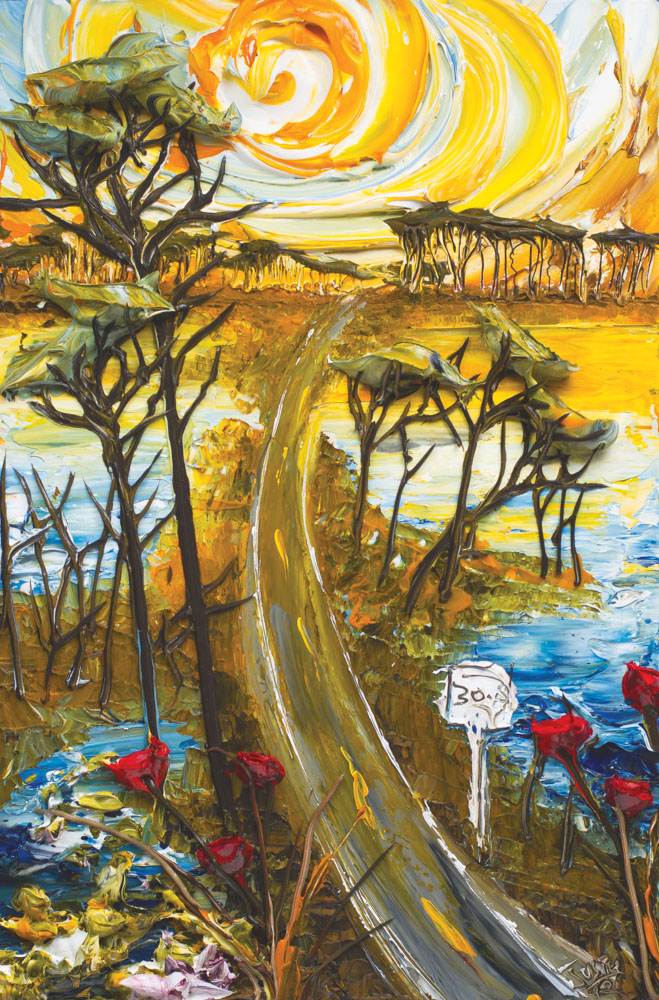 His paintings began as primitive folk art pieces, the very first of which is immortalized in a photo in the back room of his gallery: three skeletons cooking fish in a large cauldron beneath a crescent moon. But one look at Van Gogh's Sunflowers changed everything for him.
"Justin's style really changed then," says Christy Milliken, the director of Justin's studio and his two Florida galleries, one in Blue Mountain Beach and the other in Seaside. "He decided he wanted to inspire people like that. He wanted to create his own style and texture."
And what a journey it has been since then.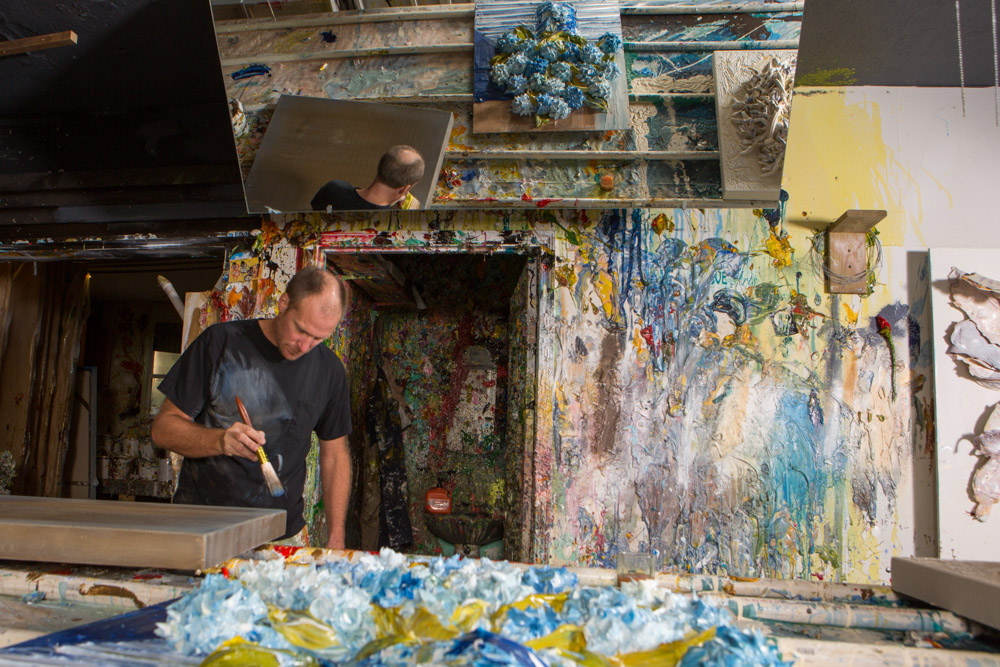 Onto the canvas, Justin piles a small mountain of sky-blue acrylic paint from his palette, which is suspended from the ceiling on a track, a roll of paper towels perched above it. Practically every surface in the small room is covered in tiny multicolored stalactites of paint. Justin says he goes through about a ton of paint each month—literally.
The small blue mountains begin to take new shape as Justin plucks at them with a palette knife, his tool of choice. He rarely uses a brush except when painting the backgrounds of his works. Each swift movement creates a petal, transforming a mountain into a well-known blossom: the hydrangea. Justin didn't even know how to use a palette knife when he began painting. "I used it how it made sense," he says as he continues to scoop and sculpt each blossom. "I don't think anyone teaches how to paint this way. You could say it's like building."
Sunflowers are still one of Justin's most popular subjects, and many of the pieces include the words to the popular song "You Are My Sunshine." "It seems like everyone who comes in here or to the galleries has a different story about the song," Milliken says. "Whether their grandmother or their mother used to sing it, it's special for a lot of people."
While Justin works, Carrie and Brad Pittenger of St. Louis peruse the gallery and choose a gorgeous sunflower piece, their first purchase after years of visiting Justin's gallery while on vacation. "We've been looking to redo our bedroom and think this painting will be perfect," says Carrie. "We have friends who have a house in the area and they have about eight of Justin's pieces. They're the first things you notice when you walk in, and we love it. It's really part of the 30-A scene."
Sunflowers and coastal landscapes are still a large part of Justin's repertoire, but his theme of the moment is better reflected in organic nests and driftwood-inspired animals, such as the majestic nine-by-six-foot horse painting at his self-named gallery in Seaside. He loves creating new pieces and discovering how to make the best version of each subject. Of course, as with works by any artist, everyone sees each painting differently.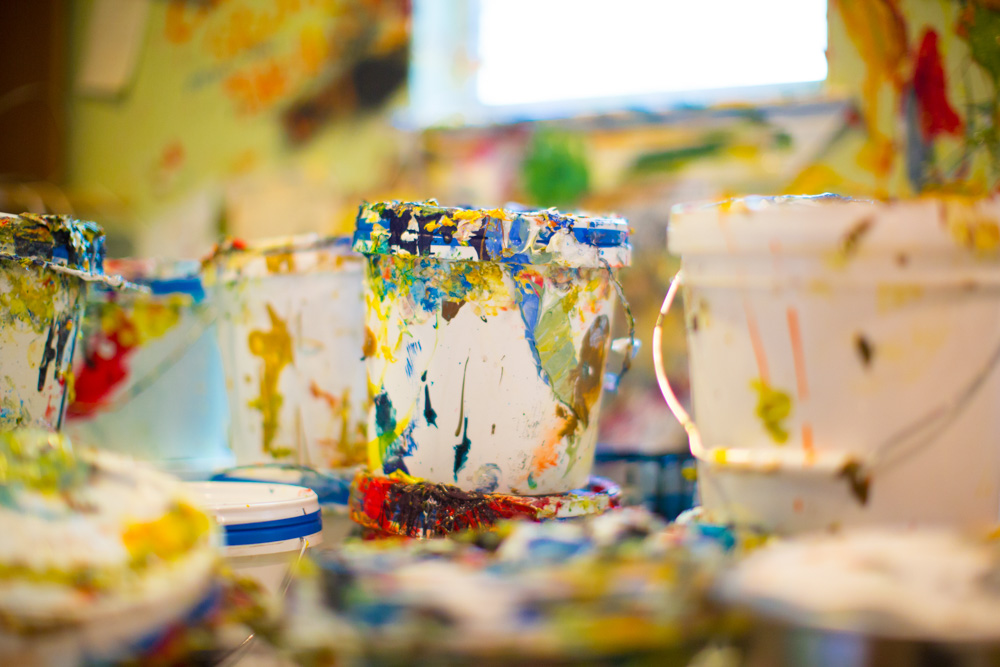 "There's my part of making this art and then there's the interpretation," Justin says as he squeezes more paint onto the canvas using a conical paper tube. Experimenting with new ideas and styles keeps him from growing bored. "You want to do things to satisfy your own soul. I have a lot of ideas. I have books everywhere full of ideas, and it's a little daunting sometimes. Winter is usually when I try the new ones, when it's not so busy."
This winter might prove to be busier than usual with Justin's 2012 tour of painting and selling exhibitions scheduled in Tennessee, Virginia, and Alabama. It will also give Justin some time to interact with people, particularly children. "It's really exciting to see kids be stimulated by something other than what stimulates the masses, to see how real it is to them," he says. "I always ask what kind of attention span these kids have because that's one of my big things. Once I learned that I have a short attention span, I learned to work fast."
That's no exaggeration. In about ninety minutes the hydrangea piece is not only stunning but almost finished. Proclaiming he needs some more color, Justin pours out a healthy dose of orange paint and begins experimenting with it on a paint bucket. His shoes, encrusted with so much dried paint they resemble a clown's, crunch softly on the floor as he moves about the studio. He tosses the bucket aside and takes up the paper cone again, squeezing out paint that becomes the piece of twine holding his bundle of hydrangeas together.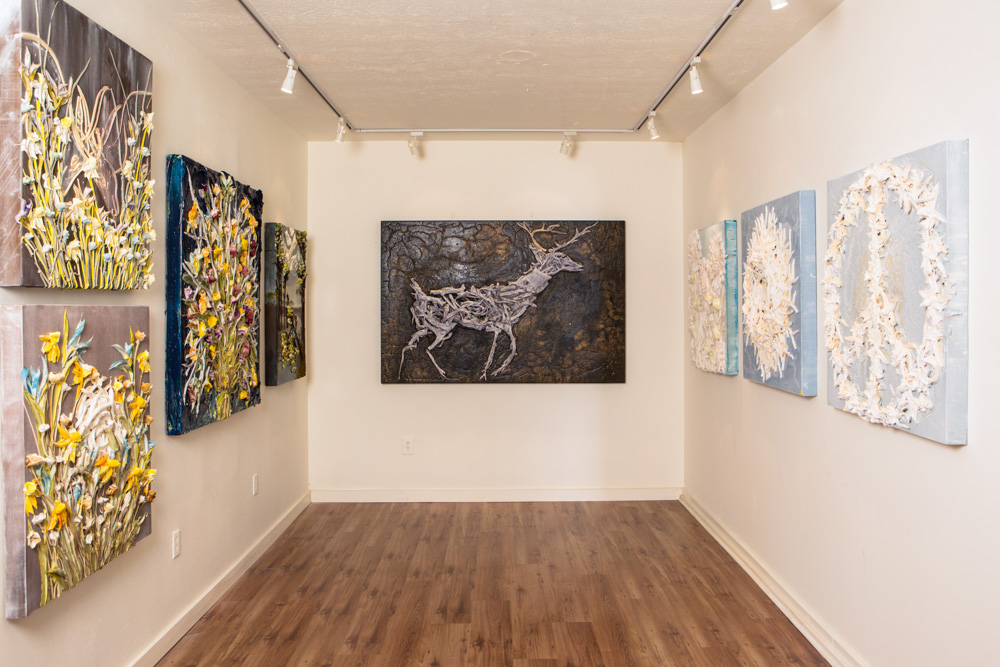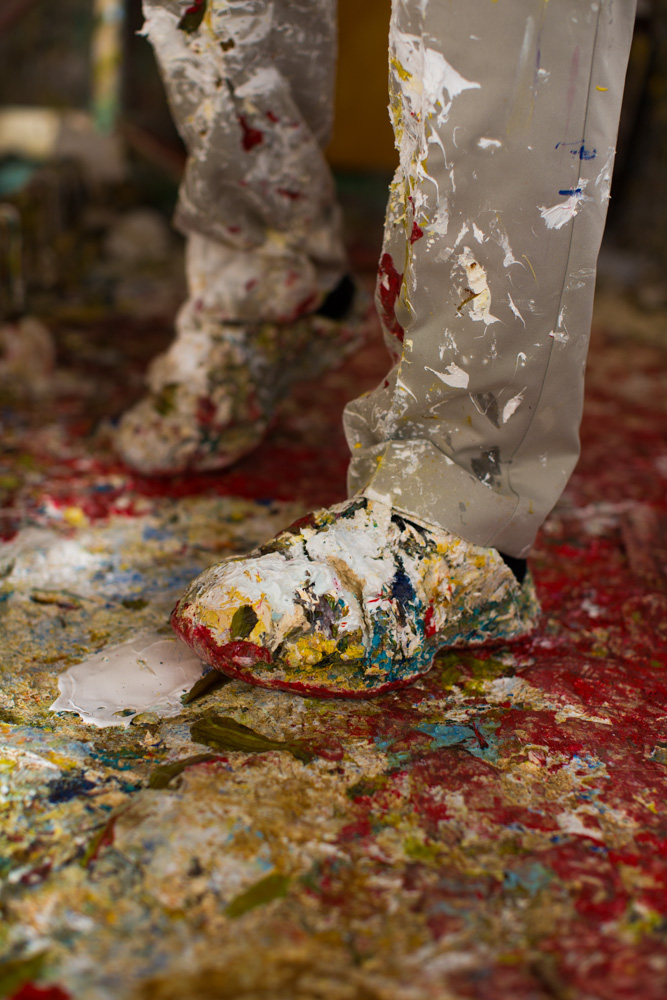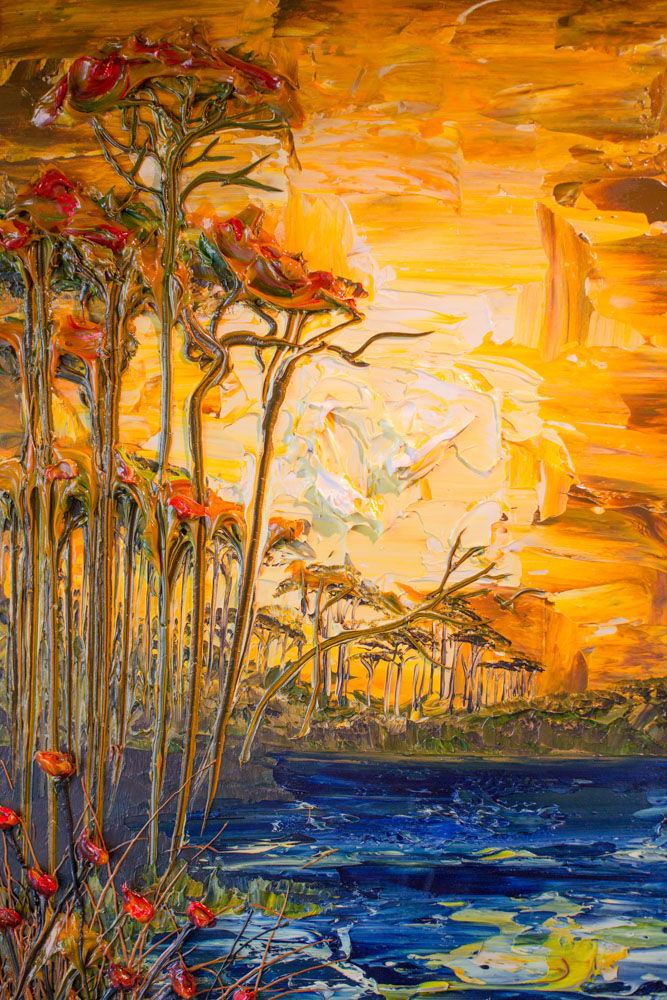 "It's down to a sort of science now," he says of painting. "It's the same as a recipe. When you know how certain things balance in food, it just becomes second nature. I know how the paint holds up and how the colors dry darker than they are now."
Once he finishes painting his signature just below the hydrangeas, Justin turns the painting around for the "audience" in the gallery and asks what they think. It really is beautiful. But if you ask Justin, he'll tell you there is always something new he can try.
When I was a chef, I tried to make the best food, so now I try to make the best paintings I can.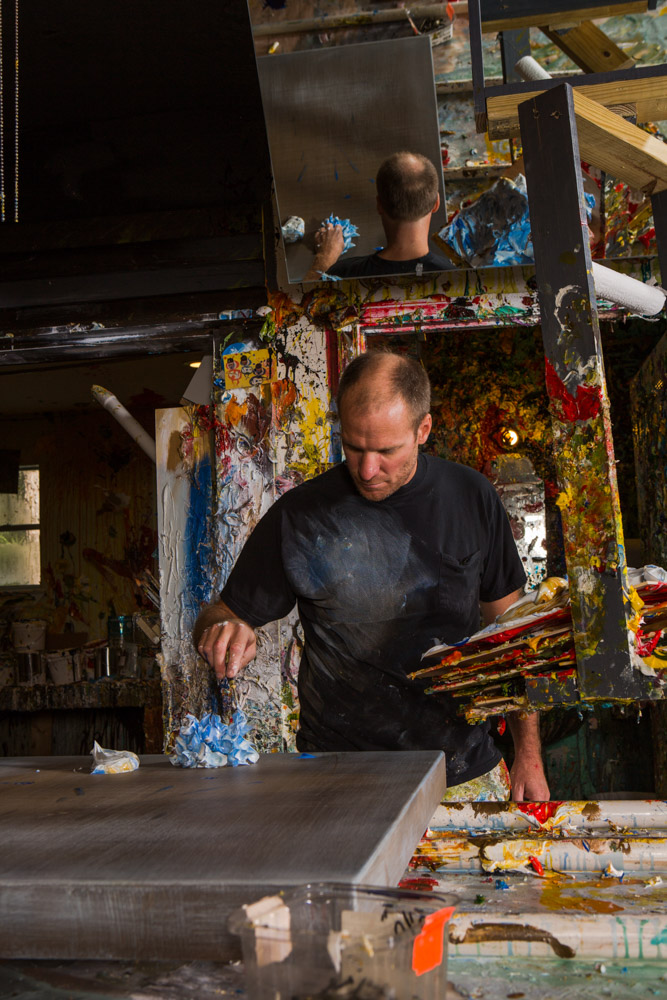 None of what Justin does would be possible without his family and his amazing team in the studio, he says. "Christy is great—she's not afraid to learn or do anything," he says. "And Brian does so much here, like building these canvases. I can never get them perfect like he does. There are so many artists out there better than I am, but the business of art is difficult and it takes a team of people to do this."
Justin's black T-shirt is now spattered and smeared with paint, but he looks satisfied as he steps away from his canvas, the first of at least three or four paintings he'll do today. "People ask all the time if I know what I'm going to paint when I start, and I don't," he says. "Life changes all the time. There's no 'know.' You know?"
— V —
Justin Gaffrey – Dreaming in Color from VIEzine on Vimeo.
VIE Speaks – Justin Gaffrey
from
VIEzine
on
Vimeo
.
ARTICLE CATEGORIES