By Laurette Ryan | 
Photography courtesy of Break a Leg Theater Works
As children, some of us dreamed of being star athletes, astronauts, great chefs, or even Broadway actors and movie stars. Imagine having one-on-one time at that tender age in your life with those who shared your dream and had actually accomplished it. What would that have been worth? Would it have led you to believe that no dream is too big, that the possibilities are endless?
The children, wide-eyed, excited, and nervous, sit on folding chairs in the basement of a historic church. The Spire in Plymouth, Massachusetts, has been renovated into an acoustically and architecturally beautiful performing arts venue. The children are coached and mentored by Elizabeth Stanley, a Broadway and film actor with numerous noteworthy accomplishments in the theater. Each child brings a song or a monologue, and Stanley coaches them in a nurturing but effective way. After just fifteen minutes, the difference in each child's presentation is astonishing.
This is an example of the master classes led by working Broadway, film, or television actors and presented by a small but growing nonprofit called Break a Leg Theater Works, the brainchild of Kyle Wrentz and Healy Sammis. Several times a year, they produce a variety-style show with a featured professional guest star alongside excited and talented young performers.
For the children of Break a Leg, this is an opportunity to see how these performers work and to get direct feedback from them. But as Wrentz says, "Honestly, the best part is seeing them onstage performing with these Broadway stars. The kids get such a kick out of it, and it's a memory they'll cherish for the rest of their lives." The children in this particular workshop would be performing onstage at the Spire with Stanley the next day. The show they presented, Rise Up! A Cabaret, comprises songs of inspiration.
Sammis and Wrentz met in the mid-1980s when the latter was in fourth grade and Sammis was in third. Their hometown had just started a new theater program, and they met on the first day of rehearsal. The show was Free to Be . . . You and Me. They've been friends ever since, through community theater and the high school drama department. They set out during many weekends and spent whatever money they had on train tickets to New York City, where they would stand outside Broadway theaters and sneak into shows during intermission. They waited for hours outside the stage doors to get autographs on their Playbills. During their college years, Wrentz and Sammis worked together to run the music program of a local summer camp in Connecticut. It's clear their friendship evolved through music, theater, and teamwork; this might be where the dream for Break a Leg began.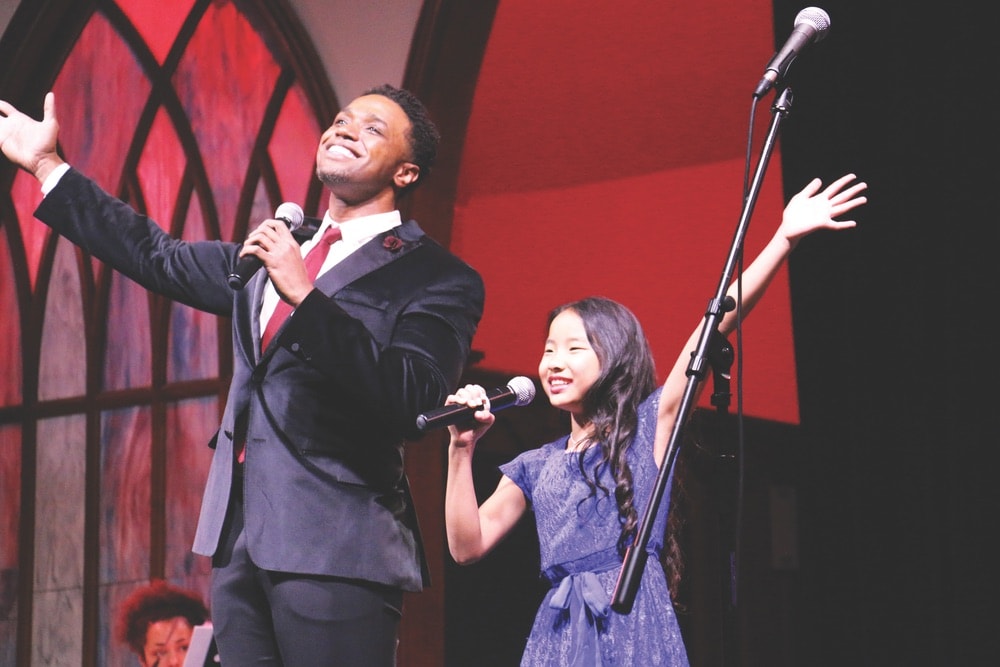 Years later, they were both at crossroads in their lives. Sammis had just returned to the US after spending a year working in Toronto, and Wrentz was finishing his long stint in The Lion King on Broadway. They wanted to do something new and impactful with their lives. It had always been a dream, a pipe dream they would say, to run their own children's theater. They took that seed of an idea and met with the owner of a small studio to see what they could make happen in the space. They decided to do A Night of Broadway during which students could sing solos and perform small group numbers. They also brought in a couple of Wrentz's friends from Broadway to guest star in the show, knowing that if the students in the area were anything like they were when growing up, they'd love to have an opportunity to meet and perform with Broadway stars. That was three years ago.
When asked how it felt to have this dream come true and how they saw it growing, Healy said, "After A Night of Broadway, we continued putting on cabaret performances with various themes. We found that being able to create a show around the talent proved to be a wonderful formula. We were able to find songs that fit our students' vocal abilities and personalities while offering a broad repertoire to our show-goers. Kyle was able to network with his Broadway colleagues to find guest artists that fit our aesthetic and who were eager to give back to the community. In addition to the cabarets, we began to offer regular theater classes, as well as one-time master classes with special guest artists. Our students now have a safe and fun environment in which they can explore their love of theater, expand their repertoires, and gain exclusive insights from professionals in the business."
Wrentz adds, "I think one of the main ways our company has evolved is with the repertoire we assign our students. With every show we do, the material seems to get more complex and layered. We did music from Natasha, Pierre & The Great Comet of 1812 in our last show. It was so beautiful to see our cast of sixty-two students, ages eight through eighteen, singing 'Dust and Ashes.' Our students have proved that they are capable of quite difficult material; they actually thrive when given a challenge because it keeps them engaged."
Our students have proved that they are capable of quite difficult material; they actually thrive when given a challenge because it keeps them engaged."
The master class with professionals is one of the unique aspects of this theater group. "I think humanizing these Broadway actors in the eyes of the kids is just invaluable," Wrentz says. "Once our students spend a little time with our guest artists and learn their stories—the ups and downs of their lives and their careers—it makes them relax. Then, when they see how generous and giving our guest artists are both offstage and on, it sets an example for our students. It motivates them to emulate the same qualities with each other and within our company."
Though very busy with their lives (Wrentz commutes to Plymouth most weekends from New York, where he is a project manager for the chancellor of New York City Schools, and Sammis homeschools her son who has learning disabilities), they seem to have unending energy and passion for guiding the children and creating magical opportunities for them. Field trips into Boston to see award-winning shows and have question-and-answer sessions with cast members are regular offerings from Break a Leg, as is private coaching for auditions for college or theater work.
Sammis says she was deeply invested in starting this project. "Theater was my first big passion in life. When I was growing up, I spent every week looking forward to Saturday, which was when my community youth theater program held weekly rehearsals. I used to be painfully shy, but having a structured, safe, and creative space to be with other kids who shared the same passion helped me break through a lot of personal barriers."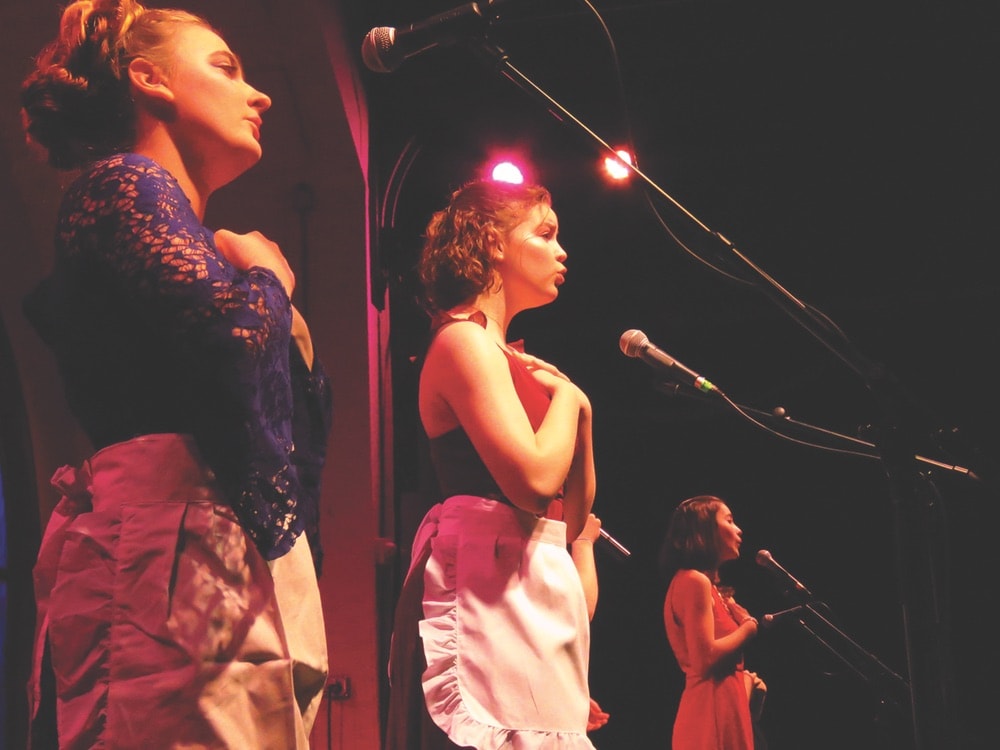 Wrentz agrees. "My life was forever changed when I stepped into the theater program I grew up in," he says. "I was in fourth grade, and I remember being nervous about going, but after the first time, I never looked back. I would never have had such amazing opportunities as a professional actor, or in life in general, if I hadn't been exposed to the theater. It made me a more confident and inquisitive person. Seeing our students achieve benchmarks every year and standing taller literally and figuratively is just heartwarming. I hope that our students have learned from our program that no dream is too big and that the possibilities are endless. This isn't about all of them becoming huge stars on Broadway or in film; it's about them knowing that they are enough already. It's about letting them see that they matter and have something special to contribute to the world."
Whether through a master dance class with Thayne Jasperson (whose credits include Hamilton, Matilda, and Newsies), an acting-for-TV workshop with Daniel Hall of The Young and the Restless, or any of the other classes led by talented performers who contribute to Break a Leg, the children from many small towns south of Boston have their lives enriched and their dreams nurtured.
Valuable life lessons are learned. Derrick Davis, who starred as the Phantom in the twenty-fifth anniversary North American tour of The Phantom of the Opera, shared some of the thoughts he lives by with the children: "Number one—get used to doing things that make you uncomfortable. Two—learn to let others' opinions register in your head and not your heart. And three—learn something every day, positive or negative—no time is wasted."
Wrentz's encouragement that no dream is too big and that the possibilities are endless is a message perfectly illustrated by the existence and the dedication of Break a Leg Theater Works.
— V —
---
Laurette Ryan is a professional in the health and wellness industry and has been a national fitness presenter for over thirty years. She is the author of four books on fitness, self-improvement, and life coaching. She is also the mother of four amazing children.
ARTICLE CATEGORIES