I traveled to Costa Rica to discover a fascinating new corner of the world—and to find out first-hand why it has become such a destination "hot spot." With my adventurous friend Deb, our Girlfriends' Getaway spanned nine unforgettable days. Here are some highlights of my favorite days and places.
By Kim Duke-Layden
Day 1: 
Shooting the rapids on the Pacuare River
Dawn arrived early. In spite of only three hours sleep, we hit the ground running, anticipating an exciting day of river rafting with our outfitter, Costa Rican Adventures. We splurged for their "White Glove Connoisseurs" trip, which allowed us to raft with a smaller group and added amenities. Aboard the shuttle, we headed to the Rio Pacuare, which is reputed to be one of the top ten rapid locations in the world!
Along the way, veteran guide Abel Vargas gave us an overview of the area's history, and pointed out several of the country's fifty active volcanoes. Abel told us that his homeland was often called the "Switzerland of Central America." Having visited the Bernese Oberland, I could see why.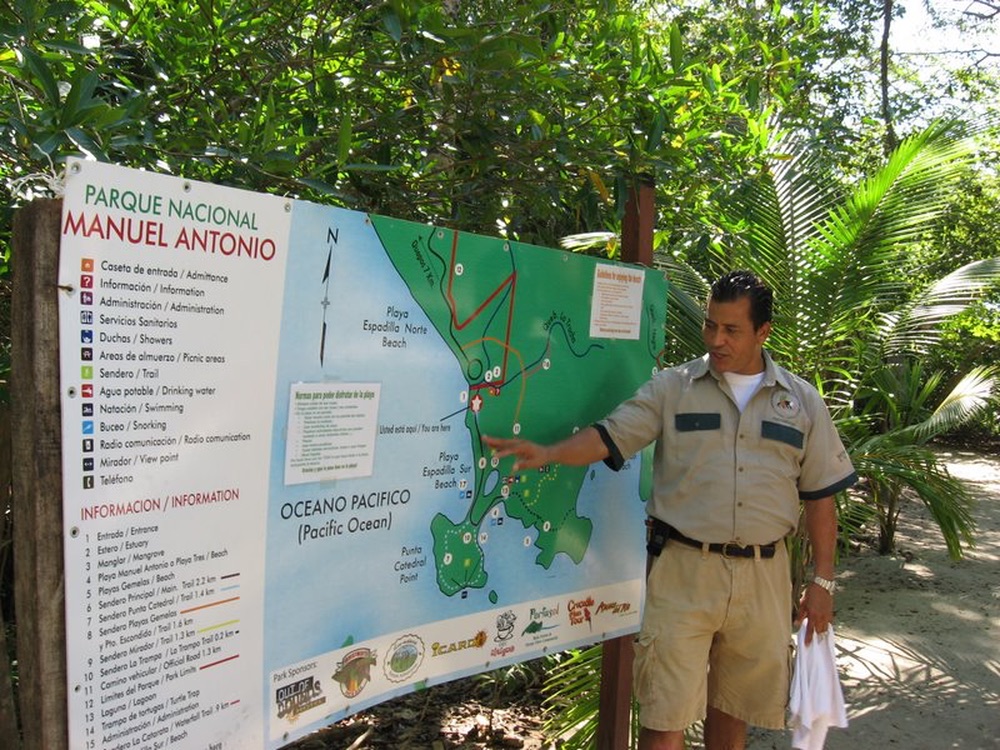 We stopped for a typical breakfast featuring pintos y gallos (beans and rice), which are usually eaten with every meal. The coffee put Starbucks to shame. En route again, Abel said, "Ticos worship two things, God and soccer. Even in the smallest village, there will always be a church, and facing it will be a soccer field."  Countless times I noticed that his comments rang true.
At the river, we met our kayak scout Alejandré Coutreras. Together, we would journey 18 miles downstream over Class III and IV rapids. Under sunny skies and mild temperatures, I basked in the glory of embarking upon the journey of a lifetime. Abel expertly guided us through the white water.
A "chicken line" ran along the raft's peripheral. It was there for those times when the front end of the raft plunged under water, and then popped back up again. Successes were celebrated by touching raised oar tips and cheering, "¡Pura Vida!" which is the Costa Rican catchall phrase meaning everything from "Hello," to "Super!"
Breathtaking scenery and abundant foliage captivated me along the way—wild sugar cane, long cascading Tarzan-like vines, and tall skinny palms lined the riverbank. Surprisingly, the constant chirping we heard was not due to birds, but cicadas, which are tiny beetles. Stopping for a picnic lunch, our guides donned chef's hats and aprons. Our delicious spread included fresh fruit, hearts of palm, guacamole, ceviche, and deli meats.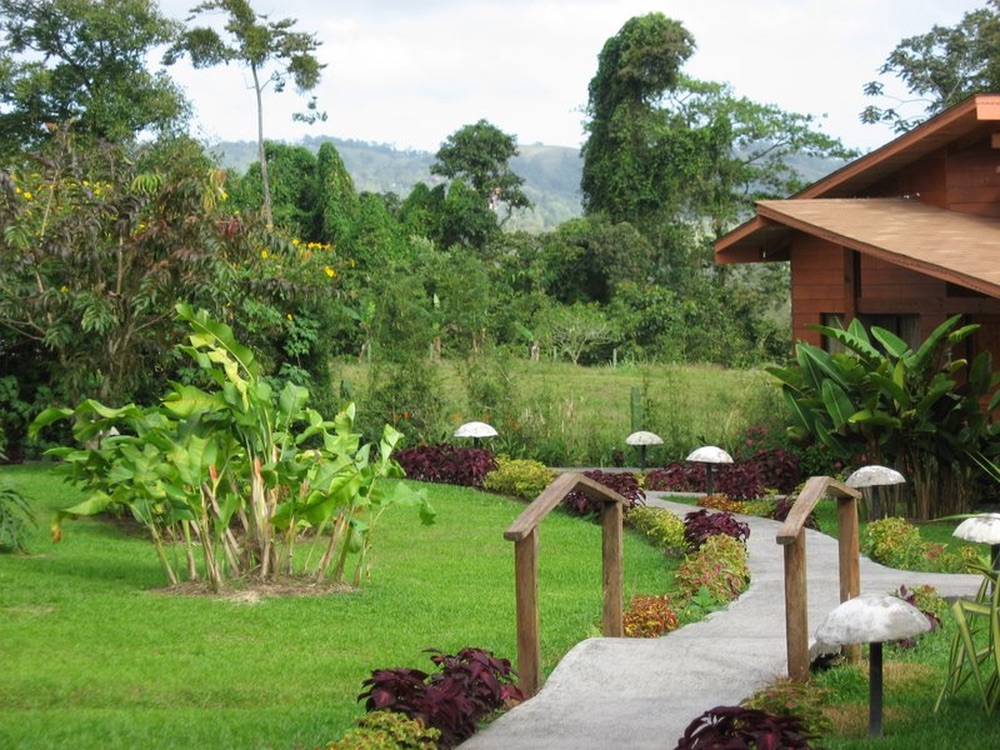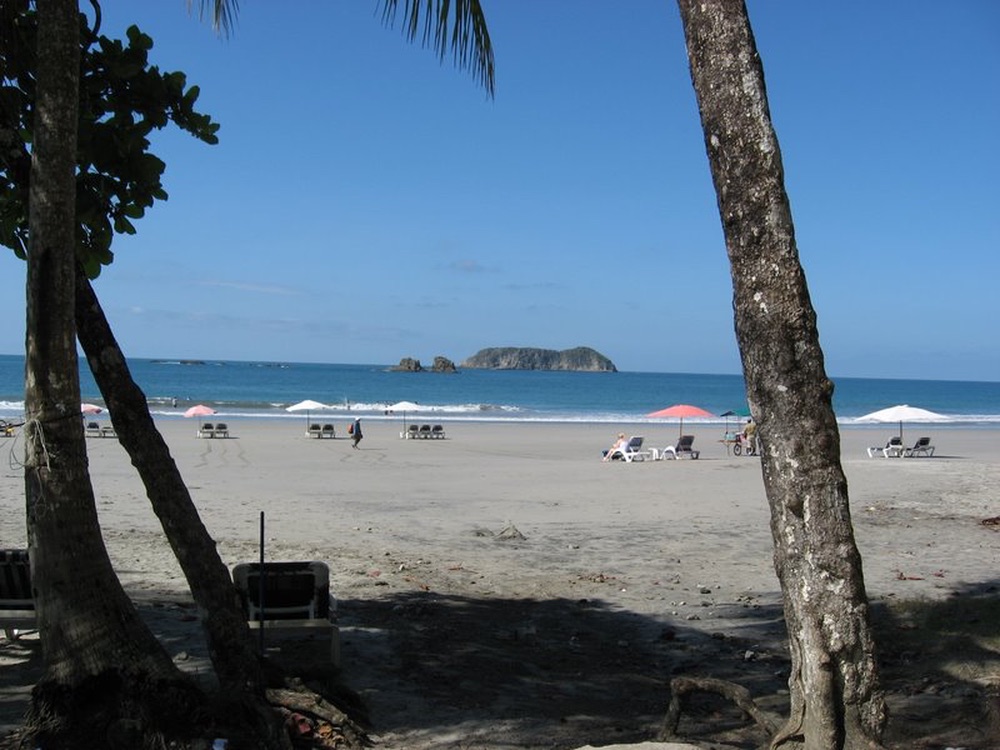 After the last rapid, a narrow canyon with high jagged walls appeared. Following Abel's lead, we dove in and floated in the steadily moving current. The refreshing water lapped our faces and outstretched limbs, giving us a cool respite from the heat of the day. This was one of my favorite parts of the trip. Awaiting us were hot showers and cocktails. With raised glasses we toasted, "¡Pura Vida!" to the best guides and rafting trip any of us had ever taken!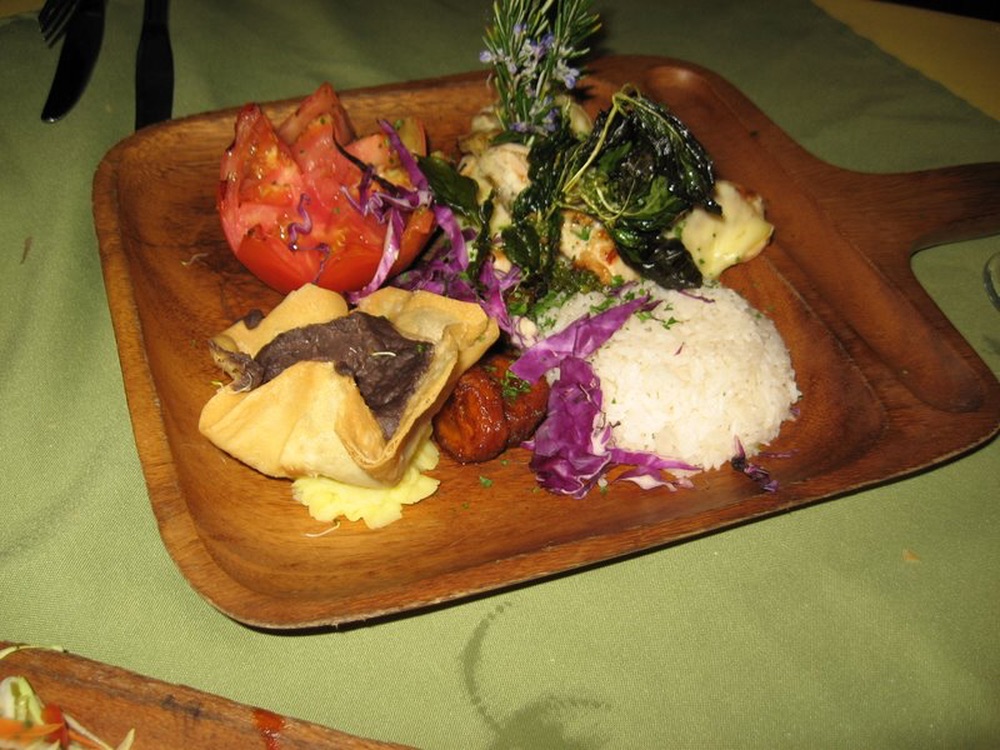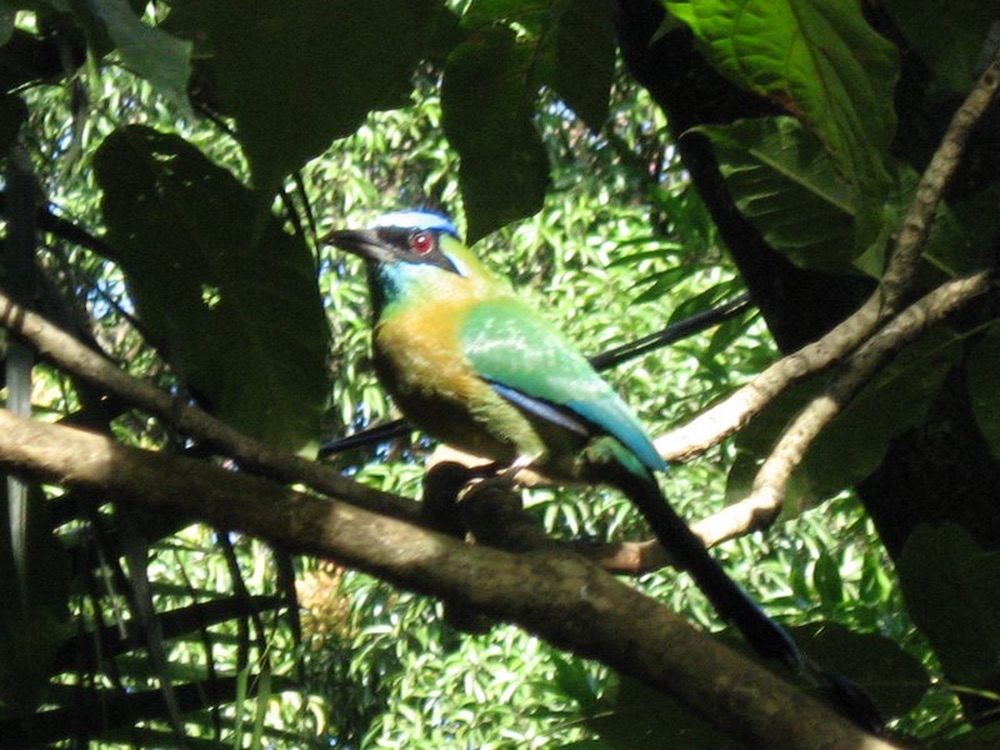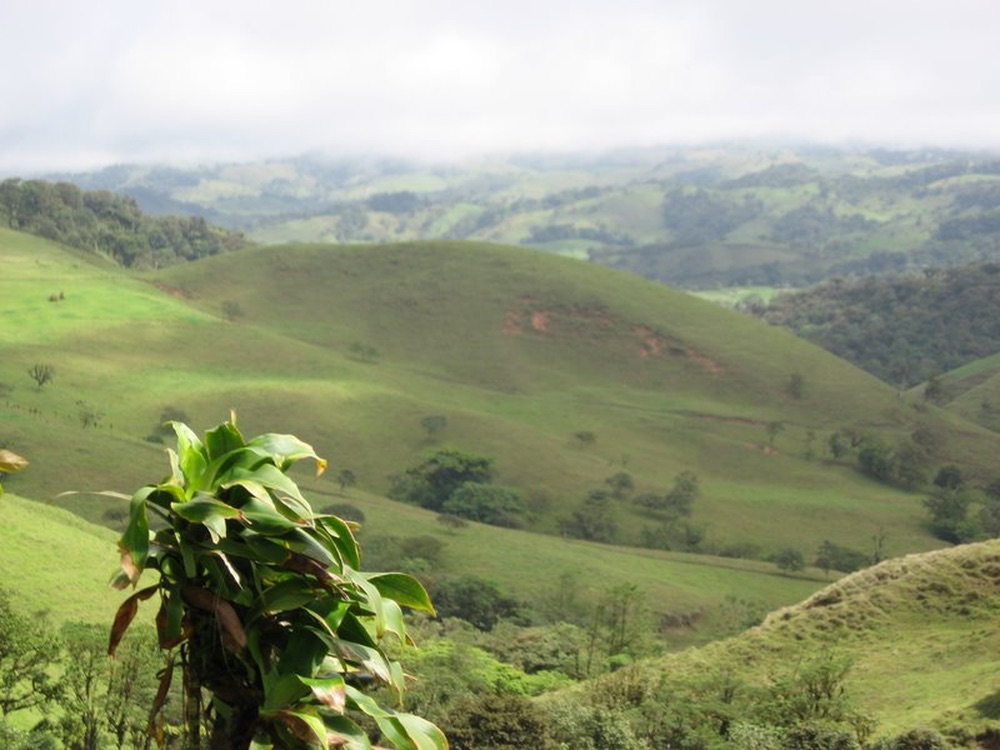 Day 3: 
La Fortuna to Monteverde
My sights were set on today's intriguing destination, Monteverde (green mountains), home to two of Costa Rica's most renowned cloud forests. This area is filled with rare, elusive, and nocturnal animals, plus an abundance of exotic flora and fauna. I couldn't wait to get there!
The final ascent to Monteverde was rumored to be "rough and bumpy," but that was like saying Fat Albert is slightly chubby. The smooth blacktop disintegrated as our SUV bottomed-out with a "thud." For the next 34 kilometers, Deb dodged cavernous potholes and grapefruit-size rocks as we slowly zigzagged up the mountain for two hours. We were enveloped by majestic mountains that stole our breath away. As far as the eye could see, there was no sign of civilization, just the blue shimmering waters of the Golfo de Nicoya. And just like that, we hit "pay dirt," or rather PAVED dirt. The sign ahead read, Bievenido a Monteverde. We had arrived at last!
Our hotel, Poco a Poco, was sandwiched on a picturesque ridge between Santa Elena, a bustling small community, and Monteverde, an artsy resort village. At our hotel's advice, we booked a night tour of a wildlife reserve. Since 70 percent of the native animals are nocturnal, I was curious at what surprises lay ahead. Armed with mini flashlights, and our trusty leader (and ex-pat), Bill, we hiked into the dusky thick forest. Wild animal sounds and howling winds echoed in the treetops.  My feet "crunched" along the winding path.
During the hike, Bill unearthed an unexpected highlight when coming upon leaf-cutter ants. He told us that "warriors," the largest of these ants, had Herculean strength. To prove his point, he gave one an eight-inch stick. The jumbo ant held up the stick without falling. Unbelievable! Other sightings included a poisonous toad; a small rodent called an agoutis; and a kinkajou, a cuddly, ring-tailed cousin of the raccoon. However, none made my heart pound like seeing the hairy tarantula!
Having worked up my appetite, we returned to our hotel for a delicious (and reasonably priced) gourmet dinner, which was one of the best of the trip. Bedtime beckoned, because tomorrow promised another action-packed day in Monteverde.
Day 4: 
Santa Elena, Monteverde
This was my favorite day of the trip. It was jam-packed with adventures from sunup to sundown! After an early breakfast, we took off for a canopy tour high above the town of Santa Elena. "Zip lining," as it is commonly called—and was THE reason I chose to visit Costa Rica. Driving up the steep muddy trail, we passed verdant trees blanketed in moss, epiphytes, and ferns.
We chose highly-recommended Selvatura Park, since it had eighteen platforms and is the only tour that skirts the cloud forest. For $60 US, our package included a two-hour zip-line and a treetop hike on suspended bridges. With our gear fitted (helmet, harness, and thick leather gloves) and a brief demonstration on the simulation platform, we excitedly hiked up the walkway and climbed the stairs.
Perching on my tiptoes, I jumped as the guide quickly grabbed my harness and attached it to the cable. At a dizzying speed, I slipped around a tree where a second guide attached another line and readied me for "blast off!"  Legs crossed, leaning backward, one arm extended above my head to hold the cable, while the other tightly gripped the harness line; I rapidly "zipped" down the treetops as the cable "zzzzzzzzzzzd" above my head. Platform after platform, we soared down the mountain.
Halfway through the tour, the guides showed us an added surprise, a "Tarzan Swing," similar to a bungee jump atop a three-story high embankment. I thought aloud,  "Sure, I'm up for discovering my inner-Jane!" And off I went, before I had a chance to second-guess my decision. I dropped thirty feet straight down with such intensity my screams were silent for the first fifteen seconds! Gasping for air, the crowd above cheered my bravado. After the Tarzan Swing, the remaining zip lines were a walk in the park!
After returning our gear, we embarked on Selvatura's suspended-bridge hike. Within the first few steps, I felt like I had stumbled into a National Geographic Special. Every square inch of the forest was consumed with lichen, moss, ferns, and epiphytes that were thriving on host trees—enveloping any open space on their trunks and branches. A necklace of winding walkways and bridges created a photographer's paradise, affording the explorer a bird's-eye view of this exotic frontier.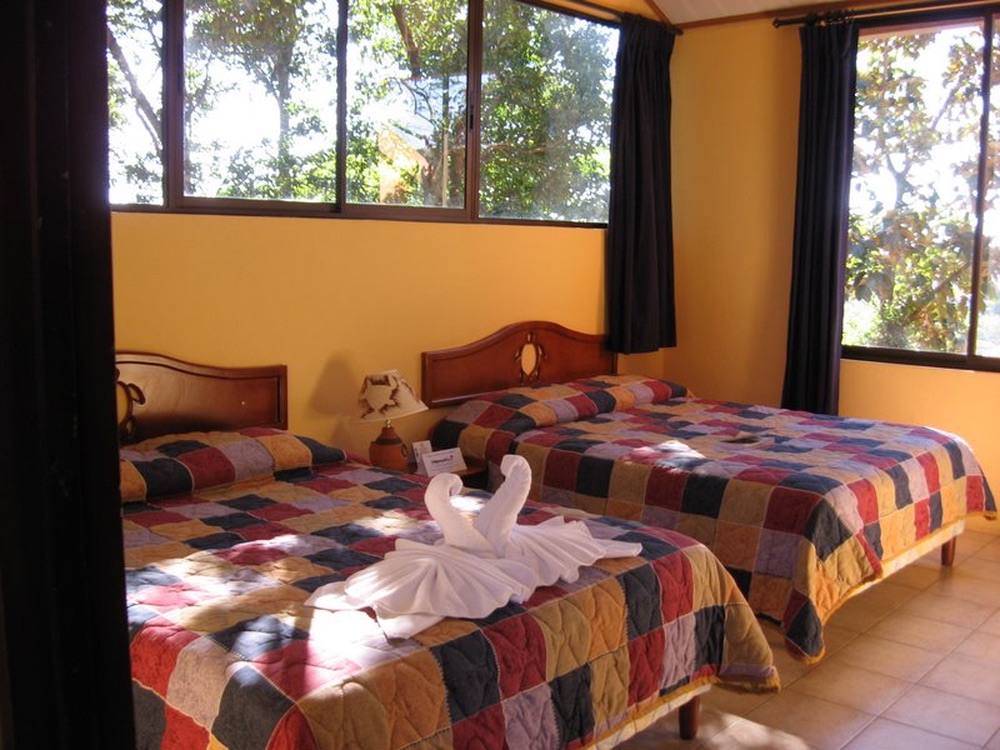 After a leisurely lunch, we departed to nearby Santa Elena Cloud Forest Reserve for a guided hike. Marvin Ovares, our guide and ecology teacher from Santa Elena Professional Technical School, was among the many volunteers who help raise funds for this reserve that his school administers.
Under dry, sunny skies, we hiked Monteverde's less-crowded forest, and with Marvin's keen instincts, we experienced a rare sighting of the country's most exotic and elusive species of bird, the Resplendent Quetzal. So luxuriant is its iridescent emerald plumage, that Mayans worshipped it as a god, Quetzalcoatl.
After our two-hour trek, we still had not sighted a sloth (the animal I most wanted to see). So, Marvin rode with us several miles down the mountain to the spot where he had glimpsed one earlier. Against the setting sun, high up in a tree, was a brown and furry perezoso de dos dedos (two-toed sloth). I was thrilled! For this, we elevated Marvin to "guide extraordinaire."
After all of the day's spectacular sights, adventures, and experiences, I could only think, "Wow, Dorothy, you're not in Kansas anymore!"
— V — 
ARTICLE CATEGORIES