Chef Olivier Gaupin Keeps It Fresh and Simple
By Lisa Burwell | Photography by Jessie Shepard
If a dining experience could be likened to a major work of art, then Caliza Restaurant would be a Renoir among 30A's epicurean delights this summer. When extraordinary architecture, a negative edge saltwater pool, and a chef hailing from the French city of Orleans converge with casual dining, you have arrived at dining utopia. Poolside dining at Caliza Restaurant is one of those unique dining adventures that you must experience to believe. Chef Olivier Gaupin presides over this "foodie nirvana" with the attention of a general and the charm of a Frenchman. Chef Gaupin was executive chef for WaterColor and WaterSound prior to joining Alys Beach as director of food and beverage. Before relocating to Florida with his family, he was executive chef for The Ritz-Carlton in Atlanta and St. Louis. Chef Olivier is accustomed to receiving awards and culinary accolades. The Ritz-Carlton in Atlanta was winner of the prestigious AAA Five Diamond award. It was also named "Top Restaurant in Atlanta" by Gourmet magazine. While under his watch, WaterColor Resort & Inn won the coveted AAA Four Diamond award as well.
A must for 30A dining, Caliza offers fresh local seafood, grilled steaks, pasta, soups and a variety of salads, all prepared to perfection. "Our goal at Caliza is to use only the highest quality ingredients while providing the highest level of service possible," said Chef Olivier. The red snapper ceviche with pickled red onions and cilantro-avocado dipping sauce is a great starter. Chef Olivier describes his cuisine as "classic American bistro," where preparation is not overly complicated and fresh ingredients are savored. "Food tastes better when it's fresh and simple," said Chef Olivier. The menu generally emphasizes fresh local seafood, including items such as Apalachicola oysters and local snapper and shrimp; however, it also features steaks of the highest quality and other selections, often with French and Southern influences. The menu is diverse with something for everyone. Where else can you find a menu selection that includes foie gras, Scottish-battered fish and chips with tartar sauce and fresh lemon, and a version of pork and beans consisting of braised pork shoulder and baked beans, served with an arugula salad with rosemary oil?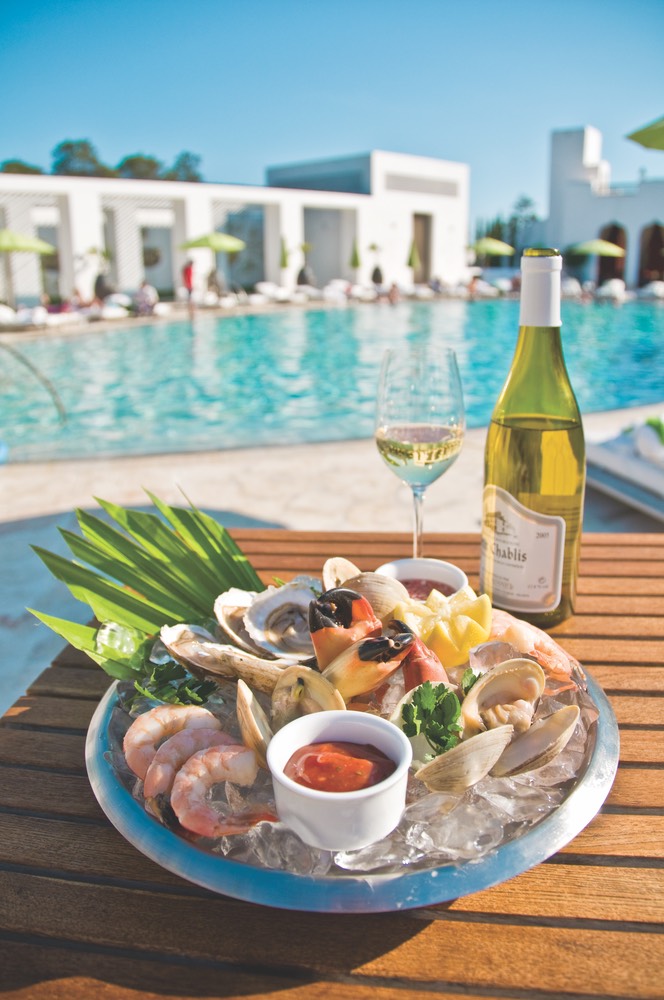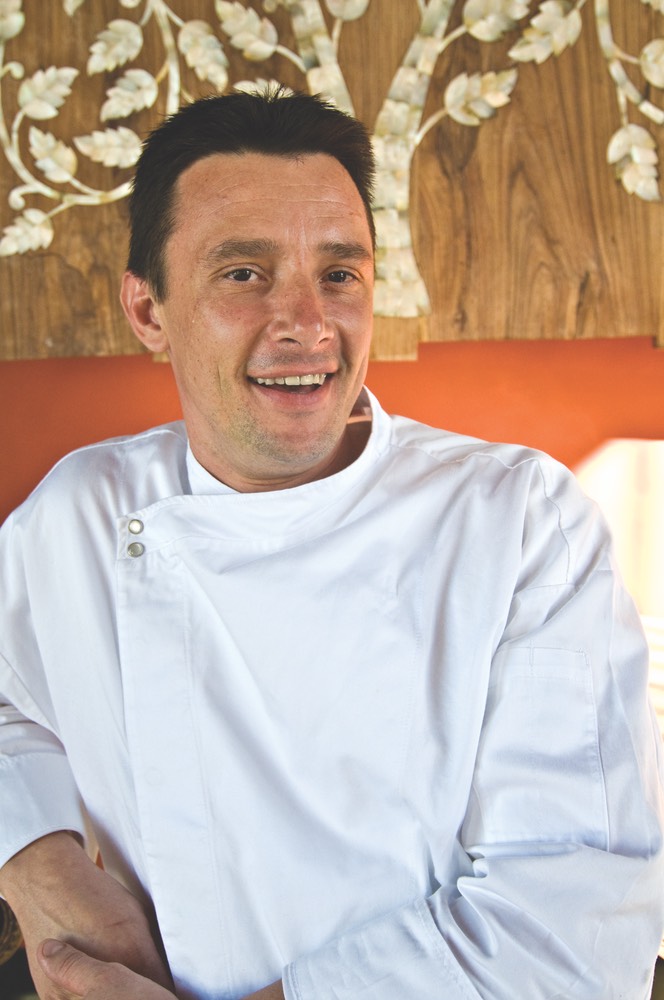 Chef Olivier has updated and enhanced his wine list from last year. If the Petit Chablis we tasted is any indication of his sommelier prowess, then he must have a winning wine list, because it was one of the best white wines I've ever tasted. Pair that with the Caliza Platter of Gulf shrimp, oysters, top neck clams and cocktail crab claws beautifully arrayed on a large plate, and you'll be in heaven. This, coming from a die-hard Tuscan red wine connoisseur, is a big compliment.
Before making your way to your dining table, take time to appreciate the spectacular Moroccan-style lounge with its arched colonnade—here is drama like you've never seen before. The large, open-air space has brilliant burnt orange walls and is replete with oversized couches and chairs. Enjoy the sunset with an after-dinner drink on the rooftop terrace overlooking Alys Beach. Bon appétit!
Caliza Restaurant offers lunch daily to owners and their guests. Dinner is open to the public from 5:30 to 9:30 p.m. Tuesday through Saturday, from March through October.
— V —
ARTICLE CATEGORIES