The Legend Continues
By Sandra Kytle Woodward | Photos by Gerald Burwell
Step inside Destin Chops 30A in the Villages of South Walton Beach and find yourself transported to that fine dining place of your dreams:  Warm, intimate, sophisticated. Serious about food. A favorite of locals and accommodating to all, with both children's and early dining options. One look at the menu confirms that you're in for a lovely evening, although proprietor James Altamura's previous offerings, Destin Chops and the Marina Café in Destin, are the only provenance necessary to ensure a memorable meal.
While the name signifies a carnivore's delight, and prime cuts of beef are the restaurant's pièces de résistance, this venue offers a renowned sushi bar and selections of local seafood, pork, lamb and poultry to please everyone.
We began with shared appetizers that were more than generous and special indeed. The crisply delicate, perfectly executed calamari featured deep-fried lemon slices and a lightly tangy, just-garlicky-enough chipotle aioli. The only thing that could have topped it…did: an amazing eggplant meunière garnished with crabmeat and drizzled ever so lightly with the buttery, deeply seasoned sauce that lends the dish its name. Other offerings, such as pepper-seared ahi tuna, jumbo lump crab cakes, shrimp cocktail and lobster tail with key lime mustard aioli, left us vowing to return for an appetizers-only evening.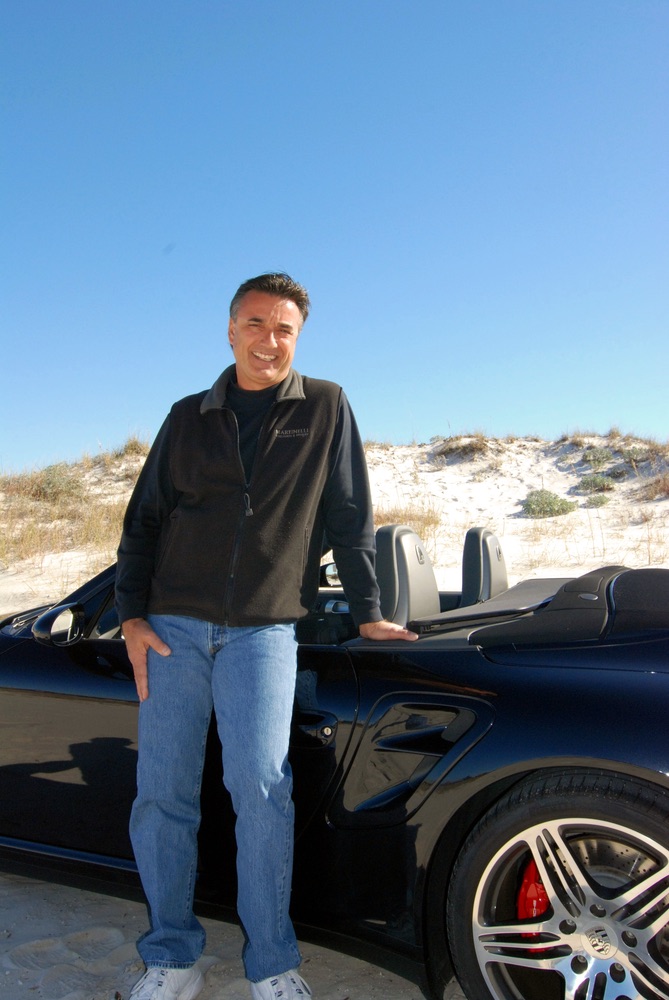 But not this time.  This evening, we were geared up to experience the full range of this creative and hearty menu, and we followed the appetizers with a couple of salads, both chosen for their simplicity and their classic appeal. Both received high marks. The classic lettuce wedge was presented de rigueur with Maytag blue cheese and applewood smoked bacon dressing. Our other choice was the Ugly Tomato Salad. Some may wonder why a restaurant would insult a tomato salad by calling it ugly, but the locals know. Ugly in name only, the UglyRipeTM is an intensely flavorful, if less-than-perfectly-round, heirloom hybrid tomato that has received national notoriety over whether it may be shipped outside Florida (the answer is yes). Served here with balsamic vinaigrette on a bed of spicy arugula, complemented by not-too-many rings of fresh sweet onion and topped with fragrantly nutty curls of Parmigiano-Reggiano, it is indeed a thing of beauty.
At this point, we could have given high marks for culinary savvy without venturing further. Obviously, these folks know when not to gild the lily. The understated approach continued, happily. Just let us say: If it's red meat you are after, consider Destin Chops 30A your ultimate destination. The luscious house special filet takes the Oscar appellation to new heights. A meltingly tender, perfectly cooked (in this case medium-rare) prime filet of beef accented with crabmeat, Béarnaise sauce and tender-crisp asparagus could not have been improved upon. The American Kobe hanger steak with creamy avocado Béarnaise, a spicy chimichurri and crispy sweet potato fries offered interesting combinations of terrific flavor. One of our group rounded out the red-meat selections with the purist's approach, pronouncing her unadorned filet cooked to perfection.
Ordering seafood in a restaurant whose name flaunts its affinity for red meat can be risky. Ah, but not here. One of our party chose the black grouper, which arrived pan-seared on a bed of white beans with grilled onions and avocado-grape tomato salad with basil oil. This toothsome Tuscan interpretation of what is perhaps the Florida Gulf Coast's signature fish was pronounced "the best fish I've ever tasted" by an Emerald Coast native who has traveled extensively in Tuscany.
You will want to save room for dessert. We shared a mile-high banana cream pie that featured banana puree, instead of the traditional sliced banana, folded into the custard, lending it a mousse-like lightness. And we cannot rave enough about the crème brulée. This deep-dish version, garnished with fresh raspberries and blueberries, was the perfect end to an exceptional meal.
We left promising ourselves that next time we would do justice to the excellent wine list, indulge ourselves by sampling the "decadent chocolate of the day" and top it all off with one of several tempting specialty coffee drinks. Or perhaps a nice port or cognac. You decide: http://www.destinchops30a.com/chops30a.html.
— V —
ARTICLE CATEGORIES