By Lynn Nesmith |
Photography by Jean Allsopp
Paige Sumblin Schnell of Tracery Interiors in Rosemary Beach, Florida, offers ideas and inspiration for casual coastal entertaining guaranteed to make guests immediately feel right at home.
Entertaining is a way of life if you live along the Gulf Coast. Friends, family, and mere acquaintances will come to visit its crystalline beaches and warm waters, so be prepared. You might find yourself stressed about playing host, but by creating a little "home away from home" for your guests, you'll make it easy on yourself and fun for everyone involved. Extravagance is not necessary—just a touch of warm Southern hospitality and a beachy atmosphere will help you create an inviting space for casual entertainment and overnight guests.
From Beachside to Poolside
Any party is more fun when it's outdoors with a cool breeze and a view of the Gulf of Mexico. A colorful tablecloth quickly transforms an outdoor table into a movable buffet. For this table, Paige chose a large glass hurricane vase, which doubles as a centerpiece. It's heavy enough to literally anchor the table, so there's no need to worry that a gust of wind will tip it over.
As for the food, delicious doesn't mean you need to spend all day in the kitchen. Ordering carryout from a local hot spot such as Cowgirl Kitchen means you can spend the day on the beach with your guests and then lay out a spread in minutes.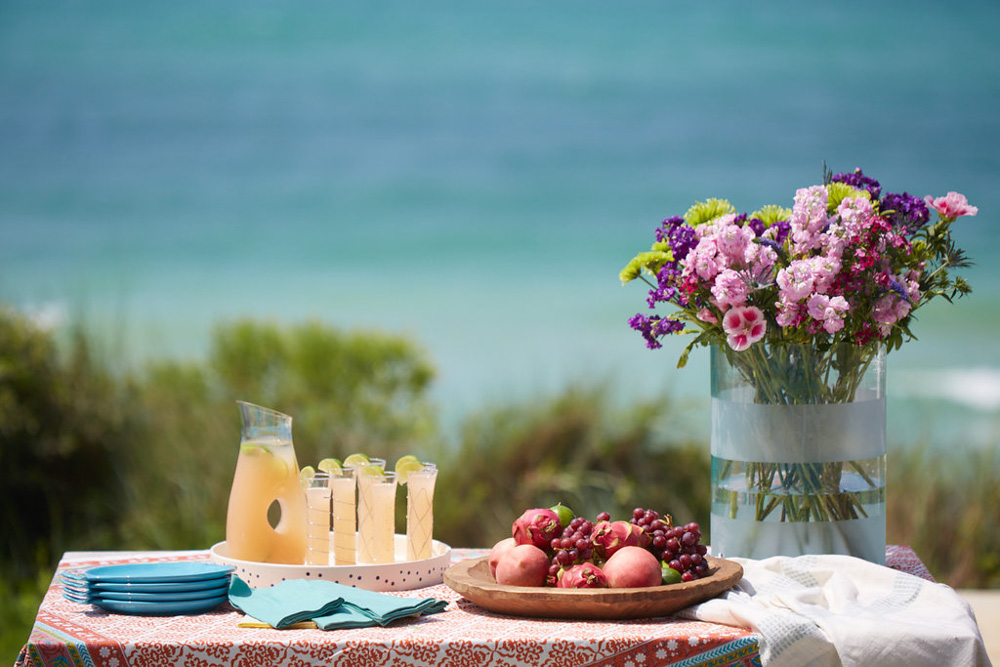 Ice at the beach isn't a luxury; it's a necessity. A large wicker tub helps make sure there's plenty of room for an array of cold drinks that will stay cool and refreshing as the party goes on.
Nothing says "Welcome to the beach!" like a signature cocktail. The festive concoction you see here is lovingly called the Seagrove Fizz. The drink was inspired by a cocktail found in the biography Everybody Was So Young, which described it as a favorite of Hemingway, Fitzgerald, and other writers of the Lost Generation. Combine two ounces of gin, three ounces of ruby red grapefruit juice, one ounce of St. Germain, and one ounce of sparkling water—take liberties as you wish! Serve over crushed ice and garnish with lime, mint, or both. If you're staying in Rosemary Beach, a namesake sprig works too!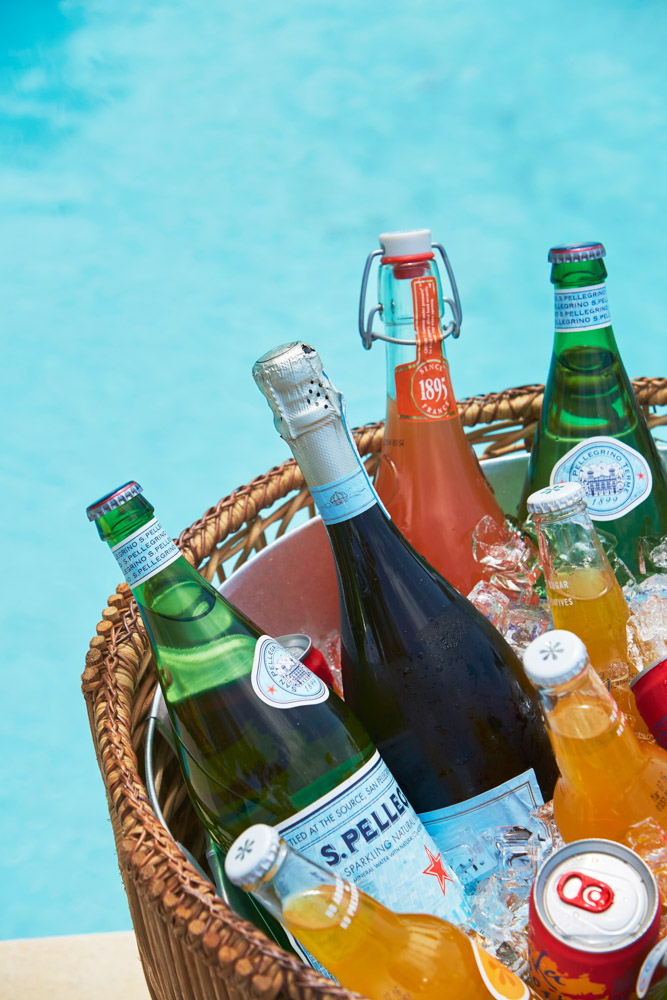 The Kitchen Is Open
From the grandest courtyard homes in Alys Beach to the historic Cracker cottages in Grayton Beach, an open floor plan just makes sense for life along Scenic Highway 30-A. It's a proven fact that everyone always ends up in the kitchen, whether you're hosting a festive end-of-the-summer party or a simple family gathering. No matter the size or style of your coastal kitchen, be creative with the layout, storage, and counter seating. If a fend-for-yourself philosophy of entertaining is the order of the day, open shelves and glass-fronted cabinets encourage easy access and allow guests to find items without rummaging through drawers. Early risers can grab a coffee cup, night owls in search of a drink of water can help themselves, and wine glasses on display just seem to whisper, "It's five o'clock somewhere." Of course, stocking purchased prepared foods in the fridge and pantry is always a good idea when guests are coming!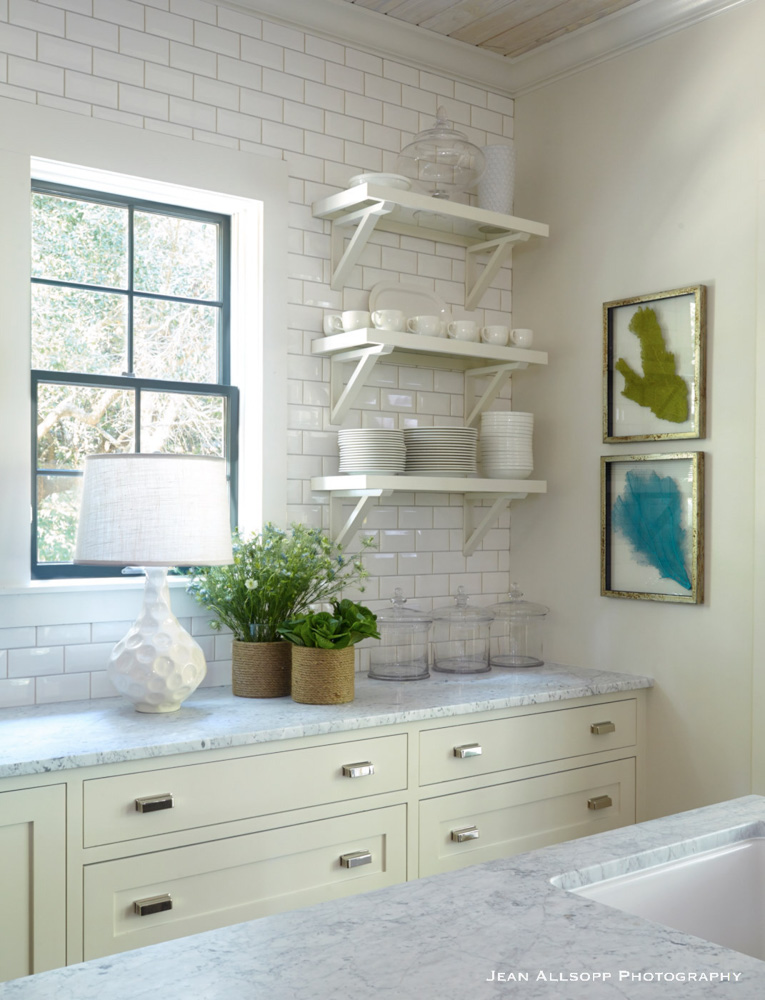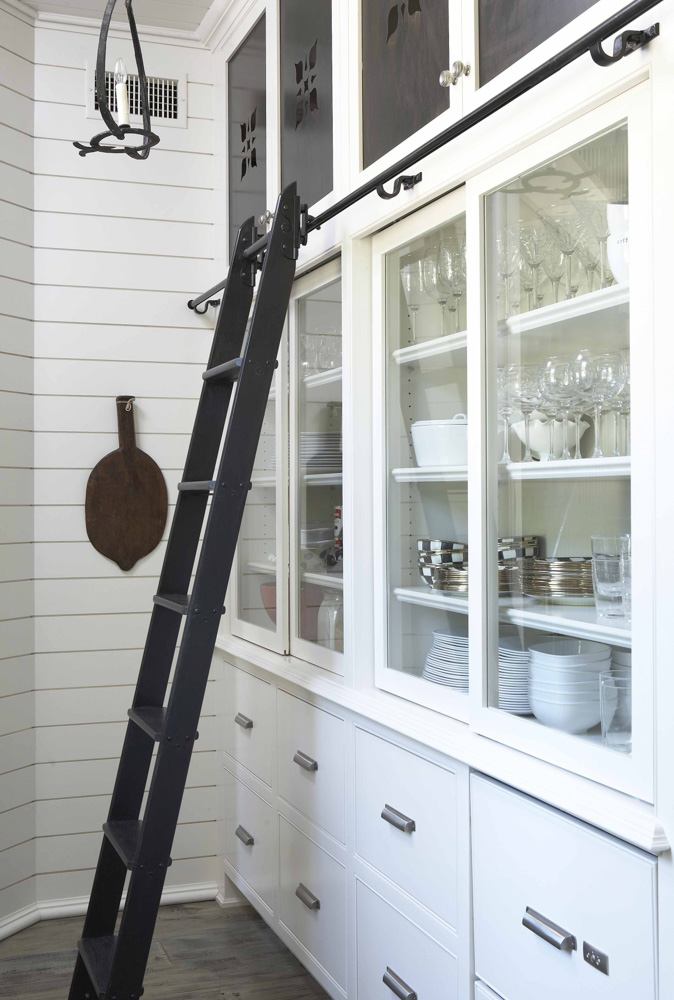 Open shelves and glass-fronted cabinets encourage easy access and allow guests to find items without rummaging through drawers.
Two Islands Are Better Than One
We already established that the kitchen is the hub for casual coastal entertaining. If space allows, consider implementing two kitchen islands. For the serious cook, a back-to-back configuration carves out an efficient galley-style arrangement that not only allows the cook to be part of the party but also creates just enough separation between the work area and a place for friends to gather. A side-to-side configuration differentiates a large kitchen from the adjoining dining area. Comfy stools provide extra seating when the table is full.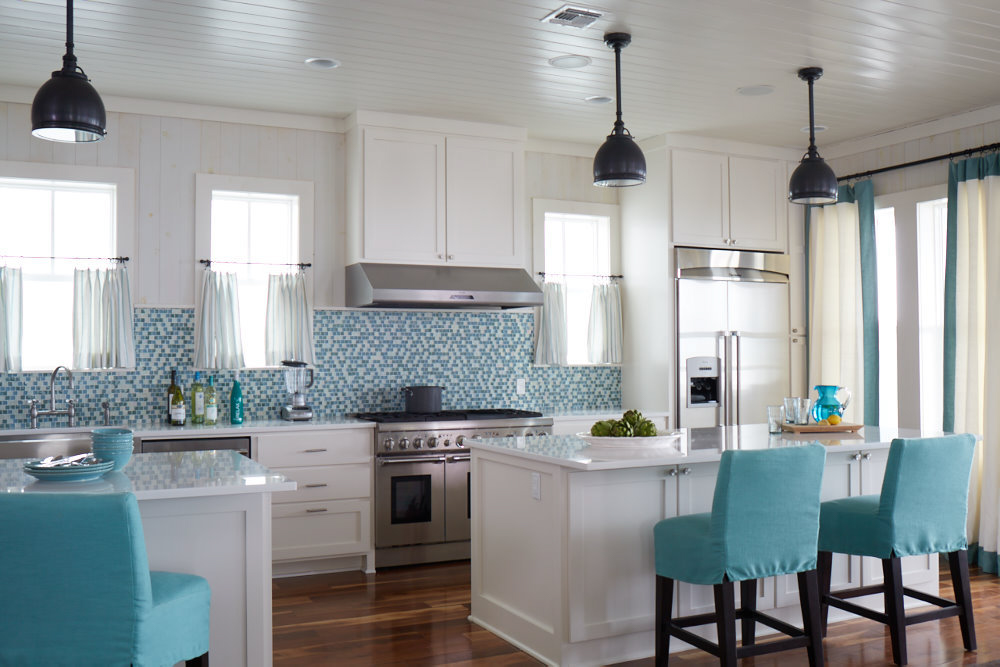 Home Away from Home
Gracious hospitality is in the details. The best guest bedroom is not just a place to lay your head. Everyone on vacation wants a quiet spot to retreat. Use a chest of drawers alongside the bed so there's extra storage available, as guest bedrooms often must accommodate more than one person. A small posy of fresh flowers or a palm frond is always a special welcoming touch. If space allows, add a comfortable upholstered chair for guests to retreat to for quiet time or light summer reading. A bench at the foot of the bed can create a cozy reading spot when paired with coffee-table books—try placing titles that highlight the local area so your guests can learn more about your beloved hometown.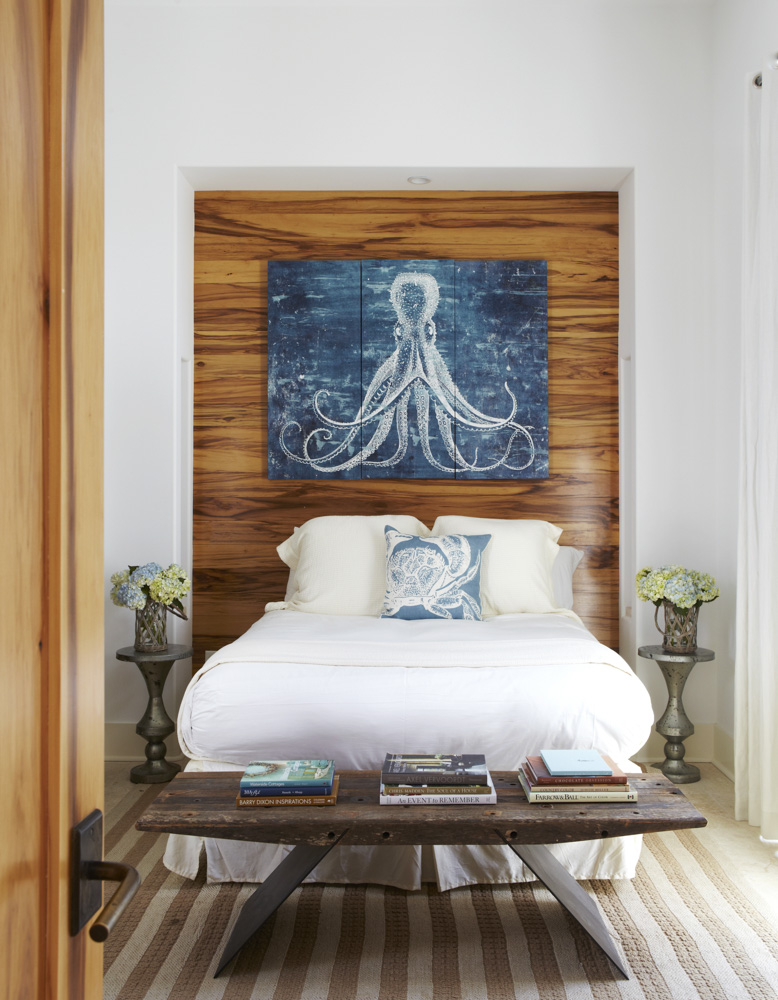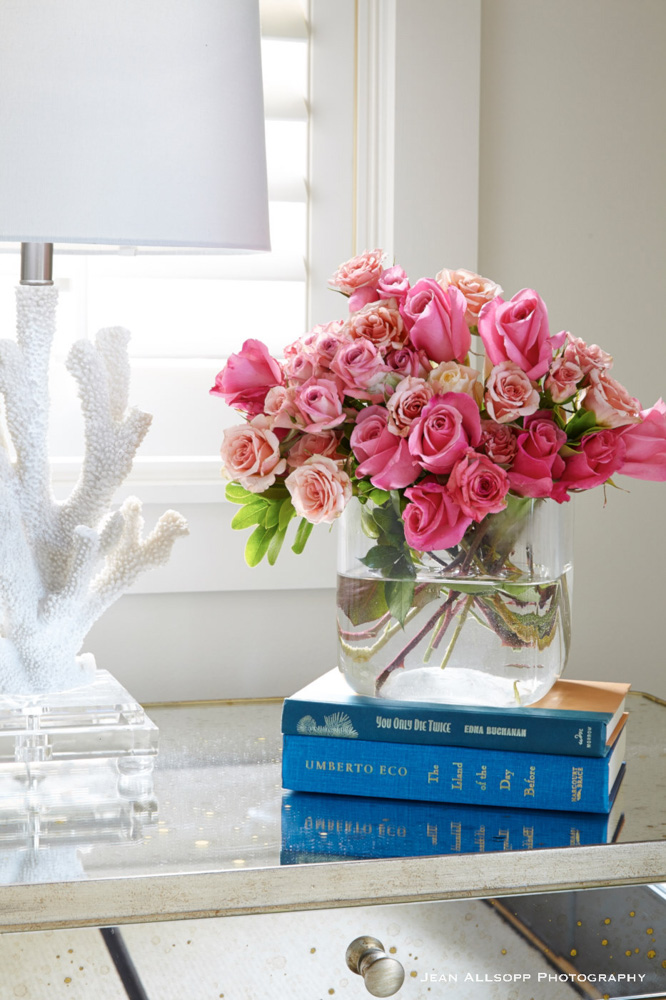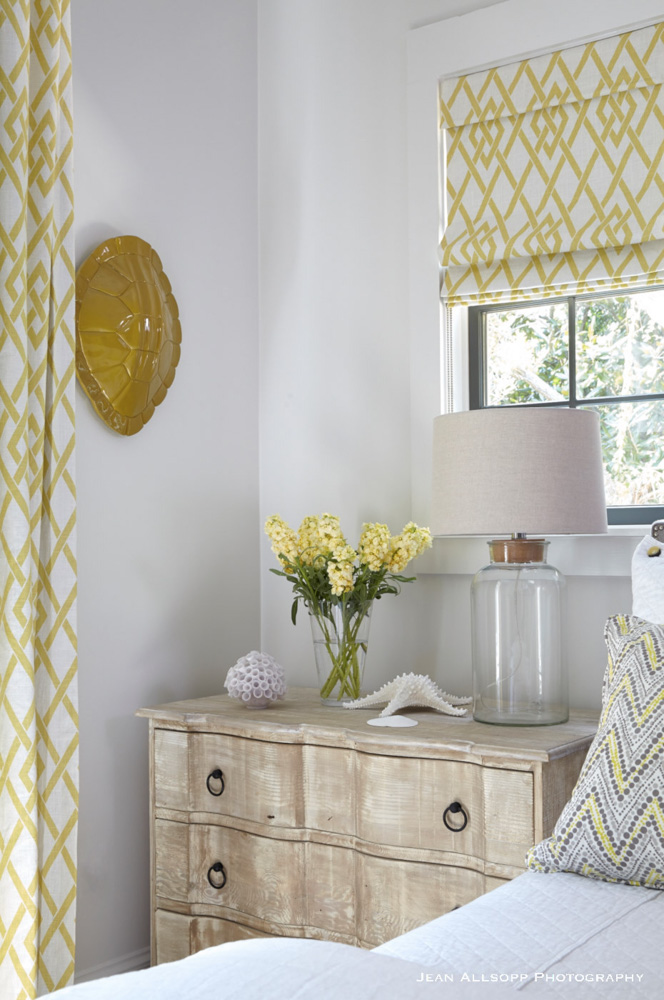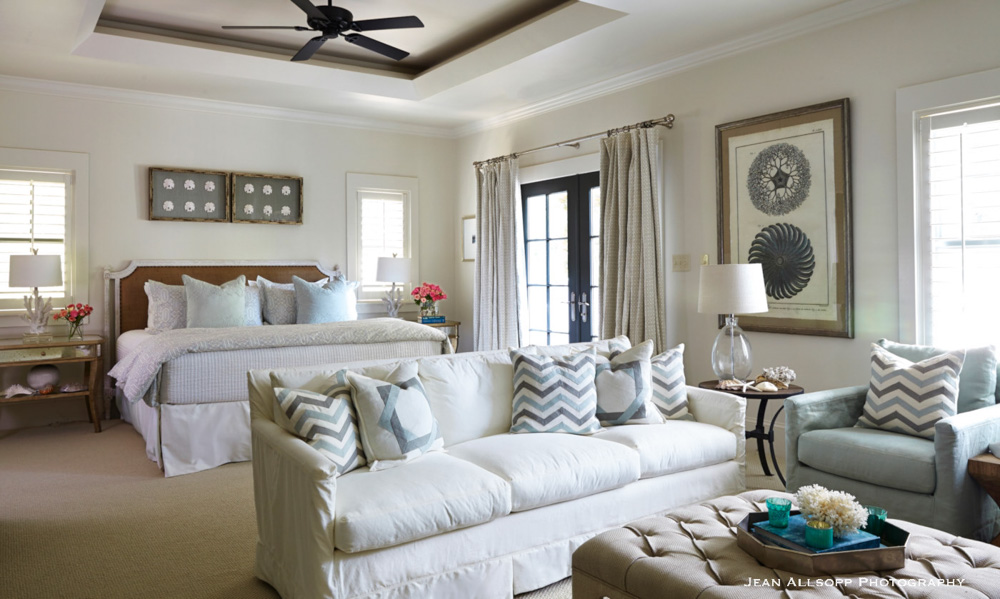 A bench at the foot of the bed can create a cozy reading spot when paired with coffee-table books.
Come on in!
Coastal Living
Beach Cottage Tour
If you like seeing these photographs from waterfront homes and entertaining ideas by Paige Schnell, this fall you'll have the opportunity to tour her latest effort in person. Paige was selected to design the Coastal Living Beach Cottage, which is located on Forest Street in historic Seagrove Beach, Florida. This will be Coastal Living's first-ever remodel project. Paige and her husband, architect Mark Schnell, purchased the cottage with a vision for a fresh take on a classic Old Florida cottage. The couple has partnered with Artisan Builds for construction, and the house will be open for tours in October and November. For more information about dates and hours, visit www.CoastalLiving.com.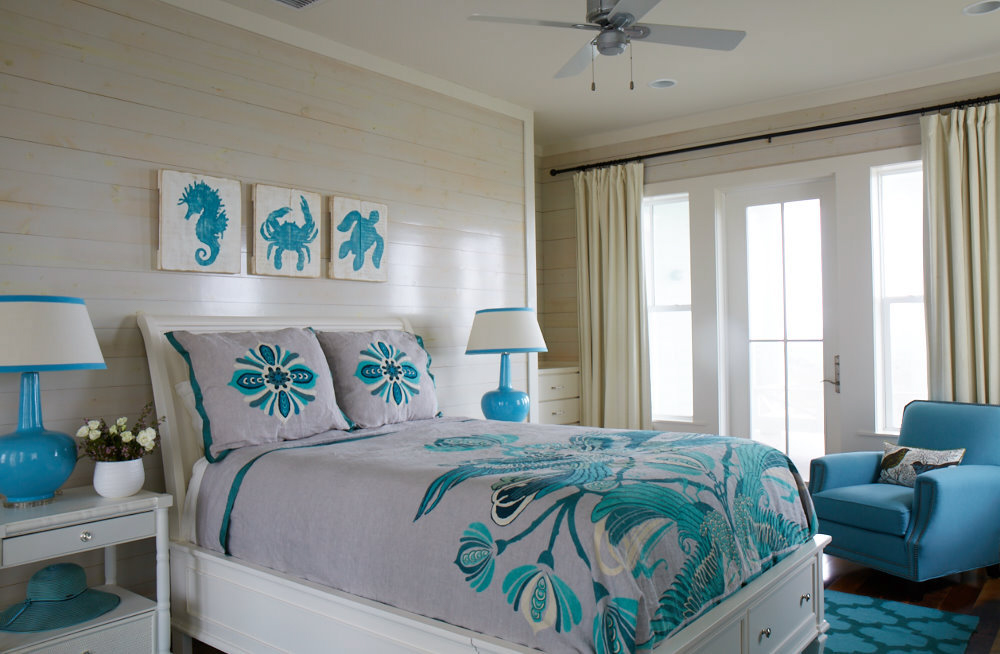 — V —
---
ARTICLE CATEGORIES