Downtown Los Angeles Combats Homelessness
Story and photography courtesy of Bernards
Across the country, there is an expanding dialogue surrounding the need for government agencies to prioritize human care over human punishment. In consideration of this, the County of Los Angeles decided to take a site previously slated for a new jail and reallocated it to provide shelter for persons experiencing homelessness. With the unhoused population growing and increasingly at risk during the COVID-19 pandemic, the need was immediate and became a critical driver for the community's completion schedule.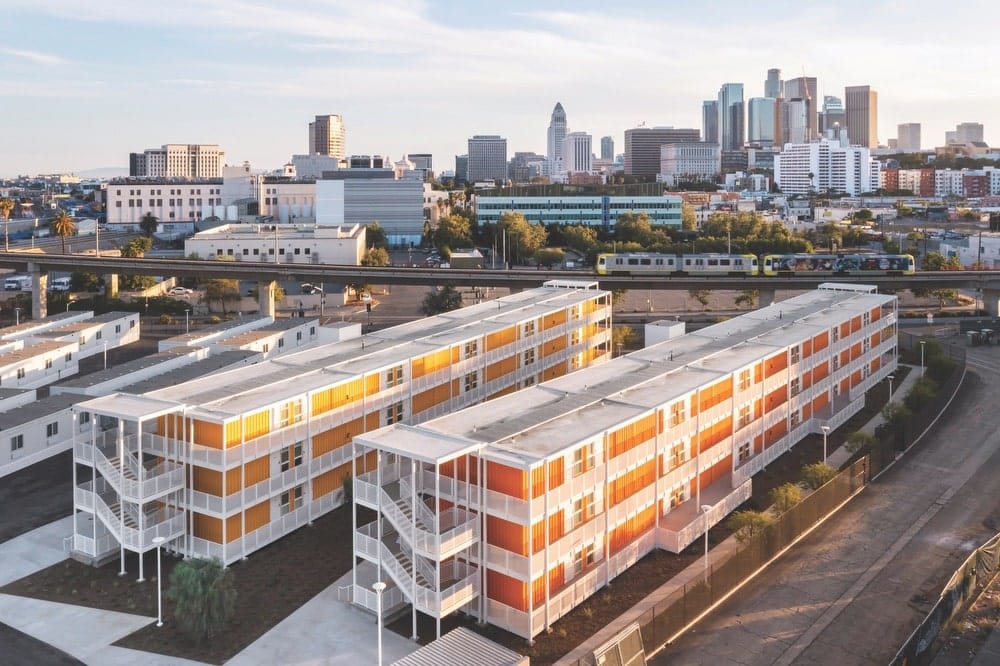 Bernards, an employee-owned multidisciplinary commercial builder and construction management company, served as the builder for the new Hilda L. Solis Care First Village (HSCFV). In collaboration with NAC Architecture and the County of Los Angeles Department of Public Works, they developed and built a new component-based model for interim housing that met a highly aggressive schedule. From concept to completion, the project took only about five months to build 232 units, at just about $200,000 per bed.
Concurrently, meeting the individual and social needs of the residents remained the highest priority every step of the way. The team referred to this approach as the "art of the possible."
The interim housing project utilized three different modular components: repurposed shipping crates, prefabricated modular units, and mobile units. HSCFV, which opened its doors to residents on April 12, 2021, reached full occupancy in May.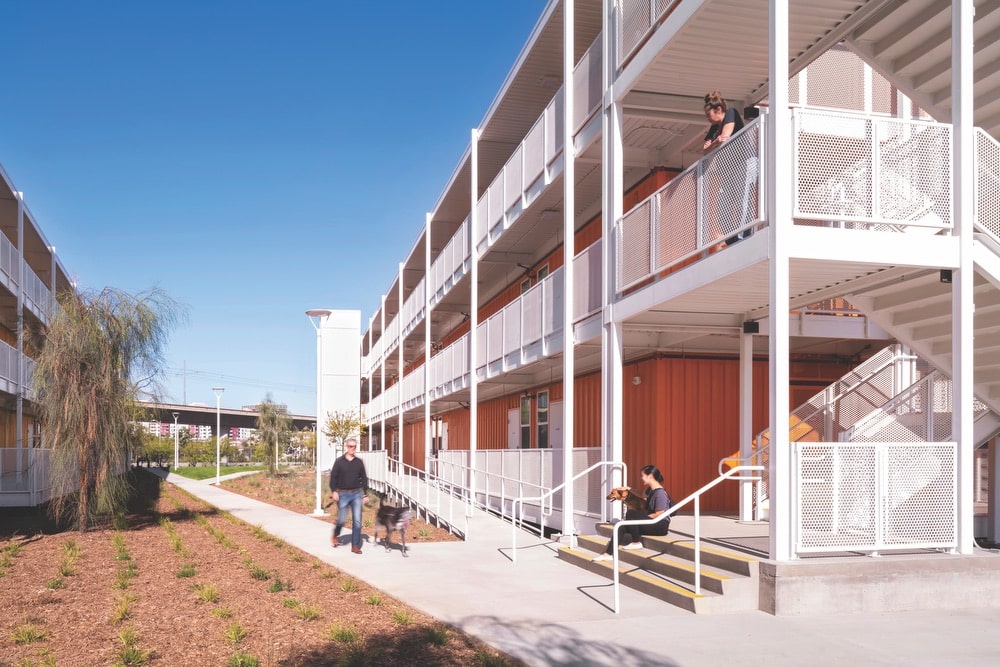 Its namesake, Hilda L. Solis, is the chair of the Los Angeles County Board of Supervisors, representing residents of the First District. During her tenure, Supervisor Solis has accelerated the county's efforts to combat homelessness and allocated funding to build thousands of affordable housing units in her district and around the county. She also authored the groundbreaking Measure A to invest in communities without green space, expand open and recreational park space in their neighborhoods, and protect water quality.
"The Hilda L. Solis Care First Village showcases the idea that the needs of the greater Los Angeles County community must be met through the implementation of such Public Works projects," says Mike Funderberg, vice president of Bernards. "As builders, we're very accustomed to viewing traditional infrastructure projects (i.e., transportation and utility services) as commonplace and generally available for the use of everyone. This project, to me, demonstrates that the greater needs of our population extend far beyond traditional thoughts of what infrastructure may be. Public housing for those unhoused individuals on our streets, coupled with a long-term focus on ancillary services—such as mental and behavioral healthcare, which encompass true comprehensive redirection of the growing population of individuals experiencing homelessness—are long absent and much-needed infrastructure projects for our modern times."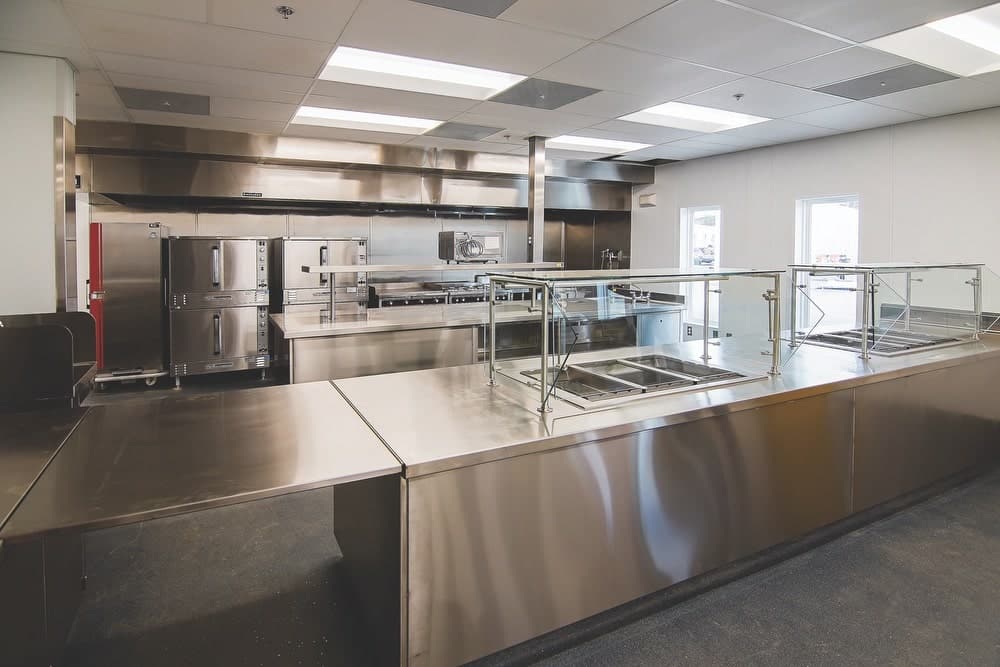 To help prepare individuals for future work opportunities in the restaurant industry, the licensed supportive services manager for HSCFV is planning to partner with Homeboy Industries in Downtown Los Angeles to provide kitchen services training for HSCFV residents.
A few unique characteristics of this housing project include the use of prefabricated modular units, built off-site, to help meet an aggressive schedule. Units were built with heating and ventilation systems to mitigate the spread of the COVID-19 virus. HSCFV includes a dog park, allowing residents to bring their dogs with them to the facility. Residents also have their own unit with a private bath instead of the bunk-style multibed setup typical of shelters.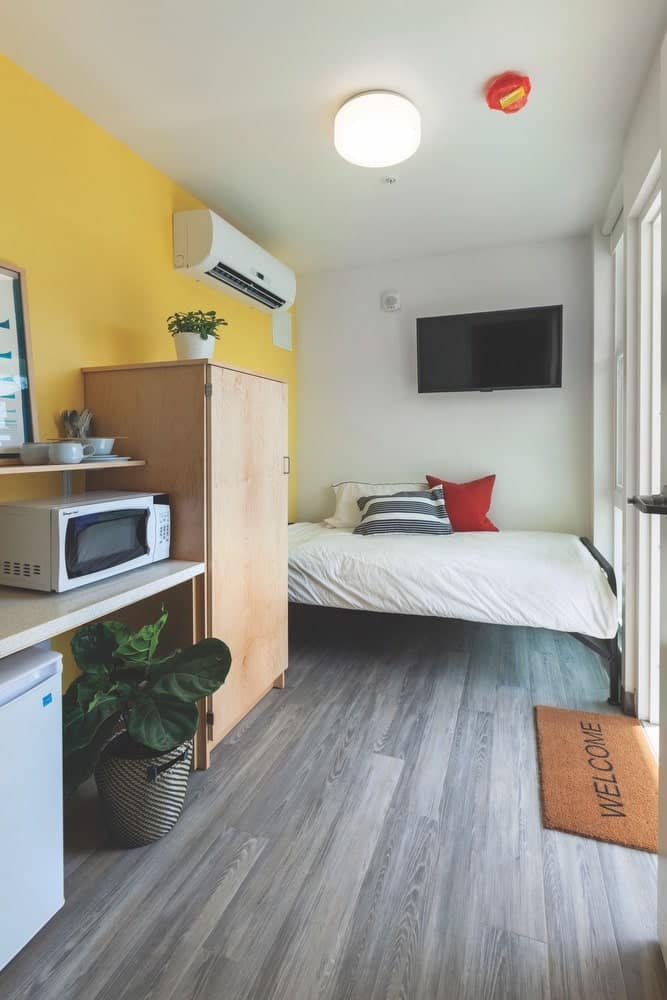 It's no wonder the Los Angeles Times says the project "shattered the axiom that homeless housing takes years to build and is exorbitantly expensive." Bringing care and hope to those who need them most is now more important than ever, and HSCFV and its neighbors are creating an example in Los Angeles that, hopefully, other counties and cities will begin to follow.
— V —
---
For further information on the Hilda L. Solis Care First Village, please visit HildaLSolis.org.
ARTICLE CATEGORIES