By Sallie W. Boyles  |  
Photography courtesy of Destin Jewelers
Whether it's a mahogany chest lined in velvet or a pink vinyl heart with a pop-up ballerina, a girl's first jewelry box is among her most treasured possessions. It holds all the gifts and promises of the future. She doesn't necessarily perceive differences in value among the contents: a delicate strand of pearls and a gaudy plastic ring are equally precious in her eyes. They all make her look and feel like a princess.
Needless to say, the modern princess in training is not the subservient Cinderella of yesteryear. Instead, she has visions of ruling the kingdom—or running the company! Even so, she probably longs to meet her Prince Charming when she grows up and to "live happily ever after." Although life's realities often detour from such childhood fantasies, today's empowered woman—one who feels good about herself and embraces life—overcomes setbacks and shines at any age.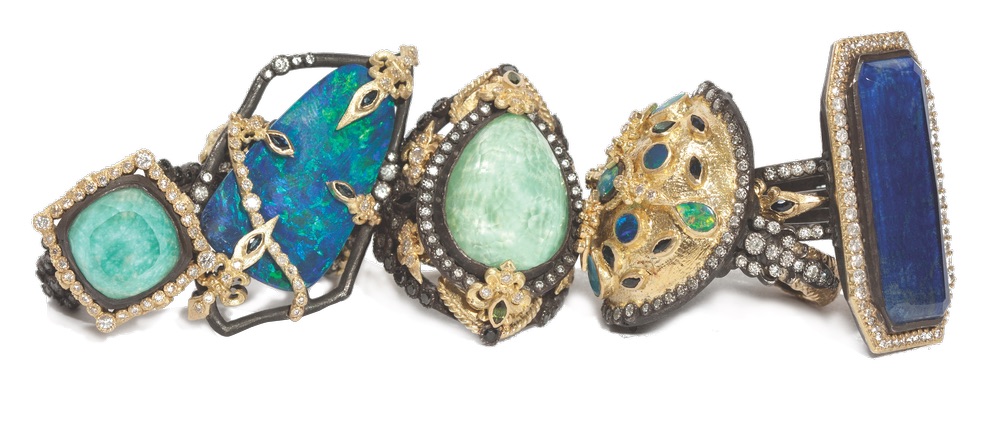 Lisa Peters, owner of Destin Jewelers, has made "Live Happily Ever After" a philosophy and trademark of her business, especially in encouraging women to celebrate their lives. "The great thing about working with jewelry is that it revolves around celebrations," says Peters. "The fairy-tale theme embodies the joy and happiness people feel when commemorating these special times. Whether it's an engagement, an anniversary, or the birth of a newborn, the jewelry celebrates someone's happy ending."
She emphasizes, too, that any occasion, even a carefree afternoon with friends, is reason enough to drop by Destin Jewelers. "We want our customers to grab their girlfriends, relax, and enjoy the charm and whimsy that our store has to offer," says Peters, who loves to see customers play dress up in the store as they try on jewelry and accessories.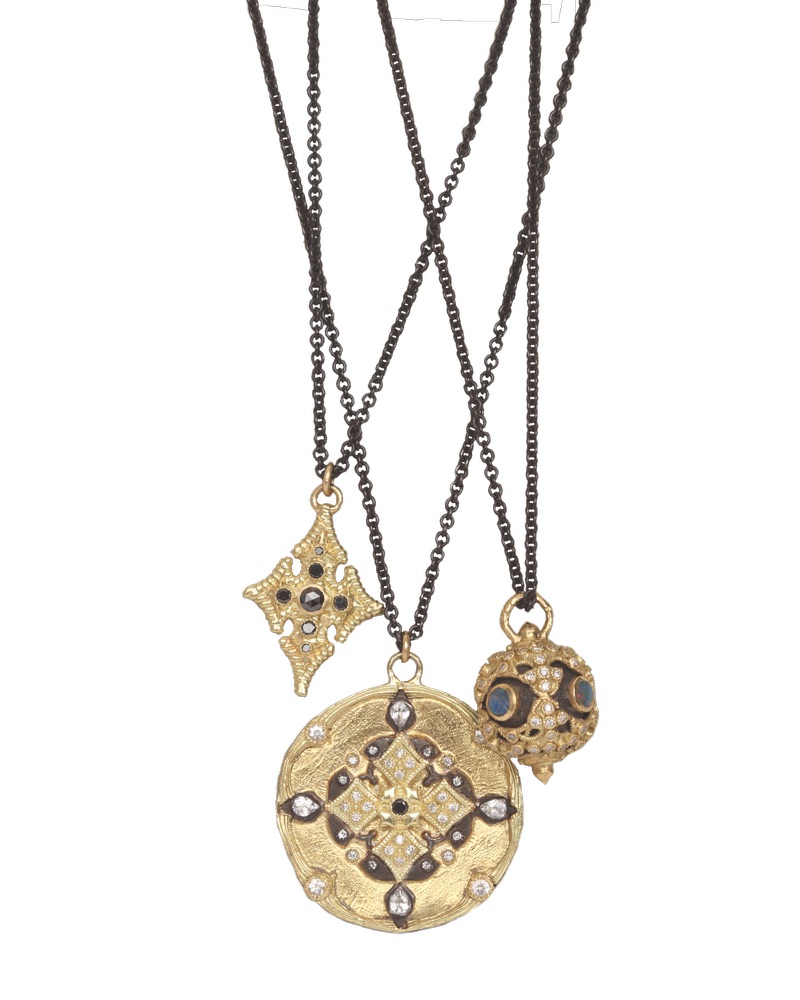 It's more than the message that appears in ads. The concept came to life inside the whimsically designed Destin Jewelers store in Miramar Beach, Florida. "I never had the typical jewelry store," says Peters. For starters, she has eliminated "threshold resistance" by facilitating an inviting first impression with one happy surprise after another: a frog prince mascot and a friendly staff; vivid colors and approachable displays; and high-end yet fun, trendy jewelry and accessories. The merchandise is upscale but the atmosphere is never hushed or intimidating—certainly not with Lola and Louie (Peters's Ragdoll cats) and Gracie Lee (her chocolate Lab puppy) manning the floor!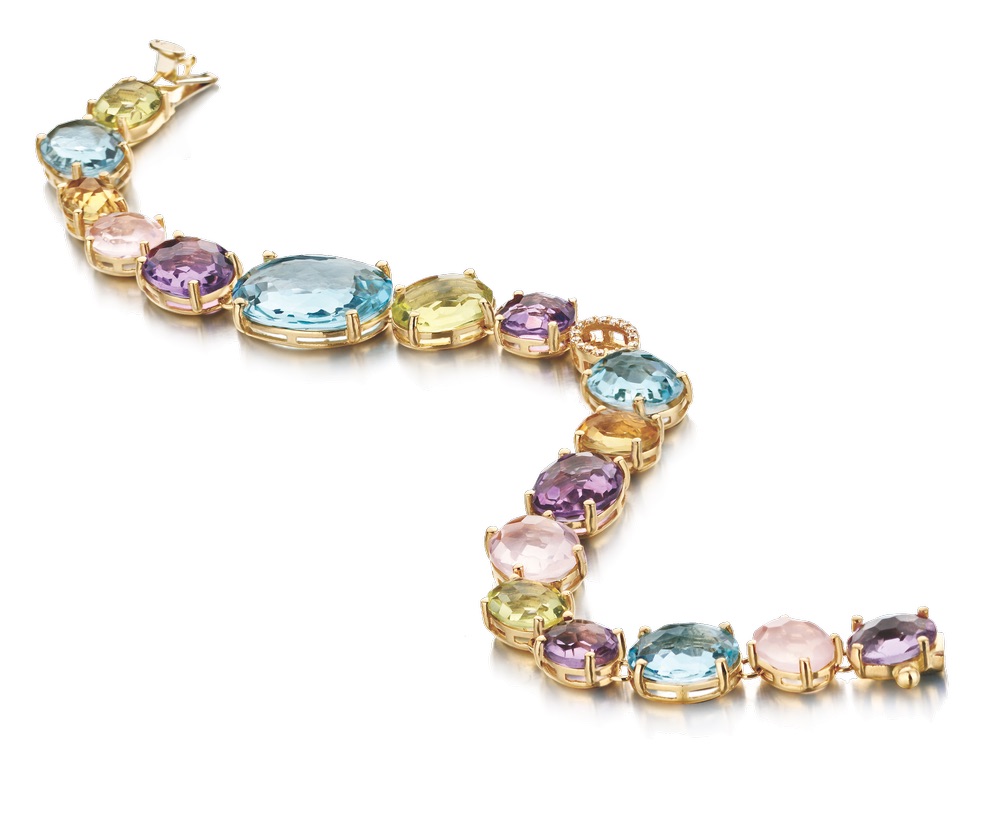 Peters's approach has won favor with customers and industry peers. In 2004, readers of INSTORE Magazine, a trade publication, voted Destin Jewelers in the top ten stores that received the "America's Coolest Store" award. The retailer has been rated among the top twenty stores two other times. For eight consecutive years during the store's seventeen years of doing business in the region, Destin Jewelers has been named Best Jewelry Store by a reader's poll, "Best of the Emerald Coast" by Emerald Coast Magazine.
Regarding her success in building a relatable brand, Peters says, "I became a jewelry store owner without preconceived notions or traditional training." Still, she had preparation, which began with her first retail job at the age of fourteen. She also holds a business degree from the Florida Institute of Technology. Over the years, Peters also held outside sales and corporate retail positions. She ignored what she didn't know about jewelry and applied business insights and personal instincts as she decided to capitalize on two timeless advantages: quality and uniqueness. What would succeed in Destin, she decided, was a boutique jewelry store.
"We have tried to stay away from the mass-produced, heavily branded designers that can be found in any high-end department store," says Peters. Her merchandise is refreshing to discerning shoppers who can buy any big label at the mall or online. "We also focus more on the artistic and easy-to-wear jewelry and accessories." City life, she explains, dictates a more prescribed, professional way of dressing, but the beach remains casual. "Our selections are fashion-forward but not over-the-top formal."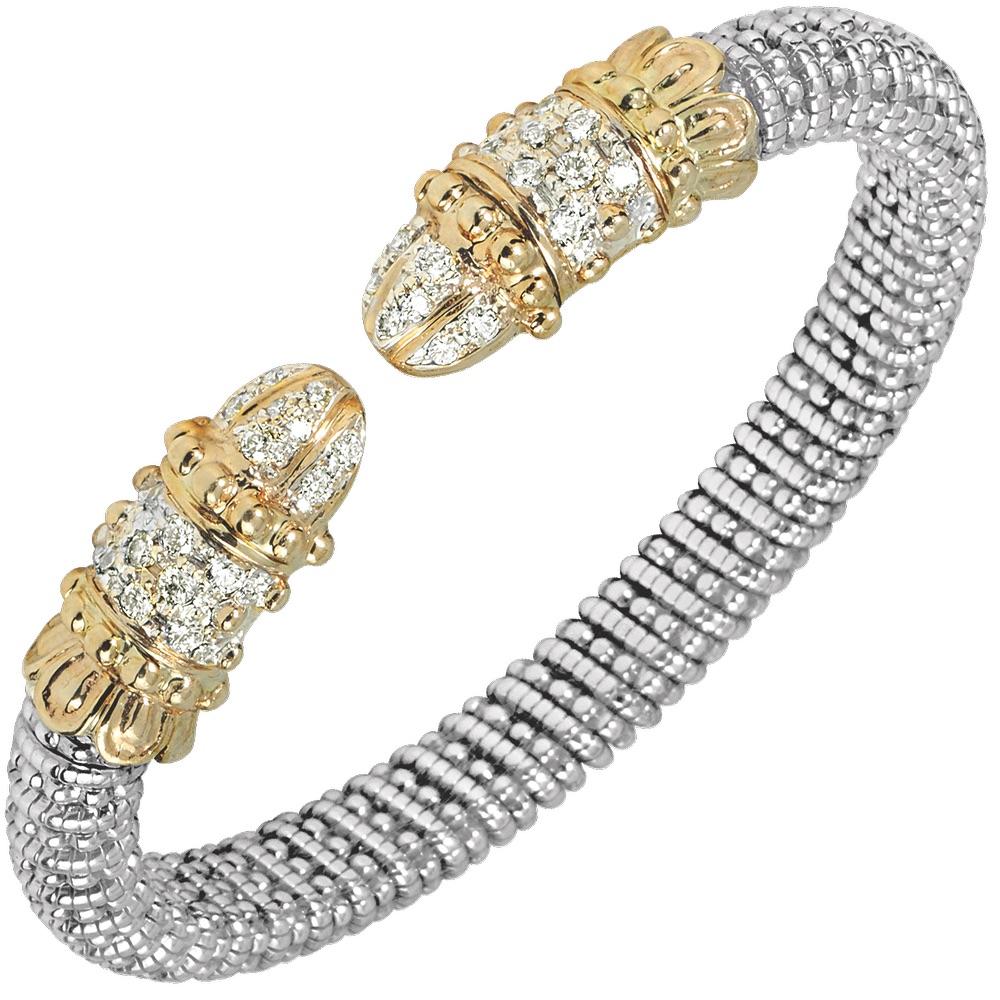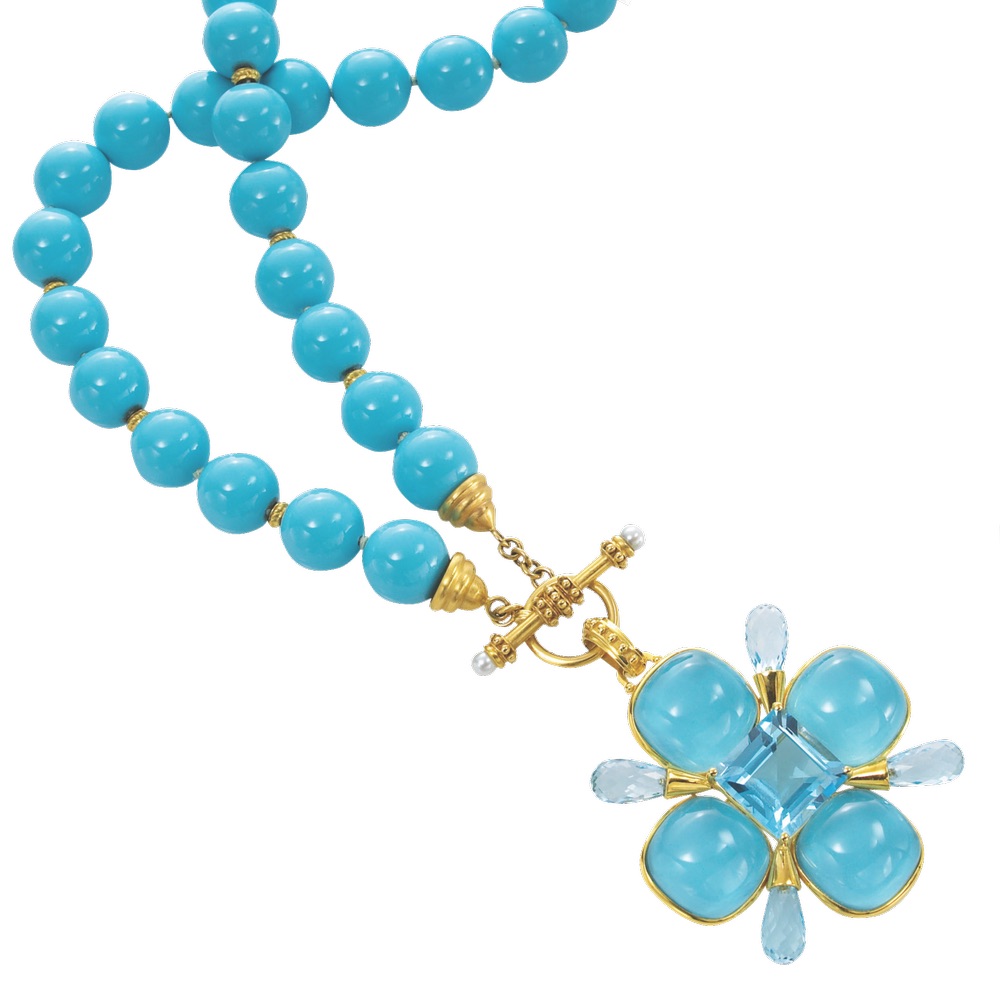 When choosing a jewelry line, she says, "I look for unique characteristics in designers that set their work apart, and for pieces that customers can easily incorporate into an existing jewelry collection and style." The Mazza Collection, for one, features colored gemstone jewelry and pearls in high-fashion designs that complement everyday jeans or classic little black dress. The company is also a resource for women who seek a casual update to the fine jewelry they already own. "Mazza can restring pearls with a toggle clasp, or we can add one of their enhancers for a less formal look." The designer will also remake customers' jewelry into fabulous new signature pieces.
Armenta, another designer line at Destin Jewelers, presents a completely different look with delicately handcrafted diamond and gemstone jewelry, both in gold and "midnight" oxidized sterling silver. "Our mix of designers—from The Mazza Company and Armenta to others like Nanis and Yvel—allows us to offer a variety of styles for a truly glamorous presentation," Peters says.
Though she expresses that she would be hard-pressed to pick favorites, Peters personally loves the array of precious and semiprecious gemstones that are now available in her store. In comparison to when she first began buying jewelry, she now enjoys having a greater variety to offer her customers. The prevalence of stones like sleeping beauty turquoise, lapis, green onyx, moonstone, crystal, and quartz gives shoppers plenty of affordable alternatives to emeralds and diamonds. Likewise, designers are creating dazzling effects with unconventional pairings of stones and mixed metals. Meanwhile, gold is back, so for those who adore its richness but not its price, Peters enthusiastically suggests jewelry in sterling silver with a gold overlay.
In general, Peters caters to a fashion sense that reflects "the decadence of Southern charm—big, fun statement pieces with lots of color—but also the high-end elegance of big-city style." The hottest trends also appeal to that sensibility. "Bold and beautiful jewel tones in all categories, from jewelry to scarves, are in this season," she reveals, "as are edgy, geometric shapes."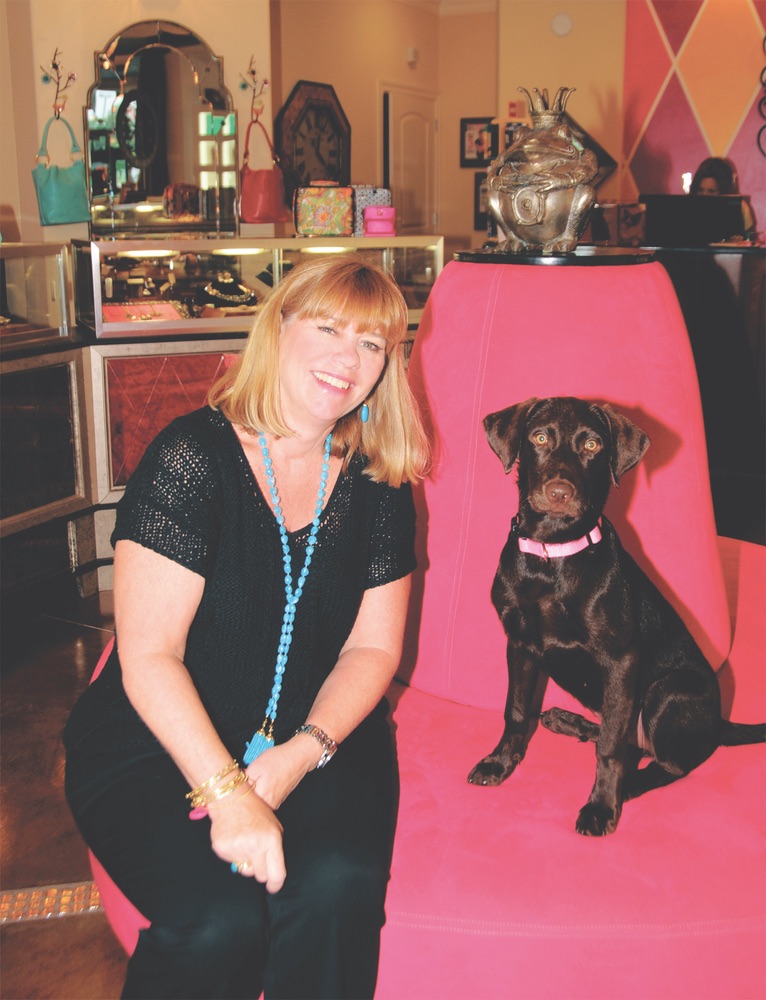 Accessories definitely share the spotlight at Destin Jewelers. "We have all silhouettes of handbags," says Peters, "from big totes to large and small clutches. You'll find a number of patent leather options with embossed designs, from crocodile to quilted textures. For the second year, we're also carrying some interesting fur pieces—ponchos, scarves, and vests—in natural hues as well as ombré dyed (or dipped) in colors like wine and royal blue." Beginning in January 2014, beach and travel merchandise will return: totes in bold colors and patterns, oversized hats, cover-ups, and sandals.
If the selection is intimidating to gift shoppers, individuals can count on personal assistance plus the peace of mind that the recipient may return or exchange any item that doesn't deliver ultimate joy and satisfaction. Many customers also simplify the process for their significant others by maintaining a wish list at Destin Jewelers. "If I have a relationship with a couple," says Peters, "I'll call the husband and say, 'X just left the store, and she loves a certain ring.' He'll know there's no pressure to buy, and he appreciates having the option." Peters notes that she also has watches and cuff links for men. "French cuffs are back!"
Styles come and go, but Destin Jewelers, now celebrating seventeen years in business, remains a fixture in Northwest Florida through commitments that extend well beyond the walls of the store. "As a business owner, I believe it's important to support the local community," says Peters. Drawn to the area's charities that help women and children in need, she names Children's Volunteer Health Network, Sinfonia Gulf Coast, Destin Charity Wine Auction Foundation, and the Boys and Girls Club among those she has recently sponsored.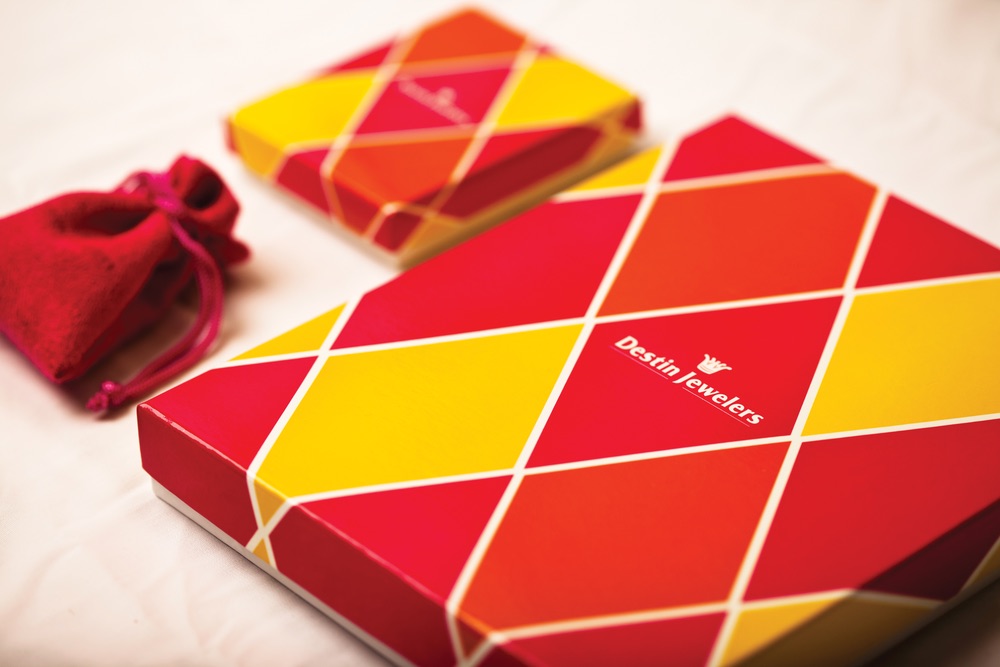 Considering the ways in which Destin Jewelers strives to make a difference, many would say the most significant is in reminding everyone to celebrate life and create their own "happily ever after."
— V —
ARTICLE CATEGORIES