Pepsi Gulf Coast Jam 2014
By Rhonda Cloutier | Photography by Joe Cloutier
It was a record Labor Day weekend in Panama City Beach, Florida, for the 2014 Pepsi Gulf Coast Jam. And by record, I mean in attendance, sweat, and cheers! Over eighteen thousand people filled Frank Brown Park to hear their favorite country music artists and to discover some new ones.
During the day on Friday, August 29, John Michael Montgomery, Trick Pony, Blackjack Billy, and the Pepsi Southern Original contestants performed beachside at the M.B. Miller County Pier. From late afternoon until midnight, the entertainment was centered at Frank Brown Park, a few blocks north.
I let the out-of-towners enjoy the beachside venue while my husband, Joe, and I focused on the main stage at Frank Brown Park.
There are many stories that could be told about the festival. In fact, I could write a country song about a hot summer night, a sliver of a moon, drinking, flip-flops, cowboy boots, tank tops, sundresses, guitar strumming, slow dancing, and a catfight that was over before one song ended and forgotten about by the time the next song started. I think I'll send this idea to Blake Shelton. But I'm getting ahead of myself, so back to the music.
The musicians on the main stage Friday included Andrew Salgado, Jon Pardi, Love and Theft, Randy Houser, and the lovely and talented Carrie Underwood. On Saturday, Laura Bell Bundy, Casey James, Lonestar, Big and Rich, and Dierks Bentley performed, while the final day, Sunday, featured Kirstie Lovelady, Neal McCoy, Cassadee Pope, and the weekend's finale, Blake Shelton.
Though country music is evolving and blending with other styles these days, there is still a strong traditional core. All bases were covered at Gulf Coast Jam—we heard just plain country, country blues, country rock, country rap (yes, that's right), and even country reggae. If you can't find something country to love here, well then, you ain't country!
The openers had the toughest schedule in the sweltering afternoon sun, but they brought their energy and were troopers. Many fans came early and camped out in their chairs to hear a full day and night of music.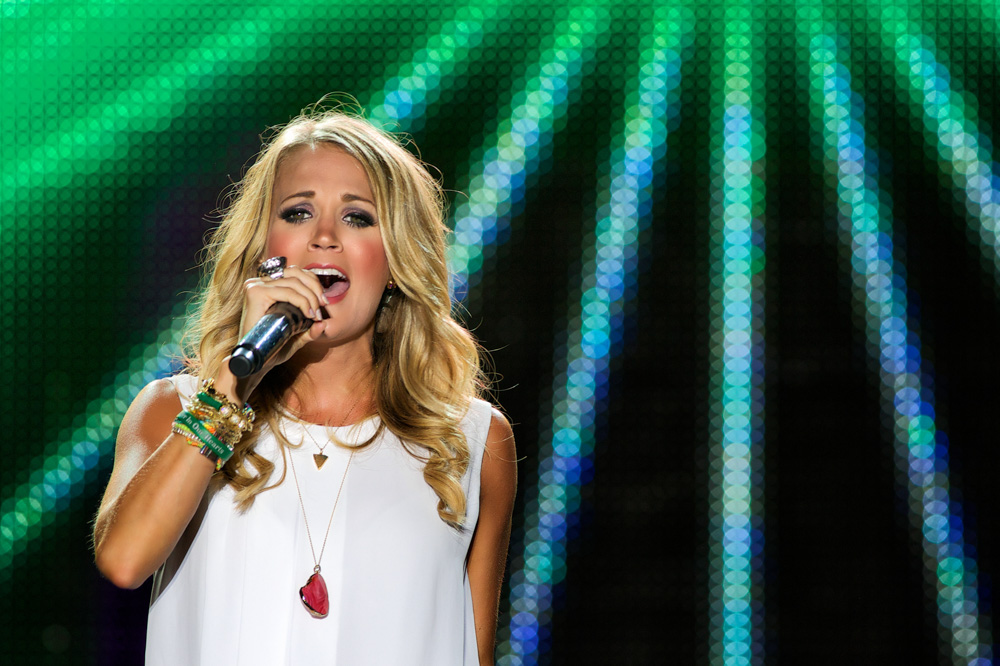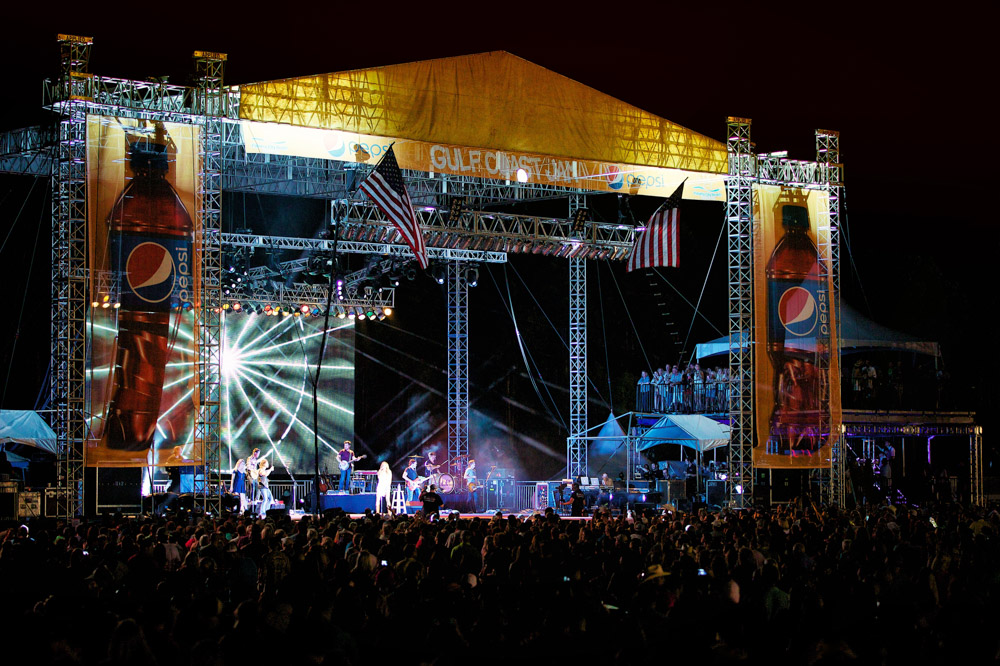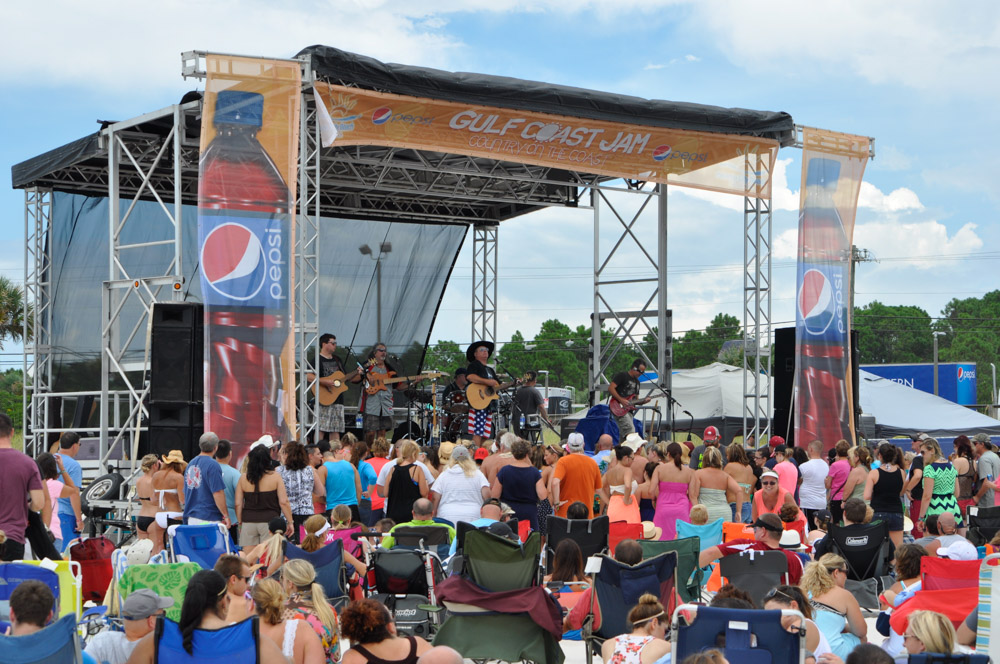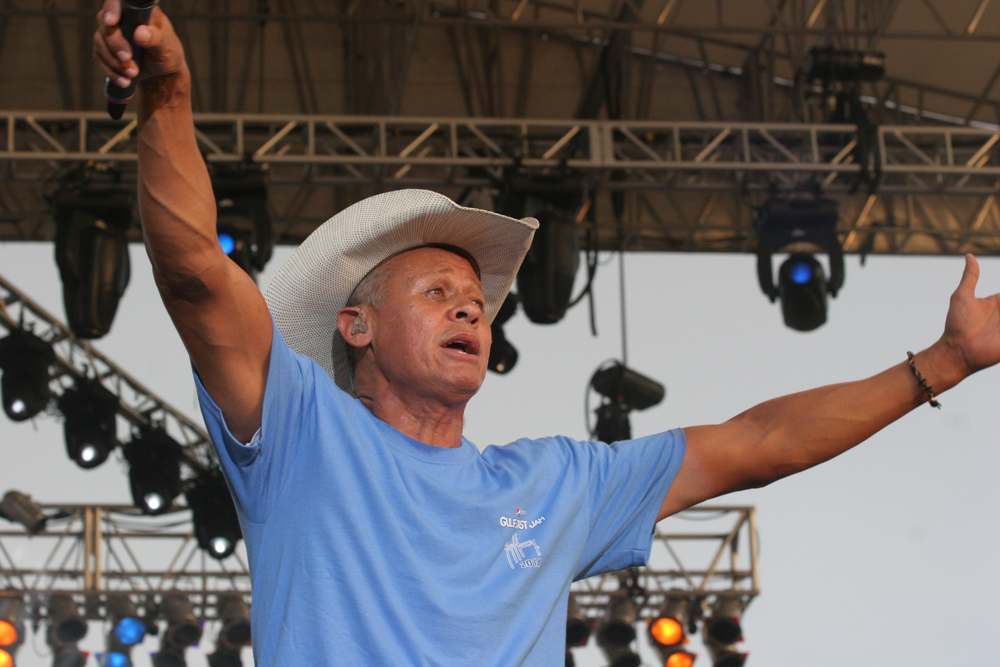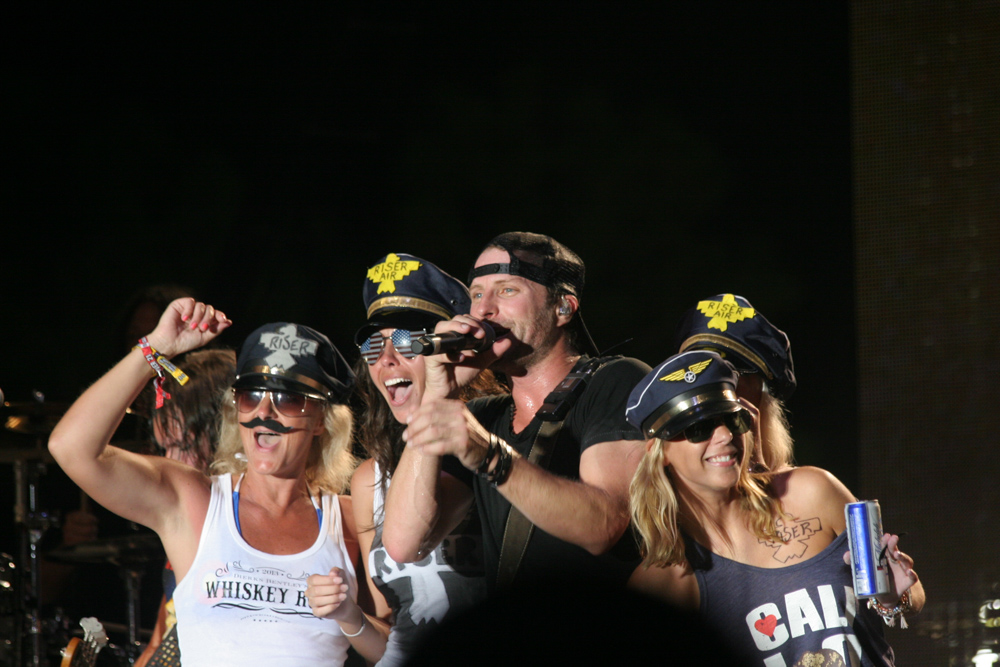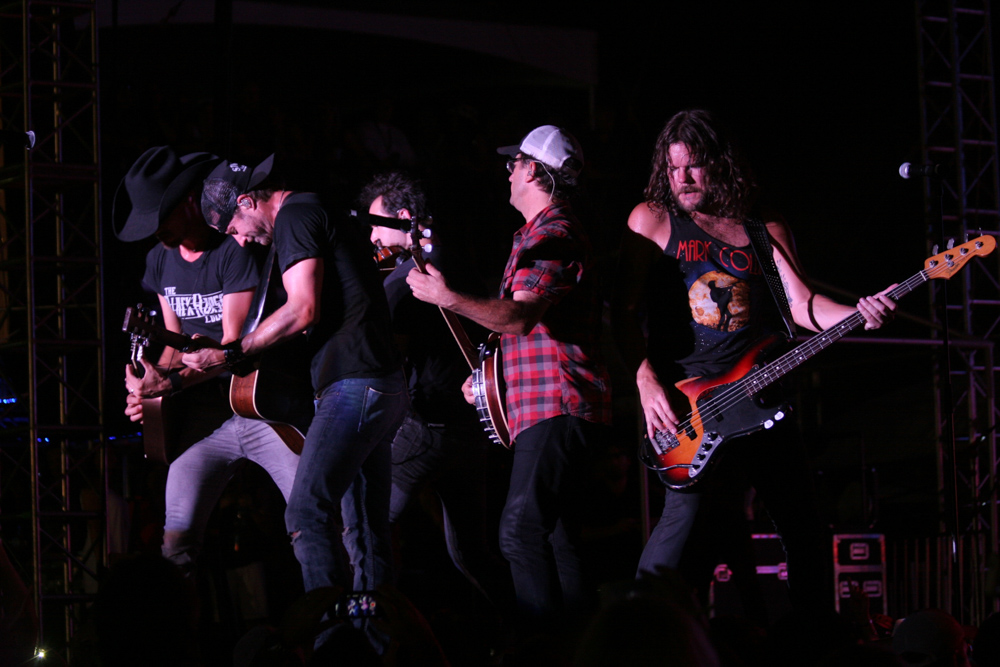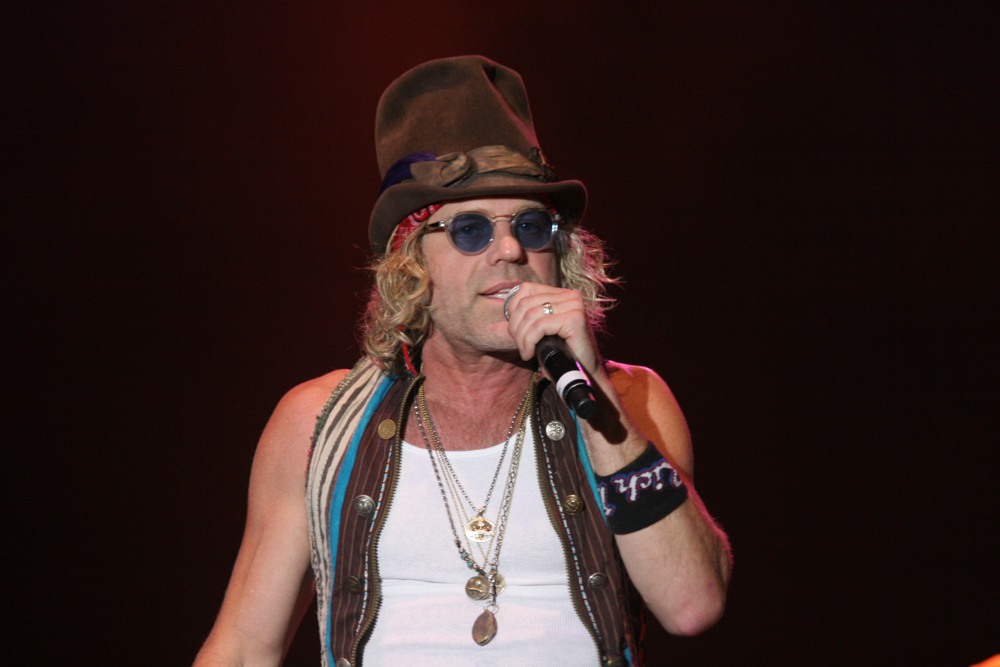 Though country music is evolving and blending with other styles these days, there is still a strong traditional core.
Here are some of the highlights and surprises:
Kirstie Lovelady, who inspired me to buy her CD right after her set, took the crowd to church with a song titled "Meet Jesus."
American Idol finalist Casey James debuted new music from his second album, which is due to be released this fall. "Fuel" is a very catchy tune and hopefully his next hit single. "Crying on a Suitcase," his biggest hit to date, got the crowd singing along, as did "Let's Don't Call It a Night," which elicited several screams from the ladies. "Bulletproof," a driving country rock cut, got even the men to head bop along. The line to buy James's merchandise was a mile long and filled mostly with ladies waiting for a chance to meet him and get his autograph. He patiently signed every request, putting smiles on the faces of many and consequently blowing up social media sites. Casey released his single "Fall Apart" at the end of September.
Neal McCoy, whom I hadn't heard of (yes, I was schooled), captured my heart not only with his rollicking "Hillbilly Rap" but also with his love of performing for the military and his sign-off: "One nation under God!"
Big and Rich, Cowboy Troy, and DJ Sinister's set was the most fun I have had in a long time! They brought the hype, the moves, and the crazy and kept the crowd on their feet. Cowboy Troy and DJ Sinister had a dance-off to "Drink Drank Drunk," which whipped the crowd into a frenzy and primed the stage for Dierks Bentley.
The ladies were waiting for Dierks—and he didn't disappoint. He had the most crowd interaction, pulling several fans on stage, taking selfies with them, drinking with them, and having fun. Of all the performers, he seemed to enjoy himself the most, and he gave the crowd what they wanted: a good time! "I Hold On" and "What Was I Thinkin'" were favorites, but "Drunk on a Plane" brought down the house.
I would be remiss if I didn't mention Lonestar singing "Another Brick in the Wall." Surprisingly, I loved it!
Blake Shelton's promo, which was repeated several times, said they would be filming and if you didn't want to be filmed, you should leave. No one left that I could see—but really, who would have wanted to? Blake brought out the largest crowd and he thanked everyone. His set was long and worth every second in the sardine-packed media area. It was the only set where no one left his or her spot. If the people surrounding you danced, you did too. If they reached up into the air to snap a photo, you went airborne as well. Blake had every single person in the palm of his hand. He trotted out old favorites from before he was "famous": "Ol' Red," which I have loved for a long time; his first hit, "Austin," which he performed acoustically; and his newer hits, including "Hillbilly Bone," "Honey Bee," and the brand-new "Neon Light," which was filmed by his crew. I lost it when the band started playing "Footloose" and started the dancing in our area—I did not stop until it ended.
I'm saving Carrie Underwood for last, even though she performed on the first night. This was my second time seeing Carrie, so I knew a little bit of what to expect. I had seen her in Pensacola at the Civic Center during her Play On tour. I was in awe then as her voice filled the entire arena and she moved grown men to cry when she sang "How Great Thou Art." I couldn't wait to see and hear her perform under the stars at Frank Brown Park.
"Somethin' Bad," her latest hit with Miranda Lambert, started playing and the heat was turned up a notch! As Carrie hit the stage, families gathered their kids and hoisted them up on their shoulders to see the reigning Queen of Country Music. She sang all of her chart-toppers, including "Jesus, Take the Wheel" (her first big hit single from her debut album, Some Hearts), "Blown Away," "Good Girl," "See You Again," and many other beloved songs. She closed with "Paradise City" and "Before He Cheats." My favorite song of the night was "One Way Ticket," which has a reggae flair. Carrie called out Panama City Beach during this song about flip-flops and heading to our heaven, the beach!
Carrie is known not only as a vocal powerhouse but also as a trendsetter in country music for her outfits, both on stage and off. It was noteworthy to me that she was wearing a loose-fitting, draped-in-the-front, sleeveless blouse on one of the hottest nights in Panama City Beach. She usually does several outfit changes during shows, but she stayed in the same outfit for the entire set. At the time, I attributed this to the heat, which made sense. Her loose blouse was paired with cute denim shorts and cowboy boots. But the reason for staying in the same outfit and the need for a flowing blouse came out during her announcement on Labor Day. There was a collective whoop of joy across the music universe when Carrie broke the news through Twitter that she and her husband, Mike Fisher, are expecting their first child. Congrats to Carrie and Mike!
I lost it when the band started playing "Footloose" and started the dancing in our area—I did not stop until it ended.
Another note of congratulations goes to Carrie as she released a new song, "Something in the Water," on September 29. This song is another testament to her faith and has already made it to number one on iTunes. A new album is scheduled for release in December, just in time for the holiday season.
Next year's concerts have a lot to live up to—this Gulf Coast Jam has set the bar very high! I asked Rendy Lovelady, festival organizer, if he could summarize his thoughts on 2014 and he said, "Pepsi Gulf Coast Jam 2014 was more than I imagined! There was a moment I had Friday night right before Carrie Underwood went on stage. Her preshow music kicked in and that's when all the emotions hit me and I knew this was it—the moment I had been waiting for. The energy was so high, it literally gave me goose bumps, and that moment is why I do this event; it sums up 2014 perfectly."
Meetings have already started for Pepsi Gulf Coast Jam 2015, according to Rendy. "This past year we brought Carrie Underwood, Dierks Bentley, and Blake Shelton, but I can tell you right now that next year is going to be even bigger! I am currently working on booking the artists for 2015 and the lineup announcement should be coming sometime in March," he says. "You don't want to miss this, so keep an eye out for presales to get your tickets at a discounted price." Presales will be available November 28 through December 1 on www.gulfcoastjam.com.
Why don't you take Carrie's advice and get that "One Way Ticket" to heaven in Panama City Beach? After experiencing Pepsi Gulf Coast Jam 2014, I bet there are several thousand more who won't want to miss out on our paradise and some of the greatest music around. See you Labor Day weekend 2015!
— V —
ARTICLE CATEGORIES