By Tori Phelps | Photography courtesy of Queork
"It's like elves and unicorns make this stuff; you can't say anything bad about it." Amanda Dailey's life revolves around cork and the luxury goods she designs with it, so it's possible that she's a tad biased. Still, this Queen of Cork, co-owner of New Orleans–based Queork (pronounced "cork"), might just be onto something. After spending a few minutes with her, the elves-and-unicorns theory starts to sound plausible.
Falling for Cork
Get ready: The cork you've only known as wine stoppers and dartboards is taking on a whole new life. It's kind of like seeing a lifelong friend croon her way to the American Idol finals. "Wait a minute," you might marvel. "You can do that?"
It turns out that cork has been holding out on us.
In the hands of Dailey and co-owner/partner Julie Araujo, cork transforms into handbags, smartphone cases, and even furniture. Thanks to Queork's new location along Scenic Highway 30-A in Grayton Beach, Florida, residents and visitors to the area have a front-row seat to the many possibilities.
Dailey is an unlikely ambassador for cork. A Tulsa native who decamped to New Orleans in 2010, her background was in real estate—not design. However, a trip to Portugal with Araujo changed the course of her life. It all started with Dailey's pursuit of a new dog collar that wouldn't mildew when her Bernese mountain dog got wet. "I walked into a shop that had a belt and a hat made from cork, and it immediately made sense to me," she recalls. "I thought, 'Why isn't this everywhere?'"
These products are not unusual in Portugal, where the economy depends on cork, but they caused a lightbulb moment for Dailey, who realized that cork's light weight and water-repellent qualities would make for the perfect dog collar. The only problem was that she couldn't find one.
A Portuguese manufacturer refused to make her one; he would, however, make her five hundred. Undeterred, she visited a pet shop upon her return to the United States and lucked into a meeting with a pet-goods distributor in the middle of an aisle. After Dailey explained the benefits of a cork dog collar, the distributor agreed to buy some of the collars. That deal didn't launch her business, but it did launch a lifestyle.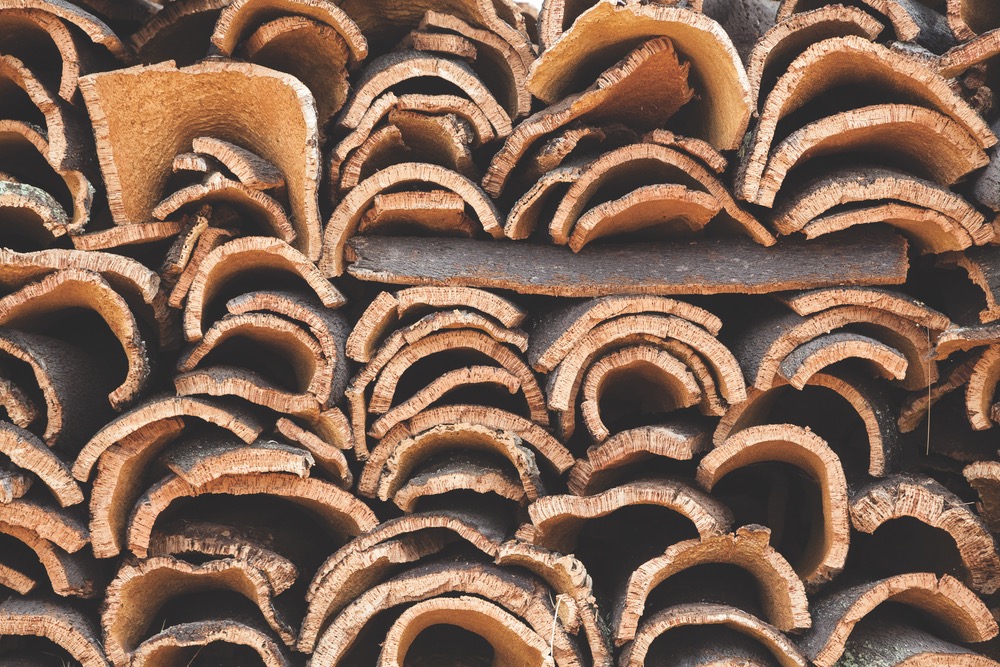 She became obsessed with cork and began buying cork material online, which she paid a craftsman to turn into goods for her personal use. Soon, Dailey was dubbed the Queen of Cork, and everyone wanted what the queen had. Realizing that there was a business in her obsession, she nabbed a booth at a local arts festival. She displayed thirty-six cork handbags she had designed; they sold out in a matter of hours. "The styles weren't even that good," she admits.
Araujo suggested they name their fledgling business Queork (a combination of "queen" and "cork" and a nod to the cork tree's Latin name, Quercus suber). Araujo, who partnered with Dailey but who also works in another industry, uses her fluency in Portuguese to communicate with their suppliers.
While Dailey became an undeniable expert in cork, she wasn't—and still isn't—a trained designer. That's a good thing, she believes: "Because I'm not a designer by trade, I'm not offended when people offer suggestions. On the contrary, I listen to what they want."
Her designs take shape through the magic of the cork oak tree. While all trees have a thin layer of cork in their bark, the cork oak has a thick layer that can regenerate after the bark is harvested. It's the only tree that survives the removal of its outer layer of bark. In fact, a cork oak whose bark is harvested lives much longer than one with unharvested bark. It's the very definition of a renewable, sustainable resource.
They're probably working with trees their grandfathers planted. It's very much in the family—not something you just get into.
The trees are mainly found in the Mediterranean region, and about 50 to 60 percent are in Portugal. "When you're driving down the highways in Portugal, it seems every tree is a cork tree," Dailey swears, but they're more than landscaping. Cork oaks are essential to the country's economy, and they are (unsurprisingly) practically revered by its citizens. Caring for and protecting these trees is just part of being Portuguese. The people who harvest the bark by hand are especially diligent about their jobs. "They're probably working with trees their grandfathers planted. It's very much in the family—not something you just get into," Dailey explains of the profession. "The cork knows where to pull off from the tree, but they have to be really careful. If they go too deep, they can kill the tree, and killing a cork oak can land you in trouble."
No pressure.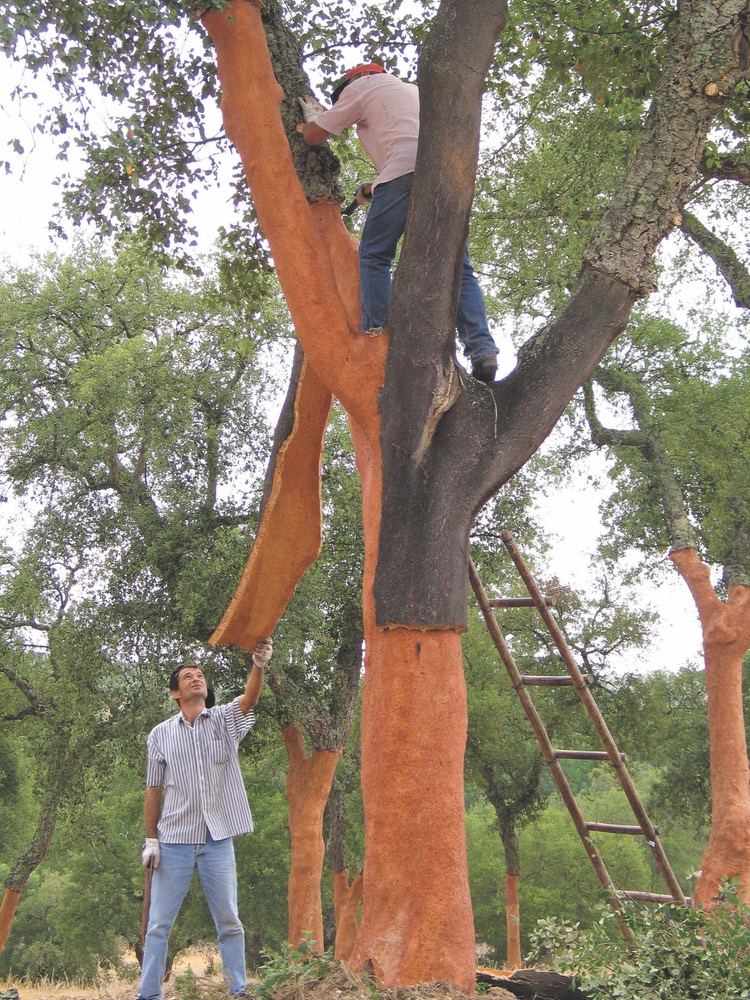 Covering the World in Cork
The inextricable link between Portugal and cork oaks was driven home after a massive fire about eight years ago practically decimated the economy. Though cork oaks don't burn (they're known as Mother Nature's answer to forest fires), they do smoke. That smoke caused a fungus on the trees. Harvesters were hesitant to gather bark for fear that fungus in a wine cork could contaminate the wine. Almost overnight, wineries worldwide had to find a synthetic alternative to cork. However, when the fungus threat passed, only 60 percent of the wineries returned to cork. They had discovered that plastic versions cost three cents, compared to $1.30 for cork.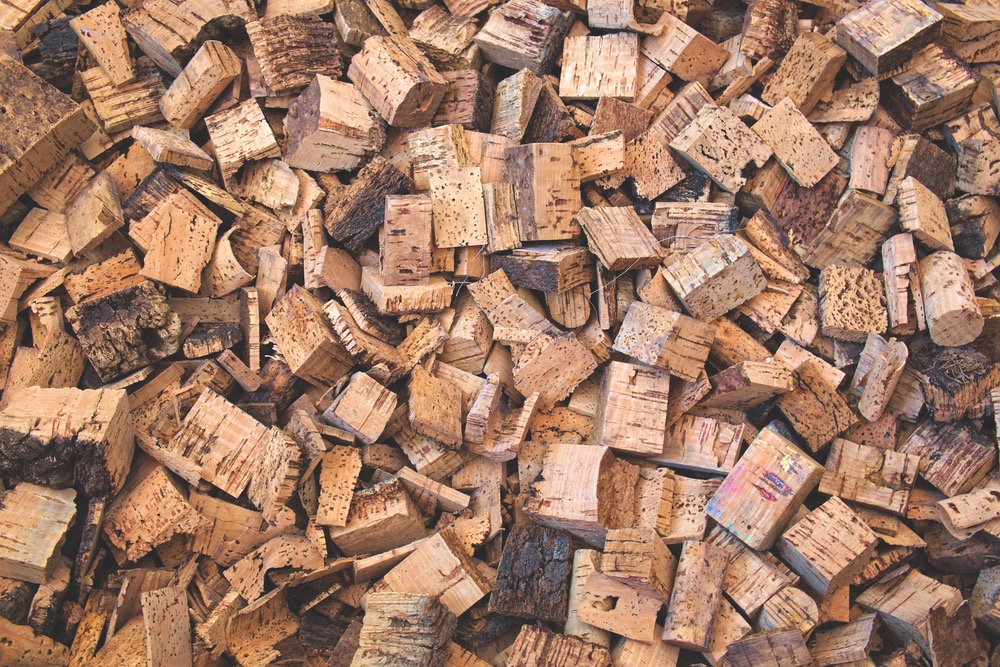 One popular misconception, which some wineries perpetuate as a way to explain their choice to use cheaper plastic stoppers, is that there's a cork shortage. "People think they're doing the right thing by avoiding wine with corks," Dailey says.
Cork oaks actually are endangered, but there's no shortage. Portugal alone has enough to support the world's cork needs for the next century. The trees have been classified as "endangered" in Portugal since 1928 because that is the only way to legally prevent people from cutting them down. Not only are these trees good for the economy, but they are also part of the lifeblood of the planet. Cork oaks are second only to rainforest trees in how much carbon dioxide they pull from the air. Because harvested cork oaks live much longer than their unharvested brethren, it's crucial to the environment to keep gathering their bark.
That's good, as Queork has plenty of uses for it. Dailey calls cork the new (and much improved) leather. For starters, cork is so light that it floats, thanks to a cellular structure that resembles air-filled balloons. A handbag made of leather, on the other hand, is heavy even before you put anything into it. Cork moves with you, but leather stretches out of shape. Cork is vegan and considered the most eco-friendly material in the world. Leather is, well, not.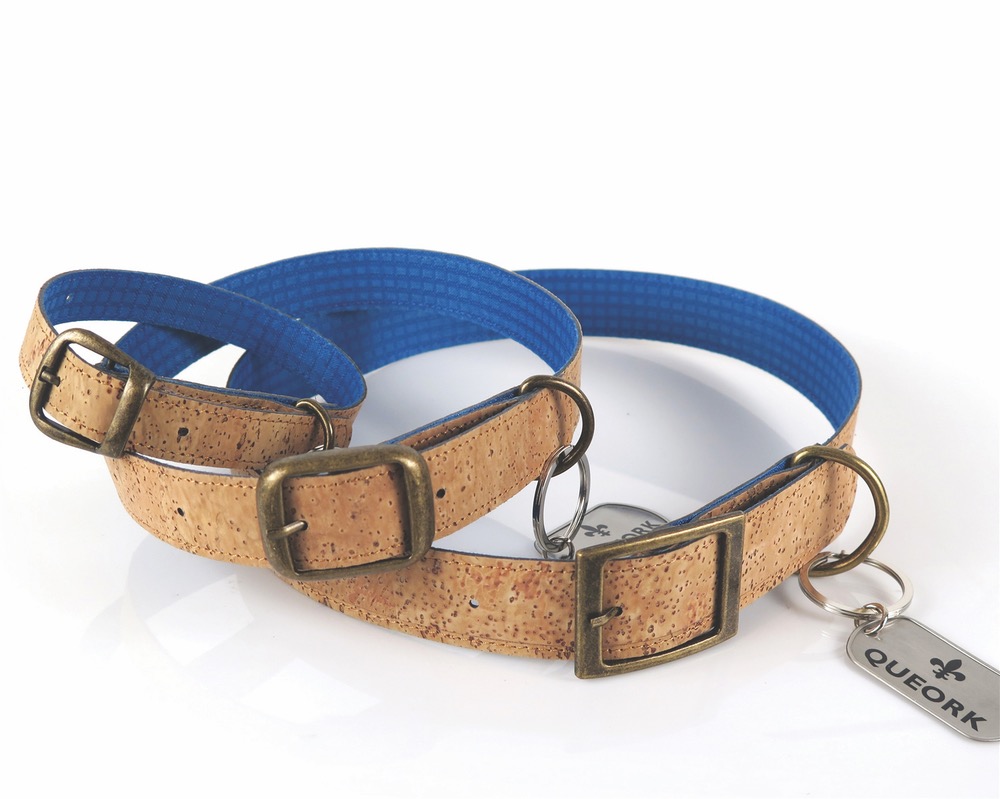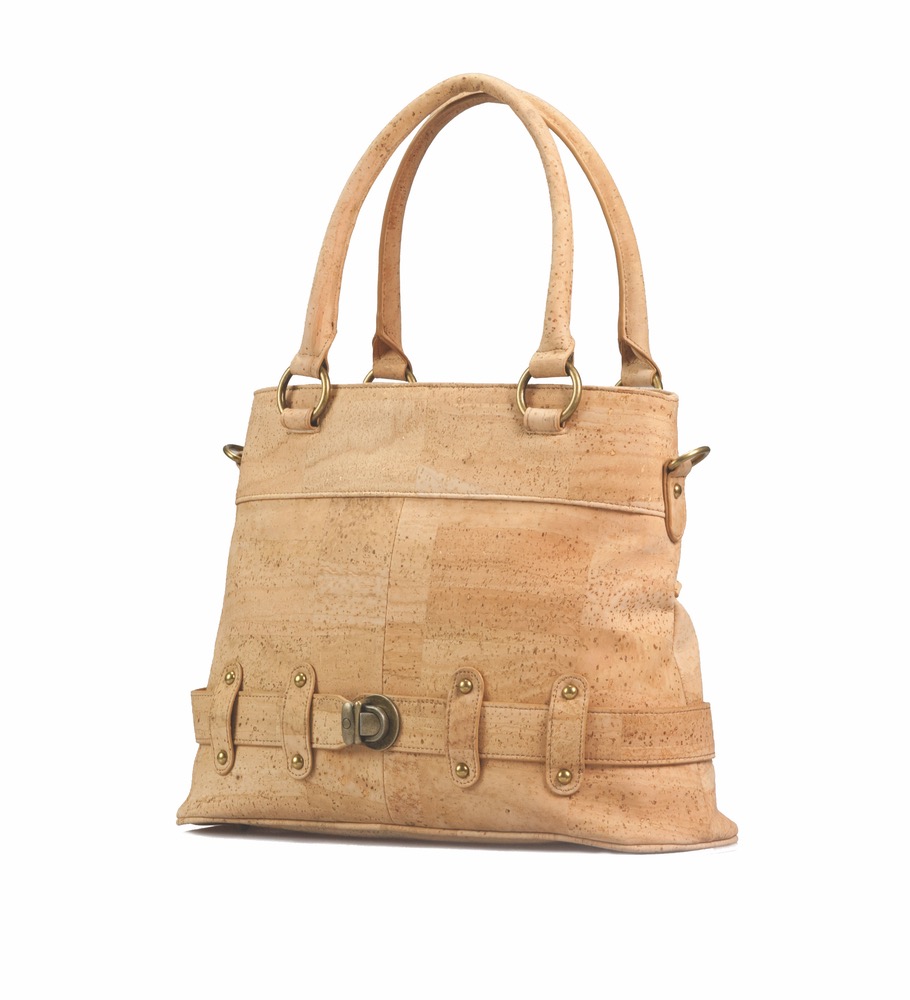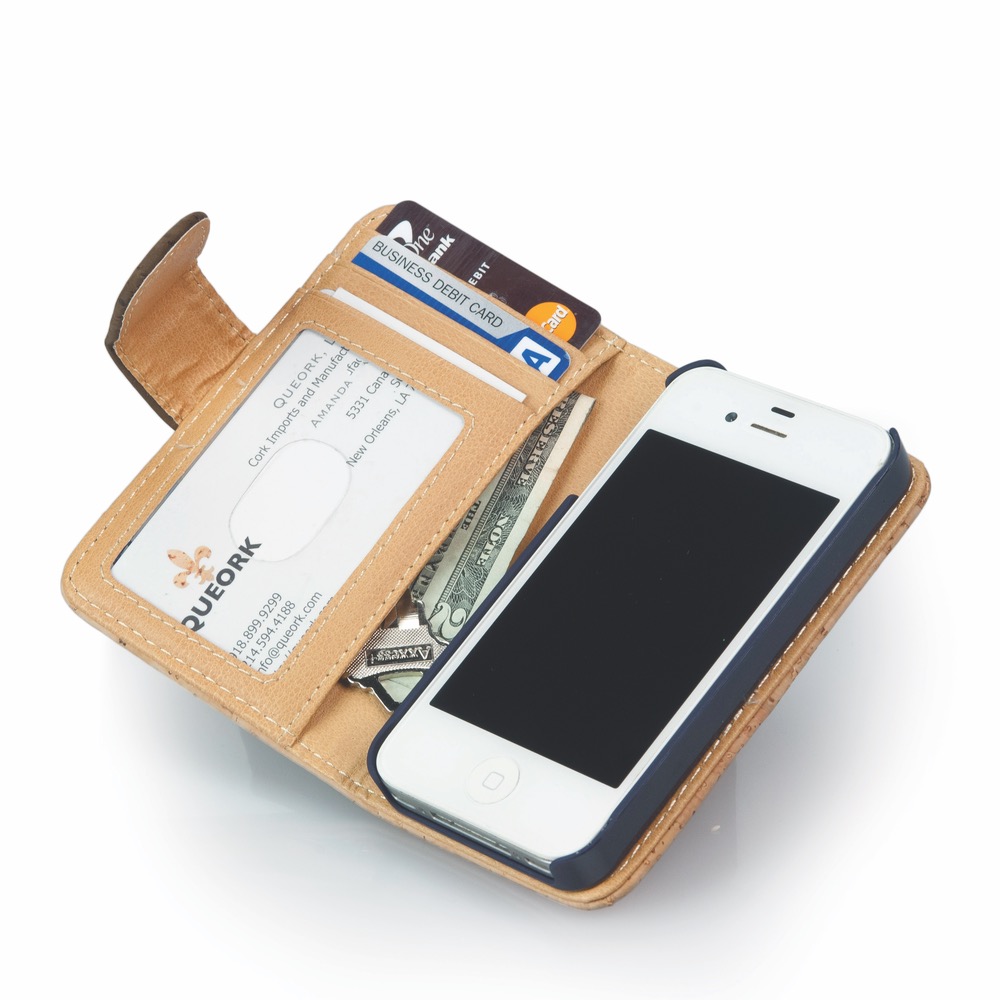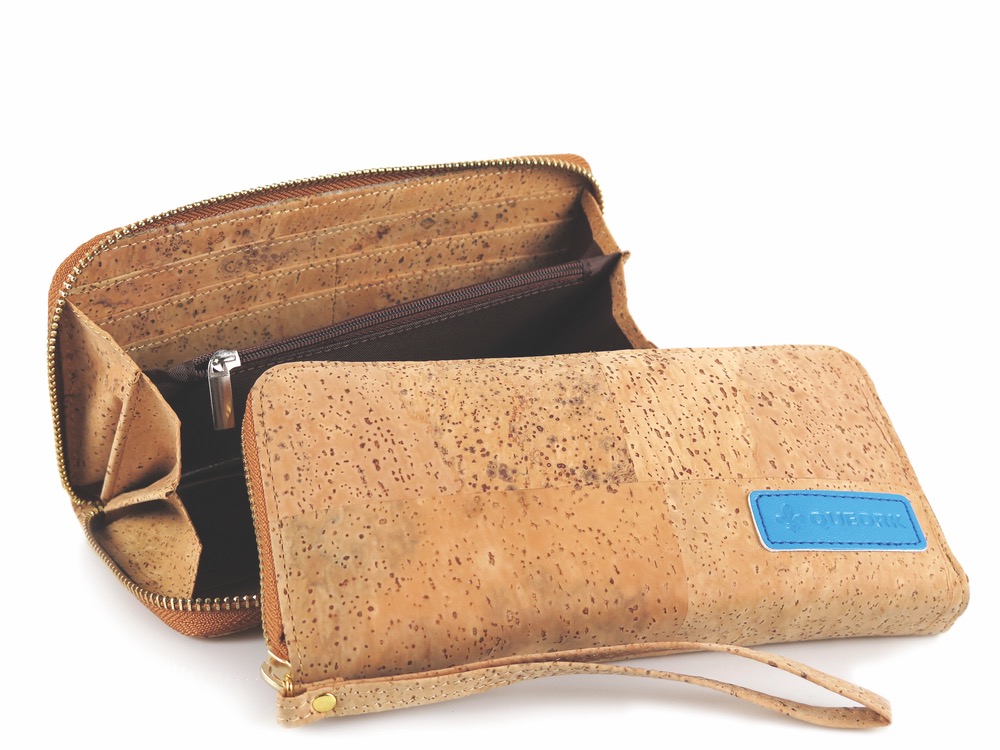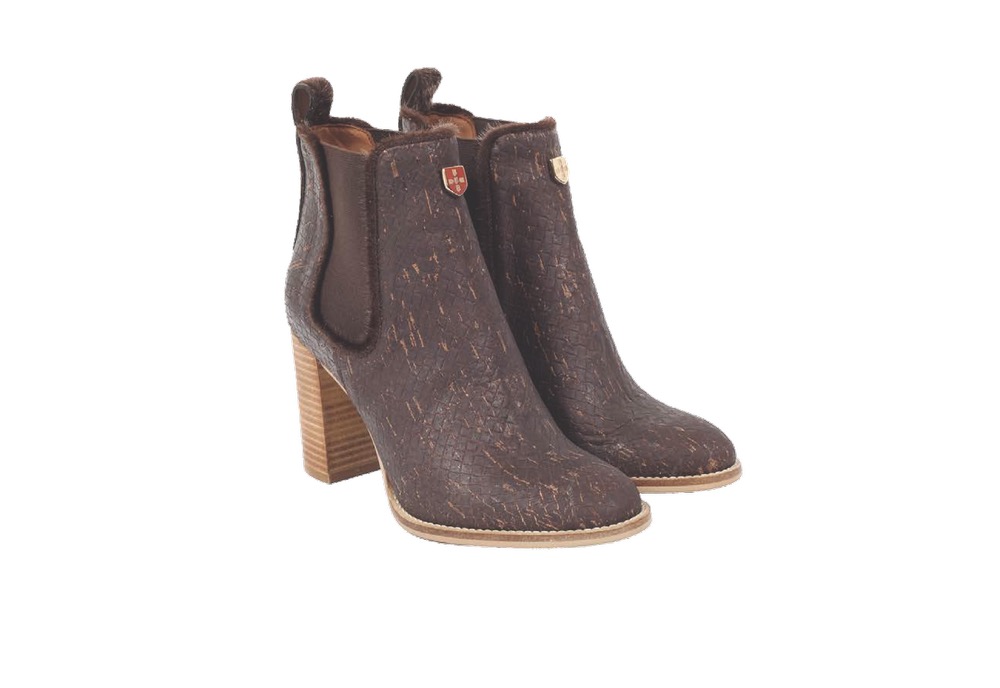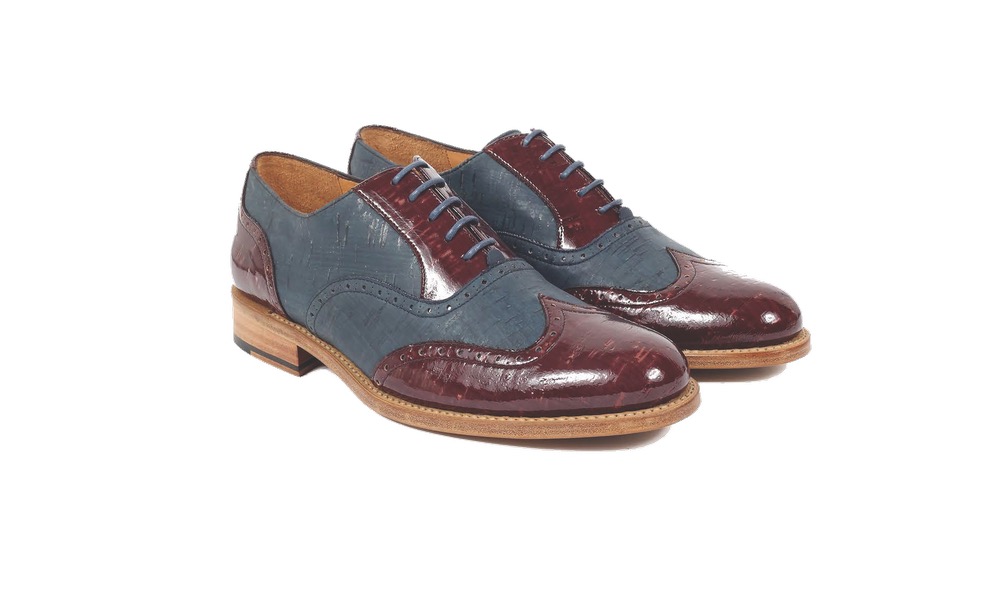 Another benefit of Queork's products is their durability. The rating on its cork material is equivalent to that of upholstery-grade vinyl. This means that anywhere you can put high-quality vinyl—such as cars, boats, or chairs—you can put this cork, and it will hold up for just as long. A silicone coating seals the cork material completely, so practically everything washes right off with water. Wine, coffee, and dirt? Bring 'em on.
The rating on its cork material is equivalent to that of upholstery-grade vinyl.
If all of that doesn't convince you, the material's soft, suede-like texture will. "The number one thing people ask when they come into the store is, 'Can I touch it?'" Dailey says. "And then a week later they come in and say, 'All I do is pet my new bag.'"
Perhaps that's why the mad rush for Queork bags hasn't lessened since that first street fair. Its best-selling product is a handbag called the Flapper—a remarkably versatile gem that can be worn as a small, folded bag, a larger bag, or a clutch. "When we first put it out, people were literally fighting over it," Dailey recalls. "We still can't keep them in stock."
Queork also offers a popular line of cell-phone cases, accessories from umbrellas to bowties, and—of course—dog collars. Perhaps most popular now is the line of cork shoes exclusively carried by Queork. We're not just talking cork soles—the entire shoe is made of cork. "We really lucked out to have partnered with a young company in Portugal that is producing shoes for us that are beautifully designed and incredibly well made," says Dailey. "Our biggest challenge is keeping up with demand; they fly off the shelves."
The company's newest venture is a furniture collection that includes tables and upholstered wingback and club chairs. This expansion is a direct result of consumer demand. Queork has always sold cork fabric by the yard, which allows customers (or their upholsterers) to re-cover existing furniture. Many customers, however, wanted ready-to-buy furnishings.
Emerald Coast residents and visitors get to peruse the furnishing line in Queork's new Grayton Beach store. It's the company's third brick-and-mortar location, in addition to the flagship French Quarter and Santa Fe, New Mexico, stores. Queork is strategic about locating in vacation destinations so that customers can do the company's marketing for them. When people return home with their new cork accessories, Dailey explains, they spark conversations and a corresponding spike in Internet sales.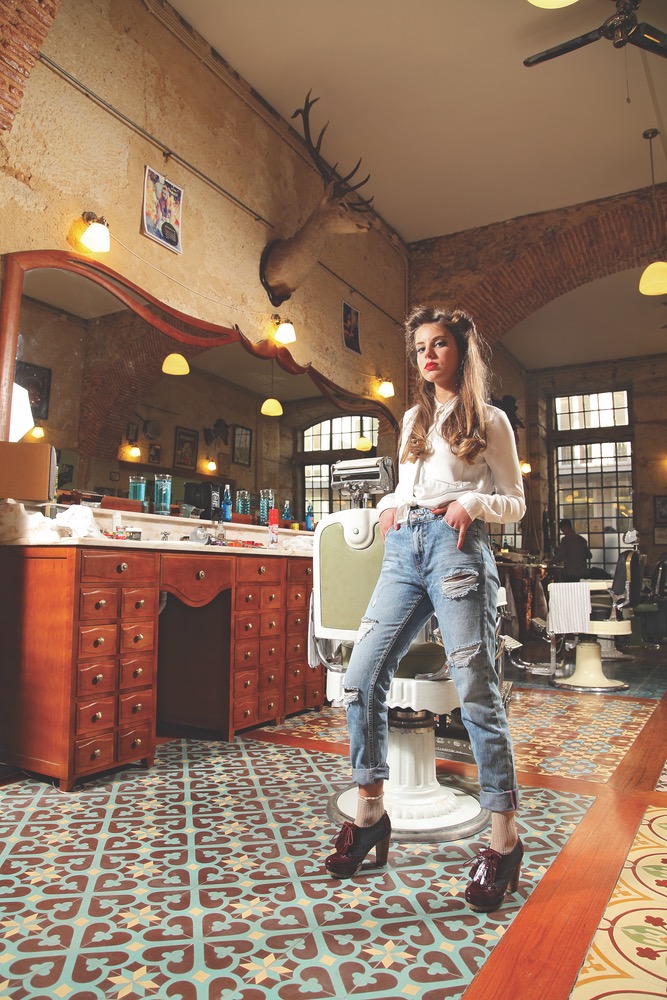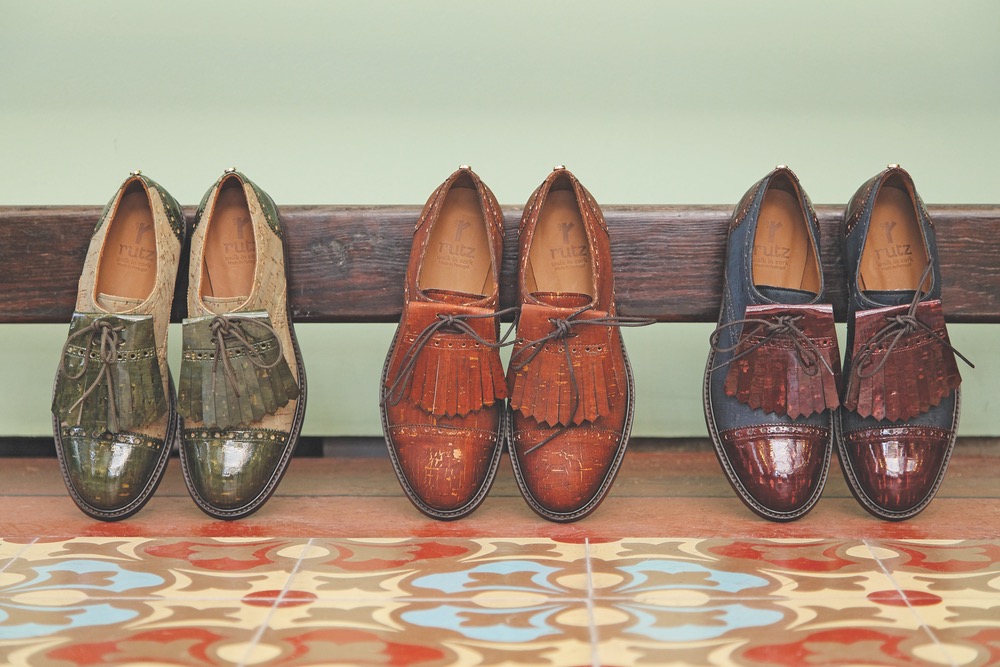 That's exactly what happened when Monica Giorgetti bought a bag while visiting Sandestin, Florida, from Texas. She stumbled upon Queork, and while she'd never seen or heard about cork products before, she quickly became a convert. She was sold on the material's stain resistance (employees poured wine on a handbag to demonstrate), its mold and odor resistance, and its environmental benefits, and she purchased several products. People took notice of her purchases as soon as she returned home. "I was visiting a builder here in North Dallas, and the builder's representative was so impressed with the shoulder bag I had that she was ready to order one," Giorgetti reports.
That "gotta have it" reaction is typical, even though Queork products don't come in a rainbow of colors. Cork can be dyed, and a few Queork products are, but the dyeing process is in its infancy. Instead, Queork typically uses accent colors and trim to tempt people whose tastes run to more colorful handbags. The company also incorporates natural patterns, such as a tiger-stripe design, to add a little variety.
The company's expansion into Grayton Beach has Dailey thinking about a new direction for future cork items—specifically, children's products. The area is much more family oriented than the company's New Orleans home base, and that has her pondering teen fashions and diaper bags, and incredibly cute cork baby and kids' shoes. "It's fantastic because it's so different," she says of the Emerald Coast. "It's taught us so much and keeps us actively diversifying our lines."
We can't wait to see what's next.
— V —
---
ARTICLE CATEGORIES