Recipes for a Spring Soirée
Entice and enchant your friends and family this season with these tasty recipes. VIE has collected some favorite dishes from restaurants around South Walton, Florida!
---
Roasted Beet Salad with Blood Orange Vinaigrette
By Café Thirty-A // cafethirtya.com
If you thought all salads were created equal—with lettuce—think again!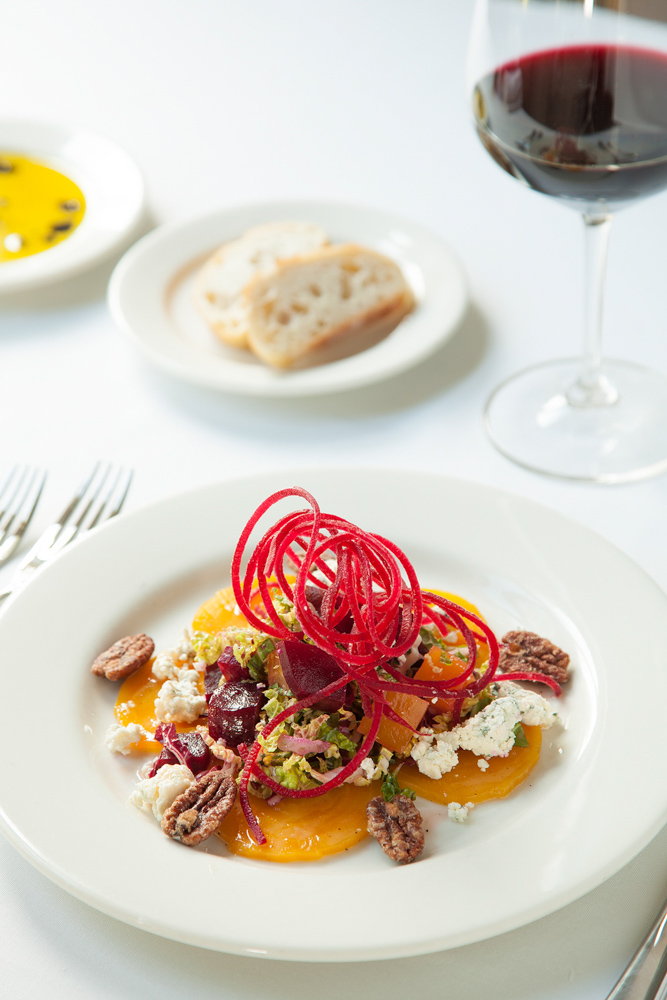 Ingredients 2 1/2 cups pecans 3/4 cup bourbon or rum 1/2 cup sugar 1/4 cup brown sugar 3 ounces honey 8 whole fresh beets 3 sprigs fresh rosemary 2 to 3 ounces fresh ginger 1 cup red wine vinegar 3 1/2 cups water 1 1/2 cups sugar 4 ounces blood orange puree 1 ounce lemon juice 1 1/2 cups Dijon mustard 2 cups olive oil 1 head napa cabbage, julienned 1 head radicchio, julienned Crumbled blue cheese to taste Salt and pepper to taste
Preparation
Candied pecans Place bourbon (or rum), 1/2 cup sugar, 1/4 cup brown sugar, and 1 ounce of honey into a saucepan. Burn off alcohol and dissolve sugars until clear. Toss 2 cups of pecans in liquid. Spread pecans onto a sheet pan and roast in oven at 350 degrees for 10 to 15 minutes.
Beets Place beets, rosemary, ginger, red wine vinegar, 2 cups of water, and 1 1/2 cups sugar in a roasting pan. Cover and place in 350-degree oven for 1 1/2 to 2 hours. Drain beets, set aside to cool, and then peel.
Blood orange vinaigrette Place blood orange puree, 1 1/2 cups of water, lemon juice, Dijon mustard, 2 ounces honey, and 2 cups olive oil in a blender. Add salt and pepper to taste and puree. Slowly add olive oil until well blended.
Slaw Toss napa cabbage, radicchio, crumbled blue cheese, and 1/2 cup pecans together with enough blood orange vinaigrette to lightly dress the greens.
Assemble the salad by placing a mound of slaw on each plate. Top with sliced beets and garnish with a little more crumbled blue cheese, pecans, and blood orange vinaigrette. Serves eight.
---
Grouper Nicoise
By Borago Restaurant // boragorestaurant.com
This melt-in-your-mouth grouper dish makes an elegant entrée for any dinner party!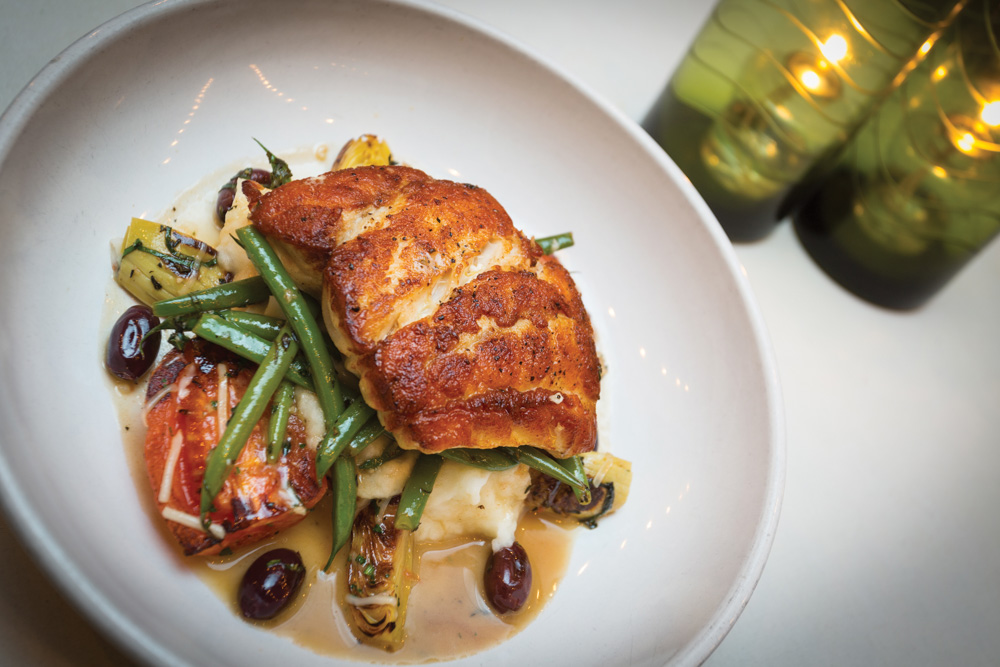 Ingredients 8-ounce grouper fillet 3 to 4 artichoke hearts 3 to 4 kalamata olives 3 to 4 roma tomatoes, roasted 1 teaspoon garlic, finely chopped White wine to taste 2 tablespoons butter Salt and pepper to taste Fresh herbs to taste (basil, rosemary, parsley)
Preparation
Sauté the grouper fillet in a skillet with oil until tender and golden brown, adding salt and pepper as desired. Add the teaspoon of garlic, artichoke hearts, olives, tomatoes, and fresh herbs. Deglaze with white wine, reduce, and add butter. Serve over sautéed haricots verts (green beans) and mashed potatoes to complete the entrée. Serves one.
---
Almond-Crusted Red Snapper With Smoked Tomato Cream and Vanilla Sweet Potatoes
By Old Florida Fish House // oldfloridafishhouse.com
This tasty seafood entrée offers a new take on red snapper.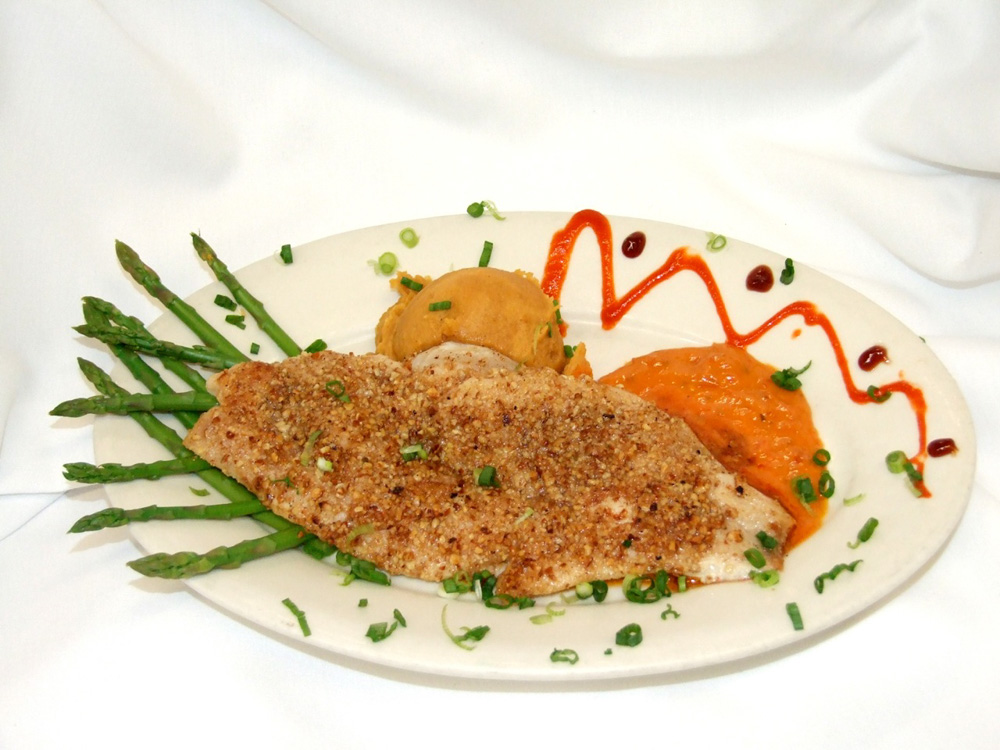 Ingredients 2 8-ounce skinless snapper fillets Mayonnaise 1 cup almond pieces 1/4 cup flour 1 tablespoon kosher salt 4 tomatoes 1 tablespoon hot sauce Pinch of fresh oregano 3/4 cup heavy whipping cream 3 medium sweet potatoes 1/2 teaspoon cinnamon 8 tablespoons butter 1/4 teaspoon vanilla extract 1 tablespoon brown sugar 4 tablespoons olive oil Salt and pepper to taste
Preparation
Fish Score fish if the skin is still on. To make the almond crust, put almonds, flour, and 1 tablespoon kosher salt in a food processor and pulse until powdered. To make the sauce, slice 4 tomatoes and char on a grill or in a hot cast-iron skillet. Place charred tomatoes with 1 tablespoon of your favorite hot sauce and a pinch of oregano in a food processor and puree. Put pureed mixture in a saucepan and cook down by half, then add a half cup of heavy cream. Reduce by half again, then whisk in 4 tablespoons of butter.
Rub snapper with a light coating of mayonnaise on flesh side of the fillet and apply almond crust mixture until covered. In a large skillet, heat 4 tablespoons of olive oil on medium heat and lay fish in it with the almond-crusted side down. When browned, flip fish and cook until done through.
Sweet potatoes Peel sweet potatoes and boil until soft. Strain potatoes and add cinnamon, 4 tablespoons of butter, 4 tablespoons of cream, vanilla extract, brown sugar, and salt and pepper to taste. Let cream and butter get hot and mash all ingredients together. Serves two.
---
Tuna Rillettes
By Bijoux Destin // bijouxdestin.com
This harissa-infused tuna dip makes a great appetizer that will spice up any get-together!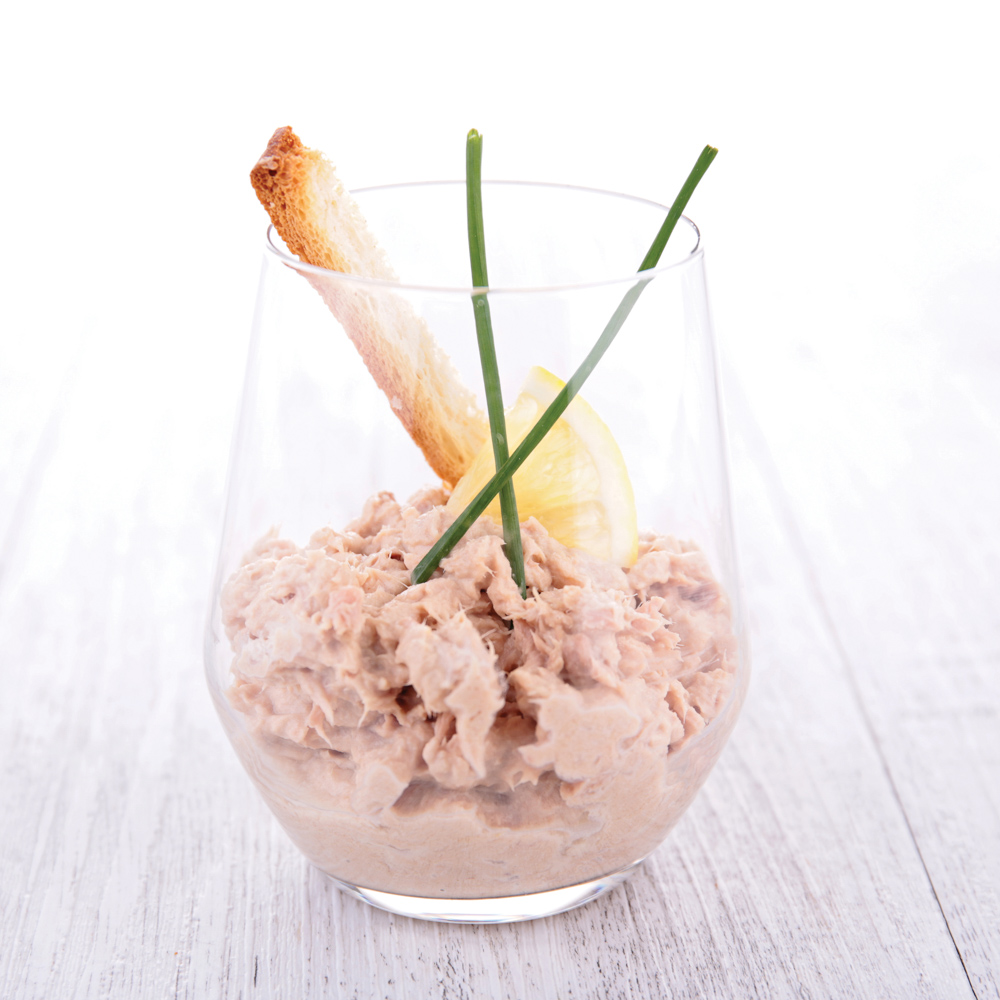 Ingredients 1 pound yellowfin tuna belly, cured and smoked 2 cups mayonnaise 2 1/2 tablespoons harissa paste 2 teaspoons lemon juice 1 teaspoon chopped garlic Salt and pepper to taste
Preparation
Tuna belly should be available at your local fish market. Trim all blood lines and skin away; discard. Cover lightly in kosher salt, secure in a container with a few paper towels underneath, wrap in plastic wrap, and place in the refrigerator overnight. Remove tuna the next day, wash remaining cure off and blot dry with paper towels. Arrange a conventional or stovetop smoker with hickory wood chips.  Smoke the tuna over medium heat for 30 to 40 minutes. It should be cooked all the way through. Let cool.
Break tuna into smaller pieces with your hands and combine with remaining ingredients in a food processor. Blend until smooth, scraping down the sides of the bowl as needed. Pack into chilled bowls or ramekins and enjoy with baked or fried pita chips, toasted bread, or just a spoon! Serves two to four.
---
Smoked Tomato and Shrimp Soup
By Chef Tim Creehan // timcreehan.com
One of Chef Creehan's signature dishes, this soup is sure to warm you up on a cool evening!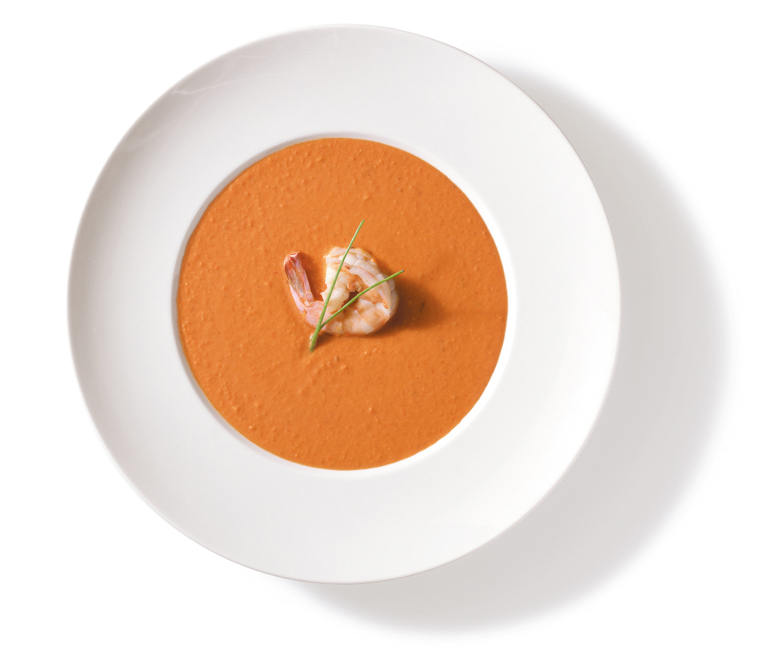 Ingredients 2 yellow onions 4 tomatoes 1/3 pound chopped bacon 3 cups canned Italian plum tomatoes 3 cups tomato sauce or puree 1/2 cup tomato paste 2 canned chipotle peppers in adobo 1 1/2 quarts chicken stock 1/4 cup sugar 2 cups heavy whipping cream 1 pound steamed shrimp (70–90 count) 1/4 cup chopped parsley or chive stems Salt and pepper to taste
Preparation
Sprinkle a smoker with soaked hickory chips and preheat. Cut the onions in half and place them and the whole tomatoes on the smoker rack. Smoke over low heat for 30 minutes, allow to cool, and then chop. Sauté the bacon in a heavy soup pot. Add the onions, tomatoes, and garlic.
Cook for 15 minutes, stirring occasionally. Add the Italian plum tomatoes, tomato sauce or puree, tomato paste, chipotle peppers, chicken stock, and sugar. Mix well. Simmer for 20 minutes.
Process the mixture in batches in a blender or food processor until smooth. Combine the mixture in the soup pot and stir in the cream. Season with salt and pepper and heat to serving temperature. Ladle the soup into soup bowls and top with steamed shrimp and chopped parsley or chive stems. Feel free to substitute a seafood of your choice for the shrimp in this versatile soup! Serves twelve.
---
Backdown Roll
By Harbor Docks Seafood and Cocktails // harbordocks.com
Impress your guests with this delicious sushi roll as an appetizer or main course!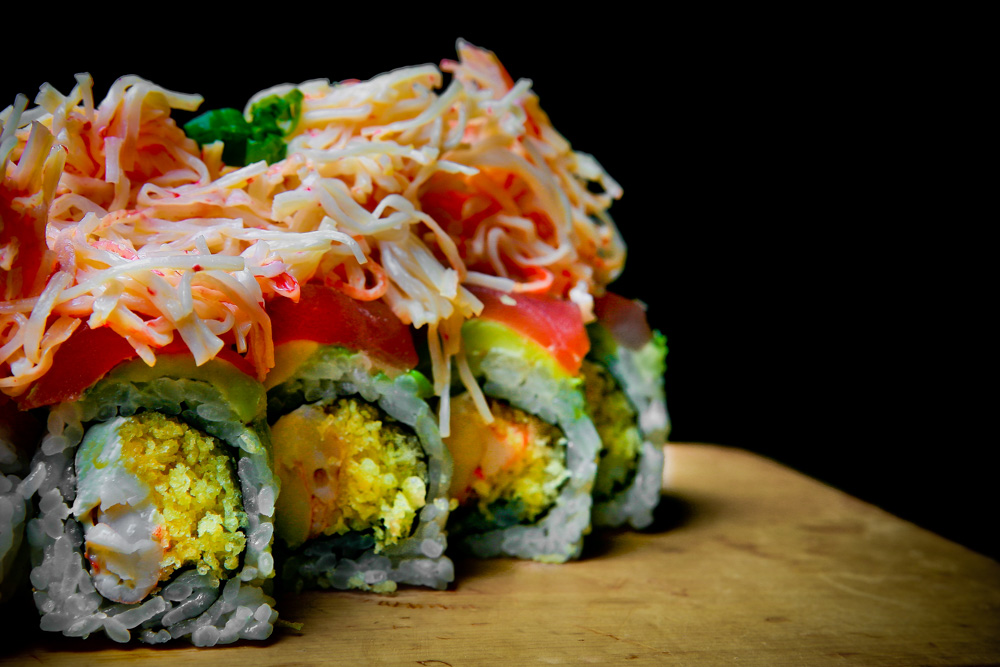 Ingredients Sushi rolling mat 1/2 sheet nori 1/4 cup cooked rice 1 tablespoon cream cheese 1/2 teaspoon spicy sauce Shrimp, cooked and chopped into small pieces 1 cucumber, julienned 1 avocado, sliced 2 ounces fresh yellowfin tuna, sliced into 1-inch strips 2 ounces crab salad 1 green onion, chopped Wasabi to taste Pickled ginger to taste Soy sauce to taste
Preparation
Place nori on top of a rolling mat and spread rice evenly over the seaweed by pressing with wet fingertips. Flip the seaweed so that the rice is on the bottom. Place cream cheese and spicy sauce in a horizontal line across center of the seaweed paper, then arrange portions of the shrimp and cucumber in a horizontal line alongside the cream cheese.
Roll the sushi tightly with the sushi mat to form a neatly packed cylinder. Squeeze firmly to make sure the sushi roll is tightly packed, but don't squeeze too hard. Add the avocado in a line across the top of the sushi. Place the sushi mat over the top of the roll and squeeze the roll gently to press in the avocado. Cut the tuna across the grain and lay pieces on top of the roll with the avocado. Squeeze the roll with the sushi mat again, gently, to keep the tuna in place.
Cut each sushi roll into eight pieces using a sharp, damp knife. Remoisten the knife after each cut. Garnish with crab salad and green onions and serve with wasabi, ginger, and soy sauce. Makes eight pieces.
---
Southwest Chop Salad
By Another Broken Egg Cafe // anotherbrokenegg.com
With its savory flavors and array of colors, this dish is sure to impress and satisfy!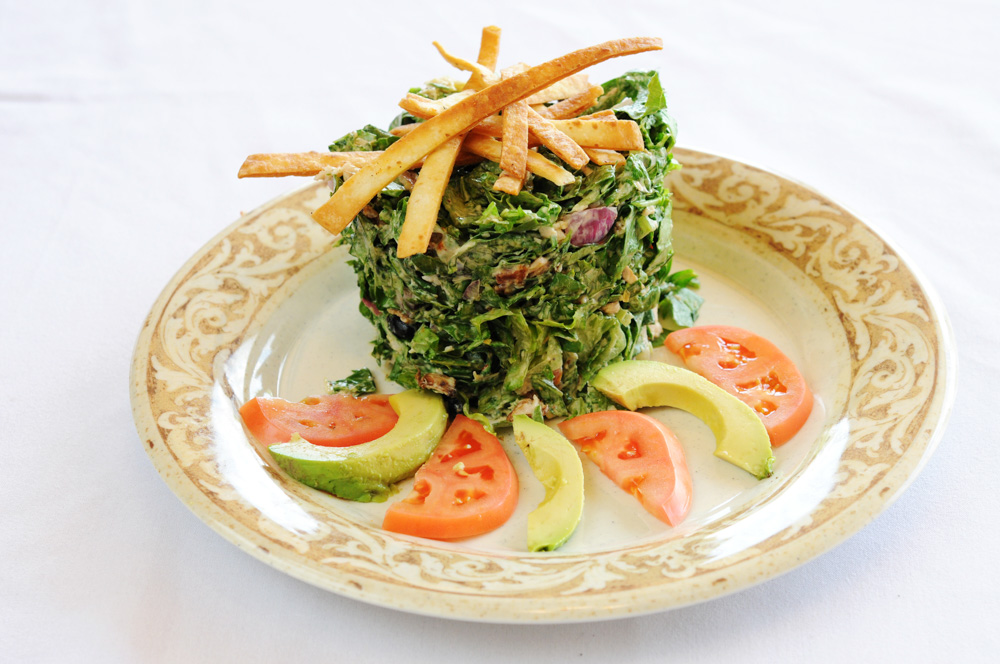 Ingredients 3 cups romaine lettuce, cut into 1/4-inch strips 1 cup spinach, cut into 1/4-inch strips 2 tablespoons black beans, drained 1/4 cup sliced portobello mushrooms 1 slice bacon, cooked and coarsely chopped 1/4 cup diced red onion 1/4 cup hickory-smoked turkey, sliced to 1/16-inch thickness Handful of crispy tortilla strips 2 sliced tomatoes 4 slices avocado Chipotle ranch (or your favorite ranch-style dressing), to taste
Preparation
Mix romaine lettuce, spinach, black beans, mushrooms, bacon, and red onions in a large salad bowl. Add desired amount of chipotle ranch or other dressing and top with crispy tortilla strips. Garnish the dish with tomato and avocado slices and enjoy! Serves one.
---
Pecan-Crusted Grouper
By Local Catch Bar and Grill // localcatch30a.com
A Southern-inspired favorite—this isn't your typical grouper dish!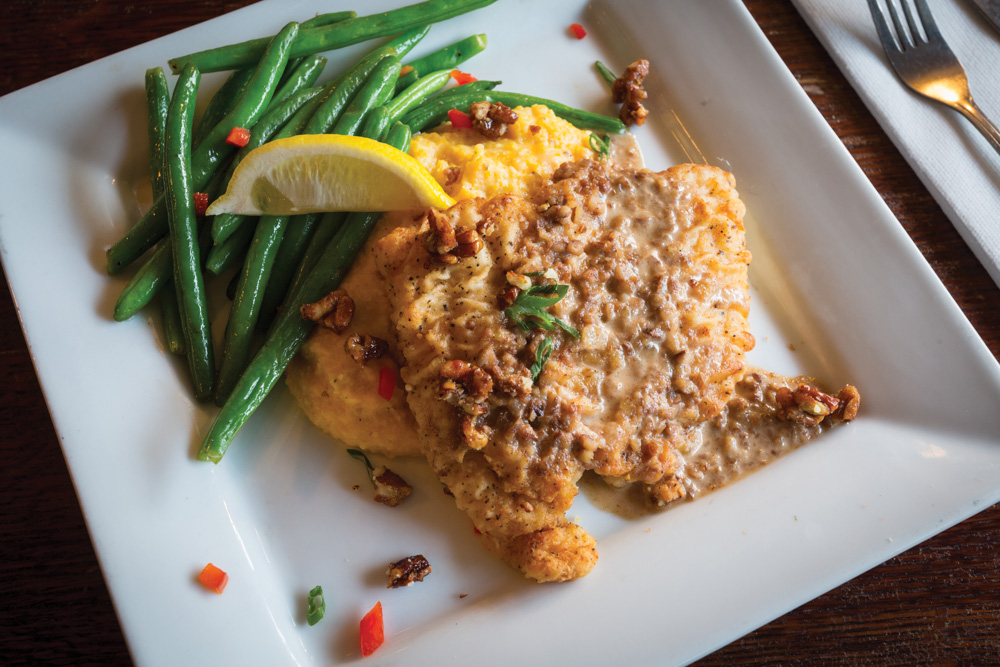 Ingredients 6-ounce grouper fillet 1/2 an onion, finely diced 1 cup whole pecans 3 ounces amaretto 2 teaspoons brown sugar 2 teaspoons Cajun seasoning 1 1/2 cups heavy whipping cream 2 cups all-purpose flour 3 eggs Vegetable oil 2 teaspoons salted butter 1 teaspoon garlic Salt and pepper to taste
Preparation
Candied pecans Preheat oven to 350 degrees. Mix half cup of whole pecans with brown sugar and place on a sheet pan and bake for 15 minutes. Set aside and let pecans cool until dish is complete.
Pecan sauce Mix the remaining half cup of pecans with diced onion in a food processor; pulse until chopped to a fine consistency. With a little oil, sauté onion and pecan mixture until pecans are roasted and the onions are translucent. Add the amaretto and allow ingredients to deglaze the pan. Finally, add cream, 1 teaspoon Cajun seasoning, and salt and pepper. Let the cream reduce by one third.
Grouper Combine flour and 1 teaspoon Cajun seasoning in a medium-sized bowl. Break three eggs into another medium-sized bowl. Take the grouper and cover in seasoned flour, then completely cover the grouper in the egg wash. Let the extra egg wash drip off, and then generously cover grouper in the seasoned flour again on both sides. In a hot sauté pan, add vegetable oil (just enough to coat the bottom of the sauté pan), and then add butter. Once butter and oil are hot, lay fish in the sauté pan and cook for about three minutes or until golden brown. Flip the fish and finish in the oven for five minutes or until golden brown on both sides. Cover with pecan-butter sauce and candied pecans. Serves one.
---
Ginger Martini
By Basmati's Asian Cuisine // basmatisthirtya.com
This refreshing twist on a vodka martini (shaken, not stirred) is sure to mix things up!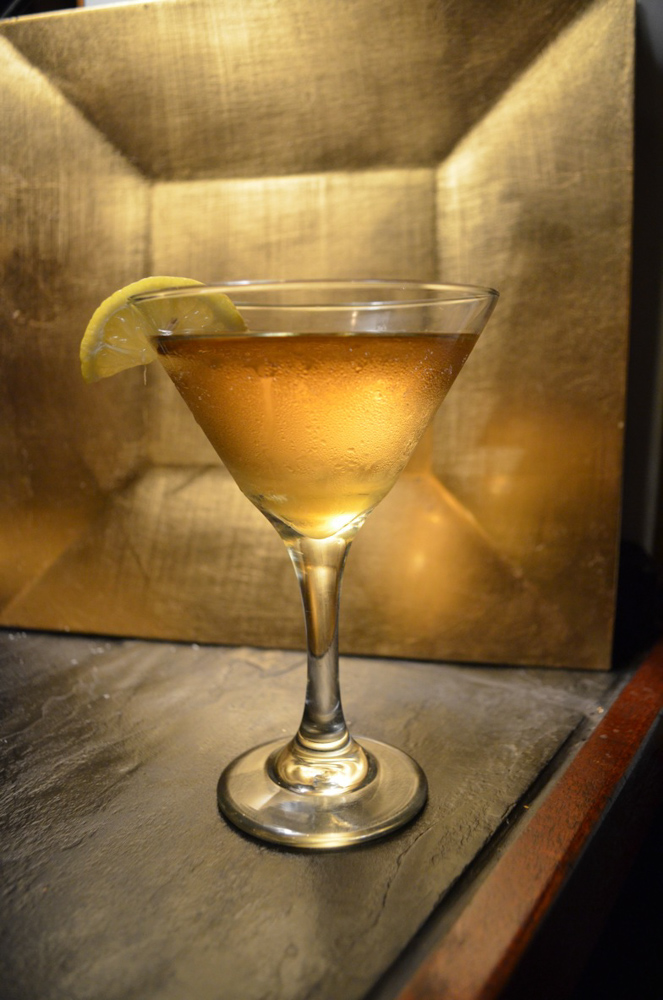 Ingredients 3 ounces Rain Organics vodka 1 1/2 ounces Stone's Ginger Wine 1 fresh lime, sliced
Preparation
Line a chilled martini glass with honey. Mix vodka and ginger wine over ice in a martini shaker. Shake briskly, then strain into the glass and garnish with a lime. Cheers!
— V —
ARTICLE CATEGORIES