By Sallie W. Boyles | Photography by Romona Robbins
"Make Life One Big Weekend"
A happy sentiment, the motto for the Tommy Bahama brand inspires a laid-back island attitude and lifestyle. Needless to say, the carefree existence Tommy Bahama promotes might entail building a campfire on the beach and sleeping under the stars, but also encourages life's affordable luxuries—as in the company's signature apparel, home furnishings, and other accoutrements for playing and entertaining.
Another extension of the brand, Tommy Bahama Restaurants and Bars, promises a mini-escape to an island retreat. Like a tropical beverage that makes you feel good just to look at it but is all the more pleasurable to drink, the restaurants' British colonial decor and welcoming atmosphere entice guests to take a seat, but the menus and the service compel them to linger and to look forward to their next visit. A tremendous amount of experienced planning and execution are necessary to produce the desired effect, and the final achievement is in making guests feel that they are worth the effort: it's obvious that providing service is a pleasure.
According to Mario Mardones, general manager of the Tommy Bahama Restaurant in Sandestin, Florida, his job genuinely makes him feel like he's living one big weekend. "I'm passionate about the guest experience," he says. "I breathe hospitality and it speaks to my heart. There's no other way. Otherwise, I could not work the hours." His love of people and different cultures has undeniably shaped his choices in life. "I always had a hunger for meeting people," he says. "It's in my blood."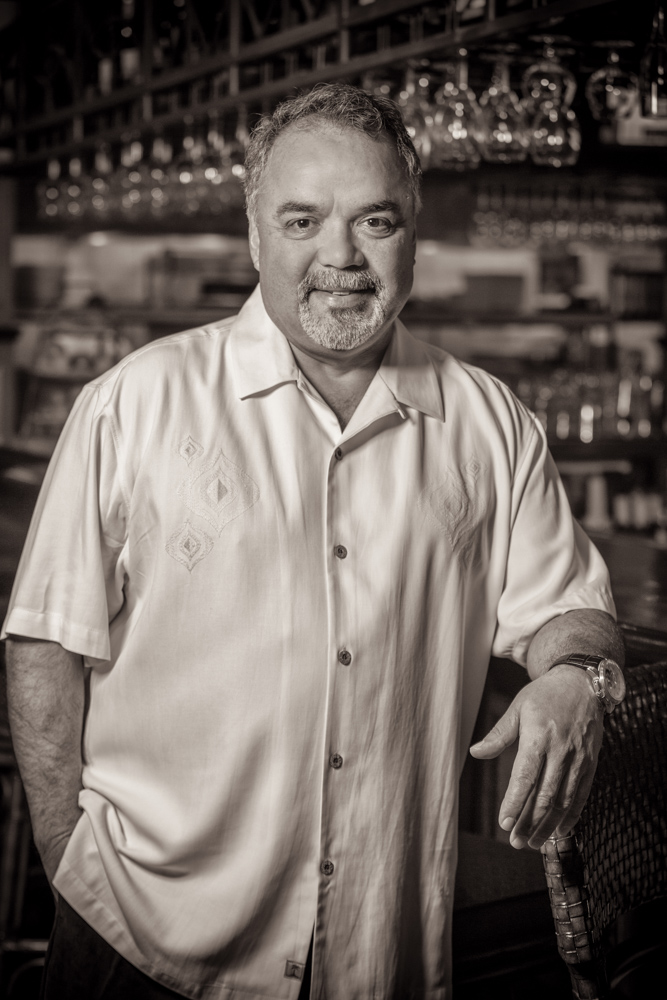 Born in Santiago, Chile, he earned an accounting degree and then prepared to travel. "I always wanted to travel the world before I got serious with a career," he says, "so after school, I worked a little, saved some money, and traveled throughout South America. This was in the late seventies. I met so many wonderful people. Sometimes they would provide me with a room and food." The most important lessons learned from that trip were, he points out, to maintain a positive outlook and to care about others.
Upon returning to Chile, Mario still had places he wanted to go. "I had some friends living in Boston who invited me to their home," he relates. "One year later, I arrived in Miami and gave them a call." He had flown into Miami, Mario explains, for the opportunity to see some of the countryside, and he traveled the rest of the way by bus. Once in Boston, he went to work as a busboy in a restaurant because the job didn't require him to speak English well.
By working hard and honing his language skills, he became a waiter, earning and saving enough money to take another trip, this time to Europe. "I traveled for three months," Mario says, namely to Spain and Italy. "That's where my attachment to food started to cement."
After his journey, Mario returned to Massachusetts, where he and his best friend, Pepe, decided to open a little restaurant. "I'd had such a great experience with food while in Europe," Mario says, explaining his youthful enthusiasm for the venture. "I had an accounting degree and we both loved to eat, but we didn't know much about the business." Consequently, the partners acquired knowledge, not profits. Fortunately, their simple setup required more time than money.
Essentially, Mario and Pepe operated a food stand during the summer in Salisbury, Massachusetts, by the beach. "We served tacos and hot dogs," Mario says. The arrangement looked simple on paper, but the location was an hour away from Mario's apartment in Boston. After working a long day, Pepe would sleep on the floor of the restaurant each night. Mario, however, drove home for whatever amount of sleep he could grab. "I got up at five a.m. to go to the market to buy the food items for the day," he says. "I used to load up the car with bags, and since I had a very small convertible and no air conditioning, I drove on the highway with the top down." Laughing, he adds, "I always used to wonder what people thought of that!"
No matter what passersby imagined, patrons loved the food. "We were always full with customers," he says, "but we gave our profits away because our portions were too large!"
The educational experience prompted Mario to continue learning from the best, so he took a job with Marriott and entered their management training program. "Everything about the hospitality industry matched my personality," he notes. Over the years, he has managed restaurants for Marriott, the Ritz-Carlton, and Sheraton. In 1995, he moved to Bradenton, Florida, where he was general manager of the historic, award-winning restaurant The Pier. Two years later, Mario and his wife, Veronica, opened their own establishment, Casa Azteca, a Mexican restaurant in Bradenton, which they owned until 2004. He joined Tommy Bahama in Sarasota in 1998.
Since joining Tommy Bahama seventeen years ago, Mario has facilitated the openings of four restaurants for the chain, including Maui and three Florida locations—West Palm, Orlando, and Sandestin. "I decided Sandestin would be my store," he says. "This will be where I will retire. I've made incredible relationships in this community."
Mario has numerous friends who would agree that his caring nature is apparent through his community involvement. He has, for instance, helped raise over $100,000 for Children in Crisis, a nonprofit that provides homes for abused and neglected children in Northwest Florida. In acknowledgment, Mario was nominated by a fellow citizen to serve (2013 to 2014) as an Honorary Commander for Eglin Air Force Base.
The yearlong program assigns each honored and chosen civic leader to a military partner, also a leader on the base. The two interact with one another and with other civilian-military partners at various honorary commander events. The purpose is to build relationships that facilitate deeper insights into the role of the Air Force. Thus, as community leaders, honorary commanders are encouraged to share what they learn. Completing his term, Mario says that his partner, Maj. Eric Queddeng of the 96th Civil Engineering Squadron, not only taught him a great deal about the US military's mission, but also gave him a greater appreciation for his father's military career in Chile.
No matter where individuals live or what they do, Mario finds that virtually all cherish happy times shared with friends and family. Similarly, personal relationships mean everything in the restaurant business. "You build relationships so people want to come back," Mario insists, adding that the courtship begins at the front door.
One couple, in particular, recently visited Mario at his restaurant to let him know they were moving away. "They wanted to thank me for the friendship and great dining experience," he says. "It really moved me. Those kinds of experiences keep me going."
Whether at the restaurant or at home entertaining, Mario is happiest when making others happy. Accordingly, in the spirit of Tommy Bahama, he'll continue to do just that with an attitude that life is one long weekend.
— V —
ARTICLE CATEGORIES