By Jordan Staggs | Photography by Troy Ruprecht
The gardening and gift specialists at Clay Gardens and Gifts have quickly become South Walton's go-to landscape and plant experts. From working with homeowners and businesses on their outdoor spaces—start to finish—to helping customers choose their favorite greenery and accessories, the garden gurus at Clay can help turn a vision into reality.
Clay Gardens and Gifts owner Anna Lisa Daniel shares with VIE some insights and tips on container gardening, a trend among Clay's recent clients, such as the Seaside Institute and Barbara Richards of the WaterColor community.
VIE
: What is container gardening?
Anna Lisa: Container gardening is using containers of any sort for plantings that reflect a customer's creative expression or interests. Containers might range from traditional terra-cotta and glazed pottery to wooden planters, galvanized metal and copper vessels, antiques, and recycled items such as tires and washtubs.
Why is it a good alternative or addition to planting in the ground?
It gives great flexibility for the customer to move around for a change or with the seasons. In our area along the coast, there are many planned developments with careful guidelines that do not allow certain flora to be planted, keeping the landscape mostly native. Containers are usually exempt from these guidelines, allowing our customers to select plants and flowers with lots of color and fragrance without violating these rules. Container gardening is also ideal for porches, courtyards, balconies, or any area where traditional plantings cannot be achieved. A good example would be an herb pot outside a kitchen door.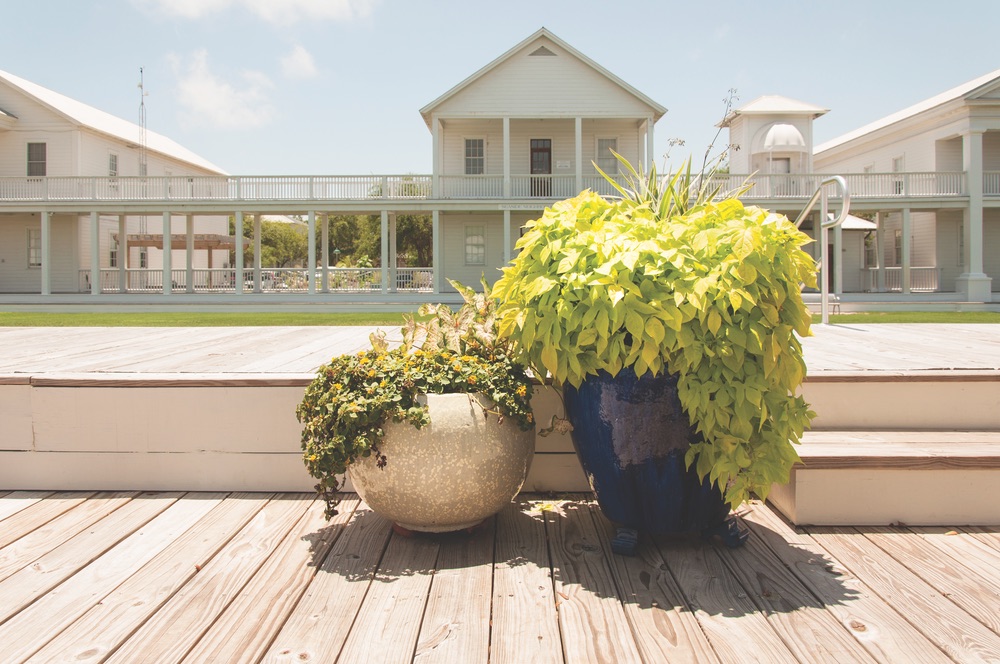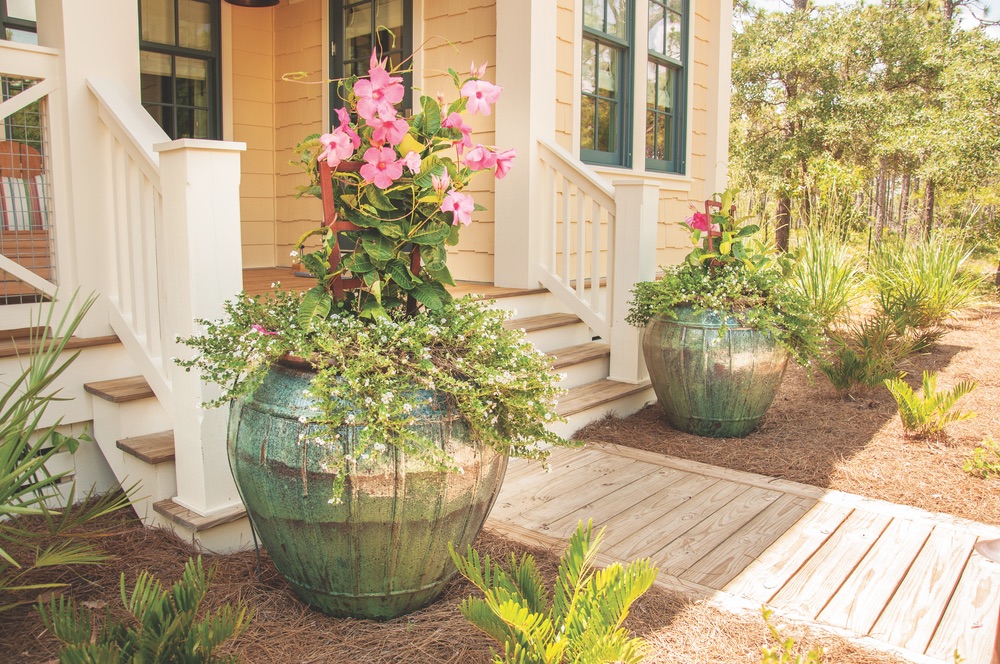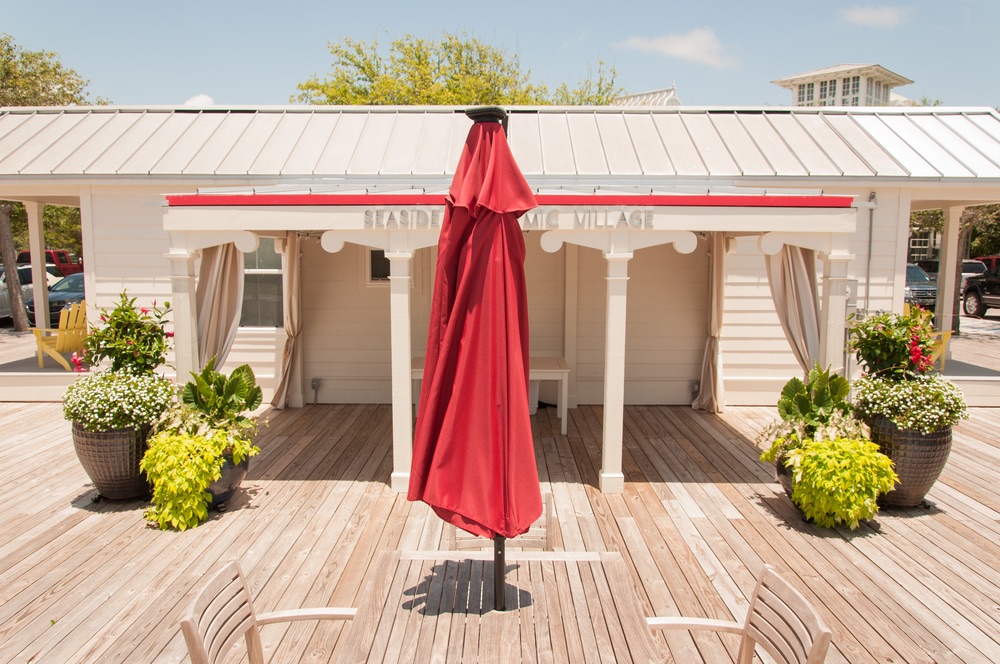 What do these types of projects have that make them special to Clay?
We love working on container gardening projects—and all of our projects—because we get to work with the customer from start to finish. It is nice to be able to see the transformation our gardens can make on a residence or commercial ground.
How is maintaining a container garden different from other types of gardening? Are there any challenges?
Regulating water and fertilization is the biggest challenge. Next would be that plants must be watched for maturity; they can become too "leggy," with roots outgrowing the container, or they might need to be changed out because of the seasons. Regular pruning and deadheading are advised. Plants that are installed in a landscape usually do not have to be nurtured as much.
What are your favorite things to plant?
Anything with lots of color. We also love "spillers," such as bacopa and scaevola, which drape over the pot and create contrast against the container but also soften the arrangement.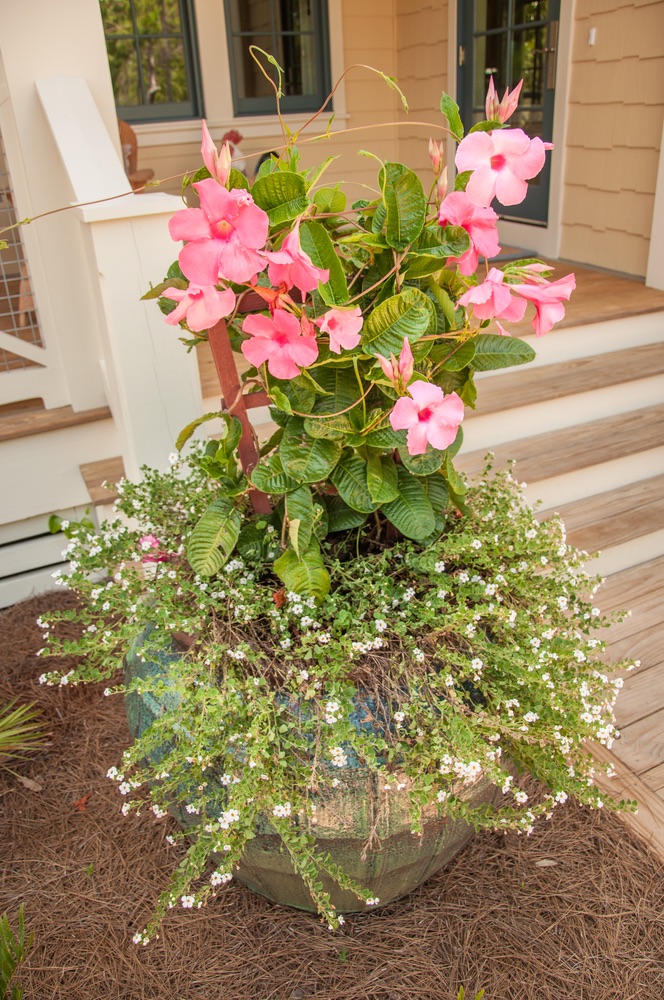 What would you recommend to someone starting out with this type of garden?
Pick out the location that you would like to enhance with container gardening. Notice the amount of sun exposure it will receive, and keep in mind the amount of time you have to nurture the container garden—some plants need less attention than others. Containers can last a lifetime if taken care of; therefore, make sure to select ones that you love. One of the most common mistakes we see is in the sizing of the containers; the tendency is to go much smaller than is proportionate to the space. Finally, select the types of flowers and plants that you want, keeping in mind the sun and water needs of each one.
What are some of your favorite projects?
We love taking smaller, whimsical containers and planting sedums and succulents in them. We have many customers who will bring us containers that they already have and ask us to make centerpieces for parties and special occasions. We also love making water features for customers from containers. Most waterproof containers can be transformed into a fountain or water feature.
How does Clay get involved with locals to create these projects?
Clay gets new clients mainly by word of mouth and referrals from happy customers. We get many customers who happen upon us while shopping on 30-A or on a bike ride, as well.
— V — 
---
Interested customers can visit Clay Gardens and Gifts at 4808 Scenic Highway 30-A in Santa Rosa Beach, Florida, visit Clay30a.com, or call (850) 231-2150.
ARTICLE CATEGORIES