Café Thirty-A Celebrates Twenty Years
By Colleen Sachs | 
Photography by Jack Gardner
In 1995, I had just started writing a restaurant review column for the Northwest Florida Daily News. The now-robust restaurant scene in the Scenic Highway 30-A area was just starting to grow. Criolla's and Bud & Alley's were the mainstays of fine dining, and there was a good deal of buzz about a new restaurant that was being built by the owner of popular Kat & Harri's in Montgomery, Alabama. I was familiar with Kat & Harri's and was eager to try this new place, aptly named Café Thirty-A.
My parents came with me the first time I visited. We had luscious seafood, flavorful steaks, and beautiful desserts. Every detail was perfect, and my dad proclaimed it his favorite restaurant. That first visit led to others, which included birthdays, anniversaries, and special Father's Day dinners. I was happy when Harriet Crommelin decided to move south and open Café Thirty-A.
Harriet is an accidental restaurateur with a gift for discerning what diners want. In 1982, she realized that extremely high interest rates did not mix with her real estate business in Montgomery. She considered opening a deli, bought a liquor license, and opened a bar with her friend Kathy (the Kat in Kat & Harri's). Four months later, she bought Kathy out, and the bar went on to become a Montgomery landmark. It was so popular that, even though it has been closed since 2011, people still refer to the location as Kat & Harri's.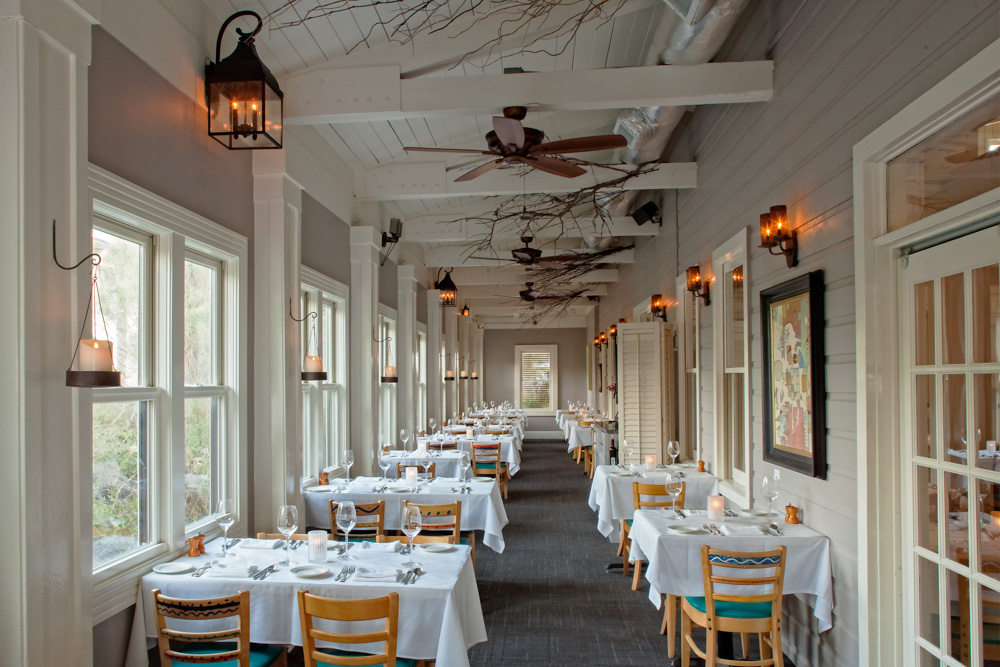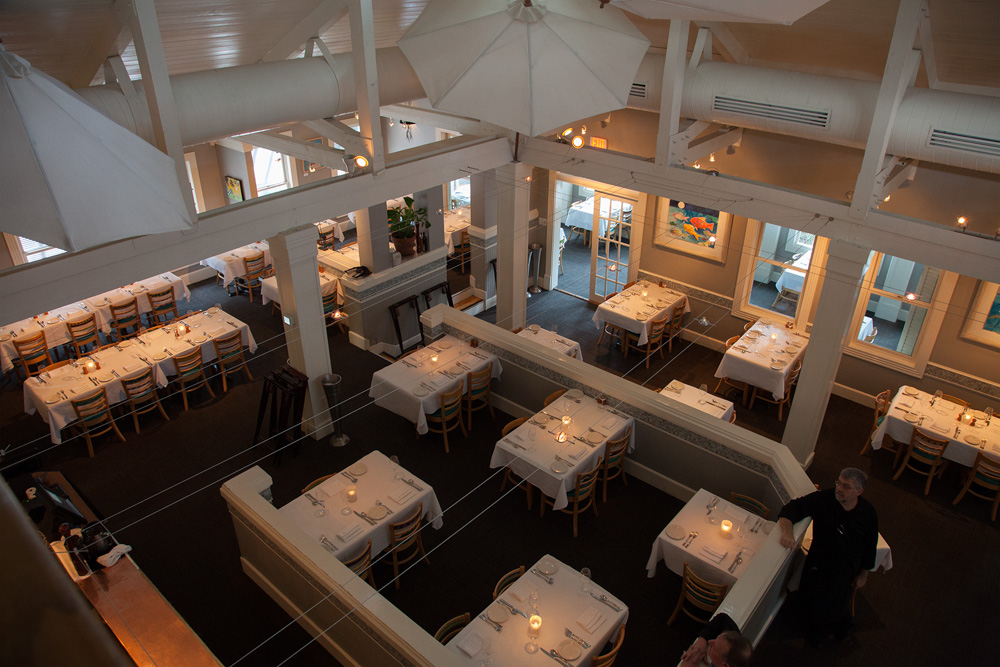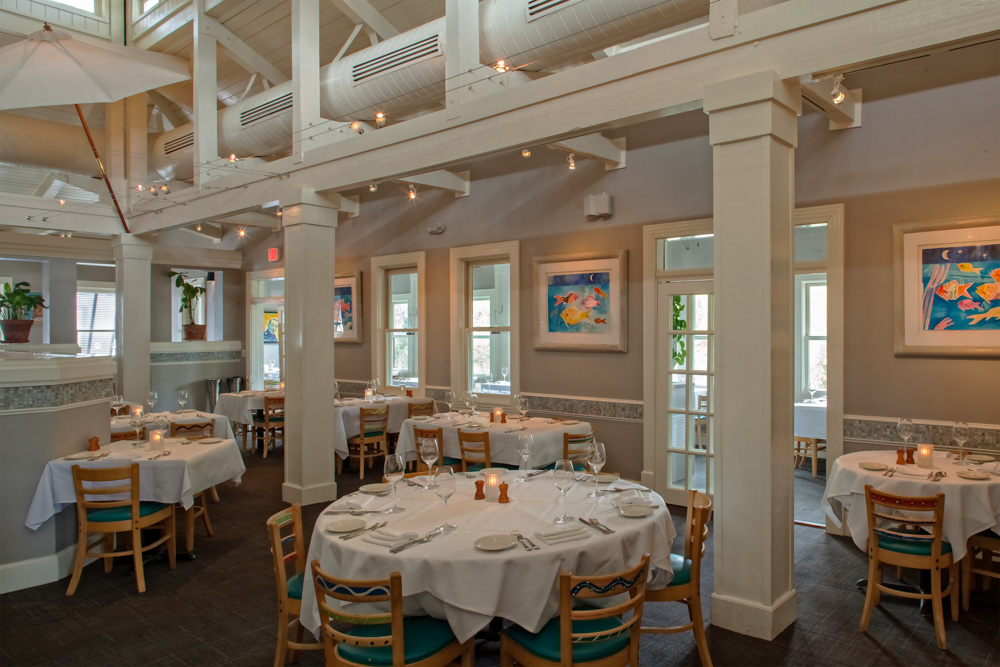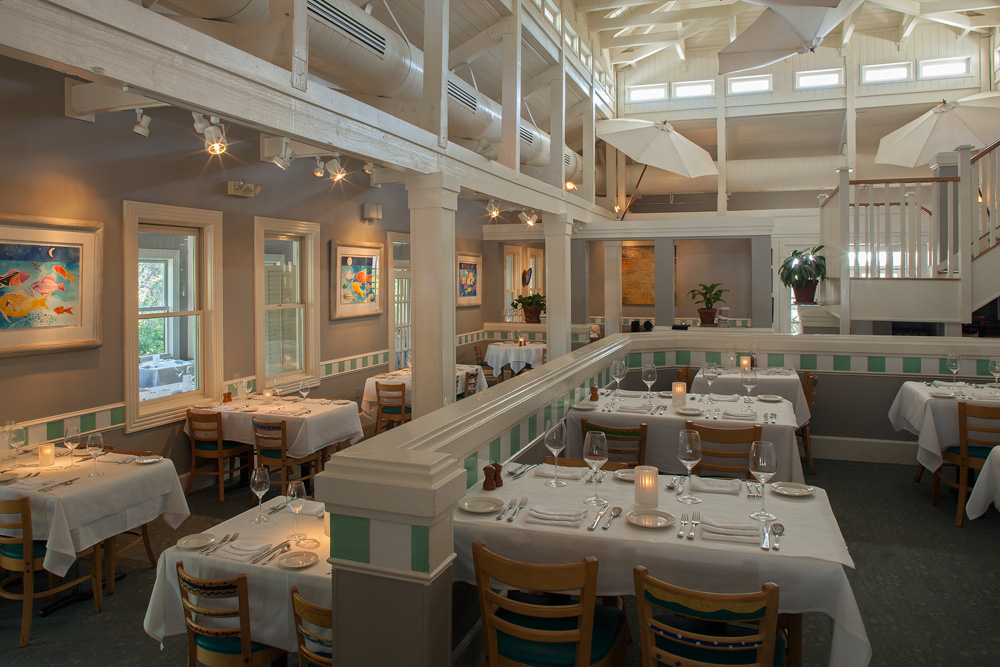 As many Montgomery locals do, Harriet visited the 30-A area. While attending a wine festival at Seaside, she noticed the crowds attending, and thought that the people enjoying the festival would also enjoy her chef's cooking. She soon found a piece of property on 30-A not far from Seaside, and construction of Café Thirty-A started just after Thanksgiving in 1994.
Harriet's focus is on hospitality. She wants her guests to feel at home and treats them like family. She found inspiration for the restaurant in the things she enjoyed when she dined out. The idea of the divided seating areas that create intimacy in a large room came from Mark's Place in Miami. The menu design—a large single sheet of paper with the daily food offerings on the front and the wine list on the back—came from Tom Catherall of Tom Tom in Atlanta. Harriet quips, "Sometimes plagiarism is a good thing."
And Harriet does not hesitate to give credit to those who had a part in the creation of Café Thirty-A. Architect Phillip Spann designed a building that gives the feel of a beach cottage while comfortably accommodating 180 diners downstairs and another 80 upstairs. Designer Nancy Pickard Blach created a fresh, light interior that is both casual and elegant. Lisa Ruby painted the backs of the chairs to match the wallpaper above the bar and in the restrooms, which was a model for the original design.
The recipes of original chef Willie McGehee helped create the menu. Roasted red and golden beet salad with Gorgonzola, radicchio, candied pecans, and blood orange vinaigrette and seared, rare, sesame-crusted tuna were on the menu when I visited last.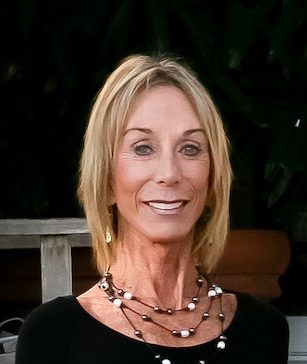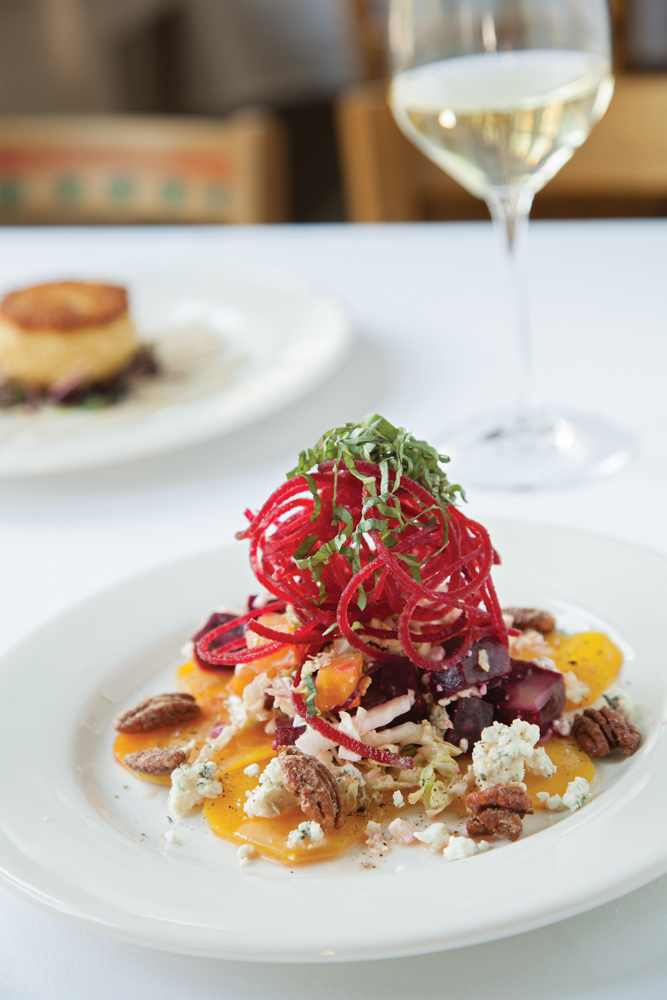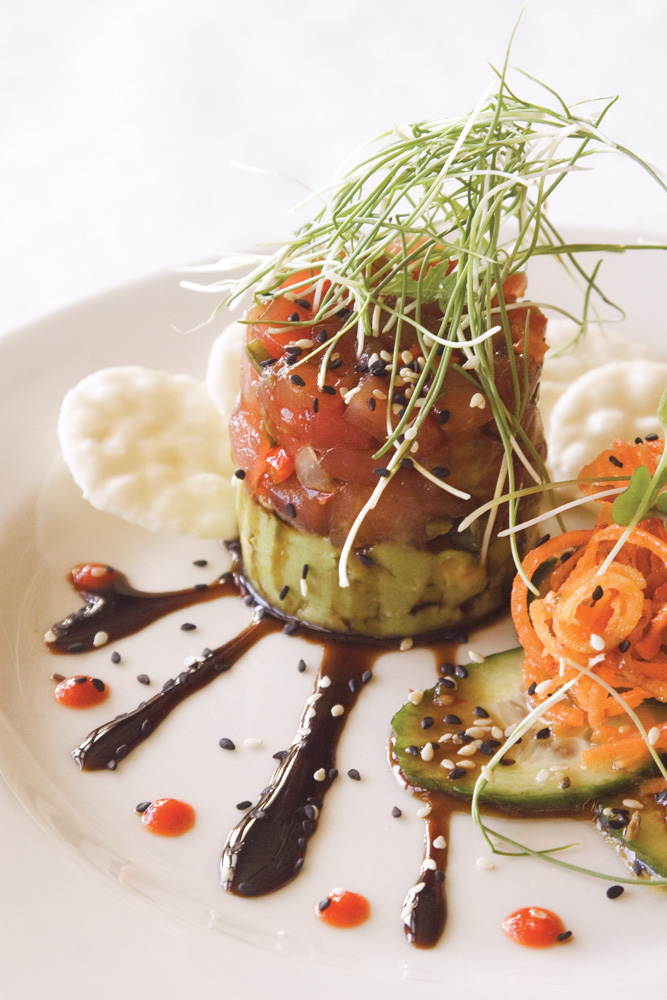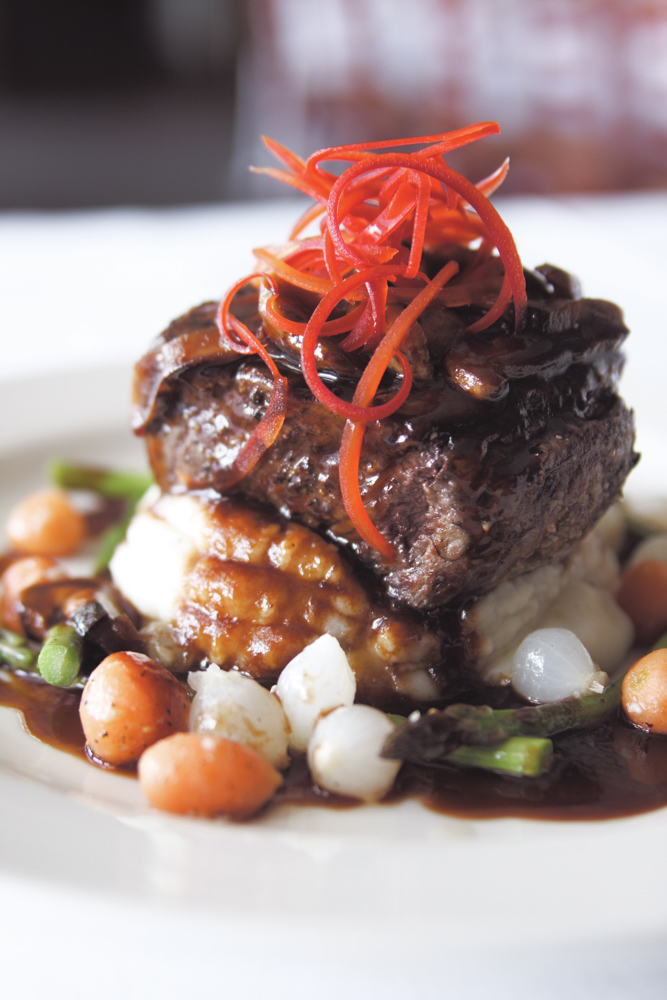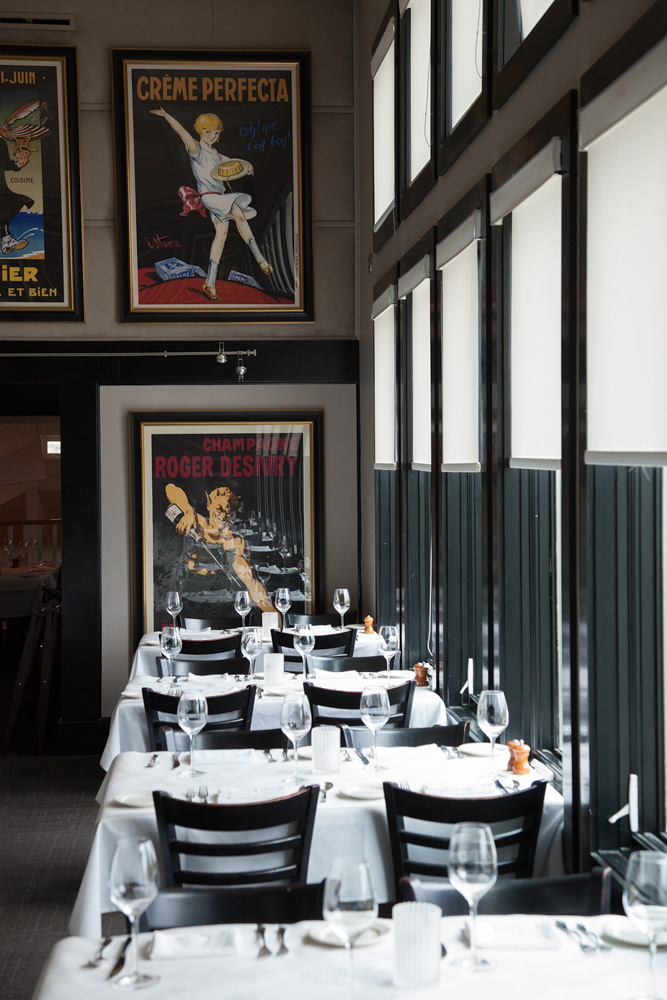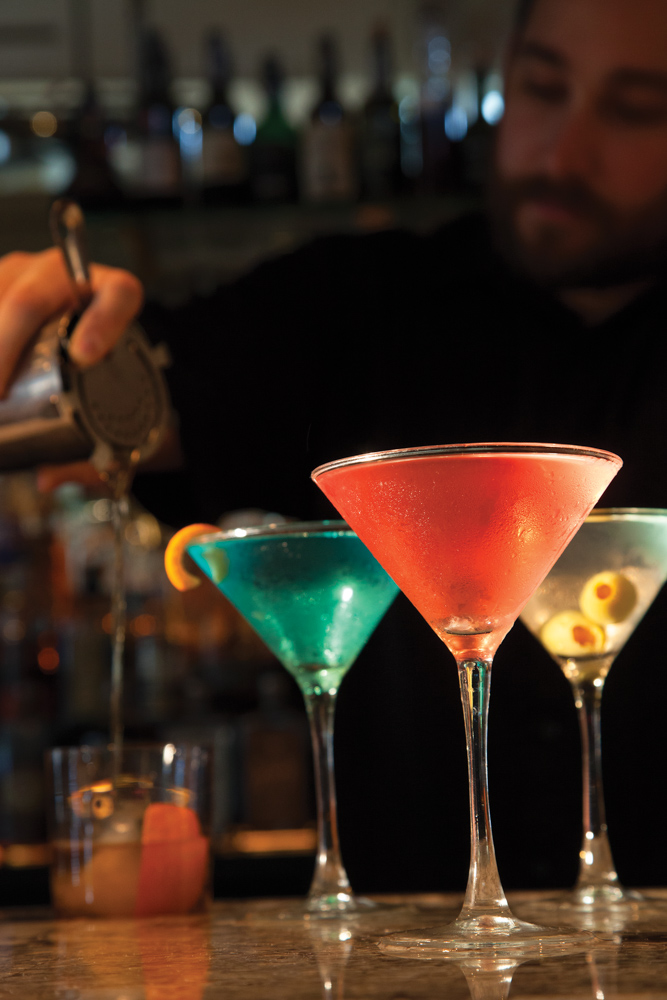 Harriet has also created a family within her staff, often hiring from within: general manager Dave Kessler started work at Café Thirty-A in 1996 as a member of the waitstaff; office manager Jackie Maliszewski was a member of the waitstaff and a bartender; and chef Ken Duenas, who has been at Café Thirty-A for ten years, started as a line cook.
The entire team works together well, and it benefits the diner. Service is polished but not formal. Other touches that make a difference include an extensive half-bottle wine list with some really lovely choices (think 2010 Shafer Merlot or Billecart-Salmon Brut Reserve). Half bottles make it possible to have dinner for two with a wine pairing to match each course. There is also a buy one entrée, get another free special from five to six o'clock every evening.
The menu at Café Thirty-A exhibits the same casual elegance as the decor. There are nods to classic cuisines of Asia and Europe. Prince Edward Island mussels are served in coconut curry; meltingly tender grouper tops a white bean and pancetta cassoulet.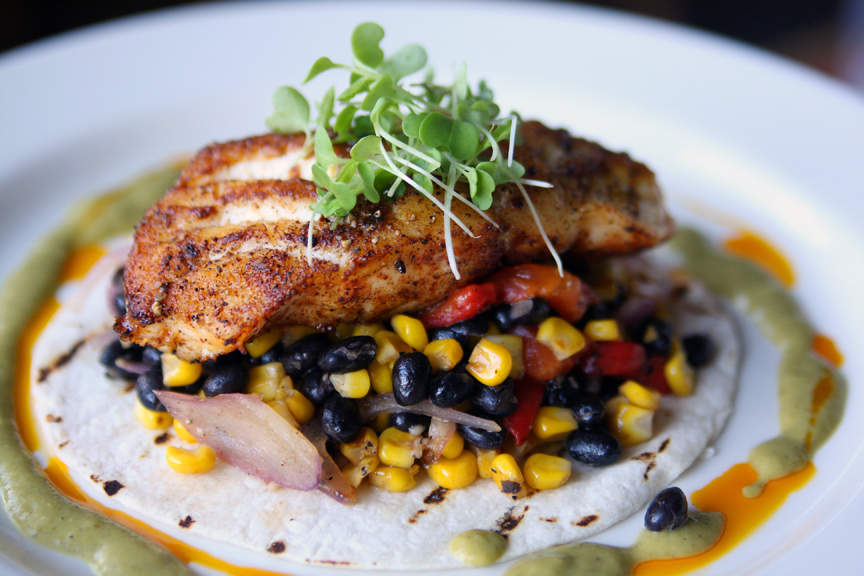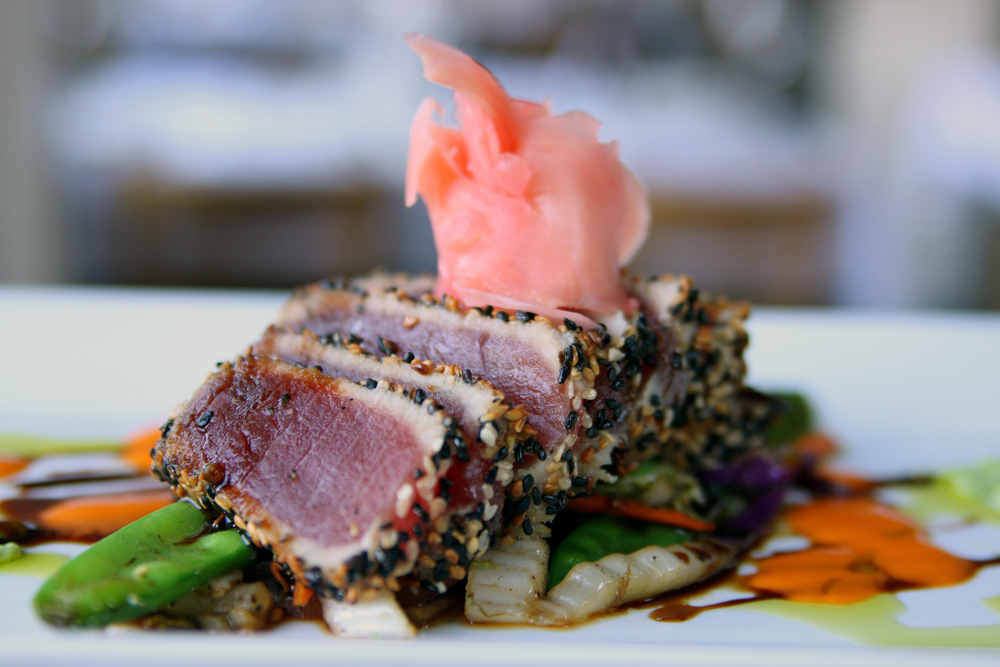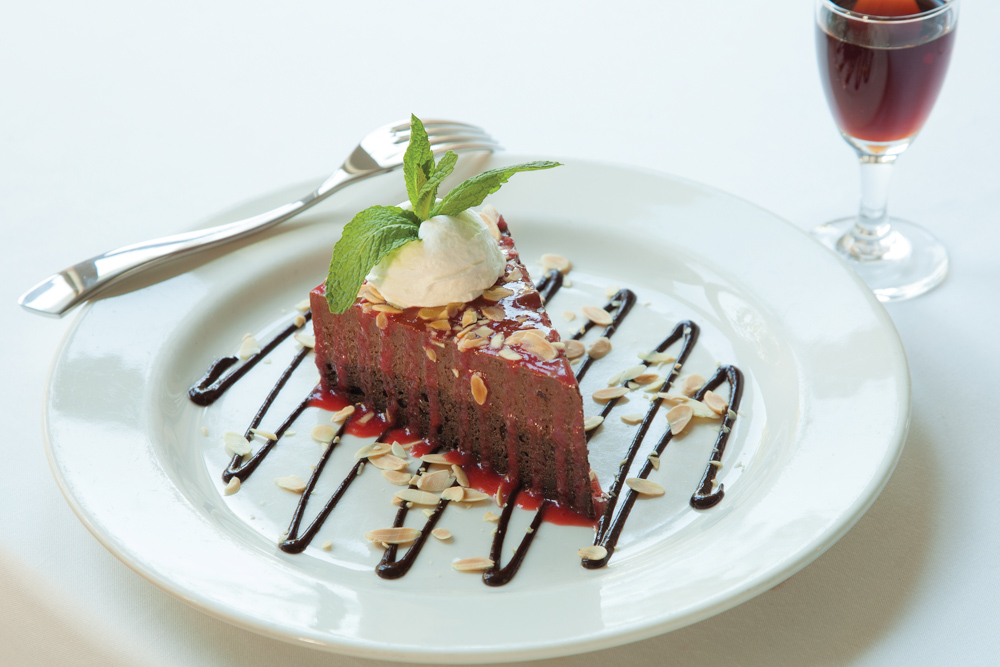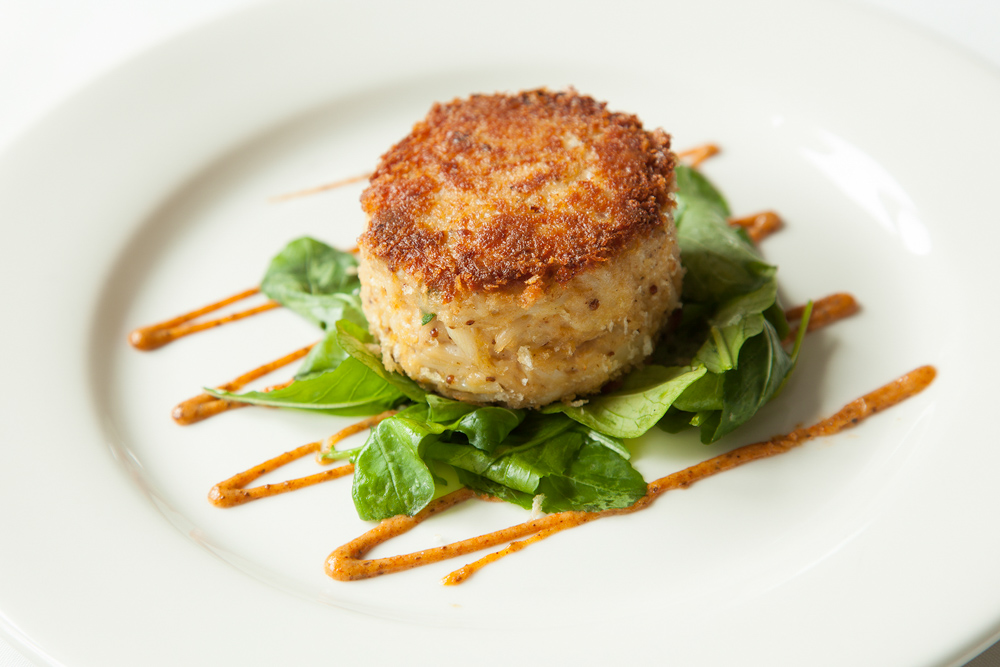 Comfort can be found there, too. Maine Lobster in Paradise featuring truffled mac and cheese and the braised short rib with wild mushroom polenta are good examples.
Flavors of the coastal south abound. Jumbo lump crab cakes are served with greens and Joe's Mustard Sauce. Grilled Georgia quail shares a plate with creamy grits. Succulent grilled pork porterhouse is served with roasted corn and bacon skillet pudding.
The desserts are classic (crème brûlée; banana beignets with macadamia ice cream), homey (lemon pound cake), and creative (s'mores with chocolate brownie graham crackers and house-made marshmallows). All are deeply satisfying ends to a meal.
The menu at Café Thirty-A exhibits the same casual elegance as the decor. There are nods to classic cuisines of Asia and Europe.
There is an electric atmosphere inside Café Thirty-A. The dining room is filled with happy people, and the service moves quickly to accommodate. Groups gather around the bar, which is managed by Jim Joy. Look for small batch bourbon, single malt scotch, and a list of specialty drinks. Cosmopolitans, Manhattans, and lemon drops are tasty classics, while the refreshing Lucky Dog Margarita Tini is a wonderful take on the margarita that includes blood orange flavors. A dollar from each Lucky Dog sold is donated to Alaqua Animal Refuge. There is also a bar menu of cozy items such as sirloin sliders, grilled Creole shrimp with red beans and rice and andouille, and liver and onions with applewood-smoked bacon and mashed potatoes.
With all that to offer, it's no wonder Café Thirty-A stays busy. Harriet says the original plan was to close from November to February every year, and to "never work another New Year's Eve," but that didn't happen. Except for a brief closure due to a fire right after Hurricane Opal in 1995, Café Thirty-A has been open year-round, even when many other restaurants are closed for the season—something that has endeared it to locals.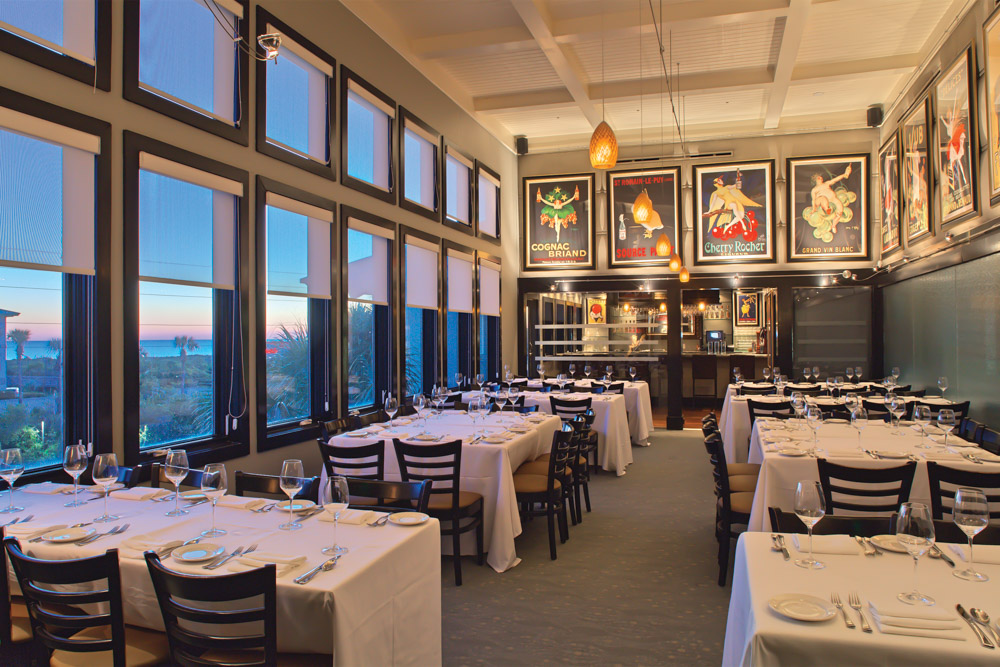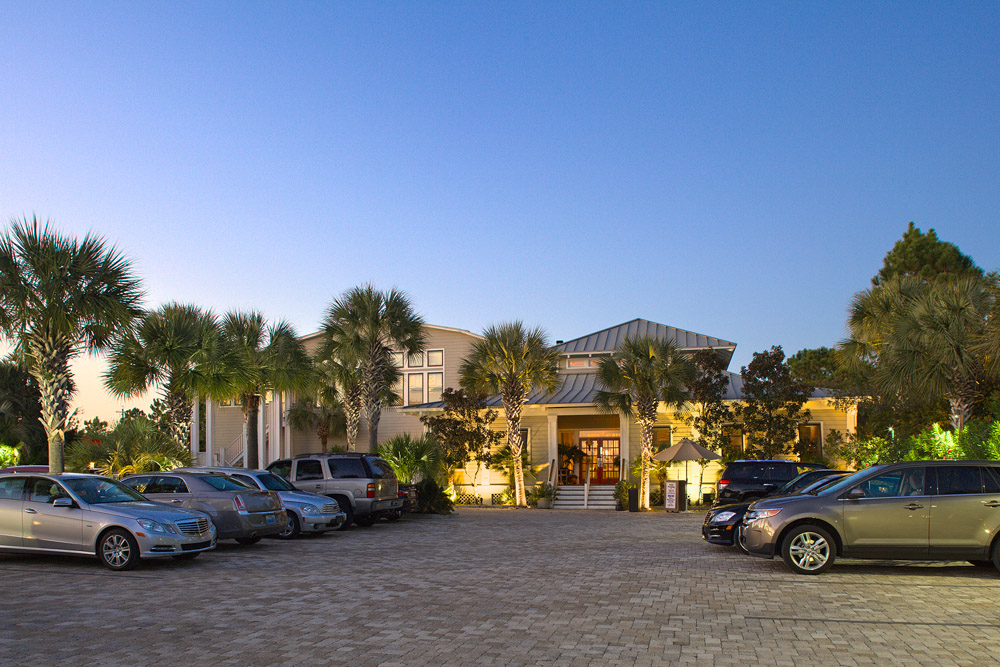 Things keep getting busier. Harriet notes one of the biggest differences between the time the restaurant opened and now is that there are more people year-round. She wonders, "What happened to shoulder season? October is like the Fourth of July." On a recent evening this winter, 250 people were served. The same night one year earlier hosted 164.
Harriet is clearly proud of her restaurant. She says, "We are consistent and we have the best food on 30-A." When asked what she enjoys about owning a restaurant, her response: "Welcoming people into my home."
When I dine at Café Thirty-A, it indeed feels like home. I fondly remember my dad and the joy he got from spending time there. I lift my glass in a silent toast, which is appropriate, because Café Thirty-A is all about family.
— V —
---
See the local recipes section in this issue of VIE to learn how to make Café Thirty-A's famous roasted beet salad with orange vinaigrette! You can also find more recipes in the upcoming cookbook 30A Eats: The New Florida Table by Susan Benton with photos by Jack Gardner. Visit 30AEats.com to learn more.
ARTICLE CATEGORIES