Portugal Shines from Coastline to Castle
By Mariana Zechini
Life is what we make of it. Travel is the traveler. What we see isn't what we see but what we are. —Fernando Pessoa
There is a word in Portuguese that doesn't directly translate into any other language. The word is saudade and it represents a feeling of longing and melancholy. Author A. F. G. Bell described it best as an "indolent dreaming wistfulness." Saudade is the feeling I experience constantly for the country I consider my second home. Located on Europe's Iberian Peninsula, Portugal is best known for its wine and fishing industries and, most recently, for winning the 2016 UEFA European Championship.
The coastal country and its various islands offer almost every type of terrain for every type of traveler, from the mountains of the north to the rocky, sun-kissed beaches of the Algarve, to the green pastures of the Azores. It is a country with a diverse history—it spent the first millennia under Roman and Muslim rule, spearheaded maritime exploration during the fifteenth and sixteenth centuries, and experienced harsh dictatorship within the last hundred years. Even so, the resilience of the Portuguese is obvious, and any visitor will notice a country that has never stopped moving forward while still honoring the past.
Traveling to Portugal is like coming home. Since before I can even remember, my mother has been toting my brother and me back and forth across the Atlantic to visit my grandparents and a wealth of extended family. My grandfather is from the rural town of Carvalhais and my grandmother is from nearby Bizorreiro de Lavos, both located in central Portugal near the coast. In 1953, after many years of dictatorship left the country in poor condition, my grandparents, who were engaged at the time, got married and left Portugal for Venezuela, where they started a successful Portuguese furniture company and a family. My mother and my uncle both moved to the United States as adults—my uncle to attend Embry-Riddle University in Daytona Beach, and my mother to practice English after she graduated from college. Ultimately, my grandparents decided to move back to Portugal, where they retired in a small beachside town called Figueira da Foz. Since then, almost every summer, my family travels to Portugal to enjoy the one time of year we can all be together. It was, and continues to be, an important part of our lives and my own identity.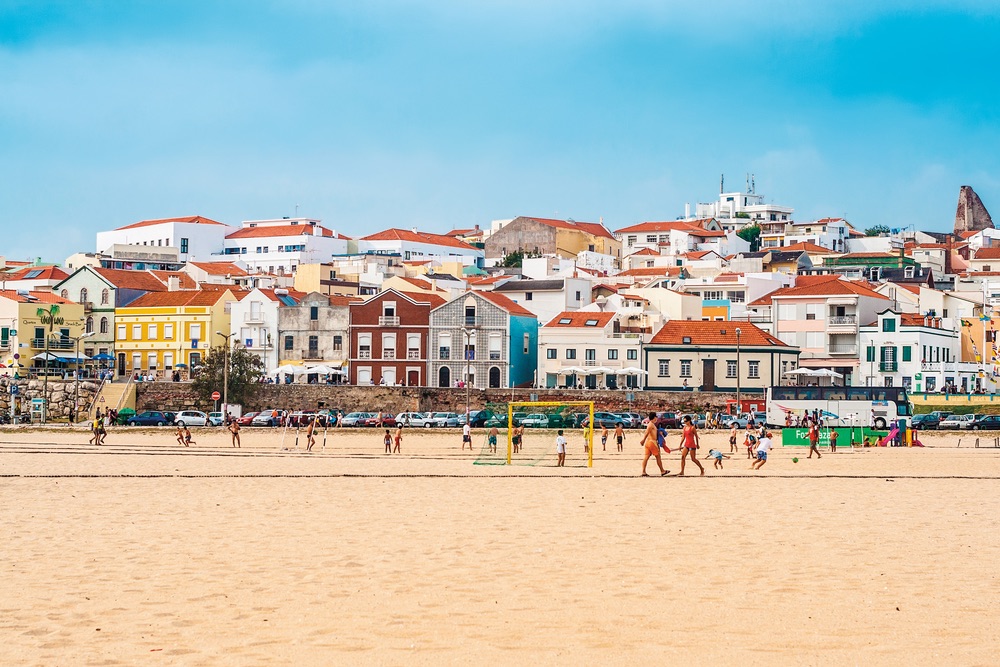 Figueira da Foz is the most popular beach in the district of Coimbra, located in central Portugal. Natives flock there during the summer months, filling the three-kilometer stretch of sand with bright beach towels, umbrellas, and the ever-present soccer balls. This beach, nicknamed Rainha das Praias (the Queen of Beaches), was once important to the town as a major deep-sea fishing port. Portugal's success in the fishing industry throughout history is highly visible in Figueira. The old village of Buarcos, considered a suburb of Figueira, boasts many traditional fishing huts and seafood restaurants along the shorefront that showcase typical Portuguese cuisine, including bacalhau, or dried, salted cod. In the eighteenth and nineteenth centuries, Figueira thrived on its expanding cod and shipbuilding industries, and in the 1920s and '30s, it grew even more as a resort town.
While the Queen of Beaches reigns over her seaside city in many ways, by far the most exciting time to visit is during the Festa de São João (Festival of Saint John the Baptist). Saint John is celebrated all over the world in the Christian faith for baptizing Jesus, but in Portugal his feast day is celebrated mostly in the northern half of the country, with the most famous celebration taking place in Porto. The multiday festival culminates in the city's downtown area, where there are food trucks, live concerts, and a pop-up carnival to entertain the people of Figueira all night. It is tradition to stay up with friends and family, enjoying the nightlife of the city, and at dawn, head to the beach and jump in the ocean for a banho santo (holy bath), which symbolizes the baptism of Christ by Saint John. Each year, after exiting the Atlantic drenched and shaking from the cold, I can't help but feel reenergized and awakened, a tiny part of something much bigger than myself.
As quaint and relaxing as this city may seem, it comes alive in summer, showcasing the passion of the Portuguese people.
Figueira hosts other celebrations, such as a three-day electronic music festival on the beach, art and film festivals, races and other sporting events, food festivals that showcase local chefs, and various parades for religious holidays. As quaint and relaxing as this city may seem, it comes alive in summer, showcasing the passion of the Portuguese people.
Two hours south of Figueira da Foz is the bustling capital of Lisbon. Nicknamed the City of Seven Hills (Cidade de Sete Colinas), it is Portugal's largest city and boasts a myriad of historical and cultural sites. At the heart of the city, where Lisbon's oldest neighborhoods are located, one feels transported back in time. Walking up the winding maze of cobblestoned streets of the Alfama district, the only neighborhood to survive the 1755 earthquake, one will find an array of shops selling traditional Portuguese sweets, cork and ceramic items (for which the Portuguese are famous), and wine—lots of wine. Musicians line the streets and shop entrances playing fado, the traditional Portuguese music that beautifully captures the meaning of saudade.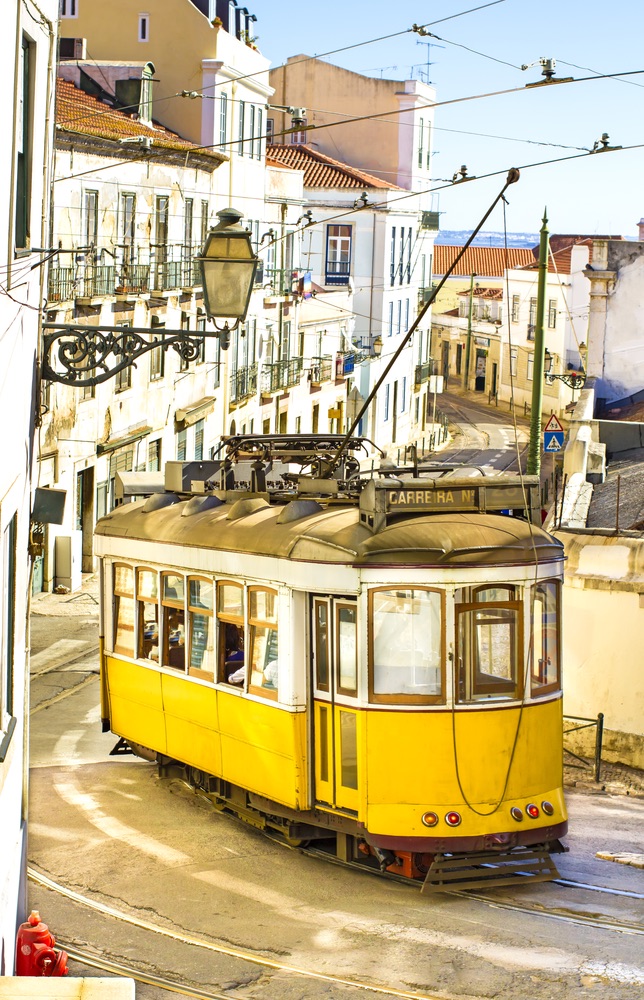 On one of Lisbon's highest hills is Saint George's Castle (Castelo de São Jorge), a Moorish castle and fortress dating to the tenth century. From o castelo, one has a commanding view over Lisbon, from the bustling tourist districts of Baixa and Chiado to the bright red Ponte 25 de Abril (April 25th Bridge), which crosses the Tagus River and could be easily mistaken for the Golden Gate Bridge. If there is one thing I've learned from my travels, it is that the most profound and defining moments of self-reflection occur in places that remind me how small just one person is in the grand scheme of the world. Sitting atop São Jorge Hill while admiring the view is one of the best ways to remember this.
On the other side of the city is the historic neighborhood of Belém, famous for its Portuguese late Gothic architecture as seen at the Jerónimos Monastery and the Belém Tower. Across the street from the Jerónimos Monastery is the famous Pastéis de Belém, a bakery built in 1837 that serves Portugal's most beloved pastry: the pastel de Belém. Imitators of the egg tart pastry are found throughout the country and referred to as pastel de nata, but the true version is found here, where bakers use an ancient recipe from the Jerónimos Monastery; only a few people in the entire world know the full recipe. Every time I visit Lisbon, I make it a priority to sit down at the café and enjoy a pastel de Belém and a shot of espresso.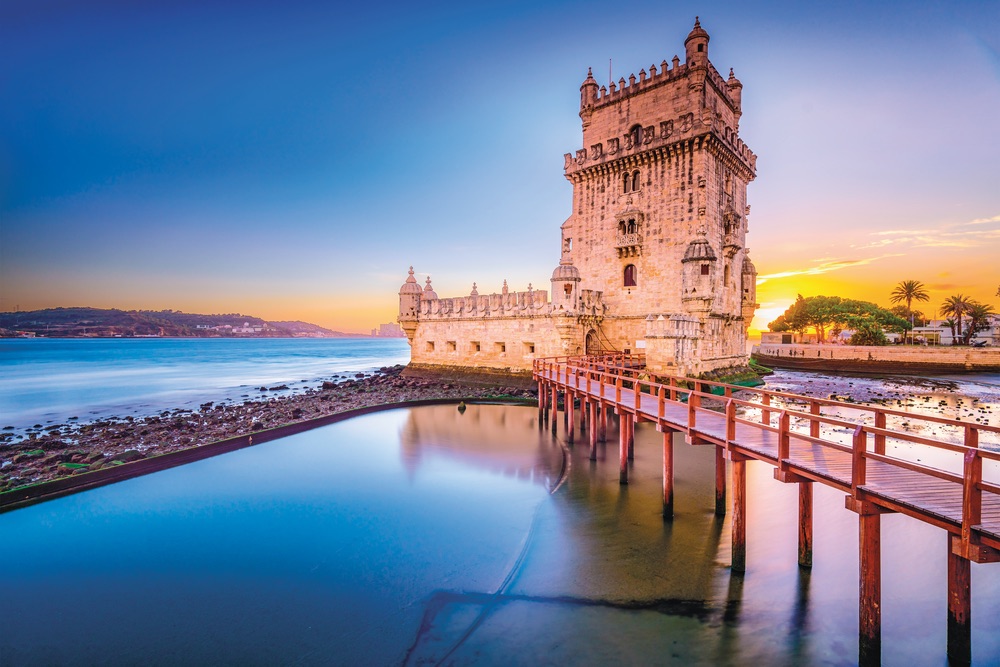 My trip to Lisbon last summer was extra special, since Portugal made history by winning the 2016 UEFA European Championship, a title that they came close to grabbing in 2004 when they hosted the tournament but lost to Greece. To give you an idea about how passionate my family is about Portuguese soccer: it is tradition to meet and watch every single Portugal game with about fifteen of my relatives crowded in one tiny living room. It is also very common for my grandmother to go to church for the entire ninety minutes of the game and pray for a victory. I was very young, but I remember exactly where I was during that final game in 2004 and the crushing moments that followed when Portugal's dreams fell just slightly out of reach. Even after Portugal had lost the final game, people filled the streets of Figueira to celebrate. In the midst of one of the saddest moments in Portuguese soccer history, people still demonstrated how proud they were.
Fast-forward twelve years, and I found myself in Lisbon for the UEFA Euro 2016 championship game. When I saw they would be heading to the finals, I spent a large amount of money to travel from Málaga, Spain, where I was visiting some friends, to Lisbon to watch the game with my family and thousands of other people in Alameda Park. There our team was again at the final game, although this time it had been a more tumultuous road to the top. When the final whistle was blown declaring a Portugal victory, the entire crowd stood up simultaneously and cheered. I was so happy that I started to cry. I hugged strangers who, in those seconds, weren't exactly strangers. Lisbon lit up that night in a fantastic display of fireworks, dancing, and revelry that I will never forget—a perfect reminder of the unwavering faith of the Portuguese for their team and their country.
Portugal's most famous export (other than Cristiano Ronaldo) is wine from various regions around the country. My favorite is the Douro Valley, where landscaped mountains caress the winding Douro River, which carves a maze throughout the region. Surrounded by whitewashed houses, small villages, and vineyards aplenty, the Douro captivates visitors in taste as well as beauty. Here, humans get back to their roots—figuratively and literally. As my friend Tomas pointed out after studying bioinformatics in school, he knew so much, yet he did not know how to "plant a potato" to feed himself. He went back to school and now works for one of the best wineries in the Douro. Tourists can sample everything from dry reds to sweet port at one of the many quintas) and then travel upriver to Porto, the second-largest city in Portugal. Porto also boasts a great wine scene, and visitors can sample port, a fortified dessert wine named for the region where it is made. The São Bento train station is covered in painted azulejo tiles that depict the country's history. Porto's bridges played an integral role in its industrial growth, and the city is a popular starting point for Portuguese pilgrims on their way to Santiago de Compostela, Spain. The city is also home to one of the country's oldest bookstores, where author J.K. Rowling drew some inspiration for her Harry Potter series.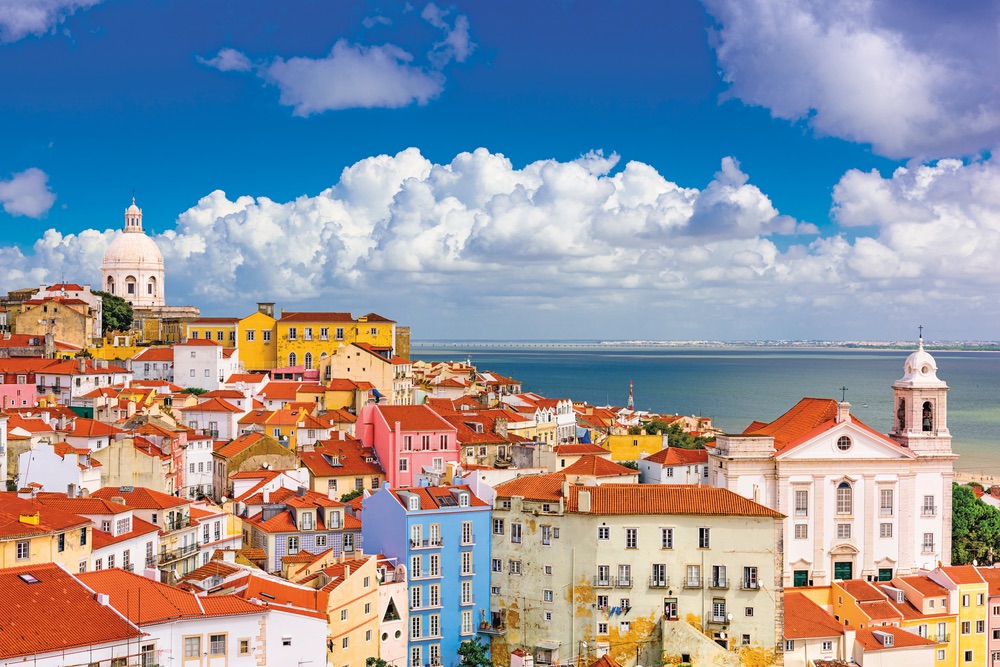 Some of the most beautiful beaches in the world belong to southern Portugal's Algarve region. The most popular is Lagos, where rocky cliffs line the coast, hugging hidden beaches and hiding grottos begging to be explored. During the busy summer months, it is filled with tourists swimming, canoeing, snorkeling, and scuba diving. If one is willing to venture outside the city walls, the authenticity of southern Portugal awaits, and natives love sharing this part of their country with foreigners.
Portugal is a feast for the senses for those willing to travel to the lesser-known but up-and-coming destinations. It is a place where one can explore a wide range of landscapes and historic sites, from the rocky cliffs of the Algarve to monuments dedicated to its explorers and Neolithic dolmens peppering the Estremadura.
Portugal is a feast for the senses for those willing to travel to the lesser-known but up-and-coming destinations. It is a place where one can explore a wide range of landscapes and historic sites, from the rocky cliffs of the Algarve to monuments dedicated to its explorers and Neolithic dolmens peppering the Estremadura. One can taste its most treasured delicacy and have a direct connection to the people living there over five hundred years ago, or taste the literal fruits of winemakers' labor in the grape-lined mountains of the Douro. It's a place that offers listeners the sound of heartbreaking fado music and the elated cheers from fútbol fans celebrating their favorite teams. And best of all, it is a place where one can shake the hands of some of the kindest people in the world who are ready and willing to share their culture, history, and home.
I believe Andrew Zimmern said it best when he described travel as "transformative." One thing I have noticed in my lifetime of traveling to Portugal is that I'm always a little bit different upon returning to the States, thanks to my experiences abroad. I think if you don't come back just a little bit changed, you've done it wrong.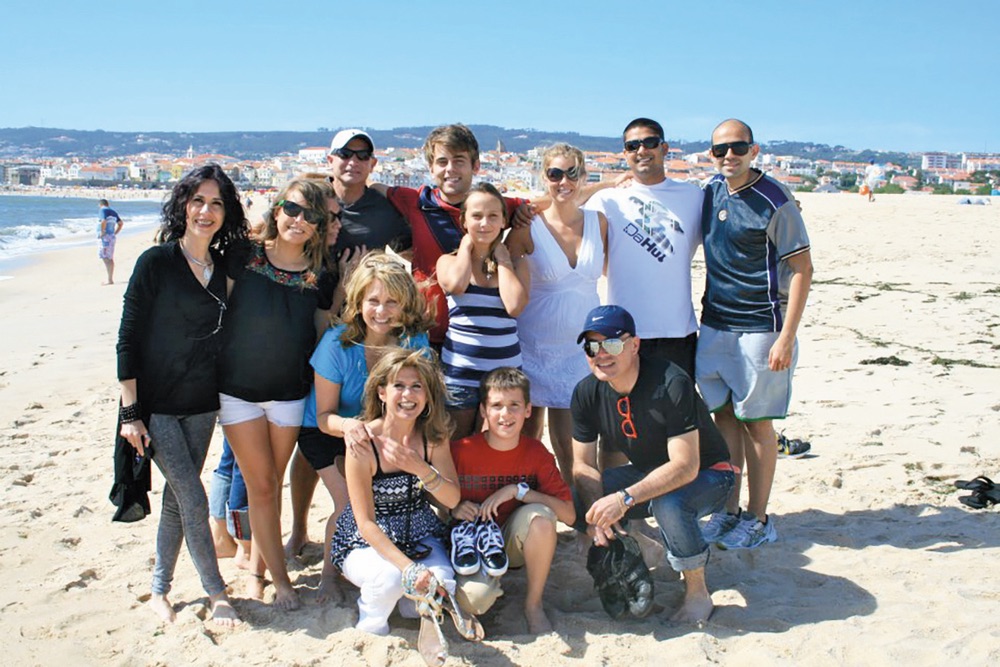 There is a phrase in Portuguese: Não é adeus, é ate já. It translates to "It's not good-bye, it's see you later." For me, it's a promise. For me, it means I will never say good-bye to Portugal. It will always be "See you later."
— V —
Mariana Zechini is a graduate student of anthropology at the University of West Florida. She loves travel, photography, and writing about her experiences abroad.
ARTICLE CATEGORIES