High-Seas Adventure on a Historic Tall Ship
Interview by Wendy Anderson | Photography courtesy of Tall Ships America
Sometimes we all need more adventure in our lives. Modern life has many perks, but it can cause us to feel buried under meetings, emails, bills, and traffic jams. As we seek to incorporate more excitement and beauty into our day-to-day activities, some of us yearn for the adventure that seems to belong to bygone eras: an explorer navigating the globe in search of new worlds, a naval captain vanquishing an enemy, or a young man running away from a troubled past for a life at sea.
There's some good news. Even if you have been forced to give up the dream of a swashbuckling life as a pirate, there are still opportunities to experience a taste of high-seas adventure in the twenty-first century.
The heritage of the gorgeous tall ships that traversed the globe for hundreds of years is being preserved by many dedicated people and organizations. Some of these ships are the originals—literally floating museums—many of which have undergone substantial repairs and upgrades to ensure their seaworthiness. Others are replica ships that have been painstakingly recreated to reflect the glory of the originals. Approximately one hundred of these historic vessels are part of Tall Ships America, an umbrella organization dedicated to promoting sail training. As the group explains, "Different from learning to sail, sail training offers unique paths to adventure, personal growth, and education through the experience of sailing a tall ship. Each year more ships and programs are launched as schools, municipalities, museums, foundations, corporations, and individuals discover the almost limitless ways in which the sea and sailing ships can enrich the human experience."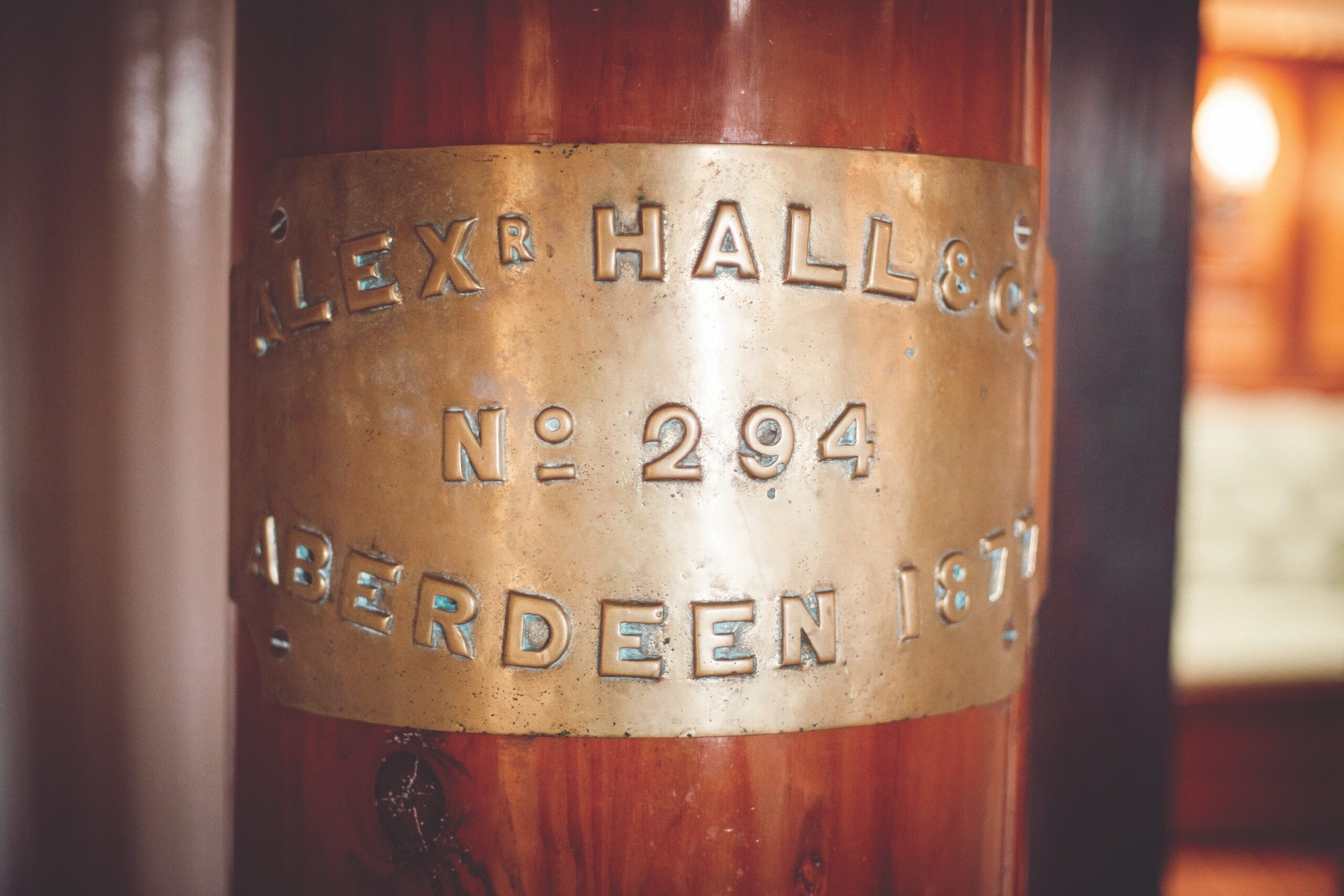 From March 30 to April 30, 2023, Tall Ships America sponsored the Tall Ships Challenge, with nine beautiful vessels taking to the Gulf of Mexico to sail between St. Petersburg, Galveston, and Pensacola and participate in festivals in the ports. VIE sat down with James Thayer, captain of the San Diego-based tall ship Californian, after his return from serving as third mate of the nineteenth-century barque Elissa during the Challenge.
VIE: First, how did you get involved with tall ships?
James Thayer: My story is that I walked away from an interesting but stressful career as a director of engineering in communications technology to pursue interests I didn't otherwise have time for—and unexpectedly became captain of a replica of an 1847 topsail schooner. My wife, who was a docent at the Maritime Museum of San Diego, learned that the museum was looking for blacksmiths to create the required parts for a tall ship they were building, the San Salvador. I had always wanted to try blacksmithing, so I took a course and joined the group.
The volunteer team is also responsible for maintenance on the museum's ships, and they are among the first to be asked when the fleet needs a sailing crew. At the time I joined the crew, this included the replica HMS Surprise, which was the tall ship featured in the movie Master and Commander, and Star of India, which is one of the oldest ships in the world that can still sail. Being a deckhand on both ships gave me a picture of how the individuals must work together to sail these incredible vessels—from the captain, who decides what will happen, to the first mate, who is the intermediary giving direction, to the crew, who makes it happen.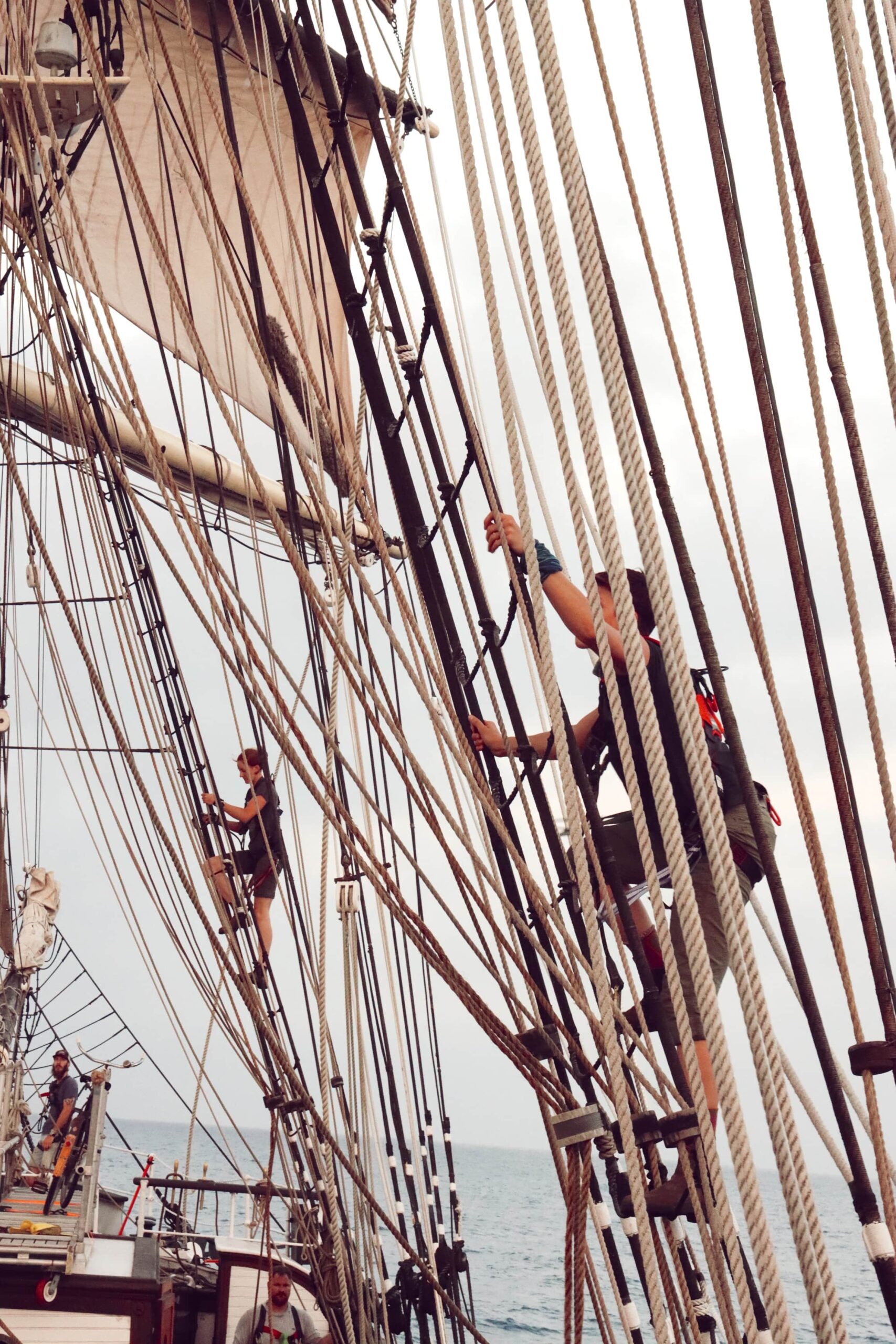 Coast Guard credentialing is required to become a "master" (captain), and the ships can't sail without one. Over time I gained the experience and training required, first obtaining a license for 100-ton vessels, which includes ships like Californian. After a lot of sea time, further training, and a rigorous exam, I eventually completed the additional steps to upgrade to a 500-ton license, which is necessary to be an officer on the 367-ton Elissa.
VIE: What is it like to sail a ship that is also a museum?
James: As the official tall ship of the state of California, Californian is a great ambassador of maritime heritage. We typically take people on four-hour day sails to let them experience sailing as it was 180 years ago. We also do overnight trips to the Channel Islands and up the coast. When Californian isn't sailing, she is open to visitors as an exhibit at the Maritime Museum of San Diego.
As the official tall ship of the state of California, Californian is a great ambassador of maritime heritage. We typically take people on four-hour day sails to let them experience sailing as it was 180 years ago.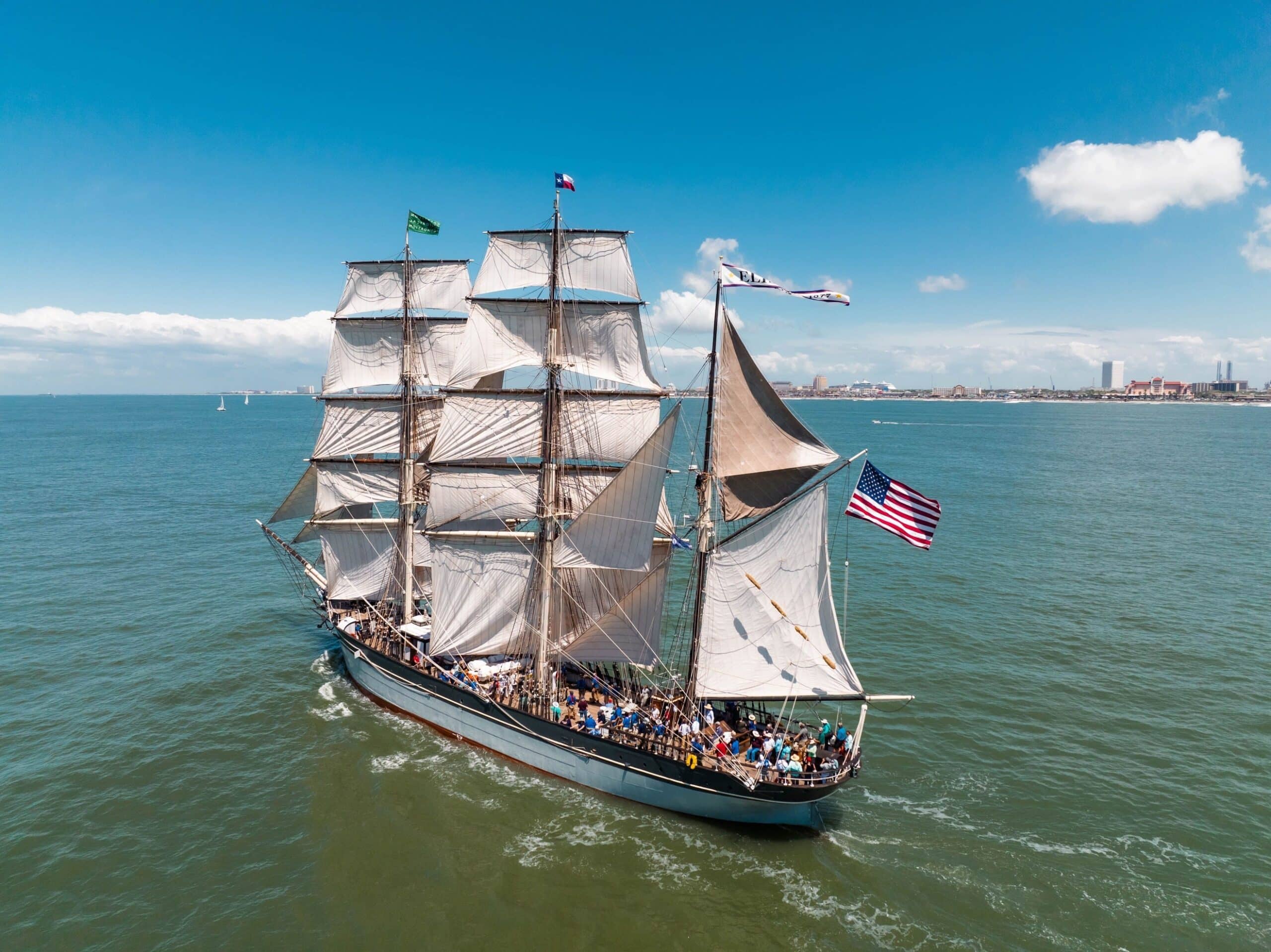 VIE: Tell us about Elissa and what the Tall Ships Challenge experience is like.
James: The Elissa is an original barque built in 1877. She was primarily engaged in "tramping"—delivering cargo wherever she found a need—a process that took her all over the world. In the 1970s, she was brought to Galveston for restoration. For eleven months of the year, Elissa serves as a floating museum at the Galveston Historic Seaport; for the remainder, she returns to her former glory as a sailing ship. This year the Seaport decided to sail Elissa to St. Petersburg, Florida, and then back to Galveston to participate in the Tall Ships Challenge. I had the privilege of serving as third mate under Captain John Svendsen.
It's an amazing experience. For three weeks, your world shrinks. You exist on a vessel less than 150 feet on deck and 30 feet wide, with a crew of about forty, with only water around you. Being in the Gulf of Mexico, after you get out past the oil rigs, there is nothing to see but the sea, the sky, and some marine life. The crew becomes like family—you all share a common goal, and hopefully, you all get along. We also developed a camaraderie with the crew of the other participating ships.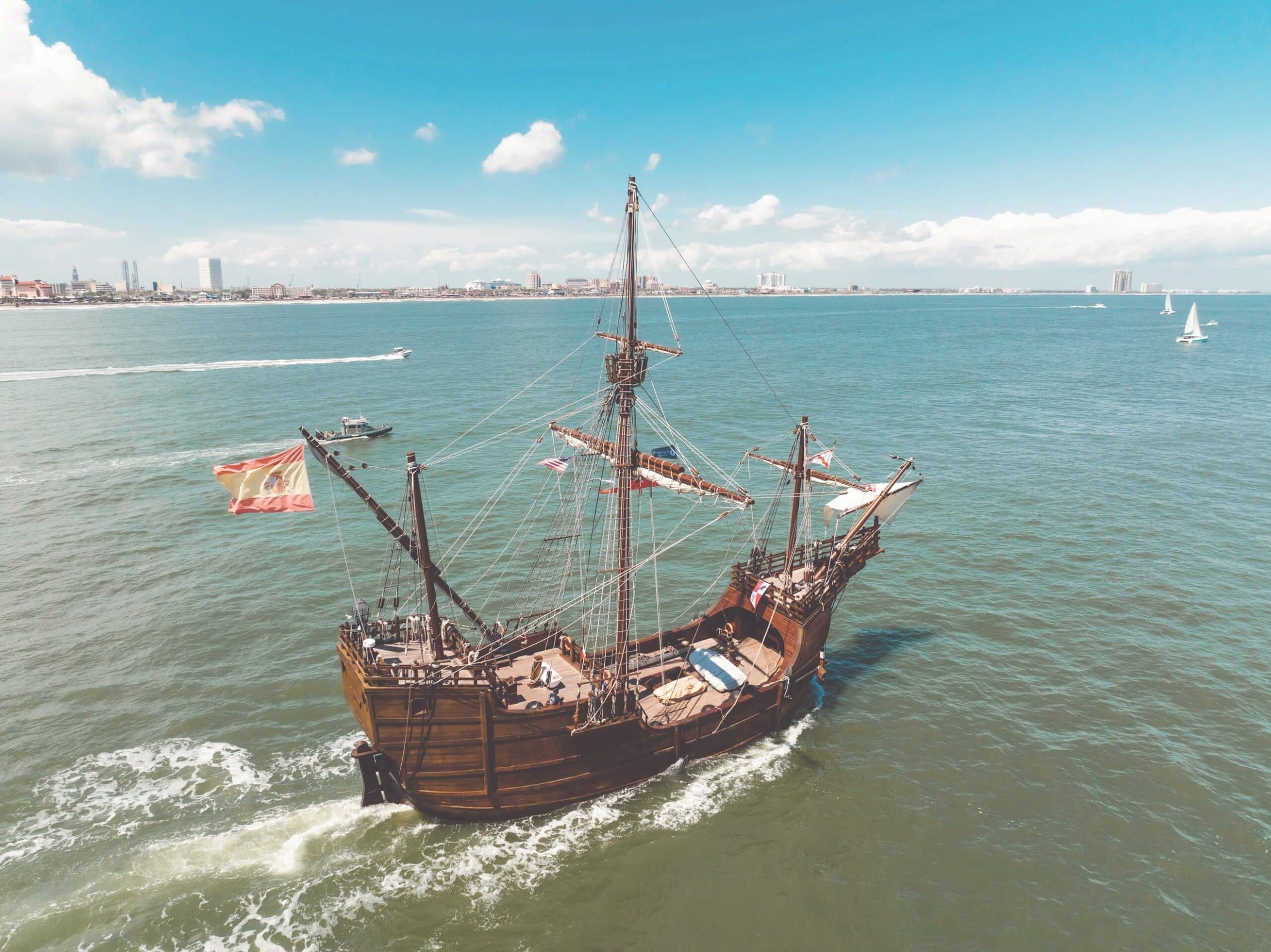 We had mostly great weather. However, coming back, we encountered a fairly significant storm when a squall blew up out of nowhere just as it was getting dark. It was an intense challenge as we had to quickly trim the sails with heavy rain, little visibility, and dramatic lightning strikes flashing around us. Experiences like that remind us that with all our modern conveniences, we are still at the mercy of mother nature.
VIE: How can someone become involved in the Tall Ships Challenge? And for those who would like to experience a tall ship but stay close to land, what do you recommend?
James: Joining a crew in the Tall Ships Challenge does not require previous experience, but it does require a time commitment and a willingness to learn. For Elissa, the crew starts training with orientation in July and continues almost every weekend until spring, when the Challenge begins. For that reason, most crew members live near the ship's home port of Galveston. Crew members with full-time jobs take their annual vacation during the Challenge.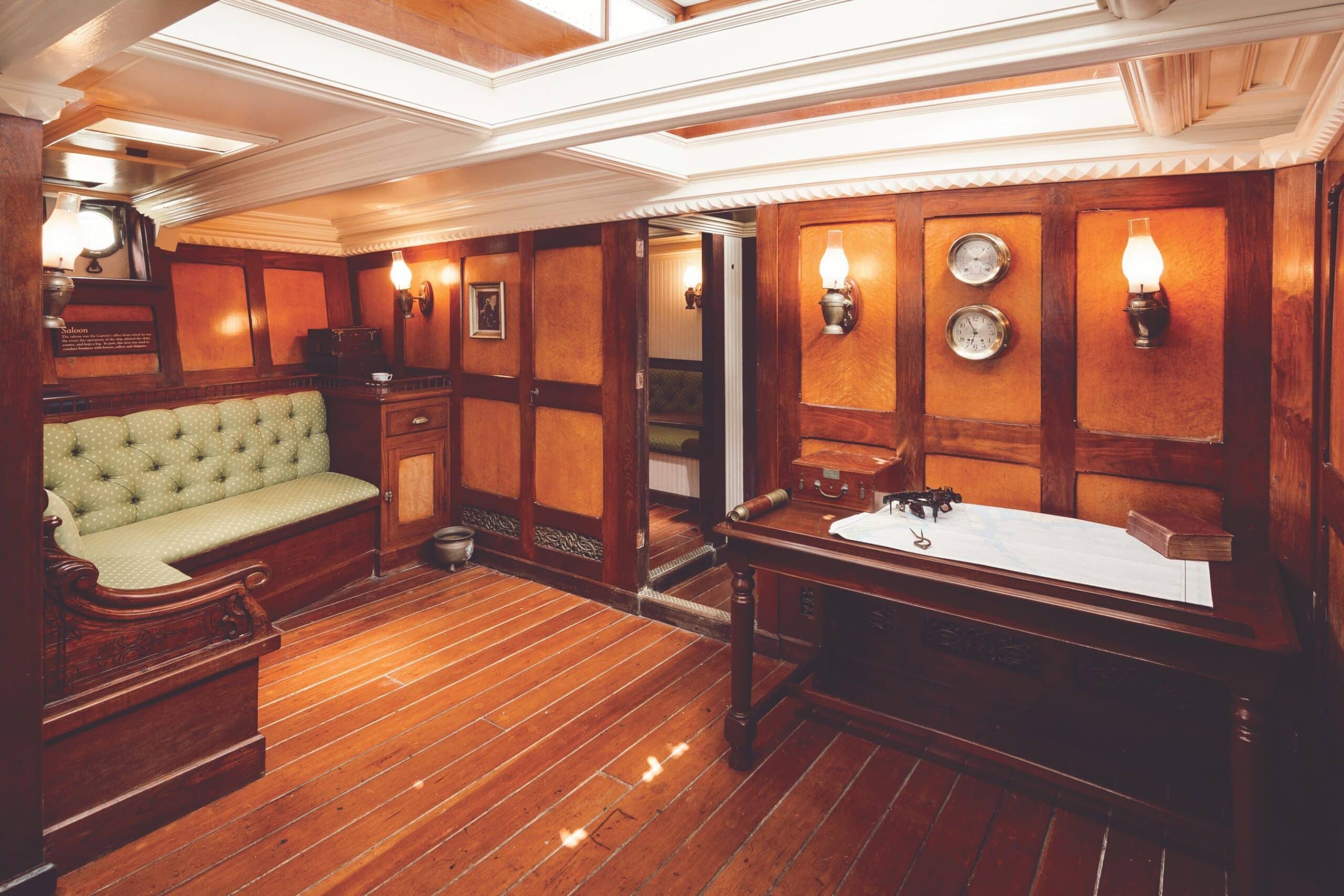 Several of the nearly one hundred tall ships located at many ports around the nation, as well as the world, offer tickets for day sails or even overnight sails. Since museums and nonprofits own many of these ships, they welcome volunteers, and most offer training to be deckhands. Many of them can be toured while docked, which is a good option for those who begin to turn green at the thought of leaving land.
VIE: Thank you. Fair sailing!
— V —
---
For locating a tall ship near you, please visit TallShipsAmerica.org/vessels-programs. For information about the next Tall Ships Challenge, stay tuned for news on TallShipsAmerica.org/tall-ships-challenge. 
ARTICLE CATEGORIES