The Man behind the Magic
By Kim Duke-Layden | Photography courtesy of the Hard Rock Hotel Riviera Maya
"There are no rules when it comes to weddings, except one: style should prevail," says the chic Colin Cowie, who is celebrated as one of the world's foremost authorities on wedding fashion and etiquette and has more than twenty-five years of experience planning spectacular weddings and events across the globe.
Zambia-born Cowie says one of his greatest moments occurred early in his career while he was designing Hugh Hefner's 1989 wedding to Playmate Kimberley Conrad. "I had only been in the United States for eighteen months, and this was a deep-end lesson in American celebrity. I had no idea how famous the world's most famous bachelor really was! To this day it was probably one of the best-produced events." Although marital bliss for Hefner and Conrad wasn't destined to last at the Playboy Mansion, Cowie's destiny as the world's most sought-after, over-the-top wedding planner was definitely in the stars—and on the lips of Hollywood's stars.
Among Cowie's clientele are some of the most celebrated names in the entertainment industry: John Travolta, Nicole Kidman, Oprah Winfrey, Jennifer Aniston, Tom Cruise, Jennifer Lopez, Lisa Kudrow, Bruce Willis, Kenny G, and Demi Moore, just to name a few. With his theatrical mannerisms and South African accent dripping with ample "dah-lings," this larger-than-life bride whisperer was widely rumored to be the inspiration behind Franck, the flamboyant wedding planner played by Martin Short in the 1991 blockbuster Father of the Bride.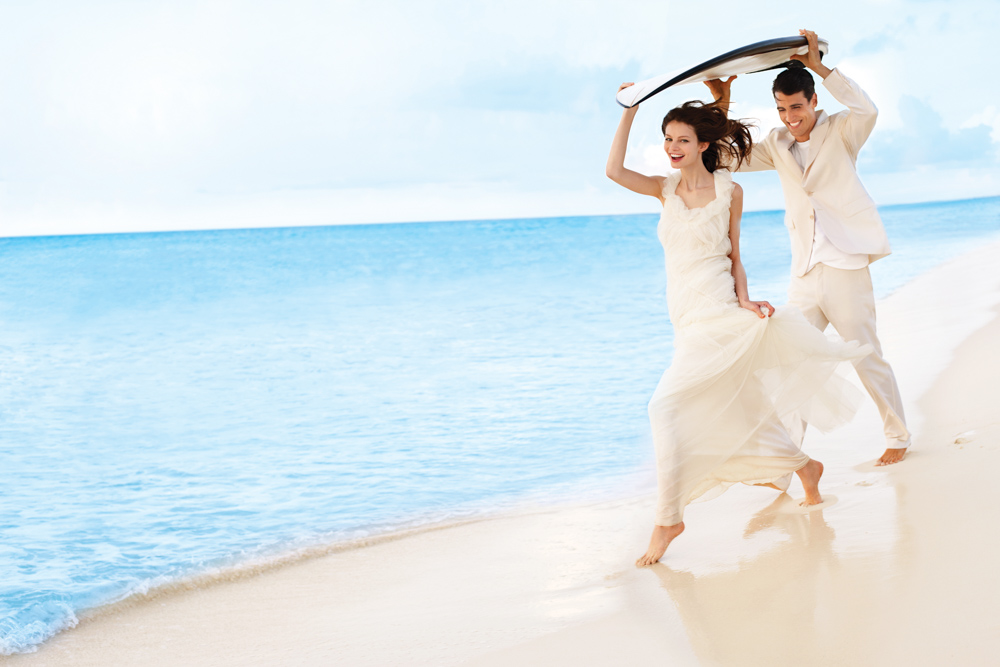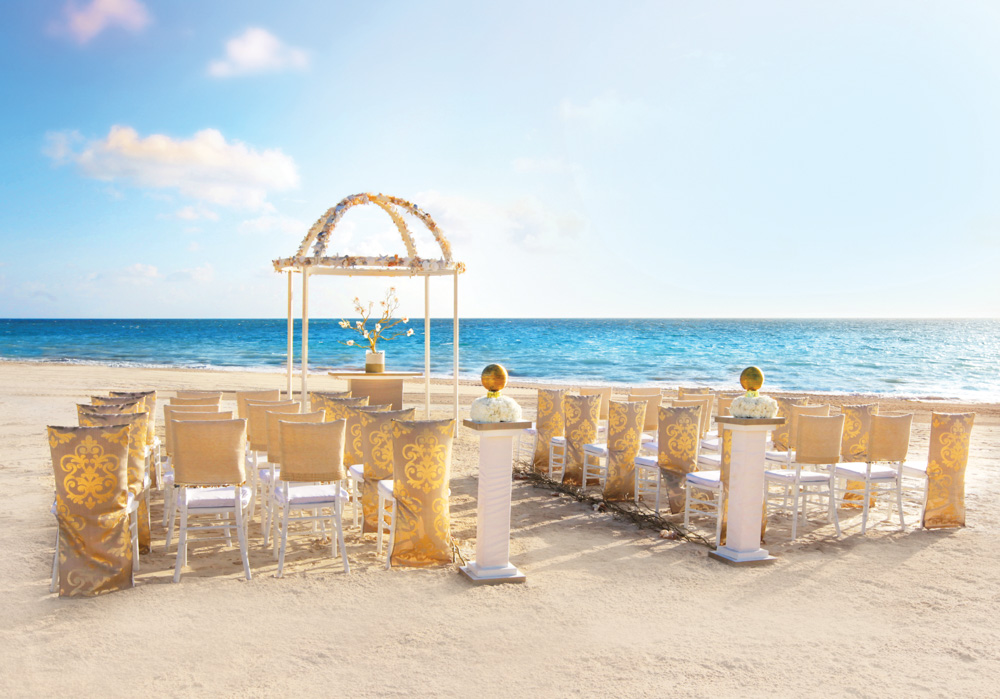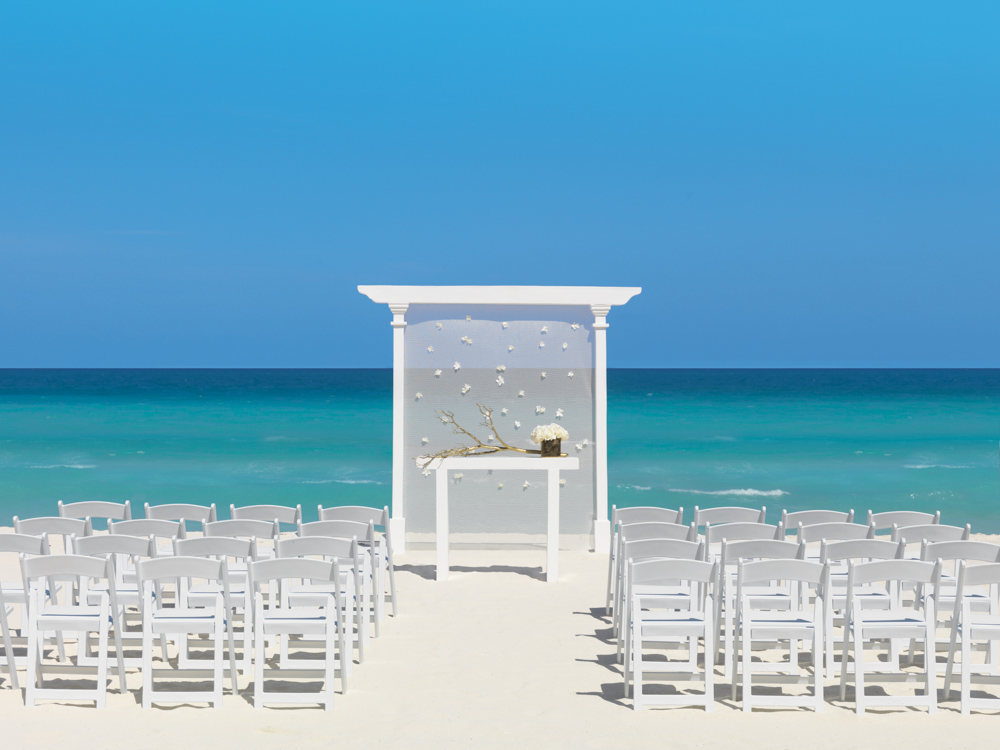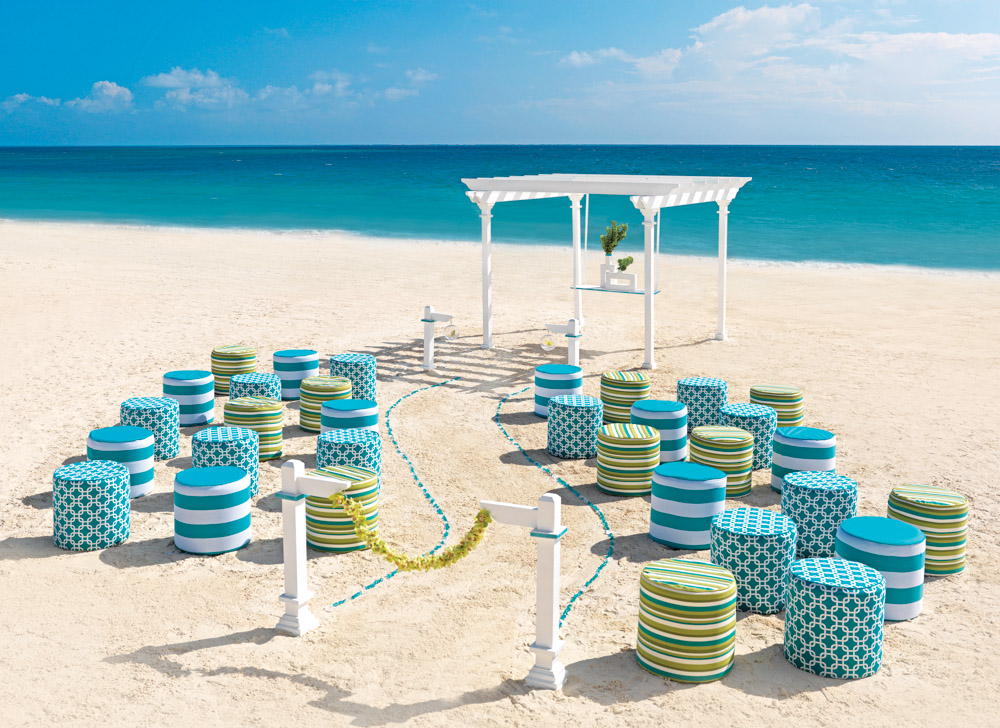 Possessing incredible panache and an "If you can dream it, somebody can build it" attitude, Cowie developed a reputation early on for being able to pull off the impossible. "In all avenues of life, I always believed in going the extra mile," he says. He definitely "walks the talk" and never fails to pull a rabbit out of his très chic chapeau. So, what's his secret for creating one wow wedding after another? Perhaps Cowie explains it best with these words of wisdom: "Weddings are pure living, breathing theater. The magic comes from appealing to all of the senses." In other words, it's all in the details—the drama of the setting unfolds with a host of flickering candles, the fragrance of the flowers, the sound of the perfect mood music, the taste of delicious foods no matter how simple or exotic, and a plethora of textures, from table linens and centerpieces to a dramatic petal-sprinkled aisle.
It's no wonder Cowie was the magic maker behind Oprah's epic star-studded after-party commemorating the grand finale of The Oprah Winfrey Show's twenty-five-year run. But Cowie and Oprah's relationship started years before. In fact, his frequent appearances on Oprah's show before a global audience undoubtedly played a significant role in Cowie's fast track to worldwide popularity and success. Oprah's renowned Midas-touch endorsements helped catapult all eight of his books on weddings and style to best-seller status; his book Weddings is now in its fifth printing. While Oprah may have initially paved the way, other television networks and talk shows such as CNN, Good Morning America, E! News, The Ellen DeGeneres Show, Access Hollywood, and Extra! soon jumped on the Colin Cowie bandwagon, and he continues to make regular appearances on The Today Show and HSN.
The worldly-wise connoisseur and maven of etiquette isn't afraid to bend the rules on what is considered proper—or not—in the name of inspiration. Quite matter-of-factly, he states, "Forget about what society or tradition dictates about weddings." Cowie emphasizes that your wedding is the day to let your personality shine and makes the suggestion, "Design a wedding that is completely and utterly yours." The editors of many publications concur with his sage advice, as Cowie continues to be a frequent contributor to Brides magazine, InStyle, O, The Oprah Magazine, Travel + Leisure, Woman's Day, Bridal Guide, People, Bon Appétit, LA Times Magazine, Town & Country, and many of the country's top newspapers.
Perhaps surprising to many is that this dream maker to the stars, whose events typically cost seven figures, doesn't believe you have to spend a fortune to achieve a dream wedding or event. Cowie has been quoted as saying, "Style is not related to money. I've spent a million dollars in an afternoon, but I've been just as happy spending a fraction of that." The celebrated designer recently collaborated with Hard Rock Hotels to launch an exclusive weddings collection for its all-inclusive resort properties located in Mexico and the Dominican Republic. "My exclusive weddings collection makes it easy to throw a fabulous destination wedding without having to worry about the details," says Cowie about his stress-free, chic collection that includes a beach setup with a gazebo and altar, a floral arrangement, and seating for thirty guests for $1,500. Hard Rock Hotel guests who stay a minimum of three nights may even use their $1,800 resort credit to pay for their wedding.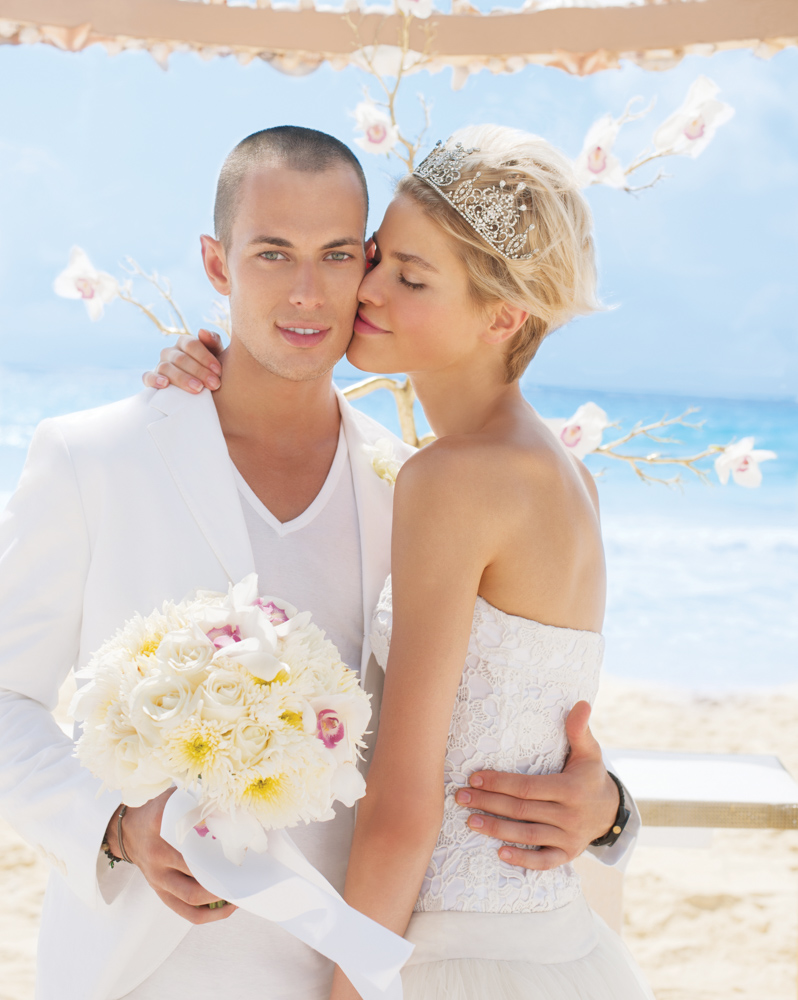 Golden tones line the aisle leading to a seashell-draped gazebo, which allows for a flawless beach ceremony.
Which of the nine diverse designs tops Cowie's list? "It's hard to choose a favorite," he says. "Each of them speaks differently to what I love about a sun-soaked destination wedding. If I had to pick one, it would be the Metallic Dunes Collection—golden tones line the aisle leading to a seashell-draped gazebo, which allows for a flawless beach ceremony."
For those who may be planning a wedding and are in need of a little of Colin Cowie's magical pixie dust, you're in luck. Check out Cowie's new free wedding planning website, ColinCowieWeddings.com. Brides everywhere, regardless of their budgets, can tap into the wedding planner extraordinaire's vast wealth of experience, his inspiring ideas, and a practical how-to guide. Cowie's awesome time-saving site is a one-stop destination for endless resources on all things wedding related.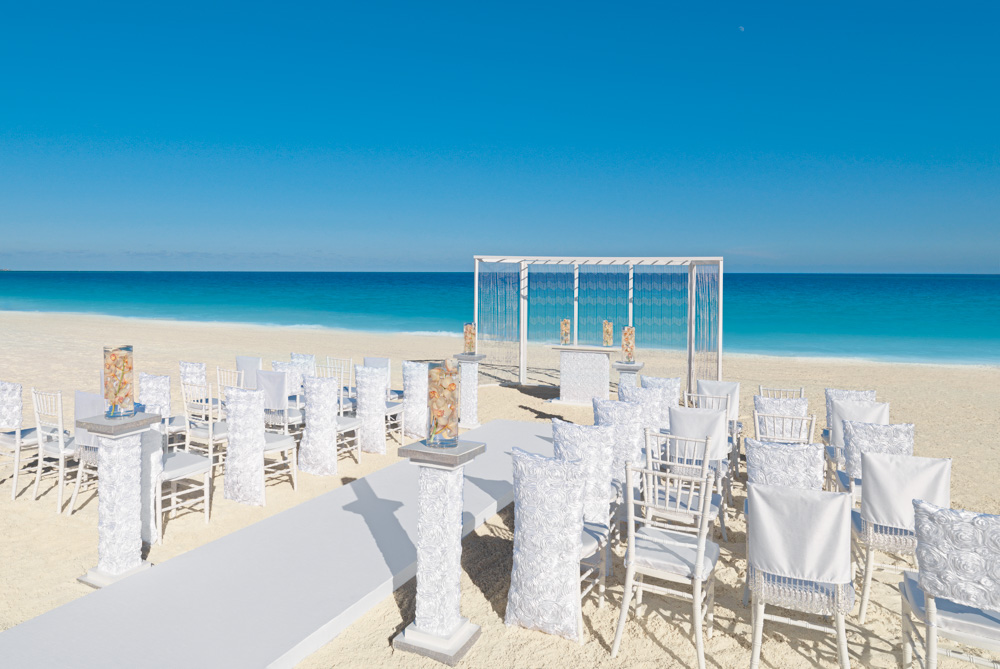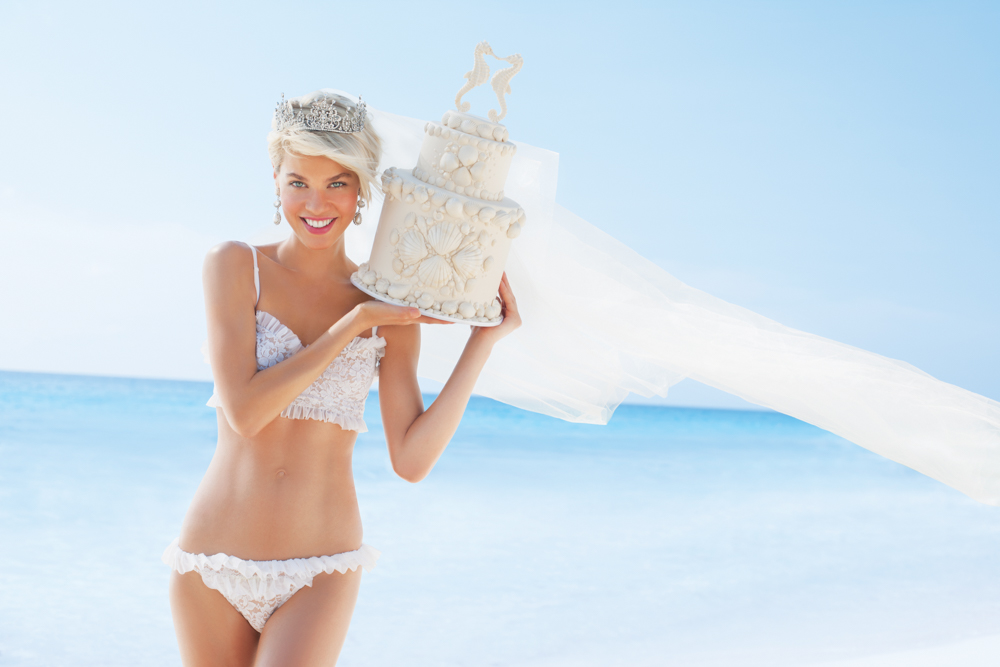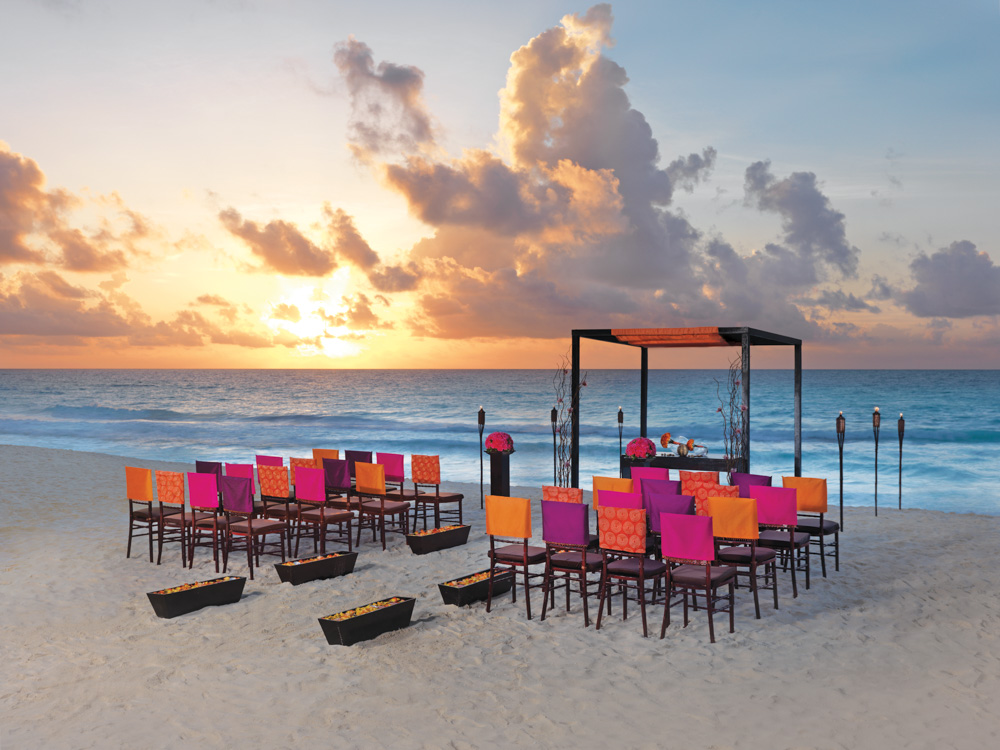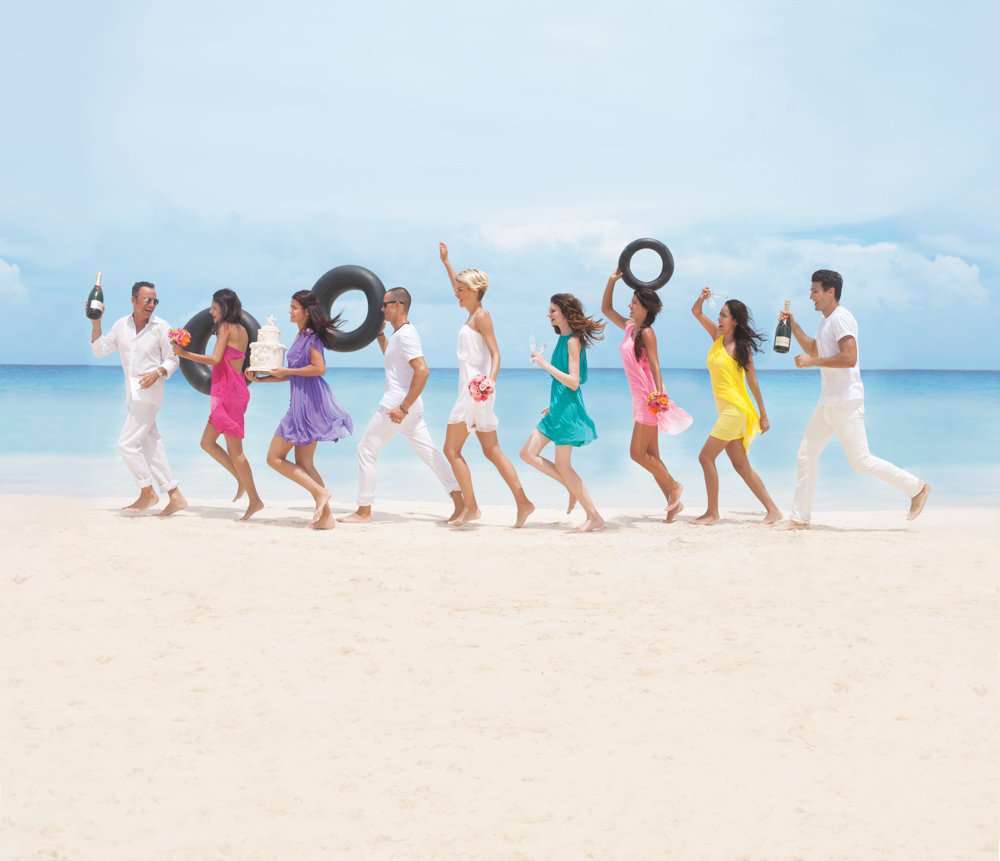 Budget-conscious do-it-yourselfers can glean fabulous cost-saving ideas from his "Ask Colin" section, such as how to create centerpieces with fruits and vegetables in varying shades of the same color palette; Cowie suggests combining deep purple eggplants, purple plums, and blood oranges, or grouping green pears, green apples, limes, and basil sprigs. He also loves "shabby chic" receptions, which work well with beach and rustic garden-themed weddings. Cowie recommends shopping at flea markets for mix-and-match colored glassware, plates, and floral-print linens and creating centerpieces from cake plates of varying heights topped with candles and bud vases for a low-cost, dramatic decor scheme.
"When it comes to describing what you want for your wedding, a picture is worth a thousand words," says Cowie. One of the best features of his website is "MyCollection," which allows you to collect and store all the examples, photos, and inspirational ideas pertaining to your wedding and honeymoon in one convenient location. Best of all, you also can share some or all of your various category collections with specific people, such as your bridesmaids, wedding planner, or caterer.
No matter how you decide to create your own wedding magic, keep Cowie's tried-and-true words of wisdom in mind: "It's a ripple effect—when the bride is delighted, so are the guests."
— V —
---
Visit ColinCowieWeddings.com to plan your rock-star event today, or view Cowie's array of options for Hard Rock Hotel weddings at HRHRivieraMaya.com/weddings.htm.
ARTICLE CATEGORIES