A Place "For The People"
By Jordan Staggs | Photography by Katie DeSantis
When a beloved local watering hole or café permanently closes its doors, it can be an emotional experience for the whole community. This was certainly the case for Fonville Press, a charming coffee shop and bar in Alys Beach, Florida, whose closure in 2018 was met with sadness from those who loved it—but also with a sense of excitement for the future from those who hoped to see it return.
"It was obvious by the outpouring of support from locals and homeowners that there was a deep love for Fonville," says former Fonville manager and Alys Beach VP of resort operations, Jeremy Walton. "It had become a special and beloved brand. Because of that, we couldn't think of a reason to do anything else but try to reimagine it and see it return. We understood we couldn't recreate the original Fonville. However, we wanted to honor it in a meaningful way and recapture its connection with people as a beloved gathering place."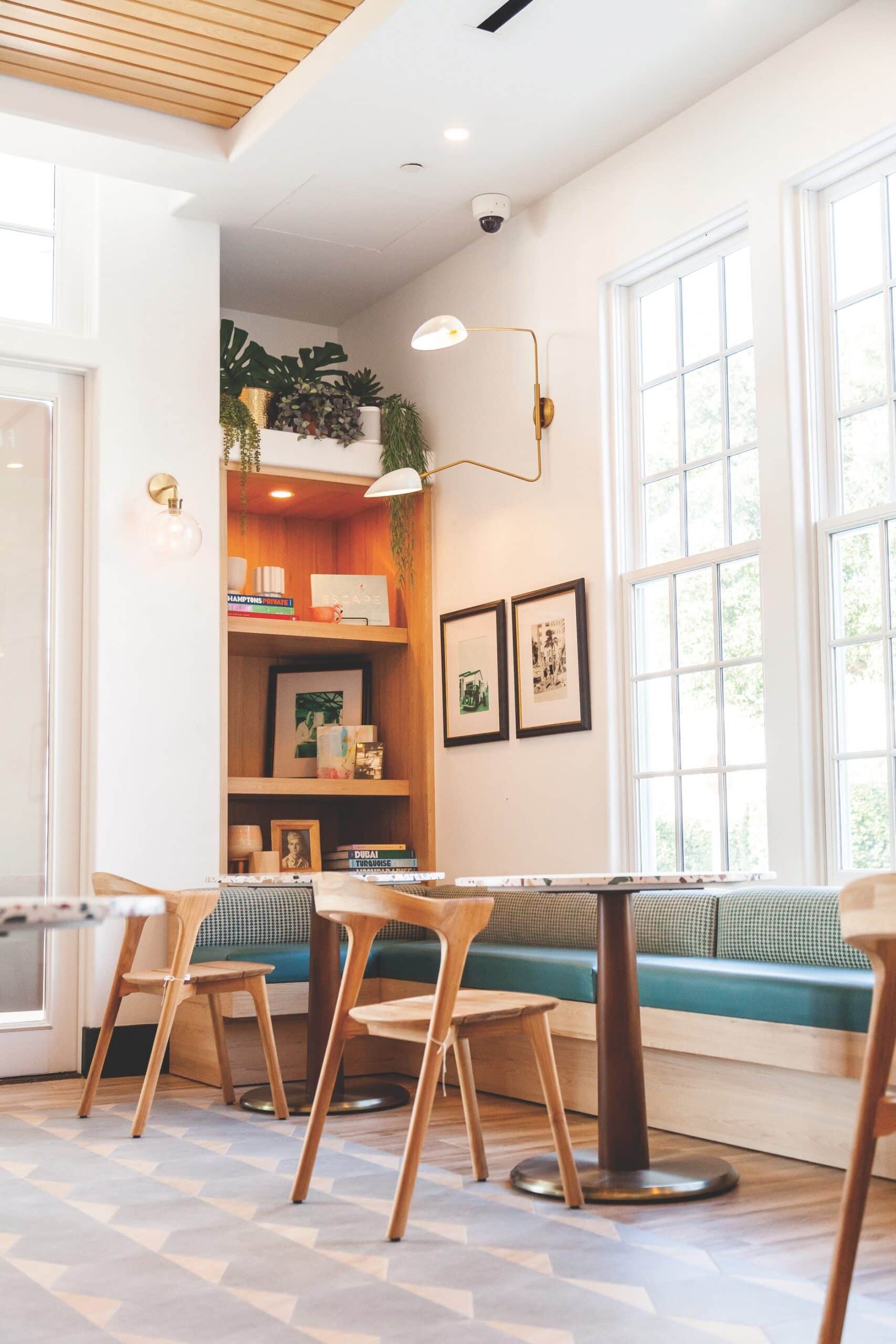 Jeremy and his wife, Angela, formed Quest Hospitality Concepts a few years ago when they decided to branch out independently. Their first restaurant, The Citizen in Alys Beach, quickly became a favorite among locals and visitors alike. The Waltons felt encouraged by this success and working closely with the Alys Beach team. It wasn't long before the dream to reopen Fonville Press in a new capacity started coming to fruition in the community's newly completed Lucian building facing Scenic Highway 30-A.
"We wanted to expand on the experiences offered at Fonville, given we had a much larger space to develop," says Jeremy. The previous location now houses Raw & Juicy, an organic juice bar and café equally loved by the community. Hoping to create a new look and feel in Fonville's new space, Jeremy says, "We decided to do something completely different. The Citizen is elegant and colorful. So for Fonville, we wanted it to be the sister restaurant with a warmer, more vibrant, fun, and colorful design. Angie and I had been spending time visiting our daughter in San Diego, and while there, we fell in love with the idea of creating a look and feel that was very southern California, with lots of wood paneling, bright colors, brass, tile, and greenery. There's certainly an homage to old Florida in the details, as well."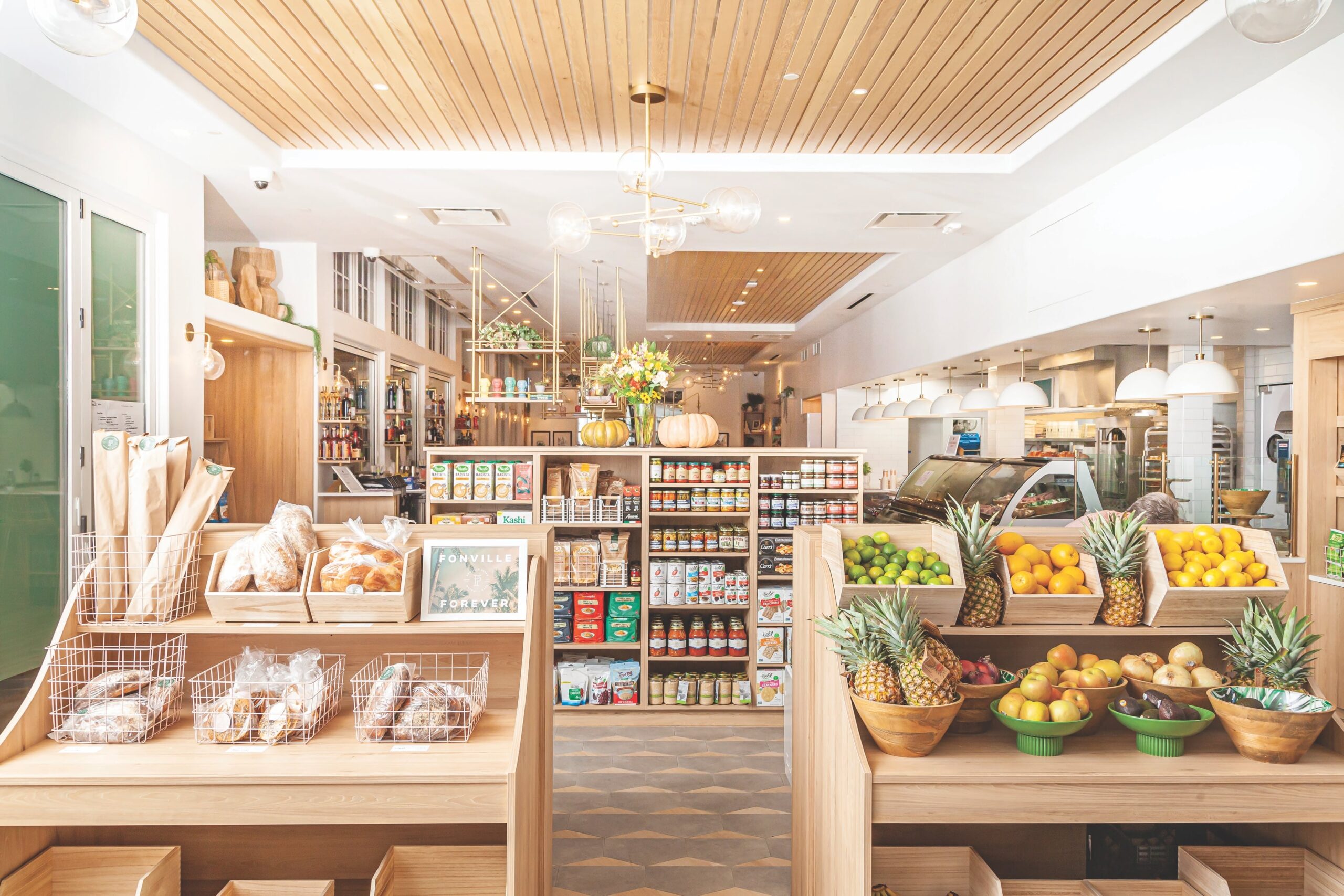 Integrating those parts into the design took a lot of work. Architect Anthony Vallee and Melissa Skowlund's team at Summer House Lifestyle were great collaborators and made the vision come together.
In addition to the original coffee offerings, the reimagined Fonville Press is home to a small grocery, an upscale cafeteria-style food counter, a full indoor-outdoor bar, and casual seating areas inside and out.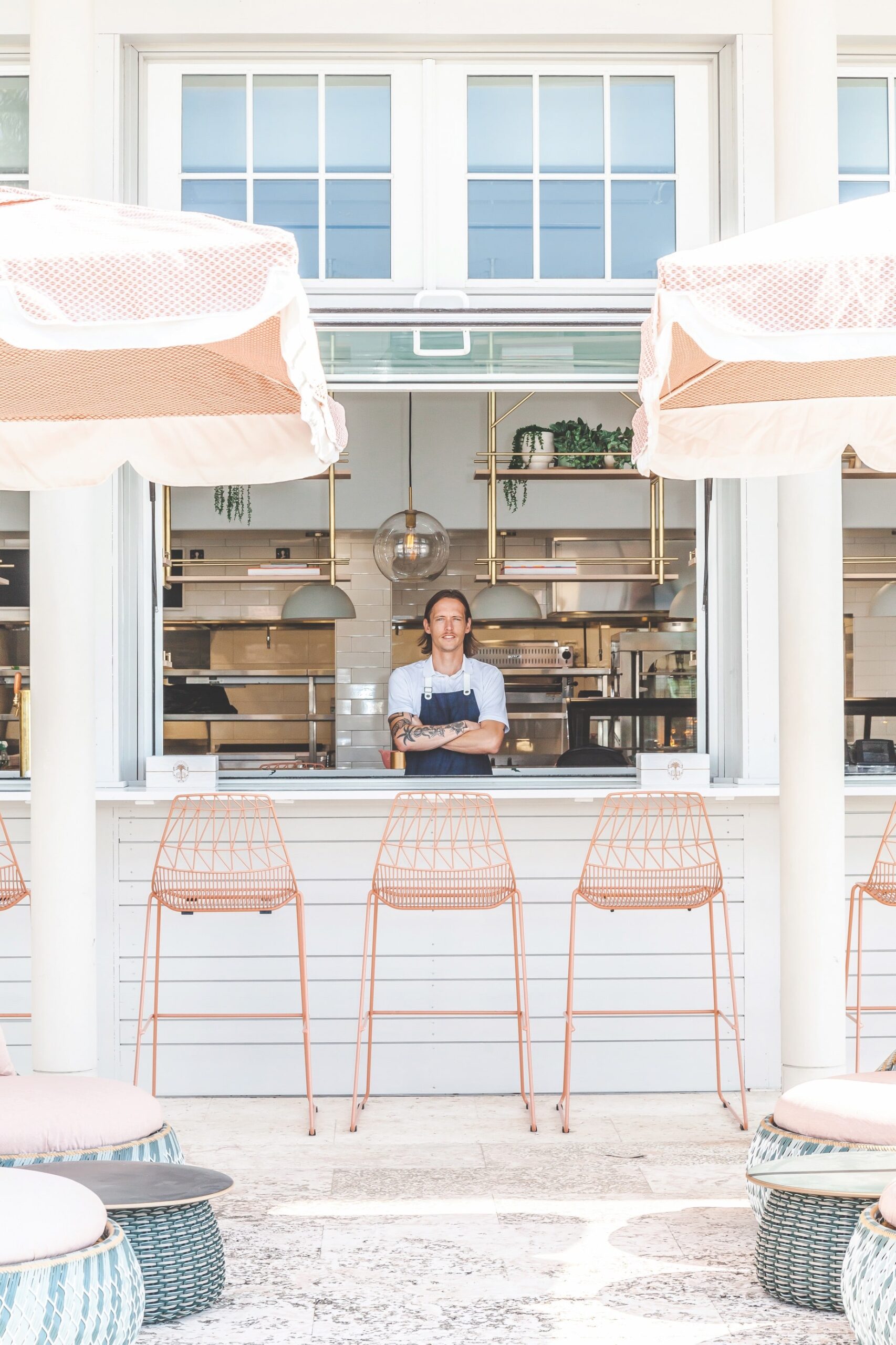 "A market, café, and coffee shop all in one space can often feel industrial, and we wanted a design-forward space that didn't feel like a grocery store," Jeremy continues. "Integrating those parts into the design took a lot of work. Architect Anthony Vallee and Melissa Skowlund's team at Summer House Lifestyle were great collaborators and made the vision come together. Angie and I are very involved in the design details, so it was great to have a team willing to work with us on the project. The exterior was also a big part of the space, and activating that was an important part, from design and guest experience standpoints."
The bar's open-air design was Angela's idea. Just as it does at The Citizen, expansive bar seating offers a lively energy that gives guests a sense that they are in a more urban environment, surrounded by world-class architecture, food and drink, and entertainment—with undeveloped white-sand beaches just a short walk away.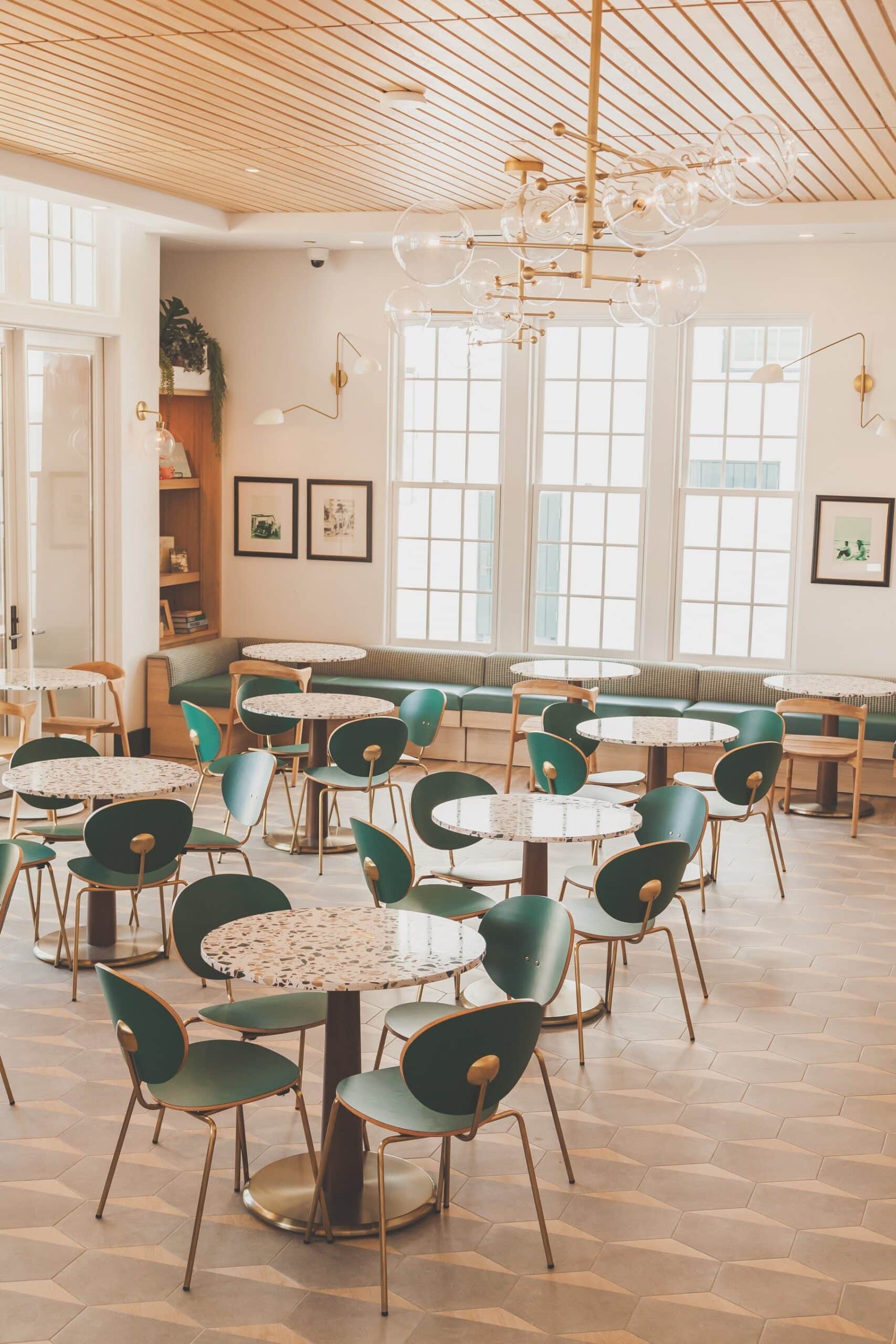 The menu continuously evolves but already includes some favorites that keep locals and visitors returning. "We knew we would pick up where we left off with the original Fonville in that coffee, breakfast, and lunch would be staples," Jeremy says. "But now we can create indoor and outdoor dining, a large full bar, a bakery, a pizza oven, a rotisserie, grab-and-go options, and nightly take-home meals in addition to the market and retail section. We felt there was much more we could offer to create a versatile dining experience on 30-A with simple, fast, and delicious food in a design-forward space."
— V —
---
Fonville recently launched an all-day breakfast and lunch menu from 7:00 a.m. to 3:00 p.m. and a new dinner menu from 4:00 p.m. to 8:00 p.m. and has weekly live entertainment. Visit FonvillePress.com or follow on Instagram @fonville.press.
ARTICLE CATEGORIES