By Ainsley Rogers |  
Photography by Romona Robbins
Nestled on the south side of Scenic Highway 30-A in Seagrove, Florida, a simple, brown clapboard sign hangs and subtly beckons to passersby, whether they were looking for it or not. A lush garden, brimming with every color in a painter's palette, is part Alice in Wonderland, part The Secret Garden. Stepping onto the property is like setting foot into Eden: sweet scents abound as butterflies flit from flower to flower, birds call to each other, and bees zig and zag. A small barn-style shed is the centerpiece to the garden compound, with an American flag snapping in the breeze and another simple wooden sign that announces, "We are happy as clams."
As if on cue, Anna-Lisa Daniel, a perky soul with a sweet smile, pushes open the door and descends the steps of the charming white cottage gift shop with her two young daughters in tow. An introductory walking tour ensues as Anna-Lisa lovingly describes each pocket of the unusual nursery. The property is an impressive collection of flowering bushes, accent trees, pottery containers of all sizes, and much more. Lime trees lean against a small picket fence, where a dainty sign peeks through the leaves and reminds to "Have a blessed day." Birdhouses hang overhead, enticing birds to make a home, while still more are tucked in corners among beautifully marbled pottery pieces that have just been delivered. Flowers of every color and texture—lavender, yellow, feathery, velvety—draw the eye as if they were part of a Monet painting.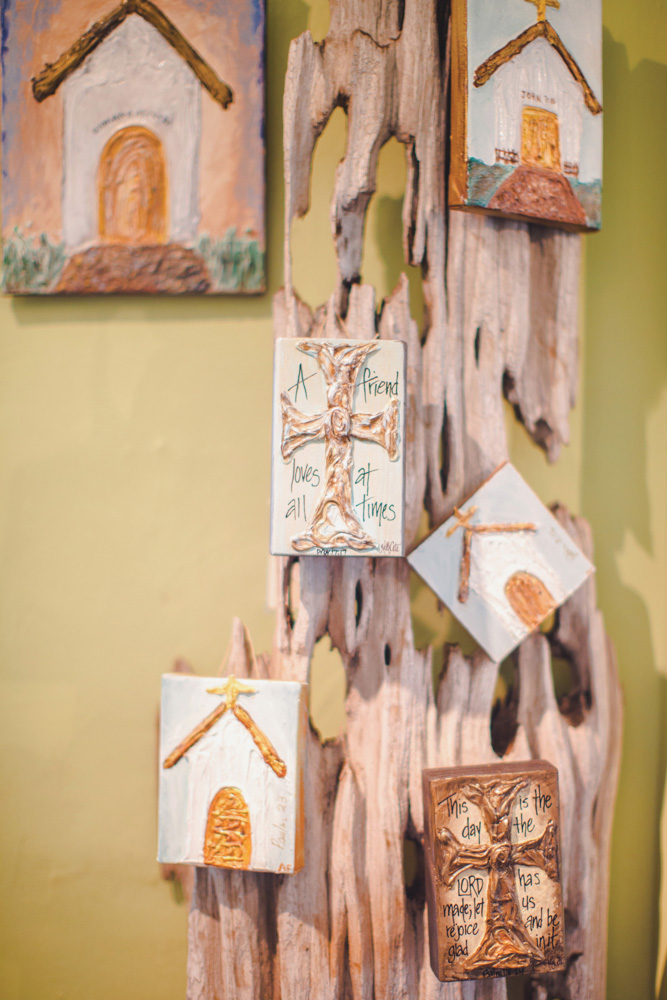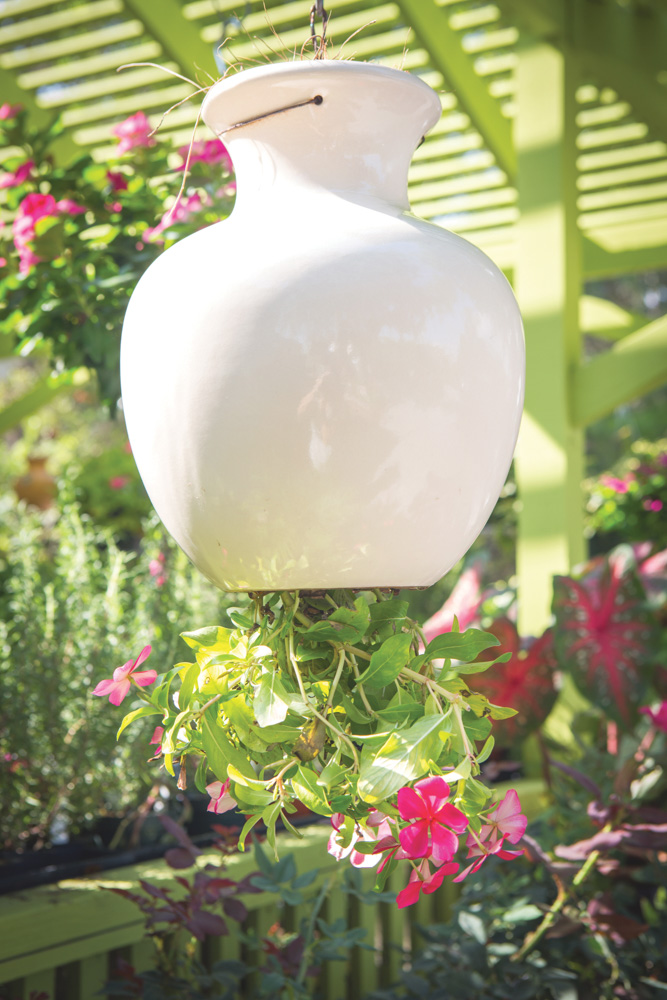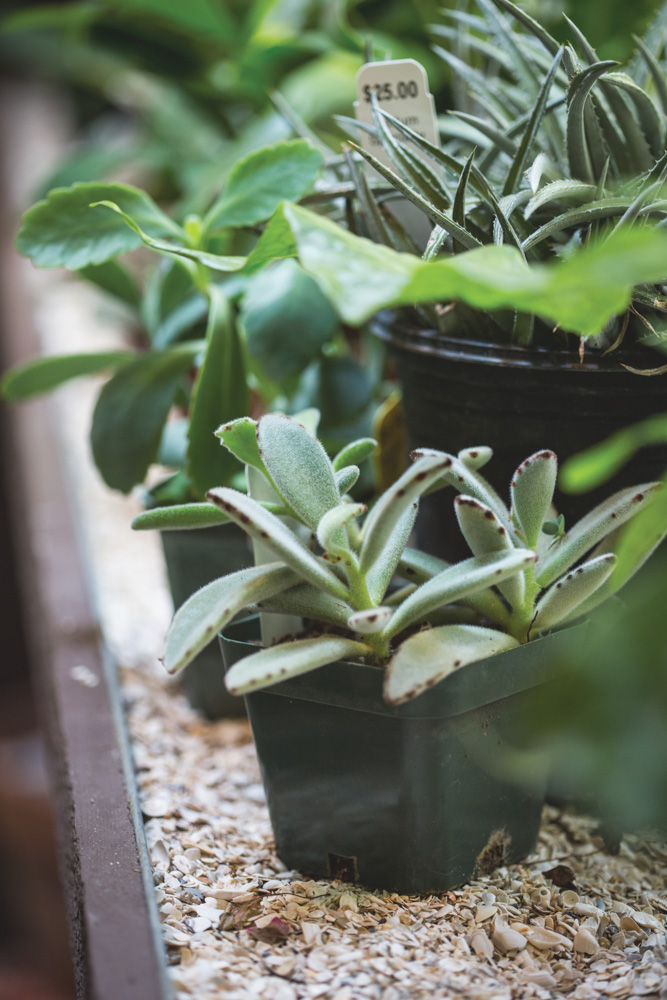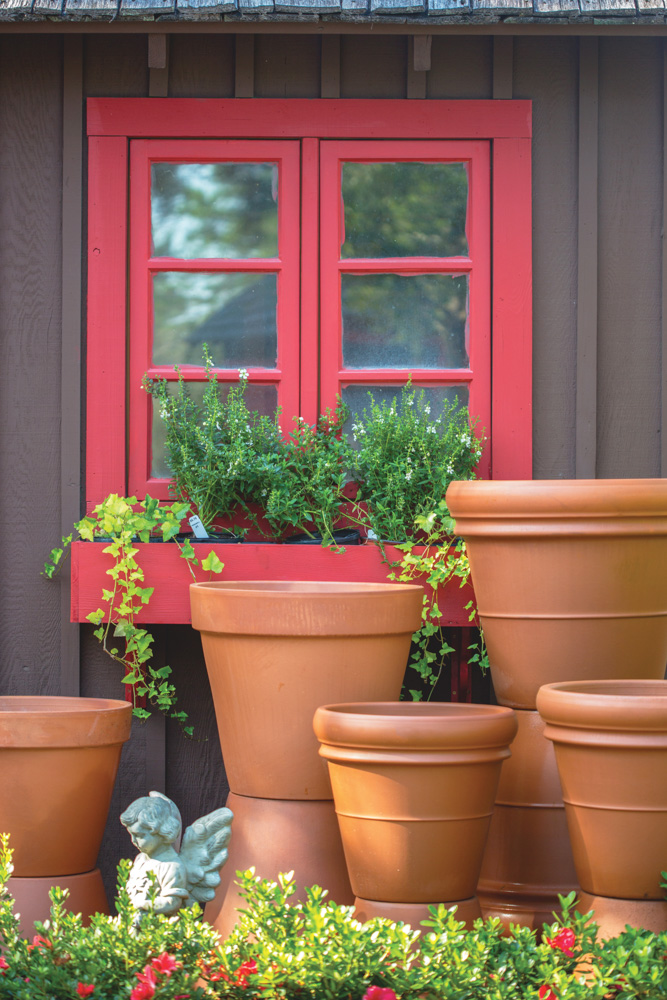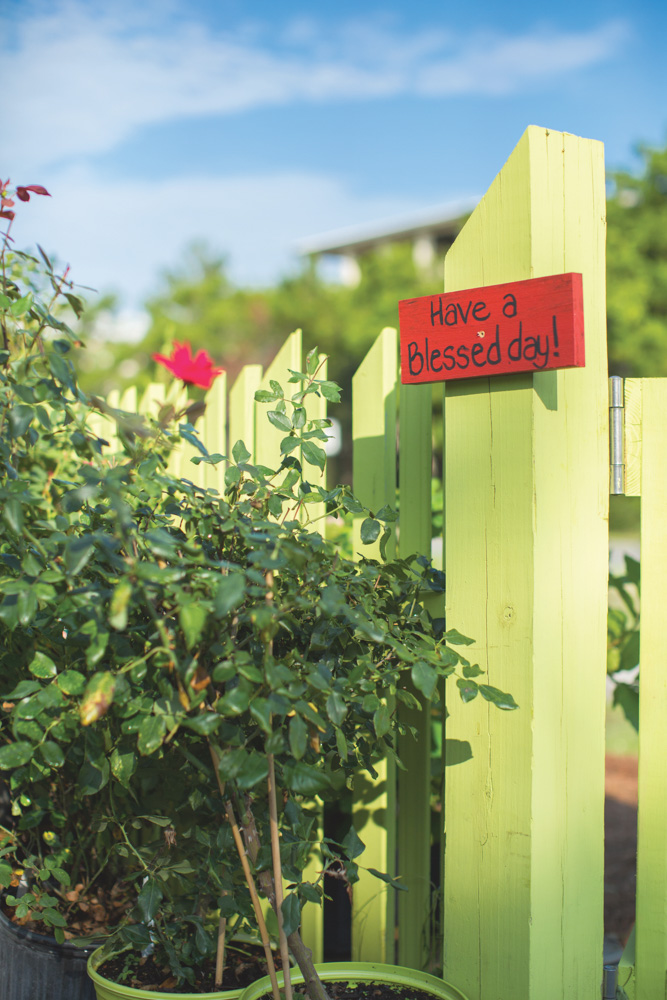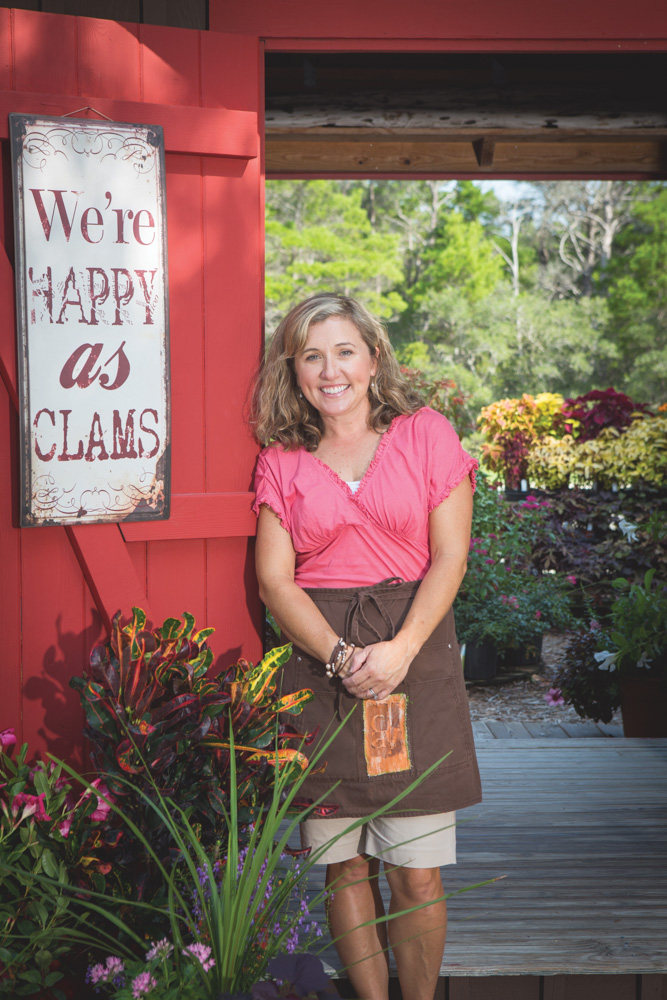 To the rear of the property is a small clearing for an assortment of unique driftwood ranging from small to large. One of Clay's best-selling items, these natural works of art are favorites among creative shoppers who have been known to use them as home and garden accents—even as serving platters! On the cottage porch, fresh herbs can be found to complement any meal or to help relieve symptoms of the common cold. Inside the cottage, the scent of dried lavender wafts among candles, dainty vases, and artwork. Visitors are welcome to take a reprieve from the summer heat to sip on fresh mint–infused water and browse the nooks and crannies of the store. Clay is full of unexpected discoveries, and each detail found within the garden center adds to its whimsical appeal.
The Clay Story
During the tour, Anna-Lisa unveils the story of how Clay came to be. She began her career in interior design. But after many years in the profession and dually helping her husband in the plant nursery business, Anna-Lisa began to envision opening a garden shop of her own, one that was peaceful and inspirational—a space where creativity would flourish among nature.
Soon, the opportunity to purchase an idyllic location along 30-A arose. Anna-Lisa quickly joined forces with friends and fellow churchgoers Scott and Linda Smith. Scott, with his extensive understanding of native Florida plants, is an acclaimed landscape designer with a portfolio spanning from Inlet Beach to Miramar Beach. Linda, Scott's wife and a passionate gardener, is known by many for her green thumb, knowledge of herbs, and retail gardening experience. And so, after much luck—and many blessings—Anna-Lisa, Scott, and Linda forged a fruitful business partnership.
Their goal was simple. The trio sought to provide a distinctive garden and gift shop to their community, one where customers could find a beautiful assortment of plants, unique pottery, garden accessories, and a thoughtful collection of charming gifts to warm any home. As Scott, Linda, and Anna-Lisa's dream began to take form, a simple word was put on their hearts—clay.
Anna-Lisa points out that "clay," by definition, is what pottery is made from. "But for us," she says, "the significance of 'clay' is found in Isaiah 64:8: 'Yet, O Lord, thou art our Father, we are the clay, and thou art our potter; we are all the work of thy hand.'"
And in April of 2012, Clay: Garden. Pottery. Blessings was born.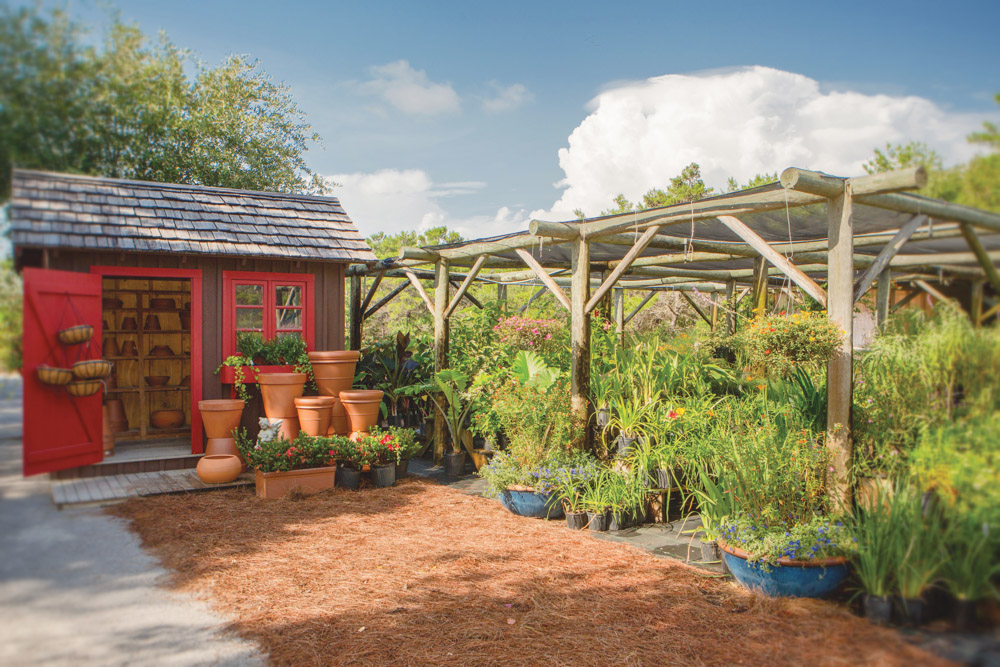 Hanging Baskets, Herbs, and Hibiscuses
Each of the three owners plays an integral part in making Clay the whimsical escape that it is. Scott selects the pottery and plants for the garden, while Anna-Lisa and Linda pick the unique trinkets, scents, and art found inside the gift shop.
The garden offers, of course, almost any plant under the sun that is appropriate for the planting zones of Northwest Florida. The gift shop, where the rare charms and objets d'art are found, would satisfy almost any kind of shopper. Garden tools and gardening accessories are available for those with a green thumb. For others, rare finds and unique items such as recycled bird feeders, wool birdhouses, and handmade oyster dishes are on display along with pottery, jewelry, and beautiful artwork, including crosses fashioned by local artists.
"Most of our artwork is inspirational," says Anna Lisa. "We love the idea of everyone being able to find a cross or a verse they love and want to have in their home. We want our customers to feel blessed, much like we were in being able to create Clay."
We love the idea of everyone being able to find a cross or a verse they love and want to have in their home. We want our customers to feel blessed, much like we were in being able to create Clay.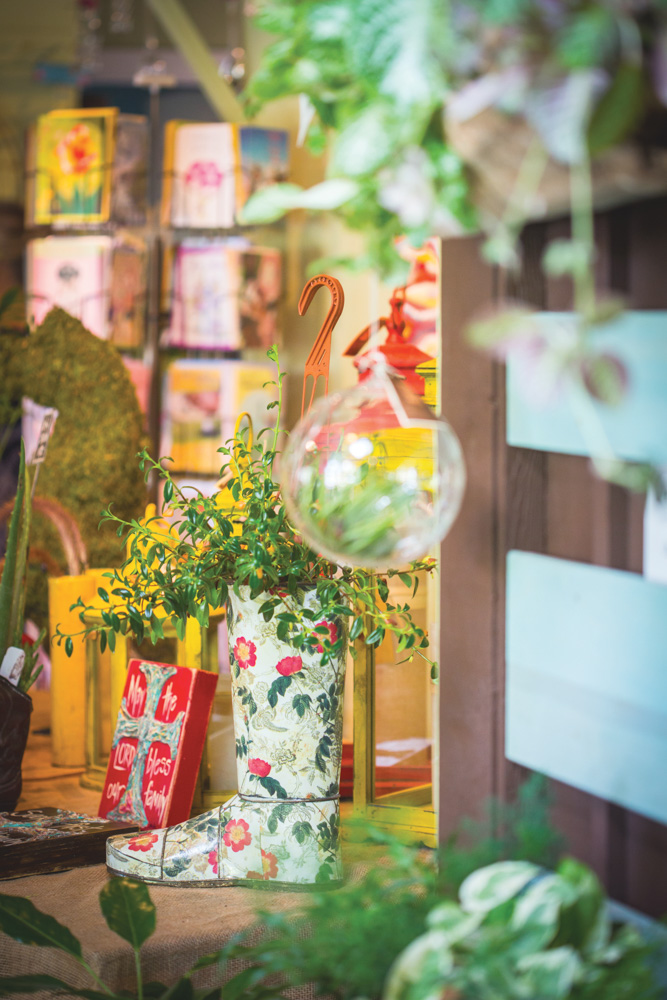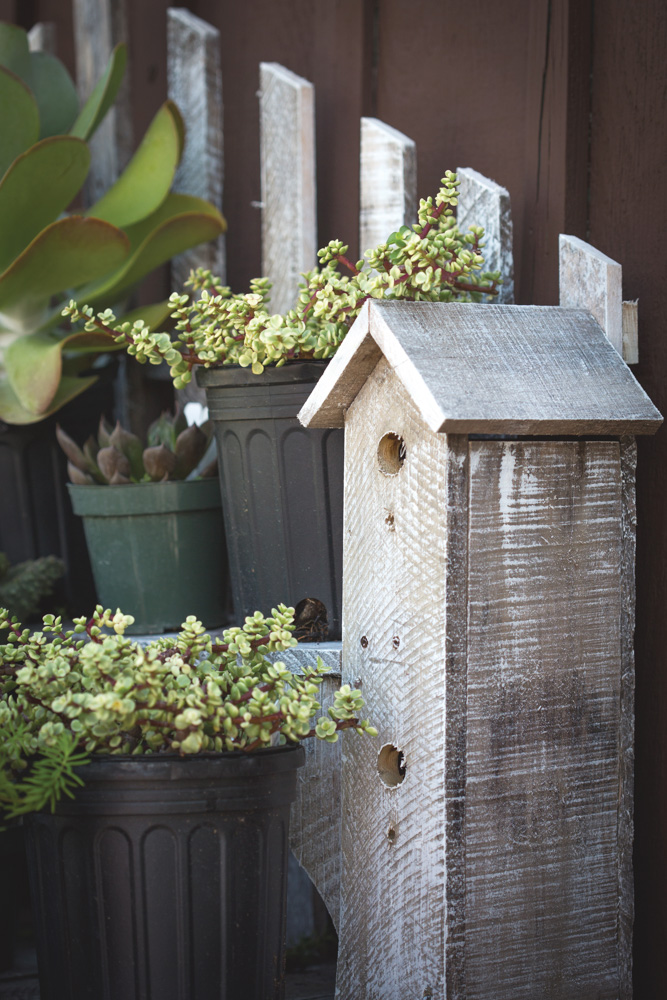 Tips for Your Garden
Scott, Linda, and Anna-Lisa were kind enough to offer VIE readers five quick tips for a lush and lovely home garden.
1. Try container gardening. This is an easy way to introduce color and unique plants with a big impact, especially for gardens in a neighborhood with landscape guidelines.
2. Consider placement of plants. Always know the growth habits of the plants being used so they won't grow too closely to driveways or structures.
3. Top with mushroom compost. Given the sandy soils of Northwest Florida, amending the top four to six inches with mushroom compost will add beneficial microbes that help to develop root systems, abundant blooms, and fruit. It also elicits vigorous plant growth.
4. Incorporate fresh herbs. Herbs are a fantastic addition to any garden, large or small. Fresh herbs can be grown year-round, even on a sunny windowsill in winter. They can also be used for a variety of reasons in the home: oregano, thyme, rosemary, basil, and tarragon will enhance the flavor of food and can be dried for future use; herbs such as anise, mint, and chamomile can soothe an upset stomach or sore throat.
5. Use native plants. A beach climate is harsh on most plants. Consider using native plants—they will have a better chance of survival and require less water to become established.
— V —
ARTICLE CATEGORIES