A Dream Kitchen Comes to Life
It's often the most-used room in the home. Of course, we're talking about the kitchen! And the one in the VIE Beach House – A Show Home in Seagrove Beach, Florida, does not disappoint. With deep-blue cabinets mimicking the gorgeous Gulf of Mexico nearby, open shelves, two state-of-the-art BlueStar refrigerators and matching range, a farmhouse sink, an expansive island with seating, and more, it's a spot where the homeowners and their guests will no doubt want to spend lots of time.
Cindy McCarley Designs has morphed into a lifestyle brand that includes interior design services, but the Santa Rosa Beach, Florida, professional is best known for her custom kitchen designs. As one of a handful of NKBA-certified kitchen and bath designers in the area, she stands apart from others by creating all of her kitchen drawings by hand instead of digitally. It gives her clients a colorful and personal look at what their future kitchen could be. "There is just something special about seeing ideas hand drawn on paper as opposed to a computer drawing," McCarley shares. "Through my cabinetmaker, the renderings do eventually end up in digital format, but I think my clients can best envision their dream kitchen in my drawings."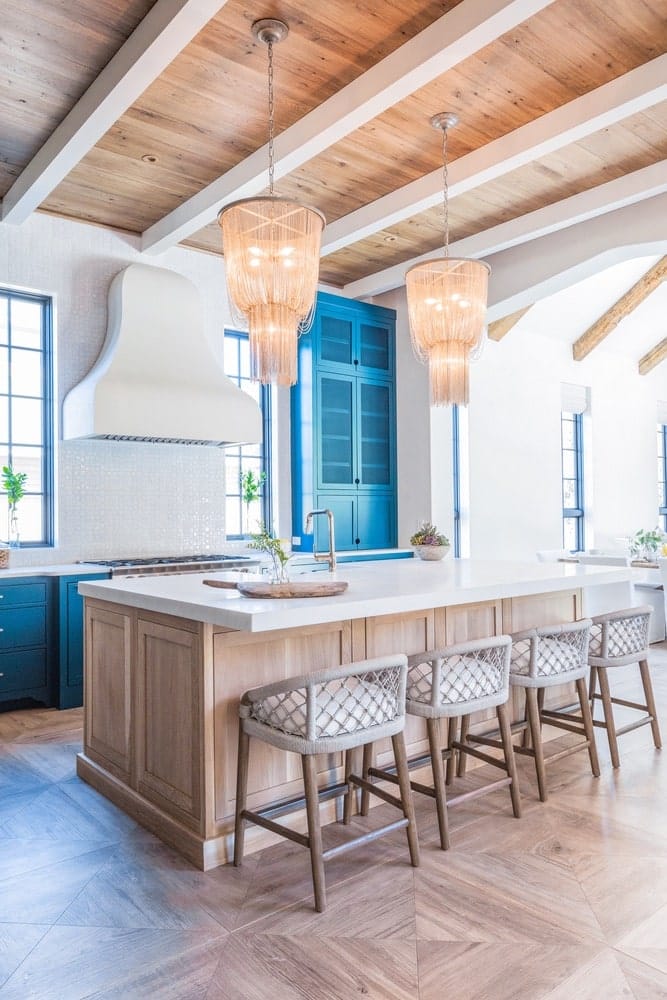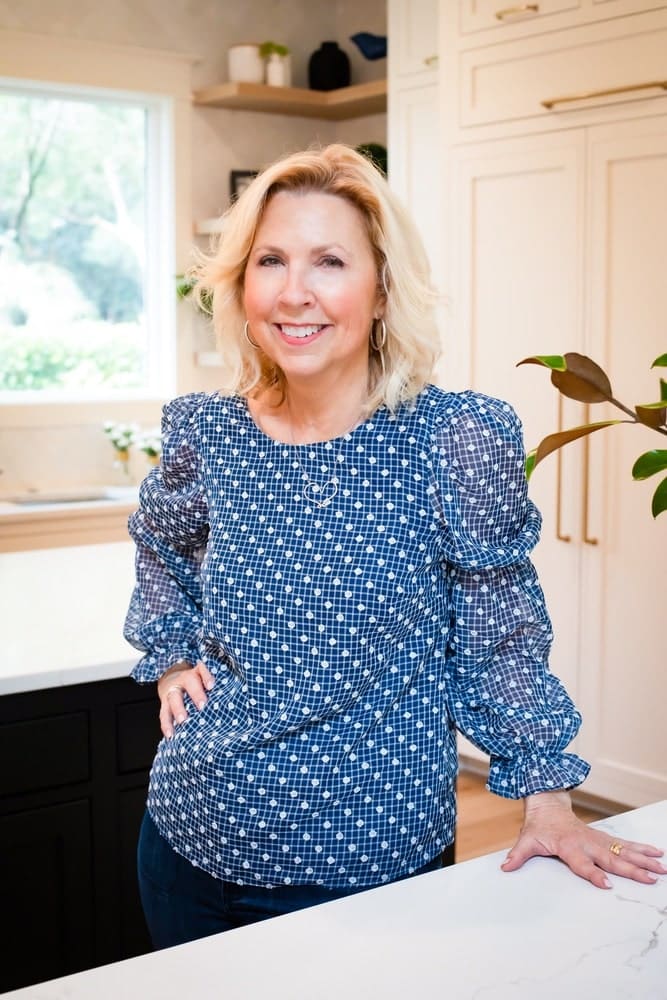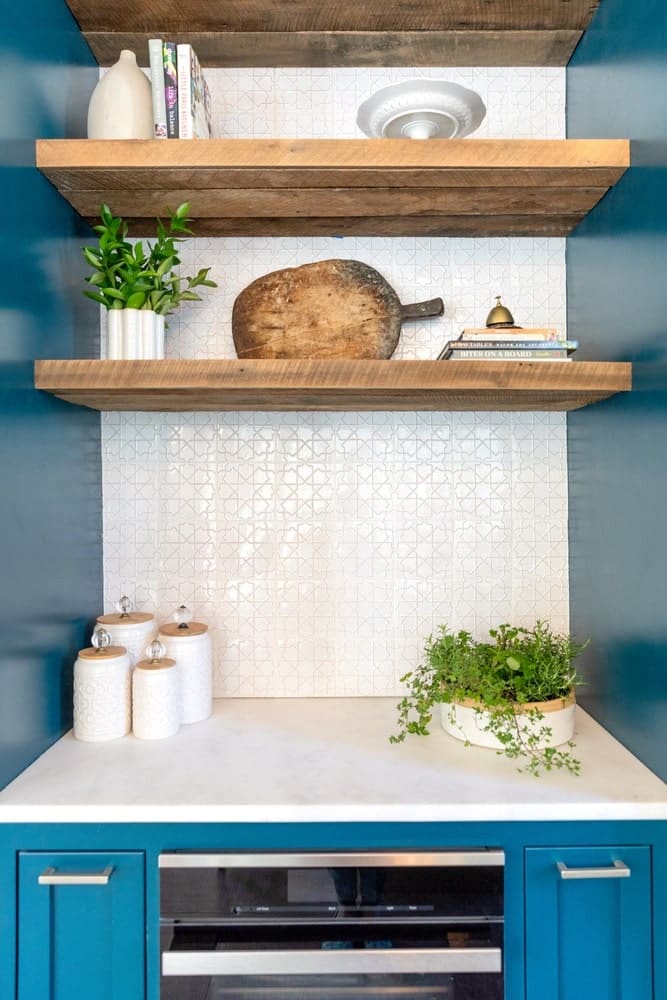 Working closely with developers Suzy and Jim Accola on the design, McCarley rendered the beautiful open-concept kitchen for the VIE Beach House and collaborated on its layout featuring the ocean-blue cupboards built by Grimes Cabinets. "I loved working on the Beach House show home because I love working with Suzy and Jim," McCarley says. "I have learned so much from working with the two of them. It's nice to work with such good people, and they are both so talented! Suzy dreams it up, I draw it for us to see, and Jim builds it."
Kitchens are not her only specialty. McCarley drew up the plans for much of the cabinetry and other built-ins showcased in the VIE Beach House, including the banquette seating, the mudroom bench and cabinets, the laundry room cabinets, the impressive master closet, and all the bathroom cabinets. Working on custom homes like this allows McCarley to showcase her multifaceted talent, as she uses her creative mind to provide beautiful and functional concepts that stand out from other residences.
"The VIE Beach House is just so special! Every single detail is perfect," McCarley says. "I especially love the neighborhood the house sits in because it's a real neighborhood, comprising mostly full-time residents. I love the woods behind the house, and who doesn't want to live on a cul-de-sac?" With the rustic yet sleek details and decor featuring natural textures and elements, the kitchen—along with the rest of the home—reflects this love and connection to nature.
It will be a busy year ahead, McCarley predicts, as she has experienced an increase in business despite the pandemic, likely thanks to people spending more time at home and wishing to either build along the coast or improve their existing houses. "Like many folks in our area, I am beyond humbled and thankful," she says.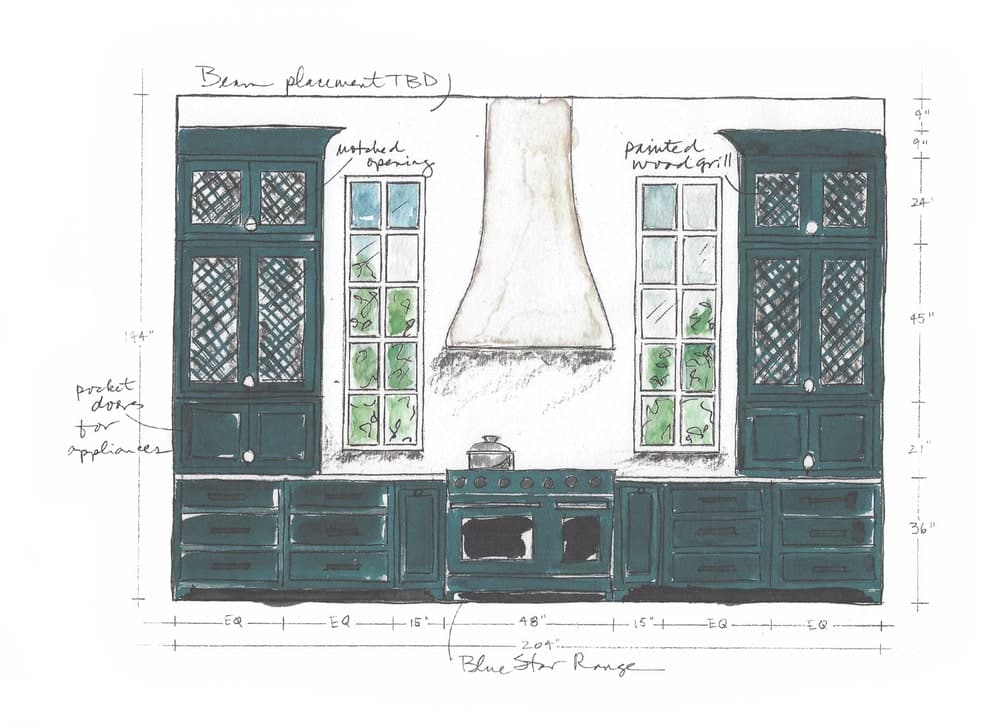 Be sure to read the full VIE Beach House – A Show Home feature to see more of McCarley's beautiful collaborations showcased throughout the home!
— V —
---
Visit CindyMcCarleyDesigns.com or follow her on Instagram @cindymccarleydesigns to see more.
ARTICLE CATEGORIES