By Cindy Garrard
My husband and I love to throw dinner parties. There is something special about having your friends over to your home and cooking for them. When I was growing up, my mother loved to cook for friends and share her culture with them through food. She is Korean, so we would take kimbap—Korean seaweed rolls—to pool parties, and I never felt like it was out of place among all the pies and corn on the cob. Kids and adults alike enjoyed the kimbap, and I know that made my mother happy. Now, when we host dinner parties, I almost always cook Korean food for my guests. It's a part of me that I want to share with my friends as my mother did.
Because we love to entertain, I follow my own creed for successful dinner-party planning. There is much thought put into the guest list, the menu, and the seating arrangement. These are crucial to having an environment where people will feel at home and enjoy themselves. Our greatest hope when we host a dinner party is that our guests can relax, meet new friends, enjoy good food, and be taken care of by us for the evening.
For our parties, we choose Saturday evenings on dates when there are no large community events so that our guests will not have a conflict in their schedules. People are usually tired on Fridays from the work week. On Saturdays, they have rested and look forward to the chance to go out without worrying about cooking or spending money at a restaurant.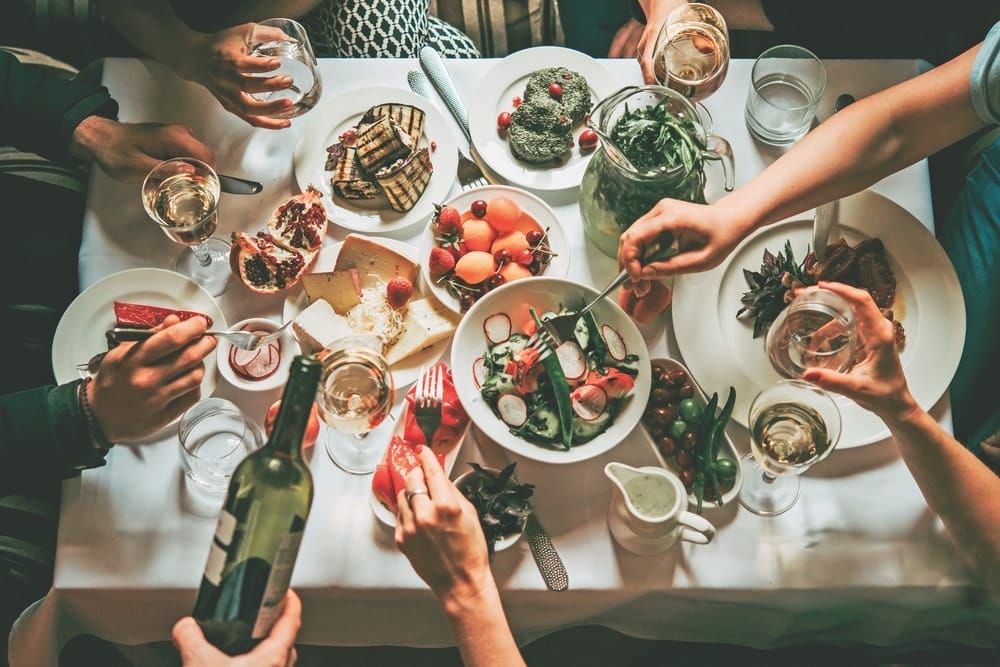 Making a list of invitees is something my husband and I must wholeheartedly agree on, and you should plan this carefully with your fellow hosts if you throw a dinner party together. We choose friends whose company we love and often couples whom we would like to get to know better. I always call the wife of the couple to extend the invitation. (I have learned that most wives are in charge of the social calendar for the family.) I always say, "Please discuss it with your husband and get back to me"—it allows the guests time to decide if they can come. A dinner party invitation is an opportunity to join in, but they should never feel pressured to do so. When you call to invite them, go over the attire for the evening and find out if they have any food allergies so you can plan ahead.
If people offer to bring something, I always accept the offer, but otherwise I would never ask a guest to contribute anything to the evening. Those who offer will probably ask you what they can help with or bring. It's best to wait until you have responses from all of your guests and know if there are any allergies before assigning an item. You should let them know what to bring at least five days before the party, and I feel it's best to ask people to bring something they can just pick up, such as a cheese tray or a dessert. If those items are taken, you can always use another bottle of wine!
We like to invite people who work in different industries because we can all sometimes get "stuck" among our same circle of friends having the same work-related discussions. This variety among your guests can also help avoid discomfort between competitors who may not fully enjoy the evening in each other's presence. It's nice for people to meet others in their community whom they would not normally get to know.
Our greatest hope when we host a dinner party is that our guests can relax, meet new friends, enjoy good food, and be taken care of by us for the evening.
Cook an entrée that you are familiar with and have cooked several times. To eliminate any day-of stress, I always prefer to make something that I can do the prep work for beforehand. One of my favorite Korean entrées to serve is a steak dish called bulgogi, which is marinated for more than twenty-four hours before cooking. This is a great dish for a dinner party, as I can just toss it in a large wok to sear the steak before serving. When you are planning a party, it's best to think of a menu with minimal prep and cooking time; this allows you to visit with and enjoy your guests that night. Some people make a casserole that can sit in the oven while their guests chat and get to know one another. Everyone always migrates to the kitchen because it's the "heart of the home," so it's best to have the drinks and appetizers there where people can help themselves.
One thing that I feel is vital to a successful dinner party is the seating arrangement. I studied the Amy Vanderbilt book of etiquette, and it may seem old-fashioned, but to me, it's a basic courtesy to arrange seating with your guests in mind. We always sit spouses across from each other so they can be face-to-face during dinner. We also alternate women and men, which tends to allow for good conversation flow. One tip that I came up with after years of hosting parties is, if you have two alpha males, sit a couple in between them so they don't butt heads with each other. Also, since we all have stress and there is always bad news, sometimes the conversation turns toward a "negative" topic. When that happens, it's best for someone to change the subject immediately to something lighter; my husband is in charge of this when we entertain. This should be a time for your guests to have fewer worries and to enjoy being taken care of by their host for the night.
It may seem like a lot of thought and work go into planning a dinner party, but to us, it's all worth it. Sharing our lives, breaking bread, laughing, and creating memories are what life is all about!
— V —
---
Cindy Garrard works as a freelance journalist and is the vice president of residential lending at Hancock Whitney Bank in Santa Rosa Beach, Florida. She holds a bachelor's degree in public relations and enjoys sharing her life stories and successes with others. Garrard lives in Sandestin, Florida, with her two daughters, her husband, and their dog, Bella Bear.
ARTICLE CATEGORIES