By Corcoran Reverie contributors Rob Augustine, Julie K. Cumby, Crystal Newborn, Rebekah Franklin, Hilary Farnum-Fasth, Amy Sasser, Smith Burke, Jacob Watkins, and Bobby Parker
As they say, life is all about creating memories with the ones you love. And when you visit our area, you will surely make memories you'll cherish for all time.
The Emerald Coast of Northwest Florida offers locals and guests an affordable, amenity-rich lifestyle that everyone is welcome to enjoy year-round. Many longtime investors and their families have been coming to the Emerald Coast for generations, making it a tradition that often leads to many more trips each year. They look forward to enjoying the sugary white-sand beaches, warmer temperatures, and Southern hospitality found here. Our local coastal communities succeed in keeping the fun going throughout the year, especially around the holidays, with activities including parades, seasonal festivals, marathons, and much more.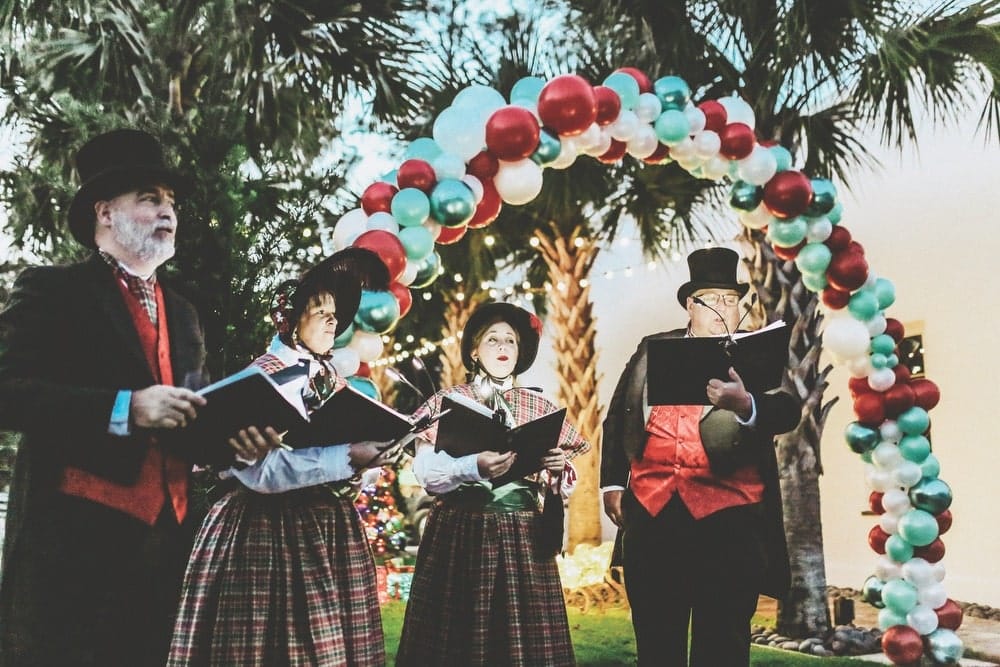 For many, the fun-filled family traditions begin even before the Christmas festivities. Thanksgiving week is one of the biggest draws for visitors because it offers unparalleled activities—so much that most second-home owners will block the week from rentals so that they can enjoy it with their extended family. There's something for everyone, from the annual Thanksgiving Day 30A 10K road race to Seaside's lighting of the Christmas tree, breakfast with Santa in Rosemary Beach, and the holiday market in WaterColor. Not to mention just the fun and excitement of having your family and friends nearby for the holidays and watching the games between some of college football's biggest rivals.
As the Christmas season approaches, the holiday activities are endless. One of the most popular traditions along the Emerald Coast happens right in Destin Harbor—the Destin Christmas Boat Parade. Also known as Holiday on the Harbor, this annual tradition is in its thirty-fifth year. It features boats of all sizes—commercial, charter, and private vessels—that are festively decorated and drift along the Harbor for the viewing pleasure of all those onshore. This night concludes with a fireworks display that can be seen for miles as it lights up the Harbor in true Destin spirit. Whether they're a spectator or a boat captain in the parade, this is a tradition that people travel from all over to enjoy. The City of Destin also holds an annual Christmas parade that's always a big hit, and you never know who might see, including Santa Claus himself!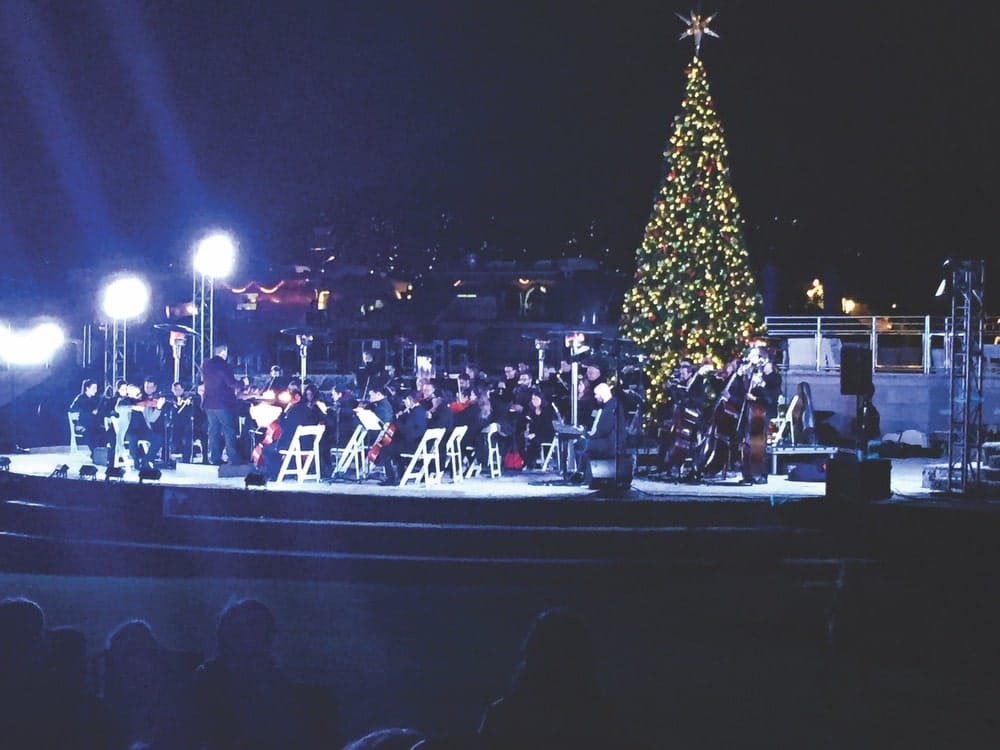 Along beautiful Scenic Highway 30-A, families can enjoy spectacular light displays throughout several of the coastal communities. Alys Beach and Rosemary Beach spare no expense with their stunning lights and giant Christmas trees that children and adults of all ages ooh and ahh over each year. They make a perfect spot to snap photos to cherish these holiday memories. The town of Seaside also offers several local holiday traditions, including a fun-filled holiday production from The REP, Seaside's professional repertory theatre. There's also the Holiday Pops Concert, where families can bring blankets and lawn chairs and enjoy a one-of-a-kind concert guaranteed to get everyone into the holiday spirit. This year's show will take place on December 11 at 5:00 p.m. on the Lyceum Lawn.
Rounding out the holiday festivities are many New Year's Eve celebrations along the coast and the New Year's Day Polar Bear Plunge at the WaterColor Inn & Resort. Despite the chilly temps, hundreds of people take the annual plunge into the Gulf to ring in the New Year in a fun and crazy way—creating even more memories that will last a lifetime.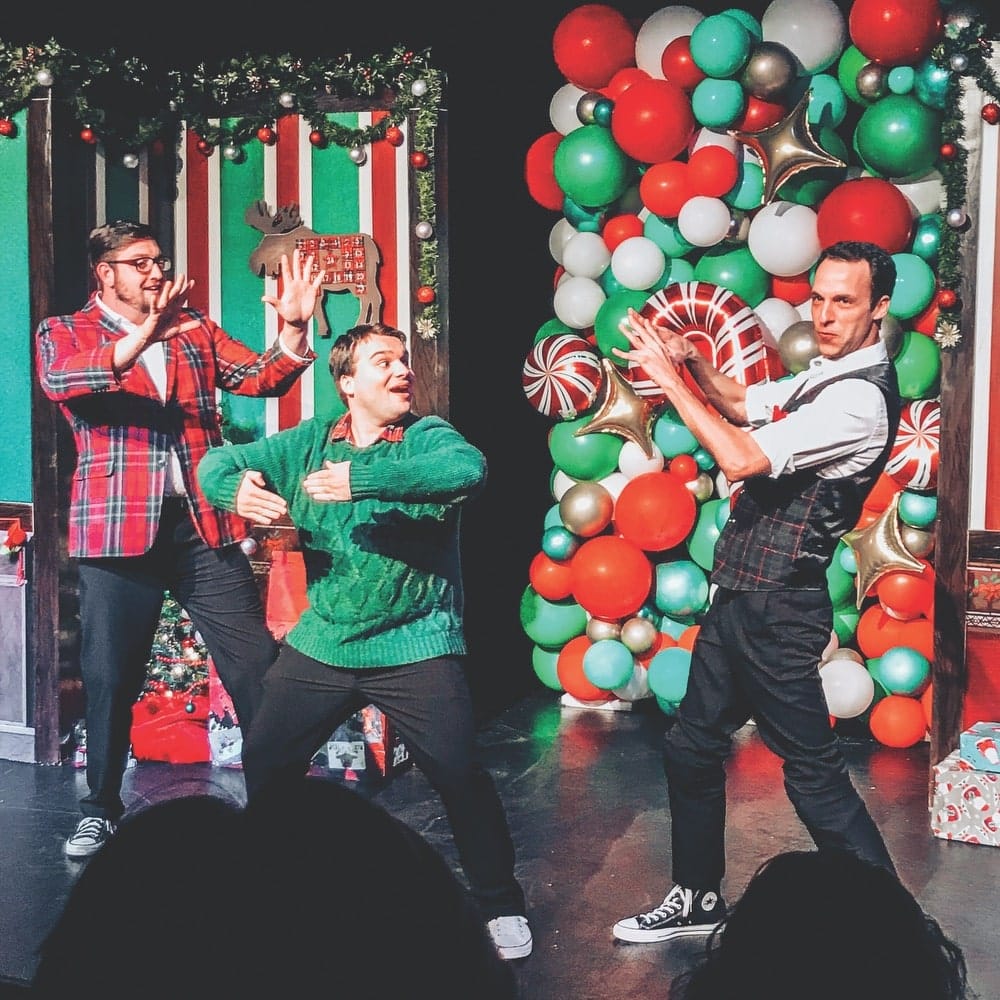 While there may not be snow in our neck of the woods, there is the Christmas spirit buzzing through our coastal communities that draws hundreds of families each year, generation after generation. From enjoying incredible light displays and world-class holiday entertainment to simply capturing a family photo on our snow-white beaches, traditions and lifelong memories are bountiful along the coast at Christmas. When you are ready to be home for the holidays along Florida's Emerald Coast, Corcoran Reverie is here to help you.
— V —
---
Corcoran Reverie, an affiliate of The Corcoran Group—a leading residential real estate brokerage firm headquartered in New York City—is a locally owned boutique brokerage specializing in the luxury home market in Northwest Florida from Destin to Panama City Beach and the coastal communities along 30-A. With a 150-plus agent team led by broker and owner Hilary Farnum-Fasth and partner Jacob Watkins and offices in Seagrove Beach and Destin, Corcoran Reverie holds the number one office ranking in Northwest Florida based on a closed sales volume of over $750 million in its first year as a Corcoran affiliate. Throughout its entire network, Corcoran is home to more than 120 offices and 5,000 agents in key urban, suburban, and resort markets nationwide. For more information on Corcoran Reverie, visit CorcoranReverie.com.
ARTICLE CATEGORIES