Christian Calvin Keeps Faith
By Jordan Staggs | 
Photography courtesy of Christian Calvin
"Art is a new passion for me, and sharing it is an even greater passion. It's become something I do every day."
Nashville–based Christian Calvin's relatively new art career might echo the dreams of many creative types who often want to pursue their passions but have felt unsure about making it a full-time gig.
Calvin served as the vice president of Option Rentals Incorporated for twenty-five years, followed by five years as president, until the corporation changed directions in 2017. He says his art career really began about a year and a half after he took a step back from that family business and began creating with paint. "My first painting was a small one on a sand dollar that I found during a vacation in Florida," he recalls. "Something told me to paint on it. That small painting was the beginning, and I soon started created much larger pieces. I was learning how to scale drawings, so I would map everything out in squares on the canvas and then paint in those squares and erase the lines. I was very concerned with getting things 'right' and what things 'should' look like; I guess I had to go through that process to get to where I am now, which is more abstract. It's been a culmination of going through that process to get to this place where my creativity comes through."
Today, Calvin's style has evolved—and keeps evolving—toward colorful abstract backgrounds created using gardening tools and palette knives. "I don't use a lot of brushes," he admits. "Almost all of my art is created from paint, sand, glue, and water, using scraping methods to mold the figures where I want them. Then I might use a brush to focus more on the details."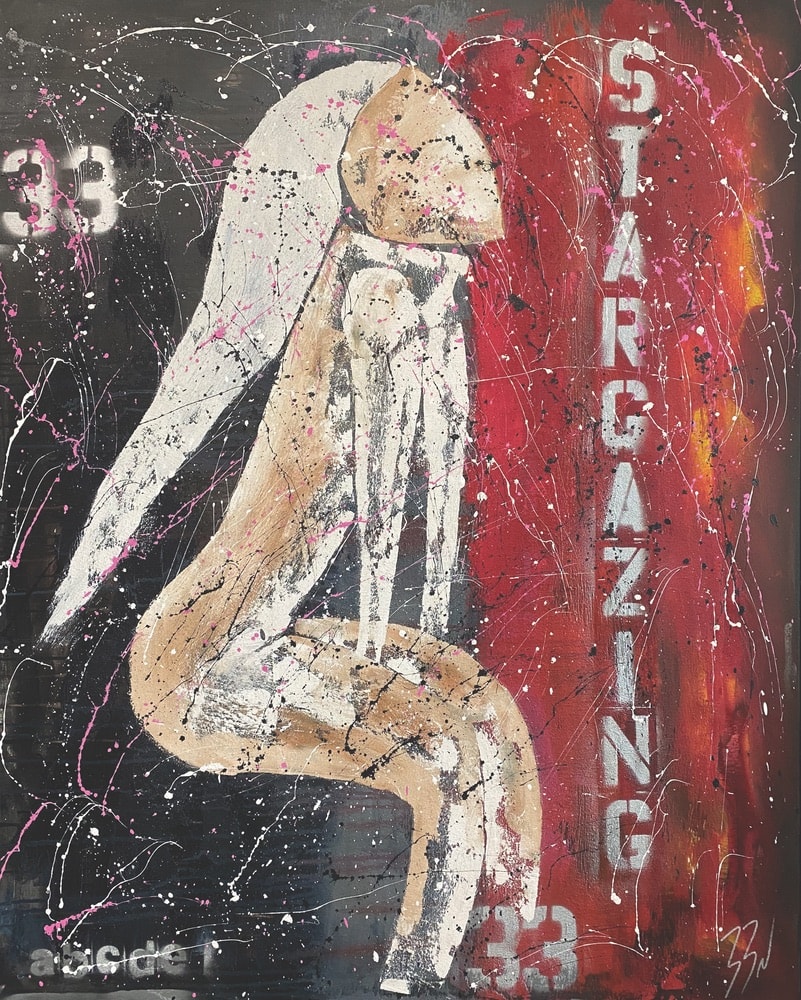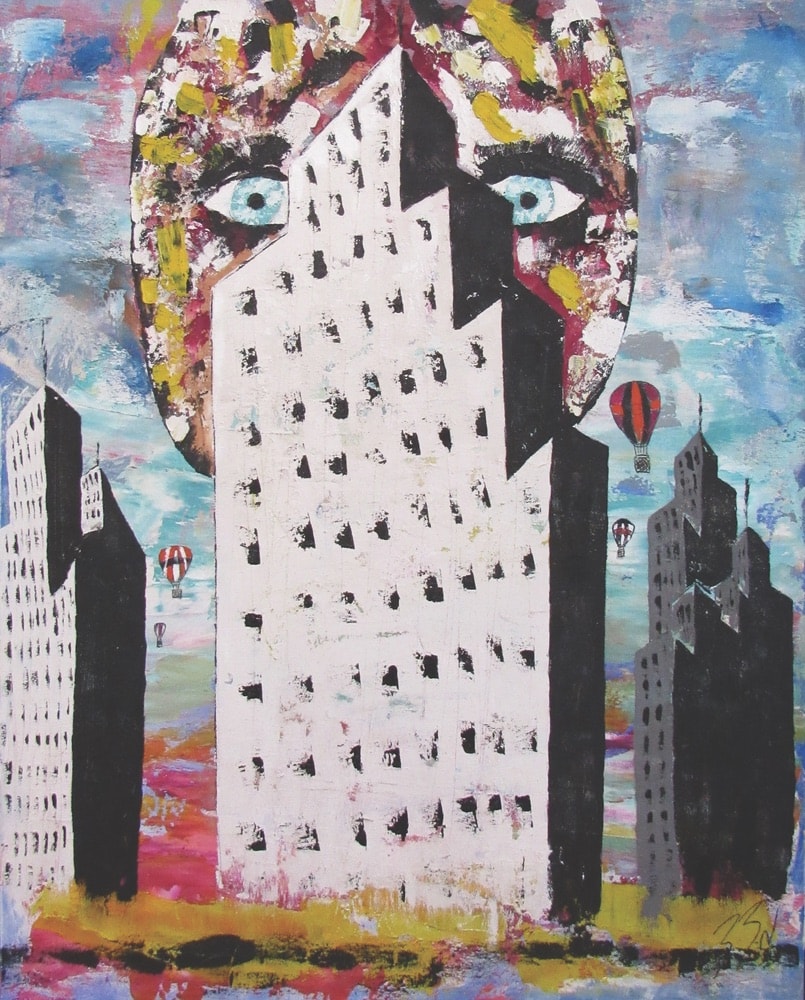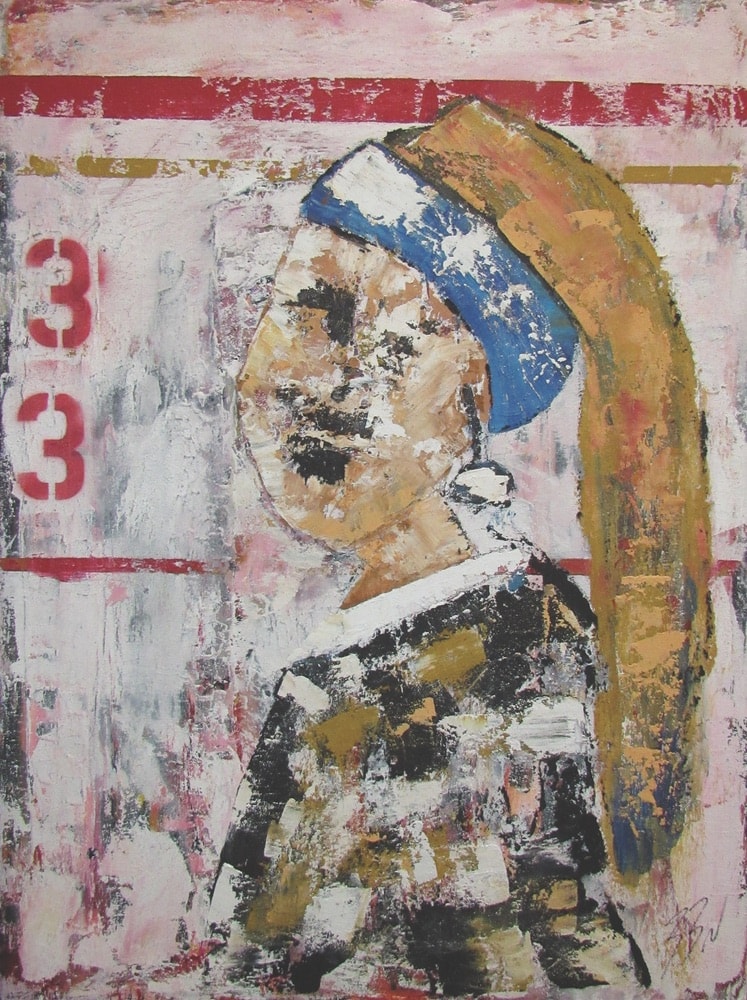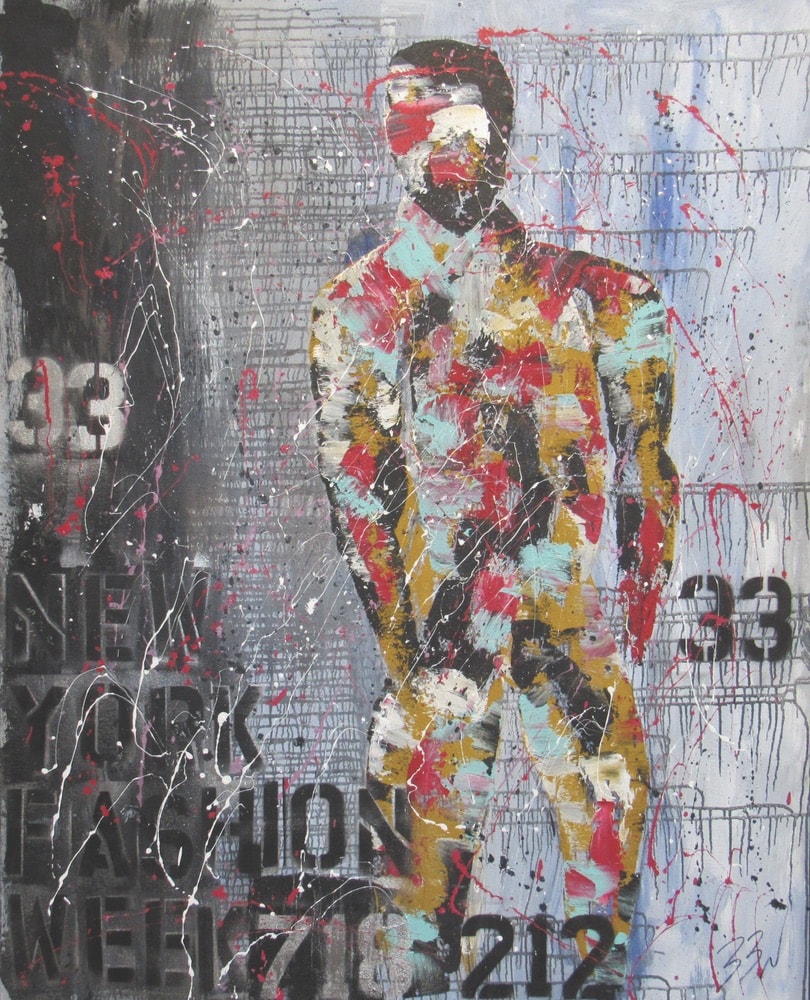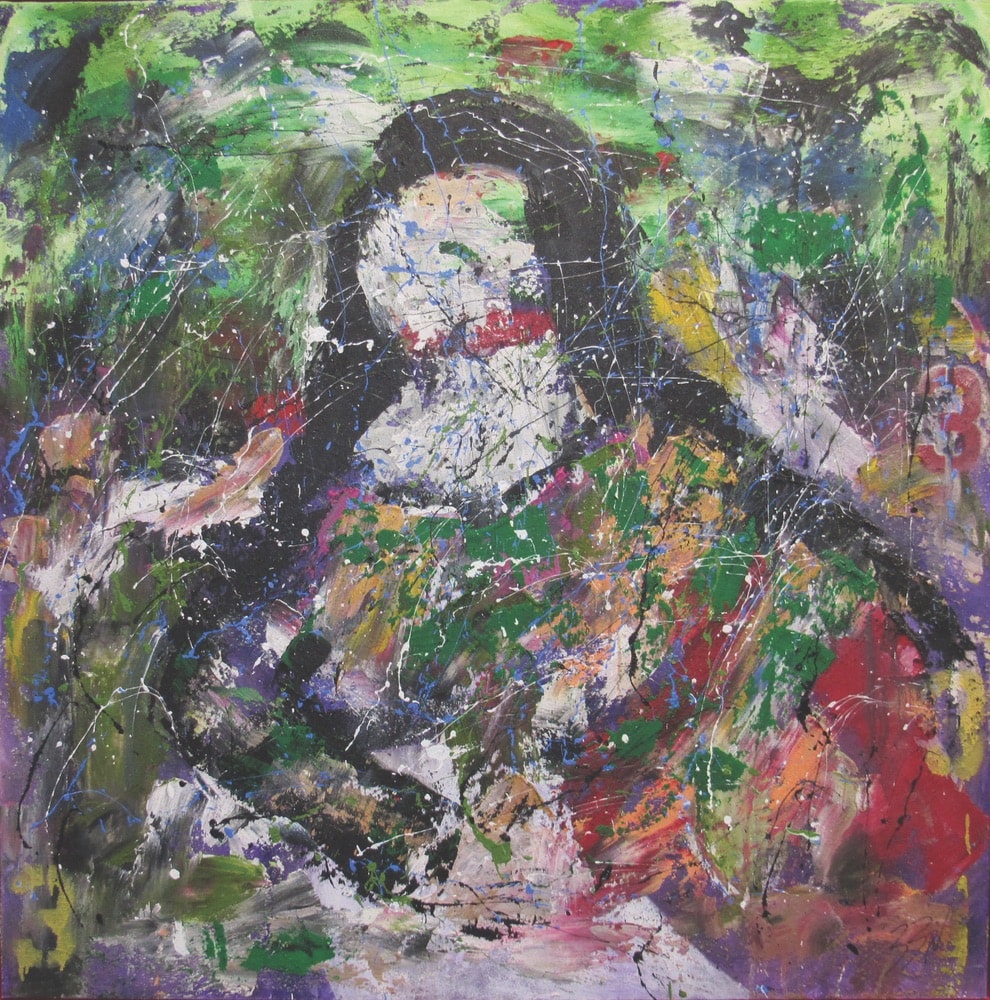 The scale of his work makes his methods more efficient, as most are large paintings of at least forty-eight by sixty inches and meant to be statement pieces. Recently, he has begun experimenting even more with figures and subjects such as celebrities or famous art—his new Mona Lisa–inspired piece is decidedly abstract, but with just enough detail that the viewer can make out the deconstructed shape of the renowned portrait by Leonardo da Vinci. It is also forty-eight by forty-eight inches—almost twice the size of Leonardo's piece. "My goal is that my audience feels something exciting, interesting, and enjoyable," Calvin says.
Calvin's other inspirations have come from his loving and supportive wife and four daughters. His subjects have included animals, celebrities, and sports, to name a few. Since creating the tiny sand dollar painting that sprang from his new passion, he has painted the likenesses of such figures as Jesus Christ, Muhammad Ali, Pete Rose, Mickey Mantle, Superman, George Washington, and even an abstract version of the Girl with a Pearl Earring, a famous painting by Johannes Vermeer.
"I sign everything

33n

as a reference to Christ and my name, Christian. It's kind of a symbol of my connection to my faith, and that's an important part of my life."
Many of the paintings include mixed media, like sand and glue, as Calvin mentioned, and always include the number 33. The number holds significance for the artist, who says that he has always been drawn to it. It was his grandfather's football jersey number which he took as his own and a symbolic reference to Jesus Christ, who was thirty-three years old when He was crucified. "I sign everything 33n as a reference to Christ and my name, Christian," Calvin says. "It's kind of a symbol of my connection to my faith, and that's an important part of my life."
As he grows and continues to build his body of work as a professional artist, Calvin also manages rental properties in Nashville. His office, he says, has become a de facto art gallery, though it is not open to the public. "The main thing I love is creating the art," he says. "I'm still getting into the business side of the industry and would like to have my work in a gallery at some point. I've sold pieces to clients in Hawaii and Atlanta; there's a CEO who came down from Ohio and bought a piece; and a world champion boxer, Caleb Plant, has one of my pieces. I love making those connections and broadening my client base."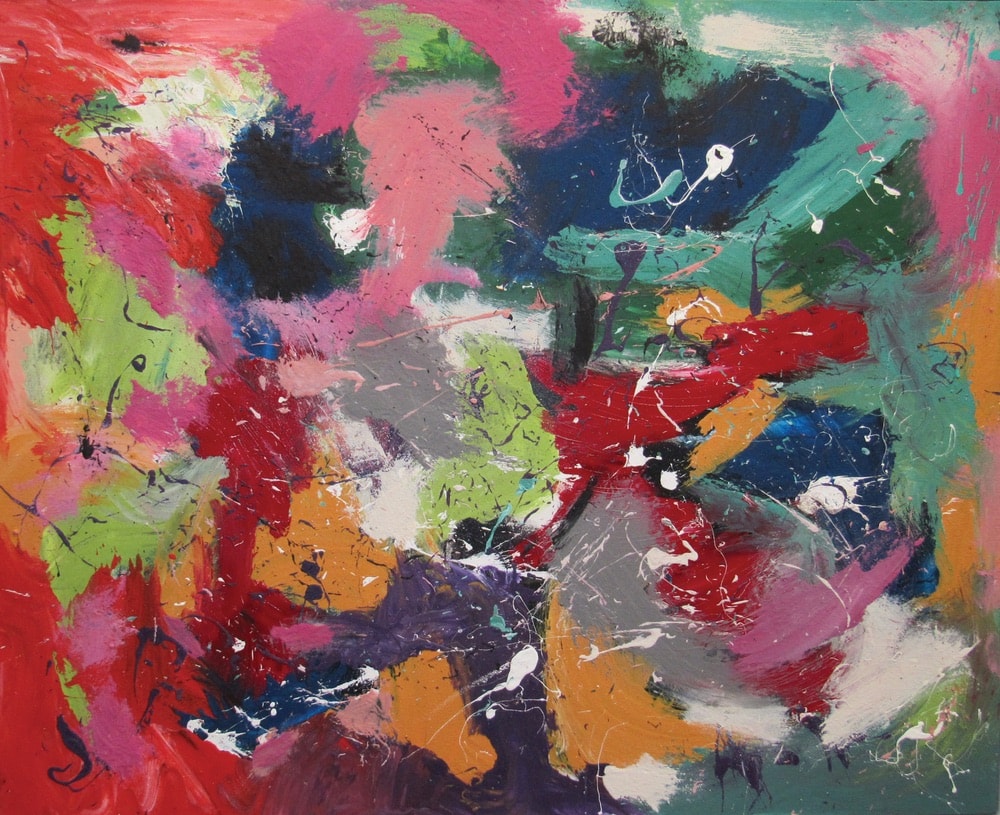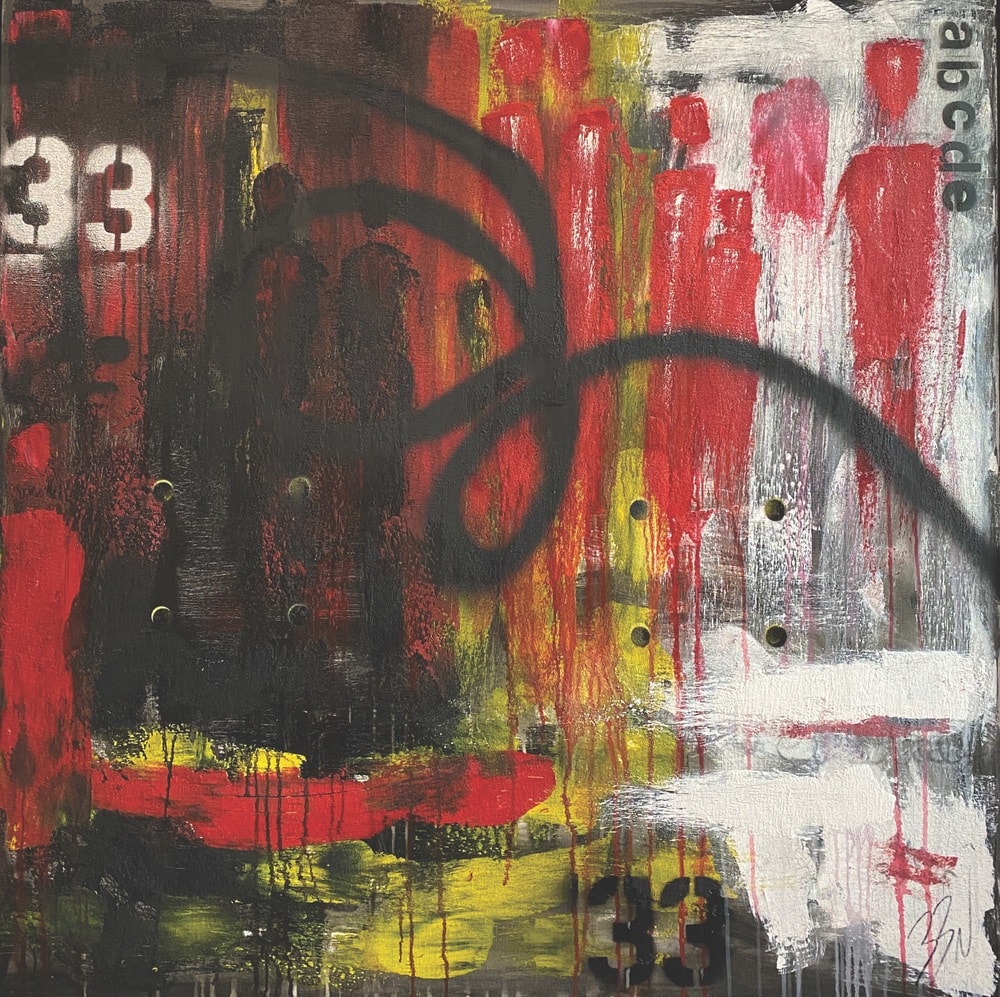 Calvin and his family enjoy vacationing along Florida's Gulf Coast, where he says he would love to expand his reach. His large-scale artwork is ideal for some of the expansive luxury homes in areas like Scenic Highway 30-A, Destin, and Panama City Beach. "Sometimes the paintings tend to overpower a smaller room," he admits. "They are perfect for larger spaces where there's room for them to breathe and complement the other elements without being 'too much.'"
Looking toward the future, Calvin says he is exhilarated by the possibilities. "I've had time recently to reflect and make some inspiring new pieces," he says. "I think the key thing, moving forward, is that I feel like my art is evolving and moving in a positive direction. Time and practice will help, as with anything. When I think about how my art is going to look in the next year, I'm excited to see what the future holds."
— V —
---
Visit 33nArt.com to learn more about Christian Calvin or shop his artwork.
ARTICLE CATEGORIES